We use affiliate links and may receive a small commission on purchases.
We've selected the Top 8 Best Road Bikes Under $3000 from over 200 road bikes.
If you want to buy a road bike for under $3000, this is a real test. I'm sure getting out on a road bike on a nice vacation is not a decision you make on impulse anymore. For this reason, I think it is necessary to do some product research.
If you don't want to spend $3000 on a road bike that doesn't fit you at all, then my guide to the best road bikes under $3000 is well worth a look.
Plus, if your daily riding route isn't flat, we've collected the best gravel road bikes. If you're looking for this kind of product, check out our The Best Gravel Bike 2022, a list of gravel road bikes with wider tire clearance and the ability to ride any terrain.
If up to $3000 throws your wallet over the edge, you can also check out our Best Road Bikes Under $1000.
Road Bike Comparison Table
1. Ultralight Road Bike:
2022 Trek Emonda ALR 5 ($2299)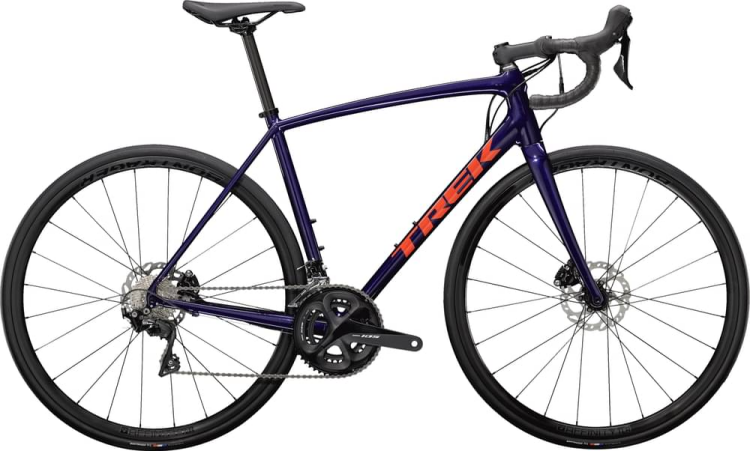 Groupset: 105
Tires: 700×25c
Gear: 2×11
Type: Light climbing
Frame: Aluminum
What we like about it: Lightweight, comfortable geometry, quality components to match.
What we don't like about it: The speed is limited.
Learn More: Trek Emonda ALR 5 Review [2022]–Is This The Road Bike You Want?
Emonda aims to build a lightweight road bike series. 8kg or so is not the lightest weight, but it is certainly what lightweight enthusiasts in this price range are looking for. There is not much difference in weight between the ALR and the carbon fiber SL frame.
In addition, Shimano 105 hydraulic disc brakes, a compact 50/34 chainring, and an extra-long 175mm crankset with a fast-rolling Bontrager Affinity wheelset wrapped in a slim 25c outer tire provide the bike with fast-rolling ability.
In the list of road bikes, Trek Emonda ALR 5 can't give you very fast speed. This is because of the compressed chainring and the comfortable frame geometry that points it to the comfort side. If you want a faster, more aggressive bike, go for the Focus IZALCO MAX 8.7 below, which has a more forward-extended geometry and a large gear ratio to accompany you faster.
In short, this is a well-thought-out machine that provides a comfortable ride and is perfect for sports enthusiasts and club riders. This bike will keep you comfortable for long rides and can be used for racing.
2. The longest-lasting bike:
2022 Dolan ADX Titanium Road Bike – Campag Chorus 12X2 ($2855)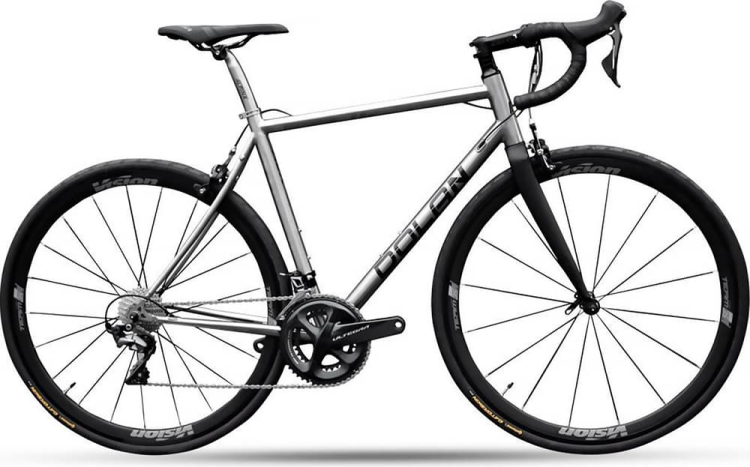 Groupset: Chorus
Tires: 700×25c
Gear: 2×12
Type: Endurance Riding
Frame: Titanium
What we like about it: Lightweight, durable frame and comfortable pedaling feel, a model of high performance.
What we don't like about it: It doesn't use the mainstream barrel axle wheels.
The metallic sheen makes it look great for extended use. And this frame can be configured before you buy it, which means you can customize your bike in advance. In addition, it comes with the very cost-effective high-end components Campagnolo Chorus 12-speed drivetrain, which can be called a model of high performance. There are also dual pivot brakes that provide superior braking performance. The wheels are stiff and comfortable, and the bike's overall low weight and damping characteristics are evident. In addition, it can accelerate well and has good speed retention with only easy acceleration.
Unfortunately, even with the latest 2022 model, the wheels are still not in the form of barrel axles. This gives me concerns about unity when riding. I would also say that it's time to update the framework design of the titanium framework. In the list, we find that the vast majority of other road bikes in this price range have been upgraded to advanced barrel axle designs, and only those frames that are seeking lighter weight are still using quick-release construction.
All in all, this bike convinced me that it would be good if I needed a long endurance ride. And it tends to get stiff when I go for more exciting speeds. Nonetheless, it is still good enough to serve as a promotional ambassador for titanium road bikes.
3. Outstanding Race Bike:
2022 Specialized Tarmac SL6 ($2700)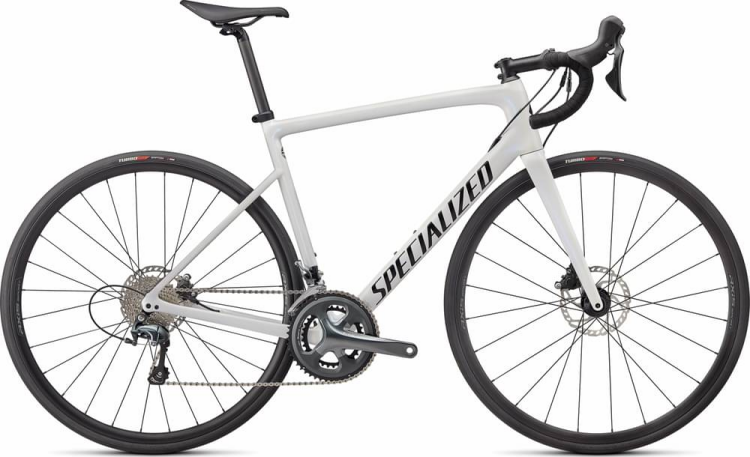 Groupset: Tiagra
Tires: 700×26c
Gear: 2×10
Type: Racing
Frame: Carbon
What we like about it: Great racing, with a balance of climbing and sprinting.
What we don't like about it: The components seem a bit low-end.
This is a powerful and stable racer that excels at sprinting. It's available in numerous versions from entry-level to S-Works, and aerodynamic features include leverless barrel axle thin tubing and internal wire cables. Amazingly, the DT Swiss is equipped for this. And the complete Tiagra package was placed on this bike as well, a perfect trade-off between speed and budget. In addition, the wide cassette offers an excellent climbing ratio of 36/30, allowing even the most modest climber to get to the top quickly.
The components of the Tiagra at this price point are not very impressive and are even a bit cheap. In other words, you can easily get better Shimano 105 components or even Ultegra at this price point, and if you are a component-conscious rider, the excellent components of the last Dolan ADX Titanium Road Bike – Campagnolo Chorus 12×2 should make you happy.
Overall, this is the best bike for men. and the Specialized brand is good value for money for riders. It combines handling and rides quality, so we recommend you try one of the most successful bikes ever made.
4. Women's Road Bike:
Cannondale CAAD13 Women's Disc 105 ($2678)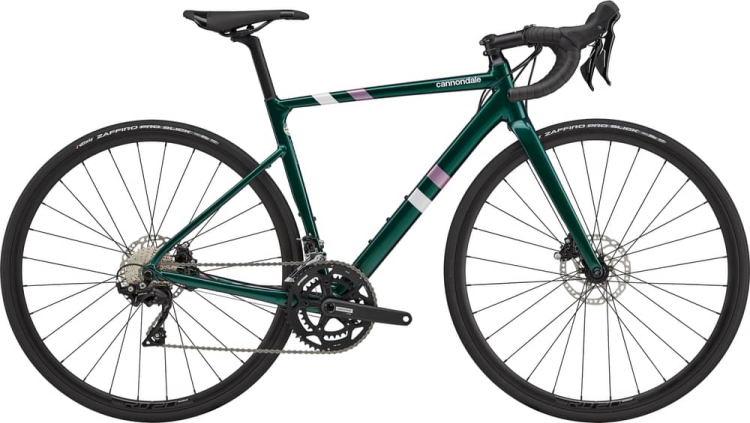 Groupset: 105, FSA
Tires: 700 x25c
Gear: 2×11
Type: Racing
Frame: Aluminum
What we like about it: Geometry designed for women, high-speed riding position.
What we didn't like about it: Reach seemed a little too long.
Cannondale is widely known as an aluminum specialist, and their claim to fame is the CAAD, the latest ultimate alloy racing machine with a geometry tailored to fit the female rider's stance. the RD 2.0 wheels from Cannondale offer extra reliability and acceleration for riding with their strong and lightweight alloy rims. In addition, the Shimano 105 gears with FSA have good value for money. Moreover, the matched hydraulic disc brakes work comfortably and accurately in all weather conditions. In addition, the removable rear upper fork axle provides additional versatility for easy fender installation and removal.
Not surprisingly, the transitional setback seat post increases the overall reach, and the excessive forward reach keeps the bike in an aggressive stance when riding. Most female riders don't like the aggressive stance, so our advice is to replace the seat post as soon as you get it. Or go for the Trek Emonda ALR 5, which has a more comfortable geometry on the list.
In short, if you are a female rider and your goal is to race or train for high-speed riding, this bike is a great choice. And, the aluminum frame also makes the whole bike a longer life.
5. Most Aerodynamic Bike:
2022 Focus IZALCO MAX 8.7 ($2697)
Groupset: 105
Tire: 700×28c
Gear: 2×11
Type: Pneumatic
Frame: Carbon
What we like about it: The integrated handlebars and the aerodynamic frame.
What we didn't like about it: The riding position wasn't too comfortable.
Integration and aerodynamics are the focus of the FOCUS team this time, with extreme cruising speed being their quest. The aerodynamic shape and streamlined component advantages cannot be ignored at racing speeds. The 8.7 recommended here is the most affordable version of the series. It uses the super cost-effective 105 components and Alexrims Boondocks 5 wheelset in addition to the ultra-wearable Vittoria Zaffiro Pro tires to provide an ultra-long mileage range. Previous generations of IZALCO have always emphasized aerodynamic characteristics, with all flat tubing types providing power in addition to fully integrated cables.
Although extreme aerodynamics can make you ride faster, but inevitably will violate ergonomics. This bike doesn't escape that "fate" either. It doesn't have the same upright riding position as an enduro bike, which can cause a little discomfort while cruising at high speeds. For those who enjoy casual weekend rides and those who don't race, perhaps the Trek Emonda ALR 5 would be a better fit.
If you're a perfectionist, the full internal cable routing and pneumatic tubing design give it a clean and premium look that might make you like it.
6. 2022 BMC Teammachine ALR ONE ($2999)
Groupset: Ultegra
Tires: 700x25c
Gear: 2×11
Type: Light climbing
Frame: Aluminum
What do we like about it: A straightforward framework for power generation.
What we didn't like about it: The unpleasant rattling sound of the brake lever.
Carbon fiber performance on an aluminum budget is BMC's promise to the people. The hydroformed tubing and triple-butted wall bring the 54-yard frame down to 1190g, 60g lighter than before. they claim to have matched the carbon SLR, and the aluminum frame brings the advantage of better power on climbs and when you lift your butt for a sprint. The full Ultegra package is a great deal at this price point. In addition, the Vittoria Zaffiro Pro tires remain high-level, comfortable, easy to handle, and fun to ride at this price point. Also, the dropped rear fork and horizontal top tube seem to speak volumes about its confidence in comfort.
The only criticism is the brake lever, not the bike itself. Possibly a compatibility issue, the brake lever always makes a noise most of the time and is criticized by a host of riders. But elsewhere, the bike handles delightfully. If you want to spend a few thousand dollars on a road bike, then I think this bike should be on your shortlist.
7. Cross-country Road Bike:
2022 Canyon Inflite CF SL 7 ($2999)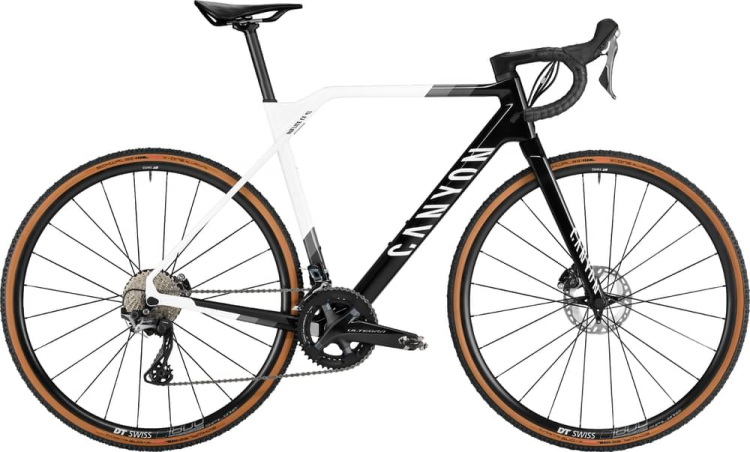 Groupset: GRX 800, Ultegra
Tires: 700x35c
Gear: 2×11
Type: Trail riding
Frame: Carbon
What we like about it: The balanced handling balances off-road and flat roads.
What we don't like about it: The one-piece handlebars, handlebar restriction change.
It's more than a dedicated trail bike, it's a powerful trail bike. You can ride it happily over the roads, gravel, and mountain. the GRX 800 with Ultegea components makes a great blend of a gravel bike and a fast road bike. With the fast-rolling DT Swiss C 1800 Spline DB wheelset and widened 35mm outer tire, it makes it fast over bumps and flat roads.
Unfortunately, it is not suitable for novice buyers, and the one-piece handlebars cannot make any length or width adjustments. You can replace the whole thing if you need to, or choose one of the other road bikes in the article with split-design handlebars. All in all, the bike is very capable and the geometry gives it stable handling even at high speeds. And it can balance classic racing and off-road racing as well. The fabulous package is for hot-blooded racers who not only road but also want to explore off-road riding beyond the limits of the track.
8. The Most Cost-effective Bike:
2022 Holdsworth Corsa SRAM Rival AXS ($2974)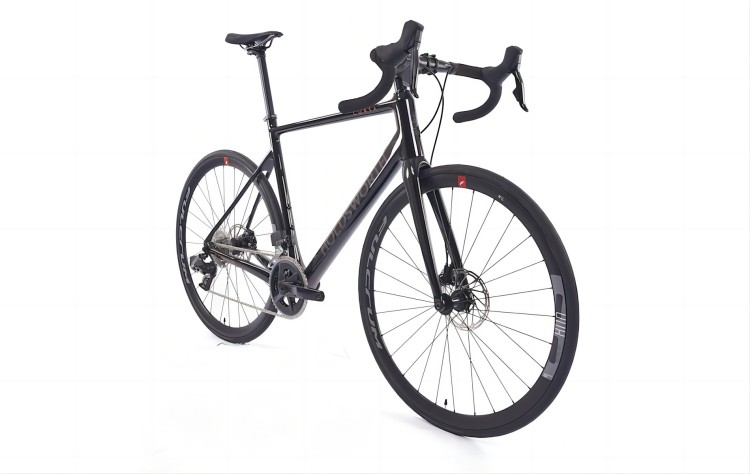 Groupset: Rival eTap
Tires: 700x25c
Gear: 2×12 Electronic
Type: Racing
Frame: Carbon
What we like about it: Excellent electronic shifting system that outperforms its class.
What we don't like about it: The cheap stock outside tires.
If there's one word to describe it, it's "stiff". At just 526mm, the Stack has a rather long 389mm of forward reach and a good stretch fit that makes it very efficient. Outfitted with a full Rival eTap 12s electronic shifting and a Fulcrum Racing 800 Disc, this was a surprise to me. All other components are from Selcof, a long-established brand, cheap, and very good.
The tires don't seem to match, and although tubeless tires are supported, the original is a cheaper Hutchinson Challenger. our recommendation is to replace them as soon as you get them. If you want to use a bike that you can ride right out of the box, a balanced setup like the Specialized Tarmac SL6 mentioned above might be perfect for you.
All in all, if you like your road bikes tough and sturdy, and straightforward, the Holdsworth will appeal. It's not the most refined machine, but it's perfect for the powerful rider looking to go fast.
Road Bike Purchase Advice
Frame material: carbon fiber, aluminum alloy, titanium alloy
Drivetrain & Gearing
Is electronic shifting better?
Weight of road bikes
Tire selection for road bikes
Can beginners ride road bikes?
Who is best for road bikes, rims, or disc brakes?
What to wear on a road bike?
Frame Material: Carbon Fiber, Aluminum Alloy, Titanium Alloy
Overall, aluminum frame bikes still dominate the category of road bikes. However, as carbon fiber technology has matured, more and more lower-priced road bikes are using carbon fiber.
Carbon Fiber
The main advantages are lighter weight (about 800-1000g, depending on the frame) and more rigidity than aluminum, which is exactly what Specialized brings with the Tarmac SL6, where high strength gives better transfer efficiency and more power. For professional cyclists, these are the advantages they are looking for. Needless to say, better materials come with a high price tag.
Aluminum Alloy
Aluminum can better absorb the effects of road debris and survive high-speed crashes (carbon can break apart from heavy impacts.) The Cannondale CAAD13 Women's Disc 105 uses an aluminum frame, yet it exhibits performance comparable to carbon fiber.
Titanium Alloy
Of course, there is no shortage of aerospace materials like the Dolan ADX Titanium, which uses a titanium frame that combines the two characteristics of lightness and durability. But for this, you need to pay a high cost for the frame.
The last point I would like to make is that once you reach the end of your life, aluminum can be better recycled, while carbon fiber is almost non-recyclable. Our advice is that if you have enough budget, carbon fiber is certainly the best choice. However, I would recommend that you spend the extra budget on other accessories.
Drivetrain and Gearing
Road bike groupsets are a basic collection of components that allow you to "hang out", mainly in the form of drivetrains and braking systems. Many companies make bike parts, but the market is dominated by three major brands: Shimano, SRAM, and Campagnolo, all of which have their technologies and long histories, and choosing any one of them would not be a bad decision.
Unlike mountain bikes, road bikes need both climbing and flat road cruising strength. Therefore, the 2× drivetrain is used in almost all road bikes. As the technology evolved, 11s, 12s, and even 13s freewheels were mounted on the rear wheel to provide better climbing and a dense shifting experience. Road bikes were developed for racing, lightweight, fast, and efficient paramount.
Does electronic shifting work better?
While most road kits still use mechanical shifting today, there is no denying the utility of electronic shifting when it began to be equipped on the highest-end bikes. The motor switches the chain-setter between ratios.
The main electronic shifting systems come from Shimano Di2, Campagnolo EPS, and the SRAM eTap AXS, all of which give you 12 speeds. The Holdsworth Corsa SRAM Rival AXS in the article comes with electronic shifting at a bargain price. But all I can say is that there are pros and cons to both mechanical and electronic options.
The electronic gear advantage is a reliable gear change with no cable tension at play. If your hand hurts, you can easily shift gears with just an easy push of a button, and this silky smoothness is very attractive. The electronic gearshift is personalized via an app on your phone. All this technology isn't cheap, and a complete bike with electronic gears will be more expensive.
Weight of road bikes
The weight of a road bike is one of the numbers that most professional riders are concerned about. This is why more and more manufacturers are starting to use carbon fiber frames. Generally speaking, as the quality and price of the material go up, the weight goes down.
But to a large extent, weight reduction can improve climbing efficiency and cruising speed. But it's not all about the frame; the powertrain and wheels are also critical. The Specialized Tarmac SL6 uses this combination to give it a very lightweight. If weight is important to you, you can upgrade it later.
Tire selection for road bikes
Tire selection for road bikes is not size-specific like mountain bikes, and most fast-rolling road tires use 700C wheel sizes. Choosing the right tires can be a miraculous experience. Even though it doesn't come in contact with your body, you can feel the difference when riding them.
In most cases, road tires use a diameter range of 23-28mm, but gravel and off-road tires sometimes exceed 35mm. But it's not the thinner tires that deliver faster speeds. A recent study showed that using a wider 28c tire reduced drag by nearly 25% compared to an ultra-fine 21c tire. And, larger tires have a smaller contact area, and wider allows drag and sidewall deformation to be minimized, resulting in faster tires. The 28c outer tire used on the extremely aerodynamic Focus IZALCO MAX 8.7 in the article also demonstrates this very well.
Which is best for road bikes, rims or disc brakes?
It is clear that disc brakes are replacing modern road bikes, and almost all modern road bikes use disc brakes. While other bikes offer a choice of disc or rim brakes, there are not many higher-priced models that only offer rim brakes.
That's because the bilateral braking principle of disc brakes provides more consistent braking, better modulation, and greater overall braking capacity, regardless of the weather. But on the other hand, they are heavier than rim brakes, so we rarely see disc brakes on the ultimate lightweight road models.
Most high-end disc brakes apply hydraulic calipers, and you might still see mechanical calipers on cheaper bikes. But the price range of disc brakes is gradually dropping and we are starting to see hydraulic calipers on more and more affordable bikes.
Can beginners ride road bikes?
Maybe you see that most beginners are using hardtail mountain bikes and it makes you think that a road bike with thin tires might be difficult to ride. This is not the case, as someone said "while you can't buy happiness, you can buy a road bike".
Exactly, riding a road bike is an amazing sport. It doesn't require you to have the physical strength of a Tour de France rider, and you can do this sport on multiple levels. In short, you can go slow, enjoy the scenery, or pick up the pace for an aerobic workout while you're out and about. Road biking can be perfect for daily recreation, commuting, exercise, and even racing, and it's an environmentally friendly sport.
The Specialized Tarmac SL6 is one such bike. You can do introductory cycling workouts as well as participate in some simple small races, it can handle it all.
What to wear on a road bike?
If you are a road rider seeking professionalism, we recommend wearing a close-fitting road cycling jacket. This is because you can make good use of the aerodynamic properties without having a baggy jacket fluttering in the wind.
It is also designed for comfort while cycling. The top features a tight fit with a full-open zipper, as well as rear pockets for easy access on the trail and a longer back cutout to provide coverage while riding. The leggings with straps have a lot of stretches to allow you to move freely and the soft padding provides comfort in the saddle.
Typical ride setups include:
Moisture-wicking quick-drying clothes.
Tight-fitting outer layer with full-open zipper and back pocket.
Compression shorts with padding, preferably with a back strap.
Gloves with palm pads.
The cold weather requires an additional warm and windproof light jacket.
Comfortable hard-soled cycling shoes.
Don't forget to wear a helmet for safety.
It is better to have reflective strips on your equipment to make it easier to be spotted at night. For more cycling knowledge science, welcome to enter the website homepage to search.
Conclusion
If you decide to start the sport of professional road cycling, a price tag of around $2500 is perfect for your first real road bike. The above eight road bikes under $3000 are selected by us through screening and comparison, they each have certain advantages. But at this price point, no bike is perfect, so you can choose the right road bike for your needs. By the way, if you want to go riding in well-known terrain or special terrain, you can book your accommodation on IHG Hotels & Resorts. It is not only rich in variety but also easy to operate.
In this list, we have listed road bikes that are suitable for many situations. These include aerodynamic bikes for speed, lightweight bikes for climbing, race bikes for junior races, off-road road bikes that can conquer the wilderness, and commuter road bikes for beginners.
If you like our content, feel free to share it with your friends. Also, if our content is helpful to you, you can click the email subscribe button below! Thanks for your support!