We use affiliate links and may receive a small commission on purchases.
We've selected the 12 best mountain bike helmets for your reference.
Whether it's professional riders in the rugged world of mountain biking or mountain enthusiasts on their daily fun rides, we can easily see the safe and reliable mountain bike helmets in action. This shows that head safety protection is crucial. So our team has spent a lot of time and effort to select the 12 best bike mountain helmets that are affordable, safe, and comfortable to fit. pay.
Of course, for those riders who like to speed down the wide open roads, follow our advice on the best road bike helmets to buy. If you find our articles helpful, please share them with your friends who also love riding.
Recommended List
1. Smith Forefront 2 MIPS Bike Helmet ($149.93)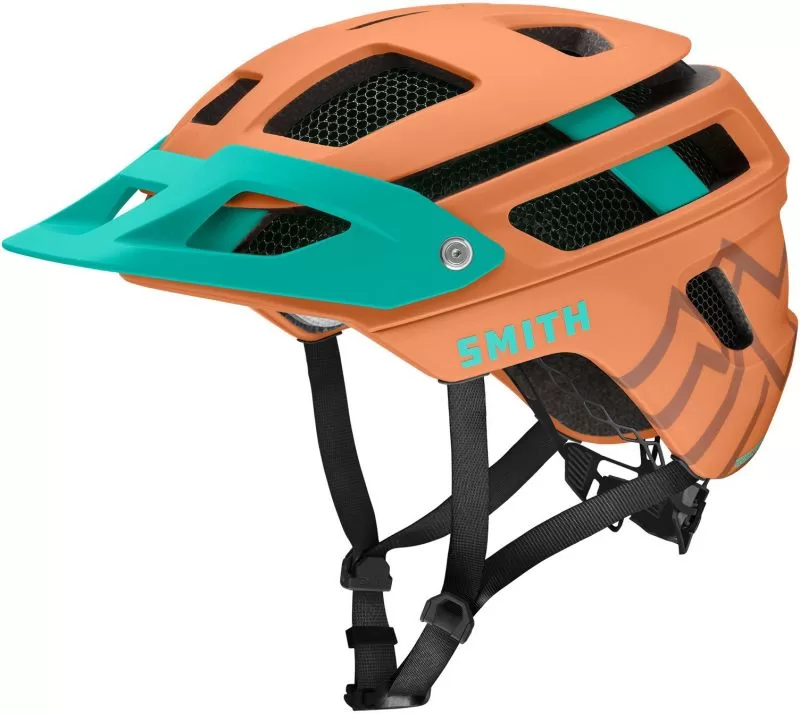 Color: 12 kinds
Helmet Construction: In-mold
Size: S: 51-55 centimeters, M: 55-59 centimeters, L: 59-62 centimeters
Weight: 14oz (400g)
Ventilation port: 20
What we like about it: A helmet that is both safe and comfortable and fully functional.
What we didn't like about it: The weight and price didn't live up to expectations.
The award-winning Smith Forefront 2 MIPS Bike Helmet is an important guarantee of safety and comfort for all-mountain riding. To prevent brain damage that may be caused by rotational movements, the Smith Forefront 2 features an outstanding MIPS system, a low-friction layer that slides 10 to 15mm in all directions, safe and reliable enough. The patented Koroyd® material integrated Lightweight Aerocore in-mold construction is also very strong and able to withstand the impact of various collisions. Most importantly, Koroyd extends to the back of the helmet to achieve a full head wrap protection mechanism. With comfort in mind, Forefront not only opens 20 optimized vents for maximum ventilation but also uses X-STATIC® lining with cooling to ensure coolness. In addition, the details of this helmet's design should not be overlooked. Both the visor with 3-position adjustment and the AirEvac channel to prevent glasses from fogging up, as well as the integrated camera and light mount, give the helmet more functionality.
We don't deny that the Smith Forefront 2 MIPS is excellent, but its 14 ounces of weight and nearly $150 price tag do dissuade a lot of riders.
2. GRYFF Full Face Helmet for BMX MTB DH Downhill ($114.00)
Color: Black
Helmet Construction: In-mold
Size: S: 48-56 centimeters, M: 57-59 centimeters, L: 59-62 centimeters
Ventilation openings: 24
What we like about it: Very safe, reliable, and effective ventilation performance.
What we don't like about it: It's relatively backward compared to convertible models.
For those avid fans of the brutal Downhill and wild BMX, it is vital to have a full-face helmet with higher safety features. GRYFF, which uses high-density EPs and EPP Foam, is very safe and reliable. full face design protects the important parts of the head while wrapping the neck, effectively mitigating the damage caused by possible rotational movements caused by collisions. And the comfortable and soft ABS Chin Guard Padding provides the ultimate protection while ensuring user comfort. Considering that no one likes to maneuver handlebars in the sweltering heat, GRYFF is designed with 24 vents to provide ample airflow and cooling. In addition, the adjustable sun visor saves riders from the pain of direct sunlight on their eyes.
Of course, we must also face up to the reasons why full-face helmets are being eliminated. Not only is it true that their field of vision is not as wide as the popular convertible models, but their bulky weight puts more of a burden on the rider while also providing limited ventilation. But we can't deny its more reliable safety features, and at least those aggressive riders will appreciate its protection.
3. BELL 4Forty MIPS Adult Mountain Bike Helmet ($109.95)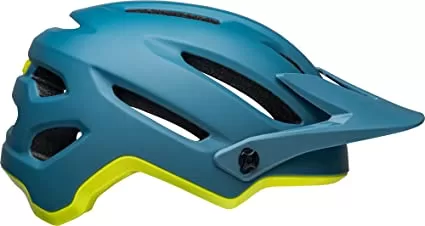 Color: 11 kinds
Helmet Construction: In-mold
Size: S: 52-56 centimeters, M: 55-59 centimeters, L: 58-62 centimeters, XL: 61-65 centimeters
Weight: 380g (M)
Ventilation port: 15
What we like about it: Super safe convertible model, full of features.
What we don't like about it: Not exactly a lightweight helmet.
For riders who are looking for safety, but don't desire full-face helmets, this BELL 4Forty with deep rear coverage protection may enter the scope of the inspection. Although it is a convertible model, it also protects the temporal and occipital lobes more deeply to ensure that the hindbrain is in the safer territory in the event of an impact. Again, the MIPS gear, as well as its integrated Float Fit™, are set up to ensure safety. They allow the head to fit well with the helmet, making the impact come to ease the rotational forces that may bring, protecting the neck and spine. In addition, the BELL 4Forty is a functional piece of off-road equipment. First, the GoggleGuide™ adjustable visor is stylish and compatible with goggles or glasses. Secondly, the No-Twist Tr-Glides™ have quick-adjust fasteners that keep the shoulder straps flat while positioning them correctly, giving the rider more comfort. Finally, Sweat Guide™ pads are great at handling moisture on brow pads and eyewear.
Of course, we must also state that for riders who prefer a lightweight helmet, you'll want to consider whether 380g (M) is acceptable.
4. POC, Axion Spin Mountain Bike Helmet for Trail and Enduro ($91.45)
Color: 12 kinds
Size: XS-S:51-54cm, ML:55-58, XL-XXL:59-62
Weight: 305g
What we like about it: Comfortable fit, perfect protection mechanism.
What we don't like about it: The ventilation performance is not great.
If the POC, Axion Spin Mountain Bike Helmet is not on the list of best mountain bicycle helmets you turn to, it is not reliable. Like the widely used MIPS technology, POC's proprietary SPIN is designed to enhance rotational impact protection when a nonlinear crash occurs, as well as to mitigate possible neck injuries. And the lightweight 360° sizing system is simple to operate, making it easy for any rider to find the firmest, most comfortable fit. Featuring optimized PC fully wrapped unibody shells with wider coverage, they extend to the temples and the back of the head to give the rider the most complete protection. As a result, the Axion Spin is friendly for those riders who are keen on cross-country and enduro racing.
If I had to say one thing to complain about with the Axion Spin, it would probably be its ventilation performance. While its limited airflow channels don't make it difficult for riders on cooler days. But once the weather comes to a hot summer day, there is still no way to avoid sweating.
5. LAZER Impala MIPS Mountain Bike Helmet ($71.94)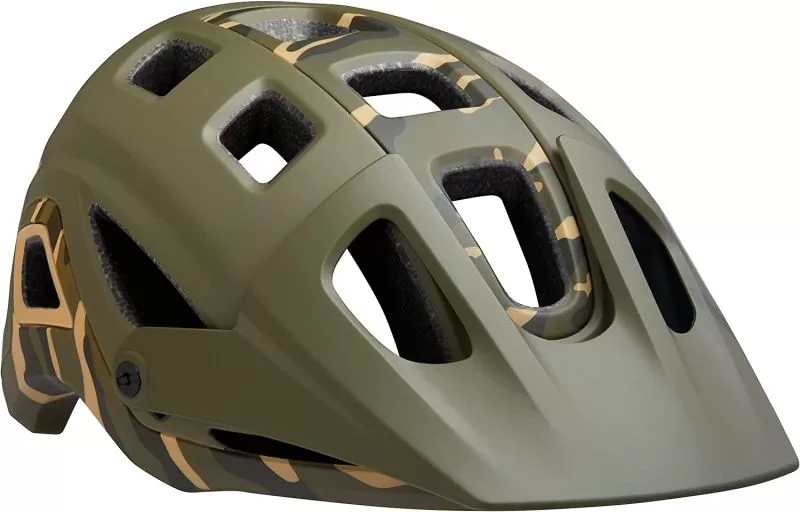 Color: 9 kinds
Housing material: Polycarbonate
Size: 22.44″-24.41″(57cm-62cm)
Weight: 335g
Ventilation openings: 22
What we like about it: A combination of photography support, comfort, and safety.
What we don't like about it: The cheapest helmet color lacks appeal.
For riders who like to document their rides with photography, the LAZER Impala Bike Helmet with its professional action camera mount is a perfect choice. The LAZER Impala has been awarded the Virginia Tech 5-Star "Best Available" protection rating for its rugged extended shell coverage on all sides and EPS impact protection and reliable MIPS layer. They protect the rider's head in all directions and together with the Advanced Turnfit System (ATS) give the rider the most comfortable and secure feeling. For riders seeking comfort, the sun visor is also indispensable. With its four set positions, it can be easily adjusted to keep out the sun. In addition, LAZER, which advocates comfort, has 22 well-placed ventilation holes, so riders can stay cool and not sweat profusely even on the hottest days.
Some riders may be dissuaded by the picture of the Matte Green Camo, which comes in a total of nine cool colors, but there are differences in price as well as weight. This also means that riders expecting a change in color appearance will need to pay more bills.
6. Fox Racing Bike-Helmets Speedframe MIPS Helmet ($69.95)
Color: FLUORESCENT RED, Flourescent Yellow, GREEN/BLACK, TURQUOISE
Housing material: Polycarbonate
Size: S:51-55cm, M:55-59cm, L:59-63cm
Weight: 360g (M)
What we like about it: Superb cost performance, reliable protection system.
What we don't like about it: The ventilation performance can still be upgraded.
In keeping with Fox's traditionally aggressive DNA, the Fox Speedframe is also one of the most tear-resistant mountain helmets for XC and trails. It rules the roost for mountain adventures for riders of all levels at a very competitive price point. The tried and tested MIPS impact protection system, complemented by a removable sweat-wicking liner, is always there to subtly defuse rotational forces when crashes occur. Because of the 360 fit-system, the rider can achieve the perfect fit while riding, and the head is protected in all aspects. Surprisingly, the Fox Speedframe Helmet is also compatible with a 3-position adjustable visor, so users can enjoy the mountain tour without worrying about the wind and sand hurting their eyes and cheeks.
Of course, we also hope that the next version of the Fox Racing Bike-Helmets, in Optimized venting with channeled, in-molded EPS will be upgraded, which will make it even more competitive. Because its current ventilation isn't quite as perfect as we had in mind, and occasionally in the summer heat, it can make us feel a little stuffy.
7. Oakley ARO3 LITE ($64.00)
Color: 6 kinds
Helmet Structure: In-Mol
Housing material: Polycarbonate
Size: Small: 52-56cm, Medium: 54-58cm, Large: 56-60cm
Weight: 293g
Ventilation opening.
What we like about it: Good ventilation, lightweight.
What we don't like about it: Not very suitable for newcomers to the mountains.
The Oakley, famous for its sunglasses, actually has many bright representative works in the field of bicycle helmets. The ARO3 LITE, designed for climbing and extreme heat, is one of them. Although Oakley does not use large aggressive vents, only in the shell added an inverted U-shaped cutout, as well as the sides of the open rectangular vents. But its ventilation is unquestionable, and it's quite cool and comfortable even on 90°F days.
And of course, the soft X-Static® wicking brow pad is not to be overlooked. It always absorbs and eliminates sweat the moment they appear. For those riders who are afraid of light, the integrated eyewear base is enough to eliminate concerns. In addition, its weight of less than 300g is part of its competitiveness, often making dedicated riders in the mountains, forget about its presence.
The Oakley ARO3 LITE never worries the skilled veteran, but it may not be a good choice for the novice mountain rider. Because the ARO3 LITE lacks MIPS or other secondary safety features, the more secure OutdoorMaster Gem is a good backup option at this point.
8. OutdoorMaster Gem Recreational MIPS Cycling Helmet ($58.98)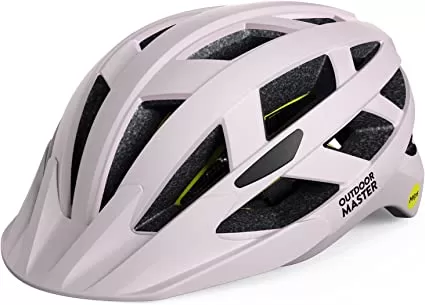 Color: 10 kinds
Size: S, M, L
Weight: 250g (M)
Ventilation port: 25
What we like about it: Superb helmet for the money, good comfort.
What we don't like about it: The Visor is removable but the angle is fixed.
California cyclists are sure to choose the helmet that creates a great gear experience at an affordable price – the OutdoorMaster Gem. This helmet features a reliable MIPS or Multi-directional Impact Protection System, so when the impact is transmitted to the equipment, it effectively prevents rotational forces from injuring the rider's head, neck, and spine.
And 2 different thicknesses liners (0.23&0.31inch) and the adjustment dial maximize the head fit, giving a layer of double insurance for head safety while also supporting riders with different riding glasses. I like the skin-friendly adjustable chin strap, which not only provides a comfortable fit but also fits well with the chin and stabilizes the helmet well. In addition, the 25-vent design not only has good breathability to reduce air resistance, and will be cool throughout the ride a reality. So this helmet has become the perfect partner for BMX riders as well as skate riders.
Although it has a removable visor, supporting the user who does not need to remove it to reduce the weight of the helmet. However, its fixed angle does not give the user who needs the visor the opportunity to adjust it. Therefore, the Fox Racing Bike-Helmets above may be more suitable for those who mind this.
9. Troy Lee Designs Adult Mountain Bike A1 Drone Helmet ($52.50)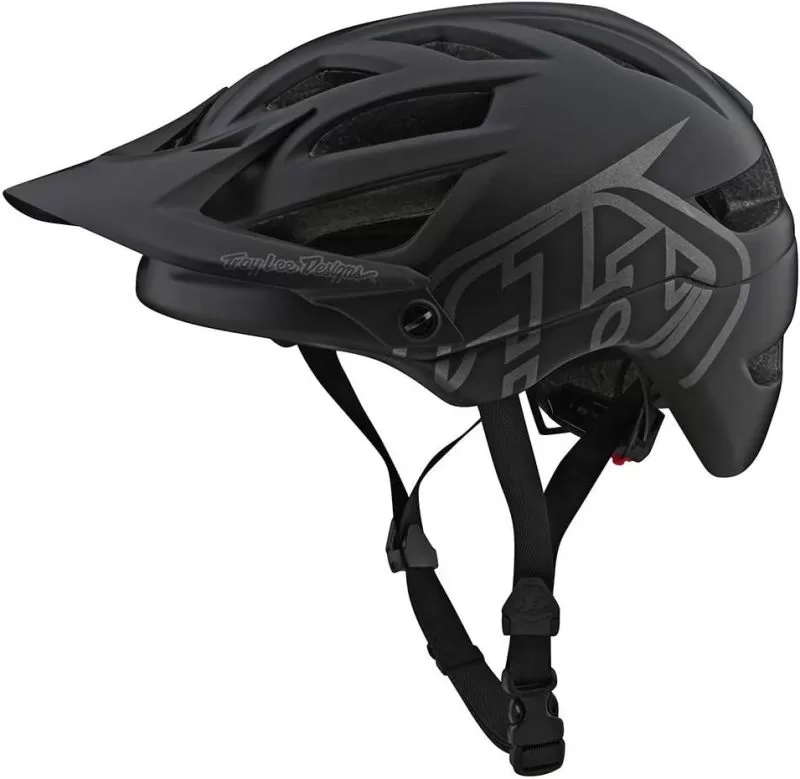 Color: Black/Silver
Housing material: Polycarbonate
Size: Medium-Large
Weight: 345g
Ventilation port: 16
What we like about it: Safe and reliable helmet, comfortable riding experience.
What we don't like about it: The weight is not light enough.
The Troy Lee design team, which specializes in serving the world's fastest racers, actually launched the A1 mountain bike helmet back in 2013. Just like the A1 Drone Helmet, the main character here, they are the result of consideration from all sides in terms of safety performance, fit, and functionality. This fully encapsulated all-mountain helmet, with a reinforced polycarbonate shell and in-molded, EPS liner on the sides and back, allows riders to ride with plenty of confidence in all riding conditions. The soft, comfortable strap and retention system with knobs hold the helmet securely in place while not lacking in comfort. Likewise, the single-piece, ultra plush, removable, and washable comfort liner are ready for rider comfort. In addition, the design of 8 ventilation holes in the front and back also the amount of cold air entry and hot air exclusion, pulled to the maximum.
Although the performance of the A1 Drone Helmet does do impeccably at this price point. However, its 345g weight is still not light enough for endurance riding. We also sincerely hope that Troy Lee's team will make a breakthrough in weight soon.
10. Giro Fixture MIPS Adult Mountain Cycling Helmet ($40.99)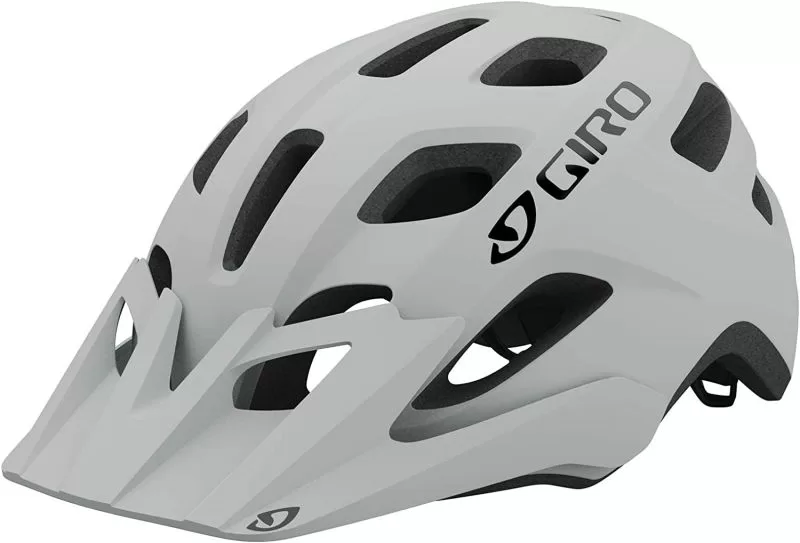 Color: 11 kinds
Housing material: Polycarbonate
Size: UA: 21.25″-24″ / 54-61cm, UXL: 22.75″-25.5″ / 58-65cm
Weight: 1.5 lbs
Ventilation port: 18
What we like about it: Excellent protection, better-fitting head circumference design.
What we didn't like about it: The unacceptable weight of 1.5 lbs.
You have to admit that the MIPS system has become the standard for mountain bike helmets, and the Giro Fixture is no exception. The integrated MIPS wrapped in an In-Mold polycarbonate shell with an EPS liner will securely protect the rider's head from crash impacts. For female riders using Giro Fixture, there is no need to worry about ponytails going nowhere. Because the Roc Loc Sport fit system is already compatible and the helmet can be adjusted to the most comfortable state with a click and a simple one-handed operation. After all, the 7cm adjustment range is enough to accommodate all kinds of head circumferences.
Some riders may see its 1.5 pounds weight and worry about their neck as well as their shoulders. There's no denying that this isn't exactly lightweight, but it's acceptable for a mountain bike helmet. Fortunately, Giro has upgraded both weight and ventilation in the Fixture™ Mips II, and we have nothing to fault about the Universal AdultCPSC down to 330 grams, but with that comes a doubling of the price. If you're on a budget, the $70 Fixture™ Mips II is a good choice.
11. OUWOR Mountain Bike MTB Helmet ($39.99)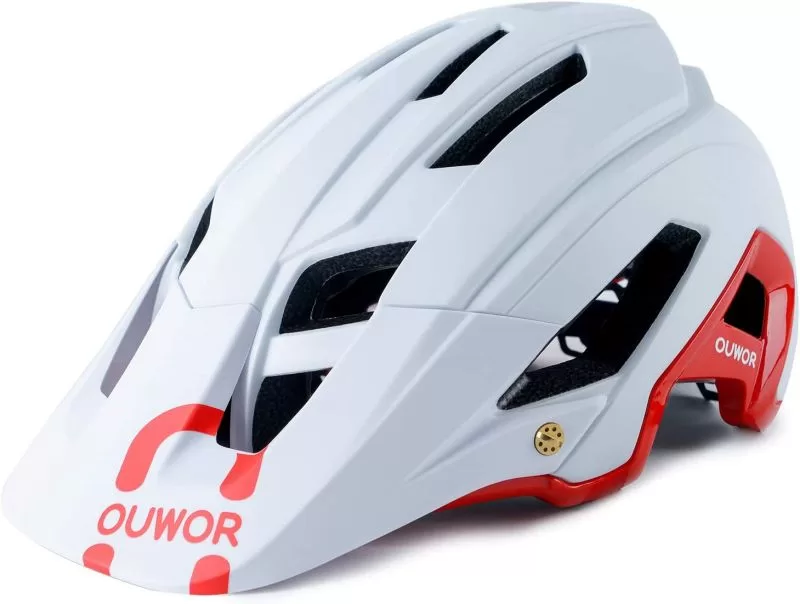 Color: 9 kinds
Housing material: Polycarbonate
Size: M: 54-58 cm / 21.2-22.8 inch, L: 56-61 cm / 22-24 inch
Ventilation port: 16
What we like about it: It also supports urban road riding, and is both safe and comfortable.
What we don't like about it: Ventilation performance needs to be improved.
For those riders who count on disposable, the safety of off-road riding as well as the comfort of urban riding are perfectly solved, choosing an OUWOR MTB helmet will not let them down. The sturdy PC shell and high-quality EPS foam are fully compliant with the US CPSC bicycle helmet safety standards. It can protect the rider's head when an accidental impact comes. The reliable adjustment dials and chin straps with soft pads are not only easy to fix and loosen but also give riders more comfort. In addition, the detachable sun visor not only blocks the sun and rain from interfering with the eyes but also saves the rider from being cut in the eyes or cheeks by leaves and branches in the mountains and forests.
Although the OUWOR has 16 ventilation holes, there is still room for improvement in its ventilation performance. Because during our testing, we found that riders tend to sweat when the temperature rises to 85°F. Fortunately, the foam pads inside the helmet as well as the chin pads are soft enough to give the rider more comfort. Therefore, heat-shy riders may also consider the Basecamp below.
12. Basecamp Bicycle Helmet ($36.97)
Color: 12 kinds
Housing material: Polycarbonate
Size: 22.44″-24.41″(57cm-62cm)
Weight: 270g (M)
Ventilation port: 28
What we like about it: A fully functional helmet, with excellent ventilation.
What we don't like about it: The versatile design makes it less mountain responsible.
If you're on a budget but looking for a fully functional cycling helmet, consider the Basecamp Bicycle Helmet, which uses superior in-molding technology that combines high-density PC shell and EPS foam to make it confident enough to not only absorb and reduce external impact, and can protect the user's head in all aspects of the collision. This helmet with a detachable magnetic visor has 3 strong magnets to fix the sunglasses with UV400 protection, blocking the strong light while blocking the wind and sand. Although with three modes of LED lights, it seems unnecessary for mountain riding, you will appreciate the visibility it gives on the road in the dark. In addition, its 28 breathable vents are designed enough to reduce air resistance while allowing the rider to sweat less on hot summer days.
Based on the universal nature of the Basecamp for both mountain and road, its protection is not as good as a typical mountain bike helmet. But with a weight of only 270g, it is very competitive in a range of mountain bicycle helmets. After all, for less than $40, you can have a multifunctional helmet, but still worth celebrating.
Mountain Bike Helmet Purchase Advice
Security
Ventilation
Comfort
Weight
Sunshade
Security
There is no denying that the main concern of every rider who is determined to buy a mountain bike helmet is its protection ability. The Polycarbonate shell protects against spiky rocks or tree branches, while the foam diffuses and delays the impact, leaving the wearer with as little shock or impact as possible. impact.
In addition, the MIPS (Multidirectional Impact Protection System) technology, seen everywhere in the article, is considered an old and very reliable friend of helmets. It reduces the rotational forces transmitted to the brain during a collision, effectively protecting the rider's brain, neck, and spine. Therefore, Smith Forefront 2, BELL 4Forty, LAZER Impala, and other helmets have adopted this technology.
Of course, for those riders who desire all-round protection, we also have a variety of helmets with large coverage areas, such as full-face GRYFF and convertible models of Smith Forefront 2, BELL 4Forty, POC Axion, and other helmets.
Ventilation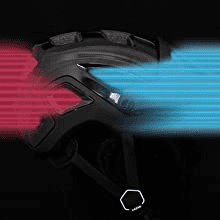 Of course, we are not against those who are afraid of heat or the pursuit of extreme cooling practices. Because off-road helmets' extra coverage will indeed affect the smoothness of airflow, not only affect the propulsion, and in the hot summer helmet interior will be like a sauna, and the head sweats more frequently.
Fortunately, with technological upgrades, many helmets are now scientifically engineered to ensure that airflow enters from the front, passes through the head, and exits through an internal back channel that is not only cool and comfortable but also aerodynamic. As a result, helmets such as the Oakley ARO3 LITE, OutdoorMaster Gem, and Basecamp, which offer excellent ventilation, have become the smart choice for riders who demand high ventilation performance.
Comfort
We must admit that every rider seeking a helmet that fits well cares more about its comfort level than safety. No one wants to choose an ill-fitting, uncomfortable protective device. Because comfort is not only conducive to the rider to enjoy the sport, and can invariably extend the rider's sailing distance.
Size
Comfort depends very much on the size and shape of the rider's head, and whether the helmet lid matches. A helmet that is too large tends to wobble and lack security, while a size that is too small is not only not conducive to donning and doffing, but also makes the rider feel suffocated. Therefore, riders must go to a bike store to try them on when buying. Of course, for riders who are used to buying online, it is necessary to pay attention to the size measurement. We believe that in the measurement room, you should place the tape measure about 1 inch above your ears and above your eyebrows, and keep the tape measure level while measuring the circumference around the largest part of your head.
Fit
Very often, the kind of helmet that ensures that it fits securely on the head and does not wobble as pressure arises is usually not uncomfortable for the rider.
For this reason, many helmets will have some sort of retention system as well as a soft, comfortable chin strap. such as a dial adjustment system that supports 360-degree adjustments and gradually tightens the fit around the head with a single turn to ensure that the helmet securely shields the rider's head.
Liners and Brow-pads
Of course, there are many helmets to let the rider have a more comfortable riding experience, specially equipped with a soft liner, and that can absorb sweat brow pads to ensure the comfort of riding. The liners not only allow the head and helmet to have a better fit, and can effectively relieve the vibration brought about by the impact. The brow liner is mainly used to absorb the sweat generated by the eyebrows and forehead to avoid blurring the vision.
Therefore, for those riders who expect a comfortable ride, helmets such as the Smith Forefront 2, POC Axion, LAZER Impala, etc., can be chosen with confidence.
Weight
While weight many times seems to be a secondary consideration for mountain bike helmets. But on long rides, a lightweight helmet will put less stress on the rider's shoulders and neck, supporting them farther and longer.
Fortunately, our recommended helmets such as the POC Axion, Oakley ARO3 LITE, OutdoorMaster Gem, and Basecamp are not too painful on the rider's shoulders.
Visor
Many riders may not be sure what the difference is between mountain bike helmets and road bike helmets, and why they need to prepare two kinds of helmets. Mountain bike helmets have been upgraded in terms of sun visors in addition to safety considerations for the head. The larger visor is not only suitable for blocking the sun and providing extra protection from rain, but it also protects against low-hanging tree branches in complex mountain riding.
Of course, adjustable sun visors are more popular. This is because people prefer a more tailored feel. In addition, helmets that come with goggle-compatible options often offer more convenience to the rider as well.
Conclusion
Choosing a helmet that is safe and comfortable can give the rider more confidence to ride. In fact, in addition to the above issues that people care a lot about, many small details also deserve the attention of buyers.
For those riders who are eager to share their riding experiences, having a helmet with a camera mount would be more reliable without a drone. At this time, the Smith Forefront 2 and LAZER Impala two helmets will become their reliable partners.
Many times we also want users to take the Oakley ARO3 LITE with a warranty promise into consideration. While the unit price of the helmet is not so high as to bankrupt everyone, more warranty promises can alleviate a lot of trouble in many cases. By the way, if you want to go riding in well-known terrain or special terrain, you can book your accommodation on Skyscanner. It is not only rich in variety but also easy to operate.
Finally, we also hope that all riders can find the most preferred road bike helmet in the article.
If you like our content, feel free to share it with your friends! If our content is helpful to you, you can click the email subscribe button below!