We use affiliate links and may receive a small commission on purchases.
We've selected the 14 best cycling clothing for your reference.
The best cycling clothing must be comfortable and well-fitting. On top of that comes other convenient features that will allow you to ride rain or shine.
And as winter approaches, choosing the right cycling clothing becomes a worry for many riders. I guess the temperature difference between morning and night will make you torn about the warmth of your riding clothes. Don't worry, here we list the 14 best cycling clothes to ensure you can better cope with this winter.
1. LE COL Men's Hors Categorie Jacket II
Price: $205
Material: 100% polyester
Color: navy blue
What We Like About It: Impressive jacket.
What we don't like about it: There is still room for improvement in weight.
As a well-known cycling gear brand, we look forward to every LE COL product, and the Men's Hors Categorie Jacket II not only continues the excellent performance of the previous version but also makes some improvements. If you're familiar with LE COL products, you'll notice the use of a new Polartec Alpha fabric, which further enhances its performance against the cold.
And an excellent diaphragm is set on the outside. This not only effectively protects against rain but also has the function of keeping warm and cold, giving it the possibility of being able to be used in wet weather.
But what makes us complain is that it doesn't satisfy us in terms of weight. Compared to other cycling clothing on the list, there is still room for improvement in terms of weight, especially in the face of climbing terrain, this weight may become a burden to your ride.
2. GIRO MEN'S CHRONO EXPERT WIND JACKET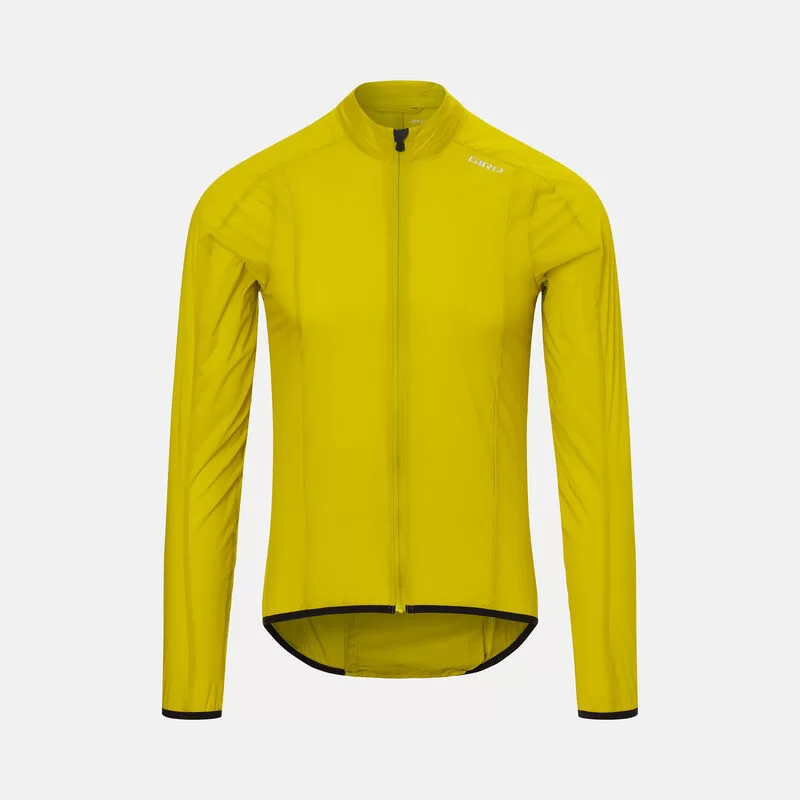 Price: $119.95
Material: body 100% nylon, back panel 100% polyester
Color: Yellow
What we like about it: Superior ripstop fabric.
What we don't like about it: It's not suitable for severe cold weather.
The GIRO MEN'S CHRONO EXPERT WIND JACKET is made of 2-way-stretch windproof ripstop fabric, which makes it superior windproof. Even in the face of gusty winds, it can still resist. And the addition of durable water repellents provides excellent water resistance against rain, snow, and wet conditions.
GIRO is always well thought out in the details, and the protective device at the top of the zipper helps prevent the neck from getting caught. The presence of a built-in back allows for quick and easy storage. And the perforated panel is designed to optimize internal temperature and humidity management, making your ride more comfortable.
Although the CHRONO EXPERT windproof jacket is perfect for windy adventures, its performance in cold weather is not so satisfying. It is light and simple enough in design, which makes it not so great at keeping you warm. When you face colder temperatures, you'll need to add an extra pair of tights or a vest to keep out the cold.
3. Gore C5 Thermo Long Sleeve Jersey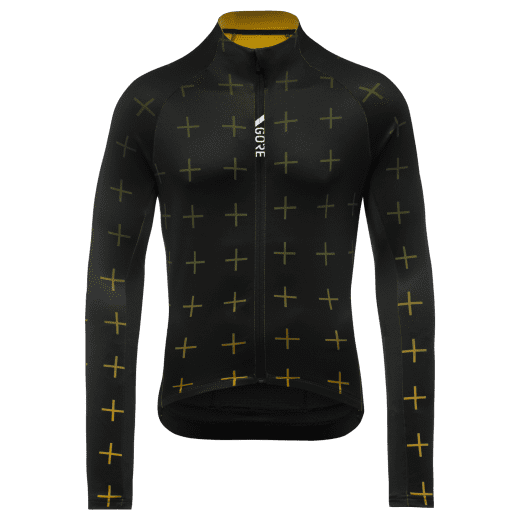 Price: $130
Material: 91% polyester, 9% elastane
Weight: 9.9 oz
What we like about it: The ability to handle cold weather.
What we don't like about it: The pockets are located high on the back.
As the name suggests, this cycling jersey from Gore has excellent thermal performance. This is thanks to the torso part of the high-quality thermal fabric, which can protect your core warmth. It also has a soft touch interior that fits your skin well and doesn't make it tight, which makes me feel very comfortable while riding.
And to take care of most riders, the ergonomic design is used on the collar. So you can easily put it on and it won't interfere with your riding. You also don't have to worry about breathability, the mesh inserts on the back achieve optimal ventilation, very suitable for autumn and winter riding.
Although the Gore C5 Thermo Long Sleeve Jersey is designed with 3 pockets to hold some cycling items securely. However, we found it slightly high on the actual ride, which is not so convenient, you need to bend down more or reach longer to get the items.
4. Endura Pro SL Shell Jacket II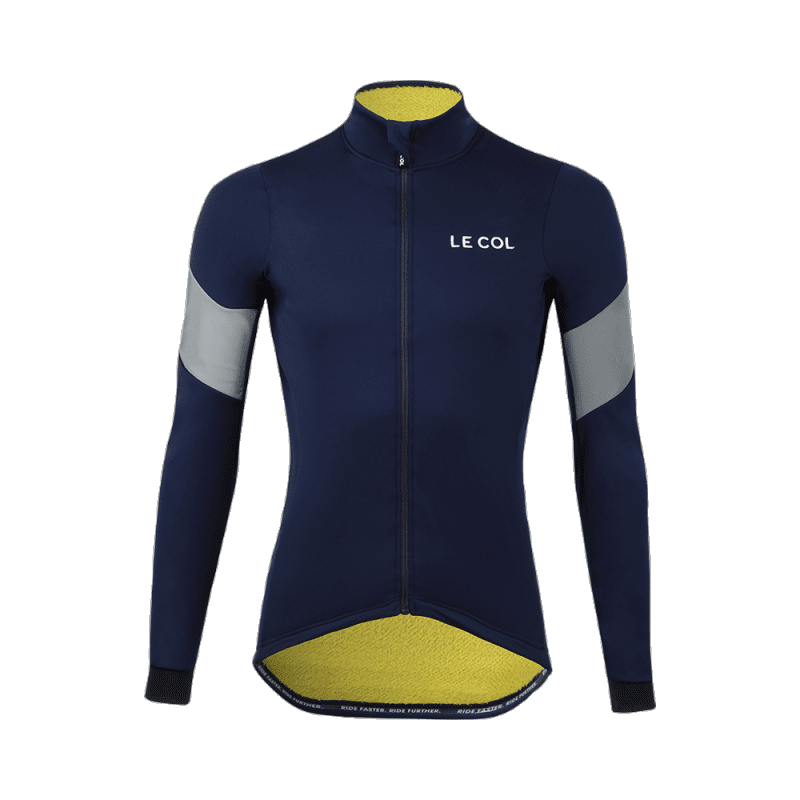 Price: £152.99
Material: polyester 2%, elastane 8%, nylon 90%
Color: KINGFISHER
What we like about it: easy to store and waterproof.
What we don't like about it: easy sweating.
The Endura is built for the most demanding pro riders, and this Pro SL Shell Jacket II is more than capable of getting you through the day on the bike. The multi-panel construction is set up with carefully positioned stretch panels to provide a great flapless fit for your ride. The detailing is well thought out, as it stores easily in the back pocket and then can be slipped on whenever you need it.
What impresses us is still its outstanding waterproof performance. The ExoShell40 waterproof fabric is used to keep the rain out and the body dry.
Of course, since it's a jacket, it's not the only thing you'll wear on a ride, which makes it easy to sweat. For those who like to ride long distances, this is not a good experience. Fortunately, it can be taken off at any time and is easy to store.
5. Pearl Izumi Torrent WxB Jacket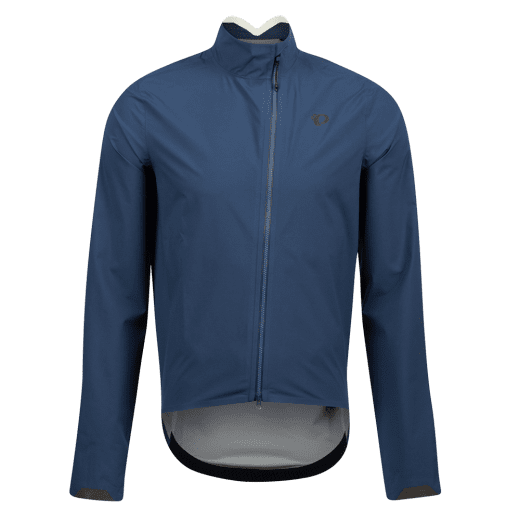 Price: $150
Material: 100% nylon cuffs: 86% nylon, 14% LYCRA® elastane
Type: Jacket
What we like about it: Fully pressed seam technology.
What we don't like about it: It could be warmer.
The Pearl Izumi Torrent WxB Jacket is a lightweight, high-performance rain jacket. PI Dry® technology makes the difference, providing not only permanent waterproofing but also extremely lightweight. What we loved most during testing was the unbeatable fit that allows you to swing freely while riding without compromising technical riding in any way.
The use of full compression adhesive seam technology is the biggest highlight of this cycling suit, providing absolute protection for your cycling suit, and full airflow is what keeps you dry inside. The asymmetrical double forward zipper design allows you to not have to worry about pinching your neck or hanging up your helmet buckle.
But the point that makes us complain is that it does not bring good insulation in the face of cold weather. While the excellent breathability gives it a fast air-drying effect, it also fails to lock in warmth as well. This also makes riding in sunny autumn only its domain.
6. RAPHA MEN'S CLASSIC LONG SLEEVE JERSEY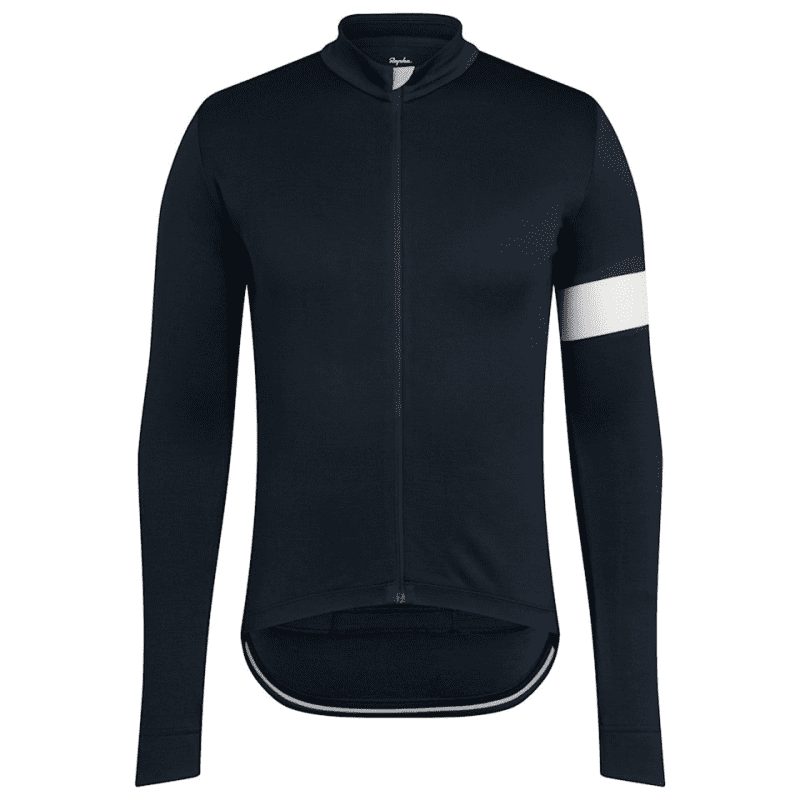 Price: $129
Material: 64% recycled polyester 36% merino wool
Color: dark navy blue
What we like about it: Proprietary recyclable materials.
What we didn't like about it: The sizing wasn't that accurate.
We never question the excellent performance of RAPHA products, and this MEN'S CLASSIC LONG SLEEVE JERSEY is good proof. Made from a blend of recycled polyester and merino wool in the material, this gives you unparalleled comfort. Not only can it keep you warm and warm, soft and skin-friendly, but it also has an anti-odor function to keep your body fresh at all times.
Not only that, but it also innovatively uses recycled fiber, which makes the recyclable features. When you use it a long time after, still can be recycled, very environmentally friendly.
You need to be aware, however, that it is not as accurate as the sizing. If you don't plan on wearing too much clothing underneath and want a more snug fit, then you need to choose a size smaller. This is the experience we have gained through testing.
7. Rapha Men's Brevet Long Sleeve Windblock Jersey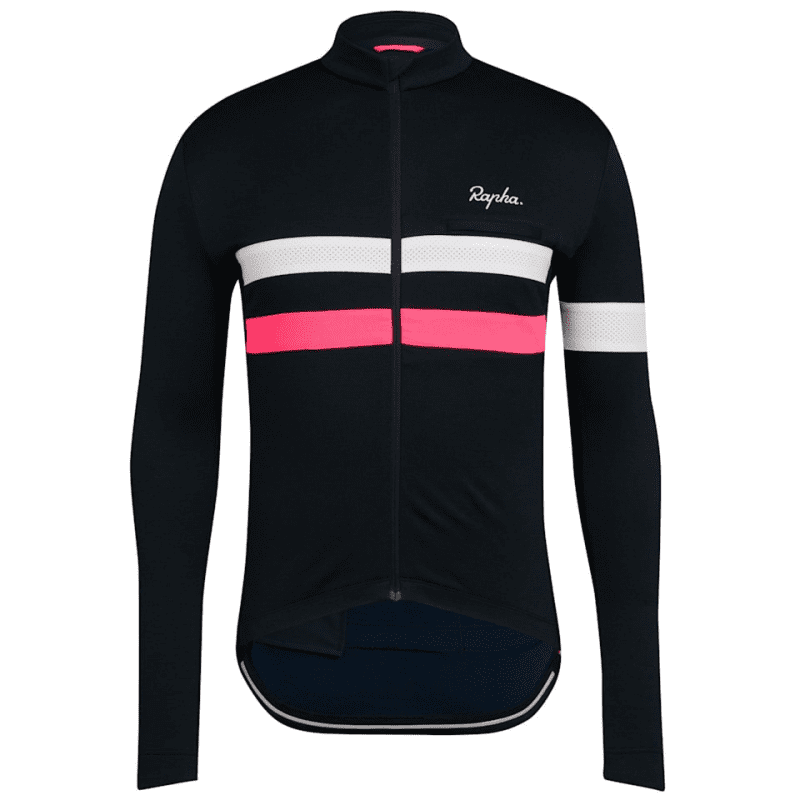 Price: €129
Material: 61% polyester 39% merino wool
Color: Deep navy / highly visible pink
What we like about it: Having five pockets.
What we don't like about it: the loose fit design.
Like the previous model, this Men's Brevet Long Sleeve Windblock Jersey is also produced by Rapha. It adheres to the concept of traveling light, combining a high degree of breathability with the windproof performance of a quality vest, making it the clothing of choice for winter riding.
In terms of performance, it is designed for endurance rides that require extra insulation, while the windproof polyester panels covering the torso provide effective protection for cold downhill rides. In terms of practicality, the 5 pockets are designed to greatly facilitate your daily riding and bring you enough storage space. At the same time, the use of reflective stripes and armbands increases visibility and improves safety for your night riding.
For a more comfortable ride, Rapha has been designed with a loose fit that can move slightly away from the skin. This also makes it not as snug as you might expect. If you happen to like this loose design, then the Rapha Men's Brevet Long Sleeve Windblock Jersey is the right choice for you.
8. Castelli Trasparente V Jersey
Price: $129.99
Material: 85% polyamide fiber (nylon), 15% elastane fiber (spandex fiber)
Suitable temperature: 10 to 18℃
What we like about it: A tighter fit.
What we don't like about it: The bright colors.
When you choose the wrong riding gear, you will feel uncomfortable because of it. And the Castelli Trasparente V Jersey makes that choice easier with its outstanding performance. With a 4-way stretch fabric on the front that is windproof and waterproof, it can easily handle even changeable weather.
More importantly, it has a comfortable fit in terms of tightening effect. The graceful lines not only outline your figure but also allow for super streamlined performance on the bike. We enjoy the freedom and lightness it brings.
As a professional cycling suit, it is excellent in performance, but not so much in style and design. Personally, bright colors are not my type. If there were other more understated options, maybe it would be my favorite.
9. Castelli PURO 3 JERSEY FZ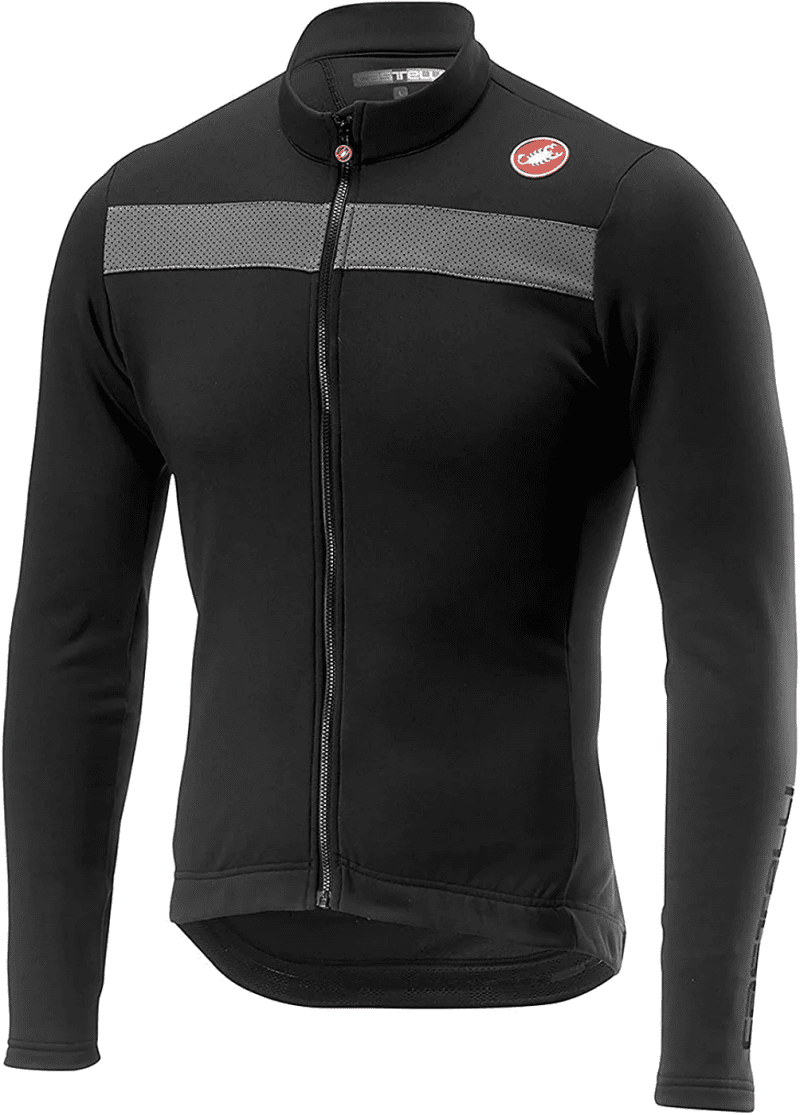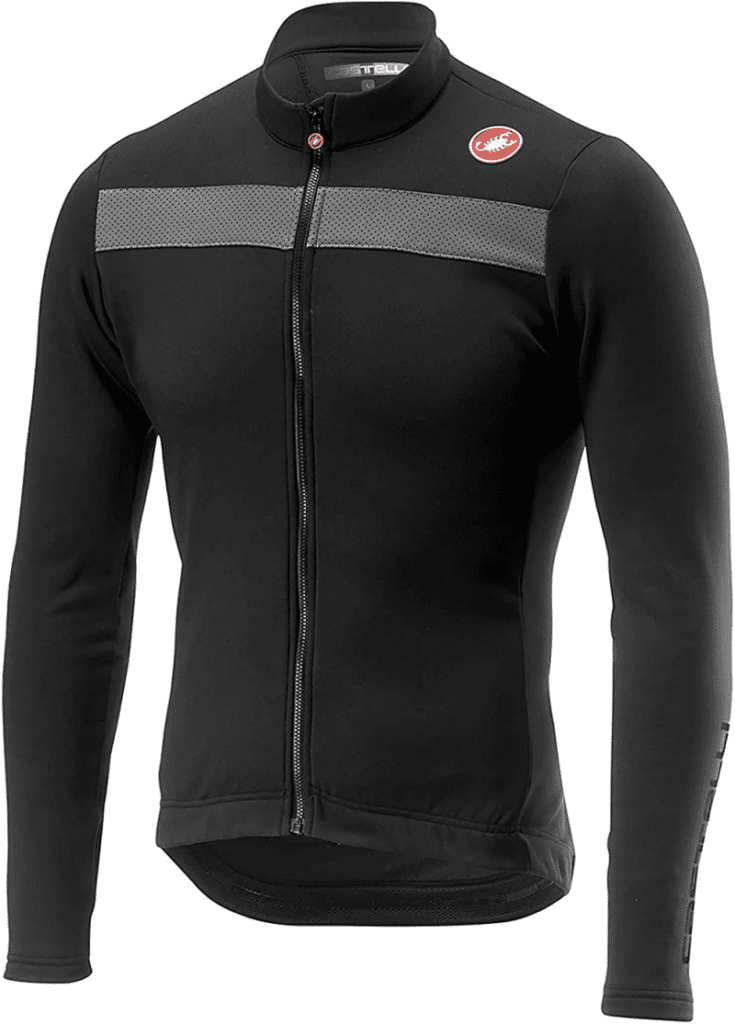 Price: $129.99
Material: jersey, polyester, wool
Weight: 293g
What we like about it: Excellent moisture-wicking properties.
What we don't like about it: The zipper uses small teeth and doesn't deflect.
This PURO 3 JERSEY FZ is also a Castelli product, and although it is the same as the previous one in terms of price, they have a different focus. You can see the excellent moisture-wicking function on this cycling jersey. This is due to the use of thick brushed polyester fleece material, so you can keep your body dry and comfortable after a smooth ride.
And the front and back of the clothes have a reflective plate design. This makes whether it is day or night have good visibility, to protect your riding safety.
However, it is worth mentioning that, unlike the Pearl Izumi Torrent WxB Jacket's asymmetrical zipper, the design right in the middle may pinch your neck. And the use of a small teeth zipper, which in practice brings a not-so-friendly experience, you need to focus more to pull it on.
10. Assos Equipe RS Winter Long Sleeve Mid Layer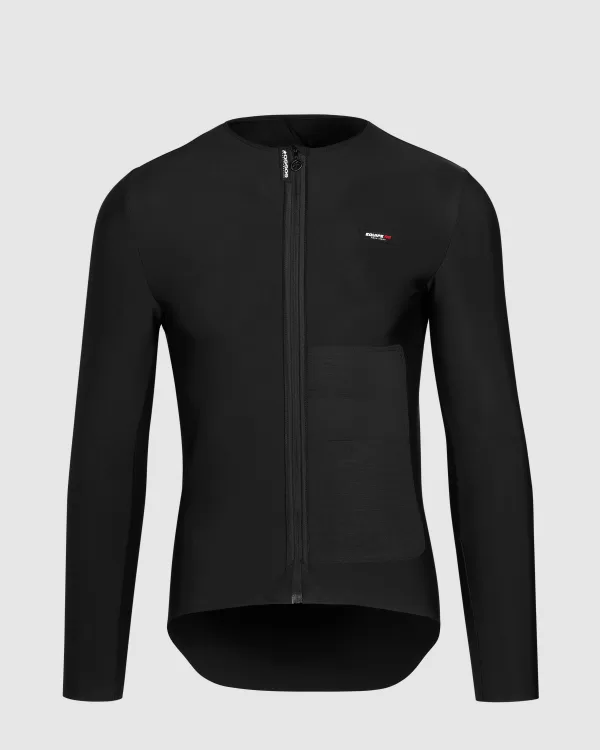 Price: $189
Material: 55% Polyamide 27% Polyester 16% Elastane 2% Polypropylene
Color: Black
What we like about it: The one-piece facemask and hood.
What we don't like about it: The high price.
If you need a versatile riding jacket, then the Assos Equipe RS Winter Long Sleeve Mid Layer is the right choice for you. You don't need a different jacket specifically for the changing seasons, because it will serve you well.
In sunny weather, the soft, insulating material has excellent breathability, removing internal moisture while keeping your body warm. And in the bitter cold of winter, you can pull up the one-piece visor and hood. It's a design that surprised us with all-around protection to keep you safe from the cold wind.
Of course, if you want to enjoy a better performance, you need to pay more money for it, it is unavoidable. The high price is unacceptable for some riders, but during some special holidays, there are discounts. If you can't wait that long and want to have a riding suit of your own right away, then take a look at the other products on the list and I believe there will be a more suitable choice.
11. PSN LS RAIN JERSEY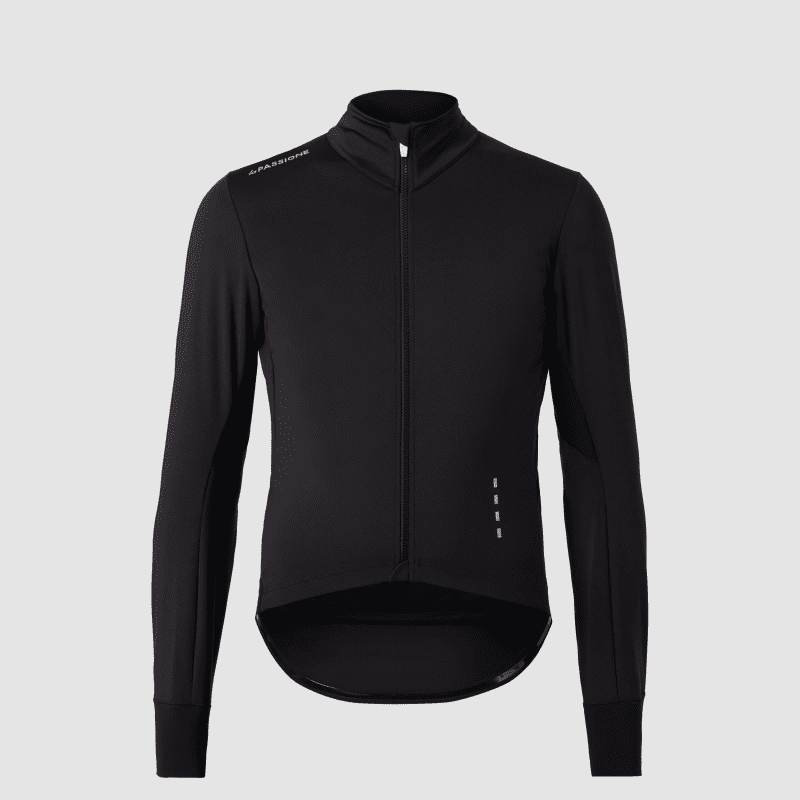 Price: €155
Material: 88% polyester 12% elastane
Color: Black
What we like about it: Anatomical multi-panel structure.
What we don't like about it: no pockets with zippers.
You'd be hard-pressed to find a cycling jersey that fits this well, but the PSN LS RAIN JERSEY does. The anatomical multi-panel construction in the style design and ergonomic design make for an unbeatable fit and comfort. The fitted cut collar and laser cut cuffs showcase its professionalism.
The use of 3 layers of windproof and waterproof fabric in the material is impressive. In the face of rainy weather, excellent waterproof performance can keep your body dry at all times. Excellent windproof performance to lock your temperature, so you have a comfortable ride.
If you often carry some valuables while riding, then you need to pay attention. The pockets of this jersey do not have a zipper design, which makes it impossible to ensure the safety of items in the face of intense riding. Of course, you don't have to worry about this when you are doing short or daily rides.
12. Sportful Supergiara Thermal Jersey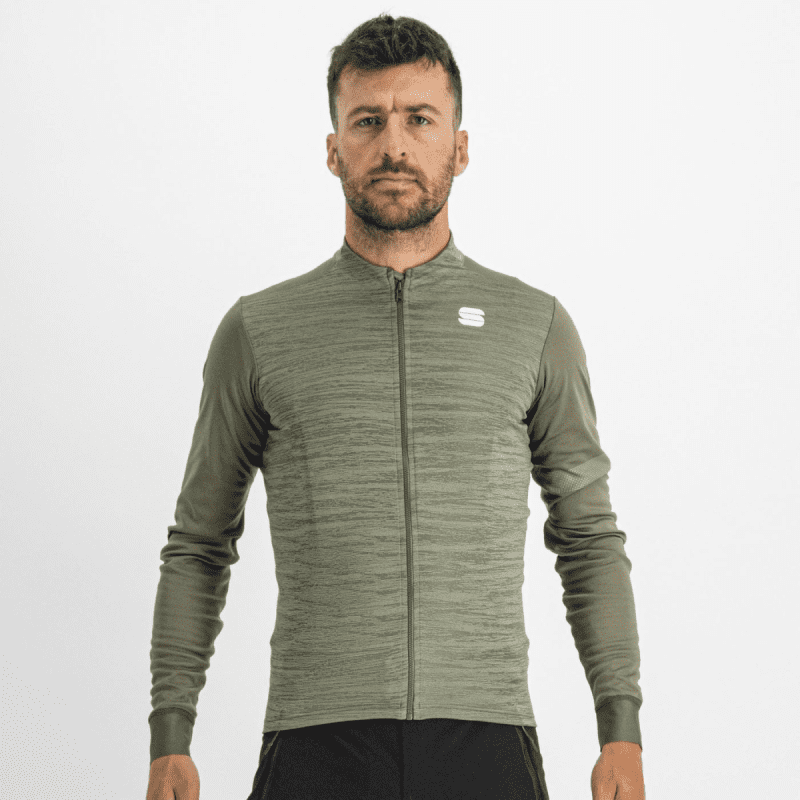 Price: €109.9
Material: Front 91% polyester 9% spandex
Color: BEETLE
What we like about it: The variety of style designs.
What we don't like about it: It's not ideal in terms of water resistance.
The Sportful Supergiara Thermal Jersey is a beautiful piece of cycling clothing. New colors have been introduced on top of the original colors to meet the needs of more riders. As a professional gravel cycling jersey, I have to say that it is designed with 6 rear pockets. Three of them are in the usual position, while the other three are on top. Although it can't bring more capacity, it is suitable for those riders who like to put many smaller items.
It is worth mentioning that for your riding safety consideration, some reflective designs are added on its right arm and back so that you can have a safer ride in the low visibility environment.
Unlike the above cycling suits, it is not that impressive in terms of water resistance, which makes it unsuitable for riding in wet weather. However, we believe you will not choose to ride exclusively in rainy weather. If you are unfortunate enough to encounter a weather shift while riding, some light rain can cope well with it.
13. Velocio Signature Long Sleeve
Price: $189
Material: 61% polyamide/25% polyester/14% elastane
Color: green, orange, gray
What we like about it: The high-collar design.
What we don't like about it: The cumbersome caveats.
The long sleeves and high collar design mean that the Velocio Signature Long Sleeve can handle harsher weather, especially in the fall and winter months with good performance. The wool-lined cuffs and collar keep it at bay and keep you warm in the face of cold winds.
Of course, as a fully functional sweatshirt, it is not only this feature, the soft and stretchy fabric can let you move freely. At the same time excellent breathability, it can effectively wick away moisture and sweat, bringing first-class comfort.
It should be noted that if you want it to last longer, then do not bleach or dry clean, strong detergents and bleach will break down the fibers and elastic fibers in the clothing, thus greatly shortening its life. And do not dry after washing, which will be easily damaged by heat. Although these are marked, we still need to remind you again and again.
14. DHB Merino Long Sleeve Jersey
Price: £95
Material: 40% polyamide, 25% polypropylene, 35% merino wool
Color: Brown
What we like about it: Excellent temperature regulation.
What we don't like about it: The cuffs may be too long for some people.
The reason we trust DHB is that every one of its products has excellent performance and this Merino Long Sleeve Jersey does not disappoint us. As its name suggests, it uses merino wool and combines them with modern fabric technology, which provides excellent temperature regulation to keep you warm at all times.
Most importantly, it has excellent anti-bacterial and anti-odor effects and remains comfortable after an intense ride. And the extra polypropylene lining is soft to the touch and absorbs sweat from the body quickly for excellent wicking performance.
With warmth in mind, the cuffs were designed to be as long as possible. This makes for a not-so-good fit for some riders. Overly long cuffs can interfere with your control, but of course, you don't have to worry about it, just go to your nearest tailor and cut it slightly.
Cycling Clothes Buying Guide
The best cycling clothing brands
Materials for cycling clothing
Zippers for cycling clothing
How many pockets are appropriate for cycling clothing?
Why are most cycling clothes tight?
The Best Cycling Clothing Brands
When you decide to buy cycling clothes, you need to know about each brand so that you can have a more accurate judgment when choosing.
The best cycling apparel brands include Le Col, GIRO, Rapha, Castelli, etc. If you are careful enough you will find that the list of cycling apparel is the products of well-known brands. These cycling clothes are the best of the best, and that is why we chose them.
Of course, this doesn't mean that these are the only good ones, there are some equally good brands out there. If you want to go deeper, you can watch our other article: Best clothing brands 2023.
Materials For Cycling Clothing
Most cycling degree materials are manufactured in blends, such as nylon or polyester. These materials have excellent breathability, especially during intense riding, and the excellent moisture-wicking effect can carry sweat away from the body and evaporate quickly. If you are looking for a dry and more comfortable ride, then it will be a good choice.
Of course, there are more advanced fabrics, which are natural materials such as merino wool. You will see it in some well-known brands and is used precisely because of its excellent performance. It also has great breathability and better elasticity, making it a better fit. Not only that, but it also has the feature of preventing the accumulation of odor. But you need to pay more in terms of cost, so they are usually found in high-end products.
Zippers For Cycling Clothing
In the old cycling jerseys of the past, quarter or half-length zippers were generally used. However, with the advancement of technology, full-length zippers are now basically used in cycling jerseys. The advantage of this design is that when the temperature is very warm, you can half the zipper to regulate the temperature and reduce the possibility of catching a cold.
In terms of material choice, some are generally made of metal, while others are made of plastic. Comparatively speaking, metal zippers will be harder and last longer, but if you ride in hot conditions, then plastic zippers may be a better choice.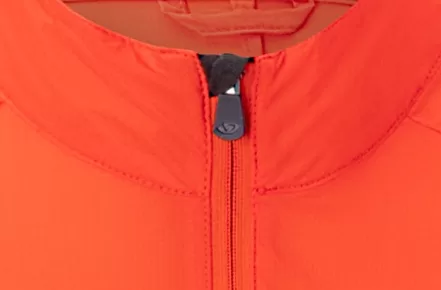 How many pockets are appropriate for cycling clothing?
Generally speaking, the standard for cycling jerseys is to have three rear pockets on the lower back, which are used to store some basic items. Typically, the pockets are not too large, so they usually hold some multi-tools, snacks, or other cycling essentials.
Of course, some cycling jerseys are designed with multiple pockets and have security zippers on them. This way you can place some valuables and not worry about dropping them.
Overall, the standard three pockets are adequate. But if you are planning a longer ride or a long trip, then you can opt for more pockets. However, when you are placing items, it will increase the burden of riding, and even affect your riding. So when there are a lot of items, it is best to configure a saddlebag or handlebar bag, which can bring more storage space.
Why are most cycling clothes tight?
Perhaps all novice cyclists are wondering why most cycling jerseys are designed with a tight fit. This is because wind deflectors can ruin your aerodynamic performance. Even if you are riding the best aero bike, a more snug-fitting jersey greatly alleviates this problem and allows you to ride more nimbly and quickly.
In addition, the more fitted design helps the fabric to be in close contact with the skin. This can effectively wick away sweat and keep the skin dry.
Of course, if you prefer a more comfortable ride and don't care about speed, then a loose-fitting cycling jersey would be a good choice. It can give you a more relaxed ride.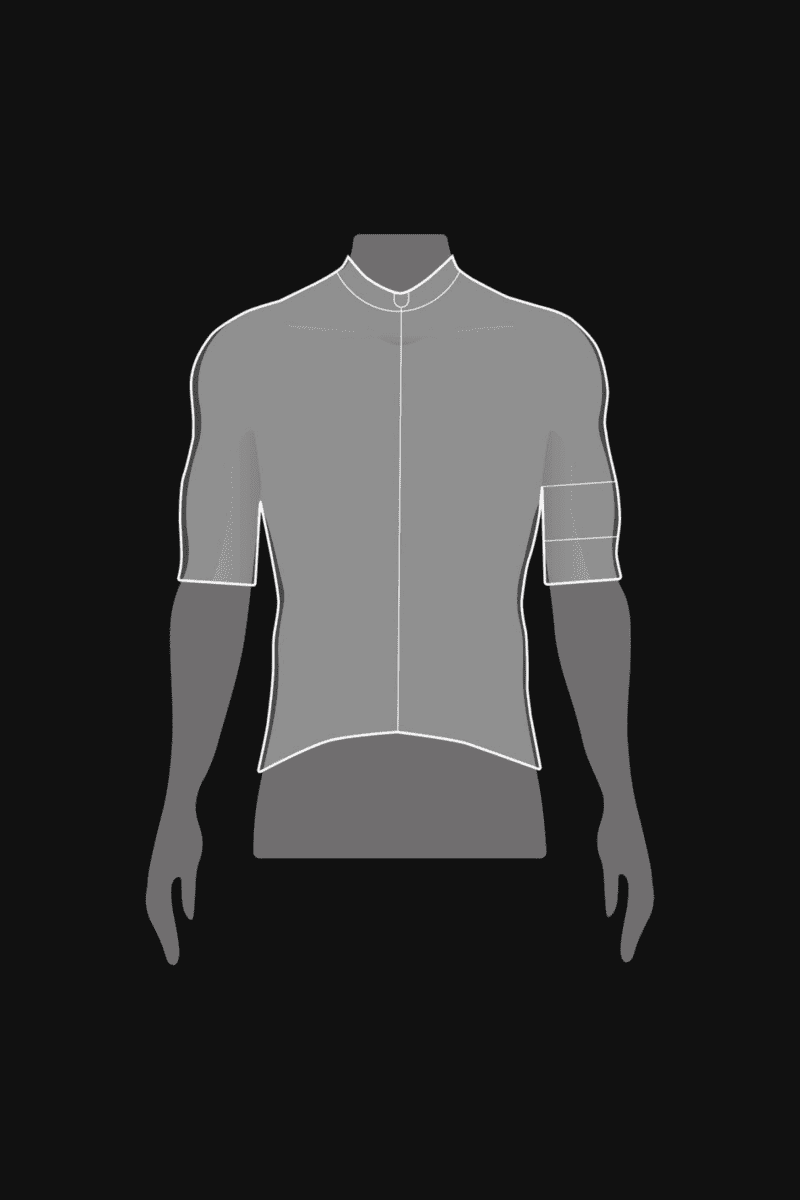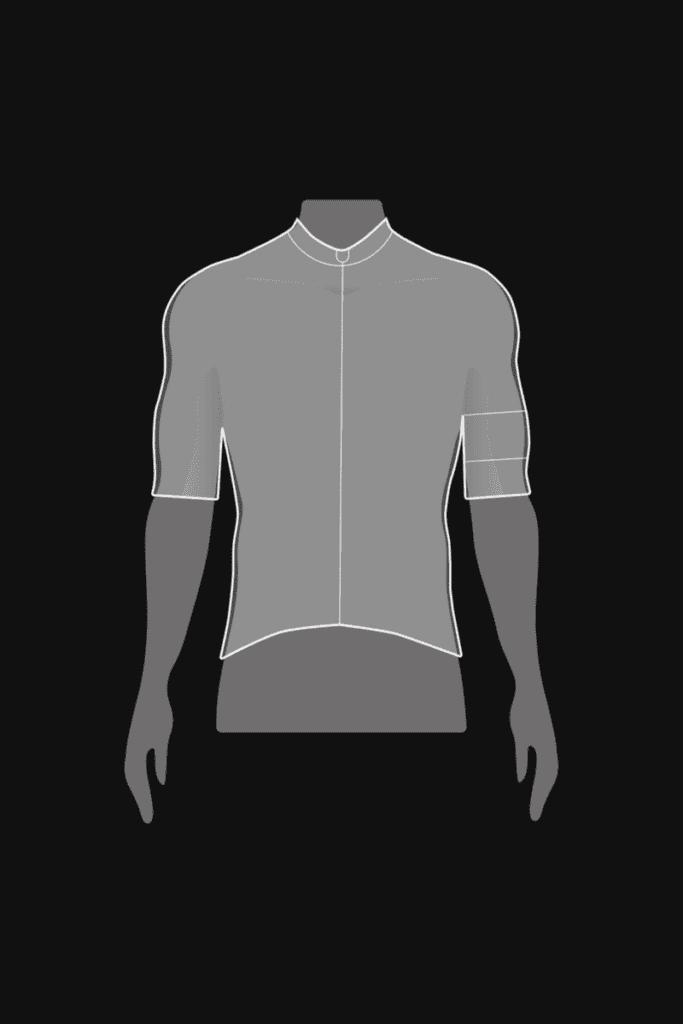 Conclusion
We are happy that you were able to finish reading this article, where we have listed the best cycling clothing for 2023, with different manufacturing materials and different features, and they have proven themselves with great performance. You can make your choice according to your needs and budget. By the way, if you want to go riding in well-known terrain or special terrain, you can book your accommodation on Skyscanner. It is not only rich in variety but also easy to operate.
In addition to cycling clothes, you also need to consider the right professional cycling shoes, we have also done a review of this, if you want to know about cycling shoes, you can click on "Top 15 Best Women's Cycling Shoes [2023]"
Finally, if you like our content, feel free to share it with your friends! If our content is helpful to you, you can click the email subscribe button below!