We use affiliate links and may receive a small commission on purchases.
We've selected the Top 8 Best Hardtail Mountain Bikes Under $1000 from over 174 road bikes.
For those riders who are not good at challenging difficult off-road, but just want to enjoy riding in low difficult mountains, there is no need to spend a huge amount of money on a mountain bike that costs thousands of dollars. There are still many great hardtail bikes available for under $1000.
To help those who want to find the best hardtail mountain bike for them, we have carefully prepared a variety of the best hardtail cross-country bikes with aluminum frames under $1000, suitable for novice or experienced riders.
For specific information about the best hardtail mountain bikes, please refer to our recommendation table and purchase advice below.
Recommended Lists
Best mountain bike under $1000: 2022 Giant Talon 1 ($980)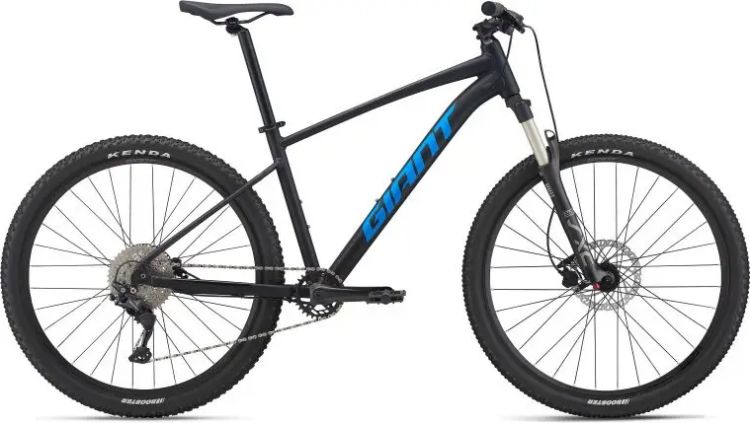 Fork: 100mm of travel (29-inch), 80mm of travel (27.5-inch)
Wheels: 27.5 or 29×2.4″
Drivetrain: 1×10
What we like about it: Good at handling rougher ground.
What we don't like about it: The 80mm fork is not very friendly to small-sized users.
Learn More: Is Giant Talon 1 Worth Buying? [2022 Giant Talon 1 Review]
What makes the Giant Talon 1 the first bike recommended today is its detailed design that cannot be ignored.
First, the tried-and-true ALUXX-grade aluminum is strong and light enough to accommodate riders of all riding styles. Secondly, the updated geometry is designed for balance and stability, and it's hard to experience the pain of side-swiping on either a 29-inch or 27.5-inch bike anymore. And the 100mm SXC32-2 RL fork (29-inch) is a source of confidence for those riders eager to improve their skills, lifting bumps while granting the rider a smoother level of control. In addition, the wide 2.4-inch Kenda Booster tires allow the Talon 1 to easily crush rocky or rooty roads, and even lighter off-road or gravel trails. Finally, the Shimano Deore M4100 10-speed shifting system is also impeccable, allowing the rider to always find the most suitable gear ratio for the ride, no matter what kind of trails they face.
Unfortunately, the different wheel sizes with different fork lengths did not satisfy the smaller (27.5″) riders. After all, they will take more bumps when facing harsh roads. If that bothers you, consider the Cannondale Trial 5, which also comes in two models, but both with 100mm of travel.
Comfortable Cannondale hardtail: 2022 Cannondale Trail 5 ($960)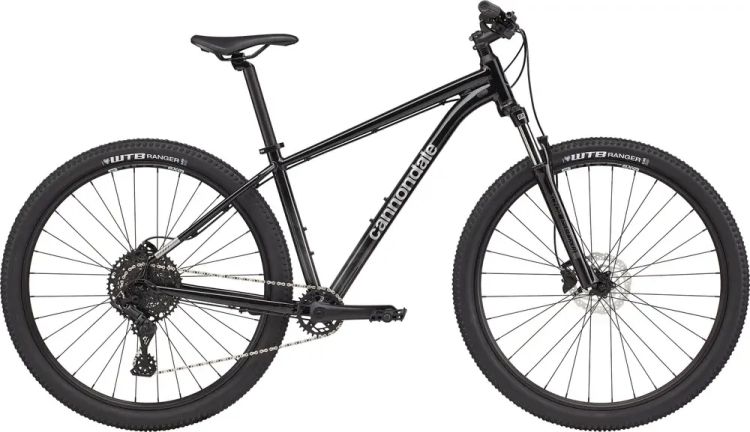 Fork: 100mm of travel
Wheels: 27.5 or 29 x 2.25″
Drivetrain: 1×10
What we like about it: Super comfortable ride and top-notch control.
What we didn't like about it: Not good at handling too rough ground.
Learn More: Is Cannondale Trail 5 Worth Buying? [2022 Cannondale Trail 5 Review]
Cannondale, known as the "King of Aluminum Frames", used the lightweight and durable SmartForm C3 Alloy to create the Trail 5's flexible frame, making it even lighter than its competitors. Thanks to the slightly more traditional XC geometry, Trail 5 users can always handle the bike with the utmost confidence and stability. The 100mm-travel SR Suntour XCM fork is in line with Cannondale's main theme of comfort, giving riders the confidence to enjoy low-impact trails or gravel roads.
The biggest surprise is the microSHIFT Advent X 10-speed drivetrain, which has plenty of confidence to give riders the gear ratios they need for climbing or riding on low-challenge trails in the mountains or general gravel trails. At the same time, the Tektro M275 hydraulic discs respond to the braking needs whenever and wherever they are needed, giving the user a sense of security.
However, the 2.25-inch tires seem to be slightly at odds with the theme of comfort. After all, when it comes to slightly harsher roads, it will be much less effective in both passing and shock absorption. If you're not just going off-road, and you're looking for wider tires to increase passability, the Giant Talon 1 above is better at it.
Fast hardtail mountain bike: 2022 GT Avalanche Sport ($860)
Fork: 100mm of travel
Wheels: 27.5 or 29 x 2.25″
Drivetrain: 2×9
What we like about it: comfortable ride, very competitive speed.
What we don't like about it: Over 33 pounds.
Learn More: Is GT Avalanche Sport Worth Buying? [2022 GT Avalanche Sport Review]
I believe most riders are easily attracted by the new floating seat design of GT Avalanche when they first see it. This interesting Triple Triangle design can effectively ease the bumps and give the rider more comfort. With the 100mm locking SR Suntour XCT-DS fork and 2.25-inch WTB Ranger Comp tires, the Avalanche Sport is easy to handle on both smooth city roads and intricate mountain trails, without fear of bumps or leaks.
The most satisfying thing for riders is the microSHIFT 9-speed shifting system. While not as refined and effortless as the 1×10 speed, the 2×9 speed gives it a faster climb or descent, and the rider is always at the front of the pack.
If GT had been willing to spend money on the Avalanche Sport, using lighter components and accessories to reduce its weight, it would have been more competitive. After all, as it stands now, a weight of over 33 pounds is not going to make every GT user happy. Of course, realistically speaking, at this price point such a weight is considered normal. But if you're looking for a lighter bike, consider the Trek Marlin 6 Gen 2. At 14.1kg, it's also very competitive at a price point of less than $1000.
Fully featured hardtail mountain bike: 2023 Trek Marlin 6 Gen 2 ($849)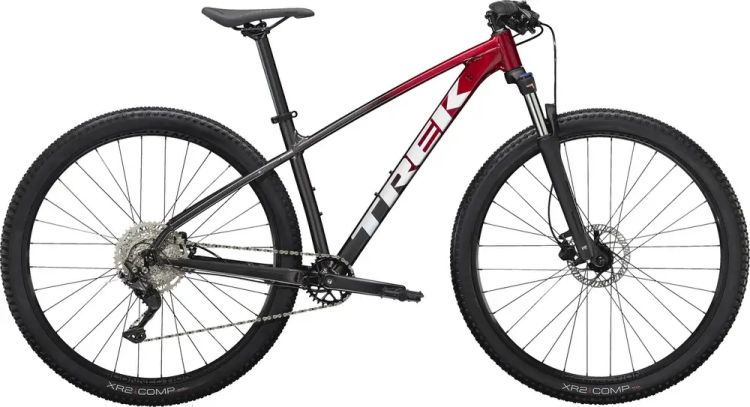 Fork: 100mm of travel
Wheels: 27.5 or 29 x 2.20″
Drivetrain: 1×10
What we like about it: It doesn't pick the ground.
What we don't like about it: the speed is not as good as it could be.
If you're looking for a bike that can effortlessly take on city streets and jump on mountain trails, the Trek Marlin 6 Gen 2 is not to be missed. The sturdy, durable aluminum frame looks great with its internal alignment. The easy-to-operate Shimano Deore 10-speed shifting system with dense gear ratios is designed to exist for mountain sports and will make riding simple and easy. The locking SR Suntour XCT 30 fork has 100mm of travel, which not only effectively absorbs bumps from harsh surfaces, but also refuses to deflate on the road or flat rides, making your commute or daily trips especially smooth. As a result, the Trek Marlin 6 Gen 2 is a "versatile" bike that can be easily handled by novices and veterans alike.
Unfortunately, the more aggressive geometry not only didn't translate into faster speeds but also left the rider with no advantage in the speed contest. This is not good news for the rider who likes to be first in everything. If you're a speed rider, you might consider the GT Avalanche Sport, which has a more relaxed geometry and will give the rider a faster sprint.
Best Value Specialized hardtail: 2022 Specialized Rockhopper Sport 29 ($750)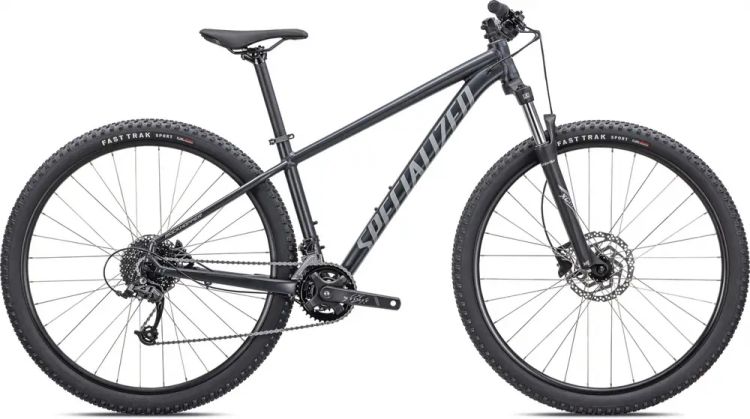 Fork: 100mm of travel
Wheels: 29 x 2.35″
Drivetrain: 2×9
What we like about it: More affordable, comfortable, and relaxed riding experience.
What we don't like about it: The geometry is slightly conservative.
When it comes to 2×9 shifting systems, the Rockhopper Sport 29 is a great choice for the money. The lightweight and durable Specialized A1 premium butt alloy frame give the bike a low weight and high strength at the same time. The locking SR Suntour XC 100mm travel fork is a sure bet to keep the rider on the trails and gravel.
With precise and intuitive braking performance, the Shimano BR-MT200 hydraulic disc is undoubtedly the best brake at this price point. Paired with the durable 2×MicroSHIFT drivetrain's mastery of shifting, the rider's braking or movement will be at their fingertips, whether climbing or sprinting. If you want to learn about Specialized hardtails, the Specialized Rockhopper Sport 29 is a good place to start.
If your riding style is on the mild side, the Rockhopper Sport 29's geometry is easy for you to handle. The 73.5° seat tube angle with a 97mm trail doesn't allow the rider to be very agile when dealing with steep, twisty trails. And the 68.5° head tube angle with 440mm reach is not bold enough, because, in a real ride, the rider will feel less smooth in the stretching process when pedaling. Of course, if you're looking for more agility, the Diamondback Overdrive 29 1 is a great option.
Best affordable mountain bike: 2022 Diamondback Overdrive 29 1 ($750)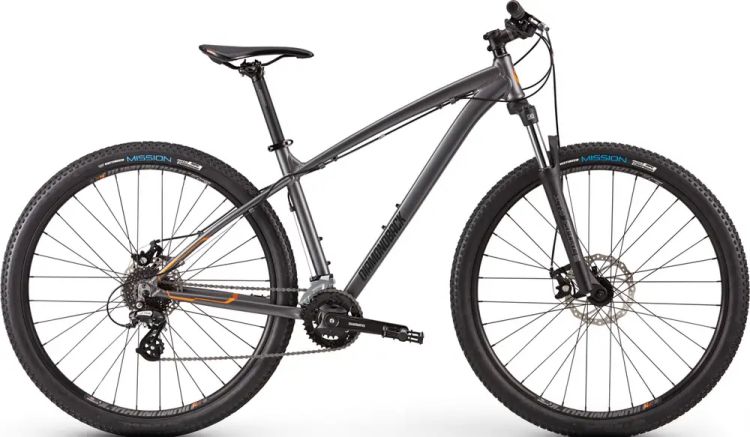 Fork: 100mm of travel
Wheels:F:29×2.25″,R:29×2.1″
Drivetrain: 2×8
What we like about it: Friendly, fun ride for laid-back trail riders on a budget.
What we don't like about it: The mechanical brakes are slightly outdated.
If you are looking forward to a long mountain trip, the Diamondback Overdrive 29 1 will be happy to accompany you on this holiday. The lightweight and durable aluminum frame are equipped with a variety of cost-effective components that allow the rider to tackle all kinds of complex terrain while having plenty of energy to extend his journey. 2 x 8-speed Shimano shifting system with precise and error-free gear changes and various gear ratios greatly ease the fatigue of mountain climbing. With 100mm Suntour XCT fork also has a silky smooth bounce, making mountain travel, easy and fun.
Many people's biggest gripe with the Overdrive 29 1 comes from its mechanical disc brakes. After all, mechanical braking has a far lesser place in the minds of riders than fast and precise hydraulic brakes. Apart from being slightly less effective, the mechanical disc is a great braking device. It's easier to maintain than a hydraulic disc, after all, and you don't have to worry about getting greasy hands if you don't do it right. Of course, if you need a hydraulic brake more, and it is the same price Specialized Rockhopper Sport 29 will not let you down.
Best budget hardtail mountain bike: 2022 Schwinn Mesa 2 ($629)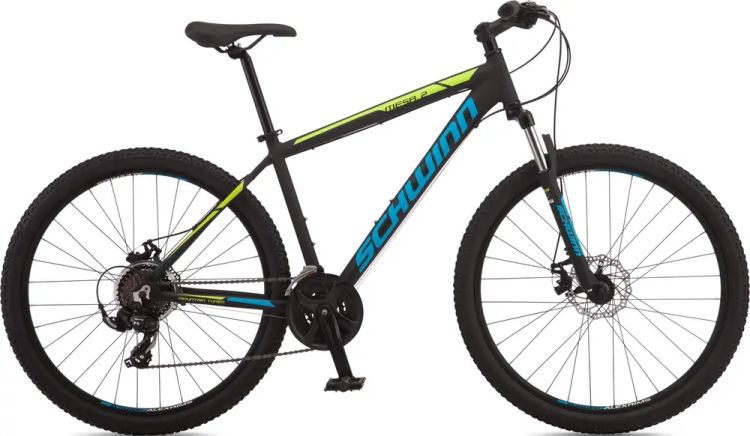 Fork: 80mm of travel
Wheels: 27.5 x 2.1″
Drivetrain: 3×7
What we like about it: Near upright riding position, suitable for all riders.
What we don't like about it: The 80mm fork is slightly tired.
The Schwinn Mesa 2 mountain bike is designed to help every trail novice develop good riding habits and every trail veteran improve their trail game. The near-upright riding seating position is comfortable and makes it hard for riders to get tired whether on gravel roads or single-track trails. Although the 21-speed shifting system looks bulky, shifting is simple and intuitive again with the help of the Shimano EF41 EZ-FIRE trigger shifter. The aluminum mechanical disc brakes front and rear always provide crisp, all-condition braking power and speed control in all conditions, leaving the rider worry-free. In addition, the Schwinn mountain tires have excellent traction with the help of aluminum double-wall rims that won't weigh the rider down in the dirt or on rocks.
The 80mm long Zoom HL565 fork, however, was a bit of a disappointment. While I appreciated what it gave on smooth trails when the road was a little bumpy it tended to bottom out at the drop of a hat, which made us feel like it lacked security. If your route is less potholed you won't have this problem, but if the route is unpredictable you might want to consider the Marin Bolinas Ridge 2 below.
Recreational hardtail mountain bike: 2023 Marin Bolinas Ridge 2 ($599)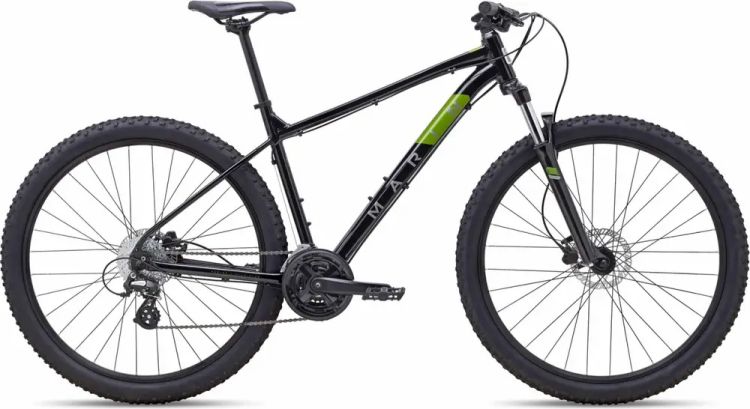 Fork: 100mm of travel
Wheels: 27.5 or 29 x 2.25″
Drivetrain: 3×8
What we like about it: Easy to maneuver, fast bike.
What we don't like about it: The 3×8 system looks bulky.
If you're looking forward to a leisurely experience of trails or dirt trails with a very low entry fee, the Marin Bolinas Ridge 2 is the cheapest hardtail bike you can't afford to miss.
The Bolinas Ridge 2, which incorporates the geometry of the Marin Sport, is easy to handle. The 100 mm suspension travel of the SR Suntour XCM DS fork makes it stable and fun to ride on both dirt and single-track trails. The most surprising thing is the Tektro M275 hydraulic disc brake, after all, at this price point rim brake is more reasonable. The hydraulic discs not only minimal maintenance but also provide all-weather braking power for optimal safety and control regardless of the weather.
It's worth noting that while the Shimano Altus 3×8 drivetrain is slightly bulky, it's also what makes fast and easy a common label for the Bolinas Ridge 2. Every Bolinas Ridge 2 watcher will be curious about its price, as it does climb as fast as most more expensive hardtail bikes. Of course, if you're picky about the 3×8 system, the 1× system above is all you need to satisfy your quest for a lightweight shifting system. And that means you'll spend more money for a slower ride than the Bolinas Ridge 2.
Mountain Bike Buying Advice
Aluminum frame
Wheel size: 29″ and 27.5″
Drivetrain and gears
Used mountain bikes are worth buying
What you get for the more money you spend
Aluminum frame
I'm sure you're also wondering why all the bikes that made the list have aluminum frames. Those of you who have studied frame materials probably know that it is simply impossible to have a brand-new carbon fiber bike for less than $1000. However, it is still possible to have an aluminum frame bike that is similar to a carbon fiber lightweight, strong, and durable bike.
Aluminum frames are strong enough and durable enough to focus on the rough conditions of the outdoors, giving riders great ride quality even on uneven and sometimes destructive terrain. Like the Giant Talon 1 and Cannondale Trail 5, they are made of materials that are as good as the lower-end carbon materials.
The cheaper steel frame is the reason why they did not make it into the list, not only because their bulky body limits their progress, the inability to wet environment, but also makes them lose competitiveness.
Wheel size: 29″ and 27.5″
As two of the most popular mountain bike tire sizes on the market today, 29-inch and 27.5-inch have their own distinctive features.
29er
For taller riders, the 29-inch tires guarantee a greater stretch for their legs and a more comfortable ride. At the same time, the wider tires are more likely to go over rough terrain and obstacles, making them popular in cross-country, enduro, and even downhill races.
So if you want to maximize your uphill and downhill speed and win the race, 29-inch tires will make your dreams come true as much as possible.
27.5er
For smaller riders, smaller tires mean greater control and no more worries about problems like rollovers. In addition, smaller wheels are usually lighter, stiffer, and stronger, as well as more responsive.
So, if you are a rider who likes a trick, maneuverable style. Not as demanding on speed, good at jumping, and desire free terrain, 27.5er tires may be more friendly to you.
To their credit, several of our recommended bikes feature both wheel sizes, such as the Giant Talon 1, Cannondale Trail 5, GT Avalanche Sport 2023, Trek Marlin 6 Gen 2, and Marin Bolinas Ridge 2. They will all meet the needs of riders of all heights.
Drivetrain and gears
I believe most new riders mistakenly assume that the more gears they have, the better the bike. However, the real veterans will refute this.
1× drivetrains
Because the actual riding experience tells them that the multi-disc configuration front shifting system is not very useful during the riding process. After all, in complex mountain cross-country, riders don't have much energy to obsess over complicated shifting, fast and precise is the essence of winning. This makes the simple and multi-ratio 1x system rear derailleur more popular because no matter the rider can always shift as fast as possible to reduce the burden of pedaling with both legs.
2× or 3× drivetrains
Is there no room for 2× or 3× systems? Not really. At least for riders on a budget, it's still very gratifying to have more gear ratio options for their climbing trips. Bikes like the Specialized Rockhopper Sport 29, Diamondback Overdrive 29 1, Schwinn Mesa 2, and Marin Bolinas Ridge 2 have great adjustability on complex trails, allowing riders on a budget to climb or descend more easily.
Purchase Advice
Of course, if you have the budget, we recommend the 1x systems, like the Giant Talon 1 and Cannondale Trail 5, and Trek Marlin 6 Gen 2. Not only are they simpler to shift, but the gearing is lighter, ensuring you have more stamina for extended trips.
Whether it's Shimano or microSHIFT drivetrains, they are the best value for money at this price point. In them, you can always enjoy the best shifting feel at the lowest price.
Take the Cannondale Trail 5's microSHIFT Advent X 10-speed drivetrain, which provides smooth shifting action and an evenly distributed drivetrain for more precise shifting, whether descending dirt trails or climbing rocky surfaces.
Is a used mountain bike worth it?
I'm sure you've probably entertained the idea of buying a used mountain bike, and the truth is that it has obvious benefits and drawbacks. You can enjoy a fun ride at a lower price, and nothing seems wrong with that. But you also know that just like any other used product, you don't get to feel it at its peak from the moment you get it. Whether it's off-road performance or riding speed, it's certainly not the same as it was when it was first produced.
Purchase Advice
If you are searching online marketplaces such as Craigslist, Pinkbike's BuySell, or Facebook, there are some important things to consider. Whenever possible we recommend you choose a relatively new bike to maximize longevity. (Both aluminum and carbon fiber frames will fatigue over time)
Double-check
Of course, a site visit to the bike you are going to buy is also very necessary.
It is important to note that the field view is to look at the front forks of the bike. First, look at the forks to see if there are any very obvious scratches, and if there are obvious scratches or deep marks, it is advisable to buy them with caution. Because these get bad are hard, which means you may have to spend extra dollars for replacement or upgrade.
Next, you should take another look at the frame and observe if there are any scratched cracks in the frame. And the front and rear derailleurs to see if they have been hit.
Test ride
The parts described above can be test ridden after reading. During the ride, you can check if there are any strange noises. In addition, the wear and tear of the freewheel, or the wear and tear of the outer tire, can indicate the time of use and the number of kilometers ridden.
Warranty Status
Finally, if there are still a few months just within the warranty period. Remember to ask the other party for an invoice, warranty card, or other documents, and ask the other party to go to the store with you during the transaction. This way, when you get to the store, you can be checked by the store's technician to determine the time limit for protection.
Of course, if you can't find the used bike you want, we recommend buying a brand-new bike to get you started. After all, the bikes we recommend are inexpensive and won't break the bank.
What do you get when you spend more?
As a first mountain bike, or if you're not sure how committed you are to the sport, then options under $1,000 make a lot of sense.
But we also have to be honest and tell you that hardtail bikes under $1000, while tackling flat trails effortlessly, struggle to have the ability of more expensive mountain bikes to tackle the rigors of the mountains. When faced with rocky, muddy, and densely rooted areas, it says nothing. It would be wise to stretch your budget a little at this point. Of course, if you're not afraid of vibration and bumps, hardtail bikes under $1,000 are happy to oblige.
If you are willing to expand your budget, you can refer to the article: Top 10 Best Hardtail Mountain Bikes [2023] – For All Budgets, here we have more hardtail bikes for you in higher price budgets.
They offer a higher level of quality and performance, both in terms of off-road performance and durability.
Conclusion
Hardtails are certainly ideal for mountain bikers with budgets under $1000. They have a simple construction and inexpensive components, but the result of careful budgeting is equally reliable and fun. They are perfect for riders who want to take it easy on the trails and perfect their skills on gentle trails or gravel roads, and they can enjoy providing excellent ride quality and a fun riding experience just as much. By the way, if you want to go riding in well-known terrain or special terrain, you can book your accommodation on IHG Hotels & Resorts. It is not only rich in variety but also easy to operate.
The bikes we chose are the best of the best from the major famous manufacturers at this price point. If you want comfort, the Cannondale Trail 5 excels. And if you want a lightweight bike, the Trek Marlin 6 Gen 2 won't disappoint. Of course, if you're looking for speed, the Marin Bolinas Ridge 2 will blow you away.
If you like our content, feel free to share it with your friends. If our content is helpful to you, you can click the email subscribe button below, thanks for your support!