We use affiliate links and may receive a small commission on purchases.
We've selected 15 best road bike handlebars for your reference.
There are three points of contact with the body on a road bike that is taken very seriously: the pedals, the seat, and the handlebars. They are the ones that change most directly in terms of comfort and other changes you can feel. Most riders will spend a lot of time choosing the first two with military precision but often forget about the best road handlebars.
The right handlebars can have a huge impact on rider comfort and vehicle performance, as they play an important role in determining your position and weight distribution. I think upgrading your handlebars is the best value-for-money option to improve your road bike's performance.
We've reviewed many road handlebars among the hundreds of recent releases, and we've selected a few from here. To be able to help you better, we also answered some common questions about choosing the best road handlebars.
Top 15 Best Mountain Bikes Handlebars [2023]
Road Bike Handlebar Comparison Chart
1. Easton ec70($255)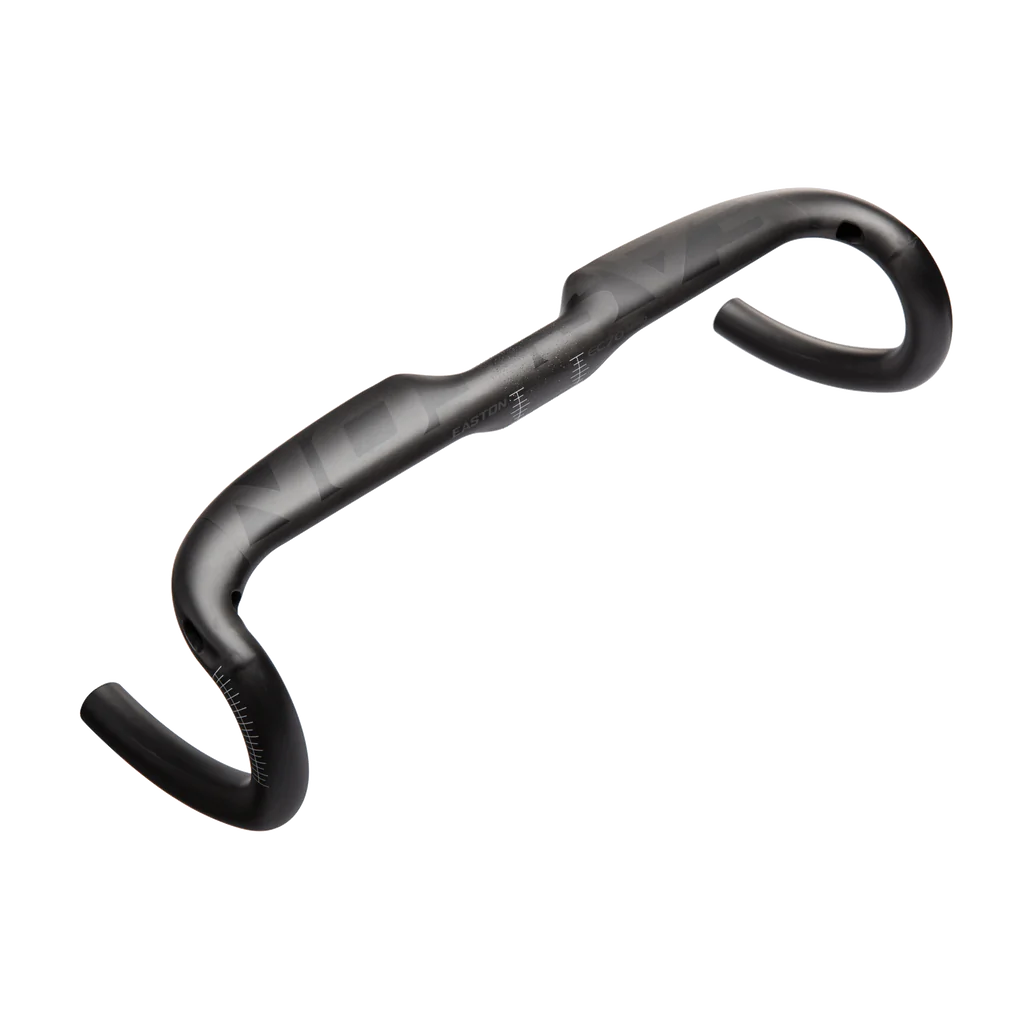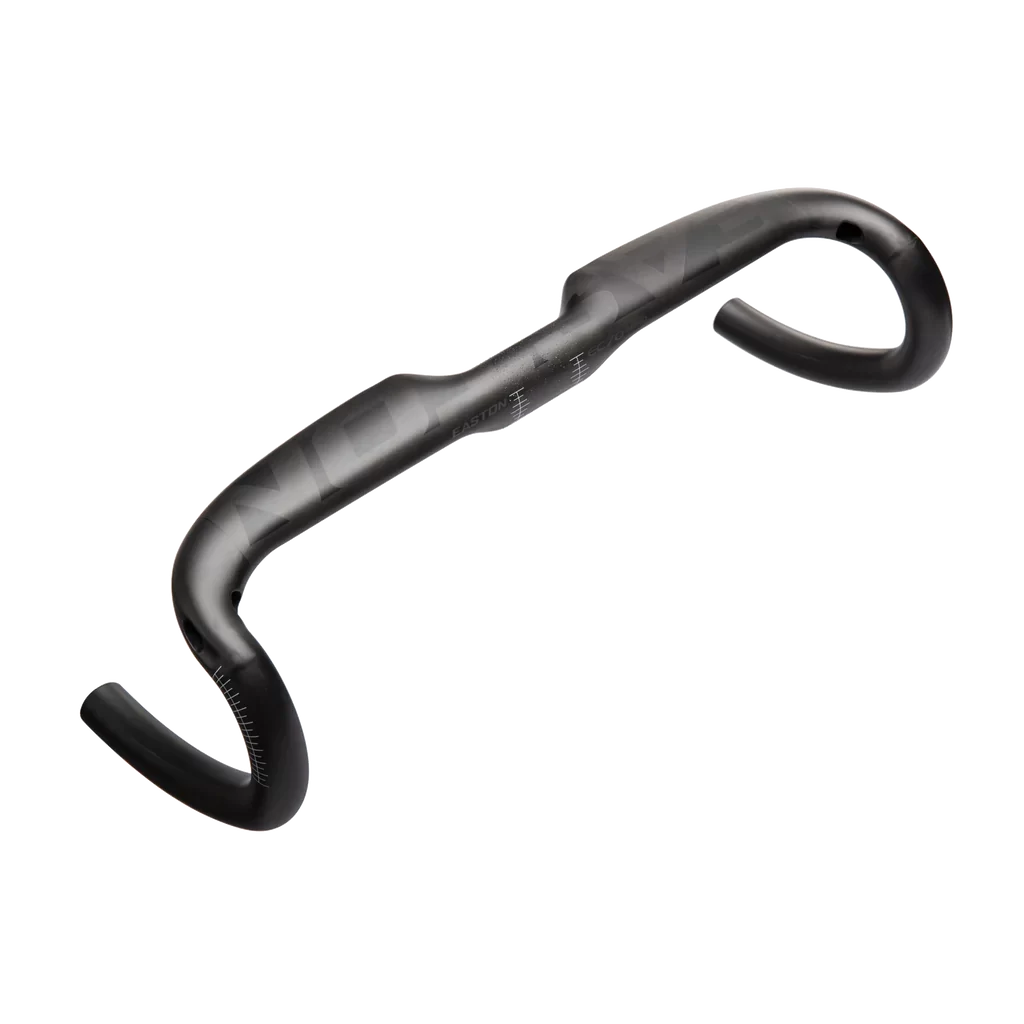 Material: carbon fiber
Style: Aerodynamics
Clamp size: 31.8mm
Width / Weight: 40cm, 42cm/255g, 44cm
Features: Drop 125mm; Reach 125mm, Aerodynamics design, internal cable routing
What we like about it: Comfortable grip and Aerodynamics' flat design
What we don't like about it: The high price.
It's a speed booster for fast riders, for those who need air to quickly sweep over the handlebars to get up to speed. The flat handlebars do a great job of cutting through the oncoming wind as you pound away at high speeds. And the wide handlebar position gives you comfortable support as you relax your hands on either side of the handlebars. The smooth handlebar Aerodynamics design and all internal alignments reduce drag while still giving you a more comfortable grip.
The high price of $255 may not be acceptable to most riders. If you need an affordable Aerodynamics handlebar, check out the SPECIALIZED EXPERT ALLOY SHALLOW below for a relatively good experience for only $50. But I must mention that the Aerodynamics design may only save you a slight few watts of power, but the time reduction effect during long-distance high-speed cruising will be very obvious.
2. SPECIALIZED EXPERT ALLOY SHALLOW($50)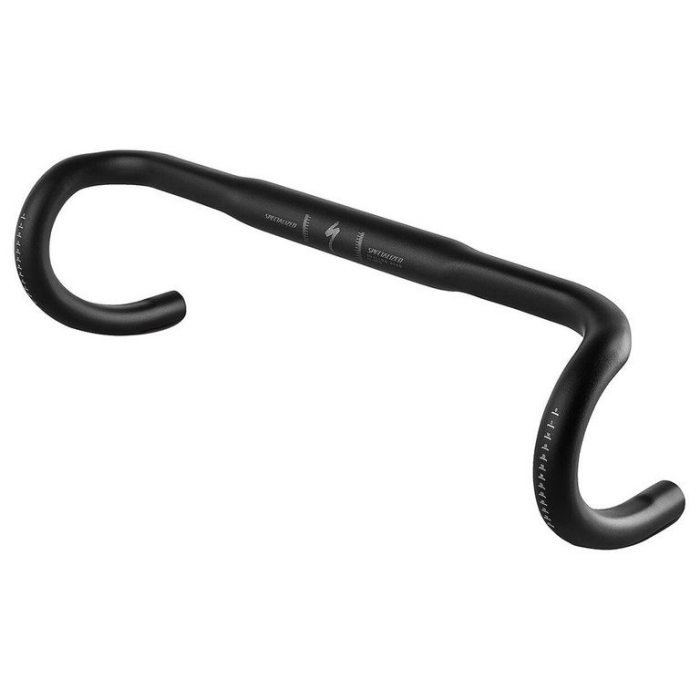 Material: Aluminum
Style: Aerodynamics
Clamp size: 31.8mm
Width/weight: 36cm/263g, 38cm, 40cm, 42cm/288g, 44cm
Features: Drop 125mm; Reach 125mm
What we like about it: Low price, same geometry as top products.
What we don't like about it: heavier weight.
The shallower handlebars have long been a favorite of road riders, and the ergonomics-compliant top takes a lot of pressure off the hands. specialized's Expert offers riders a variety of hand positions while keeping the price low, and for just $50 you get the same geometry as the top-end S-Works, with no compromises. If you're on a budget, they also offer a carbon fiber version.
The only downside, aluminum isn't the best choice. Carbon fiber handlebars allow for less weight, more rigidity, and better power when sprinting out of the saddle. You can also go for the carbon version, but you'll pay five times the price for it. Overall, this is a great value-for-money road racing handlebar that will allow you to get a comfortable riding position and the right body weight to finish each race efficiently.
3. Fizik CYRANO 00 ($400)
Material: Carbon
Style: Aerodynamics
Clamp size: 31.8mm
Width/weight: 40cm, 42cm/175g, 44cm, 46cm
Features: Drop 135mm; Reach 85mm
What we like about it: Super lightweight and has a comfortable grip.
What we don't like about it: The high price.
If you're looking for a lightweight handlebar for your race road bike, the Fizik CYRANO 00 handlebar is well worth checking out. at just 175g for the 420mm width version, it's one of the lightest handlebars available. Lightweight while remaining stiff, it offers a generous 135mm drop and a shorter 85mm reach for riders who aren't very supple while riding. "00" means this is Fizik's best component. Instead of cumbersome internal alignments, a flat profile design with external grooves is used to house the cables.
The high price is always a cause for hesitation, and at $400 the price is really hard to swallow, but the price/performance ratio is still good in high modulus carbon fiber. If you want a friendlier price, check out the SPECIALIZED EXPERT ALLOY SHALLOWAerodynamics handlebar above for only $50. And if you are an avid seeker of lightweight, this handlebar can contribute to your entry into the 7kg road bike field. In addition, the comfortable grip position makes it not just as advanced as the data suggests.
4. 3T Superergo Team Stealth (£185)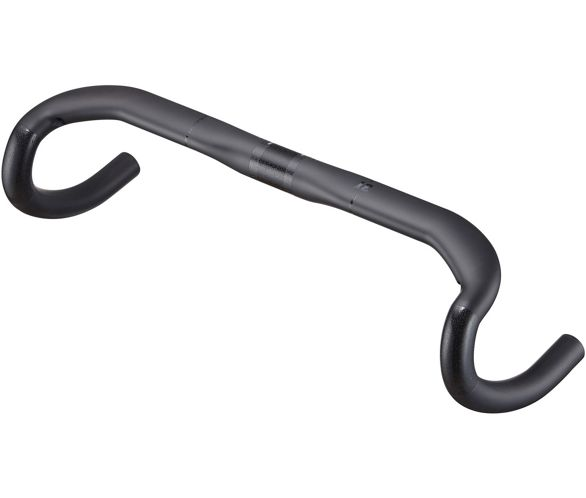 Material: Carbon
Style: Aerodynamics
Clamp size: 31.8mm
Width/weight: 38-44cm 200g
Features: Drop 119mm; Reach 77mm
What we like about it: Great for enduro riders.
What we don't like about it: Not for classic riders.
Guess it's a boon for endurance riders. Because rather than aerodynamics handlebars, the Sperergo is a blend of both ergonomics and aerodynamics, standing on the shoulders of Ergonova for an update. The flat design is made based on ergonomics. The high-modulus carbon fiber allows it to maintain a weight of only 200g and excellent strength and stiffness for efficient power transfer when attacking the steepest climbs. But on longer endurance rides, the shorter 77mm reach keeps the body comfortable for longer periods.
But for those riders who are used to classic handlebars, the reach seems too short, and many claims to have difficulty getting used to the grip.
If you are also a classic handlebar enthusiast, you can take a look at the two classic handlebars RITCHEY CLASSIC NEOCLASSIC and Cinelli Criterium 65 at the end of this article, but in the opinion of most modern riders, this design is perfect for maintaining a long and comfortable ride.
Because the upper and lower handlebar drop is so low that at some point you can use the lower handlebar for cruising.
5. Zipp SL-70 ($352)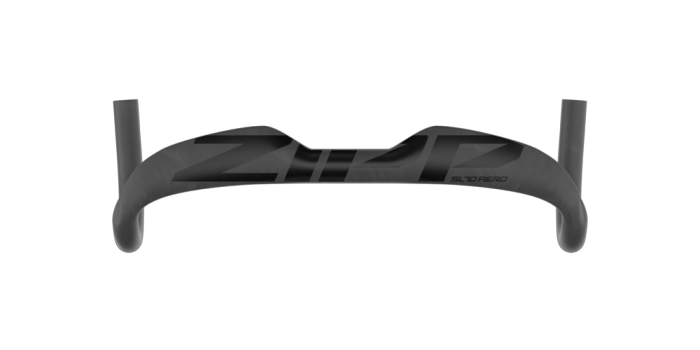 Material: Carbon
Style: Aerodynamics
Clamp size: 31.8mm
Width/weight: 38-44cm 240g
Features: Drop 128mm; Reach 70 mm
What we like about it: Precise handling and comfortable flat grip.
What we don't like about it: The shaped top reduces the usable area of the front bracket.
If you're a rider who loves precision handling and long handlebars, then this handlebar would be a great choice. The shape mimics the beyond-color Contour SL, and while I haven't used it for long distances, I can feel the responsive handling balanced with a smooth demeanor. Road bumps are greatly reduced compared to similar aluminum materials, and much of this comfort is due to the flat top design.
The flat top extends to the end, making it difficult for me to mount a meter holder on the handlebars as well as lights, etc. So this handlebar is probably better suited for race racers, who don't need all this extra stuff. If you do have these needs, check out the SPECIALIZED EXPERT ALLOY SHALLOW, the round tube offers a wider variety of mounting possibilities. The Zipp SL-70 is the ultimate aerodynamic handlebar, with a comfortable flat profile that provides fast airflow and a comfortable grip position, making it a great choice for those seeking speed and precision steering.
6. Coefficient AR (All Road) Carbon Handlebar ($349)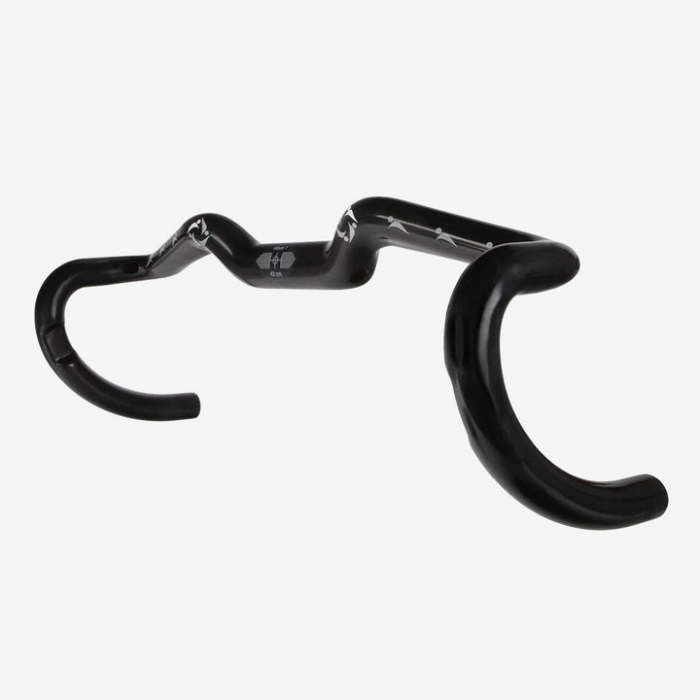 Material: Carbon
Style: Ergonomics
Clamp size: 31.8mm
Width/weight: 38-46cm 235g
Features: Drop 120mm; Reach 77 mm
What we like about it: Comfortable grip experience, excellent shock absorption feeling.
What we don't like about it: No aerodynamic design made.
It's the ultimate ergonomics design, a boon for people seeking comfort. The angled top handle position fits more closely to the direction of the hand when gripping and is very enjoyable when cruising at the top. The layout of internal cables, extremely rigid tubing, and good shock absorption provide a high-quality riding experience. It is worth mentioning that the model is designed with different tube diameters for different widths to accommodate the size of the rider's hand.
Unfortunately, it does not have an aerodynamic design. The tubing is not completely flattened for grip comfort and is not suitable for speed riders. If you are a high-speed rider, look at the Zipp SL-70 above, the flat tubing filters most of the drag. But if you're an endurance rider, or a gravel or trail rider, the dual cushioning of material and shape from the anisotropic carbon tubing is perfect for you.
7. ZIPP SERVICE COURSE 80 ($62)
Material: Aluminum
Style: Ergonomics
Clamp size: 31.8mm
Width/weight: 38-44cm 315g
Features: Drop 125mm; Reach 80 mm
What we like about it: Balanced comfort and performance.
What we don't like about it: The wiring ideas aren't ideal.
Designed to get you up to speed in style and comfort, the SERVICE COURSE 80 has an ergonomic flat top that's perfect for riders with medium reach as well as shallow drops. As you can see, they prefer to stretch down rather than transition forward. 7075 aluminum offers a crisp ride and it's the first clip-on compatible handlebar with a flat top shape and 3° of rear lean for great wrist comfort.
The only regret is that the internal cable layout is not used and the design has a shallow external recess. So the brake and shifter cables had to be exposed, which might affect the feel a bit. If you need internal cable routing, check out the 3T Superergo Team Stealth, a version with similar geometry but with internal cable routing, for which you'll pay $100 more. this geometry offers a good balance of comfort and speed and is a worthy all-rounder.
8. Prime Primavera X-Light (£129.99)
Material: Carbon
Style: Ergonomics
Clamp size: 31.8mm
Width/weight: 40-44cm 180g
Features: Drop 125mm; Reach 75 mm
What we like about it: Lightweight design, sturdy and comfortable geometry for climbing.
What we don't like about it: The absence of a narrower width.
The lightest handlebar on this list, as you can see the 400mm handlebar weighs 180g and is a favorite of climbers. Even compared to the lightest high-end brands like Enve, it is quite light. The rounded slim tube ensures strength and does not increase in weight like those flattened tubes, and the excellent shock absorption reduces wrist fatigue. The grooves in the front of the bar allow the cables to be routed neatly and form a nice round shape when wrapped around the handlebars.
The handlebars come in the usual three widths, but disappointingly don't cater to riders with narrower shoulders, and giving up 380mm is not good news for shorter riders. If you're such a rider, check out the equally lightweight Deda Superleggera below, both of which have the same triangular cross-section for a comfortable grip, and a tight grip on the handlebars that allows me to get out of the saddle better for an intense climb.
9. Deda Superleggera($235)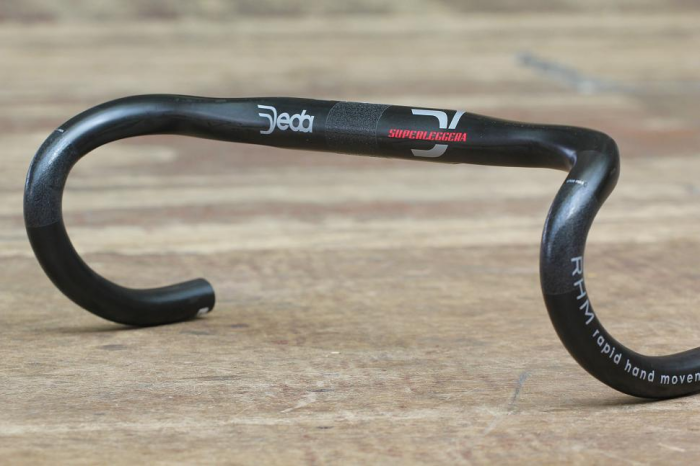 Material: Carbon
Style: Ergonomics
Clamp size: 31.8mm
Width/weight: 38-46cm 180g
Features: Drop 130mm; Reach 75 mm
What we like about it: Good for fast movement, stiff, and easy to grip.
What we don't like about it: It's quite expensive.
The Superleggera is similar to the "super light" and is only 180g. It's not the lightest we've tested, nor will it be the cheapest, but it has a few trump cards. First, the high-modulus carbon fiber has 400 GPa to withstand very high forces, even under sprint without any deviation. Because of carbon's shock absorption, you can stay comfortable on any rough terrain, and moving fast is perfect for it. In addition, the updated anatomical design offers more hand contact area.
Although a bit pricey, up to 315 Euros similar to the 3T and Bontrager we tested, and with a very impressive weight, it's not easily accessible to the masses of riders. If it's an affordable handlebar you need, check out the ZIPP SERVICE COURSE 80 and above for just $55. All in all, it's an excellent handlebar, although the stiffness is better suited to sprinters than endurance riders, comfortable and stiff, and won't go wrong on any bike.
10. Bontrager Pro Isocore VR-CF ($340)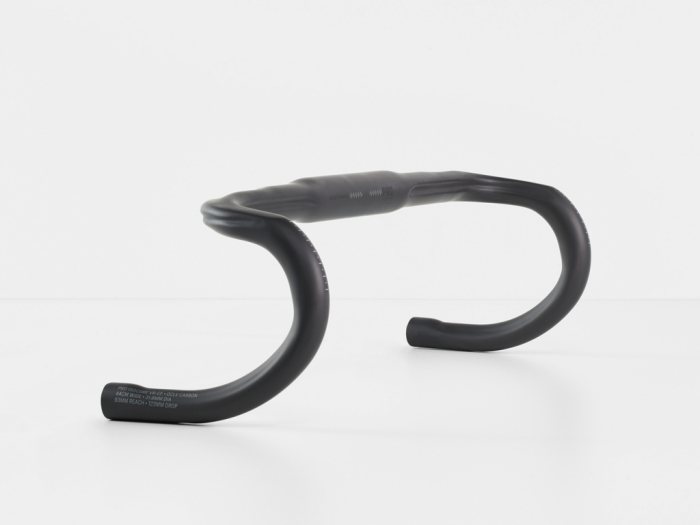 Material: Carbon
Style: Ergonomics
Clamp size: 31.8mm
Width/weight: 38-44cm 249g
Features: Drop 123mm; Reach 93 mm
What we like about it: Good for fast movement, stiff, and easy to grip.
What we don't like about it: It's quite expensive.
Rough roads are not a problem for it. Compared to conventional handlebars, Trek claims that IsoCore technology reduces road vibration by 20% while still providing enough stiffness for climbing and sprinting. The smaller flare angle protects the forearm, and this is not a compromised handlebar, it delivers an aggressive road feel while still allowing for precise control. In addition, it can be ridden for long periods after reasonable tuning.
Although it performs well, it still seems to have some weaknesses in the sprint. IsoCore technology gives the handlebars some slight room for deformation, which may be more suitable for endurance and gravel riders than sprinters. If you like high-intensity sprinting, check out the Deda Superleggera above. for riding on bumpy roads and environments that require long rides, the Bontrager Pro Isocore VR-CF can handle it well and give a comfortable experience.
11. Bontrager Pro VR-C ($156)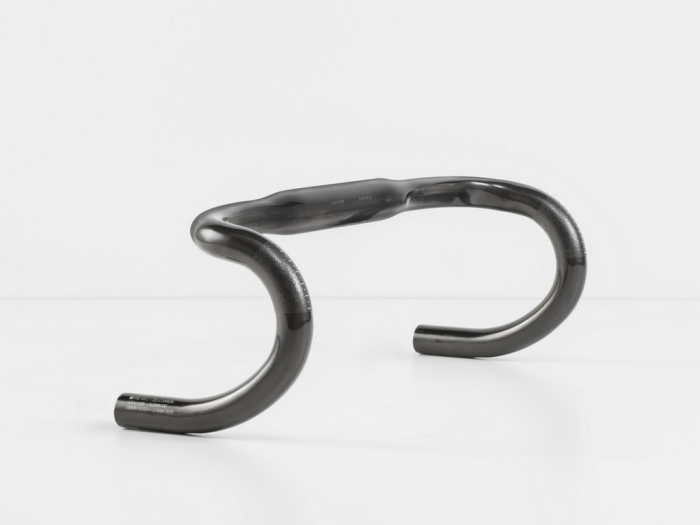 Material: Carbon
Style: Ergonomics
Clamp size: 31.8mm
Width/weight: 38-44cm 252g
Features: Drop 124mm; Reach 100 mm
What we like about it: Good for fast movement, stiff, and easy to grip.
What we don't like about it: It's quite expensive.
This is also a handlebar from Bontrager for those who like to ride long and rough trails. 100mm long reach allows the rider to stretch out enough in the cockpit. When I switched this handlebar to my gravel road bike, it was completely different from the Aluminum product. It does an excellent job of reducing noise during use, keeping it impressive.
The added comfort may make a small compromise in sprint stiffness. If you are a sprint driver, the lightweight sprint handlebars of the Deda Superleggera would be a superior upgrade for you. In short, it's definitely not the best sprint handlebar, but it's definitely a very comfortable and damped handlebar, after all, "smooth is fast, and, more importantly, comfortable is faster!
12. Salsa COWCHIPPER($58)

Material: Aluminum
Style: Gravel
Clamp size: 31.8mm
Width/weight: 38-52cm 322g
Features: Drop 116mm; Reach 68 mm
What we like about it: The flare angle is very stable for gravel riding.
What we don't like about it: Heavyweight.
This is a flared handlebar designed for gravel bikes, with a flared and short drop that is perfect for rough gravel riding. While most gravel bikes come with factory-flared handlebars, some models still use regular handlebars, and this handlebar is a great solution. The wide flare angle allows for more stability on bumpy roads, the flared handlebars provide a more comfortable shifting experience, and the extra wide overall width provides a more precise route selection.
However, the 322g weight is not light, which is probably due to the wide profile. If you want a lighter handlebar you can opt for the carbon handlebar above, which may not be suitable for gravel bikes. I didn't feel overly shocked, but it always provided me with stability and confidence. Whether I'm cranking on the tarmac, shredding singletrack, or frying up some tasty gravel, it always gives me excellent performance.
13. PNW THE COAST HANDLEBAR($39)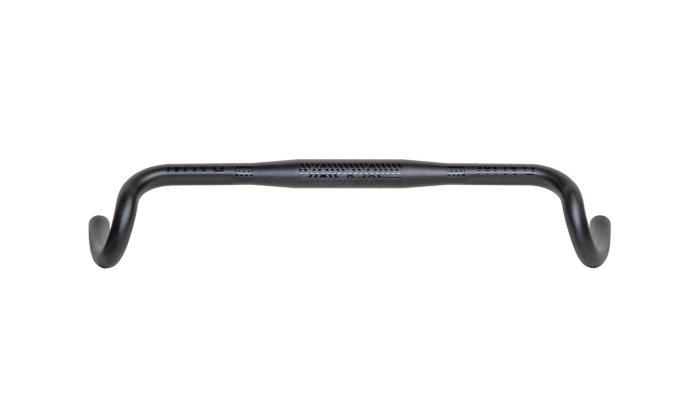 Material: Aluminum
Style: Gravel
Clamp size: 31.8mm
Width/weight: 48, 52cm 348g
Features: Drop 105mm; Reach 65 mm
What we like about it: Gravel riding is preferred, stiff, and easy to grip.
What we don't like about it: It's heavy.
Like most gravel handlebars, the flared flare provides stable handling. Gravel riders love this design with its short reach and short drop, and it's better suited for long gravel rides than the last gravel handlebar. There is a very large amount of flare at 20°, providing a wider overall grip position, further improving stability and allowing for fast impact singletrack. With the shorter steel, you can get a comfortable upright stance for long rides.
The weight is very heavy, with a wide, stable profile and durable Aluminum material bringing it a huge amount of weight. You can look at other carbon handlebars if needed, but they don't seem to fit gravel road bikes too well. What you have to consider is that it only costs $39 and brings a quality handlebar that also combines the best gravel properties. For many riders, this is a clear upgrade.
14. RITCHEY CLASSIC NEOCLASSIC ($99.95)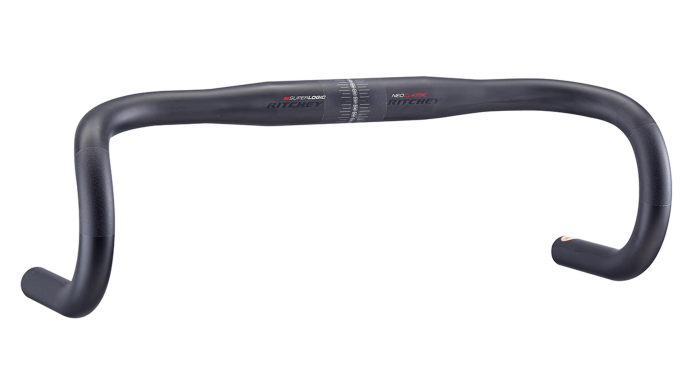 Material: carbon fiber
Style: Classic
Clamp size: 31.8mm
Width/weight: 40-44cm 195g
Features: Drop 128mm; Reach 73 mm
What we like about it.
What we don't like about it.
Strictly adhering to design aesthetics, the classic carbon fiber handlebar combines classical beauty with modern lightweight technology for modern riders who love classic handlebars. The oversized drop brings a completely different upper and lower handlebar position for a great sprint and aerodynamic position while riding. In addition, the 195g weight and the high strength of carbon fiber bring a good experience.
However, the upper handlebar position with modern shifters is not too comfortable. This is a neo-classic handlebar with a geometry more like a fusion of classic and Ergonomics, already relatively comfortable for transition riders with classic handlebars. If you want a more comfortable Ergonomics handlebar, you can choose the Prime Primavera X-Light above, which will be more suitable. For those who are used to classic handlebars but want to pursue the lightness and comfort of modern handlebars, I don't think there is a handlebar more suitable than it.
15. Cinelli Criterium 65($56)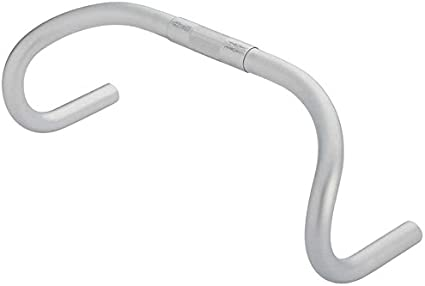 Material: Aluminum Alloy
Style: Classic
Clamp size: 26mm
Width/weight: 40-44cm 280g
Features: Drop 128mm; Reach 73 mm
What we like about it: Beautiful curves, comfortable geometry.
What we don't like about it: The frosted finish doesn't look comfortable.
This is a favorite among steel frame enthusiasts, with a 26mm diameter stem for mounting threaded Steel. the larger drop makes it look very dominant and allows for better power in the sprint. The smooth curve makes room for the forearm and the expanded elbow is great when climbing uphill, and the metal texture is completely different from other materials.
Unfortunately, the brushed finish doesn't match most Steels. the polished finish on most handlebars is the way to go in my opinion, and I had to wrap the handlebar tape all over the handlebars, but I think its performance far outweighs these drawbacks. This is a classic handlebar with beautiful curves that you can put on your beautiful steel frame bike to give it both a performance and appearance upgrade.
Road handlebar purchase advice.
Handlebar material: carbon fiber and aluminum
Road handlebar length and width
Road handlebar angle adjustment
The choice of road handlebars
Road handlebar grip position
Selection of road handlebar straps
Handlebar material: carbon fiber and aluminum
There are millions of handlebars, but there are only carbon fiber and aluminum handlebar materials.
Carbon fiber
Carbon fiber handlebars, due to the specificity of the material, have a wider variety of shape changes possible and can make a very aerodynamic flat design and comfortable grip shape. Also, the greater rigidity allows it to stay stiff during strong sprints, and the biggest advantage is that it keeps the overall weight light. However, the disadvantage is that it is expensive and irreparable when damaged, making it extremely costly to repair.
Aluminum
The shape of aluminum handlebars will be more single, most of the round tube design, but still can make a good grip angle. Compared with 6061 aluminum alloy, 7075 aluminum alloy, which is more rigid than carbon fiber, is more powerful. But in terms of weight, aluminum alloy is always difficult to compare with non-metal materials. However, aluminum alloy material is favored by the majority of cycling enthusiasts for its beautiful price.
The length and width of road handlebars
In addition to the saddle, the biggest part that affects the riding experience is the handlebar. Nowadays, major manufacturers provide different handlebars of different lengths and widths for different riding environments and different riders, and there are a variety of handlebar options.
A wide handlebar like the PNW THE COAST HANDLEBAR (up to 520mm wide) provides better leverage for easy handling and helps open up the chest cavity for breathing.
Narrower handlebars like SPECIALIZED EXPERT ALLOY SHALLOW (360mm at the narrowest) provide better aerodynamics while allowing the shoulders and back to expand more, reducing muscle fatigue.
Adjustment of road handlebar angle
Road handlebar positions may seem fixed, but they can be adjusted over a wide range. Before you plan to replace your existing handlebar, I suggest you check to see if it is not in the right position. Most handlebars come from the factory in a very bad position.
If you feel uncomfortable, my advice is to put the hexagonal wrench in your pocket, take the handlebar off and go out for a ride, and make adjustments to the position of the handlebars and Shifters as you ride. We recommend that the handlebar ends are parallel to the ground and the brake levers as a whole are perpendicular to the ground, but the exact adjustment will need to be made according to your comfort level. If necessary, you can find a professional mechanic at your nearest bike store to do the Fitting.
Road handlebar selection
What if you have adjusted and used the original handlebars, but they still don't fit? Then you may need to replace the handlebar with a new one. However, there are many types of handlebars on the market, so you need to know how to make a choice.
Take the seventh ZIPP SERVICE COURSE handlebar in the article, for example, the 70/80/88 models offer different drop values and reach, and the geometry of the lower handlebar is also different. This has an important relationship with the rider's comfort while riding.
If you prefer a more vertical position with your small arms in the lower handlebar, a handlebar with less reach and more drop will suit you better.
If you prefer a bent position with your arms parallel to the ground, then a handlebar with more reach and less drop will suit you better.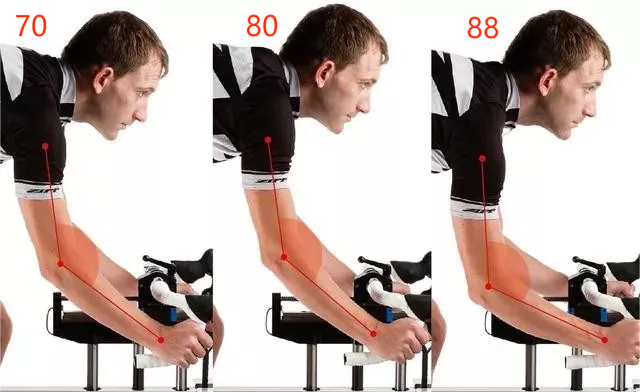 Road handlebar grip position
A road race is often a long distance and holding the same part of the handlebar for a long time may cause muscle soreness, and each grip position is different for the riding condition: 1) Hoods
1)Hoods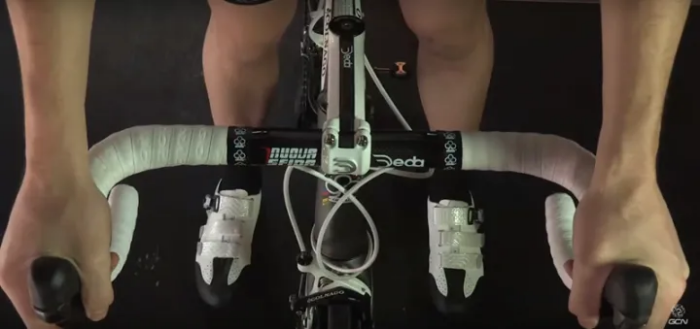 This is the most common and most comfortable grip position, Hoods are also the most suitable for braking and shifting. It is also the most suitable for braking and shifting. In city riding with complicated traffic conditions, this position can quickly respond to braking and shifting.
This handlebar position provides a relatively upright riding position and is also more comfortable when cruising at an even speed. However, this is not as aerodynamic as the Drops position, and wind resistance will be greater.
2) Drops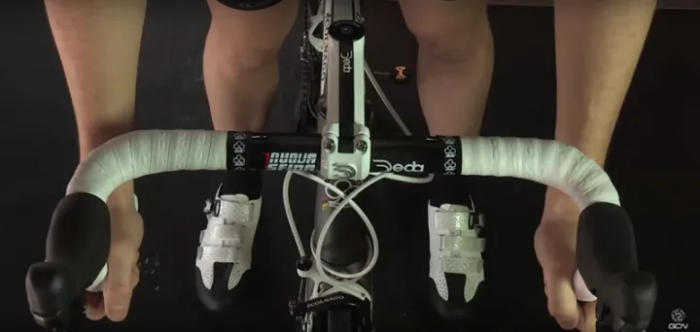 Drops are the most aerodynamic and aggressive riding position, with the body leaning forward with the lower handlebar position to get the best sprint position.
At the same time, this handlebar position is suitable for high-speed downhill, and the leverage principle also makes the braking performance of hand-crush brakes reach the maximum at this time.
3)Tops
This is the most relaxed handlebar position, but in actual riding, it is the least easy to control the bike, unable to brake in time, and unstable control is the disadvantage. But this position is very suitable for low speed long distance climbing and leisure slow-speed riding, for these very slow-speed riding, completely can use this position.
The choice of road bike handlebars
After choosing the handlebars, you need a pair of comfortable handlebars to provide the most perfect experience. There are many different materials for handlebar straps, so I think you need to understand what kind of strap is the most suitable for you.
Silicone handlebars: durable, sweat-resistant, and shock-absorbing, but non-slip performance decreases when hands are wet, and the weight does not create an advantage.
Sponge material: very sweat-absorbing but the performance is more general, has the worst durability, and can only be used for a short distance as well as a short period.
EVA has cushioning performance, while PU increases texture and durability, complementing each other.
If you want to know the specific details of the product, welcome to our website to provide you with a more detailed review.
Conclusion
Road handlebar upgrades are undoubtedly the best choice to improve the overall comfort of your bike, and you can get a very big change for a very small price. I'm sure you can pick a handlebar that suits your needs in this list. By the way, if you want to go riding in well-known terrain or special terrain, you can book your accommodation on IHG Hotels & Resorts. It is not only rich in variety but also easy to operate.
In this test, we have selected fifteen high-performance road handlebars of different materials and different purposes. From the durable and low-cost aluminum to the high-strength and lightweight carbon fiber, from the very affordable PNW THE COAST HANDLEBAR (only $39) to the high-performance and lightweight Fizik CYRANO 00 (up to $400), from the most modern choker to the classic choker and even the gravel-specific flared choker, there is always one that you are looking for.
If you like our content feel free to share it with your friends, and if our content is helpful to you, you can click the email subscribe button below!