We use affiliate links and may receive a small commission on purchases.
QuietKat Ripper Review
MSRP: $2,699
Frame: Stainless hardware and aluminum tubular
Wheels: Kenda Juggernaut 20″ x 4″
Motor: 500W
What we like about it: Super lightweight fat-tire electric bike.
What we don't like about it: No mudguards designed.
Rating (4.7/5)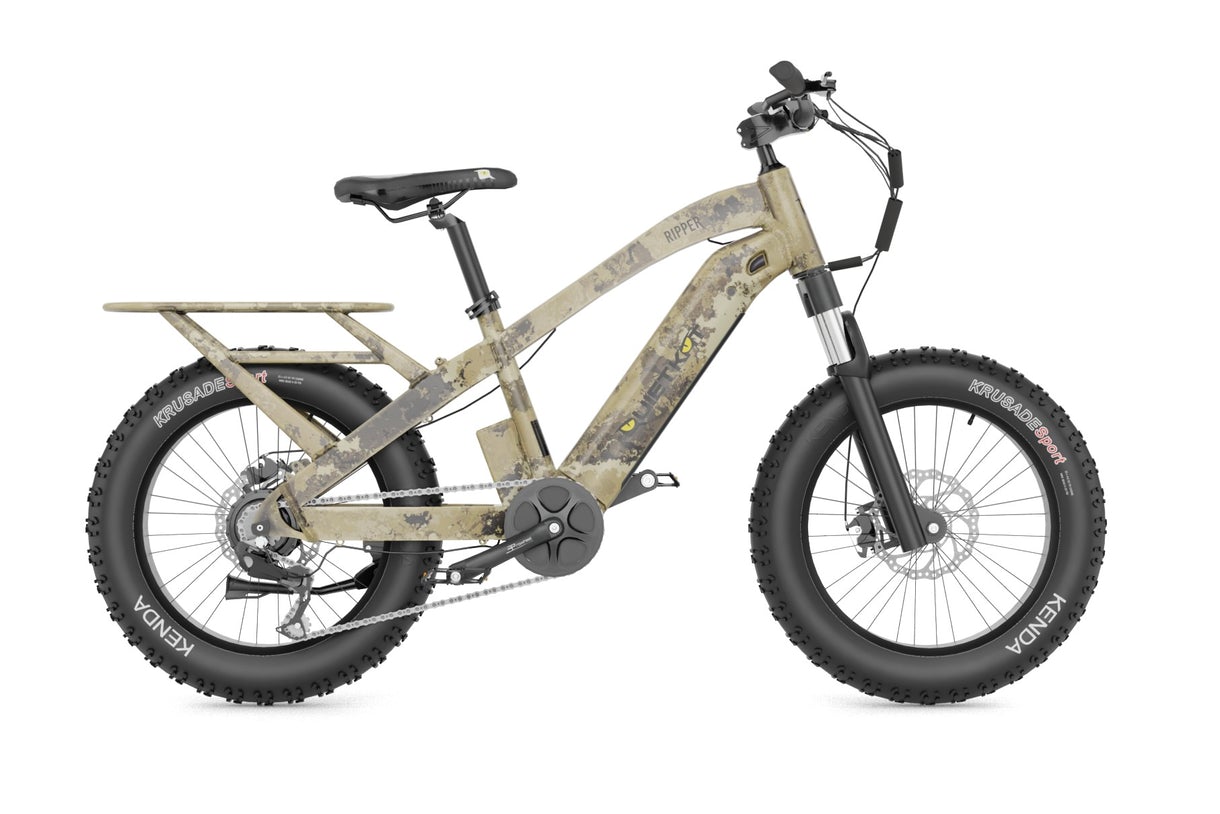 If you live in a more remote area or are an avid trail climber who loves conquering rugged terrains, consider the QuietKat Ripper electric bike. It's designed for outdoor enthusiasts, hunters, and those who need to traverse challenging landscapes. With its sturdy stainless steel hardware, aluminum frame, powerful hub-drive motor, and stable fat tires, the QuietKat Ripper can easily take you across all kinds of mountainous, sandy, and muddy terrain.
Below, we'll analyze the riding experience, specifications, features, and other versions of the QuietKat Ripper. If you want to learn more about bike reviews, remember to follow us.
Commute Riding
I live in Taos, New Mexico, and my daily commute to work is about 8.7 km. As a cycling enthusiast, I prefer biking to work. Recently, my trusty fat-tire bike, the Trek Farley 5, retired. Due to my relatively petite stature, I set my sights on the QuietKat Ripper.
As it turns out, my choice was spot on. Below, I'll briefly discuss my thoughts and experiences using the QuietKat Ripper during my daily commute. The road to town consists of many loose gravel roads and uneven dirt paths with rocks, making a fat-tire bike ideal.
Comfortable Riding Position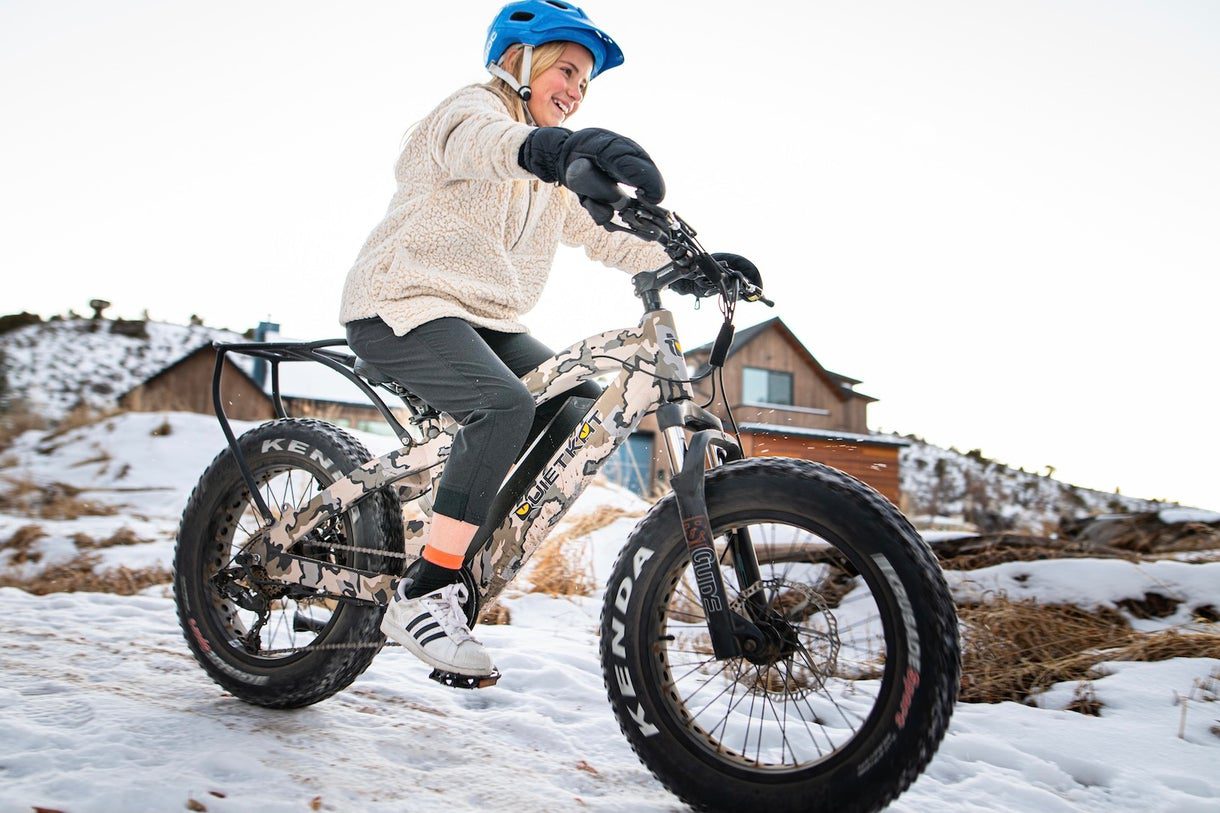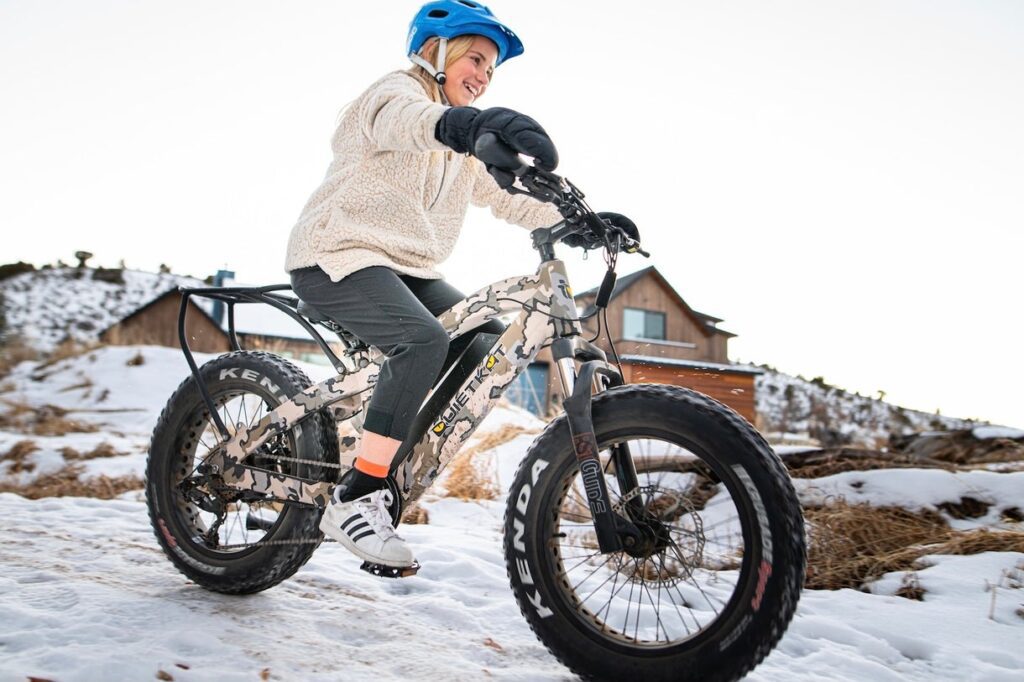 I appreciate the comfort the QuietKat Ripper provides. Its geometry is relatively relaxed, similar to the feeling I got from the Trek Farley 5. I can adopt a more upright posture, which is crucial for mountain biking, as it provides better visibility of the terrain.
The QuietKat Ripper's seat is also very comfortable. Despite its slim appearance, the padding is fine and breathable. Even during long rides in the summer, my buttocks don't get uncomfortably hot, and there's no risk of skin damage due to friction. When encountering bumps, my rear end doesn't react excessively.
Natural Pedaling Sensation
The reason I switched to the QuietKat Ripper as my commuting tool is that I grew tired of the effort required to pedal during hot summer days. Pedaling and making progress while your body temperature rises and lactic acid accumulates in your legs can be quite unpleasant.
However, with the QuietKat Ripper's 500W hub motor, I feel like my pedaling efforts are amplified. The bike effortlessly glides along without much effort on my part. It offers five levels of pedal assist, allowing me to choose the most natural and lightest pedaling mode depending on the terrain. When I don't feel like pedaling, a thumb-controlled throttle provides extra assistance.
Especially when facing uphill roads or rocky pathways, my appreciation for the QuietKat Ripper grows. It's not only faster and requires less effort, but it's also more stable. This brings me to the 100mm travel Mozo coil suspension fork. Coupled with the oversized Kenda Juggernaut 20"×4" tires, it not only handles various obstacles but also absorbs ground vibrations quietly, reducing the sensation of bumps.
Reliable Design Details
Certainly, what impresses me about the QuietKat Ripper is also attributed to its meticulously designed details.
I'm grateful that the 9.6ah/48V battery on the QuietKat Ripper is concealed within the downtube. This minimizes the risk of battery theft since it's not immediately obvious that the QuietKat Ripper is an electric bike. The hidden battery is complemented by its internal cable routing design, so I don't have to worry about branches or weeds in the field causing tangles and accidents.
The Tektro mechanical disc brakes are another crucial component of the QuietKat Ripper. They're incredibly effective and work well in all weather conditions and terrains. Even when using the throttle assist, I can hit the brakes, and the bike decelerates promptly.
Furthermore, the QuietKat Ripper features a large LED display screen that sits between the handlebars, eliminating the need for me to lower my head and glance down while riding to see all the essential information.
Everyday Travel
In our remote, mountainous region filled with rocky terrains, having a QuietKat Ripper makes everyday commuting and errands more convenient. The rear rack, with robust rear-seat support, encourages me to use it for short trips like grocery shopping. After all, the QuietKat Ripper boasts a maximum load capacity of 300 pounds.
Moreover, the QuietKat Ripper's battery is powerful enough to support around 42 miles of continuous riding, easily covering most of my daily travel tasks. Even if I run out of battery on longer journeys, I'm not concerned. With a total weight of only 47 pounds, the QuietKat Ripper is relatively lightweight compared to other electric fat-tire bikes of its kind.
Specifications
While the QuietKat Ripper's overall componentry may not feature many advanced designs, their combined effect proves to be greater than the sum of their parts.
First, the frame, constructed of stainless steel hardware and aluminum tubing, is well-suited to serve as part of a mountain bike in this price range. It's robust, durable, moisture-resistant, and oxidation-resistant, all while helping keep the bike's overall weight within a reasonable range.
Second, the performance of the QuietKat Ripper's electric drive system combined with its rechargeable battery far exceeds passing grades. The 500W hub motor, supporting five levels of assist modes, greatly satisfies riders' propulsion needs. The high-capacity 461Wh battery allows for a maximum range of 42 miles, meeting most people's daily riding requirements.
Finally, the Tektro mechanical disc brakes play a crucial role as part of this sports equipment. They respond to riders' braking commands promptly, regardless of weather conditions or terrain, ensuring safety at all times.
Unfortunately, despite its frequent presence in mountain terrain, the QuietKat Ripper lacks a mudguard design. When encountering muddy puddles after rain, riders may need to prepare for a bike shower.
Video
What do we like about it?
The rugged and lightweight stainless steel and aluminum frame offers enhanced durability and longevity.
Weighing only 47 pounds, this electric fat-tire bike is remarkably lightweight.
The spacious geometry creates an upright and comfortable riding posture.
The powerful hub motor aims to provide riders with a natural and effortless pedaling experience.
The 461Wh high-capacity battery supports an extended range of up to 42 miles.
Tektro mechanical disc brakes offer consistent braking performance regardless of the conditions.
What we don't like about it
Lack of mudguard design.
Given its basic components, the price may seem slightly high.
FAQ
What is the price of this bike?
Its original price is $3,855, but it is currently available at a discounted price of just $2,699.
How long does it take to charge this bike?
Honestly, despite its good range, it takes a rather long time to charge, approximately 6-8 hours.
What heights does it fit?
This bike is designed for riders aged 13 and above, with a height of 5 feet 6 inches or shorter. However, it has a maximum weight capacity of 300 pounds.
Specs
| | |
| --- | --- |
| MODEL NAME | QuietKat Ripper Electric Bike |
| TOP SPEED | 20 mph |
| RANGE | 42 Miles |
| MOTOR | 500W |
| BATTERY | 9.6ah/48V |
| CHARGE TIME | 6-8 Hours |
| BRAKING SYSTEM | Tektro Mechanical Disc |
| MAX LOAD | 300 lbs. |
| FRAME MATERIAL | Stainless hardware and aluminum tubular |
| FOLDABLE | No |
| WEIGHT | 47 lbs. |
| SMART TECHNOLOGY | LED Display |
| TIRES | Kenda Juggernaut 20″ x 4″ |
Comparison Table
| | | | | |
| --- | --- | --- | --- | --- |
| Bikes | Click view | Drivetrain | Motor | Battery |
| 2023 Rad Power Bikes Rad Runner Plus | Click view | 1 x 7 | 750W brushless Rad Power Bikes geared hub motor with 80 Nm of torque | 672 Wh |
| 2023 Himiway ESCAPE PRO | Click view | 1 x 7 | 750W brushless gear motor | 48V 17.5Ah Samsung/LG lithium battery |
| 2023 IGO Electric Outland – Royal | Click view | 1 x 8 | BAFANG 500W geared brushless fat tire rear hub motor (750W US) | LG removable lithium battery with security lock |
| 2023 Co-op Generation e1.2 | Click view | 1 x 7 | Bafang 350W with Bafang 48V/14AH removable battery | Lithium Ion, 672 watt hours |
2023 Rad Power Bikes Rad Runner Plus vs. QuietKat Ripper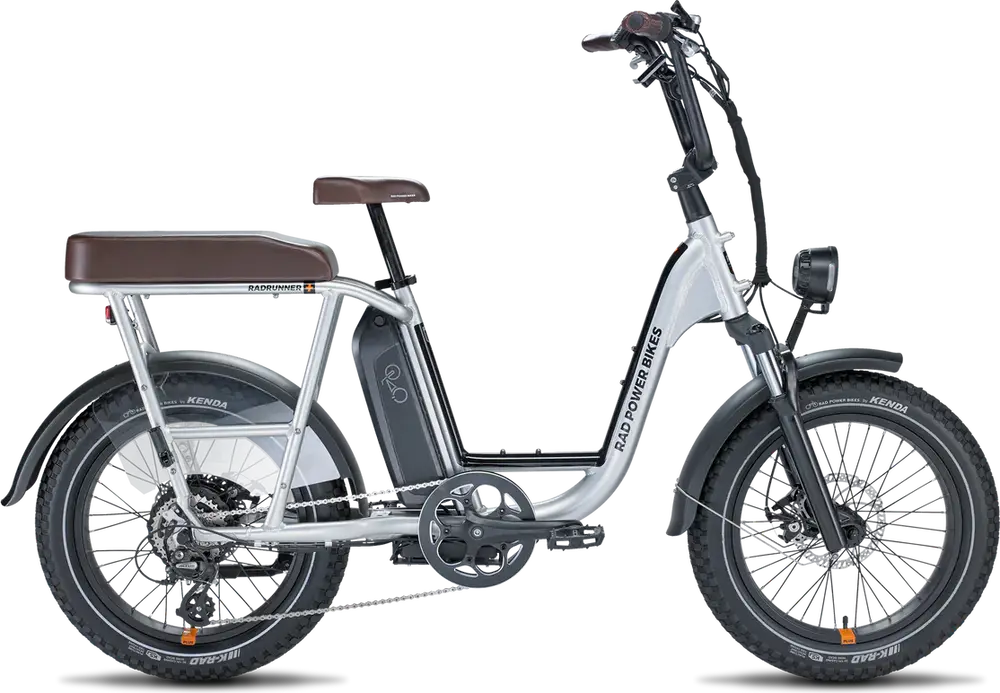 When it comes to compact electric bikes, the 2023 Rad Power Bikes Rad Runner Plus is also a reliable option. It comes at a more budget-friendly price compared to the QuietKat Ripper, which is good news for riders on a tighter budget. With its 750W 80Nm hub-drive motor, the 2023 Rad Power Bikes Rad Runner Plus creates a more natural riding experience for users. The 672Wh rear-seat battery also offers decent range, extending the ride to around 45 miles.
Considering nighttime safety, the 2023 Rad Power Bikes Rad Runner Plus comes equipped with an integrated front headlight. The bike's built-in rear seat pad also significantly enhances its practicality. With a maximum load capacity of 300 pounds, it can easily accommodate adults carrying a child for a ride.
However, all of this assumes you won't mind its considerable weight, which reaches 77 pounds. If your apartment doesn't have an elevator, carrying it home for charging could be quite a burden.
2023 Himiway ESCAPE PRO vs. QuietKat Ripper
When it comes to heavyweight contenders, the 2023 Himiway ESCAPE PRO is the one that truly puts the pressure on. With a weight of 92 pounds, it's almost double that of the QuietKat Ripper. Therefore, most riders looking for lightweight gear wouldn't even consider it.
However, the 2023 Himiway ESCAPE PRO boasts configurations that many electric fat tire bikes in this price range can't match. It must be acknowledged that its 750W brushless gear motor is highly reliable, offering its power to riders tackling hills or enjoying snowy adventures, making the ride much easier. The 48V 17.5Ah Samsung/LG lithium battery is also quite powerful, supporting up to 60 miles of continuous riding in pedal-assist mode. Even in pure electric mode, riders can enjoy up to 35 miles of travel without pedaling.
Like the QuietKat Ripper, the 2023 Himiway ESCAPE PRO features 20″ x 4″ Kenda fat tires, so they are equally suited for various terrains.
Therefore, for those who aren't concerned about the bike's weight but are more focused on budget and riding experience, the 2023 Himiway ESCAPE PRO could be a practical choice.
Learn More: Is Himiway ESCAPE PRO Worth Buying?-[Himiway ESCAPE PRO Review]
2023 IGO ElectricOutland – Royal vs. QuietKat Ripper
If you're looking to take your bike on the subway to get to the office or home, then the 2023 IGO Electric Outland – Royal is likely to be a better fit for you. While this bike doesn't have an advantage in terms of weight compared to the QuietKat Ripper, its frame is foldable, and the battery is removable. Therefore, it offers more convenience when it comes to storage and charging compared to the QuietKat Ripper.
Furthermore, in terms of accessories, the 2023 IGO Electric Outland – Royal is more comprehensive. Whether it's the front and rear fenders, front and rear LED lights, or the luggage rack and stand, it comes fully equipped without the need for riders to make additional purchases.
Although the 2023 IGO Electric Outland-Royal comes with a removable 624Wh battery that may seem more reliable than the QuietKat Ripper, its actual range is rather average, at approximately 37 miles. Therefore, for those looking to have an extended or long-distance ride, choosing the QuietKat Ripper would be a wise choice.
2023 Co-op Generation e1.2 vs. QuietKat Ripper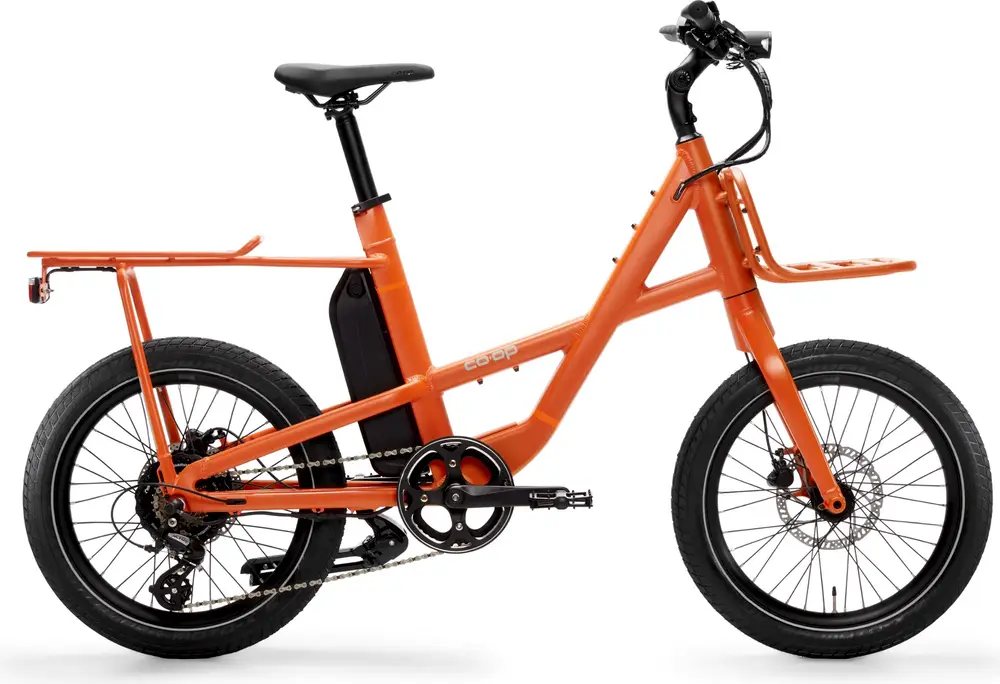 While the 2023 Co-op Generation e1.2 isn't a fat-tire electric bike, its overall frame is more suitable for smaller individuals. If you're riding on general mountain or gravel surfaces, the 2023 Co-op Generation e1.2 equipped with 20 x 2.4-inch tires and a Bafang 350W hub-drive motor is sufficient to support your riding needs. However, it's worth noting that it doesn't have any suspension system, so it may not be the best choice if you're sensitive to bumps. It's more suited for riding on regular city terrain. In contrast, the QuietKat Ripper is better suited for those seeking excitement or diverse mountain sports.
Like the QuietKat Ripper, the 2023 Co-op Generation e1.2 can reach a top speed of 20 miles per hour. Its battery range is also between 40-50 miles. Therefore, it's essential to determine your riding route and habits before choosing between the two.
Summary
Overall, the QuietKat Ripper is undoubtedly the most lightweight fat-tire electric bike. It's perfect for those who love off-roading in the mountains, on sandy terrain, or in the snow. Its lightweight and durable frame, powerful hub motor, and long-range battery are all excellent features. Whether it's your toy, commute, or daily transportation, the QuietKat Ripper won't disappoint!
Lastly, if you enjoy our content, please feel free to share it with your friends. If our content has been helpful to you, you can click the email subscription button below! Thanks for your support!