We use affiliate links and may receive a small commission on purchases.
2023 Kona Hei Hei CR/DL Review
Price: $6999
Frame: Carbon
Wheels: 29″
Gear: 1×12 Electronic
What we like about it: The lightweight carbon fiber frame, smooth and comfortable ride, and excellent component configuration.
What we don't like about it: It's not cheap.
Rating: (4.7/5)
Kona is a bicycle company from the United States, founded in 1988 and headquartered in Ferndale, Washington, and Vancouver, British Columbia. It is a brand dedicated to creating high-performance mountain bikes, road bikes, and city bikes.
Kona bikes are known for excellent design and craftsmanship, high-quality products, and a positive reputation. They perform exceptionally well in various types of riding.
The Hei Hei series, as the preferred XC bike, has a rich history within Kona. It has won multiple 24-hour solo world championships and achieved podium finishes at challenging events worldwide.
But it's not just an incredibly fast XC bike; it's also a bike that helps elevate the riding skills of anyone who rides it. It encourages you to ride harder, faster, and climb higher. And if you want to crush KOMs (King of the Mountain records), it will assist you in achieving that.
Now, let's analyze the riding experience, specifications, and other versions of the Kona Hei Hei CR/DL. If you want to learn more about bike reviews, stay tuned.
Riding Experience
I thoroughly enjoyed the experience the Hei Hei series provided me, and as the top-tier model in this lineup, I had high expectations for the Kona Hei Hei CR/DL.
Finally, on a perfectly timed weekend with favorable weather, I took it to some challenging mountain trails in the Pacific Northwest region. I can happily tell you that it did not disappoint.
Off-road Riding
As I rode along the mountain trails, the initial terrain was even more challenging than I had imagined. To my surprise, I was faced with an uphill climb right from the start. It was a rocky fire road winding up the side of the mountain.
However, thanks to its 29-inch wheels, it provided ample traction on the loose gravel surface. The application of a carbon fiber frame made it exceptionally lightweight. As I pedaled, I could feel its ease, and the exhilaration of climbing motivated me to keep pushing forward.
The road wasn't all uphill; after riding for a while, I encountered a flat stretch. I effortlessly maneuvered through the rocky terrain, and the SRAM GX AXS 12-speed electronic drivetrain provided abundant power for this rougher section of the road.
Especially when facing corners, I could perceive its precise and responsive handling. As I continued riding, I approached the anticipated terrain with plenty of jumps and long downhill sections with drops.
I swiftly navigated through the forest, and the 120mm suspension travel efficiently absorbed the impact of each landing point. It was incredibly thrilling. Leaping, descending, so smooth. My heart raced, and adrenaline surged through my veins—this was fantastic!
Downhill Riding
If there's anything that gets me excited, it's steep and technical downhill sections. With loose gravel and plenty of twists and turns, it stimulates my mind and keeps me fully focused.
The lightweight carbon fiber frame makes it easy for me to navigate through narrow corners. The increased speed doesn't make me nervous; instead, it heightens my excitement. In the serene mountain forest, the only sound is the friction of my bike tires against the road.
One aspect worth acknowledging is its SRAM G2 RSC hydraulic disc brakes. Several times, when faced with sharp bends, I relied on their quick and powerful braking performance to stabilize the bike.
As I completed that stretch of road, a sense of accomplishment overwhelmed me. I knew that the Kona Hei Hei CR/DL had once again proven itself. It performed flawlessly on some of the most challenging terrains, and I felt proud to have pushed it to its limits.
Specification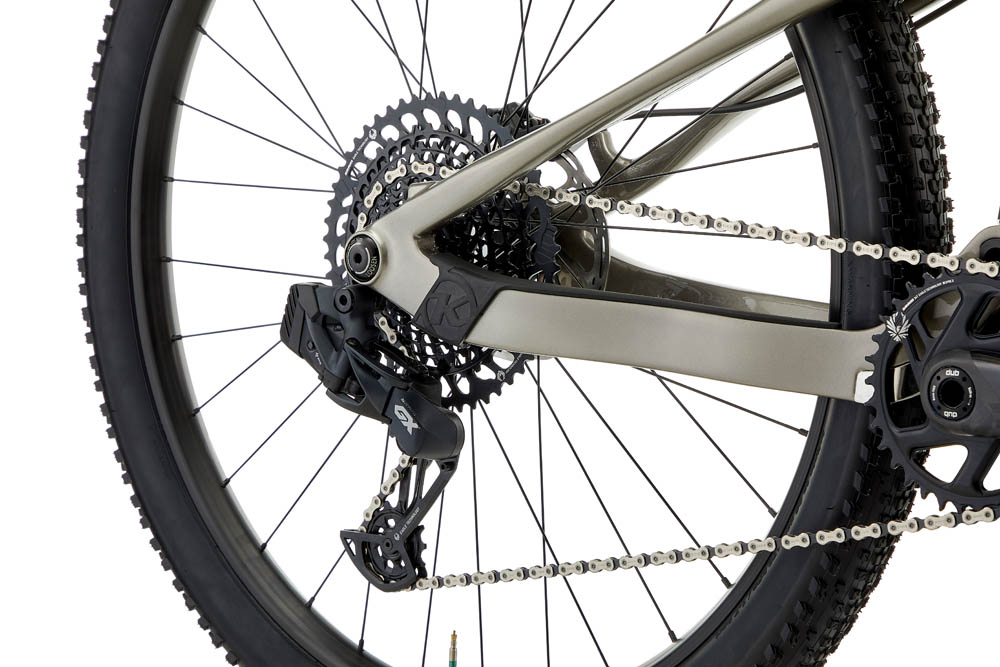 As a professional-grade full-suspension trail bike, the Kona Hei Hei CR/DL excels in both components and performance.
Firstly, in terms of frame selection, it continues with the carbon fiber frame of the Kona Hei Hei CR version, offering a lightweight and durable frame that performs exceptionally well in off-road riding.
The carefully considered geometry plays a significant role in providing a more comfortable riding experience.
Moreover, the RockShox Sid Ultimate DebonAir front fork with 120mm travel and RockShox Sid Luxe Ultimate rear shock absorber effectively absorb bumps when facing descents and jumps, allowing you to have better control over the bike.
Paired with the SRAM G2 RSC hydraulic disc brakes, it ensures your safety throughout every ride. The SRAM GX AXS 12-speed electronic drivetrain empowers it with the capability to handle complex terrains, significantly enhancing its potential.
Other Versions
To give you more insight into the Kona Hei Hei CR/DL bike, we've also tested other versions of it for you, which we hope will help you.
Kona Hei Hei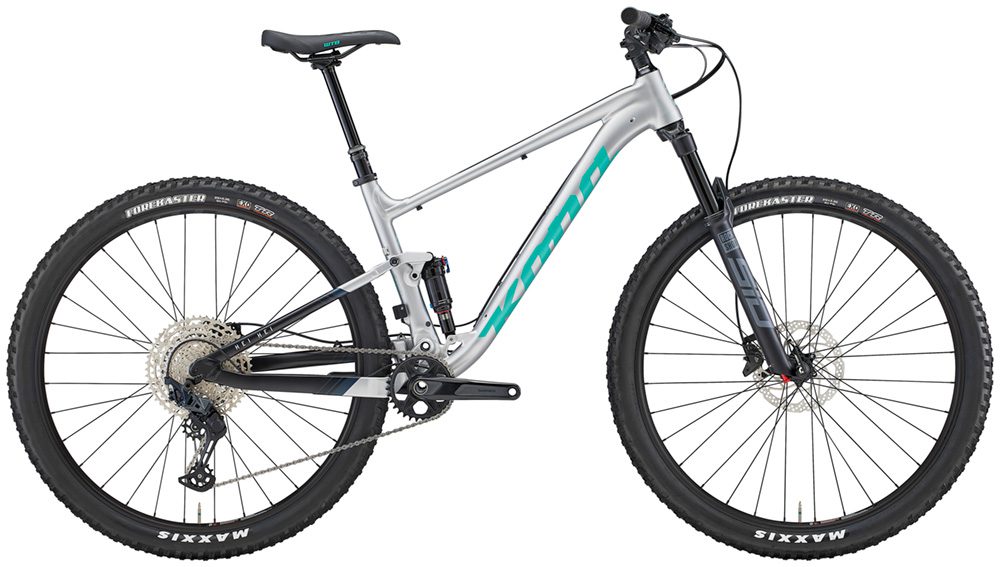 As the base model of the Kona Hei Hei series, it is undoubtedly designed for off-road beginners. With a lightweight aluminum frame, 120mm front travel, and 100mm rear travel, these components make up this entry-level bike.
If you are a newcomer to off-road riding, it will be a great companion. However, if you are experienced and seeking more, the Kona Hei Hei CR/DL will be your top choice. If you want to delve deeper into this bike, feel free to subscribe to our updates as we'll continue to provide more information.
What do we like about it?
Carbon Fiber Frame: The lightweight carbon fiber construction makes it easy to maneuver and climb, capable of handling more intense impacts.
120mm Travel: The excellent suspension system effectively absorbs shocks from the road, providing a smoother ride.
Outstanding Stability: The 29-inch wheels offer better clearance for obstacles, providing ample traction and stability.
Silky Smooth Shifting: With the SRAM GX AXS 12-speed electronic drivetrain, it can handle more complex terrains and offers quick and seamless shifting.
Powerful Braking Performance: The SRAM G2 RSC hydraulic disc brakes provide strong braking power, ensuring your riding safety.
What don't we like about it?
Price: Not easy to obtain for riders on a budget.
FAQs
How much travel does the Kona Hei Hei CR/DL have in its suspension?
The Kona Hei Hei CR/DL's front and rear suspensions have 120mm of travel, giving you plenty of cushioning and making the ride more comfortable.
Is Kona Hei Hei CR/DL suitable for climbing?
Of course, it is definitely an excellent climbing bike. With excellent performance and a powerful drivetrain, it provides plenty of support for rugged terrain.
Can the Kona Hei Hei CR/DL handle the technical downslope?
Yes, you can. The Kona Hei Hei CR/DL is designed for technical downhill riding. The dual suspension system and SRAM G2 RSC brakes provide plenty of support and control on challenging terrain.
How to choose the right size?
Here we have provided you with a size chart. Of course, it doesn't have to be according to this standard, and the best way to find the most suitable size is to test ride.
| | |
| --- | --- |
| Rider height | SIZE |
| 5'0″ – 5'8SM5'2″ – 6'1″MD5'9″ – 6'6″LG5'10" – 6'6″XL | SMSMMDMDLGLGXLXL |
Kona Hei Hei CR/DL Specs
Build
| | |
| --- | --- |
| Frame | Kona Race Light Carbon 120mm TravelBB Standard: BB86/BB92, Press FitColor: Gloss Metallic Grey & Charcoal w/ Black & Grey Decals |
| Fork | RockShox Sid Ultimate DebonAir 120mm Tapered 110mm Spacing |
| Rear Shock | RockShox Sid Luxe Ultimate |
| Bottom Bracket | SRAM DUB PF92 |
| Headset | FSA No.57E |
| Stem | RaceFace Turbine R 35 |
| Handlebar | RaceFace Next 35 |
| Saddle | WTB Volt |
| Seatpost | RockShox Reverb w/1x Remote Lever 31.6mm |
| Pedals | n/a |
| Grips | Kona Key Grip |
Groupset
| | |
| --- | --- |
| Rear Derailleur | SRAM GX AXS |
| Front Derailleur | n/a |
| Crank | SRAM Descendant DUB Carbon, 34t X-Sync Eagle |
| Shifters | SRAM GX AXS |
| Cassette | SRAM X01-Eagle 10-52t 12spd |
| Chain | SRAM GX-Eagle |
| Chain Guide | n/a |
| Brakes | SRAM G2 RSC |
| Brake Levers | SRAM G2 RSC |
Wheels
| | |
| --- | --- |
| Rims | WTB KOM Team i30 TCS 2.0 |
| Spokes | Sandvik Stainless Black 2.0/1.8 Butted |
| Front Hub | DT Swiss 350 110x15mm |
| Rear Hub | DT Swiss 350 148x12mm |
| Tires | Maxxis Rekon Race EXO TR DUAL 29×2.4WT" |
| Disk Rotors | SRAM Centerline 180mm |
Video
Comparison Table
| | | | | |
| --- | --- | --- | --- | --- |
| Bicycles | Click View | Drivetrain | Frame material | Groupset |
| 2023 Trek Top Fuel 9.8 GX AXS | Click View | 1 × 12 electrons | Carbon | SRAM GX Eagle AXS |
| Ibis Ripley X01 | Click View | 1 × 12 | Carbon | SRAM X01 Eagle |
| 2024 Santa Cruz 5010 X0 AXS / Carbon CC | Click View | 1 × 12 electrons | Carbon | SRAM X0 Eagle Transmission, X01 Eagle AXS |
| Giant Trance Advanced Pro 29 2 | Click View | 1 × 12 | Carbon | SLX, Shimano |
Kona Hei Hei CR/DL vs 2023 Trek Top Fuel 9.8 GX AXS
A full-suspension carbon mountain bike, the Trek Top Fuel 9.8 GX AXS is for the unstable rider. It incorporates the new SRAM GX Eagle AXS wireless electronic drivetrain which is the same series used in the Kona Hei Hei CR/DL.
And in terms of frame choice, both bikes feature a carbon fiber frame. Together, these high-end component configurations make for an incredibly interesting setup.
If Trek Top Fuel 9.8 GX AXS has a good performance in trail riding, Kona Hei Hei CR/DL conquers many trail enthusiasts with its faster speed. Therefore it is suitable for those players who seek the ultimate thrill and speed riding.
Learn More: Is Trek Top Fuel 9.8 XT Worth Buying? [2023 Trek Top Fuel 9.8 XT Review]
Kona Hei Hei CR/DL vs Ibis Ripley X01
Ibis has a unique understanding of off-road bikes. With a balanced modern geometry, the Ripley X01 is ready for any adventure. The longer front end gives you the confidence to try new trails. And the unique 44mm fork offset offers the stability of a more relaxed head angle while retaining a BMX-like Ripley feel.
Doesn't that sound great? But I'd say the Kona Hei Hei CR/DL does it just as well, and in some ways better. the GX Eagle AXS 12-speed electronic shifting has smoother, faster gear changes.
Also, the dropper design gives it a more comfortable position for handling up and down hills. All of this is tailored for professional riding.
Learn More: Is Ibis Ripley AF Deore Worth Buying? [2023 Ibis Ripley AF Deore Review]
Kona Hei Hei CR/DL vs 2024 Santa Cruz 5010 X0 AXS / Carbon CC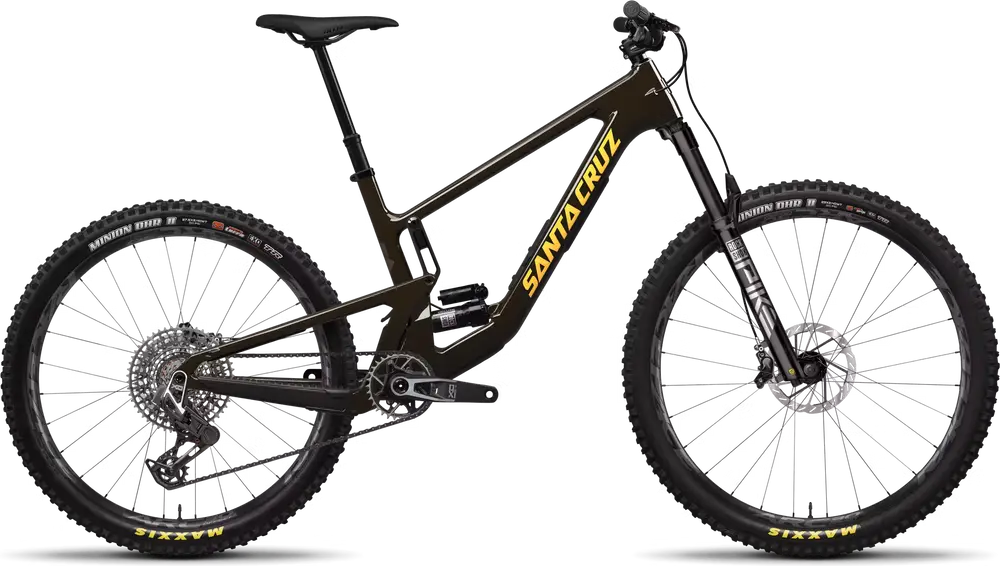 The Santa Cruz 5010 X0 AXS/Carbon CC boasts excellent performance. Even on the most ordinary trails, it brings you joy. This is thanks to the 29-inch front wheel that enhances traction and the refined suspension, giving you more responsive handling.
You can freely jump and soar on the trails. With its lightweight carbon fiber frame and sleek black paint, it's undoubtedly one of the most eye-catching bikes on the race track.
But the Kona Hei Hei CR/DL boasts a performance that is no less impressive.
When facing technical terrain, it allows you to make more difficult maneuvers thanks to its responsive handling and excellent suspension system. It also copes well when dealing with more complex terrain. I prefer the sense of surprise that comes with the Kona Hei Hei CR/DL.
Learn More: Is Santa Cruz 5010 X01 A Good Bike? [2023 Santa Cruz 5010 X01 Review]
Kona Hei Hei CR/DL vs Giant Trance Advanced Pro 29 2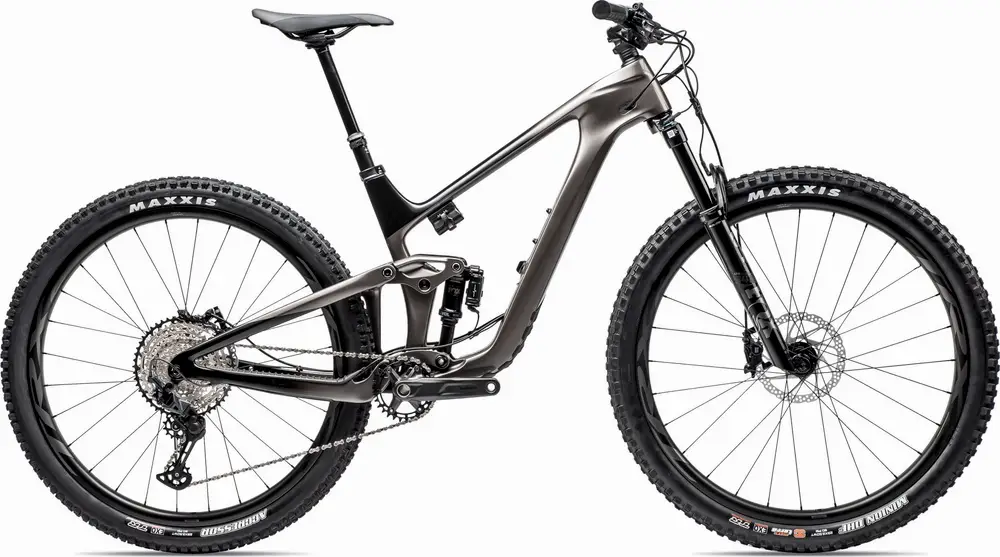 The Giant Trance Advanced Pro 29 2 features a full composite frame and is equipped with the new Maestro suspension system, offering 5mm more travel than the previous generation.
The Advanced Forged Composite rocker arm has a flip-chip, allowing you to adjust the frame geometry. It uses the more traditional Shimano SLX RD-M7100 12-speed drivetrain.
Combined with the 130mm front travel and 120mm rear travel suspension system, it performs well on rugged roads.
At first glance, the Giant Trance Advanced Pro 29 2 seems to have the advantage in terms of travel. However, in actual riding, I found that the 120mm travel of the Kona Hei Hei CR/DL is equally capable of handling various levels of impact.
The difference is not significant. On the contrary, its GX Eagle AXS electronic drivetrain offers smoother shifting, providing you with more possibilities.
Learn More: Is Giant Trance 29 2 Worth Buying? [2022 Giant Trance 29 2 Review]
Summary
That concludes our complete testing of the Kona Hei Hei CR/DL. Overall, the Kona Hei Hei CR/DL is a high-performance mountain bike that is great for riding on forest trails and other off-road terrains.
Its lightweight structure and advanced suspension system make it the top choice for riders who seek speed and agility in tackling challenging terrains. If you're interested in trying higher-end full-suspension trail bikes, feel free to check out our other related tests.
Lastly, if you enjoy our content, feel free to share it with your friends! If our content has been helpful to you, you can click the subscribe button below to receive updates via email. Thank you for your support.