We use affiliate links and may receive a small commission on purchases.
Jamis DAKAR Review
Price: $1699
Frame: Aluminum
Wheels: 27.5″
Gear: 1×10
What we like about it: The price is killer and extremely cost-effective.
What we don't like about it: The conservative geometry is not suitable for the most professional of competitions.
Rating (4.7/5)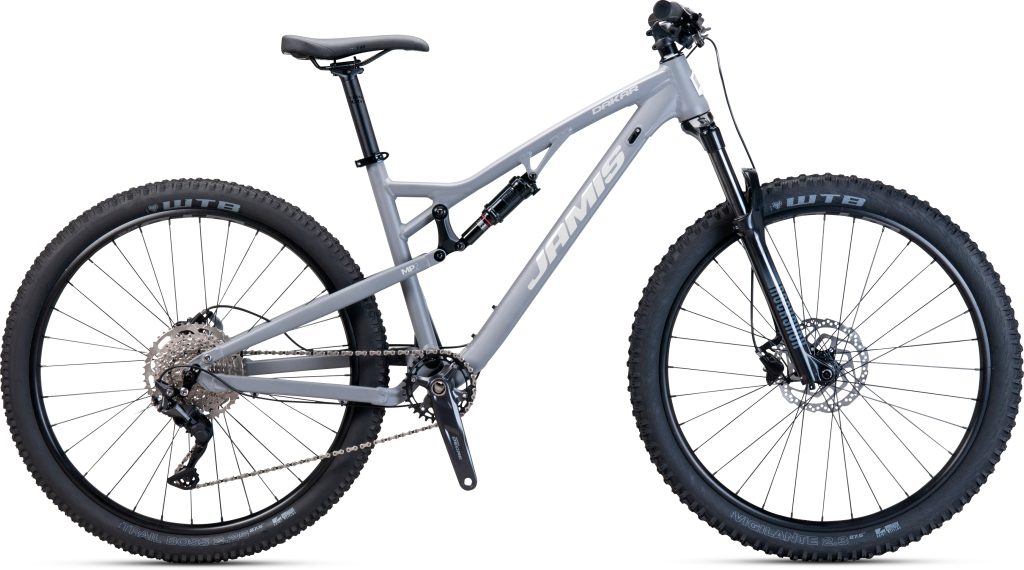 The Jamis DAKAR may seem expensive, but its 10-speed drivetrain and branded components make the price justifiable. Unfortunately, its bolt-on frame has slightly outdated geometry that is better suited for climbing than modern all-around mountain biking.
This is a value-packed full-suspension mountain bike with conservative geometry that keeps the ride comfortable but not as speedy, making it great for riders new to off-road mountain biking.
If you want to learn more about bike reviews, follow us.
Riding Experience
Before setting off, I also booked accommodation through Skyscanner to give myself ample space to rest and prepare. What's more, it also allows pets to stay! As I started my first mountain biking journey on it, I noticed the lower front end and higher saddle height. My center of gravity was more towards the front, making it feel more like a traditional XC bike. The flat handlebar and shorter stem highlighted this feature and limited my ability to raise the handlebars.
Although the longer reaches measurement of 463mm is longer than the average horizontal length, the steep head angle and short 735mm front center combined to make me feel a bit nervous on downhills but relatively comfortable on climbs.
Climbing Experience
Whether sitting or standing, DAKAR is very stable when climbing. And for those who struggle with pedal sway, both the front and rear suspensions are equipped with damping units that can be locked before climbing, which can help release your power more efficiently.
Riding on relatively flat or slightly undulating terrain, I felt very comfortable. The soft suspension, the strong grip of the narrow tires, and the original dropper post all helped me maintain speed and ride continuity. However, the rigid seat post support may limit the rider's movement.
Descending Experience
Although it does have more power than most full-suspension bikes when climbing, this ability comes at a cost when descending. When riding on rough and fast trails, the steep forward geometry, low front end, and high saddle height make me feel uneasy.
When I rode the bike down the hill, the front wheel easily lost control and rushed forward, forcing me to rely on the short rear suspension to provide stability. This made me feel that the bike was out of control. Normally, I adjust the front fork's travel to a suitable 95psi. Even when climbing, it feels very comfortable. However, even when I adjusted it to over 120psi during the descent, it did not reduce the forward-leaning wheel enough to inspire confidence, fully utilizing the strong grip of the tires and sturdy wheels.
Although the specifications indicate that this is a full-suspension mountain bike suitable for descending, its geometry and my actual riding experience make me feel that it is more suitable for flat and smoother rides.
This is by no means to say that it is not an excellent bike. It still has a large part of the value-for-money advantage. If you are not a professional or aggressive rider, then this bike would be a great fit for you.
Specifications
At this price point, I didn't expect to get many branded components, so I wasn't too demanding in this regard. But Jamis seems to have worked wonders, using almost all branded parts.
The RockShox Recon RL steel fork is a budget-friendly option, and its reliable performance left me with no complaints. The Monarch RL shock absorber provides sufficient control during descents and can be locked for climbs. The Sram Eagle system is not as aggressive as higher-spec products, but its stable performance is widely appreciated on bikes, and the 50T max freewheel gives you a superb boost on climbs.
Other versions of the Jamis DAKAR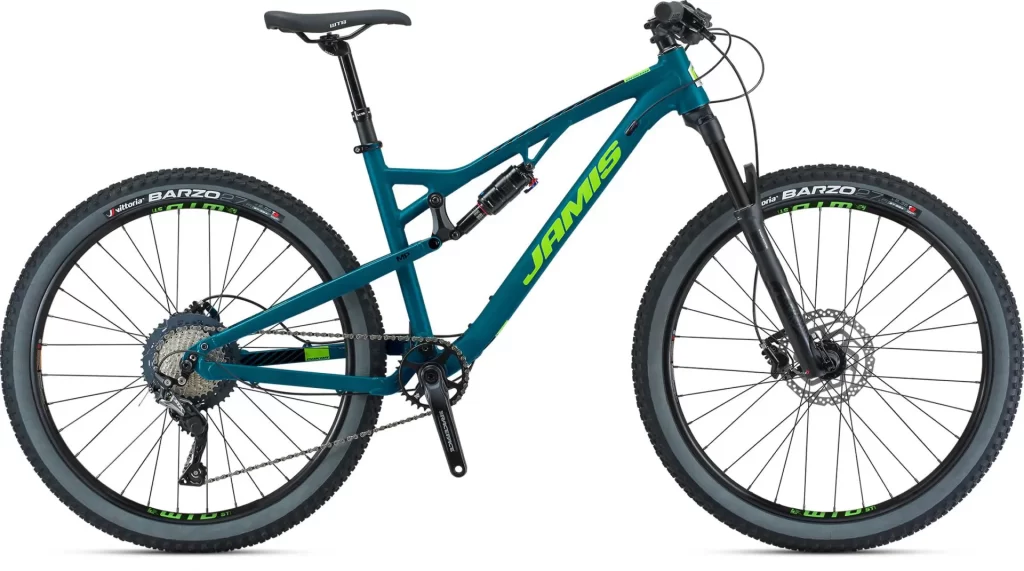 The full-suspension Jamis DAKAR we tested can shuttle through steep mountains with ease, and its soft suspension is suitable for mountain riders who are new to cycling.
Although it may not be suitable for aggressive, professional downhill riders, stability, and comfort are necessary for beginners to enjoy cycling. For this reason, we also found a similar version of it, the 2020 Jamis DAKAR. The previous generation used a lower-end Suntour XCR Air front fork, and the crankset also used non-Shimano components. You can save $100, but I don't think it's necessary. The upgraded branded components are worth far more than $100.
Follow us for more information.
What do we like about it?
Comfortable fork cushioning with lockable design.
Soft rear gut cushioning designed to provide stability on downhill slopes.
Quality branded accessories corresponding to affordable prices.
Tires with good grip and moderate width to maintain the right speed and performance.
Lower front end and higher sitting height to provide strong climbing ability.
Original dropper design designed to be very soft.
XC biased form suitable for newcomers
What don't we like about it?
The conservative geometry is not suitable for the most professional of competitions.
FAQs
Is Jamis DAKAR's seat adjustable?
Yes, the seat of Jamis DAKAR can be adjusted up and down and the original dropper can be adjusted up and down in time for a rapid descent.
What is the size of the tires Jamis DAKAR is equipped with?
Jamis DAKAR is equipped with a tire size of 27.5 x 2.35″.
What heights are Jamis DAKAR suitable for?
Jamis DAKAR's size chart is as follows.
These sizes are only a general guide, the true fit may vary from person to person, and the easiest way to find your size is the best way to go for a test ride.
| | |
| --- | --- |
| Rider height | SIZE |
| 5'1″ – 5'6″ | XS |
| 5'4″ – 5'9″ | S |
| 5'7″ – 6'0″ | M |
| 5'7″ – 6'0″ | L |
| 6'0″ – 6'5″ | XL |
Jamis DAKAR Specs
Build
| | |
| --- | --- |
| Frame | Triple-butted 6061 alloy, 120mm travel mp2 suspension, 1.5 – 1 1/8″ tapered head tube, asymmetrical chainstays w/12x142mm thru-axle dropouts, internal dropper post routing, ISCG05 chainguide mount, Rock Shox Monarch R air shock with rebound adjust, replaceable derailleur hangerBB Standard: BSA, 73mm, Threaded |
| Fork | Rock Shox Judy Silver TK 27.5″, Solo Air compression, external rebound, Turn Key lockout, 30mm steel stanchions, magnesium lowers, 15x110mm axle, 120mm travel |
| Bottom Bracket | Shimano BSA |
| Headset | FSA Orbit 1.5 Zero-Stack internal cup, 8mm cone spacer |
| Stem | Race Face Ride, 50mm |
| Handlebar | Race Face Ride, 35 x 760mm |
| Saddle | WTB Volt |
| Seatpost | Race Face Ride, 31.6 x 400mm |
| Pedals | N/A |
| Grips | Jamis Lock-On |
Groupset
| | |
| --- | --- |
| Rear Derailleur | Shimano Deore Shadow Plus, 10-speed |
| Crank | Shimano Deore, 32T |
| Shifters | Shimano Deore, 1×10-speed |
| Cassette | Shimano M4100, 10-speed, 11-46T |
| Chain | KMC X10, 10-speed |
| Brakes | Shimano MT200 hydraulic disc, 180mm front & 160mm rear RT10 rotors |
Wheels
| | |
| --- | --- |
| Rims | WTB STX i25 TCS 27.5″ tubeless rims, 32H, Shimano MT400 15x110mm front & 12x142mm rear hubs, stainless spokes |
| Tires | WTB Vigilante 27.5 x 2.35″ Front & Trail Boss 27.5 x 2.25″ Rear, TCS Tubeless |
Video
Comparison Table
Jamis DAKAR vs. Canyon Neuron 5
As we all know, Canyon is a high-end road bike brand. Although they may not be particularly outstanding in the mountain bike field, you can't deny their frame manufacturing technology. The weight of the two full-suspension mountain bikes is similar. In terms of the front fork, Jamis DAKAR uses the RockShox Judy Silver TK front fork, while Canyon uses the slightly higher-end RockShox Recon Silver RL front fork. Both use the same Shimano components in the drivetrain system, but Canyon uses a higher 12-speed drivetrain system.
Overall, Canyon targets higher-level users with more professional geometry and relatively rigid and responsive feedback. Therefore, it is more suitable for focused riders. Jamis, on the other hand, would be more suitable for new riders who are just entering extreme mountain biking, and the stronger 140mm front fork travel makes it more suitable for high-impact scenarios.
Learn More : Is Canyon Lux Trail CF 7 Worth Buying? [2022 Canyon Lux Trail CF 7 Review]
Jamis DAKAR vs. Giant Stance 29 2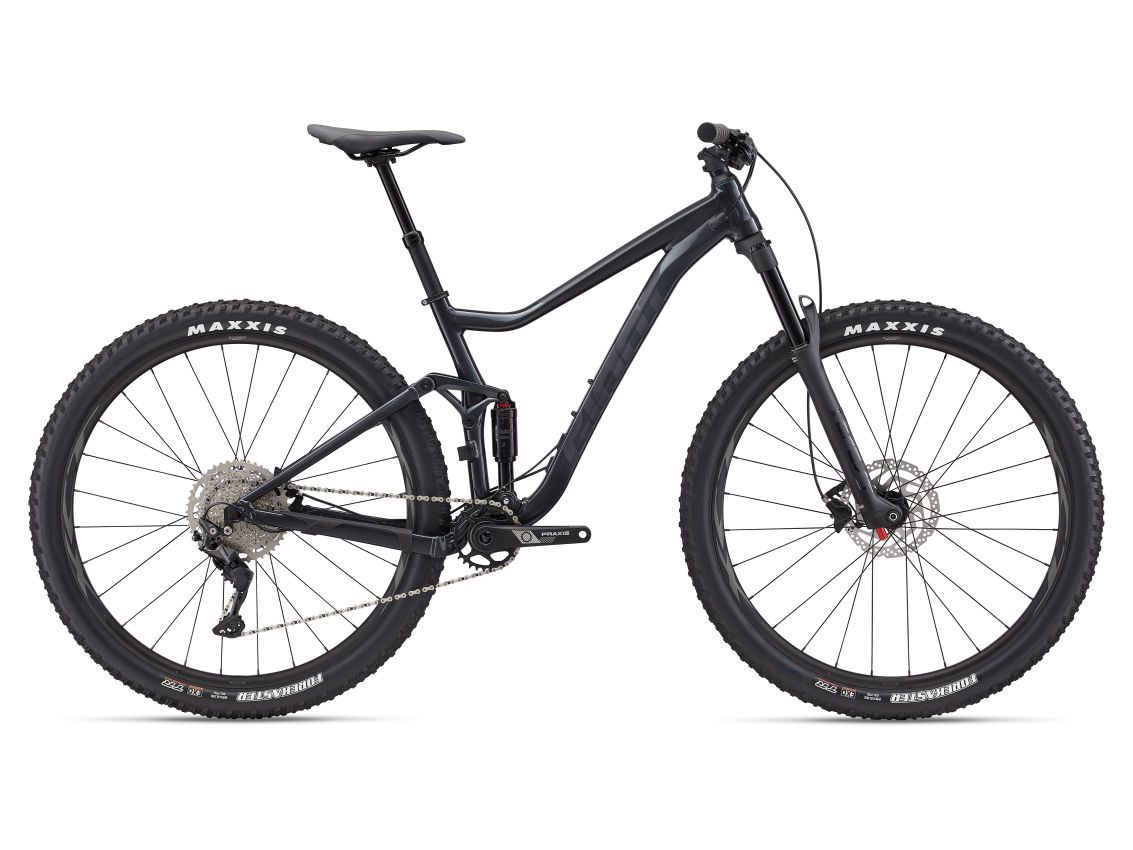 Both bikes are full-suspension mountain bikes that are great for riding in the mountains. Giant still follows their tradition and uses their components. For example, the Giant Crest 34 fork, seat post, and handlebars, at the same price level, can make the components a cut above those of other manufacturers.
In terms of components, both brands use the same Shimano Deore 10-speed groupset. There is almost no big difference in other aspects, and the difference between the two bikes mainly lies in the feel of the secondary components and the front fork. Although Jamis does not use its components, it does use the highly reputable Race Face, which is on par with Giant. In terms of price comparison, Giant requires an additional $100, so my advice is to choose your bike based on your preference.
Is Giant Stance 29 2 Worth Buying? [Giant Stance 29 2 Review]
Jamis DAKAR vs. CUBE STEREO 120 PRO
The CUBE STEREO 120 PRO is a full-suspension mountain bike with a steep rearward angle, which is at the opposite end of the spectrum compared to the Jamis DAKAR tested in this review. The CUBE STEREO 120 PRO is a mountain bike that is well-suited for downhill riding, with a vertically positioned rear shock absorber that provides more efficient shock absorption. On the other hand, the Jamis DAKAR tested in this review is a full-suspension mountain bike that is more suitable for climbing, while still retaining its advantages for downhill riding. It strikes a good balance between the two types of riding.
The CUBE STEREO 120 PRO is better suited for professional and experienced riders who demand more specialized and sturdy shock absorption for competition. However, if you are a beginner, you may want to consider the Jamis DAKAR.
Jamis DAKAR vs. Fezzari Wiki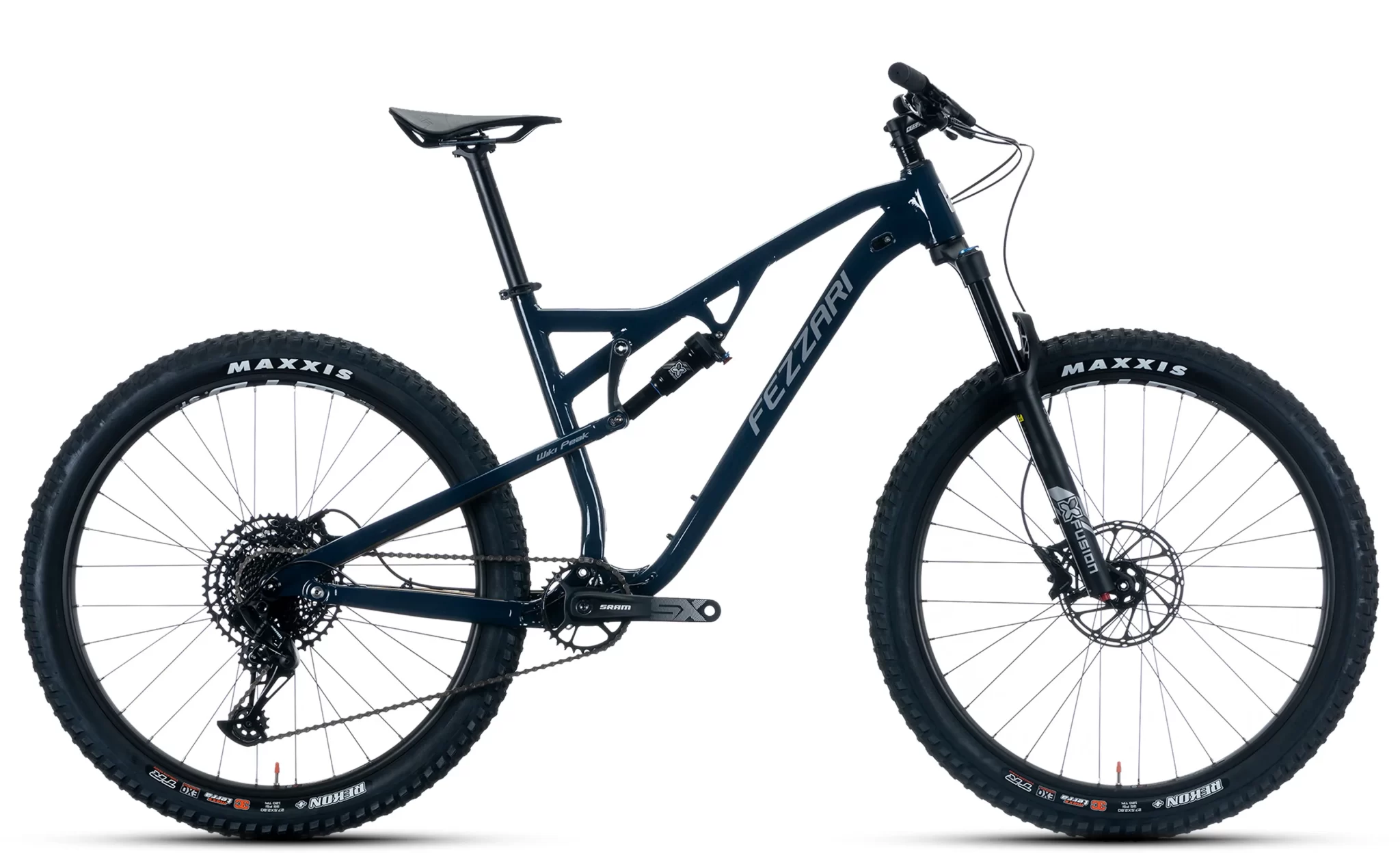 The Fezzari Wiki is the cheapest bike on the list, with a price of $1599, which is not particularly cheap, but its 12-speed gear ratio gives it a very high-cost performance. However, in other product aspects, it may not be as balanced as the Jamis DAKAR in terms of components. At the same time, the geometry design is also quite similar, with a low front height and a high seat height, making these two bikes balanced between climbing and descending.
If you prefer a more balanced configuration, you can choose the Jamis DAKAR. If you want to upgrade later, you can choose the Fezzari Wiki, which has better components but average other accessories.
Learn More : Is Fezzari La Sal Peak Elite Worth Buying?- [2022 Fezzari La Sal Peak Elite Review]
Summary
These are our tests of the Jamis DAKAR. Based on our test, we can see that this is a cost-effective and relatively well-equipped mountain bike that you don't want to upgrade too much. This bike is suitable for those who are new to the mountains, with good climbing and descending ability.
Finally, if you like our content feel free to share it with your friends, and if our content is helpful to you, you can click the email subscribe button below! Thanks for your support!