We use affiliate links and may receive a small commission on purchases.
The Trek 830 was originally produced back in 1988, followed by versions in 1992, 1994, 1996, and so on. It is a classic model of the Trek 8 series.
Welcome to the Best Bike Select blog. This is a comprehensive review of Trek 830.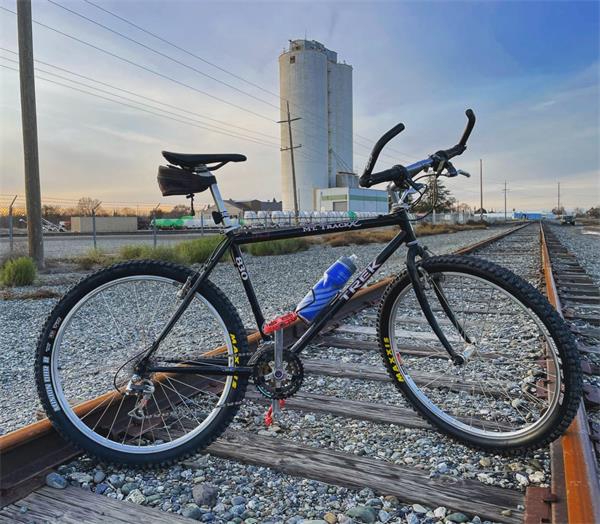 What are the features of the Trek 830, what are the pros and cons of the Trek 830, what are the Trek 830 mountain bike specs, and what are the alternatives to it?
With these questions in mind, let's move on to the official review.
Features of the Trek 830
Sturdy steel frame (3.5/5)
Aside from that, the Trek 830 is extremely durable.
According to a user who purchased the Trek antelope 830 in 1992, it can still be ridden normally, and it was rented out to purchase for the purpose of hauling cargo.
I must say that the Trek 830 frame is extremely durable. The tig-welded steel frame is not easily cracked during the ride and can always maintain the degree of steel solidity, so no later weak phenomenon will appear.
And Trek 830 is not easily dented when hit, and if there is a dent, it is relatively easy to repair, and even if not repaired, it will not affect the normal riding of Trek 830.
21 speed (4.0/5)
This is somewhat similar to the 800 produced at the same time, with multiple speeds to accommodate different terrain when riding.
It is a mountain bike after all. Light off-roading is possible, but I wouldn't recommend it.
21 speeds would feel better on greenways, roads, or on campus.
Sturdy rims and spokes (4.0/5)
Union stainless steel, 2.0mm straight gauge, 32 spokes, and Weinmann 519, not easily deformed when encountering potholes.
There are also Brass nipples at the intersection of the spokes and rim to prevent rusting, which prolongs the life of the rim very well.
26 x 2.10 inch Trek Big Kahuna tires (4.0/5)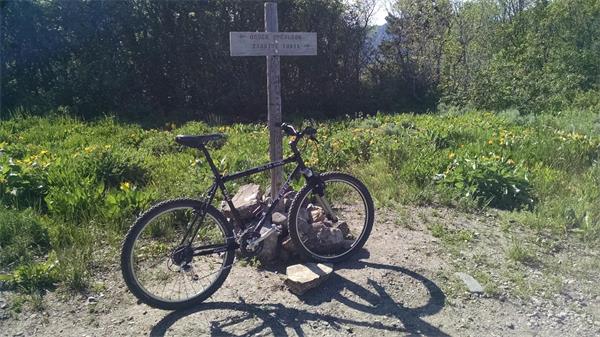 Slightly wider than the Trek 800, the tires have a good grip on gravel roads in the countryside.
Leave mounting holes for rear rack and fenders (4.0/5)
There are no special accessories from the factory, but the corresponding mounting holes are left to give the Trek 830 versatility.
With them installed, it can be turned into a leisure bike. The rear rack can also hold items.
Trek 830 antelope specs
| | |
| --- | --- |
| Components | Parameters |
| Component Group | Shimano AceraX |
| Bottom Bracket | Shimano BB-LP26, 110 mm spindle |
| Chain | KMC HG-50, 1/2 x 3/32inch |
| Spoke Brand | Union stainless steel, 2.0mm straight gauge |
| Rims | Weinmann 519, 32-hole |
| Frame Construction | TIG-welded steel |
| Cassette | 7-speed, 11 – 28 teeth |
| Handlebar Stem | Steel |
| Saddle | Selle San Marco Linea Pro |
| Brakeset | Shimano Altus brakes, Chang Star 274A levers |
| Frame Tubing Material | Chromoly, oversize main triangle |
| Pedals | Wellgo |
| BB Shell Width | 73mm English |
| Spoke Nipples | Brass nipples |
| Tires | 26 x 2.10inch Trek Big Kahuna |
| Fork Brand & Model | Trek |
| Crankset | Shimano AceraX, 24/34/42 teeth |
| Handlebar | Chromoly |
| Headset | 1 1/8inch Victor VP-H913W |
| Seatpost | System 1, 26.6 mm diameter |
| Fork Material | Chromoly, unicrown crown |
| Shift Levers | Grip Shift SRT-300i |
Pros and Cons of Trek 830
Pros
Inexpensive
Sturdy frame
21 speed
Rear rack and fenders can be installed
Cons
No suspension
Hard seat
Non-durable footrests
Related Questions
What is the current price range for a Trek 830 for sale?
The current value of a Trek 830 is around $70-$109, depending on the condition of the bike. But it is already a pretty good value bike.
How much does a Trek 830 weigh?
The Trek 830 weighs about 32 lbs.
What is the weight limit of Trek 830?
300lbs (136kg)
What size bike is a Trek 830?
There are these frame sizes: 13″, 16.5″, 18″, 19.5″, 21″, 22.5″.
Who is the Trek 830 mountain track for?
This bike is ideal for commuting and is extremely durable. There are many limitations if you use it as a mountain bike, such as the lack of suspension, which can be very dangerous when riding in the mountains.
The damping is entirely dependent on the tires and your riding abilities (avoiding big obstacles). It's strong enough to be used with a rear rack to transport some light cargo on the side of the road.
Learn more
Is The Trek 850 A Good Mountain Bike? [Trek 850 Review]
Is Trek 800 Mountain Bike A Good Bike? [Reviews]-2021
Best Mountain Bikes Under $2000-[2022]
What are the bikes that can replace the Trek 830?
Contrast
Trek 820 mountain bike VS Trek 830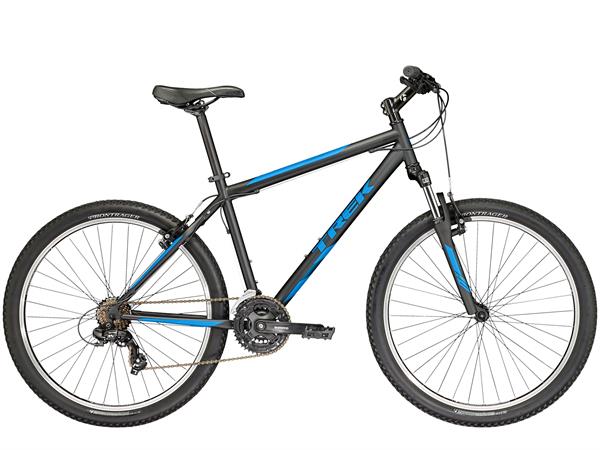 Trek's 820 mountain bike is the most affordable model in the company's lineup. It also has a steel frame and is lightweight, but it comes with a shock-absorbing fork with coil springs.
For a comfortable, controlled ride, the shock-absorbing fork allows the front wheel to move up and down over bumps while the handlebars remain stable.
A rear rack and fenders, like on the Trek 830, can be added. Longer rides are more relaxing.
The 820 has a sturdy steel frame, a dependable 21-speed Shimano drivetrain, semi-smooth tires that roll well on the road and trails, durable alloy wheels, and a shock fork that absorbs bumps.
The Trek 820 is an excellent choice for a low-cost entry-level mountain bike.
Learn more: Is The Trek 820 Mountain Bike Really Suitable For Newbies?
Trek Marlin 4 mountain bike VS Trek 830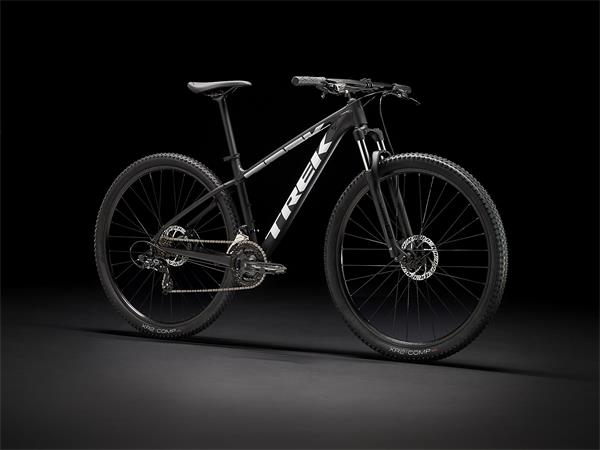 The Trek Marlin 4 is ideal for first-time mountain bikers looking for a low-cost mountain bike with a 100mm shock fork for trail riding that reduces ground impact.
When you have a sturdy commuter bike that also suspends the shock fork like the Trek Marlin 4, you can lose less power and get to your destination faster.
Mechanical discs ensure a low-maintenance, lightweight aluminum frame with precise internal alignment. Elegant appearance. It could be a good replacement for the Trek 830.
Learn more: 2023 Trek Marlin 4 Review -Best Entry Level Mountain Bike
Schwinn Sidewinder Mountain Bike VS Trek 830
The Schwinn Sidewinder is a Schwinn brand mountain bike that comes with a limited lifetime warranty.
Online shopping is extremely convenient. Trigger shifters with 21 speeds for quick gear changes.
A wider height span is accommodated by a tool-free, always-adjustable Seatpost height.
About the same budget as the Trek 830, it also has mechanical disc brakes for more precise braking.
The Schwinn Sidewinder is perfect for casual riders and occasional mountain riding without any problems at all.
Learn more: Schwinn Sidewinder Mountain Bike Review-Is It Worth Buying?
Final Verdict (3.5/5)
Trek's 830 mountain bike is a classic Trek mountain bike. A mountain bike with a cool road bike shape and a front fork with no shocks. It can also be difficult for riders who are used to riding lightly off-road with a shock fork.
However, it is a good commuter bike, with a sturdy body that is still strong enough to pull cargo. Many people remember Trek 830, which has been with the rider for ten years. Overall, a good commuter bike but not a good mountain bike.
Video