We use affiliate links and may receive a small commission on purchases.
Giant Stance 29 2
Price: $1720
Suspension: 130mm (front), 120mm (rear)
Tires: 29 x 2.35 in.
Gears: 1 x 12
What we like: Affordable price, good off-road performance, good hybrid off-road capability.
What we don't: Doesn't come with a dropper.
Rating: (4.5/5)
In our search for the most affordable full-suspension trail model, we found this very affordable and well-equipped full-suspension trail mountain bike: the Giant Stance 29 2.
It made a good impression on our testers with its 1X12 speed drivetrain, and 130mm air fork with a 120mm travel rear shock fork.
In a world where 2022 has seen significant price increases for mountain bikes in general, the Giant Stance 29 2 has seen a relatively low price increase, and because many of its components are made by Giant, it makes it, even more, cost effective.
To that end, we've done a detailed review of the Giant Stance 29 2's descent and climbing performance, key features, components, and specs. And in exploring whether the Stance 29 2 is worth buying, we've brought in other trail mountain bikes to compare it to.
If you'd like to learn more about Best Mountain Bikes Under $2000, check out our well-crafted article.
Descending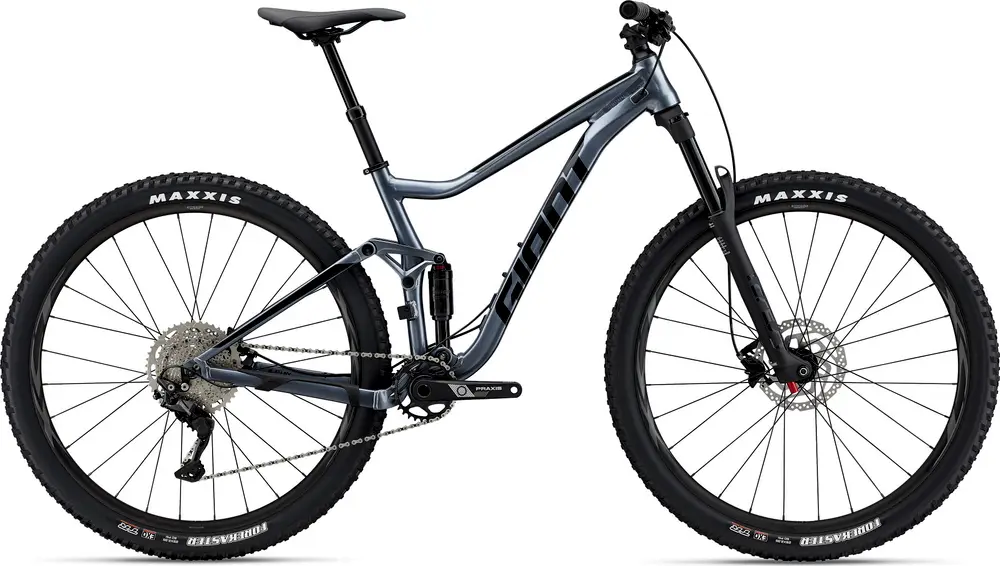 When we saw that it was a 130mm shock fork and 120mm rear suspension, we had high expectations for the Giant Stance 29 2's descending performance.
So, for our test, we chose long and rugged trails for our debut.
The large rocks weren't a hindrance to a fast ride, thanks not only to its suspension performance, but also to the Maxxis Forekaster's tires and ALUXX-grade aluminum frame.
If it only had 130mm front suspension, I would try to avoid large rocks when descending, but given that it is a fully shocked model with rear suspension, we tested this more rigorously and did not avoid medium-sized rocks, which made the whole ride more enjoyable.
My bigger complaint is still that it doesn't have a dropper as a component, which forced us to always be aware of our riding position. Such a compromise does make it a lot less expensive to sell.
When also on moderately difficult descending terrain, it wasn't as comfortable as the increased budget DIAMONDBACK ATROZ 3.
Overall, the Giant Stance 29 2 is a decent descender, but doesn't achieve an excellent rating.
Climbing
The Giant Stance 29 2 front suspension can be locked, but not remotely. After getting the bike dialed in, we headed out to a longer incline for a series of tests.
We were surprised by its vacuum tires, which provided fast climbing ability. Although the lack of a locking rear suspension slowed things down a bit, it wasn't as difficult as one might expect on steep climbs.
The Shimano Deore 1X12's drivetrain, which comes into play at this point, offers a wide range of gearing.
While we've ridden more expensive carbon fiber full-suspension trail bikes, that bike would be very light. The Giant Stance 29 2, on the other hand, uses an aluminum frame that makes it a lazy climber.
Technical climbing is still a bit difficult for the Giant Stance 29 2. It doesn't excel at very steep climbs, and climbing on trails filled with debris and roots will be relatively comfortable.
This is the fast trail end of the Giant Stance 29 2's bias towards the spectrum.
General Terrain
To be exact, we tested the Giant Stance 29 2 on general terrain for less than 5 miles. there wasn't much to challenge the Giant Stance 29 2.
Smooth trails and long off-road distances make riding the Giant Stance 29 2 not too exciting. Of course we have a few complaints about the Giant Stance 29 2's body weight. It has some gaps in pedaling response speed compared to a lightweight hardtail mountain bike.
On top of that is its 1X12 drivetrain, which is also used heavily in the mid- to high-end versions of Trek Martin's line of mountain bikes. So the Giant Stance 29 2 seems a bit mediocre.
But we're relieved to see such performance considering its price point, which is a very low threshold for a full-suspension trail bike.
It's a helper for casual riders to experience trail riding and a quality mountain bike that allows riders to morph from entry to intermediate riders.
Giant Stance 29 2 Main Features
Frame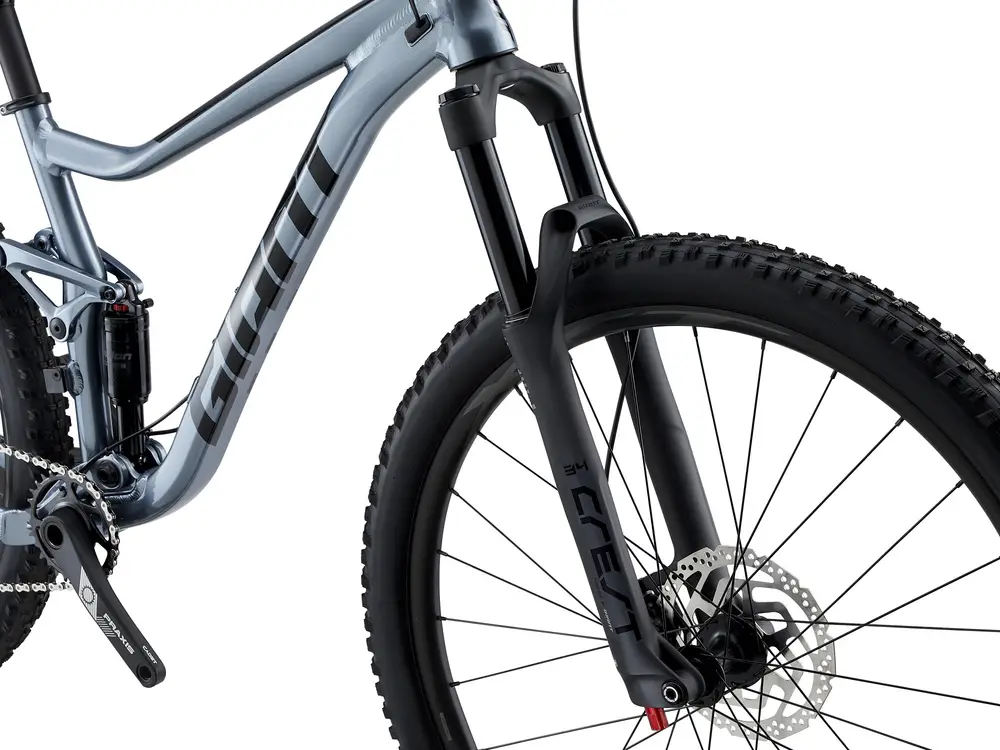 The Giant Stance 29 2 has a frame design that lowers the height of the top tube, which allows smaller riders to have a more snug riding position.
The Giant Stance 2's paint color is more traditional and not overly stunning. This is the same as riders who are used to trail riding and don't always have a flashy personality. We prefer the Blue Ashes paint color, which is a bit brighter.
Clean internal alignment and a slightly rearward facing seat tube. There is a chainstay protector on the rear downtube, which is designed to prevent debris from scratching the frame and to make less of a sound when the chain strikes the rear downtube during large shifts.
It uses an ALUXX grade aluminum frame, which has significantly reduced the weight of the body, but is still heavy due to the nature of the material.
The frame design gives the Giant Stance 29 2 no cheap feel, which reminds us of a $3,000 full-suspension dirt bike.
2022 giant stance 29 2 Geometry
The Giant Stance 29 2 features a steeper 67.5° head tube angle, which helps with fast climbing. A slightly sunken top tube gives it a standing height of only 730-782mm.
But this poses another problem that can make the top tube length shorter. To solve this problem, it does some tilting of the seat tube backwards, so you get a steep head tube angle of 75°. The reason you can easily keep a comfortable ride when riding in general terrain.
Of course the above numbers game about geometry is a little too complicated. Simply put, the Stance 29 2 geometry is designed to compensate for the weaker climbing performance of a full-suspension bike with a steeper head tube angle, and then has a smaller fork offset to increase performance on rugged descents.
At a time when modern geometry is leaning more and more towards ultra-loose head tube angles, the Giant Stance 29 2 still uses a steeper head tube angle, which is a bit of a step backwards. But that doesn't stop us from riding on rough trails.
Components and Specifications
Shimano Deore, 12-speed drivetrain (4.8/5)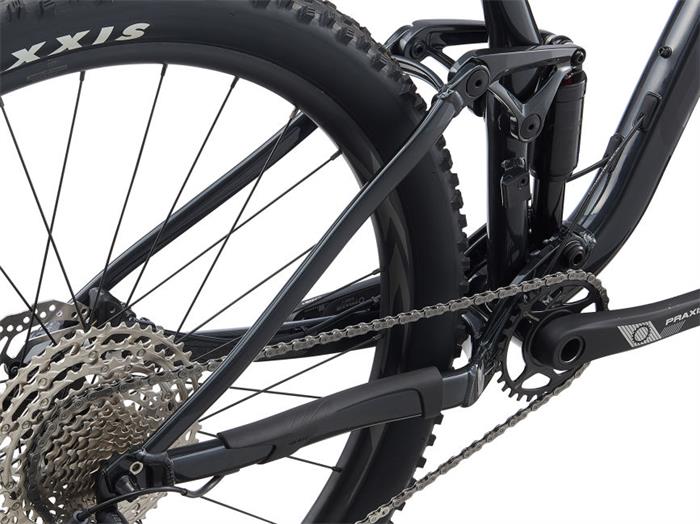 This is a heavily used drivetrain in the $2000 range that is very much ride proven.
The wide gear range is comparable to that of a race trail mountain bike. We found this component in some beginner race mountain bikes as well.
We didn't worry about the drive efficiency and responsiveness of the ride, it's just a little different than the SRAM XG in terms of longevity.
Considering the price, the Shimano Deore is a very reasonable component in this price range.
Giant Crest 34 RCL fork (4.7/5)
Giant's factory-made Giant Crest 34 RCL fork, applied to the Giant Stance 29 2, is very reasonable. And this is one of the secrets of its superb price/performance ratio. There's not much to say about the Giant Crest 34 RCL, although it makes it easier for price-oriented riders to get a good mountain bike.
The Giant Crest 34 RCL's damping performance isn't too different from the RockShox Recon RL, although it retails for a bit less. It does a good job of damping when going over moderate gravel on rough trails.
Suntour Raidon R Suspension (4.6/5)
This is a downgraded version of the high-end Suntour Raidon R. The rear suspension has only 120mm of travel and is a custom Giant product.
The Giant Stance 29 2 features FlexPoint suspension technology to help you tackle challenging terrain and improve your trail riding. There's not a lot of finesse to it, because this rear suspension has no pause function, it will keep working as long as you ride the Giant Stance 29 2.
And with 120mm of travel, the rear shock fork is perfectly adequate for non-competitive trail mountain biking. Even if you wanted to add 10mm of travel, this would add $500 to your budget, if not more. And that would be a departure from our desire to find a cost effective trail bike.
Of course we considered how the Suntour Raidon R performed in practice, and there was no bottoming out on steep descents.
Perhaps our test terrain hasn't reached extreme difficulty. Of course, you're limited when jumping significantly, it's not a very strong rear shock. And it's an air suspension, without too much rebound. The relatively soft damping does add to the trail riding experience.
Shimano MT200 hydraulic brakes (4.5/5)
The Shimano MT200 has very high brake stability.
We are also used to seeing components in this sub $2000 mountain bike with strong braking power.
The Giant Stance 29 2 also increases the width of the stock front disc by 20mm, improving the braking power of the front wheel, although the rear wheel still has a 160mm width and still stops firmly in steep trails.
The Shimano MT200 is a cost-effective, more powerful medium brake package.
Tires and wheels (4.8/5)
The Giant Stance 29 2 features Maxxis Forekaster vacuum tires in a 29×2.35″ size that provide fast off-road capability.
Although I prefer a tire width of 2.6″ or more for moderately technical XC or off-road terrain.
The Giant Stance 2, however, retains a sturdy and composed barrel axle in addition to the larger tires. While this design isn't overly fancy, the practical value is a bit higher, and you won't lose tires on fast trails.
Giant Stance 29 2 Specs
| | |
| --- | --- |
| Sizes | S, M, L, XL |
| Colors | Gloss Gunmetal Black/Matte Black |
| Frame | ALUXX-Grade Aluminum, 120mm FlexPoint suspension |
| Fork | Giant Crest 34 RCL, 130mm, Boost 15×110 |
| Shock | Suntour Raidon R, 184.15/44.45, custom tuned for Giant |
| Handlebar | Giant Connect Trail, 31.8 |
| Stem | Giant Contact |
| Seatpost | Giant Connect, 30.9 |
| Saddle | Giant Romero |
| Shifters | Shimano Deore |
| Rear Derailleur | Shimano Deore, Shadow+ |
| Brakes | Shimano MT200 hydraulic (F:180mm, R:160mm) |
| Brake Levers | Shimano MT201 |
| Cassette | Shimano Deore, 12-speed, 10×51 |
| Chain | Shimano |
| Crankset | Praxis Cadet, 30t |
| Bottom Bracket | Shimano, press fit |
| Rims | Giant AM 29 wheelset, alloy, 30mm inner |
| Hubs | [F] Giant Performance Tracker, Boost 15×110, sealed bearing [R] Giant Sport Tracker, QR Boost 141, loose ball |
| Spokes | Sapim |
| Tires | Maxxis Forekaster, tubeless, 29×2.35, EXO, TR |
| Extras | Tubeless prepared |
What do we like about it?
Affordable price
Sturdy aluminum frame
130mm shock front fork and 120mm shock rear fork
Clean internal wiring
Lots of Giant factory component applications
Ideal for moderately difficult off-road terrain riding
What we don't like about it
Does not come with dropper
No pedals in stock
FAQs
Is Giant Stance 29 2 tubeless?
Yes, it does support.Experience enhanced grip, decreased rolling resistance, and a smoother, quicker journey with Giant's Tubeless System, making these benefits more accessible than ever.
How many is Giant Stance 29 2 weight ?
I haven't weighed it, but based on my experience, it should not exceed 15kg.
Comparison table
Comparison
Marin Rift Zone 27.5 1 vs Giant Stance 29 2
The Marin Rift Zone 27.5 1 costs nearly $170 more than the Giant Stance 29 2. If you look directly at the cost effectiveness of the components, I would prefer the Giant Stance 29 2 which has more components from the Giant factory.
The Marin Rift Zone 1 uses 27.5-inch tires that are only 2.3 inches wide and are Vee Tire Crown Gem tires, which are more puncture resistant than the Maxxis Forekaster, but less flexible.
So these two tires have their advantages and disadvantages.
In addition, the Marin Rift Zone 1 uses a slightly downgraded Shimano Deore, 11-Speed drivetrain, with a rear gear range of 11-51T flywheel, and the Giant Stance 29 2's 10x51T flywheel is not as obvious in terms of transmission efficiency.
The comparison between the Marin Rift Zone 1 and the Giant Stance 2 tends to be more of a comparison between brand values.
Do you prefer the Giant Stance 29 2 with a better price/performance ratio or the Marin Rift Zone 1 with better brand recognition?
DIAMONDBACK ATROZ 3 vs Giant Stance 29 2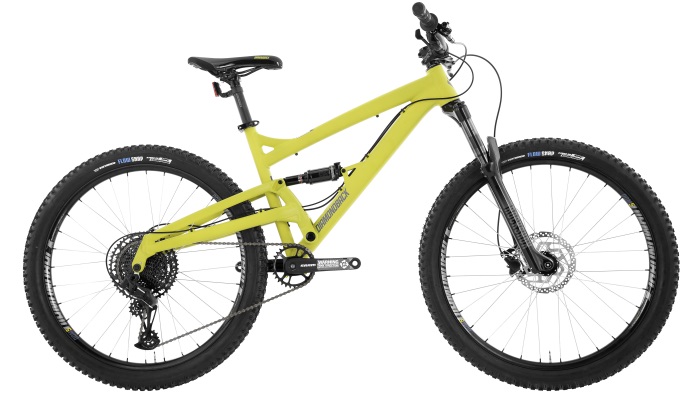 DIAMONDBACK and Giant have similar brand recognition, so it's interesting to compare the two. The two are identical in terms of the terrain they are adapted to ride on.
On the one hand, it looks like the DIAMONDBACK ATROZ 3 is quite expensive, but its drivetrain is a bit more upgraded than the Stance 29 2. This is not too much different when riding on long-distance cross-country mountain terrain.
But by comparing the data, it was found that the overall weight of the rear gear of the DIAMONDBACK ATROZ 3 is about 0.35 pounds lighter, which is a very small difference. There is also the fact that it comes with a dropper function, which makes fast descents or descents on rough trails a little more comfortable.
Of course the DIAMONDBACK ATROZ 3 disadvantage is just as obvious, is that its rear suspension has only 100mm of travel. This is something that makes us revisit the differences between these two bikes.
We would suggest more that riders who ride more in rough trails could be a little more comfortable on the DIAMONDBACK ATROZ 3, which doesn't have to do much upgrading.
And all the Giant Stance 29 2 needs to do is increase the dropper, but the front and rear travel, is to support comfortable riding in moderately technically difficult terrain.
So both of these bikes are mountain bikes with high cost performance.
Learn more: DIAMONDBACK ATROZ 3 Review [2022]
Vitus Mythique VR vs Giant Stance 29 2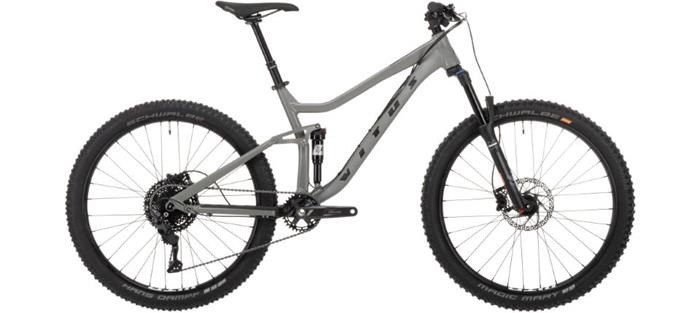 The Vitus Mythique VR's main weakness comes from its drivetrain.
The Shimano Deore, with its 10-speed drivetrain, isn't as strong as the Giant Stance 29 2's 12-speed, and the lack of a maximum flywheel and a minimum flywheel makes it less efficient. So compared to them on steep climbs, the Giant Stance 29 2 would be better suited for such terrain.
Although the Vitus Mythique VR has a 1° less head tube angle to enhance downhill performance, it leaves the discerning climber feeling a little shortchanged. Of course the Vitus Mythique VR has the Brand-X Ascend dropper at just $69 more expensive. But the drivetrain needs a bit of an upgrade.
It is accurate to say that Vitus Mythique VR is very powerful on the road of fast decline. This is its biggest advantage compared to the Giant Stance 29 2.
For price oriented riders, the Vitus Mythique VR doesn't have too many flaws except for a slightly weaker drivetrain, and entry-level riders would be better off with the Vitus Mythique VR.
The Giant Stance 29 2 lacks a dropper, and intermediate riders will prefer its long-distance trail performance.
Learn more : Is 2023 VITUS MYTHIQUE 29 VRX Splendid – [2023 VITUS MYTHIQUE 29 VRX Review]
IBIS Ripmo AF GX Eagle Air Mountain Bike vs Giant Stance 29 2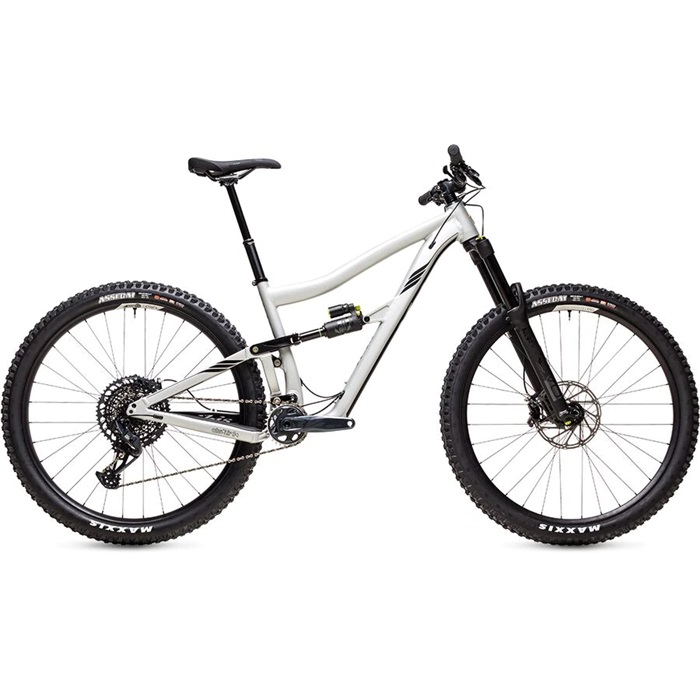 The IBIS Ripmo AF GX Eagle Air tends to be on the affordable end of the race mountain bike spectrum and doesn't disappoint us in terms of features.
When comparing it to the Giant Stance 29 2, it becomes clear that the improved stacked performance when compared to the mid-range components is anything but additive when it comes to the high-end components.
The IBIS Ripmo AF GX Eagle Air uses a still aluminum frame and the weight is not disclosed with the Giant Stance 29 2, but the approximate weight is around 31 pounds. Then there's its massive travel fork, the 160mm DVO Onyx D1 which is also one of the top suspension components available, and the 147mm DVO Topaz D3 Air Rear Shock with remote lockout.
If you're riding on smooth trails with a remote locking fork, the efficient pedaling makes it so you don't feel like it's a full-suspension mountain bike.
Then there's the more upscale SRAM GX Eagle drivetrain. With the same gear range, it weighs about a pound less than the Shimano Deore.
There are also Maxxis Assegai WT tires that adapt to more terrain, measuring 29in x 2.5in, a mid-width tire that guarantees a fast ride. There are also components to keep you on top of steep uphill or gravelly hills in endurance racing. Increased abrasion resistance and puncture resistance.
It also has very many advantages over the Giant Stance 29 2. I won't go into too much detail here. If you want to be a part of the endurance race, you can learn more about IBIS Ripmo AF GX Eagle Air Mountain Bike.
Learn more : Is Ibis Ripmo AF GX Worth Buying? – [2022 Ibis Ripmo AF GX Review ]
Final Verdict (4.7/5)
We have verified the Giant Stance 29 2, after riding it. And after comparing it in terms of components, price and performance.
All in all, we think the Giant Stance 29 2 is a great value for money, high-performance full-suspension mountain bike. With excellent long-distance trail and fast descending features, it also makes it suitable for beginner entry and intermediate trail riders. It's a great mountain bike to buy.
Finally, we give the Giant Stance 29 2 a rating of 4.7/5.