We use affiliate links and may receive a small commission on purchases.
2022 GT Laguna Review
MSRP: $585
Frame: Aluminum
Wheels: 26 x 2.1″
Drivetrain: 3×7
What we like about it: Affordable, fully functional hardtail mountain bike.
What we don't like about it: The more common components.
Rating (4.65/5)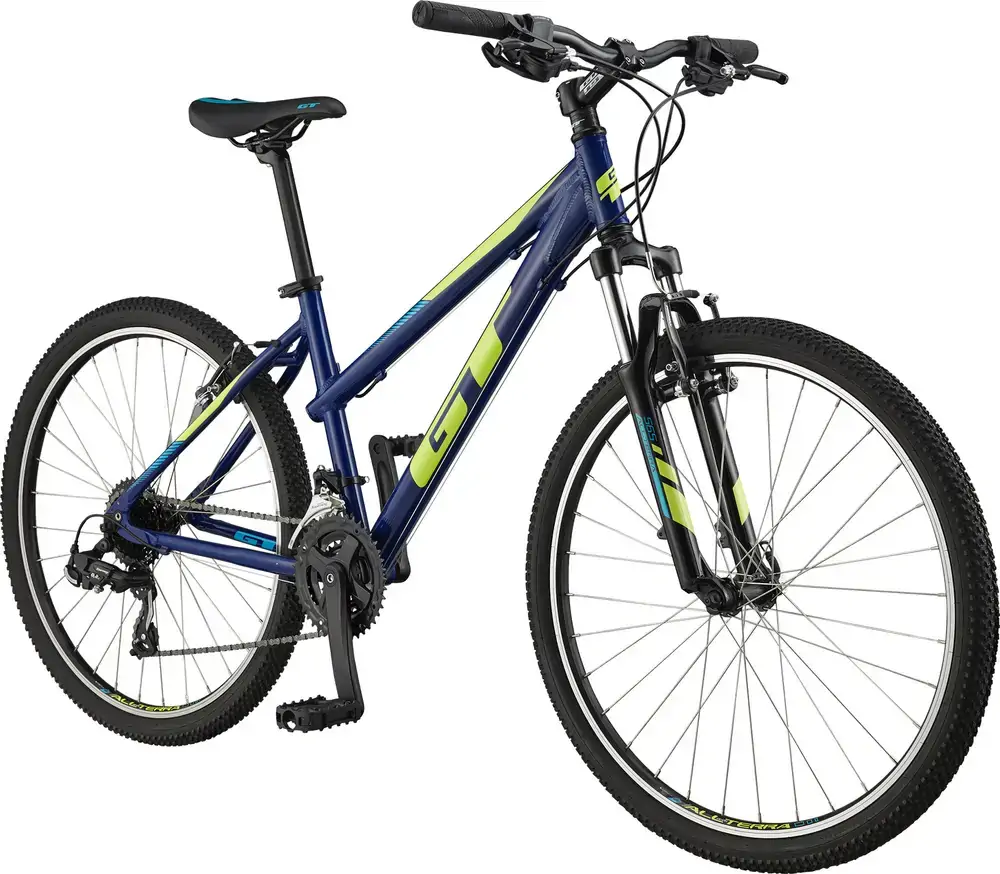 The model has also gone through six iterations from 2017, when the GT Laguna frame first appeared on the scene, to the introduction of the latest model, the 2022 GT Laguna, which speaks volumes about the excellence of the GT Laguna.
A tried and true entry-level mountain bike, the GT Laguna has become most people's mountain initiation teacher. Following in the footsteps of previous versions, the classic frame with 26-inch tires makes the 2022 GT Laguna a better ride for female riders than most mountain bikes on the market. With its 80mm shock fork, riders have more confidence to explore beyond the city pavement. Although the microSHIFT 3×7 drivetrain is slightly bulky, it invariably takes the pressure off of climbing.
The reliable V-Brake also ensures the rider's safety by pressing the pause button on the ride at any time.
As an entry-level hardtail bike, the GT Laguna is not good by any stretch of the imagination, but at a bargain price, it gives many budget-conscious youths or riders the chance to feel the joy of riding.
Here's an analysis of the 2022 GT Laguna's riding experience, key features, components and specifications, and other versions.
If you want to know more about the bike, please remember to follow us, we will keep updating the real reviews of the bike.
Mountain Trail Riding
Although the 2022 GT Laguna is simply equipped, we tested it in the mountains with reverence, and we were surprised by the results of this test.
Riding Experience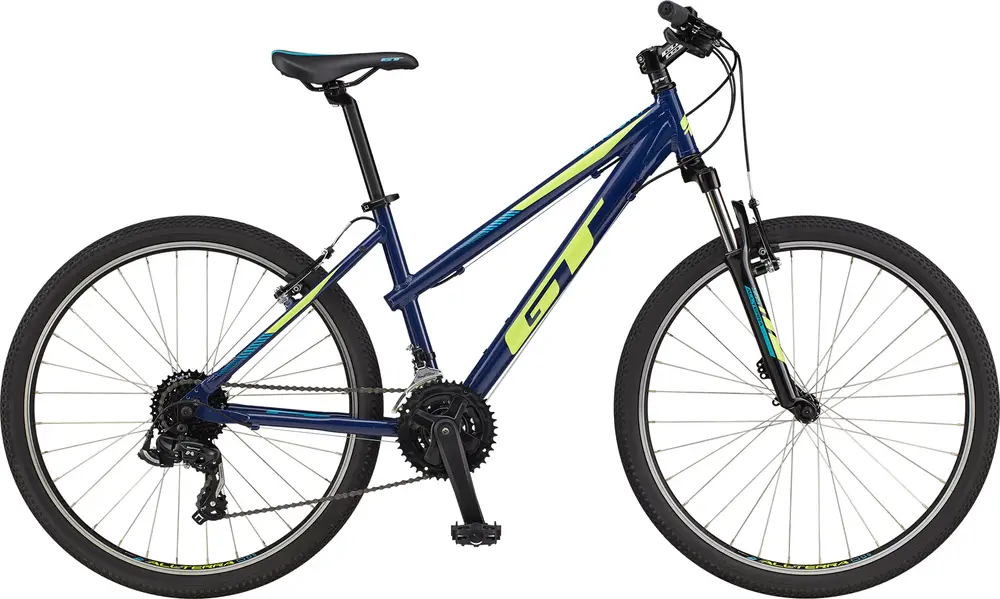 To be honest, the GT Laguna didn't impress me at first, as its geometry was slightly "aggressive" and the combination of the 51.9 Stack with the 39.4 Reach made my back a little "hunched". However, when I tried to pedal, I found that the design was "intentional". I could feel it in my legs when I pedaled, and it was very effortless. Even if I put very little force into the bike, it can easily move forward, which means that it can translate almost all the efficiency into the movement of the bike.
In addition, I was quite comforted by the many details of this bike's configuration. First of all, the GT All Terra Alloy handlebar, with its 5° rise design, gave me more support for my palm, and even though the support lasted longer, I still had more energy and didn't feel fatigued. Of course, if GT had designed it wider, the bike would have been more attractive, because the 640mm wide handlebar is a bit "cramped" for a wide rider like me.
Secondly, the GT Statement's grip is very comfortable, and the interesting pattern design not only increases the grip but also gives more cushioning "distance" between hands and handlebars, and the damping effect is also very obvious. Finally, the saddle of the GT Pavement is also very soft and comfortable, even after sitting on the pedals for a long time, but my hips did not feel much else. You know, no feeling is the best feeling.
Off-road Performance
The GT Laguna is also definitely above the passing line in terms of its performance on gravel and gentler mountain terrain.
Although the All Terra CH-565 fork is only 80mm, its damping performance should not be ignored. As my wheels entered the potholed dirt, my hands and body occasionally "bounced" up and down with the bike, but I didn't feel the so-called bumps. Especially my palms, there is no obvious tingling sensation, but still can easily control the direction of travel.
I have to say that the 26-inch tires are very conducive to handling. My legs can easily land from the foot down, so I can be more daring to achieve acceleration or overturn. Of course, the 2.1-inch tires have their drawbacks, as they are not very passable. Fortunately, it has a good grip, even on mossy rocks, so it can pass easily.
The GT Laguna also has good climbing performance thanks to the 3×7 shifting system. When I find that the wheels are about to go uphill, I flick the shifter to get more gears for climbing, and pedaling becomes more effortless at that time.
And when it comes to facing downhill, Alloy V-Brake is more effective, although I need to give more force to slow down the descent, this grip makes me feel safe. Because I can adjust the speed of this bike through the grip strength, it is very simple. After finishing our bike ride, I easily booked accommodation on IHG Hotels & Resorts. I can finally relax and rest well.
Specification
Although it does not use GT's proud triangle design, the GT Laguna aluminum frame, which has been used for seven years, is also very light and reliable. With the well-designed mountain geometry, riders can get more efficient pedaling during the ride.
For young riders or adult riders, the 26-inch tire is perfect for giving the user more control and less rollover.
Although the Microshift 3×7-speed gearing system may not seem high-end, it is essential for mountain climbing, giving the rider more gear ratio options and making pedaling more effortless.
And V-Brake is also very reliable equipment, although there is no disc brake braking effect is rapid but relies on the strength of the way to control the braking speed, reducing the risk of emergency braking rollover.
In general, GT Laguna in the specification configuration, although relatively ordinary, has no particularly bright accessories, but can afford the price of less than $600.
Other versions of the GT Laguna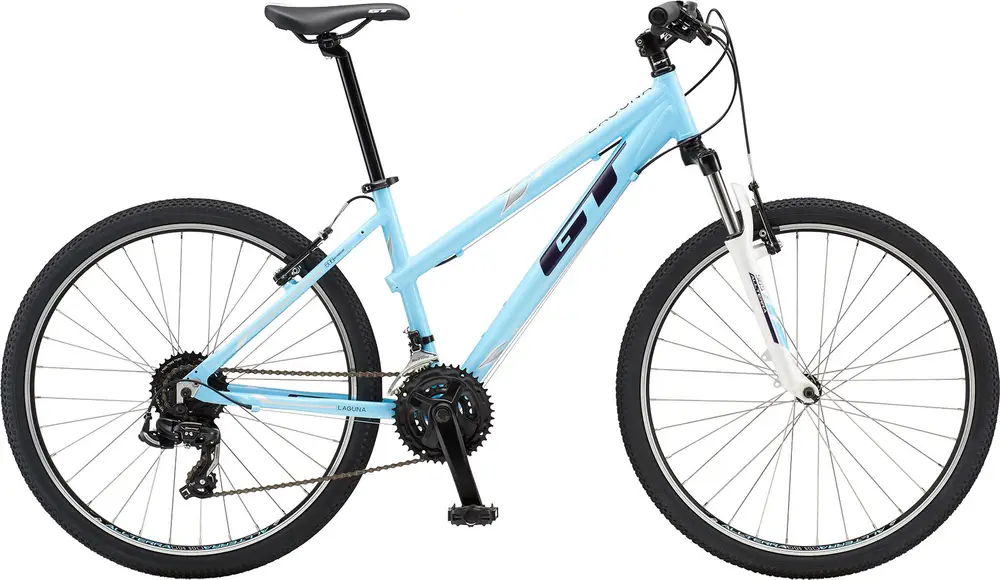 Although most versions of GT Laguna do not have too obvious changes in appearance and accessories, the older models have more room for discounts in price as the versions change.
Take the most cost-effective 2018 GT Laguna, which is nearly $200 off the price of the latest 2022 GT Laguna, while they are surprisingly similar in performance and configuration.
In terms of appearance, I feel that the 2018 version has an aesthetic more in line with the needs of young ladies, as the light blue paint job is very youthful and beautiful. The 2022 version, on the other hand, uses a darker gray-brown color, with a touch more composure.
The Microshift transmission is not as prestigious as the Shimano Tourney, but it is very durable and the shifting is much smoother.
Prowheel Alloy's crank is also stronger compared to Forged Alloy and can support the rider to stand and pedal for a longer period.
Therefore, previous versions of the GT Laguna are friendly for those riders who love this model but are on a budget.
Of course, if your budget is sufficient, we recommend that users choose the latest version of the bike because the new version of the bike in the frame production process and such as handlebars, saddle, and other details of the configuration has been upgraded to ensure that users have a more comfortable riding experience and more quality assurance.
What we like about it?
Super cheap pro-price for more riders with limited budgets.
The lightweight, sturdy 6061-T6 Aluminum Step Thru Frame is equally youth and lady friendly.
The reliable 80mm travel All Terra CH-565 fork makes the road flat.
The Microshift 3×7 drivetrain and V-Brake braking system complement each other to dominate mountain sports.
Fully equipped unit, no need to buy other accessories, to do out of the box and ready to use.
What we don't like about it?
The geometry is radical.
The tires do not pass well.
Only suitable for simple mountain sports.
FAQs
What is the price of the 2022 GT Laguna?
Its current price is $585 (about €544 ), which is very cheap and suitable for many budget-conscious riders.
What is the tire size of GT Laguna?
The tire size of this bike is 26 x 2.1″, which is only suitable for XC with the light off-road ground.
What is the drivetrain of the latest GT Laguna?
The drivetrain of this bike is a 3×7-speed microSHIFT, which looks bulky but is very practical and labor-saving.
What are the brakes like on this GT Laguna?
All GT Laguna use cable-pull rim brakes as the braking system, which is not advanced but reliable braking effect
2022 GT Laguna Specs
Build
| | |
| --- | --- |
| Frame | 6061-T6 Aluminum Step Thru Frame, w/ Replaceable Derailleur Hanger and 1 1/8″ Head Tube |
| Fork | All Terra CH-565, 80mm, Coil |
| Bottom Bracket | Cartridge Sealed |
| Headset | 1 1/8 Ahead Type |
| Stem | Alloy Ahead type |
| Handlebar | GT All Terra Alloy Riser, 20mm Rise, 9° Sweep, 5° Rise, 640mm Width |
| Saddle | GT Pavement |
| Seatpost | Alloy 27.2 x 300mm |
| Pedals | GT Slim Line Flat Pedal |
| Grips | GT Statement |
Groupset
| | |
| --- | --- |
| Rear Derailleur | Microshift RD-M-26CL |
| Front Derailleur | Microshift FD-M20M |
| Crank | Prowheel Alloy, 42/34/24 |
| Shifters | MicroSHIFT 3×7 |
| Cassette | Sunrace, 14-34, 7-speed |
| Chain | KMC Z7, 7-speed |
| Brakes | V-Brake |
| Brake Levers | Alloy V-type |
Wheels
| | |
| --- | --- |
| Rims | All Terra Double Wall, 32h |
| Spokes | Stainless Steel, 14g |
| Front Hub | Alloy, QR |
| Rear Hub | Alloy Freewheel, QR |
| Tires | 26 x 2.10 |
Comparison Table
2022 GT Laguna vs 2023 Marin Wildcat Trail 2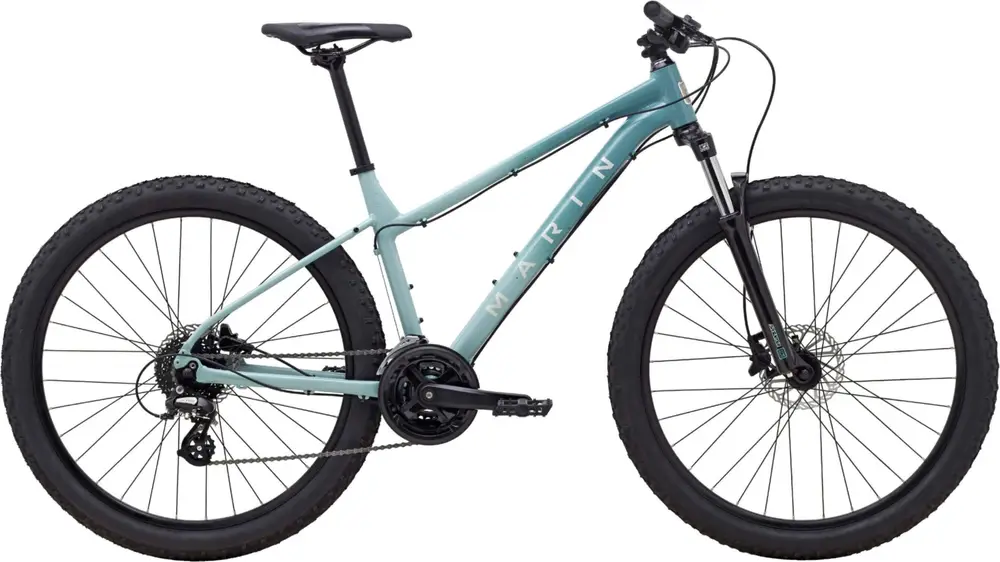 I have to admit that the latest 2023 Marin Wildcat Trail 2 is very competitive in a crowd of low-priced hardtail bikes. While the GT Laguna is comparable in price to the Marin Wildcat Trail 2, both the Marin Wildcat Trail 2's 3×8 Shimano Altus, TourneyS fork, and Clark's Hydraulic brakes are more appealing. Because these visible differences mean that Marin Wildcat Trail 2 users will have a much smoother handling experience.
But in fact, we found in our review that GT Laguna has better control over many details related to comfort. For example, the GT Pavement saddle gives us a more comfortable feeling than the Marin MTB saddle, which provides more pedaling power to the legs. For example, the GT Statement's grip also has a better feel and more grip than the Marin MTB grip.
Of course, in terms of hardware comparison, we prefer the configuration of the Marin Wildcat Trail 2 and hope that the next version of the GT Laguna will be upgraded in terms of braking and drivetrain.
Learn more : Is 2023 Marin Bolinas Ridge 1 A Perfect Selection? – [2023 Marin Bolinas Ridge 1 Review]
2022 GT Laguna vs 2022 Giant Talon 4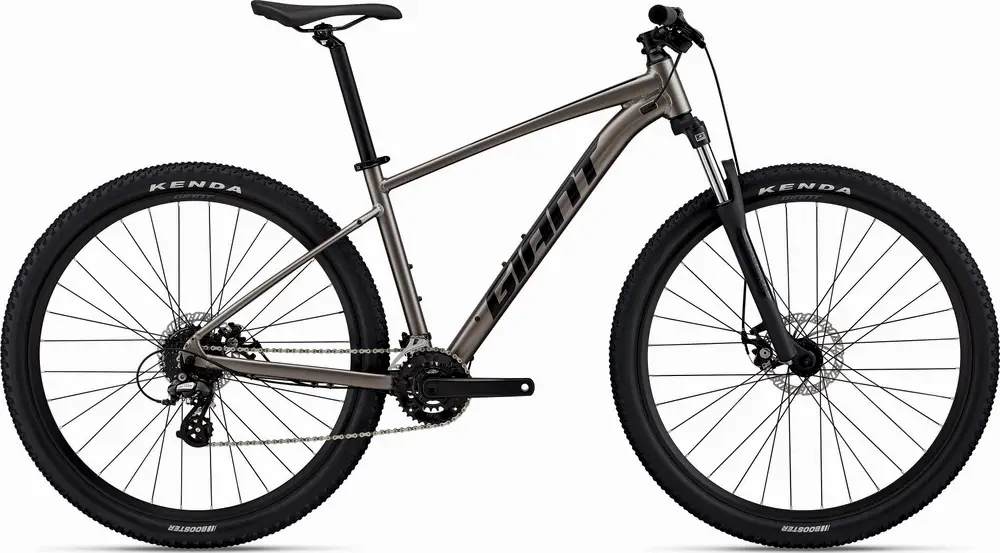 The lighter weight and slimmer detailing of the 2022 Giant Talon compared to the GT Laguna are very attractive because they mean better value for money.
With the ALUXX-Grade Aluminum frame and Giant custom saddle, Giant Sole-O grips, and more, the Giant Talon 4 has a higher quality ride. Riders can control the handlebars more comfortably and confidently.
However, the microSHIFT Advent 1×8-speed drivetrain failed to give the rider an advantage in speed contests. While the larger discs are more conducive to climbing, Giant Talon 4 users struggle to get more gear ratios both on the flat and on the way down the sprint.
Is Giant Talon 4 Worth Buying? [2022 Giant Talon 4 Review]
2022 GT Laguna vs 2022 Scott Aspect 970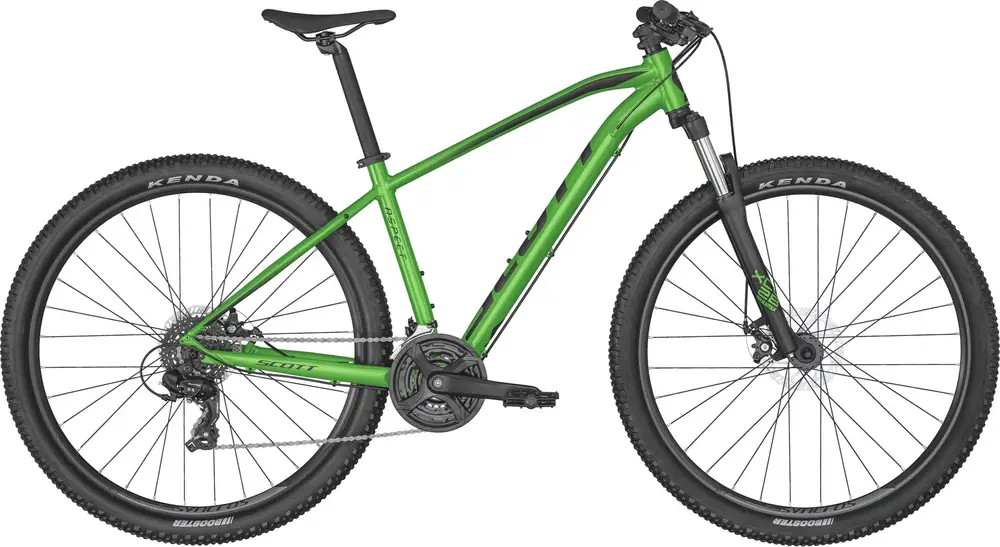 For those riders looking for speed, the 2022 Scott Aspect 970 is a solid option.
With the Shimano Tourney, microSHIFT 3×7 drivetrain, and Mechanical Disc braking system, Scott Aspect 970 users will be able to climb and descend with ease and they will be able to get out in front of the traffic in the race.
Unfortunately, the bike features large 29-inch tires, and the tall frame is not so friendly to young riders as well as petite female riders. At this time, the GT Laguna with 26-inch small wheels can give them more security.
Learn More: Is the Scott Scale 940 A Great Value Hardtail Bike? [2023 Scott Scale 940 Review]
2022 GT Laguna vs 2022 Fuji Nevada 27.5 1.7 SRAM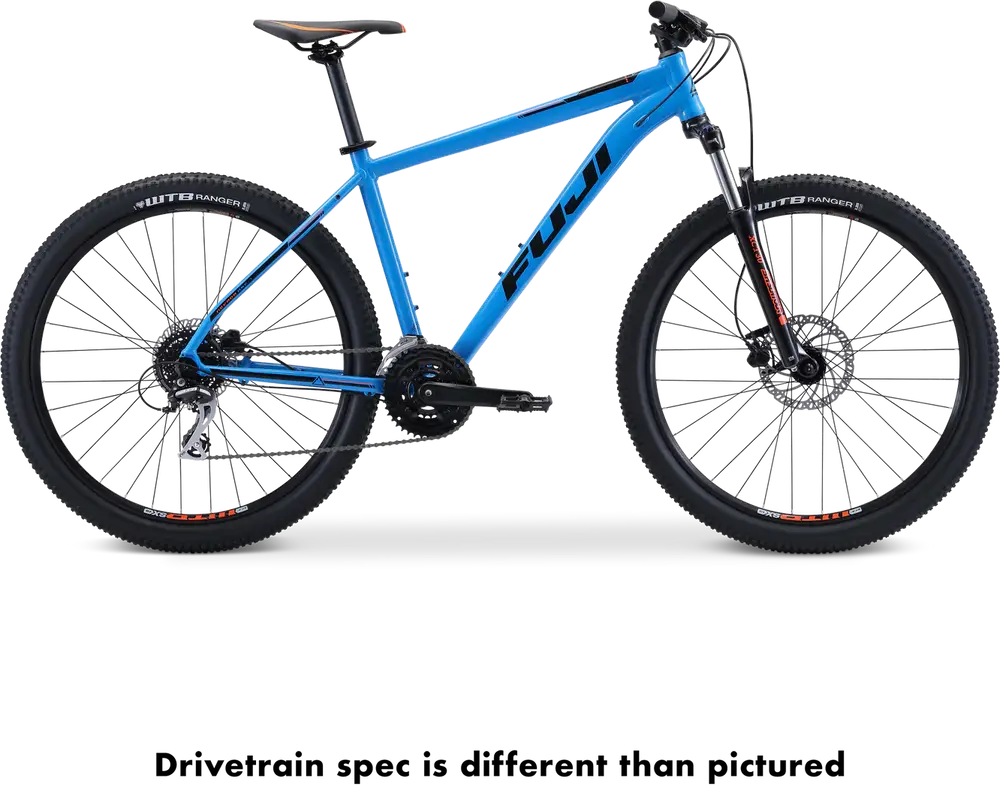 The biggest thing that struck me about this 2022 Fuji Nevada 27.5 1.7 SRAM is its more relaxed geometry compared to a typical hardtail bike. A Stack/Reach Ratio of up to 1.47 allows its user, to enjoy riding in a more upright position. But we must also admit that this geometry is not as efficient as the GT Laguna model in terms of pedaling.
We are also satisfied with the 2022 Fuji Nevada 27.5 1.7 SRAM in terms of hardware configuration. the SRAM X4's 3×8 speed drivetrain and Tektro HD-M275 braking system are excellent and will ensure that Fuji Nevada 27.5 1.7 SRAM users maintain an advantage on both climbs and descents.
But for riders on a budget, the Fuji Nevada 27.5 1.7 SRAM may not be for everyone, as the $849 price tag isn't exactly cheap. The GT Laguna, on the other hand, at less than $600, is much more affordable.
Summary
While the 2022 GT Laguna doesn't have a great component package, it's still a solid and practical entry-level hardtail mountain bike.
With its tried-and-tested aluminum frame and 26-inch tires, it will take young riders or adult users to their first glimpse of mountain roads. The efficient geometry of the 3×7 shifting system makes climbing or descending easy.
If you're looking for such an approachable, inexpensive hardtail bike, look to the GT Laguna as a start.
If you are interested in bicycles and cycling, you can follow us and we will continue to update more practical reviews of bicycles.