We use affiliate links and may receive a small commission on purchases.
Ibis Ripmo GX Review
Price: $6115
Category: Full Shock Absorbing Trail Bicycle
Drivetrain: 1×12
Travel: Front 160mm, rear 147mm
What we like about it: High-end component configuration, great performance, sensible geometry, and a comfortable ride.
What we don't like about it: Such a high price and not equipped with pedals.
Rating (4.8/5)
You may not be familiar with the Ibis brand. But as a heavy cyclist with over 20 years of riding experience, you can trust them. Although they have only been around for 40 years, Ibis has always been true to its philosophy of building bikes. Today we are going to introduce the Ripmo GX from Ibis.
This bike has excellent performance, especially in mountain cross-country performance is very good. The carbon frame is used with 29-inch tires, making it a great performer on some rough mountain trails. Not to mention the high-end Fox Factory Float 38 fork, which further enhances its riding experience.
Next, let's take a closer look at the Ibis Ripmo GX, which I will introduce in terms of its climbing, descending, main components, and main features.
If you want to know more about Ibis' other bikes, please follow us and we will keep you updated.
Ibis Ripmo GX Climbing
The first time I got the bike, I couldn't wait and rode it for a climb and I have to say, I was very satisfied with its performance. Another thing that needs to be prepared in advance is booking accommodation. This time, I still booked accommodation on IHG Hotels & Resorts, hoping for a good rest.
As soon as I got on the bike, I could feel the overall lightness of the bike. The carbon frame made the weight light enough, which saved me a lot of energy while climbing.
The forest trails were not as flat and neat as on the outdoor roads, except for some exposed tree roots, which made the road a bit slippery due to the light rain that had fallen two days before. This made the ride more difficult, but thankfully the Ibis Ripmo GX handled it very well.
First of all, the Maxxis Assegai tires provided good grip and I could feel the wide surface of the tires in full contact with the wet ground while riding. The raised tread pattern also provided enough traction to allow me to ride smoothly. What's more, the 29-inch specification size also brings good passability. It can drive well in the face of obstacles on the ground.
In addition, it is equipped with a 1×12 drivetrain that plays an important role. Because enough gearing options make me face different gradient roads very well and cope with them well, making my climbing very easy.
Ibis Ripmo GX Descending
As a full-suspension Lindau bike with high-end components, it's not only good on the climbs but also on the descents.
I was amazed at how well the front tire damped when it touched the ground as I leaped high out of the woods. This was mainly due to the Fox Factory Float 38 fork, which had 160mm of travel to cushion the impact of the landing, and a 147mm rear shock to keep me on the ground.
When the tires drove over the exposed tree roots on the ground, the excellent shock absorption was more than enough to give me a stable ride. The bike also comes with a dropper design, which further enhances my riding experience and gives me a comfortable descent.
During the descent, it was inevitable that I would encounter some corners of varying degrees of difficulty, and this is where the brakes came into play. The powerful braking performance of the SRAM Code RSC gave me great peace of mind. Because when facing a sharp corner, I only need to spend a little bit of effort to effectively stop, which greatly protects the safety of my ride.
On this descent ride, I did a few more maneuvers that I hadn't managed before, and thanks to its excellent performance, I did it! It was a great feeling!
Main Features
Frame Group
To be honest, Ibis always captures the aesthetic of their customers when designing the look of their bikes. I've always been a fan of the look of the bikes they produce, and this one is no exception.
First of all, I was attracted by its beautiful paint color at first sight. Riding it, it is the coolest rider in the mountains and forests.
The metallic paint job combined with the carbon frame is just cool! And it has good sturdiness in quality, so you can enjoy off-road in the mountains. Also, the weight is light enough to let you have a more relaxed ride.
In addition, the internal cable routing design effectively protects the cable lines from damage. And it is perfectly hidden in the lower tube, which looks very neat visually.
Of course, the same water bottle mounting holes are designed on its down tube. This greatly facilitates your outdoor riding without having to worry about drinking water.
Geometry
Great geometry helps a rider tremendously, and the geometry of this Ibis Ripmo GX is certainly satisfying to me.
The first thing is the longer forward reach, which is aerodynamically designed. As a result, it allows me to lean more forward while riding, which greatly accelerates my riding speed.
And the steep seat tube angle (77°) can ensure your pedaling efficiency, allowing you to have a more comfortable ride.
Of course, the right head tube angle (64.9°) also plays an important role. It provides responsive and fast steering ability, allowing you to have better control of the direction when off-road in the mountains.
In addition, the 733mm standing height is just right for me, allowing me to ride safely and not fall over when braking in an emergency, and I can use my feet for support.
Components and Specifications
Fox Factory Float 38 Front Fork
As a professional-grade fork, the Fox Factory Float 38 is unquestionable in terms of performance. First of all, in terms of shape, the calf arch design reduces weight as much as possible while ensuring its stiffness and strength.
Moreover, the floating axle setup will achieve perfect chassis alignment and eliminate unnecessary friction between the upper and lower fork legs. Undoubtedly, this significantly improves the overall ride quality.
What's more, the application of EVOL technology increases the volume of the negative air spring and optimizes the small crash sensitivity. This also brings a better experience for your ride.
In addition, the 160mm of travel can fully absorb vibrations from the road, bringing unparalleled ride quality.
Maxxis Assegai Tires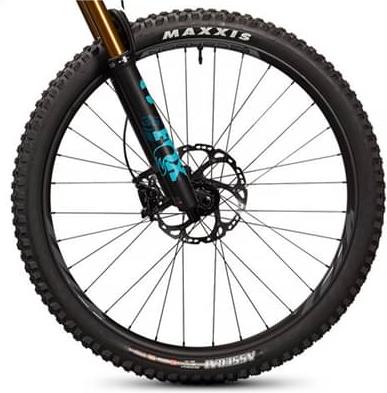 In terms of tires, the bike is built with Maxxis Assegai tires. This tire has a raised tread pattern on the center tread, which makes it roll well and provides great grip, giving you a more comfortable ride.
Meanwhile, the side handles follow the pattern of High Roller II tires to enhance stability in case of a rollover.
In addition, all of its knobs are of "Shorty" knob height, which gives it a firm bite on all surfaces.
SRAM Code RSC Brakes
This SRAM Code RSC hydraulic disc brake has a very strong braking performance, which can bring safety to your off-road riding.
It is designed with the ability to easily adjust the levers so you can choose the one that suits your preference. Also, a reshaped frontal airbag is designed on the brake lever, which helps to adjust and reduce the vapor pack and enhance the braking ability.
And, it also has good heat dissipation, so even under extreme test conditions, it still brakes well.
Other versions of Ibis Ripmo
In this test, in addition to testing this bike, we have also compared other versions of it. We hope it will help you to have a more comprehensive understanding.
2022 Ibis Ripmo AF GX
The Ibis Ripmo AF GX is also part of the Ripmo series of full-suspension trail bikes, but the difference is that this bike is an aluminum version.
Yes, to take care of more people's needs, Ibis has come up with this bike again. In terms of geometry, it has the same great geometry, in terms of component selection, the same brakes and tires are used, and even their drivetrains are the same.
It is worth mentioning that the application of an aluminum frame makes its frame only 8.2 lbs. Although it is not as good as the carbon Ripmo GX overall, it is considerably lower in price. This provides more options for those riders whose budgets are not as high.
Of course, in terms of fork configuration, it is slightly inferior to Ripmo GX. So if you want to pursue a better riding experience and higher-end configuration, then Ripmo GX will be a good choice.
What we like about it
The application of a carbon frame makes the body light enough.
Excellent geometric design for an easy ride.
Equipped with high-end components for excellent performance.
Excellent shock absorption, making your ride more comfortable.
Maxxis Assegai tires are used to cope with all kinds of complex terrain.
What we don't like about it
Need to equip yourself with pedals.
FAQs
What are the tires on the 2022 Ibis Ripmo GX?
The tires on the 2022 Ibis Ripmo GX are Maxxis Assegai.
2022 What is the fork of the Ibis Ripmo GX?
The fork on the 2022 Ibis Ripmo GX is a Fox Factory Float 38.
What are the brakes on the 2022 Ibis Ripmo GX?
The brakes on the 2022 Ibis Ripmo GX are SRAM Code RSC.
2022 Ibis Ripmo GX size chart
| | |
| --- | --- |
| size | Rider height |
| SM | 5'2″ – 5'8″ |
| MD | 5'6″ – 5'11" |
| LG | 5'10" – 6'3″ |
| XL | 6'1″ – 6'7″ |
2022 Ibis Ripmo Specs
Build
| | |
| --- | --- |
| Frame | Carbon front and rear triangle BB Standard: BSA, 73mm, Threaded Colors: Bug Zapper Blue; Star Destroyer Grey |
| Fork | Fox Float 38 Factory Series 160mm, 29″, 110×15. |
| Rear Shock | Fox Float Factory Series, X2 with EVOL, 210 x 55 |
| Bottom Bracket | Threaded (73mm BSA) |
| Headset | zs44 upper / zs56 lower |
| Stem | Ibis 31.8mm (40, 50, 60, 70, 80, 90mm) |
| Handlebar | Ibis 800mm Carbon; Lo-Fi (S-M), Hi Fi Bar (L-XL) |
| Saddle | WTB Silverado 142 |
| Seatpost | Bike Yoke Revive Dropper S: 125mm, M: 160mm, L/XL: 185mm. Note there is a 250lb rider weight limit on this post. |
| Grips | Lizard Skin Charger |
Groupset
| | |
| --- | --- |
| Rear Derailleur | SRAM GX Eagle |
| Crank | SRAM Descendant Alloy 175, DUB spindle, 32t Alloy Ring (170mm for S/M, 175mm for L/XL) |
| Shifters | SRAM GX Eagle |
| Cassette | SRAM XG 1275 10-50 12 speed |
| Chain | SRAM GX Eagle |
| Brakes | SRAM Code RSC, 4 piston |
Wheels
| | |
| --- | --- |
| Rims | Ibis S35 Aluminum / 29″ / Ibis Hubs |
| Tires | Maxxis Assegai 29″ x 2.5″ WT, EXO+ casing, 120tpi |
| Disk Rotors | SRAM Centerline 200mm Front/180mm Rear |
Video
Comparison Table
2022 Ibis Ripmo GX VS 2023 BMC Fourstroke LT ONE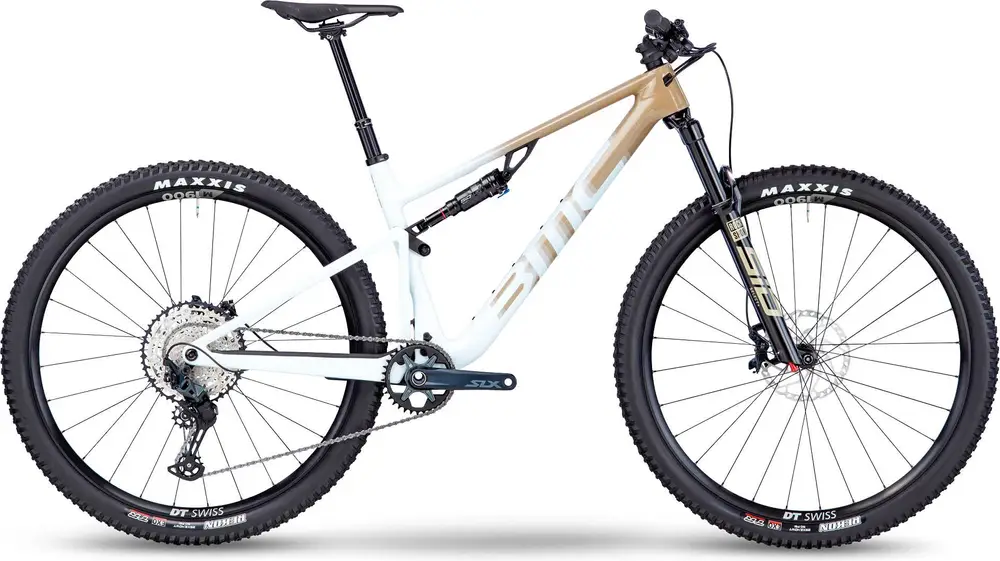 As a full-shock trail bike, the BMC Fourstroke LT ONE performs very well. The carbon frame is applied to enhance your riding feel. And the RockShox SID Select fork option makes it even more comfortable for you to have a comfortable experience while riding.
What's more, the 120mm travel can effectively reduce vibration on bumpy roads, and with the same 120mm travel RockShox SIDLuxe Select+ rear shock absorber, it brings an excellent riding experience.
But only if you've ridden it yourself will you know that the Ibis Ripmo GX is no less impressive. 160mm travel Fox Factory Float 38 forks are paired with a 147mm travel Fox Float Factory Series rear shock, giving you unparalleled damping experience.
All I can say is that I was impressed by the powerful performance of the Ripmo GX during the actual ride.
Learn More: Fourstroke 01 LT TWO Review [2022]- The Ultimate Enjoyment For Your Mountain Riding
2022 Ibis Ripmo GX vs 2022 Santa Cruz 5010 S / Carbon C / 27.5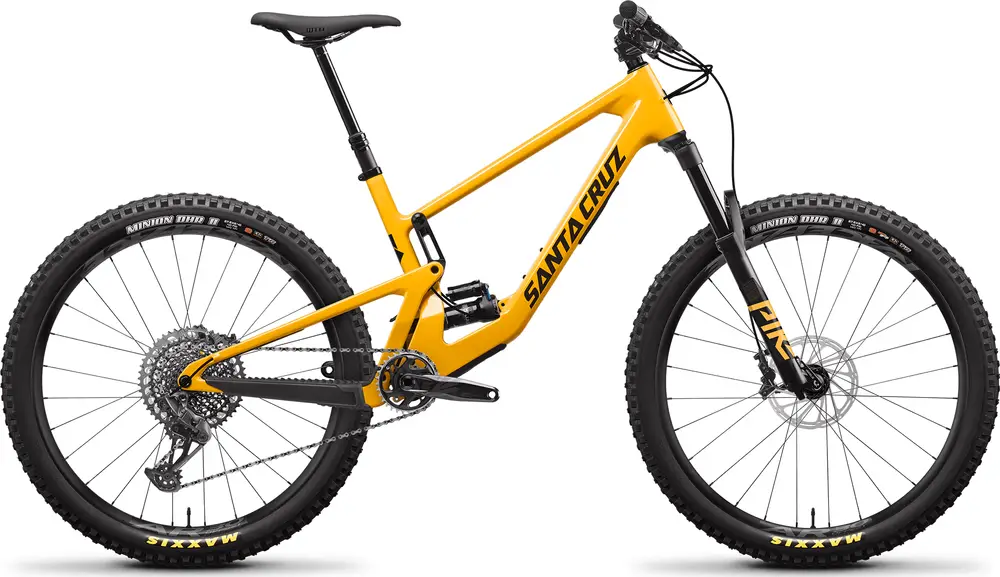 As an avid mountain trail rider, I like the 29-inch tires a lot. The larger size makes it better for passing and faster riding. This Santa Cruz 5010 S / Carbon C / 27.5 uses 27.5-inch tires. That's not to say it's bad, it's just my personal preference.
Of course, it also has many advantages, excellent braking performance, and scientific geometry design. All of these bring a better riding experience.
And the Ibis Ripmo GX has all of that. So if you prefer a larger tire size like me, then the Ibis Ripmo GX would be a great choice.
Learn More: Santa Cruz 5010 X01 Review [2022]- Napoleon's Heroism
2022 Ibis Ripmo GX VS 2023 Trek Fuel EX 9.8 XT Gen 6
Although this Trek Fuel EX 9.8 XT Gen 6 also uses carbon in its material choice, it is not as light in weight as the Ibis Ripmo GX. The weight difference of almost 3 pounds is something you can feel if you are an experienced rider.
The Ibis Ripmo GX is more advanced in terms of specifications and better in terms of experience, although the forks are both Fox Float series.
Also, in terms of paint color, I prefer the Ibis Ripmo GX color scheme, which catches my eye more.
Learn More; Trek Top Fuel 9.8 XT Review [2023]- Speed And Passion On Fire
2022 Ibis Ripmo GX vs 2022 Canyon Neuron CF 9 SL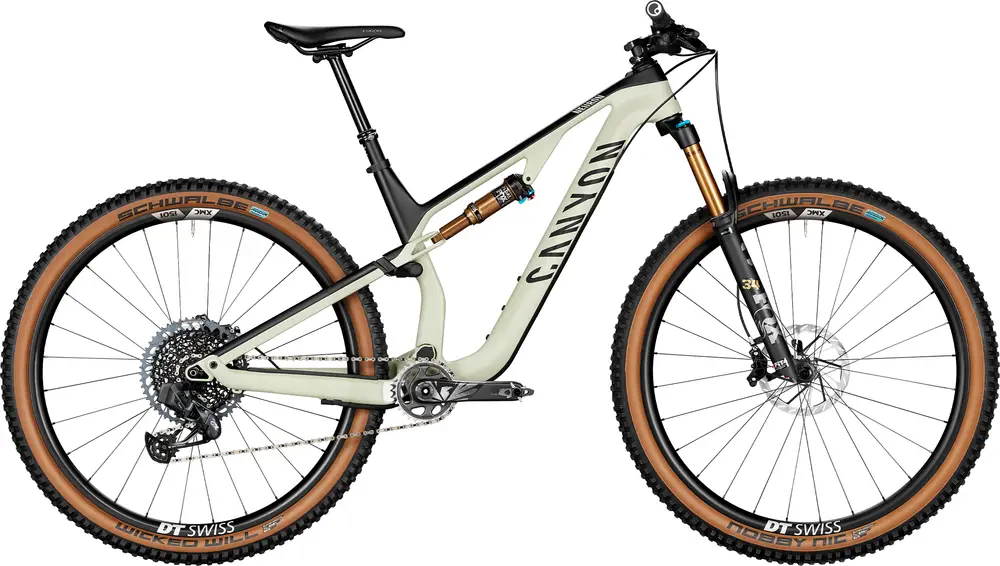 To be honest, this Canyon Neuron CF 9 SL is high-end in terms of configuration. Whether it's the choice of forks or the application of tires and brakes, it all speaks to the extraordinary nature of this bike.
Especially in the drivetrain, it uses 1×12 electronic shifting. This makes its shifting faster and more accurate, greatly enhancing your riding experience.
Of course, the Ibis Ripmo GX has no less performance in the real world of riding. The excellent damping effect brings comfortable riding and is even cheaper than it is.
It's worth noting that the cable on this Canyon Neuron CF 9 SL is exposed. This is susceptible to damage during riding, which is one thing I have to complain about.
If your budget is not that high and you also don't like the external alignment, try the Ibis Ripmo GX, it will surprise you.
Learn more : Is Canyon Lux Trail CF 7 Worth Buying? [2022 Canyon Lux Trail CF 7 Review]