We use affiliate links and may receive a small commission on purchases.
GT Mach One Pro 24 Review
Price: $480
Frame: Aluminum
Tires: 24″
Gearing: Single-speed
What we like about it: The thick and durable frame, and stout and stable tires.
What we don't like about it: The overall weight is heavy.
Rating (4.5/5)
This is an old brand that has been dedicated to the bicycle industry since 1972, and they have always been committed to the idea of developing bikes for all types of riders. This mission is for the same reason that everyone puts effort into their first bike – pure fun and simplicity. It's safe to say that there would be no good times without GT.
I don't think you need to spend a lot of money on a BMX tour, and the Mach One Pro 24″ Cruiser is perfect for beginners to take their first BMX tour.
Below we analyze the GT Mach One Pro 24 regarding course riding, key features, components, specifications, and other versions.
If you want to know more about bike reviews, you can follow us.
GT Mach One Pro 24 Course Riding
This is my first track bike and BMX bikes offer a unique riding experience with every feature as fun as the original riding sport. Add to that the indirect nature of the bikes themselves and the existence of BMX itself as a sporting culture, and it's easy to see why BMX has such a big appeal.
My bike comes with the usual three-piece cranks on the bottom and does not include the chain tensioner of a regular bike. Obviously. The fact that it only comes with a rear brake, as well as a single-speed, makes it very simple. But also, as a result, it is only available for skate park and street riding as well as jumps in the dirt. I went to a bowl skateboard venue near the neighborhood, which is a gathering place for BMXers.
Show time
I tried to sprint down the edge of the field and make some moves. The bike was very light and fast, and the short stems and near-perpendicular fork allowed it to react quickly to my moves. As a result, I could start doing some handlebar turns and the extended brake cable ensured that I didn't get tangled up in the cable as a result. In the field, there wasn't going to be a very fast ride, we were more likely to do a short swoop or some tricks in place. And at this point, braking doesn't seem to be necessary. But to keep me safe and so I can ride it home, the GT Mach One Pro 24 is also equipped with a rear rim brake for me.
In addition, the pedals are very wide and come with metal bumps on them. I would have a good grip on it wearing flat shoes similar to skate shoes. This design also allows me to easily make rabbit jumps and other moves that require lifting the rear tire. Also, the wide tires are very stable, so I can land firmly after a jump, and the small 24″ wheelset allows me to be very agile. However, sometimes I think I should put two rocket launchers next to the tires so that I can make more moves. After finishing my bike ride, I easily booked accommodation on IHG Hotels & Resorts. I can finally relax and rest well.
Main Features
Frame Group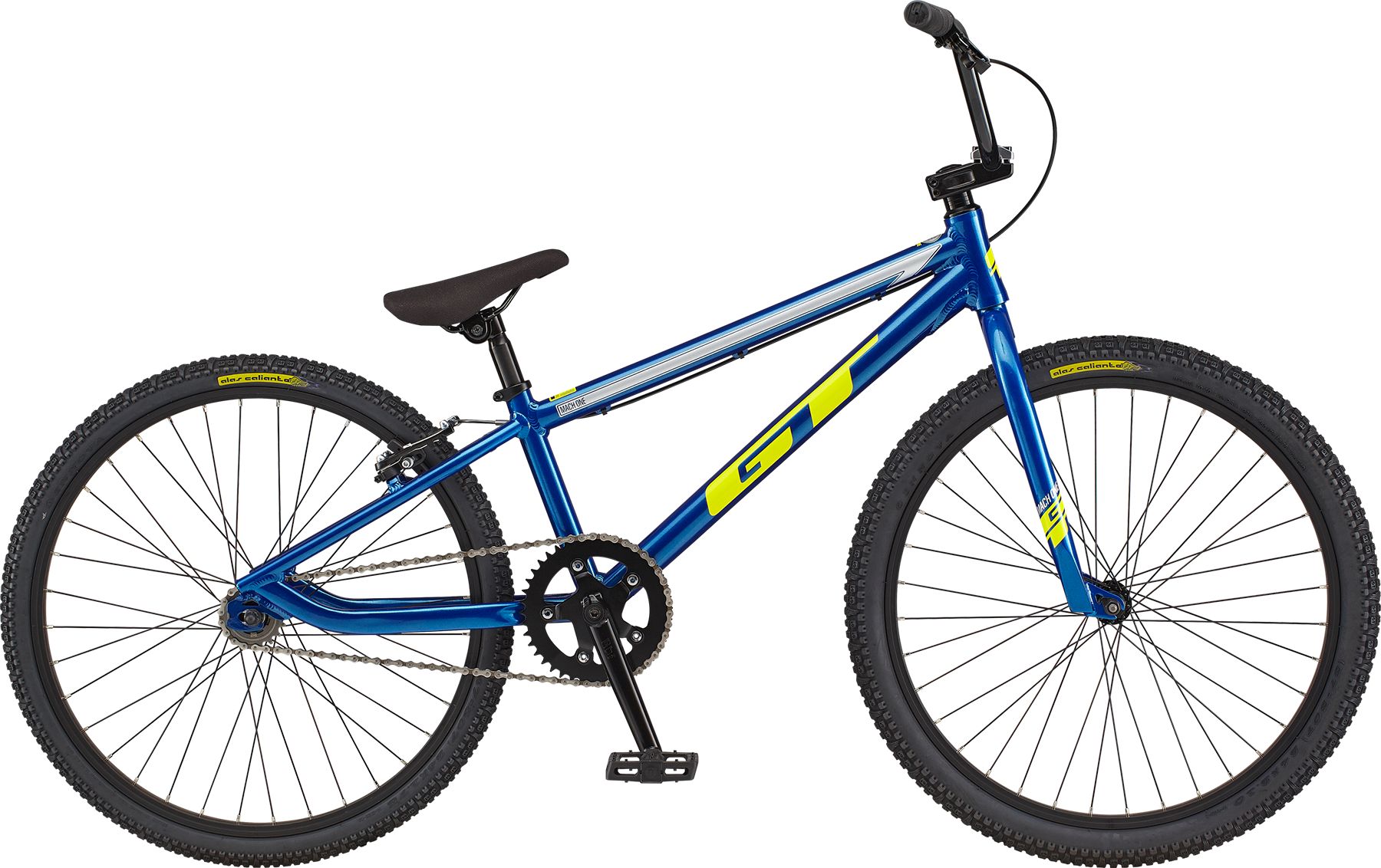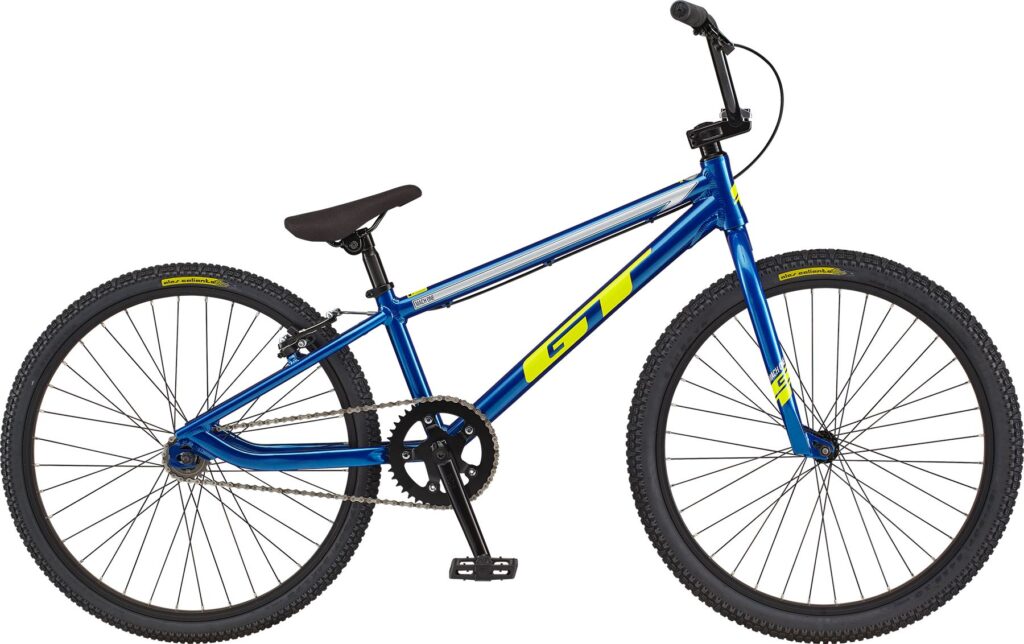 The frame is constructed from aluminum alloy throughout, with a sturdy steel fork that provides top-notch rigidity. In addition, it is equipped with rim brake mounting holes, so you can even install brakes on both front and rear if needed.
And the tire mounting part of the frame is designed with reverse fork teeth, which can make the fork more firmly fixed on the tire and not easily detached. And it will not bring direct force to the fork hole position when landing in the air.
Geometry
Geometrically, an almost vertical head tube angle is used to make steering and various other handlebar movements easier and more flexible when riding. And, the top tube and rear lower fork are almost in the same straight line, making the whole bike very compressed. Moreover, while providing a better power feeling, it can also greatly enhance the unity of the vehicle, allowing for quick and consistent movements in the air.
Components and Specifications
GT Power Crank
This bike uses a three-section alloy crank, which is different from traditional bike cranks. While the use of three-section split cranks can greatly enhance the overall rigidity, the hollow shaft bolts can additionally reduce the overall weight. In addition, the 42T gear disc can give the vehicle a suitable speed for riding.
GT Wing 24 x 2.1″ (F) 24 x 1.75″ (R) Tires

The tires are GT Wing's tires, retaining the original look of the tires but with more modern technology. They have a non-directional "GT" tread and a smooth center tread block for fast rolling.
And has a wide tire width and strong and durable tread. Another point is that the tires have a special design of a wide front and narrow rear, which can have a better landing effect when doing the action. Because in the action, most of the cases need the front tire to the ground. This design is also very thoughtful.
Other versions of GT Mach One Pro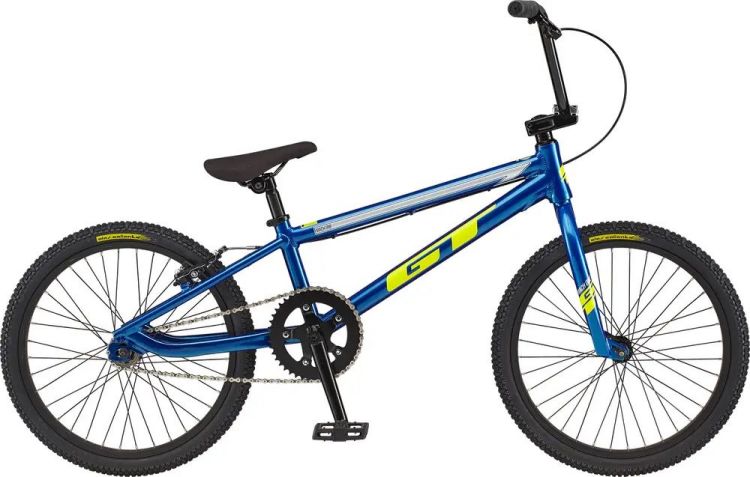 In this review, we tested the 2022 GT Mach One Pro 24, a small-wheeled action bike that allows you to do a lot of tricks. Not only that, but the sturdy and durable frame and stout tires will keep you on the ground. And a friendly price that every enthusiast can afford.
For this reason, we also found its other model, the 2022 GT Mach One Pro. They were launched in the same year, with only a few differences in the model, which is a smaller 20″. The 2022 GT Mach One Pro is the same year, with only a few differences in the model, which is a smaller 20″, and a 20 x 1.75″ wheelset with equal width front and rear, and a larger gear ratio (44/16) to drive the smaller tires, to ensure the same speed as the larger model. Other than that, there is not much difference in terms of accessories. If you prefer a smaller tire, you can choose the smaller 2022 GT Mach One Pro.
What we like about it
Robust and durable frame construction.
Wide and thick tire design.
Reliable braking system.
Sensitive drivetrain of the cassette and cassette.
Super traction footrest.
Affordable price.
What we don't like about it
FAQs
What terrain can I ride the 2022 GT Mach One Pro 24 on?
You can ride to skate parks, scooter sites, and squares near your community for movement skills practice.
What kind of tires are used on the 2022 GT Mach One Pro 24?
GT Wing (F) 24 x 2.1″ (R) 24 x 1.75″ tires are used. However, different tire widths are used for the front and rear tires to provide a stable landing experience.
What kind of design is used for the 2022 GT Mach One Pro 24 frame?
The frame is GT Mach One Race MK2, which uses 6061 aluminum alloy. The tire area uses a reverse fork tine mounting structure and V-shaped brake mounting holes.
2022 GT Mach One Pro 24 Specs
Build
| | |
| --- | --- |
| Frame | GT Mach One Race MK2, 6061 Alloy, Euro BB, Reverse Dropouts, V-Brakes, 1-1/8″ Integrated H/T |
| Fork | GT BMX Race, Hi-Ten Steel 1 1/8″ Steerer, Tapered Legs, 3/8″ Dropouts |
| Bottom Bracket | Euro Sealed Bearing |
| Headset | 1 1/8″ Integrated Design, 45X45 Degree Sealed Bearings |
| Stem | GT Top Load, 1-1/8″, 50mm |
| Handlebar | GT Race, Steel, 6.5 "H x 29 "W, 4° Up, 8° Back |
| Saddle | Railed |
| Seatpost | Alloy, 27.2mm x 200mm |
| Pedals | GT Low Profile FS Platform Design |
| Grips | GT Statement |
Groupset
| | |
| --- | --- |
| Crank | GT Power Series Tubular Cr-Mo 3pc. 175mm Arms, 19mm x 8T Splined Spindle, Steel Spider, GT 42T Steel Chainring |
| Cassette | 18T Freewheel |
| Chain | KMC S1 |
| Brakes | Alloy V-type |
| Brake Levers | Alloy V-type |
Wheels
| | |
| --- | --- |
| Rims | Alloy Single Wall, 36h |
| Spokes | Stainless Steel, 14g |
| Front Hub | Steel Body, 36H, 3/8″ Axle |
| Rear Hub | Steel Flip Flop Thread-on Body, Freewheel, 36h, 3/8″ Axle |
| Tires | GT Wing (F) 24 x 2.1″ (R) 24 x 1.75″ |
Video
Comparison Table
| | | | | |
| --- | --- | --- | --- | --- |
| Bicycles | Price | Brakes | Tires | Click view |
| 2023 Haro Downtown 20 | $429 | Radius Alloy 990 U-Brake | Haro La Mesa 20 x 2.4″ | Click View |
| Verde Vex XL | $799 | Rim | DUO Brand HSL 20 x 2.4″ | Click View |
| Polygon RAZOR | $479 | ALLOY V-BRAKE | DELI S-199 20X1.95″ | Click View |
| Huffy Enigma BMX Race Bike | $289 | Rim | 20in (given by the official website) | Click View |
2022 GT Mach One Pro 24 vs 2023 Haro Downtown 20
The most visual difference between these two bikes is the size of the crankset, the difference between the cranksets of the two bikes is very large. As you can see, the GT Mach One Pro 24 features larger tires as well as larger gears (42:18) to provide a faster speed when riding. This design helps the rider to sprint up steeper hills more easily. The Haro Downtown 20, on the other hand, uses a smaller gear (25:9) that will give precise control of speed throughout the bike and will be a great help for precise movements.
In terms of frame, the GT Mach One Pro 24 uses an aluminum frame with a steel fork, which is a good balance of weight and price. The Haro Downtown 20, on the other hand, uses an all-steel frame, which will undoubtedly increase the weight of the whole bike.
In addition, in terms of components, this price point does not pull too far apart, and only the tire size will differ. This proves that the two vehicles will indeed be used in different scenarios, and each person can shop according to their needs and the size they prefer.
Learn more : Is Haro Downtown 26 Worth Buying?-[Haro Downtown 26 Review]
2022 GT Mach One Pro 24 vs 2022 Verde Vex XL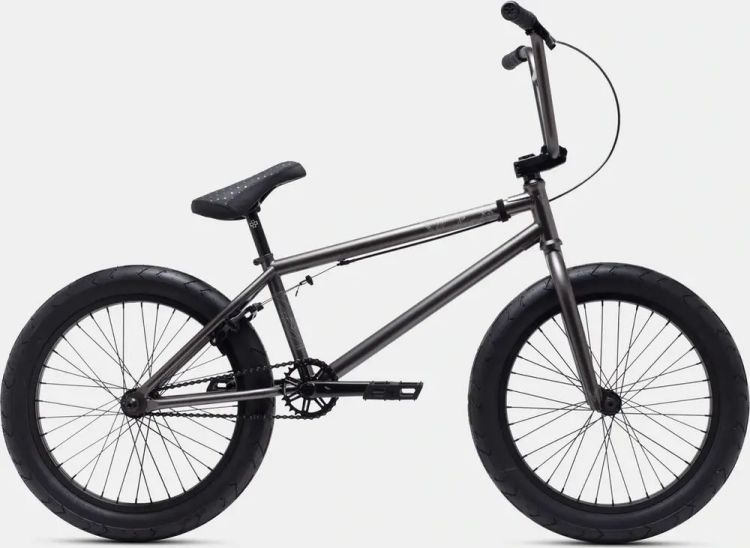 The Verde Vex XL is made of a very high-quality steel frame. However, surprisingly, the advanced technology allows it to be as light as an aluminum frame, and it has a strength that aluminum frames cannot match.
Also in terms of geometry, the head tube angles of both are comparable, both for the flexibility of the vehicle. The Verde Vex XL is significantly taller in terms of seat tube length, which has the advantage of making the whole body more stable. Therefore, it can better correct the angle of the body when performing some landing maneuvers. The GT Mach One Pro 24, on the other hand, has a very short seat tube length, and the compressed overall frame has the advantage of making the whole thing very focused and flexible, allowing it to make similar movements of rotating the body more easily. The GT Mach One Pro 24 also incorporates a reverse fork tine design in the frame, so that the frame does not receive a direct impact from the ground.
Component-wise, the Verde Vex XL has spared no expense though, using better materials for most of its accessories. This is the reason why it is so expensive. But unfortunately, Verde Vex XL is not equipped with disc hydraulic brakes, which will encounter very many unexpected situations when performing movement exercises. As you can see, an effective braking disc mount is very necessary. And with nearly double the price difference between the two bikes, my advice is to go for the more cost-effective GT Mach One Pro 24.
2022 GT Mach One Pro 24 vs 2022 Polygon RAZOR
Both bikes are a good choice, featuring two different tire sizes. The Polygon RAZOR surprisingly uses an all-aluminum frame at this price point, which keeps the overall weight of the frame well under control. Notably, the gear ratios are also very similar, with the Polygon RAZOR using a 44:16 gear ratio and the GT Mach One Pro 24 a 42:18. Such a gear ratio is perfect for a small bike to ride around the course without going too fast or too slow.
Geometrically, Polygon RAZOR uses a more compressed frame with a smaller tire diameter, which allows for more overall flexibility. As a result, I can make body flip and jump movements very easily. The GT Mach One Pro 24 also appears in front of us with the same design.
Component-wise, Polygon RAZOR surprisingly uses front and rear brakes. I have to say that this is perfect for beginners, allowing them to brake even if the bike. However, the disadvantage is that it is completely impossible to rotate the front end and other similar movements on this bike, and the handlebars cannot be rotated up to 360°. For this reason, the GT Mach One Pro 24 would be a better option for me.
2022 GT Mach One Pro 24 vs 2022 Huffy Enigma BMX Race Bike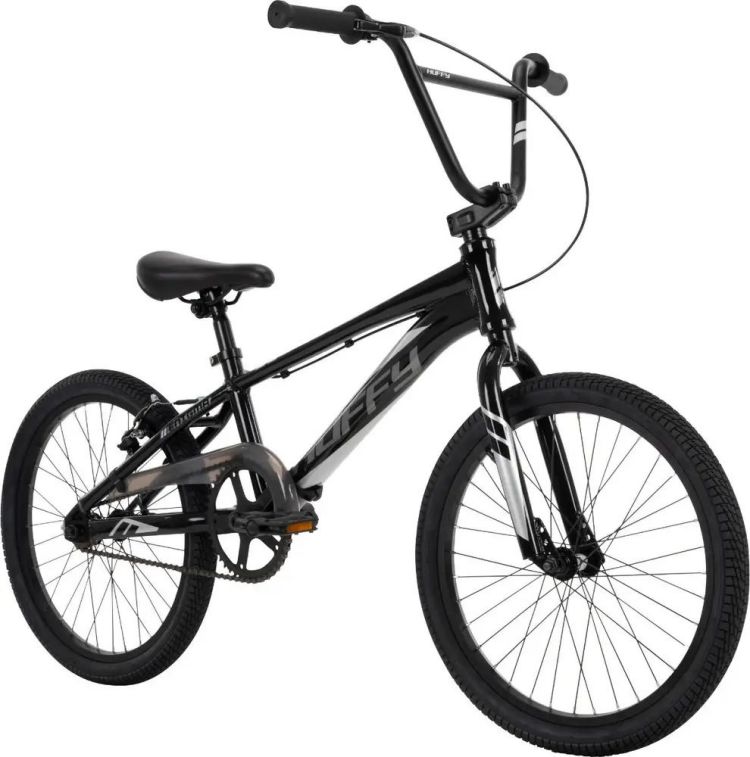 The Huffy Enigma BMX Race Bike seems to be more suitable for teenagers to ride. Because of the lower price tag, its components are not too strong to withstand the impact caused by an adult landing.
Other than that, I wasn't able to find information on the internet about its components, which don't look solid. But the price is perfect for getting the kids to play and they are at a weight that this bike is perfectly capable of handling. I don't think this bike could be any better as a junior's first entry into the BMX playground.
As for the GT Mach One Pro 24, it is a bike for adults to do real venue fancy riding, but you don't add much money for that. So if you are an adult and wish to do BMC field play, then GT Mach One Pro 24 is indeed a very good choice.
Learn more : Is The Huffy 20 Rock It Boys Bike Worth Buying? [Review] 2021