We use affiliate links and may receive a small commission on purchases.
GT La Bomba Pro Review
Price: $1475
Frame: Aluminum
Tires: 26″
Gearing: Single-speed
Front fork: Manitou Circus Expert
What we like about it: The wide tires and efficient hydraulic braking system.
What we don't like about it: The large frame makes it less flexible.
Rating (4.8/5)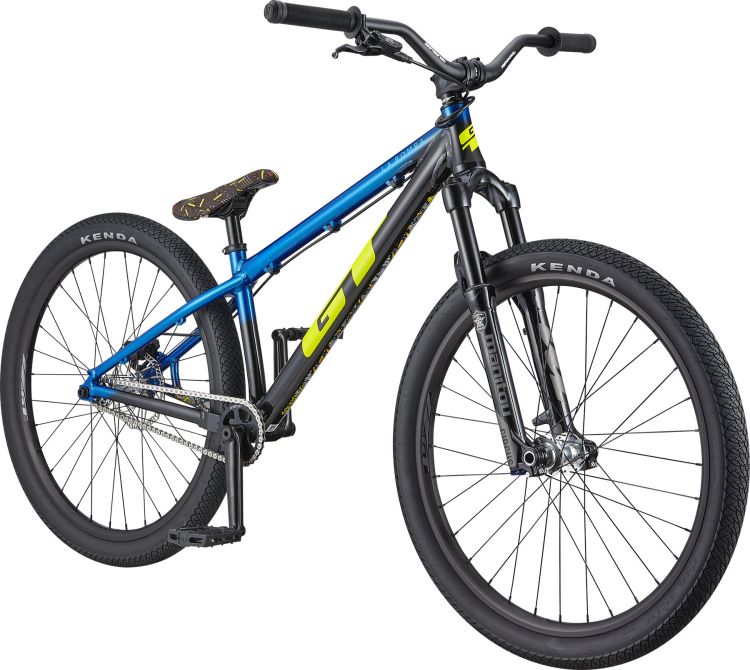 This is an old brand that has been dedicated to the bicycle industry since 1972, and they have always been committed to developing bikes for all types of riders. This mission is for the same reason everyone puts effort into their first bike – pure fun and simplicity.
If you want a new high-end mountain bike, it's perfect for you. This bike comes with a race-proven pro-grade GT aluminum frame with a Manitou Circus fork and 20mm barrel axle. There are also GT 3pc cromoly cranks and Kenda 3-60 tires to keep me safe. So it will keep you happily riding the local pump tracks and even the world's biggest venue bike ramps, it's got you covered.
Below we analyze the GT La Bomba Pro regarding course riding, mountain cross country, key features, components, and specifications, as well as other versions.
If you want to know more about bike reviews, you can follow us.
GT La Bomba Pro Course Riding
What happens when a BMX rider tries Dirt Jumper for the first time? Maybe I'm not quite sure, because that's the kind of rider I am.
Today I got on my GT La Bomba Pro and headed out to the backyard skate park ramp and tried a lot of tricks, including barspin, a 360, and a tail whip.
Riding the larger BMX action bike proved to be a lot more difficult than expected. As a long-time BMX rider, I thought the bike was fine to play with on the ramps of a small skate park, but it could have been better. Its stage is an outdoor dirt ramp, mind you, and with a five-foot plus takeoff, that height is perfect for it.
The speed when doing Tailwhips is indeed much slower than before because the larger frame makes it a bit heavy. However, it also allows it to face higher steeper slopes. In the air, I had to swing the handlebars from side to side to stagger and dunk like an NBA star to keep myself from falling fast.
But on one of the biggest jumps, everything felt much better just by turning on my fork-dampening system. I fell in love with the bike straight away, it's perfect for getting off the ground and dropping again. And the larger frame makes it suitable for more terrain, park, jumps, pump tracks, and streets can all be very good at it. After finishing my bike ride, I easily booked accommodation on IHG Hotels & Resorts. I can finally relax and rest well.
Performance of GT La Bomba Pro
The new GT La Bomba Pro is very simple and it emphasizes a clean and quiet bike. It also minimizes its cables if some improvements are made to install a gyroscope on the headset. This will keep its cockpit clean and tidy to avoid any interruptions when doing barspin. Meanwhile, the GT La Bomba Pro continues to maintain its clean body, and although there is no tensioner on the rear end chain area, the chain can still be run very tightly to pull as much tension as possible on the tires. And the cassette body of the Profile Racing wheelset makes a pleasant sound when rolling super fast, which is a very solid tire construction.
Overall, we were impressed with the quality and price of the GT La Bomba Pro as well as the reviews, and features. We would say that as long as the GT La Bomba Pro is within your budget and meets your needs in terms of features, it is a very strong contender. That's why I gave it a rating of 4.8/5.
Main Features
Frame Group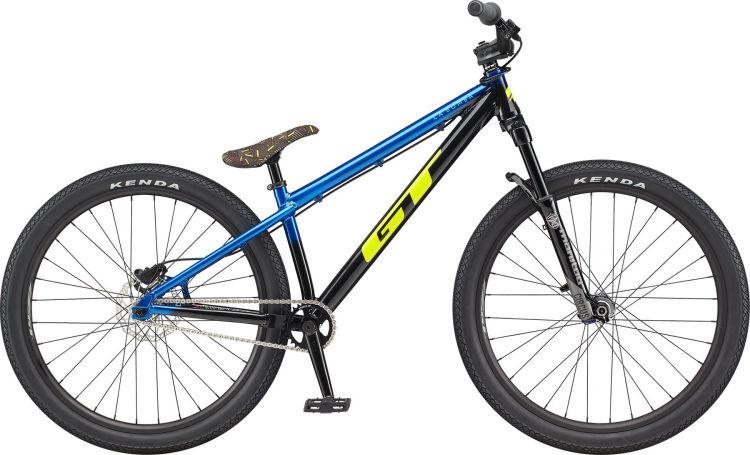 The frame is made of 6061 aluminum alloy, and the extractor tube technology greatly reduces the overall weight of the frame without sacrificing rigidity. In addition, disc brake mounting holes as well as rim brake mounting holes provide the rider with diverse options.
Although it is not equipped with a chain tensioner for the sake of simplicity, mounting holes are reserved. The brake cable alignment clips are provided under the top tube so that the brake cable can be firmly fixed underneath to avoid leg rubbing on the cable during the ride.
Geometry
The frame has a very modern geometry with an extremely compressed frame overall giving it a very small size and maximum maneuverability. As a result, the frame can be easily spanned when performing some turning movements.
In addition, the head tube is designed to be almost vertical to the ground, making the overall very flexible and responsive to the rider's movements.
And, the relatively high BB height (12.54″) also makes it much more passable without receiving interference from small rocks in dirt sections. Also, the front and rear tire mounting parts use a barrel axle mounting structure, which allows the tires to be tightly fixed to the frame and will not fall off. The last point is that the closed frame mounting holes further increase the strength, and the hollow axle structure can also reduce the weight very well.
Components and Specifications
GT Power Crank
It uses a three-part alloy crank, which is different from traditional bike cranks. The overall rigidity can be greatly enhanced by using a three-stage split crank. Moreover, the hollow shaft bolt can additionally reduce the overall weight. In addition, the 48T gear disc can give the vehicle a suitable speed for riding.
Pro max Hydraulic Disc Brake
We don't see such brakes on small bikes very often, as most of them will be in the form of rim brakes. And such reliable hydraulic disc brakes give me better braking results. You know, there will be many emergencies in the field, so effective and fast braking is necessary.
In addition, the reliable dual-piston hydraulic brakes provide excellent performance regardless of off-road conditions.
Kenda 3-Sixty 2.35″ Tires

For starters, the wide 2.35-inch tires provide the rider with fast-rolling ability as well as excellent grip. It is suitable for dirt jumps, dirt parks, and pump tracks. In addition, the spidery tread pattern is a truly unique design that works well for most riders in terms of function. And the shallow tread depth allows it to roll fast.
It is worth mentioning that the Kenda 3-Sixty 2.35″ is available in two colors, including black or tan tread. And it's not just about looks. Choose black for more traction and tan for more speed.
Manitou Circus Expert Fork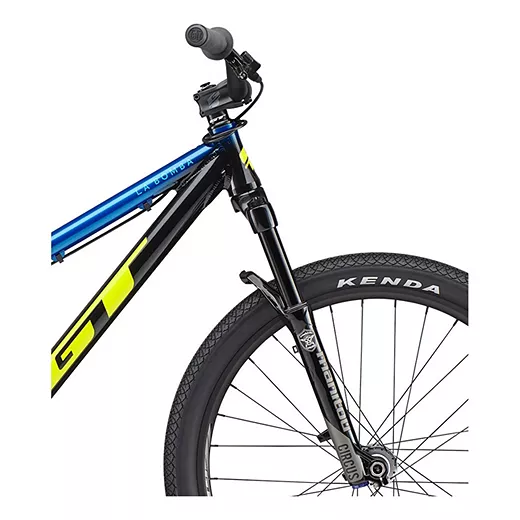 The Circus series was originally designed to allow dirt riders to better compete, but it eventually became the go-to Dirt Jumper sport for civilian riders around the world. And the Ciecus series has become a must-have fork for everyday riders in the sport of jumping, with very good results in pro-level competition for nearly a decade.
Needless to say, it absorbs the biggest bumps on landing, allowing me to ride as aggressively and as fast as I want. And, the lockable fork allows the rider to ride with the cushioning off again. This allows for a completely stiff fork for a quicker ground reaction. And the barrel axle design allows the fork to be paired with more advanced barrel axle tires for a sturdy experience.
Other versions of GT La Bomba Pro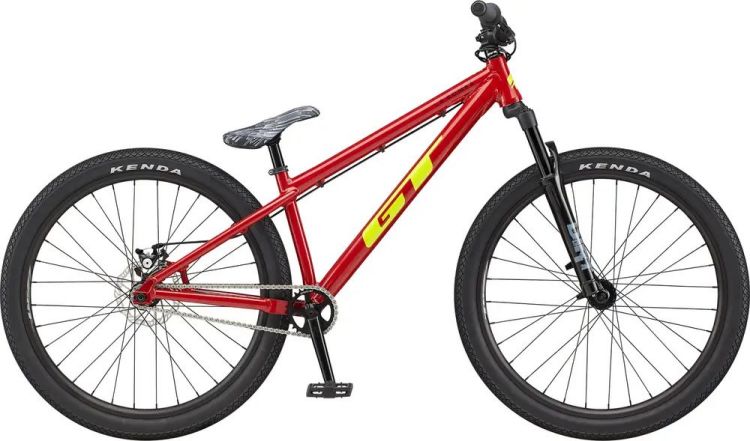 In this test, we put the big Dirt Jumper bike 2022 GT La Bomba Pro through a series of tests. It has wide tires, a lightweight frame, and a quality front shock system. This can be used not only for touring between venues, but also out on dirt roads in all major mountains and forests.
For these features, we also found its other version, the 2022 GT La Bomba, which is a stripped-down version with mechanical disc brakes and a more affordable RST front damping system. In other respects, there is little difference.
If you don't have a particularly big budget, you can also choose the 2022 GT La Bomba as your ride. After all, it doesn't take a lot of money to play BMX, and we welcome all enthusiasts. If you are interested in this, please follow us.
What we like about it
Wide tires provide stable support.
Stable and spiked footrests hold feet firmly in place.
Efficient hydraulic disc brake system.
Affordable price.
Smooth drivetrain.
What we don't like about it
The large frame makes it less flexible.
FAQs
What size tires does the 2022 GT La Bomba Pro have?
Alloy Disc Body, Sealed Bearings, 32 Hole, 3/8″ x 17mm Female Bolt, Kenda 3-Sixty 2.35″
What kind of fork does the 2022 GT La Bomba Pro come with?
The frame is equipped with a Manitou Circus Expert fork with a 20mm travel and rebound adjustment coil. In addition, the barrel axle fork allows the front tire to be mounted more securely on the fork without coming off.
What heights does the 2022 GT La Bomba Pro fit?
The 2022 GT La Bomba Pro doesn't come in many sizes, but it can be ridden as long as you are taller than 120cm.
(These sizes are just a general guide, the real right size may vary from person to person, the easiest way to find your size the best way is to go for a test ride, welcome to follow us.)
2022 GT La Bomba Pro Specs
Build
| | |
| --- | --- |
| Frame | 6061 Aluminum, Threaded BB, Disc Brake Mount, Integrated 1-1/8″-1.5″ Taper H/T, 3/8″ Dropout w/ Integrated Chain Tensioners BB Standard: BSA, 73mm, Threaded |
| Fork | Manitou Circus Expert, Coil w/ Rebound Adjust, 20mm Thru Axle, 1-1/8″-1-1/2″ Tapered AL Steer, Preload Adjust, Black Stanchions |
| Bottom Bracket | Euro Sealed Bearing |
| Headset | FSA No.42, Semi-integrated, Sealed Bearing, Tapered |
| Stem | 3D Forged Alloy Stem, 31.8mm Clamp, 35mm Length |
| Handlebar | Spank Spoon 785, Alloy 31.8mm, 60mm Rise, 10-degree Back, 4-degree up, 785mm Width |
| Saddle | GT Pivotal Slim Padded |
| Seatpost | Alloy Pivotal 27.2 x 200mm |
| Pedals | GT Mini Size Platform, PP Material |
| Grips | GT Super Soft 155mm Single Compound w/ GT Removable Plug |
Groupset
| | |
| --- | --- |
| Crank | GT Power Series Seamless Tubular Cr-Mo 3pc. 170mm Arms, Cold Forged CR-MO 22mm x 48T Spline Spindle, GT 5mm 25T Alloy Chainwheel |
| Chain | KMC HL1 Wide |
| Brakes | Promax Hydro Disc, 160/160mm Rotors |
| Brake Levers | none |
Wheels
| | |
| --- | --- |
| Rims | Alloy Double Wall, 32h |
| Spokes | Stainless Steel, 14g |
| Front Hub | Alloy Disc Body, Sealed Bearings, 32 Hole, 3/8″ x 17mm Female Bolt |
| Rear Hub | Alloy Disc Body, Sealed Bearings, 32 Hole, 3/8″ x 17mm Female Bolt |
| Tires | Kenda 3-Sixty 2.35″ |
Video
Comparison Table
2022 GT La Bomba Pro vs 2023 Marin Alcatraz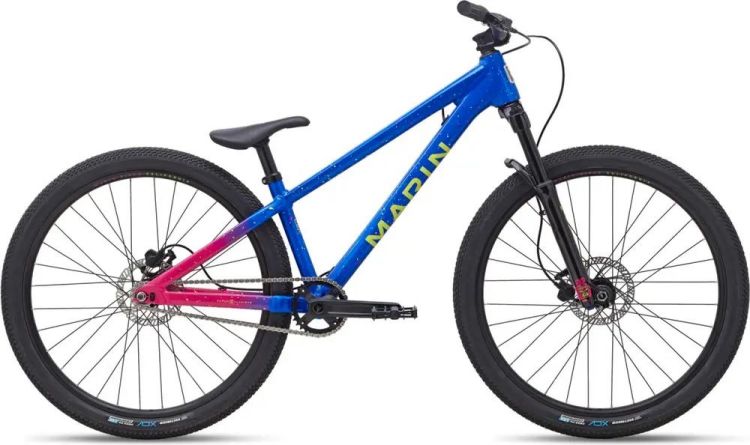 Both bikes are in almost the same price range and both are equipped with the same 100mm travel cushioned fork. In terms of gear ratios, the GT La Bomba Pro has a 48:25 gear ratio, which is perfect for leaping on dirt and tumbling in jumps. The Marin Alcatraz, on the other hand, uses a 32:14 gear ratio. The 1.92/2.2 gear ratio, both are good choices for comparison.
In addition, in terms of frame and geometry, both are made of 6061 aluminum alloy, which is very rigid. The geometric design of both is very similar, and both use a more compressed frame. This design provides good flexibility for the body and is also very convenient for power and air changes.
As for the components, Marin Alcatraz uses safer front and rear hydraulic brake discs for safety reasons. As you can see, such a design can provide better protection in mountain riding. But the GT La Bomba Pro single rear brake will be more flexible and simple, and can also make some rotating head movements.
2022 GT La Bomba Pro vs 2022 Canyon STCHD 360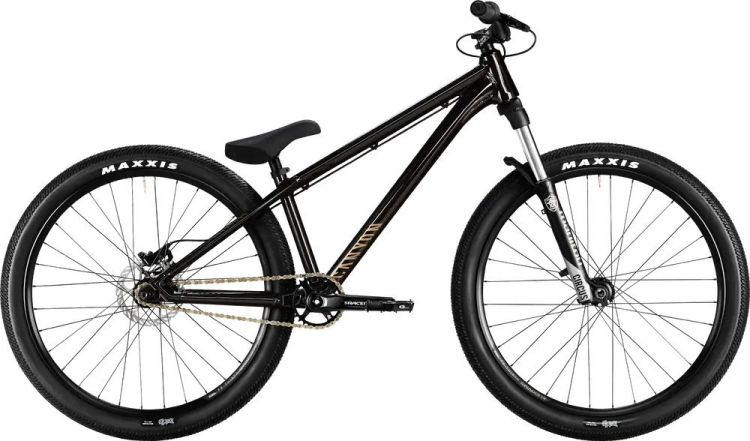 Both bikes use the same brand of forks, but the Canyon STCHD 360 uses the Sport version, while the GT La Bomba Pro uses the Expert version, which is two different classes.
Although the frame and geometry are made of 6061 aluminum alloy, the Canyon STCHD 360 uses MAXXIS DTH 2.3″ tires, which provide good cushioning on the ground. The Kenda 3-Sixty 2.35″ was used for this test bike, and the wider tire brings more stability, while the shallower tread pattern provides fast rolling effect, it does not need to have deep grooves and bumps like traditional mountain bikes.
2022 GT La Bomba Pro vs 2022 Specialized P.3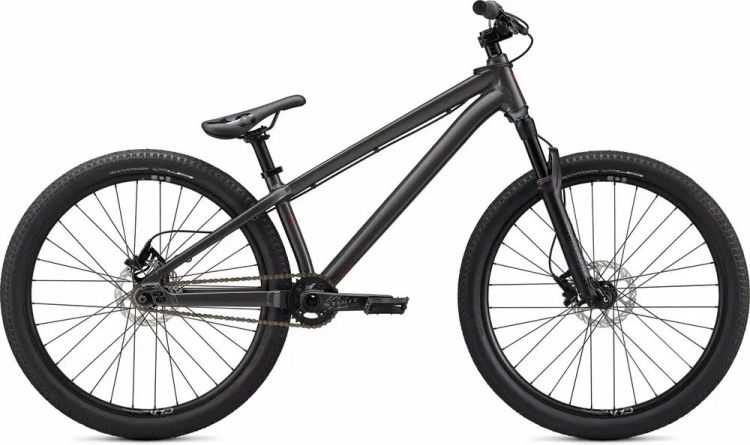 The GT La Bomba Pro uses a threaded center shaft, while the 2022 Specialized P.3 has a pressed-in center shaft. And the Specialized P.3 also uses the very advanced RockShox Pike DJ fork. I think you know, with the same 100mm fork, you can get a better experience compared to other bike forks on the table.
And, frame and geometry-wise, nothing is outstanding about having almost the same geometry. Regarding the frame, the Specialized P.3 uses a tapered head tube to give the bike more stability overall. And at the end of the frame, there is a chain tensioner that can be adjusted to keep the chain tight at all times.
Although these are not available in the GT La Bomba Pro, the GT La Bomba Pro is very cost-effective as seen through this series of comparisons. Because their performance in real-world experience is not much different, while the two have a price difference of up to more than $ 700.
If you're more interested in a cost-effective Dirt Jump bike, I think this GT La Bomba Pro is worth a look.