We use affiliate links and may receive a small commission on purchases.
We have reviewed Giant Roam series bikes for your reference.
In my opinion, cycling should always follow its path. No matter where you want to go, the Giant Roam can always take you there. It is designed for all-terrain commuting, so you can comfortably and stylishly ride on flat roads, rugged paths, muddy trails, or wherever else you want to go.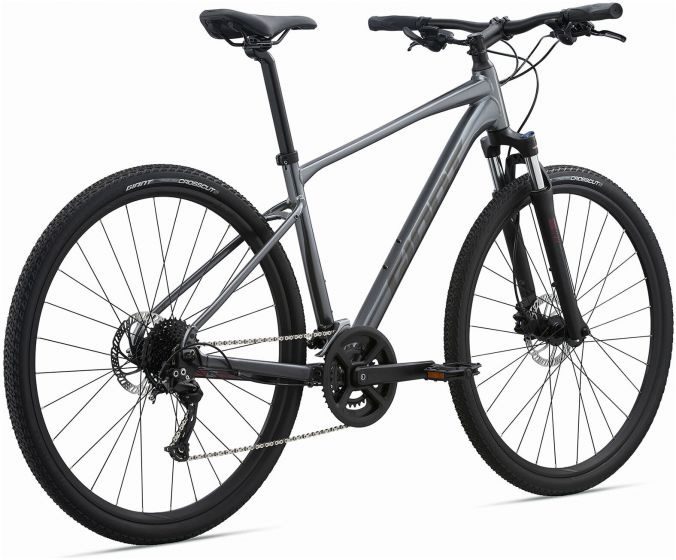 Giant is a bicycle company founded in Taiwan, China, and the Roam series was first introduced in 2010. Since then, the design has been continuously iterated and updated, but the original intention of this series has never changed. It is only to add to the commuting experience of riders and to adapt to the ability to different terrains.
Today, the Giant Roam has several different models, including the Roam 2, Roam 3, and Roam 4 in the latest 2023 series. Each model has its own advantages and specific component configurations that can meet the cycling needs of riders with different budgets and needs. From those who are just looking for a basic entry-level bike to those who want a high-performance machine for serious sport cycling.
Giant Roam Disc Comparison Table
| | | | | | | |
| --- | --- | --- | --- | --- | --- | --- |
| Bicycles | Price | Groupset | Gear | Travel | Wheels | Frame |
| Giant Roam Disc 4 | $650 | Shimano Tourney, Altus | 2 × 7 | 63mm | 700c Aluminum | Aluminum alloy |
| Giant Roam Disc 3 | $750 | Shimano Acera, Tourney | 2 × 8 | 63mm | 700c Aluminum | Aluminum alloy |
| Giant Roam Disc 2 | $920 | Shimano Deore | 1 × 9 | 63mm | 700c Aluminum | Aluminum alloy |
1. Giant Roam Disc 4 ($650)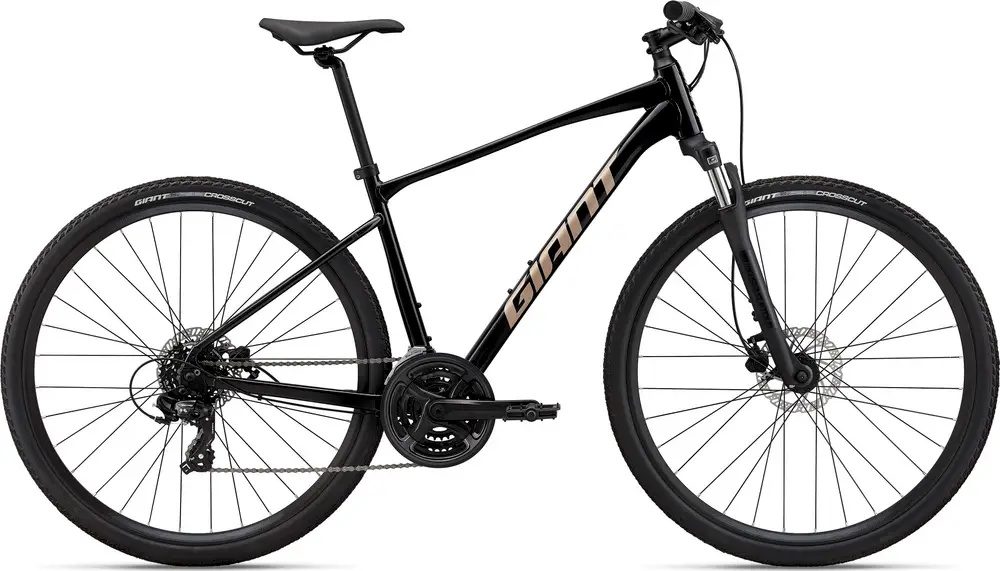 Groupset: Shimano Tourney, Altus
Tires: 700c Aluminum
Gear: 2× 7
Frame material: Aluminum
What we like about it: Affordable price, comfortable riding position.
What we don't like about it: The mechanical disc brakes don't feel particularly good.
Is Giant Roam Disc 4 Worth Buying? [2022 Giant Roam Disc 4 Review]
The bike is one of the most affordable bikes in the Giant Roam series, and you can get a good ride for just $650. It provides good cushioning on bumpy roads.
Disc brakes being used on most affordable bikes is something I'm happy to see. But more and more riders are claiming that mechanical disc brakes don't feel very good and in some cases don't even compare to the old rim brakes. It requires the use of a lot of force to achieve the desired braking effect. So my suggestion is that you can make some upgrades to the brake system after you buy this bike and get very good results for a modest cost.
But all in all, at the price point of $650, I have obtained a high-quality bike, and I do not expect too much from it. Riding on it provides a decent experience, including wide and cushioned tires, comfortable geometry, and a 14-speed gearing system. I feel it offers me an excellent commuting experience.
2. Giant Roam Disc 3 ($750)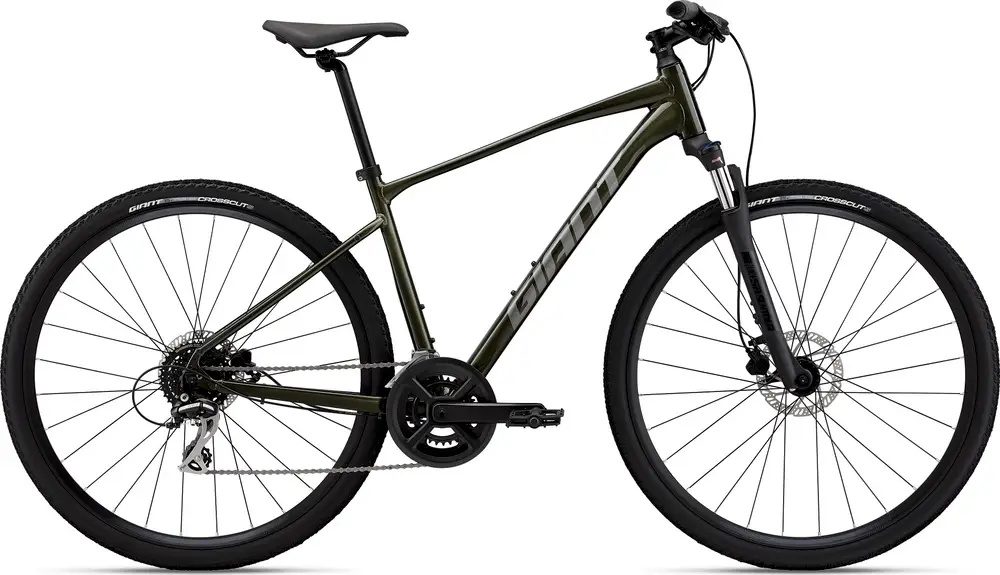 Groupset: Shimano Acera, Tourney
Tires: 700c Aluminum
Gear: 2× 8
Frame material: Aluminum
What we like about it: The upgraded braking effect.
What we don't like about it: The 2× shifting system.
Is Giant Roam Disc 3 Worth Buying? – [Giant Roam Disc 3 Review]
Firstly, I'm glad to see that this product has improved significantly in terms of braking power by using hydraulic disc brakes compared to its predecessor. The frame remains the same, with some minor upgrades such as the upgraded 2×8 speed drivetrain and a reduced rim height from 32mm to 28mm to enhance the bike's speed capabilities.
To me, the 2x shifting system being used on a hybrid bike still seems a bit redundant. We don't seem to need too much speed to accommodate the climbs and descents. So reducing one gear to boost the overall weight of the bike would seem more important to me. Overall, you only need to add $100 to the budget to improve the overall performance of this bike. I was especially pleased with its braking performance.
3. Giant Roam Disc 2 ($920)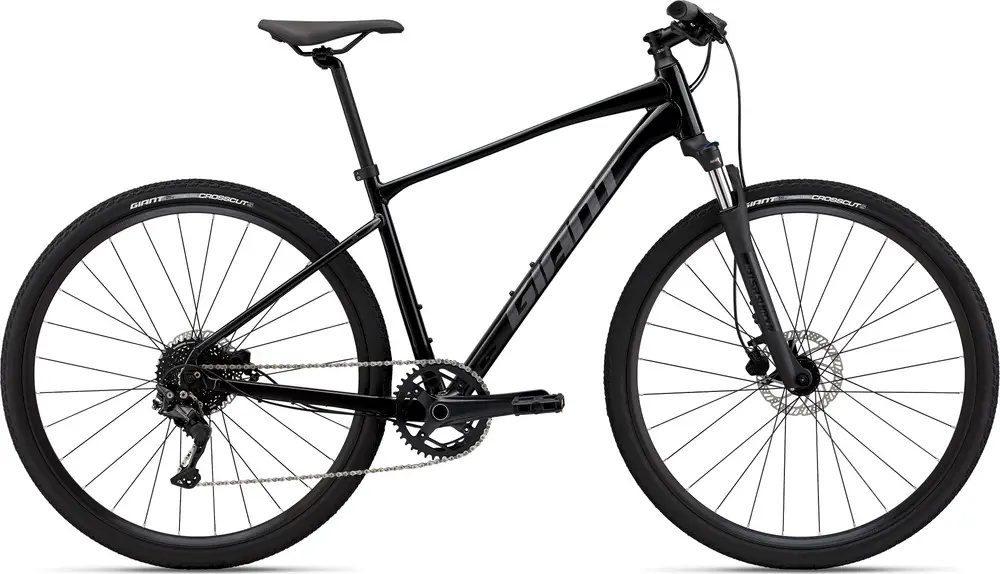 Groupset: Shimano Deore
Tires: 700c Aluminum
Gear: 1× 9
Frame material: Aluminum
What we like about it: The configuration is more high-end and the shifting is easy.
What we don't like about it: It's relatively expensive.
Is Giant Roam Disc 2 Worth Buying? [2023 Giant Roam Disc 2 Review]
This is the top-tier model in the new Giant Roam lineup, featuring higher-end components and stronger performance. A very intuitive upgrade is the 1x drivetrain system, which greatly improves the speed system of the entire bike while also being lighter. The 46T maximum freewheel gear ratio allows the bike to handle steep climbs.
It is relatively expensive compared to the most affordable version, being $300 more, but there is hardly any difference in the frame and wheelset material. So if you have other upgrade plans, I think buying a Giant Roam 4 is a good choice. However, if you don't know much about bikes but want a high-end, speed-oriented bike, this will be a great fit for you.
About Giant Roam
The original Giant Roam was designed as a versatile bike that could handle both road and off-road terrain. Its features include an aluminum frame, suspension front fork, and flat handlebars, making it suitable for leisure riding, commuting, and light off-road cycling. Over the years, the Roam has evolved to meet the changing needs of riders, with improvements to its frame, components, and features.
In 2015, Giant released a new version of the Roam, updating its geometry, larger wheels, and more stylish frame design. This version also introduced disc brakes, providing better control and timely stopping power in wet conditions. In 2018, the Roam was further updated with wider tires and improved suspension, making it even more capable off-road. And it has remained unchanged since then, which is a testament to its comfort.
The Roam series of hybrid bikes have undergone several iterations and updates over the years. The latest models, the Roam 4, Roam 3, and Roam 2, were released in 2022 and represent the pinnacle of hybrid bike design. One of the main features of the Roam series is its versatility. They are designed to handle a variety of terrains, from city streets to dirt roads and gravel paths. This makes them an ideal choice for riders who want a bike that can do it all.
Roam Series Bicycles
The Roam 4 is the top-of-the-line model in this series and has many features that set it apart from the lower-level models. It has a lightweight ALUXX aluminum frame that provides smooth riding and excellent control. Roam 4 also comes equipped with a suspension fork that absorbs shocks, making it easier to ride on rough terrain. Roam 3 and Roam 2 have similar features to Roam 4, but they are priced slightly lower. They both come with an ALUXX aluminum frame and suspension fork, but they may have slightly lower-end components and fewer gears.
When it comes to riding a Giant Roam, it always feels comfortable and stable to me. The upright riding position and wide handlebars make it easy to maintain control and balance, even on rough terrain. The front suspension fork and wide tires also help absorb shocks and vibrations, making the overall ride smoother.
Overall, if you're looking for a versatile, all-terrain bike that can handle various situations, the Roam series will be a good choice. Whether you choose Roam 4, Roam 3, or Roam 2, you'll get a comfortable and stable riding experience. This will make your riding experience more confident and easier to control.
Summary
The Giant Roam series is an affordable range of all-terrain hybrid bikes that offer comfortable geometry and a safe riding experience. The Roam series includes three different models, each with unique features and specifications to suit different riding styles and preferences.
Overall, the Roam series offers a range of comfortable commuting bikes to suit different riding styles and preferences. Whether you're a serious racer or a casual rider, there's a Giant Roam model that can help you take your riding to a new level. With comfortable geometry, excellent component configuration, and great value for money, Giant Roam bikes are sure to be a popular choice for commuting bike enthusiasts in 2023 and beyond. By the way, if you want to go riding in well-known terrain or special terrain, you can book your accommodation on Skyscanner. It is not only rich in variety but also easy to operate.
If you like our content, please share it with your friends. If our content is helpful to you, you can click the email subscription button below! Thanks for your support!