We use affiliate links and may receive a small commission on purchases.
Giant Reign 29 Review
Price: $3600
Frame: Aluminum alloy
Wheels: 29″
Gear: 1×12
What we like about it: The oversized tires and excellent endurance riding performance.
What we don't like about it: The rear derailleur chainstays can rattle while riding.
Rating (4.7/5)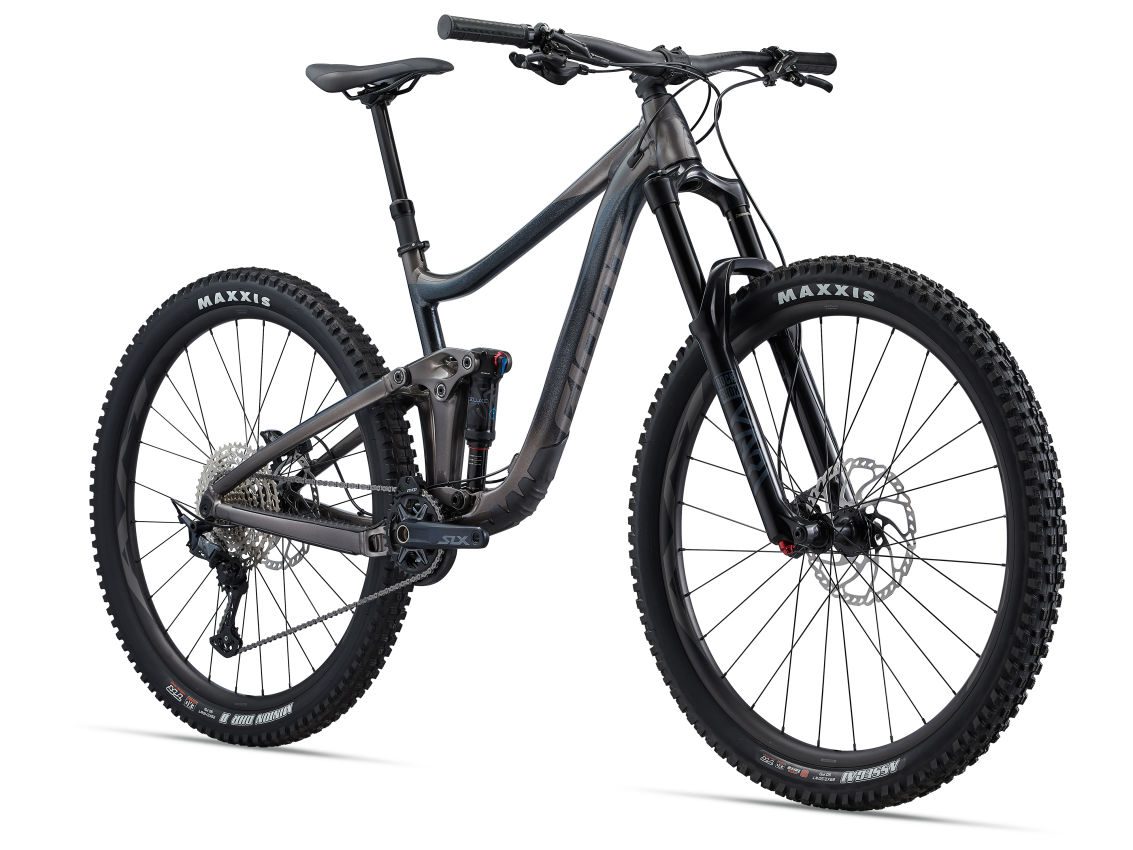 Until 2019, Giant's line of enduro bikes, the Reign was limited to smaller wheels. After nearly two years of iterations, you can choose between 650b wheels that are more suitable for long-distance touring and larger 29-inch wheels suitable for racing events.
A plush long-distance touring machine is what people call it, designed for climbs and fast descents. As more and more riders begin to focus on endurance riding, the latest Reign looks more like a highly competitive machine. It allows those mass riders to get relatively strong bike performance as well.
Overall, if you're a rider who likes a more upright riding position and can absorb anything on the trail, then the Reign may not be for you. But if what you need is a great and exciting ride, it's certainly worth considering!
Below we analyze the 2022 Giant Reign 29 regarding climbing performance, descent performance, key features, components and specifications, and other versions.
If you want to know more about bike reviews, you can follow us.
Climbing Performance
I tried out the Giant Reign 29 on a variety of terrain in a mountain park on the outskirts. From wet rooty trails, to rock gardens and natural tech trails, it conquered them all. The diverse terrain allowed me to get a full, true impression of what the bike had to offer. By the way, it's essential to book accommodation in advance. And for this trip, I booked through IHG Hotels & Resorts again because I'm familiar with it and it gives me peace of mind.
The stable and supportive Maestro mount was able to give me peace of mind during the ride. Faced with a long climb ahead, it seemed to me that this would be an absolute test for a full-suspension bike. The Shimano SLX 12-speed kit provided a rich, dense gear ratio that allowed me to find the right pedaling frequency quickly. The unique impact was a unique challenge on the trails, and as I raced down the hill with big ratios I was probably about to tackle a steep uphill, where the gearing would be at its best. A quick downshift would allow me to tackle the challenge of the next climb.
And the smaller climbs allowed me to pedal without having to shut down the front and rear suspension, while the soft damping system allowed me to filter out the majority of the bumps in the road. But if you need to get up hills efficiently, my advice is to keep your butt out of the saddle. Otherwise, you may feel like bouncing around in the saddle.
Downward Performance
This tree-lined ride on the southern shores of Clew Bay is one of my favorite trails, with beautiful scenery and temperate weather. Once upon a time, I used to worry that slippery roads would make my riding experience less enjoyable, but the Maxxis Assegai tires gave me a good grip and I rode with great peace of mind. The ample power provided through the pedals' maximum gear ratio also provided a usable pedaling feel when I was going downhill fast, rather than having a failed spin. The tightness of the frame and progressive suspension made for a snappy ride that allowed for instant changes of direction and I didn't need to put too much effort into it.
The suspension isn't all soft, either, and I can feel a quick cushioning support response rather than a sinking-in softness during the undulations of the descending trails.
When the drop crash comes hard and fast, the Fox36 fork remains composed and well-controlled. But the overall feel remains that of a comfortable and forgiving bike.
Main Features
Frame Group
The new Giant Reign 29 includes four sizes, ranging from an oversized 428mm to 516mm. You can also choose carbon fiber or aluminum frame material according to your preference.
This frame material is made of ALUXX SL patented aluminum alloy. The simple internal alignment and the pressed-in center column mean it will look very clean, but this will also increase some of the difficulty of installation.
Just like the smaller Giant Reign 29, the latest big-tire version offers 146mm of rear travel using its tried-and-true and trusted Maestro dual-link suspension system. There are some neatly integrated rubber protectors on the belly of the downtube and the same design on the drive-side rear fork to minimize chain noise/slap.
Geometry
The lively geometric proportions will encourage riders to ride as fast as possible, but if you want to make fuller use of Reign, you need to choose your routes carefully and ride smoothly.
The Reach is exaggerated, with a 455mm Reach that I only see on most L-size mountain bikes, and I'm only an M. The 76mm effective top tube length and 86° seat tube angle give me plenty of room to pedal while seated, making it easier to climb. And the slack head tube angle (64°) combined with the minimal offset Fox 36 fork provides plenty of stability and agility at high speeds.
The 440mm rear lower fork length works well with the larger reach to provide a balanced riding position.
Components and Specifications
Shimano SLX 1×12 Drivetrain
When it comes to the drivetrain and braking system, Giant took no chances and went with all Shimano SLX components. This component has been well received by cyclists for years and it is as reliable as ever. 32T single chainring with 10/54 freewheel provides the smallest gear ratio that allows the rider to climb some steep hills with ease. Look carefully you may also find the chain rail on the chainring, which can effectively protect the sprocket blades and can allow you to control the chain from wobbling around in the rough bumps.
The efficient and powerful braking is also impressive. 203mm front and rear discs provide sufficient braking area for fast and stable braking in emergencies.
Seatposts, Stems, and Saddles
I like Giant's wrap-around design for these accessories, all of which are completely manufactured in-house. This can greatly compress the cost. This is why Giant bikes in the same price range often reach a higher level of accessories than other brands' complete bikes.
Maxxis Assegai 29×2.5 Tires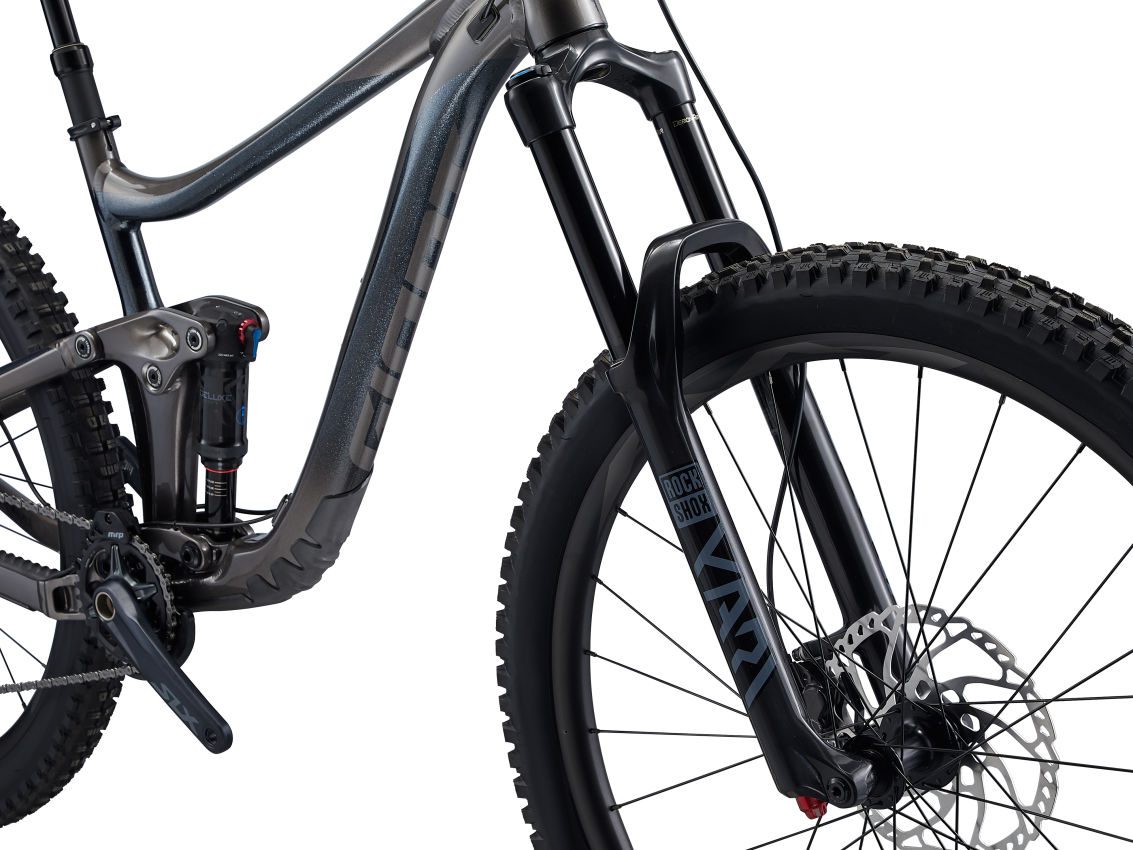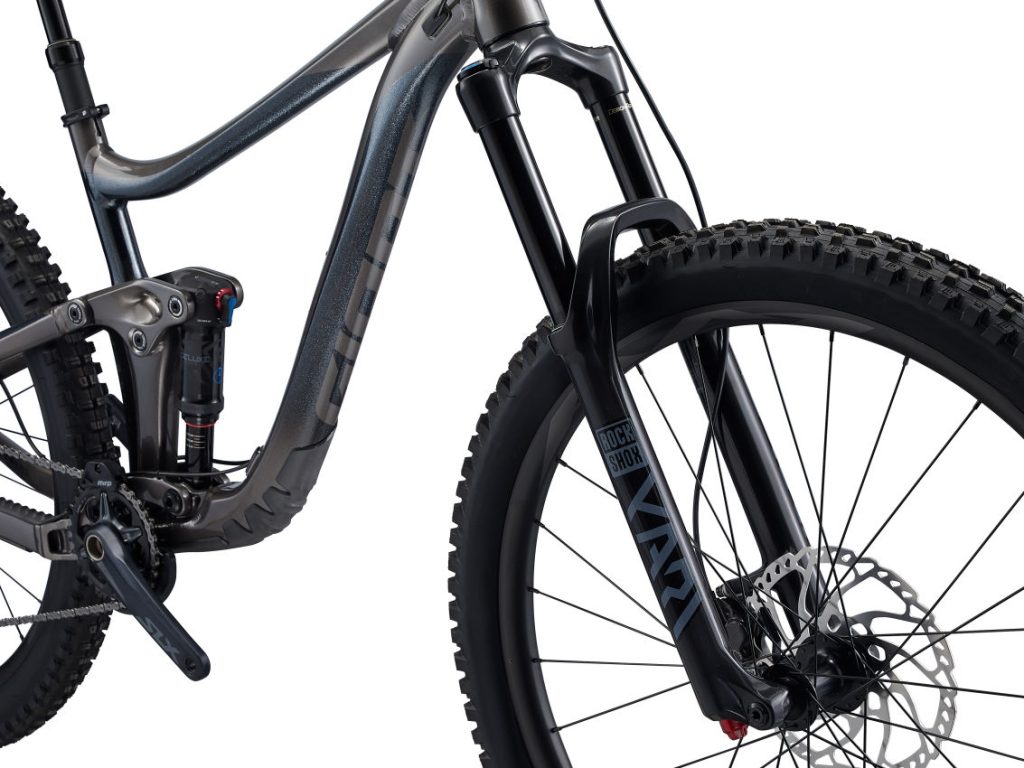 The credit goes to this, and the tire specs are very well done. Although it is the cheaper of the category, the tubeless design is something we would like to see. It becomes more convenient and easy to seal. It's a very powerful combination in the variable weather conditions of my home town. The vacuum material allows it to be repaired quickly in the face of smaller knocks thus avoiding accidents. The raised aramid particles also provide maximum assurance that the rider will not slip due to wet ground.
Other versions of Giant Reign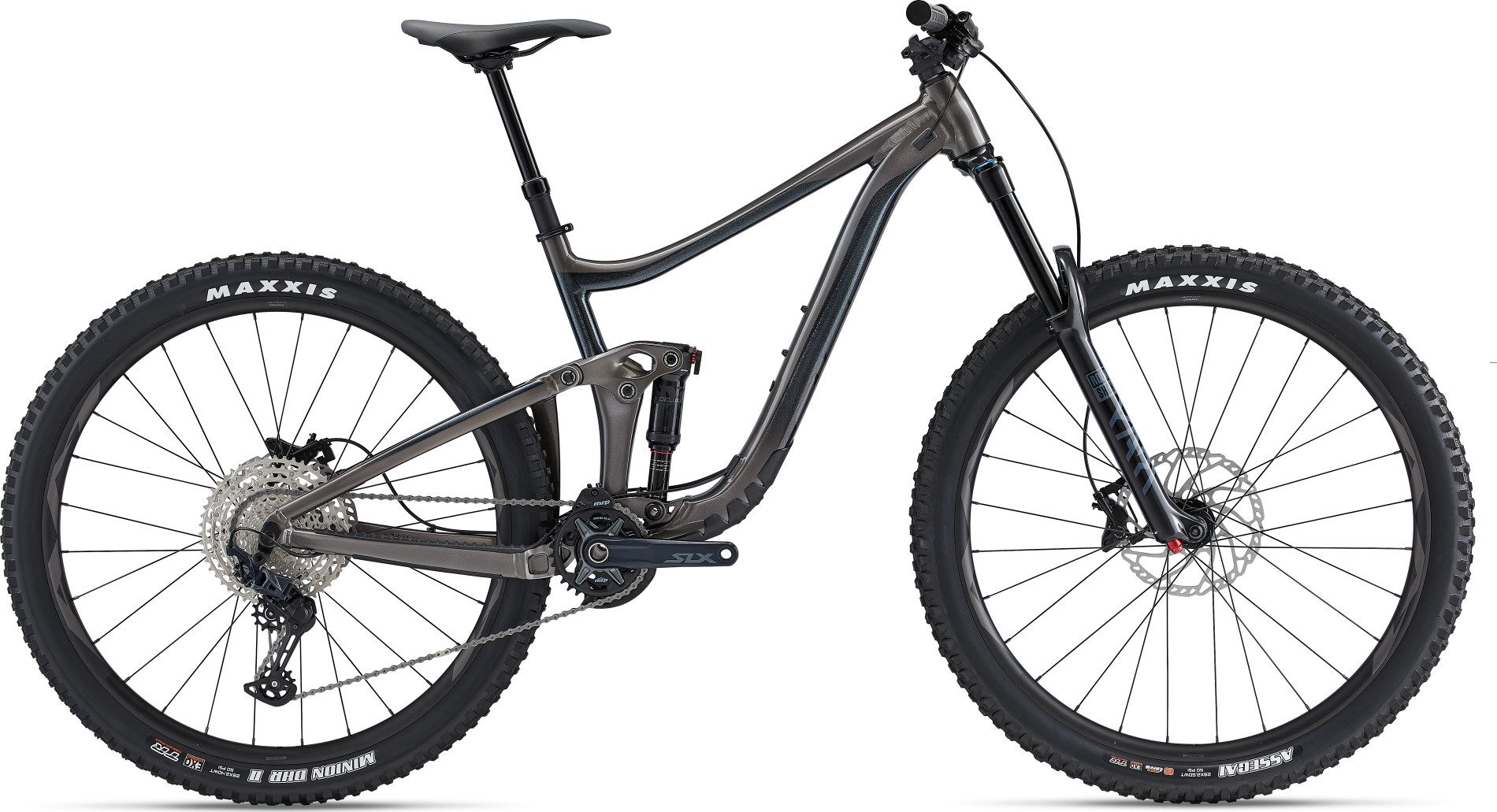 In this review, we reviewed the 2022 Giant Reign 29, a very comfortable enduro full-suspension bike. It can do high-speed bumpy terrain with agile moves and is suitable for long-distance endurance shuttle events. It also has a good quest for speed. If you need to accelerate while riding, this bike can also be your right hand.
As you can see, this is an excellent mountain shuttle enduro bike. To that end, we also found its upgraded version, the 2023 Giant Reign 1. It features a smaller 27.5 wheelset and not much improvement elsewhere, for which you'll pay the $900 difference.
We also did a review of the 2022 Giant Reign 1, follow us to learn more.
What we like about it?
Classified geometry with a more lively suspension than the previous generation.
The choice of tires is very cost-effective.
Master shock absorbing system.
Affordable prices.
Excellent hydraulic brake.
Vacuum tires offer lower maintenance costs.
What we don't like about it?
The rear chainstay may produce rattles while riding.
FAQs
1、What kind of components are used in 2022 Giant Reign 29?
This bike uses all Shimano SLX components, and the full set of components means it's more compatible and better matched overall, and less prone to errors. We also recommend you use this full set of components.
2、What kind of people is 2022 Giant Reign 29 suitable for?
This bike is for those riders who focus on mountain enduro riding. If you are moving from being an average rider to one who focuses on enduro riding, this is the bike for you.
3、What heights do the 2022 Giant Reign 29 fit?
The size chart for the 2022 Giant Reign 29 is as follows.
(These sizes are only general guidelines, and the true fit may vary from person to person. The easiest way to find your size is best to go for a test ride.)
| | |
| --- | --- |
| Rider height | SIZE |
| 163cm – 173cm | S |
| 170cm – 181cm | M |
| 178cm – 189cm | L |
| 186cm – 198cm | XL |
Giant Reign 29 Specs
Build
| | |
| --- | --- |
| Frame | ALUXX SL-Grade Aluminum front and rear triangles, 146mm Maestro suspension, 12x148mm thru-axleBB Standard: BB86/BB92, Press FitTire Clearance: 2.5″Color: Metal |
| Fork | RockShox Yari RC, 170mm, 15×110 Maxle Stealth, 44mm offset, custom-tuned for Giant |
| Rear Shock | RockShox Deluxe Select+, 205/60, custom-tuned for Giant |
| Bottom Bracket | Shimano, press fit |
| Stem | Giant Contact SL 35 S:40mm, M:40mm, L:40mm, XL:40mm |
| Handlebar | Giant Contact TR35, 800x35mm, 20mm rise |
| Saddle | Giant Romero |
| Seatpost | Giant Contact Switch dropper, remote S: 125mm travel / 30.9 x 395mm M: 150mm travel / 30.9 x 440mm L: 170mm travel / 30.9 x 450mm XL: 170mm travel / 30.9 x 450mm |
| Pedals | N/A |
| Grips | Giant Tactal Pro Single S:120mm, M:120mm, L:130mm, XL:130mm |
Groupset
| | |
| --- | --- |
| Rear Derailleur | Shimano SLX RD-M7100 |
| Front Derailleur | N/A |
| Crank | Shimano SLX, 32t S:165mm, M:170mm, L:170mm, XL:170mm |
| Shifters | Shimano SLX SL-M7100, 1×12 |
| Cassette | Shimano Deore M6100, 10×51 |
| Chain | Shimano |
| Brakes | Shimano Deore BR-MT520, hydraulic, Shimano RT-66 rotors [F]203mm, [R]203mm |
| Brake Levers | Shimano Deore BL-MT501 |
Wheel
| | |
| --- | --- |
| Rims | Giant AM 29, alloy |
| Spokes | Sapim |
| Front Hub | alloy, sealed |
| Rear Hub | alloy, sealed |
| Tires | [F] Maxxis Assegai 29×2.5 WT, 3C MaxxTerra, EXO+, TR [R] Maxxis Minion DHR II 29×2.4 WT, 3C MaxxTerra, EXO+, TR tubeless |
Comparison Table
Giant Reign 29 vs 2023 Trek Top Fuel 7
Looking at the comparison between the two bikes, it's clear to see that the TrekTop Fuel 7 has a lower ground stand height. This is very good news for riders with low crotch heights and those who are not very tall. This makes it easier for riders to get on and off the bike and to sit across the top tube during breaks.
Component-wise, the larger gear ratio allows the Giant Reign 29 to get a faster ride. But for those steepest of uphill climbs, perhaps the TrekTop Fuel 7 will be better. But it has to be said that the same level of chainring makes the Giant Reign 29's components more compatible and better able to perform the product's function.
Notably, the TrekTop Fuel 7's wheelset features a cleaner, hookless rim. The ability to mount only tubular tires makes it somewhat limited, but with weight savings. The Giant Reign 29, on the other hand, will have a higher level of compatibility. You can install tubular tires, tubeless tires, or cheap and good clincher tires, all of which are good choices.
Both have a very large selection of sizes, so almost any rider can find the right size for him or her. And both have great value for money. Both are very good choices for endurance road bikes at these two price levels.
Learn More: Is Trek Top Fuel 8 A Good Bike? [2022 Trek Top Fuel 8 Review]
Giant Reign 29 vs. Giant Trance 29 1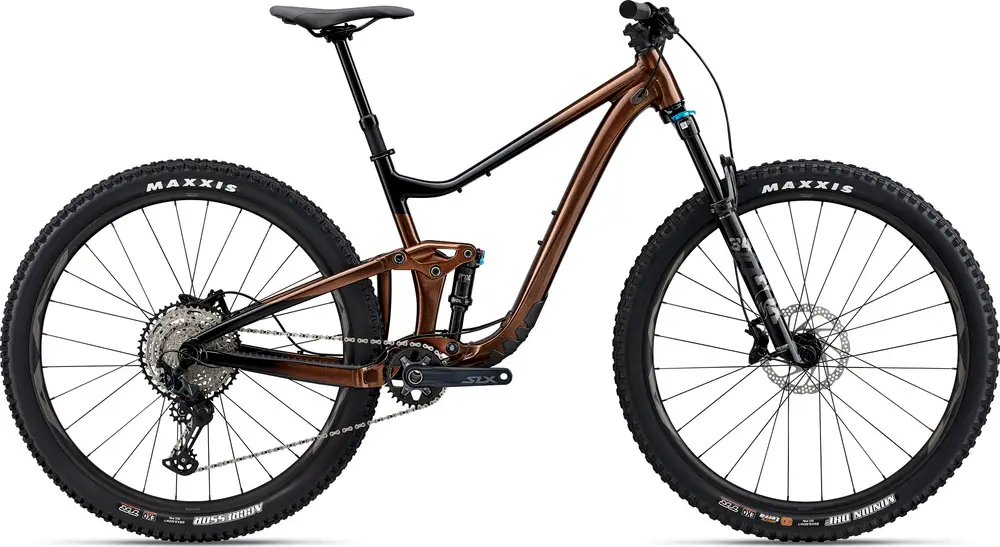 The Giant Reign 29 has 170mm of front cushioning travel and 146mm of rear cushioning travel, while the GiantTrance 29 1 has 130mm of front and 120mm of rear cushioning travel. The former has a more comfortable cushioning feel for descents, allowing the rider to ride longer distances without the pain in the buttocks causing a bad riding experience.
The latter is more suitable for fast shuttle rides, with shorter trips to ensure sufficient speed and quick reflexes.
Geometrically the two are from the same brand and the geometry is very similar. The difference is that the GiantTrance 29 1 uses a very high BB height, which greatly enhances the overall passability of the bike, but this also sacrifices some stability.
For the brakes, GiantTrance 29 1 uses Treko brakes as well as clamps to cut costs. This will undoubtedly reduce the overall uniformity of the kit and may be off in feel. But all in all, both are very good choices.
Learn More: Is Giant Trance 29 2 Worth Buying? [2022 Giant Trance 29 2 Review]
Giant Reign 29 vs 2023 Marin Rift Zone 27.5″ XR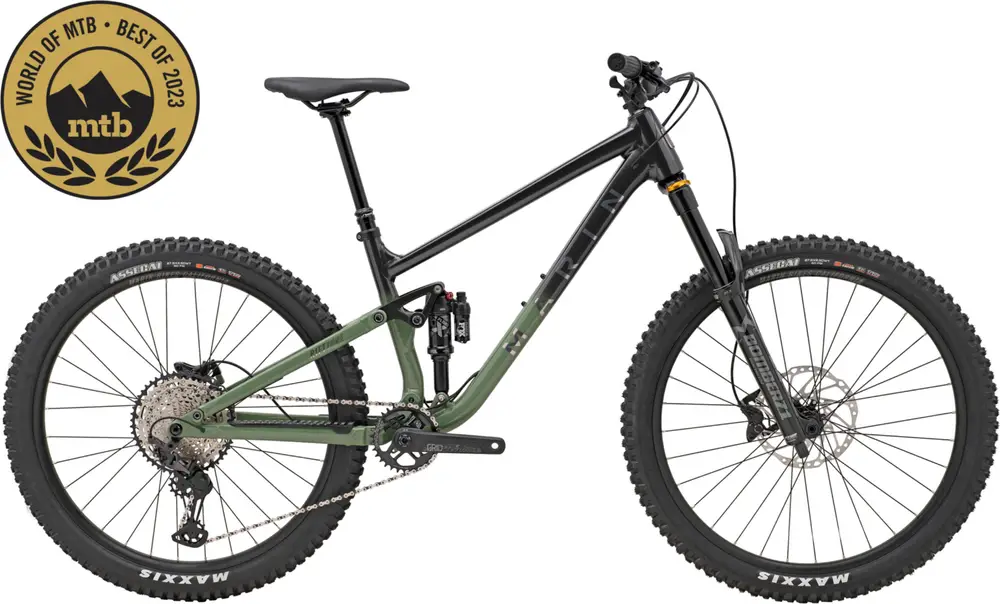 This is the only 27.5-inch wheelset in the comparison list. This smaller wheelset will be more agile and easier to handle than larger wheelsets for mountain bikes. So it's perfect for those riders who love excitement and maneuverability and can get fancier in the mountain.
Geometrically, the Giant Reign 29 has a longer effective top tube length and a larger stack that will allow for a more stretched and upright ride. Although there is a loss of speed, it will provide more comfort gains to the rider. In contrast, the MarinRift Zone 27.5″ XR's smaller forward reach will lean more towards aggressive and speedy pursuits, with more nimble handling overall.
Learn More: Is Marin Rift Zone 27.5 1 Worth Buying? [Marin Rift Zone 1 Review]
Giant Reign 29 VS Specialized Stumpjumper Comp Alloy
At a whopping $4,000, it's arguably the most expensive bike on the list. It features a higher-end Fox Rhythm Float 34 cushioned fork, SRAM's kit, and the same 12-speed gear ratio. The other four bikes in the comparison table, don't offer great value for money. But for those riders with a penchant for SRAM kits, this isn't a bad choice.
Geometrically compared to the Giant Reign 29, the Specialized Stumpjumper Comp Alloy has the same head tube height, but a much lower seat tube height. This also makes the whole bike easier to power and change angles, while taking care of those shorter riders. But for the Giant Reign 29, an enduro mountain bike, the higher seat tube height means more overall stability.
Summary
These are our tests of the 2022 Giant Reign 29, an entry-level enduro mountain bike that is seeing a similar rise in sales as more and more riders define their true pursuit in the mountains and woods. Of course, if you like other types of mountain bikes such as dirt bikes, XC bikes, and AM bikes, feel free to check out our other tests.
Finally, if you like our content, feel free to share it with your friends! If our content is helpful to you, you can click the email subscribe button below!