We use affiliate links and may receive a small commission on purchases.
Jamis CODA S2 Review
Price: $769
Frame: Double-butted chromol
Wheels: 700×40C
Gear: 3×8
What we like about it: The most affordable, reliable urban transportation for riders on a budget.
What we don't like about it: The rim brakes are slightly low-end.
Rating (4.7/5)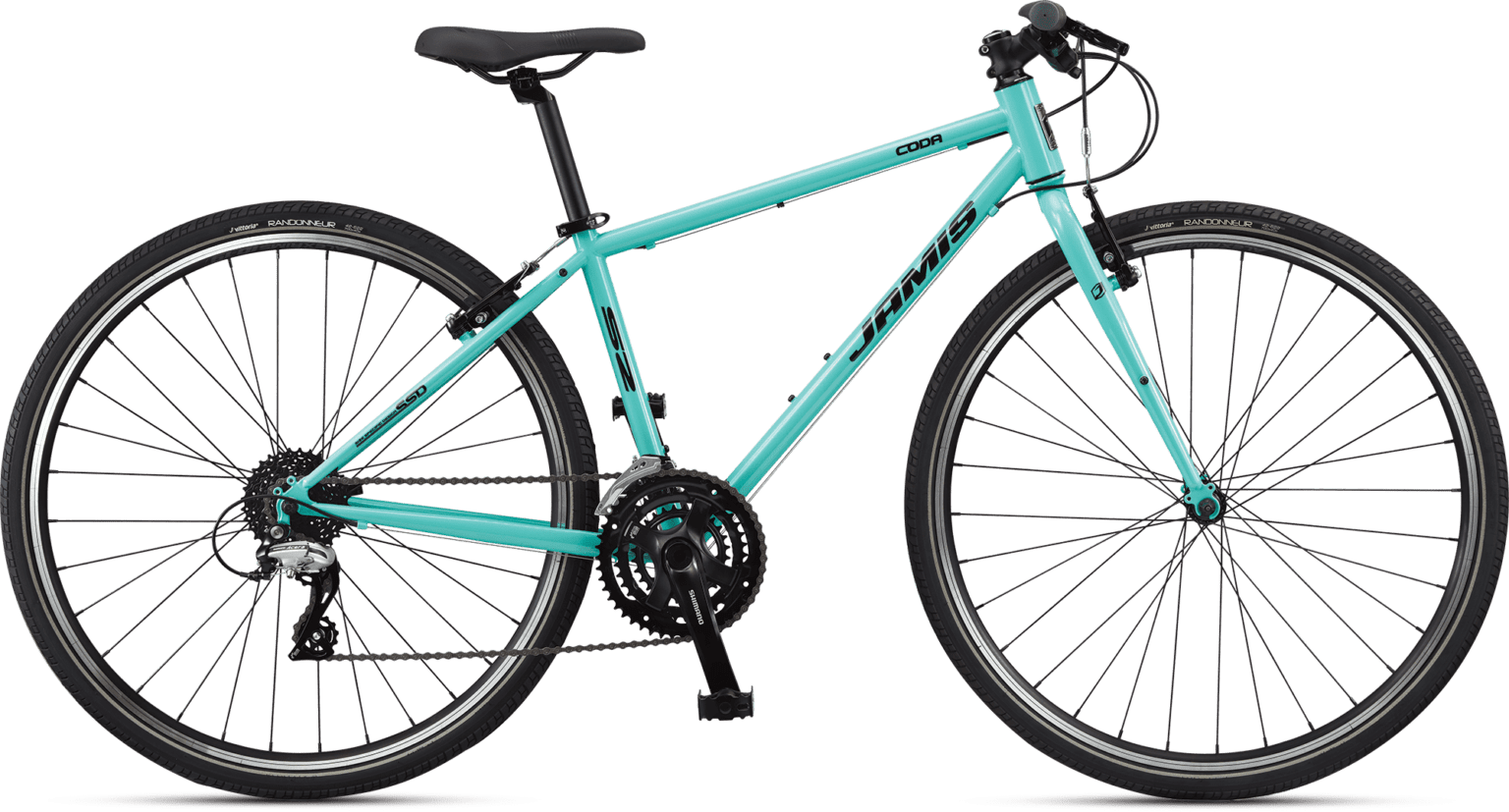 For budget-conscious riders, the 2022 Jamis CODA S2 is an absolute steal and a reliable option. With a lightweight and durable double-butted chromoly frame and fork, riders can expect a smooth and comfortable ride. The classic hybrid bike geometry balances comfort and maneuverability, ensuring riders can pedal effortlessly while enjoying maximum comfort.
Additionally, the reliable Shimano RapidFire Plus 3×8-speed drivetrain and Tektro 855AL alloy linear-pull brakes paired with 700x40c Vittoria Randonneur tires make commuting and leisurely rides a breeze.
Although the Jamis CODA S2 doesn't come with a lot of high-end componentry, the practical mid-range components are more than sufficient for everyday commuting and fitness plans.
In the following analysis, we will examine the riding experience, specifications, features, and other versions of the 2022 Jamis CODA S2. For more bike reviews, be sure to follow us.
Urban Road Riding
At first, I purchased the Jamis CODA S2 for daily fitness, but after a while, I realized it was the best equipment for urban commuting, even more economical and healthier than my bike.
Ride Experience
Similar to hybrid or endurance road bikes, the Jamis CODA S2 features a higher Stack/Reach Ratio (1.45) to ensure riding comfort. When I sit on the bike, I can easily keep my waist and shoulders upright, which makes me feel very comfortable and relaxed. Additionally, the combination of a 73°Seat Tube Angle and a 72° head tube angle is very conducive to leg strength, allowing me to enjoy my time on the bike.
Of course, details such as the soft and comfortable NEW Jamis Touring with SL cover saddle and the grippy Anatomic double density kraton grips cannot be ignored. If the Jamis flat bar were a little longer, this bike would be even more competitive. The 620mm (20-inch) length of the flat bar made me, a large rider, have to bring my hands together as much as possible, making me feel the design was a bit compact.
Road Performance
Speaking of the Jamis CODA S2's road performance, I was pleasantly surprised because it has the shadow of higher-end bikes in terms of speed and comfort. By the way, it's essential to book accommodation in advance. And for this trip, I booked through IHG Hotels & Resorts again because I'm familiar with it and it gives me peace of mind.
With the Shimano FC-TY501, 48/38/28T crankset, the bike has high drivetrain efficiency. Even when pedaling lightly, the bike can quickly sprint forward, so flat pedaling is very smooth and effortless.
Based on the relatively wide 700×40c Vittoria Randonneur tires, the bike has good traction, allowing me to easily pass through vertical drainage channels or rough unpaved sections by holding the handlebars tightly and pedaling step by step without any shaking.
Uphill or Downhill
Although the 3×8-speed gearing system is not as popular these days, it is very useful to me due to its wide gear range that allows me to experience the lightest pedaling and highest drivetrain efficiency while riding.
Occasionally encountering uphill roads, the advantage of the Shimano RapidFire Plus SL-M315, 24-speed gear system becomes apparent. As I shift gears, I can feel the smooth gear changes, making pedaling easy and effortless. Although climbing uphill may not be fast, it is certainly easy and simple.
As for downhill riding, the Tektro 855AL alloy linear-pull brakes, although simple, are practical. As I grip the handlebars, the bike's speed is gradually reduced, and it can come to a stop safely and reliably, making me feel very secure.
Specification
Unlike general urban bikes that typically use aluminum frames, the Jamis CODA series features a double-butted chromoly frame. This material is not only lightweight and durable but also has good flexibility to provide more comfort. Along with the classic hybrid bike geometry, the rider can have a more upright and comfortable posture, giving them complete control of the bike.
The practical Shimano RapidFire Plus, 24-speed gears, and Tektro 855AL alloy linear-pull brakes are all designed to provide easier and safer driving, and they have proven to be a reliable combination.
The bike's wheelset includes Alex ID-19 double wall alloy rims and 700×40C Vittoria Randonneur tires, which ensure good rolling efficiency, comfort, and traction.
Overall, this bike's configuration may be average, but it still provides a good riding experience.
Other Versions of the Jamis CODA S1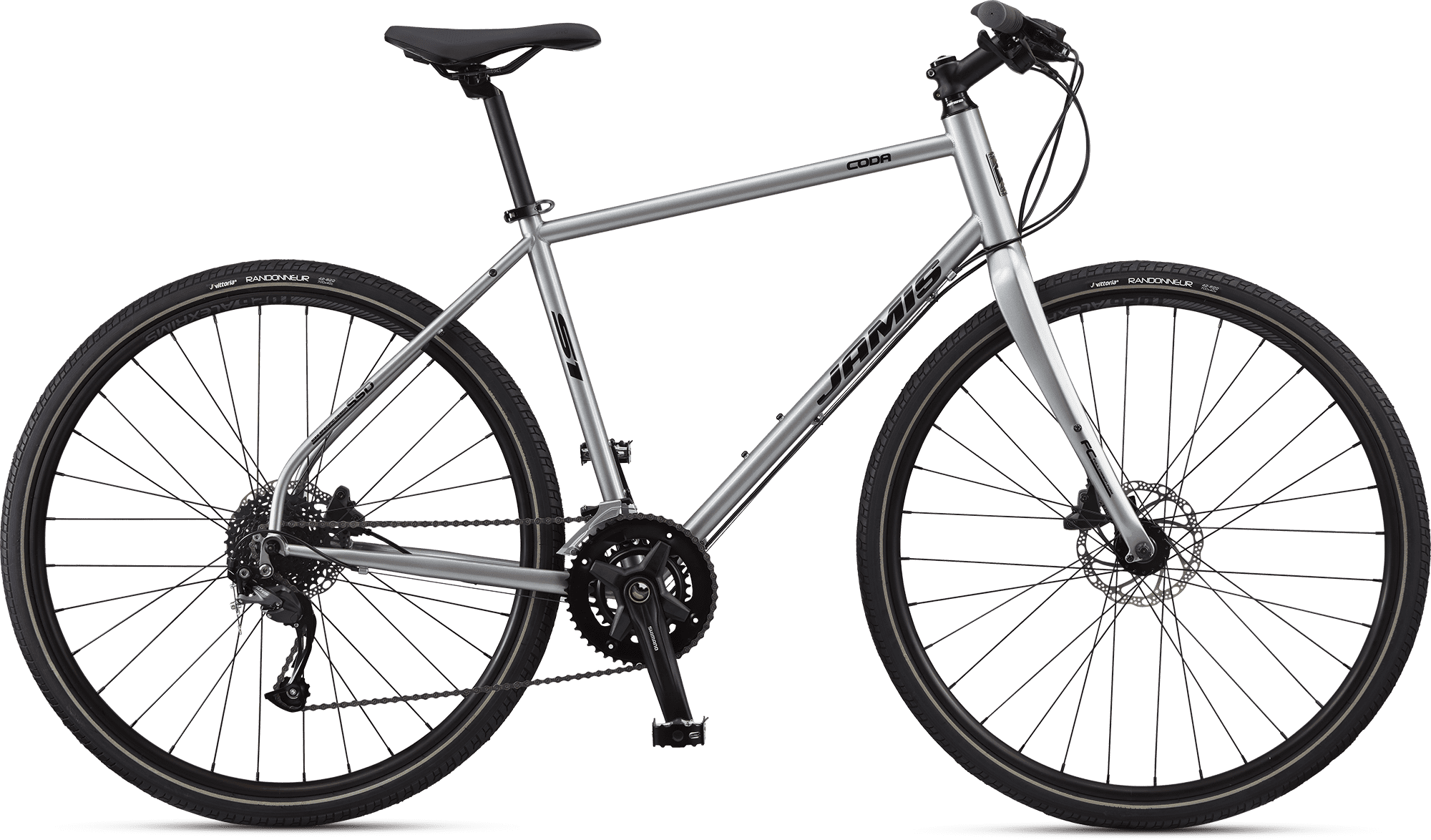 If you feel like the 3×8 speed Shimano RapidFire Plus shifters and linear-pull brakes on the Jamis CODA S2 aren't meeting your expectations, you might want to consider its sibling, the 2022 Jamis CODA S1.
Although the geometry remains the same, the Jamis CODA S1 features a higher-end Reynolds 520 double-butted chromoly frame and a full carbon composite fork with a carbon steerer, resulting in a lighter weight and even more comfortable riding experience. The Shimano Rapidfire Plus Altus SL-M2010, 18-speed drivetrain provides quicker and more efficient gear shifts for climbing, while the Tektro HD-M280/281 hydraulic disc brakes offer superior stopping power and modulation, giving riders a more advanced level of control.
Stay tuned for more bike reviews and information.
Is Jamis HUDSON Worth Buying? – [Jamis HUDSON Review]
What we like about it?
Super cheap price, more pro-people.
The lightweight and durable size-specific design double-butted chromoly frame and fork give the user a tailored comfort level.
The relaxed geometry balances comfort and pedaling efficiency.
The powerful Alex ID-19 double-wall alloy rims with Vittoria Randonneur tires ensure that comfort and speed are united.
The practical Shimano RapidFire Plus, with 24 speeds offers more gear ratios for uphill and riding.
Neither uphill nor downhill sprints are inferior to more expensive bikes of the same type.
What we don't like about it?
Not too high-end v-brake control.
Jamis Flat bar is a bit narrow.
FAQs
What kind of components are used in 2022 Jamis CODA S1?
The bike features a Shimano Acera, Tourney hybrid component configuration with the Rear Derailleur of the Shimano Acera M360 SGS and the Front Derailleur of the FD-TY710 bottom pull paired with the Shimano RapidFire Plus SL- M315 shifter, making the 3×8 drivetrain silkier smooth and smooth.
How much does the 2022 Jamis CODA S1 weigh?
Despite the steel frame, the bike is no heavier in weight than a typical aluminum bike, weighing in at just 27.0 lbs, which is also within the normal range at this price.
What about the geometry of 2022 Jamis CODA S1?
As an urban bike, the bike's geometry draws on the design of hybrid and enduro bikes, keeping the stack/reach ratio maintained at 1.44 or higher to ensure user comfort.
2022 Jamis CODA S2 Specs
Build
| | |
| --- | --- |
| Frame | Size Specific Design Double-butted chromoly frame, 48mm extended head tube with reinforced collars, double tapered cromo stays, kickstand mount, forged dropouts and fender/ rack eyelets |
| Fork | Chromoly tapered straight blade unicrown with bulge butted steerer and 50mmm crown, low-rider carry mounts and forged dropouts with 2 fender eyelets |
| Bottom Bracket | Sealed cartridge, 68 x 110.5mm |
| Headset | Threadless internal, 1 1/8″ |
| Stem | Jamis Road, 3D forged 6061 alloy, 25.4 x 17 ̊ x 75mm (15/17″), 105mm (19/21/23″) |
| Handlebar | Jamis Flat bar, 6061 T-6 aluminum, 25.4 x 10 ̊ sweep x 600mm (15-17″) 620mm (19-23″) |
| Saddle | NEW Jamis Touring with SL cover |
| Seatpost | Jamis alloy micro-adjust, 27.2 x 350mm alloy clamp with QR seatpin |
| Pedals | Platform style, steel cage/resin body |
| Grips | Anatomic double density kraton |
Groupset
| | |
| --- | --- |
| Rear Derailleur | Shimano Acera M360 SGS |
| Front Derailleur | FD-TY710 bottom pull |
| Crank | Shimano FC-TY501, 48/38/28T, 170mm (15-19″) 175mm (21-23″) |
| Shifters | Shimano RapidFire Plus SL-M315, 24-speed |
| Cassette | Shimano HG41 8-speed, 11-32T |
| Chain | KMC Z8 |
| Brakes | Tektro 855AL alloy linear-pull brakes with front power modulator and Tektro brake levers |
Wheels
| | |
| --- | --- |
| Rims | Alex ID-19 double wall alloy rims with GSW sidewall, 32H, alloy hubs with QR and 14g black stainless steel spokes |
| Tires | Vittoria Randonneur with reflective sidewalls, 700 x 40c |
Video
Comparison Table
2022 Jamis CODA S2 vs. 2023 Marin Presidio 2
I have to admit, the latest 2023 Marin Presidio 2 offers better handling than general urban bikes at this price point. On the one hand, its component configuration requires a higher cost, and the Shimano Nexus 7-speed drivetrain and Shimano Hydraulic provide a smoother and more precise riding experience. On the other hand, its aluminum frame also has stronger anti-oxidation properties than the Jamis CODA S2 and is less prone to rust.
However, the Marin Presidio 2 is not necessarily faster than other general urban bikes in terms of speed drivetrain efficiency during riding. Additionally, with only 7-speed gears, it does not have a significant advantage in climbing performance.
Therefore, for those casual riders who pursue quality, the 2023 Marin Presidio 2 may be a good choice, but if speed and climbing gear ratio are important, the Jamis CODA S2 is a more suitable option.
Learn more: Is Marin Fairfax ST 1 A Good Bike? [2023 Marin Fairfax ST 1 Review]
2022 Jamis CODA S2 VS. 2022 KHS URBAN SOUL 8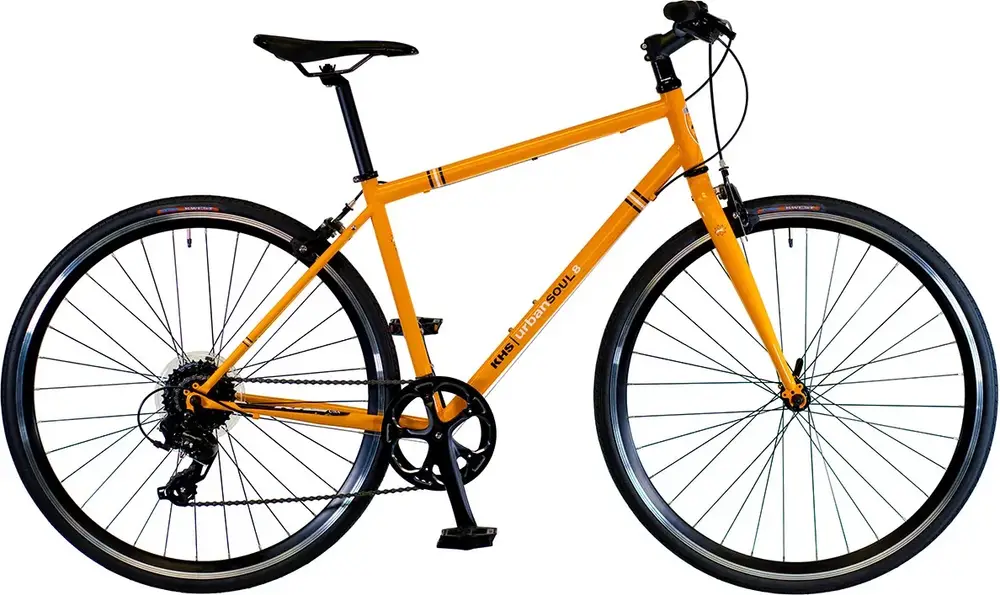 For those riders on a budget, the 2022 KHS URBAN SOUL 8 is another reliable, budget travel option. Featuring a high-strength steel frame and fork with a MicroShift TS71-8-speed drivetrain and rim brakes, the design is perfect for city travel. With 700 x 28c tires, the bike has a lighter and faster ride.
But the problem is also with the narrow tires. If one's riding path is just a flat city road, it's fine, but if one encounters an obstacle design or a broken road, KHS URBAN SOUL 8 users' hands and hips will be irritated by the bumps. In addition, it is not as passable, and when it encounters a curb or speed bump, users must also reduce speed to pass slowly, otherwise, it is difficult to keep the bike stable.
Learn more : Is KHS URBAN SOUL Worth Buying? -[2023 KHS URBAN SOUL Review]
2022 Jamis CODA S2 vs. 2022 Bianchi Torino Acera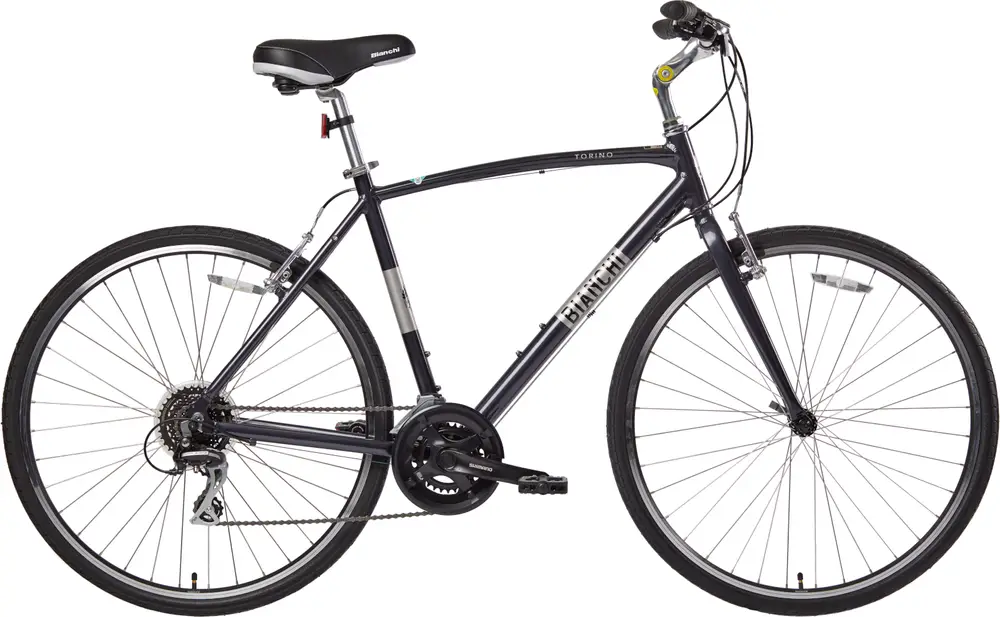 In terms of price and configuration alone, the 2022 Bianchi Torino Acera and Jamis CODA S2 are very similar. At around $770, both use Shimano 3×8-speed drivetrain with a V-Brake drivetrain and braking system design, so they are not dissimilar in climbing or speed performance. In addition, they are also similar in terms of tire choice, with the Kenda 700×38c tires and 700×40c tires, both in terms of passability and damping effect.
But if you consider the form factor, I think the Jamis CODA S2 is more to my aesthetic liking. Both the Navy Pearl and Vanilla Mint paints are more aesthetically pleasing than the black spray paint of the Bianchi Torino Acera. Secondly, the Jamis CODA S2's more upright top tube and flat saddle give it a crisper, crisper feel than the Bianchi Torino Acera's curved tube and "big bag head" saddle design. Of course, aesthetics is a very subjective feeling, you can also carefully distinguish.
Learn More : Is Bianchi Oltre XR4 – Ultegra Di2 Worth Buying? [2022 Bianchi Oltre XR4 – Ultegra Di2 Review]
Jamis CODA S2 vs. Devinci Milano Disc Alivio 27S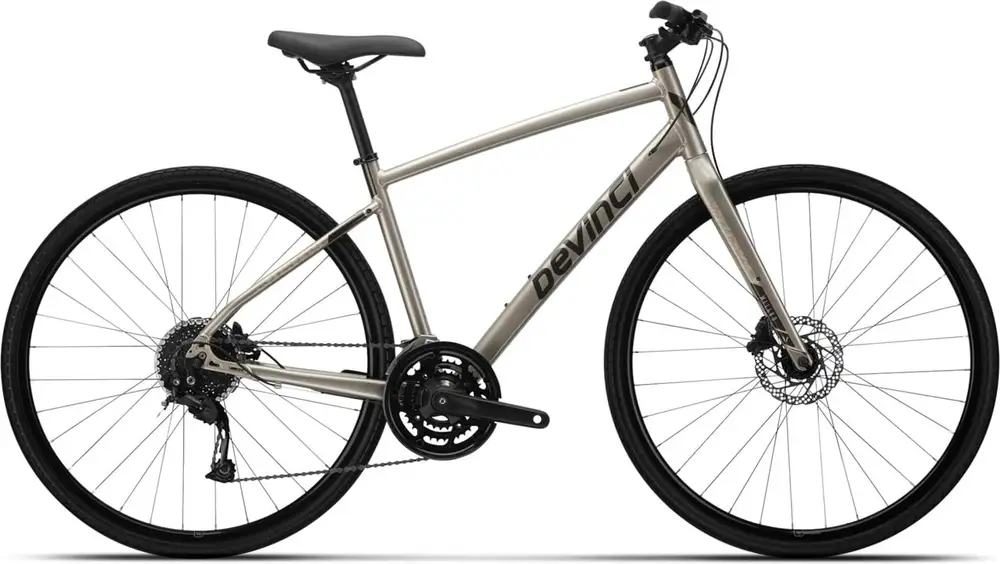 The more expensive 2022 Devinci Milano Disc Alivio 27S and the Jamis CODA S2 are not very comparable. Because a more costly price necessarily means frame and component upgrades. Similar to the Marin Presidio 2 mentioned above, the Devinci Milano Disc Alivio 27S has an aluminum frame and hydraulic discs, but its drivetrain uses a Shimano 3×9 speed configuration, so it has an advantage in gear ratios.
Therefore, the Devinci Milano Disc Alivio 27S is stronger than the Marin Presidio 2 in terms of price/performance ratio and performance, not to mention the cheaper, lower-end components of the Jamis CODA S2.
Summary
Overall, the 2022 Jamis CODA S2 is designed for the budget-conscious rider. A general city bike that combines a comfortable ride and efficient running speed with a common component composition.
If you're looking forward to your free time to enjoy traveling or working out, the cheap and reliable Jamis CODA S2 won't disappoint you.
Finally, if you like our content feel free to share it with your friends, and if our content is helpful to you, you can click the email subscribe button below!