We use affiliate links and may receive a small commission on purchases.
Giant Escape Disc 2 Review
Price: $780
Category: Commuter Bicycle
Tires: 700 x 38c
Drivetrain: 2X8
What we like about it: It can satisfy most people in terms of price. Combined with the great geometry and excellent component configuration, it makes for a great experience on the ride.
What we didn't like about it: As a commuter bike, it didn't perform as well as it should have on some of the rougher sections of terrain.
Rating (4.6/5)
If you love the sport of cycling very much, then you will know that it comes in a variety of classifications. This also means that you can choose according to your needs.
For me, what I need right now is a commuter bike that can get me to my destination quickly, comfortably, and inexpensively.
And what we are going to introduce today is such a bike. The extremely cost-effective price is only $780, the excellent geometry design brings comfortable riding, and the 2×8 drivetrain brings speed enjoyment.
So let me introduce you to the 2023 Giant Escape Disc 2 in more detail as I explain its commuting, fitness riding, key features, and main components. If you want to know more about this bike, please follow us.
Giant Escape Disc 2 Urban Commuting
I hate waking up early and spending a lot of time on my way to work every day. Fortunately, this Giant Escape Disc 2 is a great solution to that problem.
This bike has been accompanying me to and from work for the past few weeks. First of all, the 700 x 38c size tires ride just right on the road. And the smooth tires make full contact with the ground, bringing minimal rolling resistance and allowing me to ride fast.
As a result, it has also cut my commute time down so much that I don't have to get up early now, which is great.
In addition, its excellent geometric design allows me to maintain a comfortable position while riding. I like it very much. And the easy ride makes my daily road trip less boring and I even have time to enjoy the scenery along the way. Undoubtedly, this is a great enjoyment for me.
Of course, when riding, you can't help but encounter pedestrians on the road, which might be a bit troublesome for some novices, but the Tektro HD-R280 hydraulic disc brake solves this problem very well. The strong braking ability allows for quick braking in the face of an emergency, and the right standing height allows me to easily stabilize the bike. As a result, this allows me to move more freely around the city.
Giant Escape Disc 2 Fitness Cycling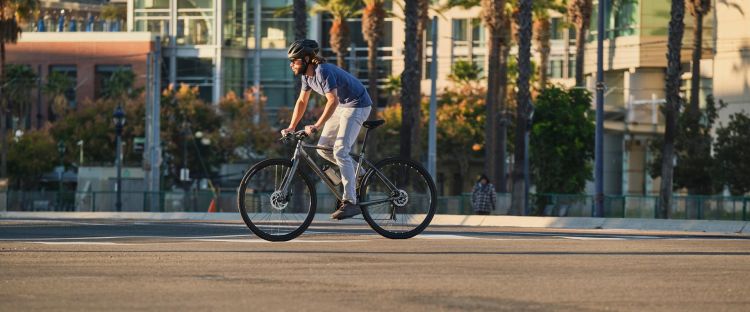 Of course, as a commuter bike, it can be used for more than just daily commuting. I often take it for a fitness workout in my spare time.
I would ride it on weekend afternoons for a nice ride along the outdoor trails. And the 2×8 drivetrain plays an important role in this period.
First, responsive shifting allows me to shift gears with just a flick of a switch. Secondly, enough shifting options allow me to tackle more terrain when riding outdoors, giving me a better experience in terms of speed.
On the unoccupied road, I can enjoy speeding up, the vigorous movement of the legs drives the whole body muscle force, with a good exercise effect.
However, some people might think that long outdoor rides would be uncomfortable because of holding one position. But surprisingly, this bike will make me feel relaxed when riding. By the way, if you want to go riding in well-known terrain or special terrain, you can book your accommodation on IHG Hotels & Resorts. It is not only rich in variety but also easy to operate.
Because the Giant Sport saddle and D-Fuse seat post give me a comfortable sitting position. And the straight grip design makes me more comfortable when riding.
I have to say that it has made me enjoy cycling as a sport more and more.
Main Features
Frame Group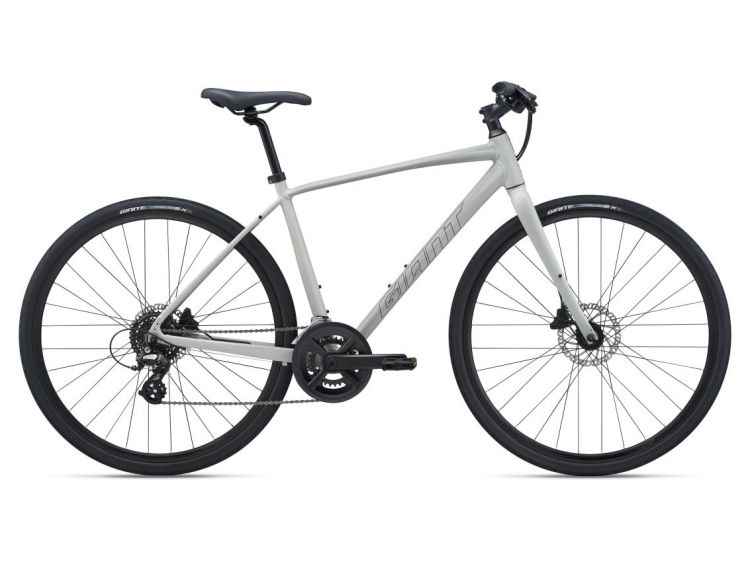 As a commuter bike, in addition to its good performance, it is equally praiseworthy in terms of appearance and design.
In the frame, the classic Giant lightweight ALUXX frame is still used, satisfying the light enough in weight and at the same time, you can be completely assured of the quality.
And, in terms of paint color, there are three colors to choose from, and I chose one of them, the rosewood one. The dark red paint with the slim piping makes it a sight to behold.
In addition, its cable line is hidden inside the lower tube. The design of the internal alignment adds a bit of beauty and also effectively protects the lines from damage.
It is worth mentioning that on its seat tube and down tube, it is designed with water bottle mounting holes. Therefore, whether it is daily riding or outdoor exercise is extremely convenient.
Geometry
With geometry, a great design makes your riding experience much better. And for this Giant Escape Disc 2, I'm very happy with its geometry design.
First, there is its 73° seat tube angle, which is steeper and allows the saddle to move more forward. This also allows you to maintain an aerodynamic position while riding, improving your riding speed.
Secondly, the same steep head tube angle (71°) gives you more flexible steering when riding. Therefore, it can cope well and nicely when facing some corners.
Of course, the standing height of 799mm is just right for me. I was able to stop and hold the body at any time, which was very convenient when waiting for traffic lights.
Components and Specifications
Tektro HD-R280 Brake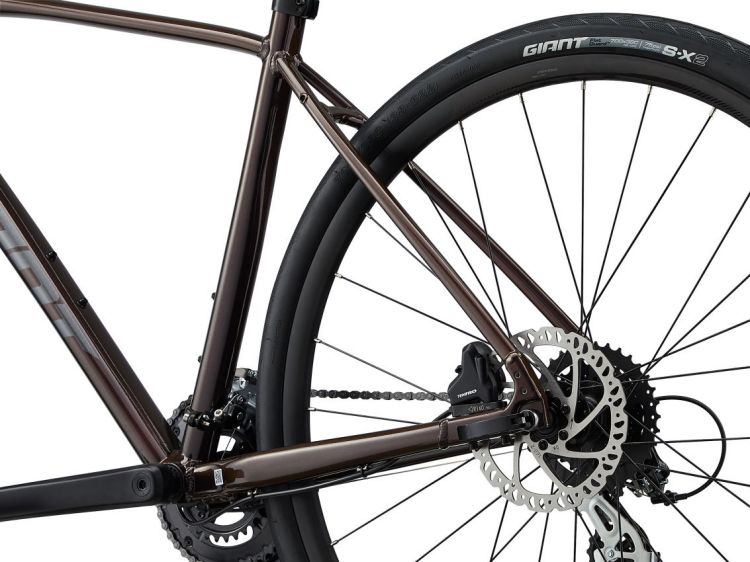 This bike uses Tektro HD-R280 hydraulic disc brakes for its brakes. Compared to mechanical discs, they are more costly to maintain but have a more responsive and softer feel.
In addition, this brake is made of an aluminum lever and cast aluminum bracket, which has enough guarantee of quality. It also uses low-noise resin pads, so that you have less noise disturbance when riding.
Likewise, it has very excellent thermal expansion properties. It can perform well as a brake regardless of the conditions.
Giant S-X2 Tires
For the use of tires, it uses Giant's own manufactured S-X2 tires. Undoubtedly, the multi-condition tread design provides more traction and better stability, allowing you to have a more comfortable experience while riding.
In addition to these, it also has DEFLECT 4 rubber puncture-resistant tape on its tread. This allows you to avoid damage to a great extent while riding.
In addition, the 700×38C specification size has better passability when commuting riding. Moreover, the smooth tread design can be rolled quickly for a better riding experience.
Shimano Altus Drivetrain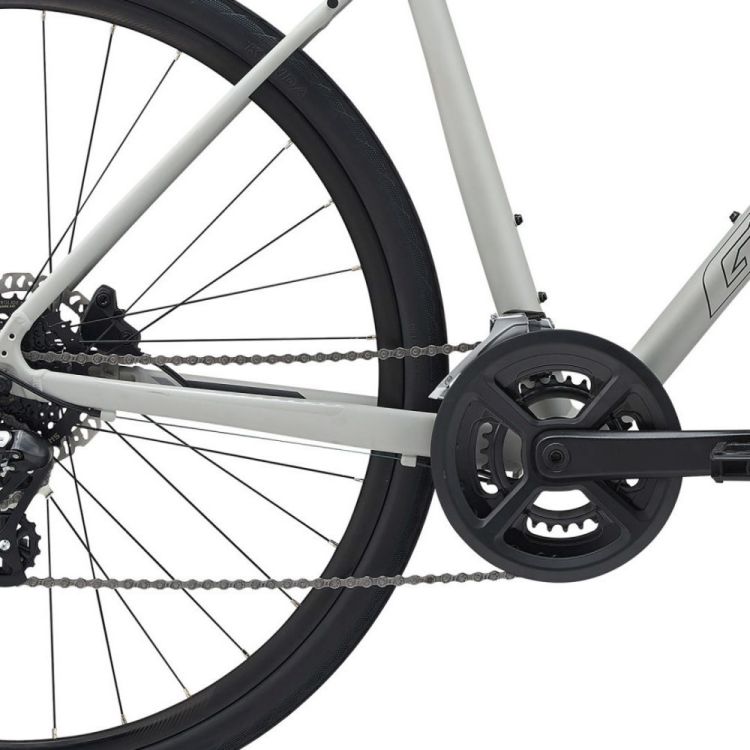 As a commuter bike, the 2×8 shifting option is sufficient for everyday riding on the road. It also has quick responsiveness, allowing for quick shifting with just a gentle toggle during use.
Sure, maybe you'll think the 2× drive is a little more complicated. But my actual riding tells me that there is not much difference.
I enjoyed the different experiences that the different speeds gave me, which made the ride very enjoyable.
Other versions of Giant Escape
In this test, we compare the rest of Giant Escape's range in addition to this bike, which we hope will help you.
2022 Giant Escape Disc 1
As a commuter bike in the same series, the Escape Disc 1 doesn't make changes to the geometry. And the same aerodynamic geometry design makes your ride more comfortable.
Of course, it has also made adjustments in the components accordingly. The first is the use of carbon in the manufacture of the front fork. This makes it lighter in weight, more rigid, and also has the effect of shock absorption.
Also uses a 2×9 drivetrain on the gearing. The same excellent responsiveness gives you a comfortable ride and it gives you a few more points in the experience of speed.
Being the upgraded version of the Escape Disc 2, it is correspondingly a bit higher in price. When I was actually riding these two bikes, the difference was not as big as I thought it would be. So if you're after value for money, this Giant Escape Disc 2 might be a good choice.
What we like about it
Aerodynamic geometry for a faster ride.
Lightweight ALUXX frame application, balancing mass and weight.
Powerful disc brakes for better control against steep slopes.
Fast-rolling 700C tires for a smooth and efficient ride.
The 2×8 drivetrain allows you to tackle more terrain.
What we don't like about it
Unsatisfactory performance on rugged mountain roads in the wild.
FAQs
What is the drivetrain of the 2023 Giant Escape Disc 2?
The drivetrain of the 2023 Giant Escape Disc 2 is a Shimano Altus.
What are the tires on the 2023 Giant Escape Disc 2?
The tires on the 2023 Giant Escape Disc 2 are Giant S-X2.
What are the brakes on the 2023 Giant Escape Disc 2?
The brakes on the 2023 Giant Escape Disc 2 are Tektro HD-R280.
Size Chart for 2023 Giant Escape Disc 2
| | |
| --- | --- |
| Size | Rider height |
| SM | 160 – 171 CM |
| MD | 169 – 181 CM |
| LG | 179 – 191 CM |
| XL | 189 – 200 CM |
2023 Giant Escape Disc 2 Specs
Build
| | |
| --- | --- |
| Frame | ALUXX-Grade Aluminum, disc Colors: Charcoal; Rosewood |
| Fork | alloy, rack mount, disc |
| Rear Shock | N/A |
| Bottom Bracket | cartridge |
| Stem | Giant Sport, 15-degree, 31.8mm XS:80mm, S:90mm, M:90mm, L:100mm, XL:100mm |
| Handlebar | Giant Sport XC, 31.8mm XS:60cm, S:64cm, M:64cm, L:68cm, XL:68cm |
| Saddle | Giant Sport |
| Seatpost | Giant D-Fuse, alloy XS:300mm, S:300mm, M:350mm, L:350mm, XL:350mm |
| Pedals | Giant Urban Fitness |
| Grips | Giant Connect Ergo |
Groupset
| | |
| --- | --- |
| Rear Derailleur | Shimano Altus |
| Front Derailleur | Shimano FD-TY710 |
| Crank | forged alloy, 30/46 XS:170mm, S:170mm, M:170mm, L:175mm, XL:175mm |
| Shifters | Shimano Altus, 2×8 |
| Cassette | Shimano CS-HG31, 11×34 |
| Chain | KMC Z8.3 |
| Brakes | Tektro HD-R280, Giant MPH rotors [F]160mm, [R]160mm |
| Brake Levers | Shimano |
Wheels
| | |
| --- | --- |
| Rims | Giant double wall aluminum |
| Spokes | stainless, 14g |
| Front Hub | alloy, 28h |
| Rear Hub | alloy, 28h |
| Tires | Giant S-X2, puncture protect, 700x38c |
Video
Comparison Table
2022 Giant Escape Disc 2 vs 2023 Marin Muirwoods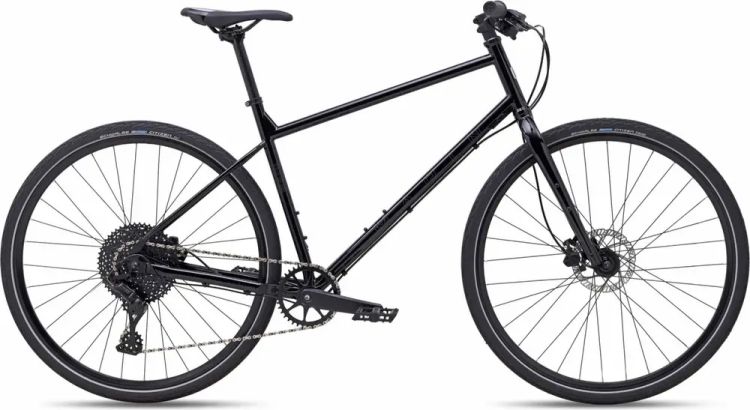 Undoubtedly, I like the design of the Marin Muirwoods' slim pipes, which give it a very sophisticated look. One thing I have to say, however, is that the cables are exposed, which annoys me. Because the originally clean and tidy frame looks a bit messy, and in daily riding, it will be vulnerable to damage.
In addition, unlike the Giant Escape Disc 2, it uses a MicroSHIFT Advent X 10-speed drivetrain. This also makes for relatively fewer gearing options. Although it also copes well with road riding in city commuting, it's a little less enjoyable in terms of speed.
If you're looking for more speed, try the Giant Escape Disc 2. I'm sure it will give you a great experience.
Learn more : Is 2023 Marin Fairfax 2 Your Perfect Match? – [2023 Marin Fairfax 2 Review]
2022 Giant Escape Disc 2 vs 2022 Kona Dew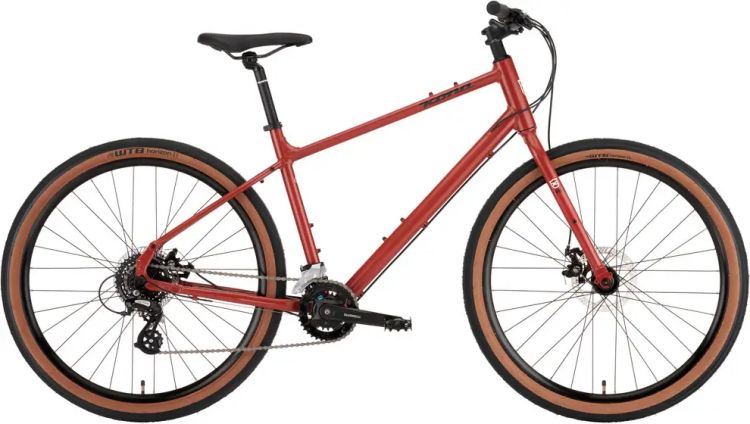 This 2022 Kona Dew uses a rigid fork, which makes it relatively heavier in terms of weight. It also uses Tektro MDM280 mechanical discs for the brakes. This results in an overall weight that is a bit heavier than the Giant Escape Disc 2.
As a commuter bike, this can affect your riding feel when riding. The Giant Escape Disc 2 is definitely more relaxed.
If you like this lightweight bike, this Giant Escape Disc 2 might be a good choice.
Learn more : Is Kona Dew Worth Buying? – [Kona Dew Review]
2022 Giant Escape Disc 2 vs 2022 BMC Alpenchallenge THREE
Honestly, it left me torn when making the comparison between these two bikes. I really like this BMC Alpenchallenge THREE. The beautiful design with great accessories makes it very good in terms of performance. Also, the 2×9 drivetrain offers enough shifting options to give you a better experience while riding.
But the Giant Escape Disc 2 is just as good, and I love the light and fast feeling it gives me. And the 700C-size tires provide good passing power for a fast ride around town.
However, it is worth mentioning that this BMC Alpenchallenge THREE is a little more expensive in terms of price. So in terms of value for money, I would prefer the Giant Escape Disc 2.
learn more:BMC Alpenchallenge 01 TWO Review [2022]- Letting You Ride Freely In The City Roads
2022 Giant Escape Disc 2 VS 2022 Polygon PATH 2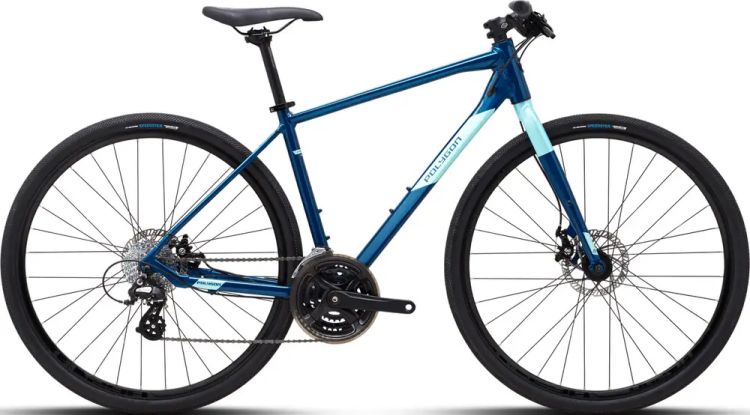 Although both are commuter bikes, there are slight differences in geometry between the two. For starters, the Giant Escape Disc 2 has a higher seat tube length and a relatively lower trail, which makes you bend over a bit more when riding.
And this aerodynamic design delivers a faster experience in terms of speed. And, the smaller trail provides more agile steering, improving the ability to maintain a straight line through sharp turns.
The Polygon PATH 2, however, is relatively conservative in its geometry. The upright riding position will keep you comfortable, while the high trail provides greater speed stability and a tendency to turn towards self-correction. This is very useful for rough terrain.
Of course, the choice of these two types of bikes depends on your personal riding habits.