We use affiliate links and may receive a small commission on purchases.
Carrera Intercity Folding Bike Review
MSRP: £380 (about $467.23)
Frame: Aluminum
Tires: 20″
Drivetrain: 1×8
Frame Dimensions Folded (L×W×H): 835mm × 360mm × 660mm
Approximate Weight (KG): 13.6kg
What we like about it: Small, lightweight, portable all-around folding bike.
What we don't like about it: It's still a bit large when folded up.
Rating (4.7/5)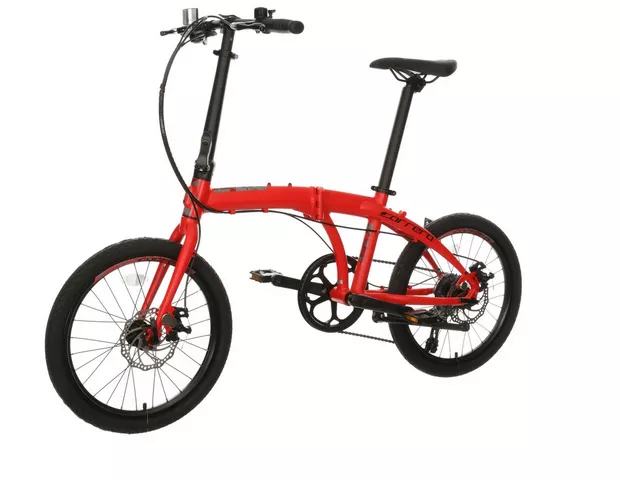 If you're looking for a bike that's easy to carry, for commuting or leisure, consider the Carrera Intercity Folding Bike, a folding bike comparable to the Brompton for just £380.
The Carrera is not only light enough to ride, but it is also very fast in terms of riding performance. More importantly, it has smaller tires and narrower handlebars making it easy to fold and store.
So you can take it on the train, or subway, or put it in the trunk of your bike during the holidays and let it accompany you on your adventures.
In addition, the thoughtful rear rack, fenders, lights, and other accessories make it equally suitable for daily adventures.
Here we break down the ride, key features, components, and specifications of the 2022 Carrera Intercity Folding Bike, as well as other versions.
If you are interested in folding bikes, please remember to follow us. We will keep updating more real bike reviews.
Carrera Intercity Folding Bike Commuter Riding
I believe most people, like me, buy folding bikes mainly to cope with daily commuting. And the Carrera Intercity Folding Bike tells me that it is definitely worth the money.
First of all, thanks to its adjustable seat post and handlebars, I can have a more upright riding position to enjoy my daily commute. Although the 560mm (width) alloy handlebars are not too wide, I didn't feel cramped.
Secondly, its Microshift 8-speed drivetrain gave me a lot of comfort. It made me feel at ease because of coping with the daily mandatory uphill trails.
Many people may think that its tires are too small and climbing hills is very hard on the legs. But in fact, the Microshift drivetrain will simplify this process. Because it has a large cassette, it can drive the tires to roll very quickly.
In addition, its Pannier Rack is very practical and sturdy. I always put the necessities I have to carry to and from work every day there to secure them to free my shoulders.
Finally, whenever I arrive at work, I can easily fold it up in less than 40 seconds. This way, it looks great in the office and I don't have to worry about losing it or losing it to the sun or rain.
Carrera Intercity Folding Bike Recreational Riding
In addition to using it for commuting, I occasionally stack it in the trunk of my bike to meet my mood on a nice day and ride it for a break.
Although its tires are small and thin, it has never let me down on either city roads or cobblestone trails.
Because it Steel fork, it has a strong shock absorption effect. Together with Comfort Saddle, it is very soft and also has a good shock absorption effect.
It is worth mentioning that the tires, filled with air rubber, are very full and strong, and it feels wonderful to walk on the road with a light feeling. And the petite size makes it very flexible. By the way, if you want to go riding in well-known terrain or special terrain, you can book your accommodation on IHG Hotels & Resorts. It is not only rich in variety but also easy to operate.
Main Features
Frame Group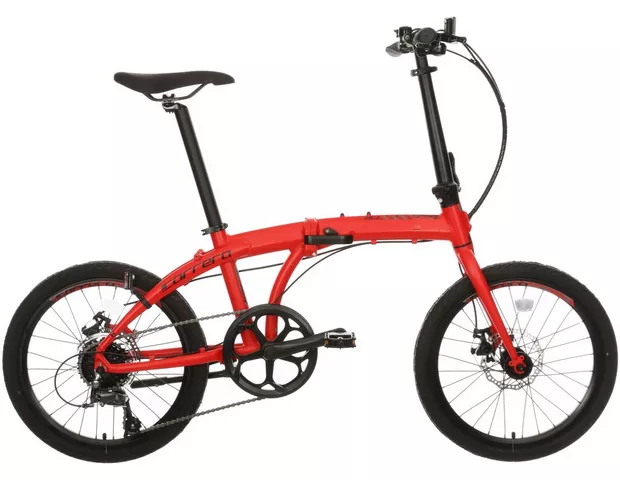 The foldable, lightweight aluminum frame with a durable Steel fork makes the Carrera Intercity look very small and cute. It's worth stating that Halfords promises a lifetime warranty on the frame and Steel fork.
Although the Carrera Intercity may look small, it is equipped with everything a functional bike should have.
The integrated Mudguard Mounts, Pannier Rack, kettle rack mounting holes, and light holders give it even more versatility.
Considering that many people are concerned about how it folds, here is also a brief introduction to this simple procedure. When you need to fold the bike, just loosen the latch of the frame and the clips on the seat post and handlebars to complete the folding.
To its credit, there are magnets on the side of the tires that hold the front and rear tires firmly together. So even if you walk around with a folded bike, it remains solid.
In addition, Black Folding Pedals are very practical, reducing the size of the folded frame again.
Also, based on the adjustable seat post and handlebars, and short tires, it is perfect for beginners as well as youth riding.
Components and Specifications
Microshift RD-M25L 1×8 SP Drivetrain and V-Brake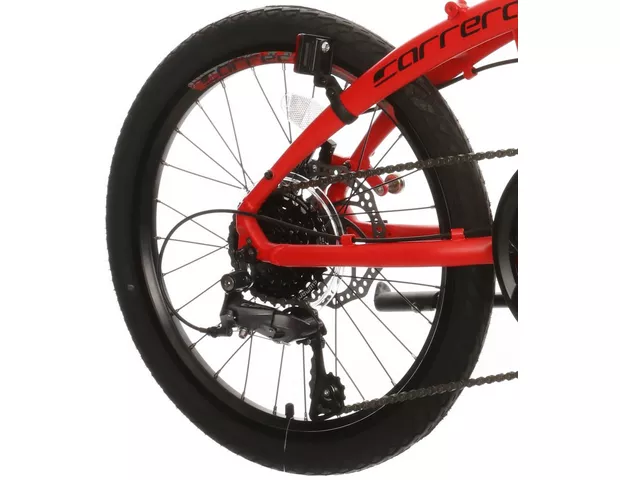 I don't know if you've heard the Chinese proverb: "Although the sparrow is small, it has all the internal organs". The compact Carrera Intercity is also set up with a 1×8-speed drivetrain.
On the one hand, the 8-speed gear ratio is not only more convenient for the rider to operate up and down hills than a single gear ratio, but also increases the shifting range giving the rider more riding pleasure.
On the other hand, the Microshift 8SP Revoshift can be shifted by simply placing your hand on the handlebars and then pivoting your thumb and index finger to turn. Needless to say, it is very simple, reliable, and easy to implement for both children and novices.
In addition, the V-Brake is designed to make the bike lighter. Although the braking effect is not as fast as disc brakes, it can stop quickly by increasing the grip whenever you need to brake.
So if you're considering buying a learning tool for your child, consider the Carrera Intercity – simple and reliable shifting. It is suitable for the average rider and beginners.
Black Rubber Tires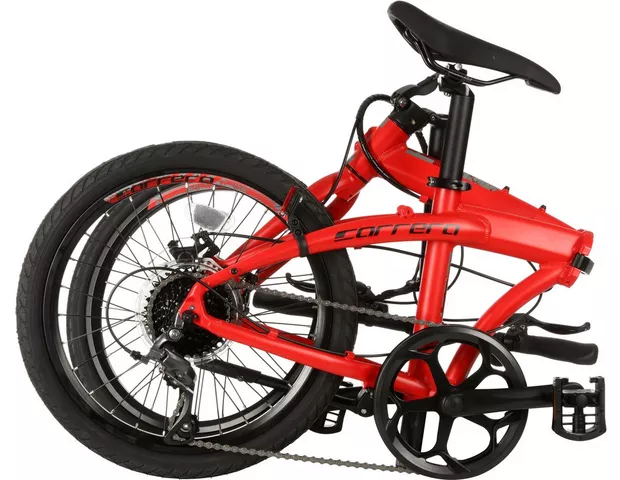 Although I've rarely ridden on harsher mountain surfaces, the tires are definitely up to snuff in terms of performance on city roads.
First of all, rubber tires, although not exactly high-end, the air inside the pneumatic tire acts like a spring, effectively absorbing ground vibrations and providing better grip and traction.
Secondly, although the 20-inch tires look a bit small, they are enough to cope with the various needs of travel. Because of both passing and turning ability, it is no worse than large tires. Especially when dealing with rough roads, the compact design allows the rider to spend less effort to get over the obstacles.
Also, its aluminum tires are commendable, not only for their sturdiness and durability but also for their excellent heat dissipation. And, although it makes a little harsh screeching sound when occasionally braking in an emergency, checking it afterward reveals that it is shiny as new and very reliable.
Other versions of Carrera Intercity
We are satisfied with the performance of the Carrera Intercity Folding Bike. To have a more comprehensive reference, we also found its other versions.
2022 Carrera Intercity Disc 9
In addition to the Carrera Intercity Folding Bike, if you have the budget, I recommend you consider the 2022 Carrera Intercity Disc 9. It has a lighter weight and a more upscale groupset, and the Shimano 9-speed drivetrain makes the Disc 9 look even more impressive, after all, the fast performance is there for all to see.
In addition, the Tektro M275, hydraulic disc brake also makes Disc 9 users love it even more. After all, a more relaxed and fun braking effect does impress people more.
Most notably, it's almost half the price of the cheapest Brompton range – just £450.
2022 Carrera Intercity Disc 8
Of course, if you find the Intercity Folding Bike appealing enough and just prefer disc brakes, you can consider its other "brother", the 2022 Carrera Intercity Disc 8.
It is very similar to the Carrera Intercity Folding Bike, both have 8-speed gearing. But on the brakes, it uses the Power BX-351 mechanical disc brake, and with the use of aluminum forks, it is much lighter.
Therefore, you can choose the best bike in your mind based on your budget as well as your needs.
If you are also interested in other models mentioned above, you can follow us. We will continue to update more interesting bicycle real-life tests.
What we like about it
Affordable price, less than 400 pounds can be brought home.
Aluminum frame with steel forks, not only strong, and enough shock absorption.
The outstanding 8-speed drivetrain and brakes that support emergency braking make it very reliable at all times.
The folding method is very simple and convenient, and the action can certainly end in 40 seconds under normal circumstances.
Both the handlebar and the seat post are adjustable, so the rider can choose the geometry that is comfortable for them.
The out-of-the-box set eliminates the need for additional costs to the rider.
The integrated rack and fenders give the bike more functionality.
What we don't like about it
After folding it still looks a little big.
Some female users have complained that it is a bit heavy.
FAQs
Can you tell us the geometry of the bike?
Its geometry is standard on modern folding bikes, and the adjustable steerer/stem allows the rider to customize the front-end geometry to their preference. At the same time, you can move the seat post height to achieve the height that is most comfortable for your legs.
Is the bike comfortable to ride?
Yes. It doesn't have big tires, but big tires don't mean comfortable, and small tires don't mean uncomfortable. You ride it to know that it is easy to ride without effort and comfortable sitting position.
I bought it from Halfords' official website, which is very convenient.
What is the size chart for 2022 Carrera Intercity Folding Bikeshould?
The size chart is as follows.
| | | |
| --- | --- | --- |
| Frame Size | Height (Inch) | Height (cm) |
| One Size | 4′ 10″ – 6′ 3″ | 147 – 191 |
2022 Carrera Intercity Folding Bike Specs
Build
| | |
| --- | --- |
| Frame | Folding |
| Fork | Steel Rigid |
| Handlebar | 560mm (width) alloy handlebars |
| Saddle | Black Comfort Saddle |
| Seatpost | Alloy |
| Pedals | Black Folding Pedals |
Wheels
| | |
| --- | --- |
| Rims | Alloy |
| Tires | Black rubber |
Groupset
| | |
| --- | --- |
| Rear Derailleur | Microshift RD-M25L – 8 SP |
| Shifters | Microshift 8SP Revoshift |
| Brakes | V-Brake |
Video
Comparison Table
| | | | | |
| --- | --- | --- | --- | --- |
| Bicycles | Price | Gear | Brakes | Click to view |
| 2022 Tern Link A7 | $549 | 1 × 7 | Rim | Click view |
| 2022 KHS MOCHA | $769 | 2 × 8 | Tektro Linear Pull | Click view |
| 2022 Polygon URBANO 5 | $719 | 1 × 9 | HYDRAULIC DISC BRAKE CALIPER IS | Click view |
| 2022 Momentum PakAway 1 | $820 | 1 × 7 | Rim | Click view |
2022 Tern Link A7 vs 2022 Carrera Intercity Folding Bike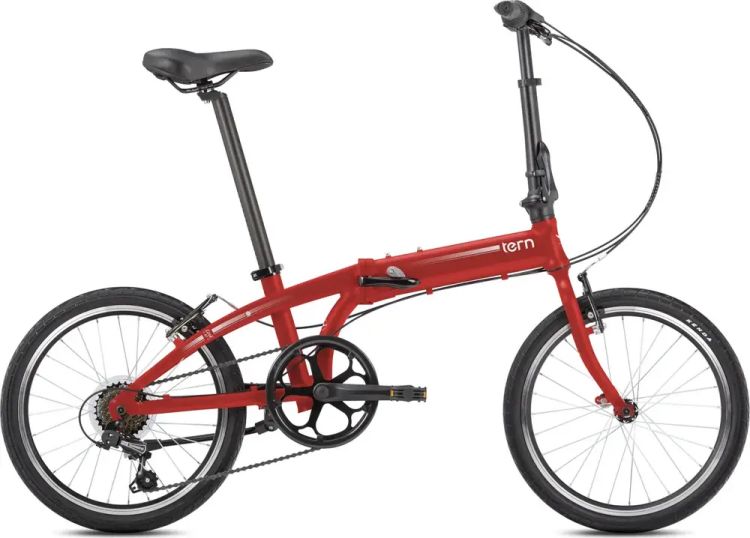 For those of you who complain that the Carrera Intercity is still big after folding, you might want to check out the $549 2022 Tern Link A7.
Its folded dimensions are 39.5 x 80 x 73 cm, so you may not have an idea. Let me tell you one other piece of data, its volume is 0.23 cubic meters. And the folded volume of Carrera Intercity is about 0.198 cubic meters. I believe that which is bigger and which is smaller is already very clear, and they both are not very different from each other, no matter the speed or performance.
So, can you accept my point that Carrera Intercity is good value for money?
2022 KHS MOCHA vs 2022 Carrera Intercity Folding Bike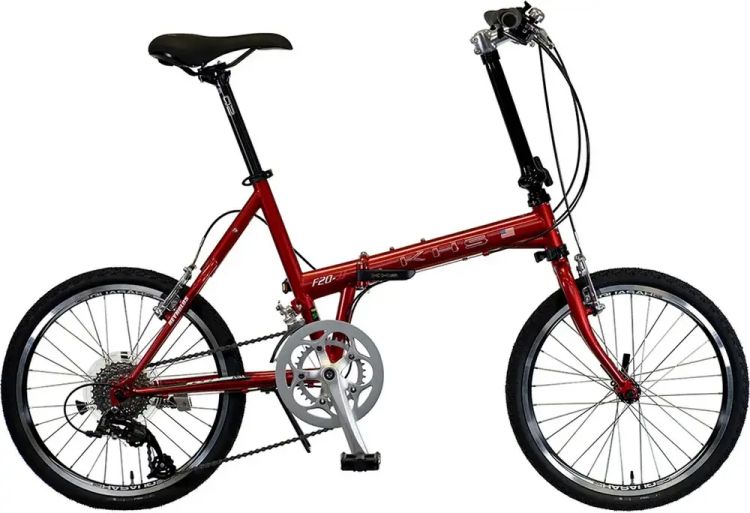 While the 2022 KHS MOCHA is commendably fast, the STEEL frame and forks, as well as the 2×8 drivetrain, make it look very bulky.
At the same time, we all know that STEEL material is very afraid of wet environments because it is easy to rust or oxidation. Therefore, 2022 KHS MOCHA is not competitive when facing wet weather such as rain and snow.
As a result, the Carrera Intercity with its aluminum frame with racks as well as fenders may be more durable and versatile in wet areas. Moreover, the speed options that are no less than KHS MOCHA also make the Carrera Intercity stand out more.
If you live in a place where the air is humid, perhaps the Carrera Intercity Folding Bike is a good choice.
2022 Polygon URBANO 5 vs 2022 Carrera Intercity Folding Bike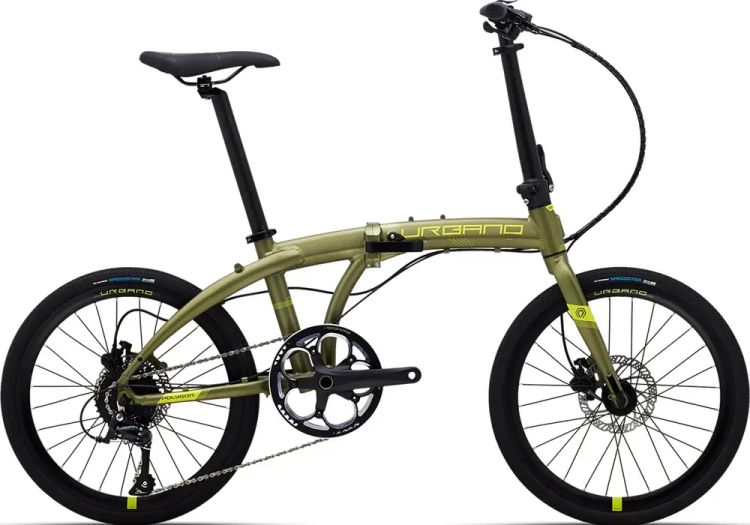 The 2022 Polygon URBANO 5 has not only enviable quality as a folding bike but also commendable speed.
Although the Carrera Intercity Folding Bike is not competitive with it, its performance always reminds me of the aforementioned Carrera Intercity Disc 9 because they are just as light and fast.
But the fact is that Disc 9 is more price friendly. So if you crave speed and lightweight, why not consider the cheaper Disc 9?
2022 Momentum PakAway 1 vs 2022 Carrera Intercity Folding Bike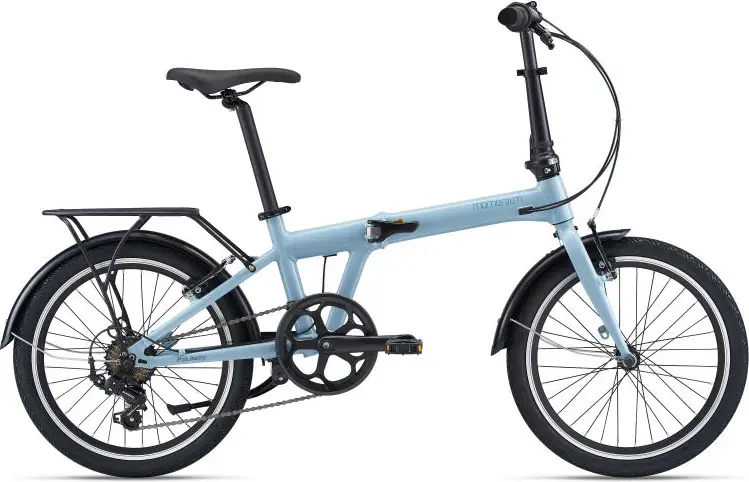 When someone questions whether the Carrera Intercity is not fast enough, I always think of the equally controversial 2022 Momentum PakAway 1.
After all, they have a similar material structure – an aluminum frame combined with steel forks, and integrated fenders and racks. However, the materials of PakAway 1 are a bit more advanced.
If you think the 2022 Momentum PakAway 1 can be your favorite bike, why not the Carrera Intercity? After all, you can buy two Carrera Intercities for the price of one PakAway 1.
Learn more : Is Momentum Vida Worth Buying? – [Momentum Vida Review]