We use affiliate links and may receive a small commission on purchases.
Felt BREED 30 Review
Price: $2399
Category: Gravel Bicycle
Drivetrain: 1×11
Tires: 700C
What we like about it: Cost-effective price, lightweight, very nice exterior design, thoughtful geometry.
What we don't like about it: It's not suitable for mountain cross-country.
Rating (4.7/5)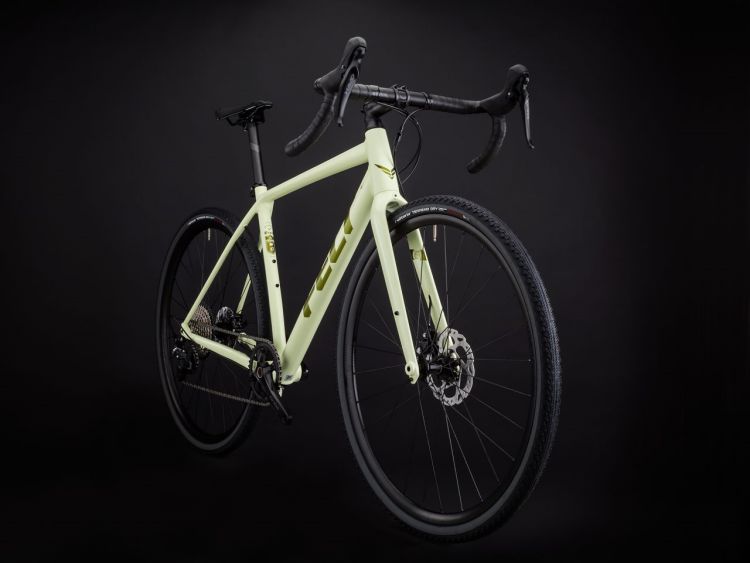 Life's roads are not always flat, and in addition to wide highways, there are winding trails. If you are a cyclist, then please don't stop your adventures at the end of the sidewalk.
In the meantime, you need the perfect companion to help you on your journey, no matter where the road leads. That's right, the 2022 Felt BREED 30 is the perfect companion for you.
As a gravel bike, it not only has a very beautiful appearance but also has an excellent performance in riding. The extremely lightweight, fast riding speed, and excellent geometry design all show its excellence, it is made for gravel roads.
So let me introduce you to the Felt BREED 30 in detail, I will explain its gravel riding, long-distance riding, main features, and main components.
If you still want to know more knowledge content of this bike, welcome to follow us, thank you for your support.
Felt BREED 30 Gravel Riding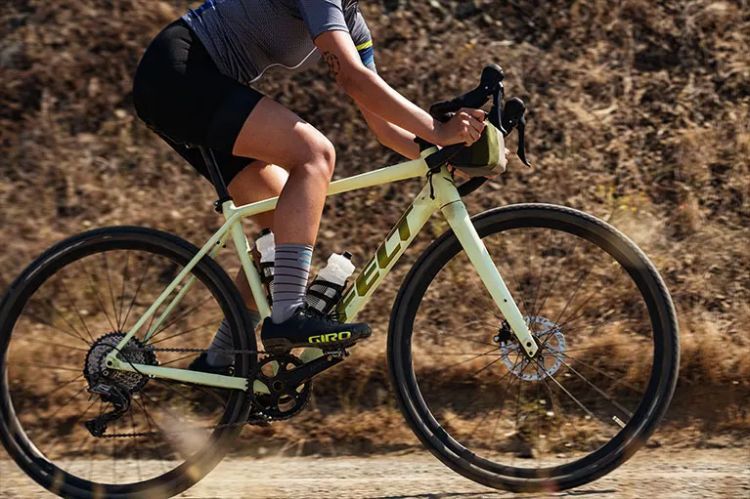 What's the first thing that comes to your mind when you think of gravel riding? For me, it would have to be the freedom of riding outdoors on uncrowded trails. And this time just allowed me to do so.
I rode it for a week before doing this review, which gave me a more comprehensive understanding of the bike. Another thing that needs to be prepared in advance is booking accommodation. This time, I still booked accommodation on IHG Hotels & Resorts, hoping for a good rest.
I love the lightness it gives me while riding. Although SuperLite aluminum is used for the frame, carbon is used for the fork choice. This makes the body weight only 22.4 pounds, and the lightweight allows me to ride it relentlessly and feel the fun it gives me.
I enjoyed the faint sound the Vittoria Terreno Dry tires made as they crushed down the gravel road. And with 700C size tires that roll well on such surfaces, there is enough traction to make me more comfortable while riding.
Of course, its braking ability on downhill sections is also worthy of my praise. Because of the sensitivity and fast response, I was able to slow down quickly and stop at any time during the fast driving process.
Felt BREED 30 Long Distance Riding
To be honest, I have always had a great desire for long-distance riding. From early morning to dusk, country roads to wide highways, to enjoy the infinite scenery of nature. And this time I made up my mind to have a ride that I said I would take.
I prepared my luggage and set off from home. Since the Felt BREED 30 has enough mounting holes in the frame, it made it very easy to carry my luggage. At first, I was worried that too much luggage would interfere with my ride, but the actual ride told me otherwise.
I set off along the road at the entrance and after a while of riding the terrain started to change. But whether it was climbing or descending, it coped well and nicely. Not only that, the Shimano GRX 1×11's drivetrain gave a great boost during this time. The wide choice of gears and the fast response speed all contributed to a good experience on my ride.
Of course, long rides can be a bit tiring, but the Prologo Dimension NDR T4 saddle greatly alleviates this problem. Indeed, the soft saddle makes my ride more comfortable and gives me more mood to enjoy the surrounding scenery.
Main Features
Frame Group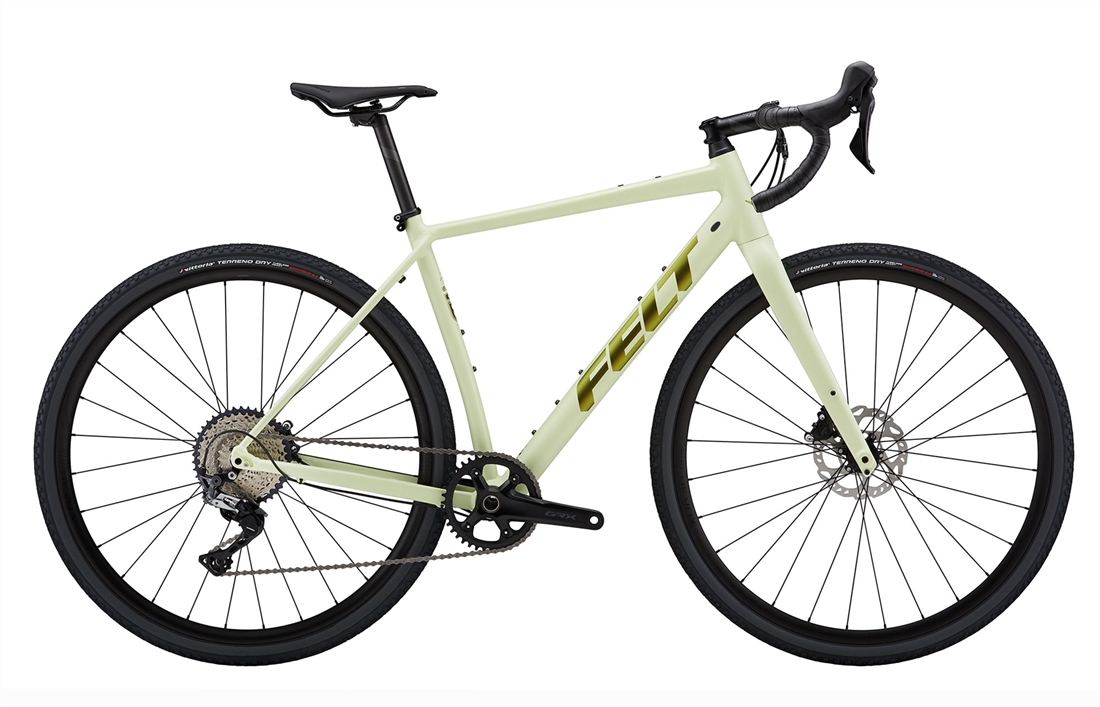 For a gravel bike, I like the design. Although the frame is not made of carbon, the aluminum frame is just as light in terms of weight. And it's sturdy enough to handle the gravel roads in the field.
The most important thing is its Satin Glow Green paint color, which exudes youthfulness and full of vitality. I can guarantee that riding it, you will gain many eyes from passers-by.
In addition, the design of the internal cable route further enhances its value. It perfectly stores the cable in the lower tube, which looks more clean and tidy and effectively protects the cable from damage.
At the same time, there are several mounting holes in the frame. You can add the things you need to carry on it, which greatly facilitates daily riding.
Of course, it also brings the fender system, and you can choose to install it according to your needs.
Geometry
The geometry of this Felt BREED 30 can be said to be well thought out. Personally, I also really like its geometric design.
The first thing is the standing height of 757mm, which is just right for my height. I can always hold the body steady while riding without worrying about falling over.
Secondly, the 71° head tube angle provides fast steering ability and good performance in cornering. At the same time, the 73° seat tube angle provides efficient pedaling efficiency and brings comfortable riding.
In addition, the wheelbase of 1035mm provides relatively high stability, allowing you to have a smoother ride.
Components and Specifications
Shimano GRX Drivetrain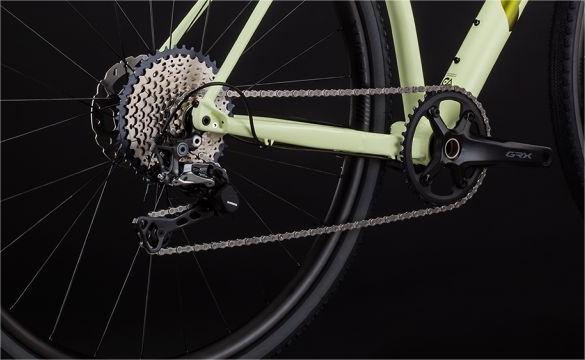 This bike uses the Shimano GRX drivetrain, with accurate shifting capabilities so you don't have to worry about shifting while riding. What's more, enough shifting options are even more capable of handling more complex terrain.
I enjoy the speedy experience on the actual ride. And, it has a very fast response time when shifting, I can change gears with just one flick.
Shimano GRX RX400 Brakes
The brakes are also Shimano, but the GRX RX400 is used in the model, and the same brand of kit makes the bike more compatible for riding.
Of course, it is also excellent in braking performance. Even in the face of very steep slopes, the powerful braking ability can effectively reduce the speed down. In the face of an emergency, it can stop immediately to ensure your riding safety.
Vittoria Terreno Dry Tires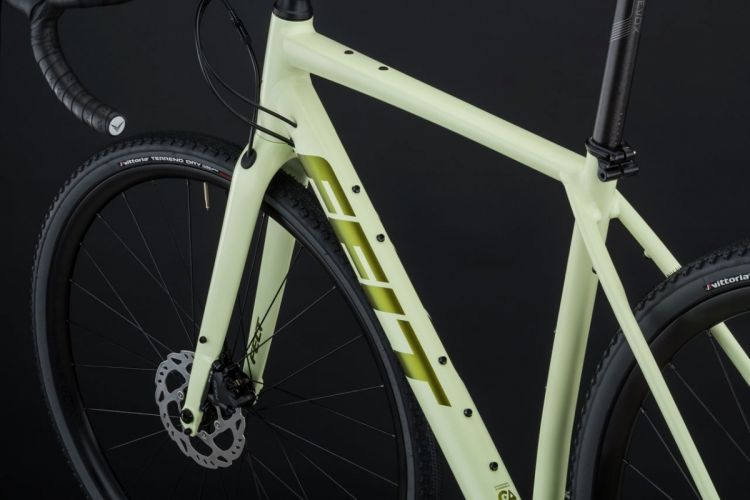 I loved this tire when I was riding it. First of all, the tread is made of 3 compounds, which improves its wear resistance and grip. At the same time, the "fish scale" design in the diagonal center allows for fast rolling and a speedy experience.
Secondly, a graphene 2.0 compound is used in manufacturing. This further enhances its longevity and has an excellent performance on gravel roads.
Other versions of Felt BREED
In this ride, we systematically tested the bike in addition to other versions of it. This is to let you have more understanding of this bike, and we hope it will be helpful to you.
2022 Felt BREED 20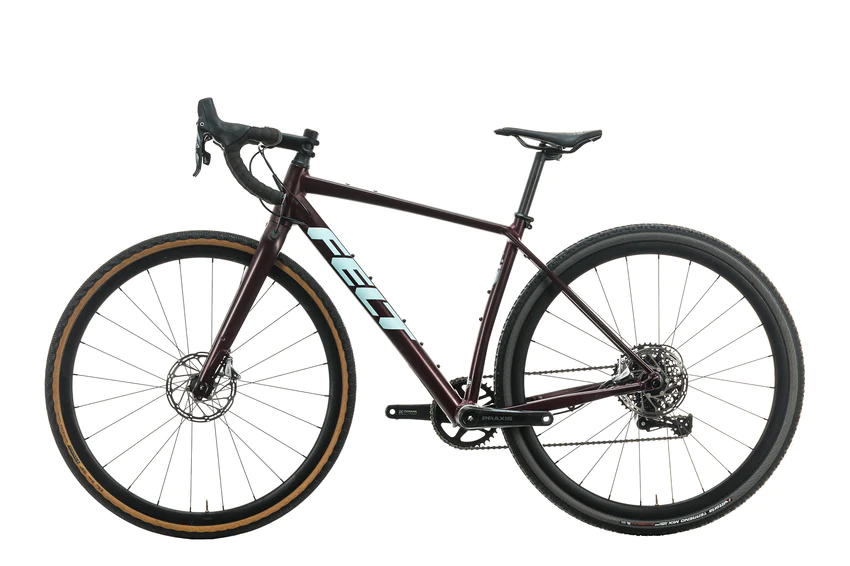 Being from the same series of gravel bikes, these two bikes share the same geometry design, so there is no change in the riding position. However, the component selection is different.
Although the brand is different, the feeling I got in the actual riding is similar. And a variety of shifting options to bring easy riding, and an excellent braking effect to protect your riding safety.
But in terms of price, this BREED 20 is a bit more expensive. So if your budget is not very high, then maybe you can try this Felt BREED 30.
What we like about it
Mind-blowing prices.
Comfortable riding experience.
Thoughtful geometric design.
Multiple installations for your riding convenience.
Good ride experience.
What we don't like about it
Poor performance in harsh environments.
FAQs
What are the brakes for the 2022 Felt BREED 30?
The brakes on the 2022 Felt BREED 30 are Shimano GRX RX400.
What is the drivetrain of the 2022 Felt BREED 30?
The drivetrain of the 2022 Felt BREED 30 is Shimano GRX.
What are the tires for the 2022 Felt BREED 30?
The tires on the 2022 Felt BREED 30 are Vittoria Terreno Dry.
Size Chart for 2022 Fezzari Shafer AL
| | |
| --- | --- |
| size | Rider height |
| XS | 5'0″ – 5'7″ |
| SM | 5'5″ – 5'9″ |
| MD | 5'7″ – 5'11" |
| LG | 5'9″ – 6'1″ |
| XL | 5'11" – 6'3″ |
| XXL | 6'1″ – 6'5″ |
2022 Felt BREED 30 Specs
Build
| | |
| --- | --- |
| Frame | Felt Gravel | SuperLite aluminum BB Standard: T47, 86mm, Threaded Color: Satin Glow Green |
| Fork | Felt Gravel – Adventure | UHC Performance carbon with aluminum steerer tube |
| Bottom Bracket | Threaded | T47 86.5mm |
| Headset | IS (NO.42) |
| Stem | Devox StemR.A2 6D |
| Handlebar | Devox DBar.A1 GXA |
| Saddle | Prologo Dimension NDR T4.0 |
| Seatpost | Devox Post.C2 |
Groupset
| | |
| --- | --- |
| Rear Derailleur | Shimano GRX RX812 |
| Crank | Shimano GRX RX600, 40T |
| Shifters | Shimano GRX RX600 |
| Cassette | Shimano M7000, 11-42T |
| Chain | Shimano 105 HG601 |
| Brakes | Shimano GRX RX400, hydraulic disc, flat mount |
Wheels
| | |
| --- | --- |
| Rims | Aluminum |
| Spokes | J-Bend, 2.0, stainless steel, black |
| Front Hub | Shimano RS470 | J-Bend, Center Lock, 28h, TA 12×100 |
| Rear Hub | Shimano RS470 | J-Bend, Center Lock, 28h, TA 12×142, 11-speed |
| Tires | Vittoria Terreno Dry, Tubeless Ready (TNT), Anthracite Sidewall, 700x40c |
| Disk Rotors | Shimano RT70, Center Lock, 160/140mm |
Video
Comparison Table
2022 Felt BREED 30 VS 2023 Trek Checkpoint ALR 5
For gravel bikes, not only do they need to be comfortable to ride, but they also need to be fast. And this 2022 Trek Checkpoint ALR 5 does it well.
A body weight of only 21.5 pounds brings an easy ride. And with a 2×11 drivetrain, this gives it enough gearing options to perform well in the face of different terrain.
Although the Felt BREED 30 uses a 1×11 drivetrain for its gearing options, that doesn't mean it's bad. Surprisingly, it still delivers great speed on the bike, and it's easier and faster to change gears.
As for the exact choice, that depends on your personal needs. In my case, I'm more accustomed to the 1× drivetrain.
Learn More: Trek Checkpoint ALR 5 Review [2023]- The King Of The Adventure
2022 Felt BREED 30 VS 2022 Marin Gestalt X11
I have to say that this 2022 Marin Gestalt X11 gives me a great feeling on the bike. The use of Marin Butted Alloy on the handlebar gives me a comfortable grip for better control and the compact 16° flared handlebar provides better control on complex roads. The use of the dropper design also further enhances my riding experience and gives me a more comfortable ride.
But if you've also ridden the Felt BREED 30, then you'll know it's no slouch either. Because the 700C size tires have great performance on gravel roads, excellent grip and traction for a smooth ride, and I enjoyed the sound it made when it crushed on the road.
Learn more : Is 2023 Marin Gestalt 1 A Perfect Selection? – [2023 Marin Gestalt 1 Review]
2022 Felt BREED 30 VS 2023 BMC URS AL TWO
Different geometric designs bring about different riding experiences, and these two bikes have different understandings of geometric design.
In terms of length, the BMC URS AL TWO has a longer top tube length and head tube length. This affects the position of the rider, which is relatively more upright than the Felt BREED 30.
The geometry of the Felt BREED 30, on the other hand, is aerodynamic, which will give you a faster ride.
As you know, the difference in geometry is about your riding habits. You can make your choice according to your habits, what suits you is the best.
2022 Felt BREED 30 VS 2023 Salsa Stormchaser Single Speed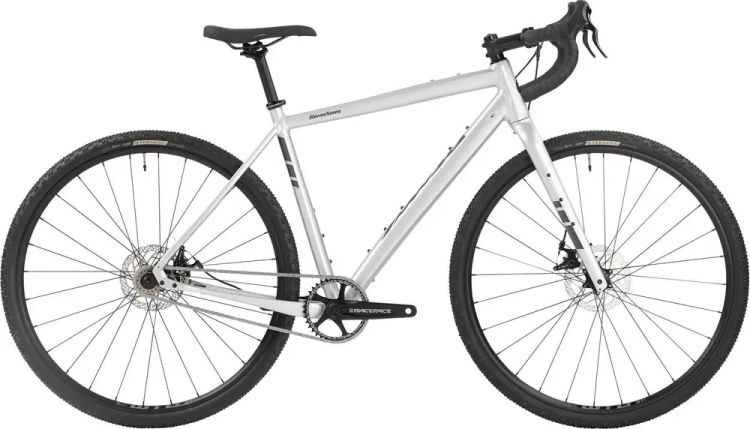 Although this 2023 Salsa Stormchaser Single Speed is also a gravel bike, it is available in only one speed, as its name suggests.
As a single-speed bike, it gives up more shifting options, so it looks more minimalist and easy to maintain. But at the same time, it is not as fast as the Felt BREED 30.
It is worth mentioning that Shimano RT30 mechanical disc brakes are used on the brakes, while the Felt BREED 30 has Shimano GRX RX400 hydraulic disc brakes. As a result, the BREED 30 has a faster response, and the powerful braking performance fully protects your ride. In addition, the 1×11 drivetrain is a different experience in terms of speed, effectively dealing with different terrains.
If you like to ride fast, then this Felt BREED 30 will be a good choice.
Learn More: Salsa Stormchaser GRX 810 1x SUS Review [2022]