We use affiliate links and may receive a small commission on purchases.
Trek Domane AL 4 Disc
Price: $1915
Wheels: 700c
Tire: clearance 35c
Drivetrain: 2 × 10
What we like about it: Higher performance and faster pedaling the Trek Domane AL4 Disc with Shimano 2×10 drivetrain with efficient hydraulic disc brakes, undaunted even by the rigors of competition!
What don't we like about it: It will be less quiet due to the efficient operation of the body.
Rating (4.7/5)
Introducrion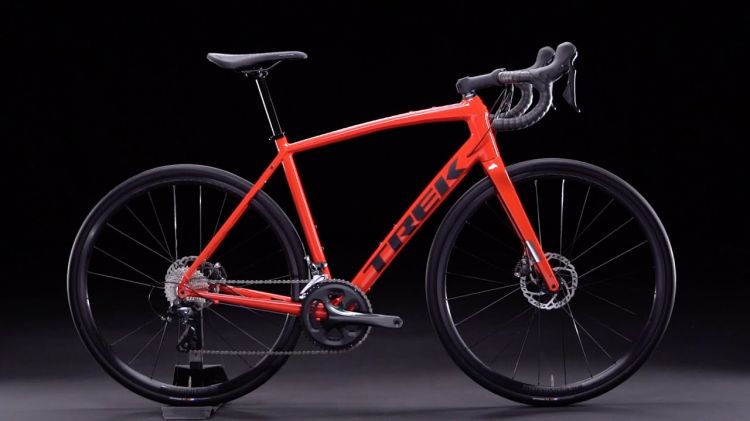 The trek brand with its race pedigree has led generations of champions to fulfill their dreams. And the newly launched classic endurance bike Trek Domane AL 4 Disc gives me enough expectation that it does better on a very good standard. Lighter and stronger 100 series alpha aluminum body combination Bontrager, 700x35c puncture-resistant tires, equipped with Shimano 2×10 speed combination Shimano Tiagra 4700, 50/34 crank drivetrain, and exclusive IsoSpeed damping technology takes you to ride faster and see more of the landscape.
You don't need to worry if you can ride this great horse enough, all models are paired with specific size components. You can feel about tailor-made comfortable riding. Even though it is an endurance bike with a racing pedigree. If you want to know more about the riding experience, please stay tuned and subscribe, I will bring more reviews.
Learn More: 2023 Trek Domane AL 2 Review – Is It The New All-Rounder?
Road Riding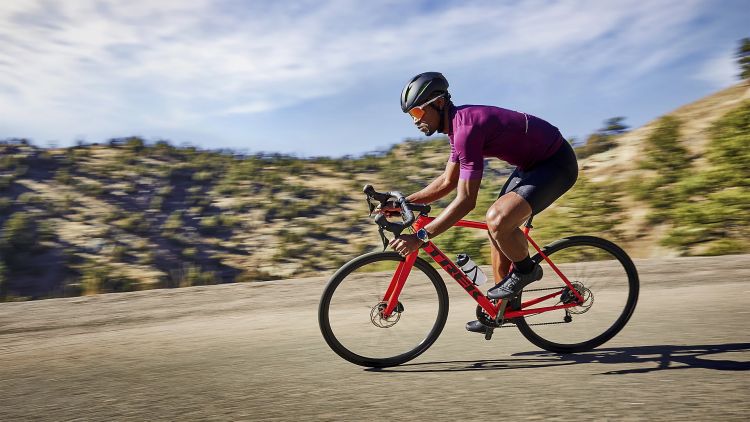 For the vast majority of Domane 4 purchasers, that heart-pounding excitement is probably not what they are currently looking for. We prefer to enjoy the more varied scenery that riding brings.
At the start of the ride, I straddled the bike that has a stiff 73.7° seat tube angle. This is relatively common for most road bikes, and I have to say it was an encouraging start for the novice. The road I chose to test the Bontrager 700x35c acceleration on was a multi-terrain stacked section of urban edge, not just smooth roads. This was evident as I passed through the more crowded lanes of downtown, and I didn't fall behind most people by riding.
On the contrary, with the trail length at 59mm, the Domane seemed very agile in weaving through crowds and obstacles. The Shimano 2×10 drivetrain started quickly and I didn't lose control of the bodywork for a short while. In addition, I don't let that stop me from exploring the city. It's important to know some of the bumpy brick-laying roads or cobblestone trails similar to an endurance course, which shows the domane's strength.
Experience
I have to say that before the ride started, my knowledge of IsoSpeed carbon forks was lacking. Since I've been riding my trek top-fuel full shock for years, I thought that only a self-traveling model could handle the bumps efficiently. But as I followed the brick pavement along the riverbank and the cobblestone trails on both sides, the wide, perfectly coordinated fork flex ensured greater vertical agility. I didn't feel the expected arm soreness and the bumps were handled very efficiently. In addition, besides my affirmation of IsoSpeed, I also noticed that the Domane design has a slight bend forward at the rear fork. This is more able to absorb road vibrations and protect the ride from fatigue.
Endurance Riding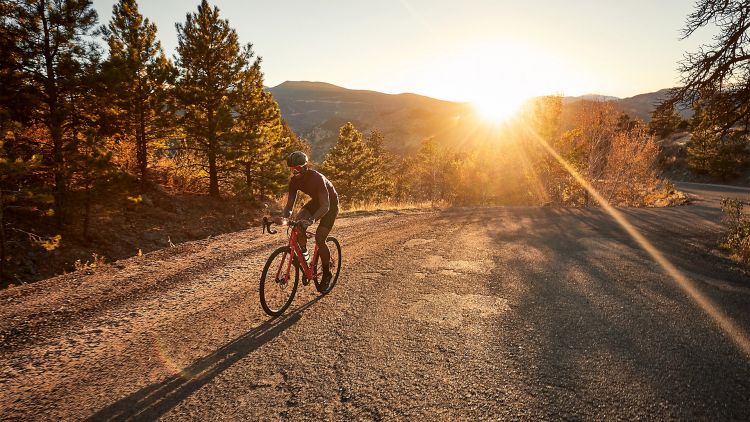 For Domane's outdoor rides, I wavered between gravel roads and classic tracks. In fact, from the bottom of my heart, I prefer the big hot gravel. But responsibly, I think the classic track is what shows its performance. Anyone familiar with this type of track knows that cobblestones, traps, and slabs are its characteristics and demand a high level of vibration filtering from the vehicle. The 100 series alpha aluminum frame is equipped with Bontrager, 60 tpi, 700x32c tires. It is more resistant to riding outdoors and can effectively resist the friction of some road bumps. Since we were not riding on gravel roads, some soft gravel roads are not as good as wider tires, such as the Marin DSX 2 series with 45c tires. But in terms of acceleration and launch response, it was certainly superior as well.
In terms of damping, as I described earlier, the Iso speed fork damping handles these frequent but not violent bumps very efficiently. I noticed the huge head tube at the front of the bike, which counteracts the vibrations through the built-in damping unit. So I think this is ingenuity that no other model can reach.
Also, on some of the rising climbs, I think the Shimano 2×10 speed far outperformed my city road riding, and it shined! Combining Shimano, and 50/34 crank technology, I was able to easily leave the competition behind and eat dust. And from my riding experience, you can challenge some low-difficulty forest road riding. After my 3h long ride, I burned through the Keenan 800CAL this weekend. Since the Bontrager Elite stem is compatible with installed Bluetooth speed and cadence sensors to connect to my phone, I look at every ride as a healthy workout and very purposeful.
Main Features
Frame
When we got this almost all-around enduro bike, I marveled at its texture of it. The seamlessly finished 100 series alpha aluminum body is almost carbon, and especially with this black domane I rode, I thought I was getting a lot of attention when I rode it. It's a little bit of an eye-catcher.
Of course, in terms of outdoor friction resistance, I think the aluminum alloy balances light weight and sturdiness in one. In addition, because it is equipped with IsoSpeed damping so his head tube is huge for some bumpy rides or crashes caused by some sharp turns. This design can greatly improve the stiffness of the head tube and achieve precise handling. And I think it is also very necessary for the confidence of descending terrain.
I must also mention that for choosing a Domane, you can stop worrying about the limitations of body size. All models are paired with specific size components, such as stem, handlebars, and crank length. This is certainly the biggest help for riding comfort. In terms of detailing, such as efficient and neat internal alignment, both shifting and brakes are accessed through hidden alignment ports through the down tube five-way to the brake and shifting positions. Even when I'm in a hurry, I can effectively avoid the hose being dragged.
Geometry
As I said, there's nothing more inspiring than an easy start. Of course, the ease you can feel, besides the user-friendly frame geometry, is also inseparable from the steep 73.7° seat tube angle. It will make your sitting position closer to upright and you will be able to ride longer term.
In addition, if you are riding Domane, you will find that the steering is more responsive and the ride becomes sharper. Compared to the AL 2 of the same series, getting shorter on the wheelbase (59mm) will speed up this process. But you don't need to worry too much about losing control at high speeds. The lower BB height (25.6cm) allows for a lower center of gravity when riding, allowing you to easily control the body. Don't underestimate these geometry figures, just a small change will make a big difference to the ride.
Components and Specifications
IsoSpeed Shock Absorbing Fork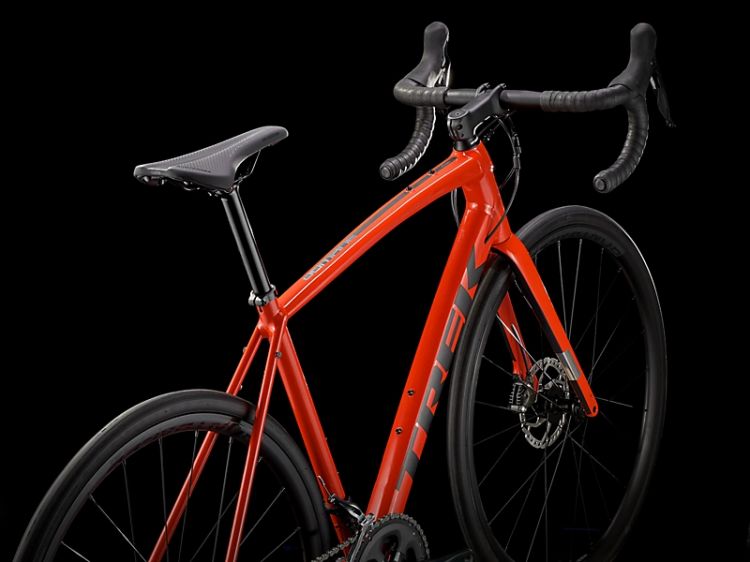 If you see the Domane series, you'll understand what I'm talking about. Trek has incorporated more comfort into the Madone line. And in terms of damping, the Domane doesn't passively change the shape or material of the geometry. Although I think that the 100 series Alpha aluminum has made a lot of efforts to absorb the vibration. But I still have to introduce the main character today – Isospeed damping.
Unlike the full-suspension line with full suspension, the IsoSpeed components are incorporated into a more massive head tube. In the process, the head tube is also reinforced. In addition, as with mountain bike fork and rear gut air pressure adjustment, this is extremely effective in increasing compliance for a smoother ride.
According to Trek, with this upgrade, the Domane can improve its suspension by 10% without sacrificing body control. The vehicle stays firmly on the ground during the ride, and there are no more of the old jitters that would bounce higher and higher the harder you pedaled on a classic track. You will still maintain an even forward direction.
Shimano Claris 2×10 Speed Drivetrain
I have to say, as much as I'd like to call the Domane an all-rounder, I still have to admit that the outdoor riding performance shines more than the inner-city commute. Like the Shimano Claris I've described, the 2×10 drivetraiin shows a lot of energy for some endurance rides.
Because of its wider gearing options, I know that most models are now subtracting from the drivetrain and favoring single-disc drives. But for endurance racing where the stamina has been preserved for a long time, I prefer 2x or 3x drivetrains.
You have to accept that it is not as quiet and easy to ride compared to a single-disc 1x drivetrain. But it must be admitted that at this price, you are buying a Shimano Claris-equipped race bike with a 2×10 drivetrain adapted to more difficult climbs.
Bontrager, 60 tpi, 700x32c
From the time I started riding the Trek Domane AL 4, it was obvious to me that it was more composed than the AL 2. This is due in large part to his wider 32c tires. Although it doesn't handle air resistance as efficiently as the 28c, it can get you up to speed quickly.
Compared to many endurance bikes nowadays that opt for 40c or even bigger number tires, I think the Trek Domane AL 4 has been thought through more thoroughly. And because of the nature of the vacuum tire, coupled with the 60tpi density, when you ride outdoors, you don't need to squeeze the tire too much even with drop-off drops. And when I ride on the forest road also do not need to worry about the risk of puncture. In addition, with the efficient operation of the Isospeed damping fork, and can be greater to absorb the vibration from the ground.
Other Versions Of Domane
2021 Trek Domane AL 4 Disc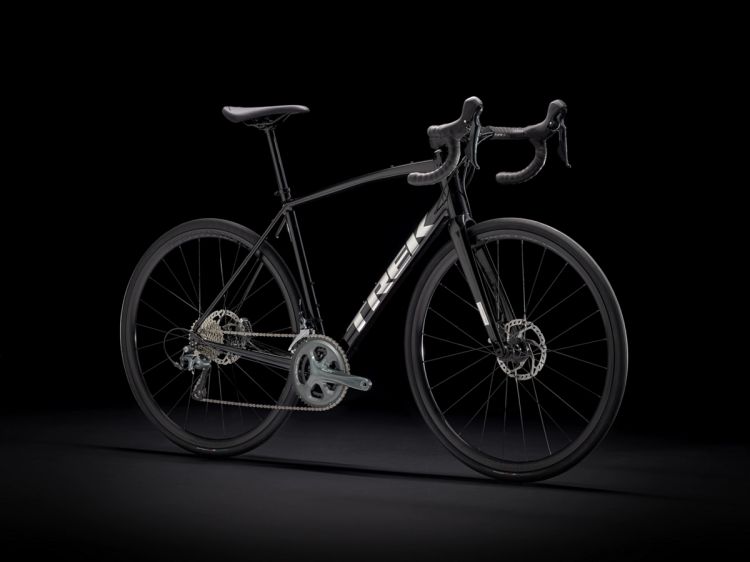 The 2023 Domane AL 4 is not much different compared to the 2021 version of the Trek Domane AL 4 Disc. It continues the Domane classic. Because of my love for this series, I will compare this version of the 2021 AL 4 Disc in terms of several key values.
For a price in the frame of $2029, and regardless of whether the higher price can harness more components. From the drivetrain alone, the Trek Domane AL 4 Disc does have a richer tuning. But regardless of the brake components, both opt for more expensive hydraulic disc brakes. And both choose a 700x35c size on the wheelset, which neither sacrifices speed nor reduces friction for acceleration or outdoor riding.
I think this is an optimal size, so the Domane series carries thorough retention. In addition, both have a clear preference for the 100 series alpha aluminum combined with a carbon fork from the frame. So in terms of strength and lightweight performance, both are almost identical. Plus for trek's unique Iso speed dampers added, it's a faithful choice for endurance riding.
To sum up, I think we see more continuity in the 2023 version of Trek Domane AL 4.
What we like about it?
Classic endurance bike, you can hardly pick more flaws in the bar.
In the face of a harsh riding environment, more abundant power support to take you farther to ride.
Sharper tire components so you can quickly cross the speed limit.
Lightweight but sturdy aluminum frame with a cost-effective carbon fork.
Trek's exclusive Iso speed shock absorbing fork makes your ride easier.
Multi-size component options to give you the ability to create tailored needs.
What don't we like about it?
Can't do more within the existing price framework.
No more beautiful colors to choose from.
FAQ
What is the tire size of the 2023 Trek Domane 4?
The tire size of the 2023 Trek Domane 4 is 700x35c.
What is the 2023 Trek Domane 4 drivetrain?
The 2023 Trek Domane 4 drivetrain is Shimano 2×10 drivetrain.
How do you recommend the 2023 Trek Domane 4 size chart?
The 2023 Trek Domane 4 size chart.
SIZE
Rider Height
47
152-158cm
5'2''-5'4''
50
158-163cm
5'2''-5'4''
52
163-168cm
5'4''-5'6''
54
168-174cm
56''-59''
56
174-180cm
5'9''-5'11''
58
180-185cm
5'11''-6'1''
60
185-190cm
6'1''-6'3''
62
190-195cm
6'3''-6'5''
Video
Comparison Table
2023 Marin DSX FS vs 2021 Trek Domane AL 4
It's a shame that the Trek Domane isn't classified in this category compared to the recent gravel road bike craze. Compared to the Marin DSX FS that most people choose, the Domane's 700x35c wheelset will accelerate and start faster than the Marin DSX. But in terms of grip, the Marin's 45c is even better. Although this also means that it will struggle more against rising terrain. Without the exclusive IsoSpeed damping like the Domane, I don't think the carbon fork material alone will provide much of a boost to a comfortable ride.
Also, if you notice the drivetrain piece of both, Domane's Shimano 2×10 drivetrain is richer than the Marin DSX. Although for the novice, the single disc will be easier. But for more demanding terrain climbing, but also save you a lot of trouble to upgrade. In addition, the same hydraulic disc brakes take the two and played a tie in this aspect of braking.
All things considered, I think the Domane will be slightly better, both in terms of long-term riding considerations and in terms of its ability to adapt to more terrain.
learn more:2023 Marin DSX 2 Review-Made for Fun Riding
2022 BMC Roadmachine X AL, ONE vs 2021 Trek Domane AL 4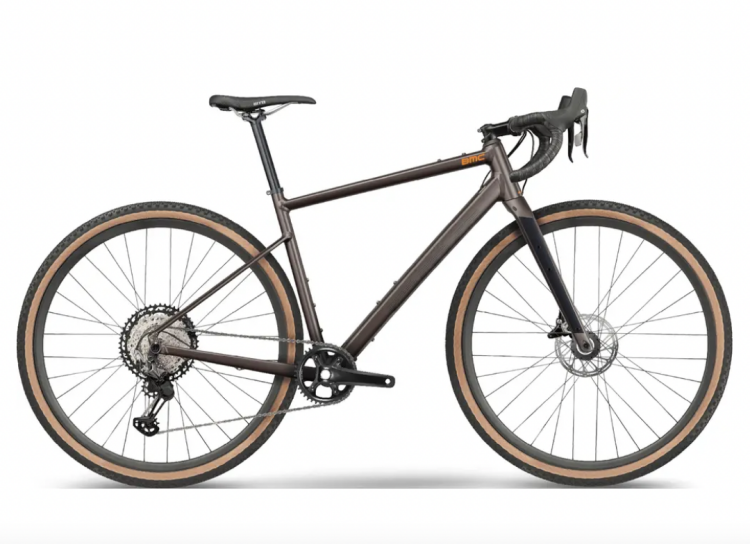 The slightly higher price of the BMC Roadmachine is a bit so unconscionable compared to the Domane, which can choose its component size. In addition, if you notice his huge wheelset, you will understand that the Roadmachine is designed to be more stable.
Whether in accelerated driving or climbing performance, I think the Domane 35c has more advantageous tires. Although in the drivetrain Roadmachine's 2×11's range of speed regulation will seem more abundant. But if riding in more demanding terrain, like more continuous ascending terrain or bumpy rock gardens, I don't think you can ride farther and longer if you can't have an IsoSpeed-damping fork like the trek exclusive. Although the seat tube angle of 74.0° gives the rider a more upright position. But without more technology, you'll get bored quickly. All things considered, I would prefer the smarter domane.
learn more:BMC Roadmachine X Two Review [2023]- Taking You On The Ultimate Comfortable Road Enduro Ride
2022 Bianchi Via Nirone 7 – GRX 400 vs 2021 Trek Domane AL 4
In comparing the Bianchi Via Nirone 7 with the Trek domane, it is clear that the Bianchi Via Nirone 7 is slightly better in terms of liveliness, though.
But comparing the components you will see that it is really hard to tell the difference between the two. With the same size 700x35c wheelset, with expensive hydraulic disc brakes, and the same 2×10 speed drivetrain range options.
I prefer the Domane's optional component sizes when looking at the details. It is more user-friendly for the rider's ride and has an exclusive IsoSpeed damping fork. Facing more bumpy terrain or difficult climbs, the Donmanecan handle more aggressively.
If you look at it from the perspective of choosing the best of the best, I would say domane is more appropriate.
Bianchi Via Nirone 7 Review [2023]- GRX 400 Review – Newest
2022 Trek Domane AL 5 Disc vs 2021 Trek Domane AL 4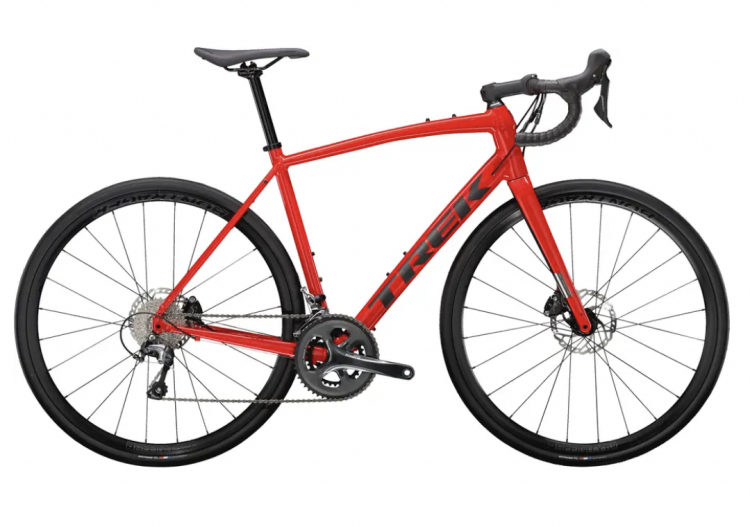 As much as I hate to admit it, it's hard to be more innovative with the existing endurance bike framework. the Domane series' unique IsoSpeed damping and the design of more size-selective components leave too much of a classic impression on me.
So much so that it's hard for me to see more surprises in the Trek Domane AL 5, even though it's already so good. It's still a continuation of the classic: 100 series alpha aluminum with a carbon fork, 700x35c wheelset, and expensive hydraulic disc brakes. But on the drivetrain, he still made some upgrades to reach a value of 2×11 speed.
Compared to the Domane AL 4, the 2×10 drivetrain, not only is it an upgrade in components, but for the challenge of more difficult terrain, you can go completely further. So if you're having a hard time deciding between the two, think about which step we as riders would prefer to take the challenge.
In case, the above comments are helpful to you, please remember to share the subscription. Have a great day!
Learn More: 2023 Trek Domane AL 5 Disc Endurance Bike Review– Would It Be The Endurance Bike You Want?