We use affiliate links and may receive a small commission on purchases.
2023 Marin DSX 2
Price: $1,349
Wheels: 700c
Tire: 45c
Drivetrain: 1×12
What do we like about it: Great value for money gravel road bike with a full carbon fork combination Shimano-grade 1×12 drivetrain combination and more expensive hydraulic disc brakes for the perfect amount of fun riding.
What we don't like about it: It couldn't have done better in traversing steeper and more severe mountain terrain.
Rating: (4.6/5)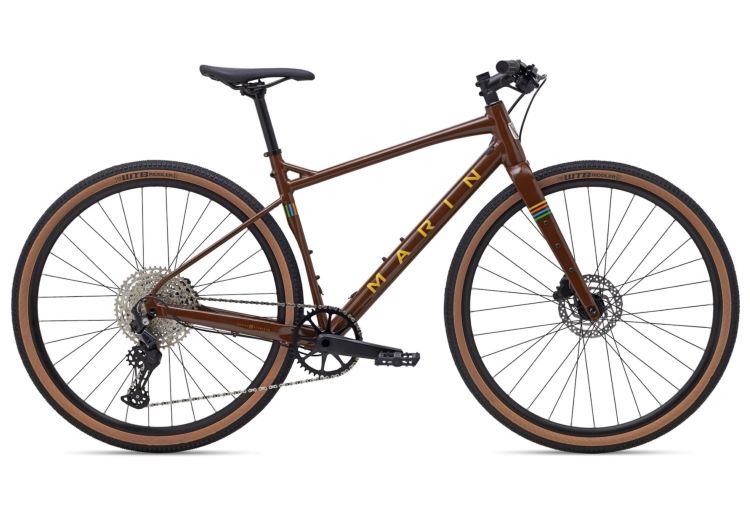 Introduction
Born to be ridden for fun, Marin bikes have always been made to be found for fun. If you are starting to ride and want a high-quality bike to enrich your life, I would recommend you start with the 2023 Marin DSX 2.
Superb value for money at $1369 with the lightweight and sturdy Series 3 DSX, 6061 Aluminum frame, more expensive and swift Shimao Hydraulic, combined with a high-performance Shimano Deore 12-Speed drivetrain. There's nothing more exciting than a start like this.
Whether you need a more affordable city commute or a more inclusive outdoor adventure. Especially for the gravel roads that are so popular, the Marin DSX is perfectly capable of handling them.
So if you just want to simply buy a bike and don't want to spend time comparing all kinds of performance, give it a try.
Commuter Riding
Since I spend a lot of time riding more difficult mountain bikes, I would ask myself, "Who would be better suited for this bike that runs so transparently?" But after a few months of testing, I tried to sub myself into a simpler role. I came to a different conclusion than I initially thought, and I prefer to stay on the frame of this 2023 Marin DSX 2 longer and longer.
At the beginning of the ride, I'll take the Marin DSX 2 for city shuttles to test it out. I was able to get into a riding groove pretty quickly thanks to the lightness of the steeper 74.0°seat tube angle.
If you're a complete novice, you'll probably understand what I'm stating. Pedaling with the WTB Riddler, 700Cx45mm tires will be more solid. It rolls and accelerates with a sense of weight, which is different from the narrow tires I use for years of riding. Just before I tested the Cannondale Topstone 4, I thought it was big enough for traction with its 700x37c tires, but this Marin DSX 2 gave me a much better feeling.
In addition, with the Shimano Deore 12-Speed combination Aluminum, 42T Steel Narrow Wide Chainring crankset, I was able to maintain the efficiency I needed even in the face of some accelerated riding sections, without the dragging feeling of big tires.
City/Park
Due to the multiple formations overlapping that urban riding faces, such as more brick-lined roads. This terrain gives the body frequent and sharp bumps, while the 700Cx45mm tires make this ride easier and I was able to completely crush and ignore these obstacles.
Although there is no longer travel suspension, a clever design was made in the material with a higher spec Marin Full Carbon w carbon fork. So even though we sacrificed the damping travel of the fork, we also maximized the use of the material to absorb the vibration.
I think it's the best of both worlds, reducing the weight of the body without sacrificing the performance of the damping. This struck a chord with me on a short uphill section in the park. I didn't feel the pedaling become strained or slippery during this 8% or so ascent, despite the watery branches and gravel on the ground from the rain.
Also, due to an oversight on my part, I didn't install the fenders in the first place. This caused me to splash mud on my back on this little ride after the rain. I think this is a must for commuters to go ahead and install first. Also, you can install a rear rack so you can add to the storage function.
Gravel Riding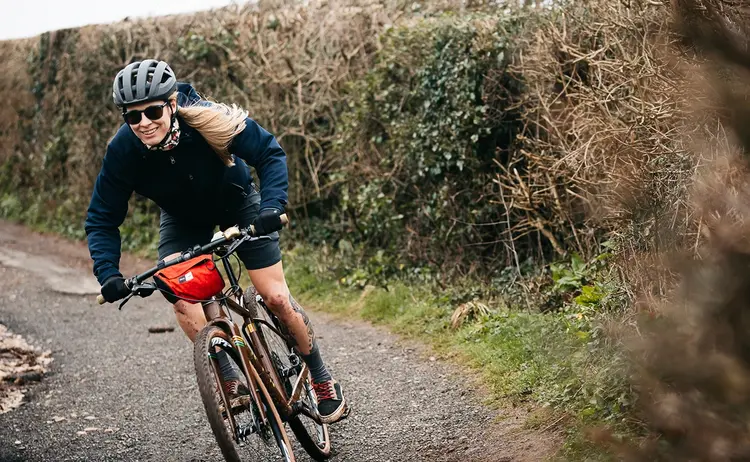 While mountain bikes are prevalent in the city, gravel road bikes are quickly showing their charm again. It has so much more variation than normal road driving at 200km that it can be called versatile! The WTB tire belongs to the absolute leader in gravel road riding.
And the 700Cx45mm tires allow you to run like a kid and go farther than you expect, which is very exciting. That's why I'm extremely obsessed with gravel riding, and when I get out on the paved roads with the Marin DSX 2, I think the real adventure is just beginning.
Forest Trail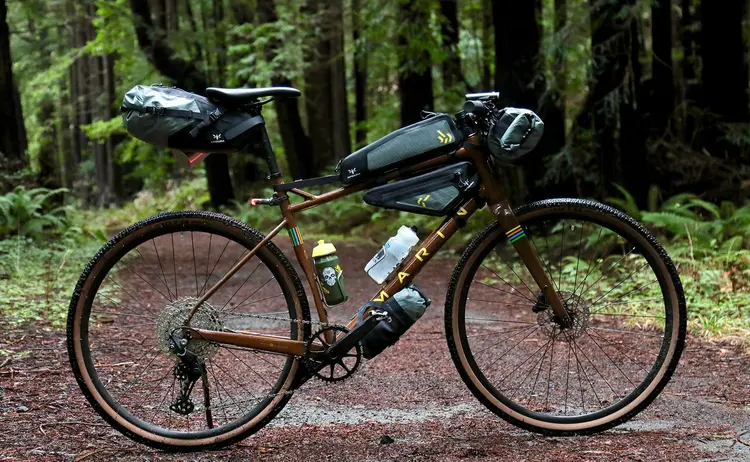 Compared to the rapid physical exertion of mountain and cross-country biking, gravel road riding takes you as far as possible to places you have never been. I even saw friendly wildlife that I had never seen before as I headed into the forested wrap-around roads, and I never felt so great. Of course, the Marin DSX 2 drivetrain is what made the ride so enjoyable.
The Shimano Deore 12-Speed combination Aluminum, 42T Steel Narrow Wide Chainring crank with Marin Full Carbon w carbon fork, even in the face of a more variable environment I am still comfortable dealing with. Although at the end of one of the roads was a rushing river that passively forced me to stop, otherwise I would have been riding into the darkness of the day.
But it also surprised me how quick the Marin DSX 2's brakes are. When I rode the Cannondale Topstone series, the Marin DSX 2 opted for the more expensive and modern liquid disc brakes, even though they were close in price. This is something I didn't expect. I mean, at $1369 for the frame, the Marin DSX 2 is very sincere in its assembly of components.
When I finish my day of riding, I find that the saddle on the Marin DSX 2 is comfortable and more accommodating in size compared to my mountain bike. I didn't feel any muscle trouble, even though I rode for over 4h today.
Honestly, I also believe someone said: "If you only have one bike, it's a gravel bike." I can go almost anywhere and ride the Marin DSX 2. It has all carbon technology, Shimano components, and WTB tires. That's right, all assembled on one bike.
Main Features
Frame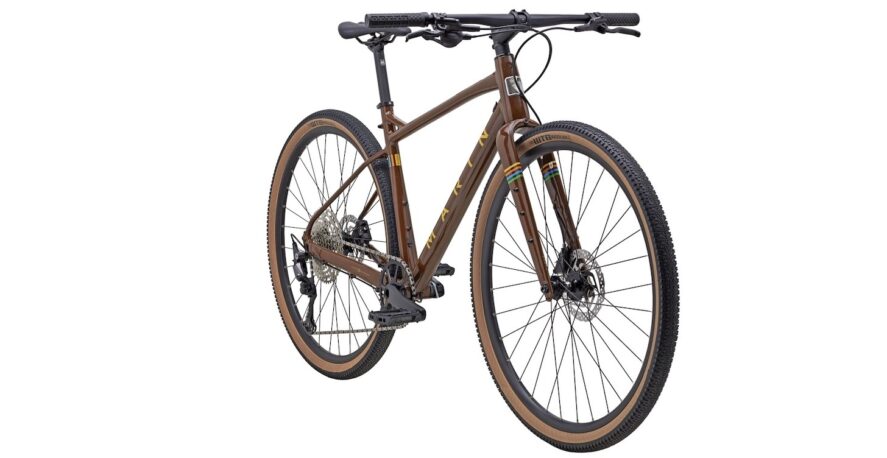 Marin DSX 2 chose Series 3 DSX, 6061 Aluminum for the frame. You will find that compared to the carbon frame, the alloy is more suitable for novices to adjust professional components such as the seat post.
Even in outdoor performance, the alloy frame reflects more toughness. In addition, the wiring of the entire bike is transmitted by way of internal cabling. The high level of simplicity achieved by the completely internal cables and hoses running through the frame and fork makes cleaning a breeze after a muddy outdoor section.
This time I rode it in brown color and with a frame and fork with some colorful details. I know it will be a bit raw and wild and not to everyone's taste. But it sure helps hide the dirt, unlike the white DSX 1!
I noticed that there will be some users complaining about the lack of the Marin DSX 2 being at risk of dropping the chain when hitting very big bumps, but I can offer you a solution – a small chain protector. It will both protect the paint from any chain slap and reduce the risk of dropping the chain.
I also noticed that the Marin MTB straight handlebar design, which is more friendly to the riding position, allowed me to become very focused and more concentrated in terms of muscle power during the ride. Also after riding the Marin DSX 2 for close to 4h across outdoor gravel roads, I didn't doubt the comfort level of the Marin DSX 2 saddle.
Geometry
The steep seat tube angle of the Marin DSX 2 (74 degrees) will be more upright for the riding position, allowing me to feel relaxed and comfortable from the start of the ride. And if I need to do some upward terrain climbing, it doesn't make me feel more burdened. Of course, this will require some adjustments to your riding position. You can do some of the more prone positions that professional mountain bikers use when sprinting.
The 68.5°head tube angle and 87mm trail length allows for relatively fast steering on flowing trails with lots of turns, and you won't have to worry about the threat of losing control at speed.
This will be more stable than most mountain bikes, and the 278mm trail height does a good job of shifting the center of gravity down when riding, so we can maintain a high level of control over the ride. So for the frame weight of the body, it's also a test for rapid driving.
Components and Specifications
WTB Riddler, 700Cx45mm
As a household name in professional tires, WTB is often paired with their tires even on higher-end mountain bikes, such as the topstone carbon series. So for the $1369 Marin DSX 2 to use the WTB Riddler, 700Cx45mm I think it's a great value.
Also, if the terrain you need to ride on is variable, such as inner-city commuting or gravel roads, I think the 700Cx45mm is still a good fit. You won't have to worry about drifting out of speed on wet roads after rain or losing traction for the loose dirt you encounter on wilderness rides.
And if it's some rising climbing terrain, the tires can ride firmly against the ground, giving you more stability and control on your ride. Although there will be a number of models pursuing a unique personality, such as some cars loaded with small 27.5″ tires. They will bring flexibility, but at the same time will lose some speed beyond.
Shimano Deore 12-Speed Drivetrain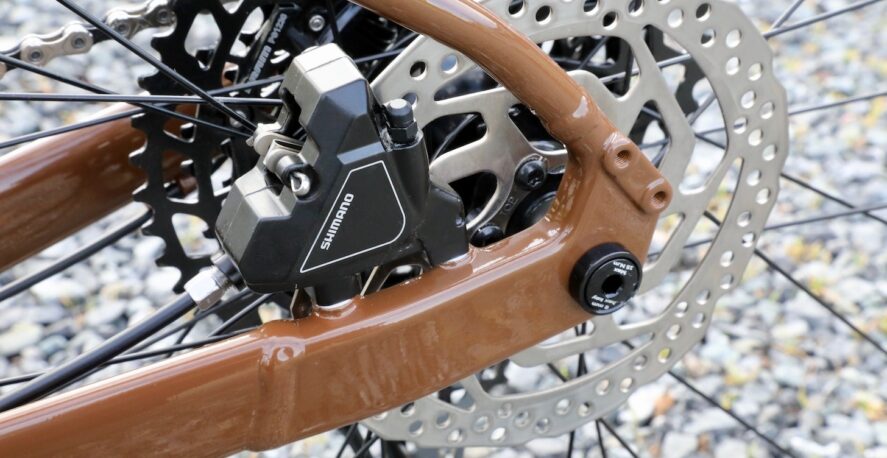 Although nowadays, many gravel road bikes still retain the 2x or 3x drivetrain of mountain bikes, in my opinion, this is not good for splitting gravel models from the mountain bike range.
So I was pleasantly surprised when I saw that the Marin DSX 2 has a Shimano 1×12-Speed drivetrain. It will be lighter, sleeker, and easier. As much as I hate to admit it, the truth is that I have a hard time picking any faults with the 1× drivetrain.
Thanks to its wide range of shifting options, the 2x is not as versatile compared to the Giant Revolt. But on my outdoor rides, it still had easier handling, a smooth pedaling feel, and enough power to help preserve my energy.
Of course, I rode on moderate gravel roads, and although there was rising terrain, it wasn't very steep or rugged. So if you need to make the terrain more difficult, you can also do some upgrades.
In addition, I must emphasize that due to the upgrade in technology, 1x drive tooth discs are designed with positive and negative tooth structures. So you don't have to worry about dropping the chain when facing shifting.
Shimano Hydraulic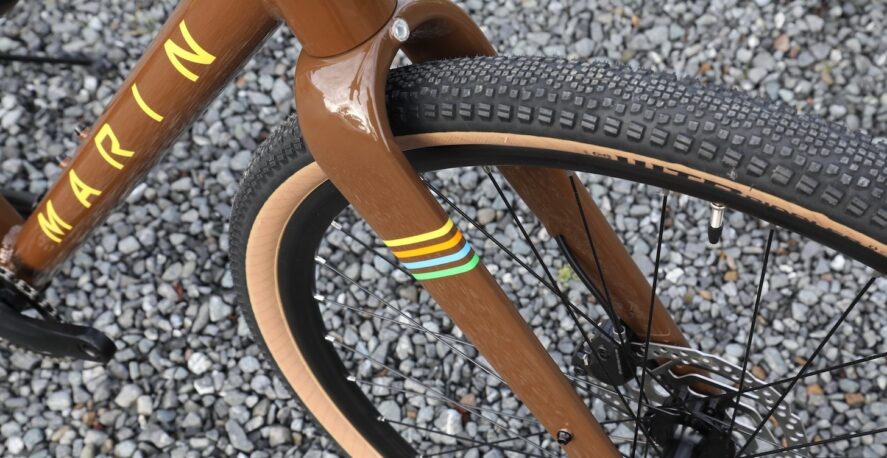 Today most gravel road bikes have mechanical disc brakes, like the Cannondale Topstone series. But I was very pleased that the Marin DSX 2 was able to opt for the more expensive liquid disc brakes in a $1369 frame. Compared to traditional 2x or 3x shifting, we can't do much better on demanding mountain riding though.
But on my wild forest road rides, I would shift the gearing to maximum when facing some ascending terrain climbs, allowing me to save more energy for the rest of the ride.
I must remind you that on gentle sections, you must remember to change its sensitive speed to the right range, otherwise, it will easily cause pedaling.
I have to say that the Shimao Hydraulic made me fully appreciate the benefits of sufficient speed range and a sheer gear ratio.
In addition, the Giant Revolt is more suitable for city commuting and gravel road traversing, the smooth and non-jarring gear shifts, while the liquid disc braking is also superior in the lightweight class.
And you don't need to worry about the risk of dropping the chain due to acceleration, as the Shimano positive and negative gear structure can effectively reduce the risk.
Other Versions Of Marin DSX
Of the 2023 version of the Marin DSX series, the ones I'm most interested in, besides the DSX2 mentioned in the article, are the DSX1 and DSX FX. Let's start the comparison with the DX1, which is a much closer version. Both are kept within the entire framework of the Marin DSX basically.
By that I mean they have the same size WTB, 700x45c wheelset. That's a relatively large number if you look at gravel road bikes as a whole.
The Cannondale Topstone series, for example, or the Giant revolt series, both opt for a more modest 700x37ish wheelset size. This is for the riding experience, a larger wheelset means it will be more stable and able to face bumps aggressively.
Of course, there is no denying that it will face greater constraints in terms of acceleration. But the Shimano drivetrain of the Marin DSX series is also very efficient in solving the problem of lack of power.
Although compared to the DSX2, the DSX1's 1×11-speed drivetrain will have a slight disadvantage, reducing the range of options by one notch. In terms of braking, which I appreciate, both use liquid disc brakes and stick to the Series 3 DSX, 6061 Aluminum for the frame selection.
2023 Marin DSX FS
The 2023 Marin DSX FS adds more possibilities to the design. For example, with a better weight-saving fork with 60mm front travel carrying an air spring, I think it might be more like a hardtail model adapted to gravel roads. So if you want to do some more difficult climbs, you can also choose this bike. Although on descending terrain, it may not behave very friendly, requiring you to make further bodywork upgrade options.
It retains almost all the DSX features (700x37c wheelset size, 1×12 speed drivetrain, and liquid disc brakes) on some important components like wheelset and drivetrain and even brakes.
What do we like about it?
Value-for-money gravel road bike with more expensive liquid hard drive.
700x45c wheelset with stronger lapping force to reduce the vibration of bumps.
Loose and free geometry frame to support the installation of fenders and rear rack.
Aluminum body frame, more aggressive to face the outdoor friction.
The efficiency and simplicity of internal wiring can reduce drag at high speeds.
Highly artistic color scheme and very resistant to stains.
What do we don't like about it?
Unable to do more youthful and beautiful in color.
There is no more aggressive way to deal with the harsh terrain.
FAQs
What is the tire size of the 2023 Marin DSX 2?
The tire size of the 2023 Marin DSX is 700x45c.
What is the 2023 Marin DSX 2 drivetrain?
The 2023 Marin DSX drivetrain is Shimano Deore 12-Speed.
What is the brake of the 2023 Marin DSX 2?
The brake of the 2023 Marin DSX is Shimao Hydraulic.
How do I choose the 2023 Marin DSX size?
| | |
| --- | --- |
| Size | Rider height |
| SM | 5'2″ – 5'7″ |
| M/D | 5'5″ – 5'11" |
| LG | 5'9″ – 6'3″ |
| XL | 6'1″ – 6'4″ |
Marin DSX 2 Specs
| | |
| --- | --- |
| FRAME | Series 3 DSX, 6061 Aluminum, Tapered Head Tube, Relieved BB, Internal Cable Routing, Mudguard and Rack Mounts, Flat Mount Disc, 142x12mm Thru-Axle |
| FORK | Marin Full Carbon w/ Tapered Steerer, 12mm Thru-Axle, Flat-Mount Disc, Fender Eyelets |
| RIMS | Marin Aluminum Double Wall, 21mm Inner, Disc Specific |
| HUB, REAR | Shimano Forged Aluminum, 142x12mm, Microspline, Disc, 32H |
| HUB, FRONT | Forged Aluminum, 100x12mm, Centerlock, 32H |
| SPOKE, NIPPLES | 14g Black Stainless Steel |
| TIRES | WTB Riddler, 700Cx45mm |
| DERAILLEUR, REAR | Shimano Deore 12-Speed |
| DERAILLEUR, FRONT | – |
| SHIFT LEVER | Shimano Deore 12-Speed |
| CRANKSET | Forged Aluminum, 42T Steel Narrow Wide Chainring |
| BOTTOM BRACKET | Sealed Outboard Bearing |
| CHAIN | KMC X12 |
| CASSETTE | Shimano Deore 12-Speed, 10-51T |
| BRAKE, FRONT | Shimano MT201/UR300 Flat Mount Hydraulic Disc, 160mm Rotor |
| BRAKE, REAR | Shimano MT201/UR300 Flat Mount Hydraulic Disc, 160mm Rotor |
| BRAKE LEVERS | Shimao Hydraulic |
| HANDLEBAR | Marin MiniRiser |
| STEM | Marin 3D Forged Alloy |
| GRIPS | Marin MTB |
| HEADSET | FSA No.42 ACB, Sealed Cartridge Bearings, 1 1/8" x 1 1/2" |
| SEATPOST | Marin Alloy |
| SADDLE | Marin DSX |
| PEDALS | Commute Platform |
| EXTRAS | Bolt-On Thru-Axles F and R |
Comparison Table
GT Grade Elite vs 2023 Marin DSX 2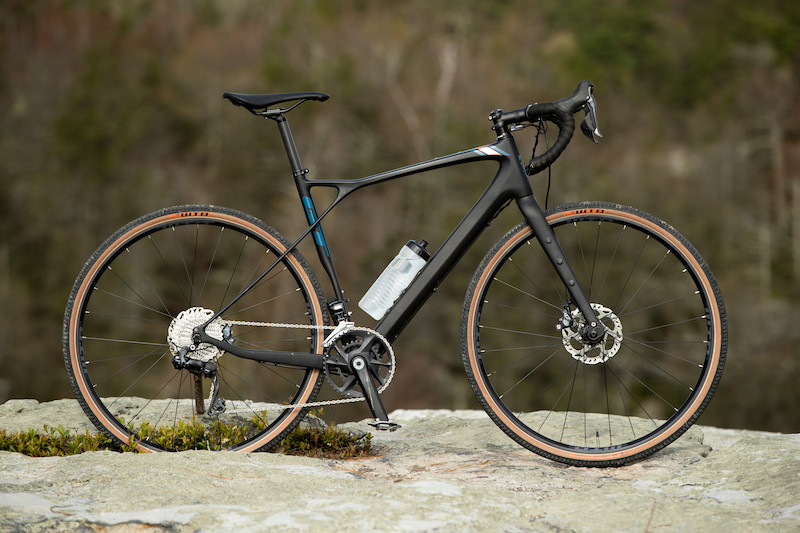 GT, who likes to play with creativity and mix and match, has gained a good reputation in the field of gravel road bikes since the launch of the Grade Elite series. When I compared the two bikes, I preferred the DSX2 with its 6061 Aluminum frame, which I think is slightly better than the GT Grade Elite's Grade Alloy Frame in terms of material flexibility and lightness.
In addition, the Grade Elite has a steeper seat tube angle, which means you'll need to make posture adjustments for some climbing performance. Of course, the two are basically the same in terms of riding comfort.
And in terms of component performance, the GT opts for the more traditional Shimano Claris, 2×8 speed with a mechanical hard drive, which will be slightly inferior to the DSX2's 1×12 speed with the more agile and expensive liquid disc.
Of course, in terms of tire choice, both opt for the WTB brand. Although the width is different, the DSX2's tires reach a level of 45c, which is not common in urban commuter riding and is not as good as the GT Grade Elite's 700x37c wheelset level for acceleration.
But in terms of crushing effort and grip strength, the DSX2's 700x45c standard would be more appropriate. If you are riding after rain for city commuting, I believe that this will be a great help to you.
Learn More: Focusing On Fun Rides-2022 GT Grade Elite Review
Giant Revolt 2 vs 2023 Marin DSX 2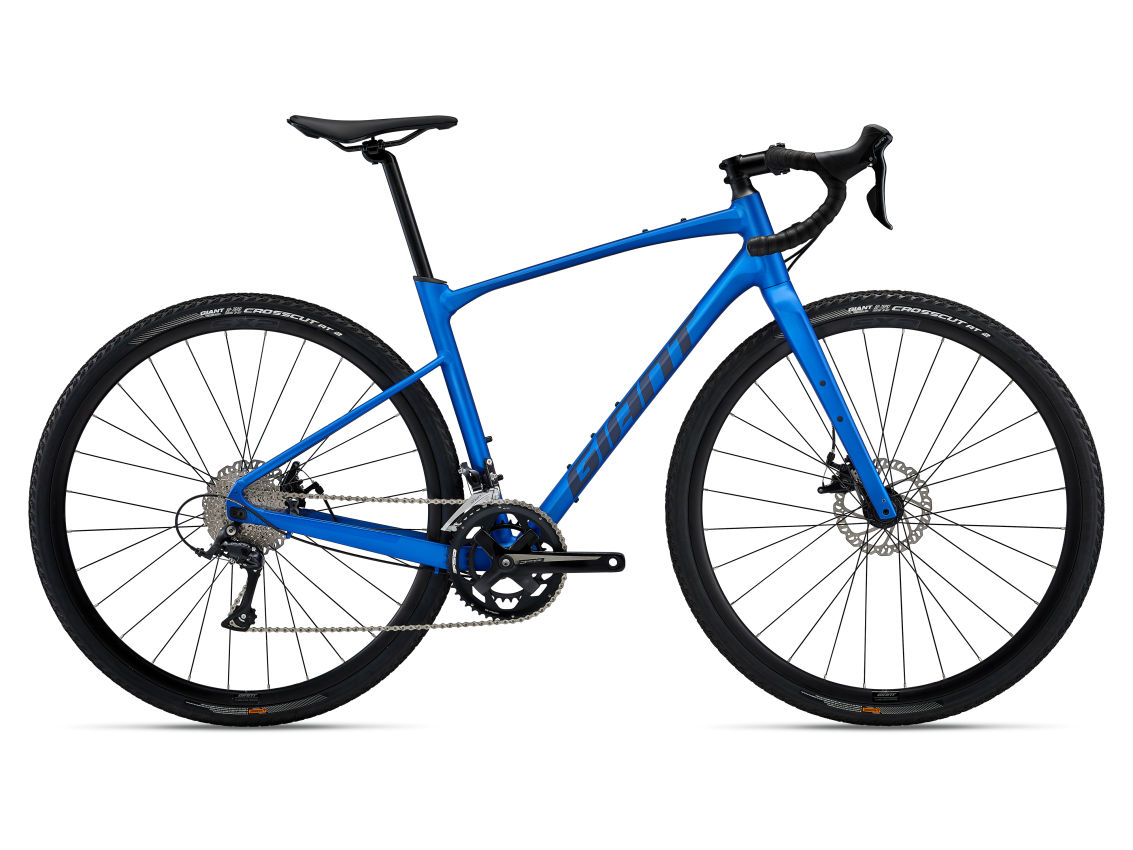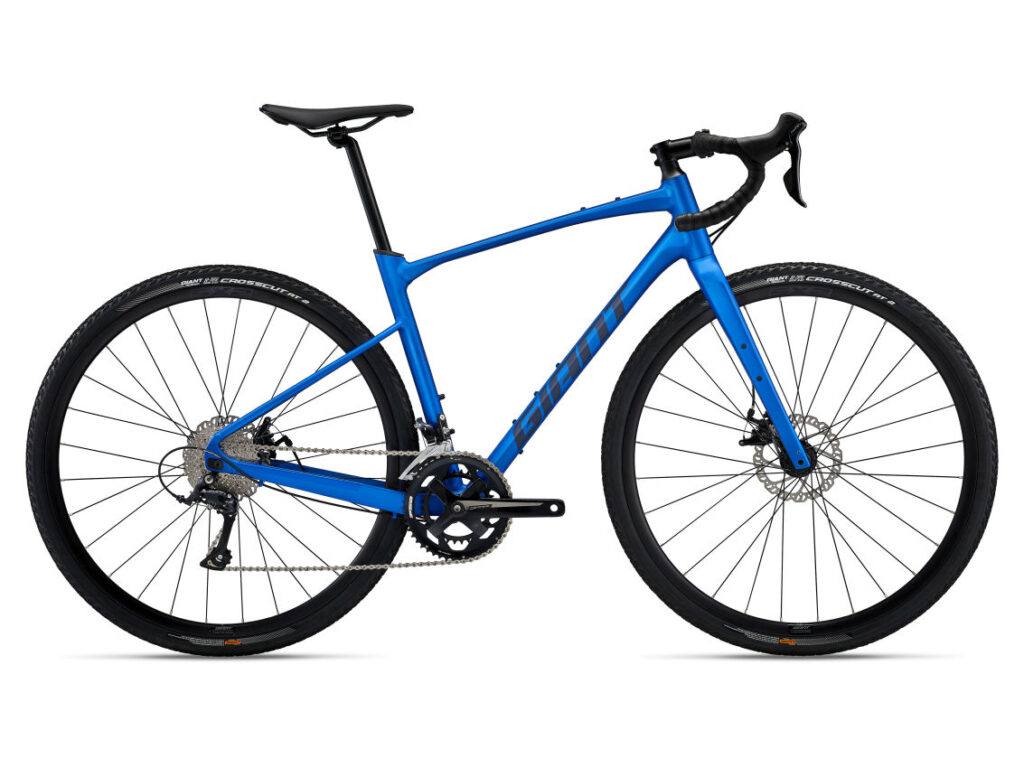 For the vast majority of gravel road bikes, the DSX2's 700x45c wheelset is uncommon. Even when compared to the equally good Giant Revolt 2's 700x38c size, it's a ride that can definitely claim to ignore minor obstacles when it comes to crushing pressure.
And if you are facing some slippery road sections, such as a forest road with winding tree roots and a city road after rain, it can carry out effective grip friction. Of course, in the speed sprint or start, DSX2 is also no way to get rid of the weight of the suppression.
In terms of drivetrain, the Revolt 2 opts for a richer 2×9 speed drivetrain. Although I think in more difficult, or hilly conditions, the range of speed options would be more extensive. But if you're a novice with little experience this is more complicated than the DSX2's Shimano Deore 12-Speed.
In terms of braking, which is more important to me, I think it's not easy to have liquid disc brakes in a $1,369 frame. All things considered, I prefer the DSX2 with more upgraded components.
Learn More: Excellent Quality And Reasonable Price-2022 Giant Revolt 2 Review
Salsa Journeyer Flat Bar Deore 700c vs 2023 Marin DSX 2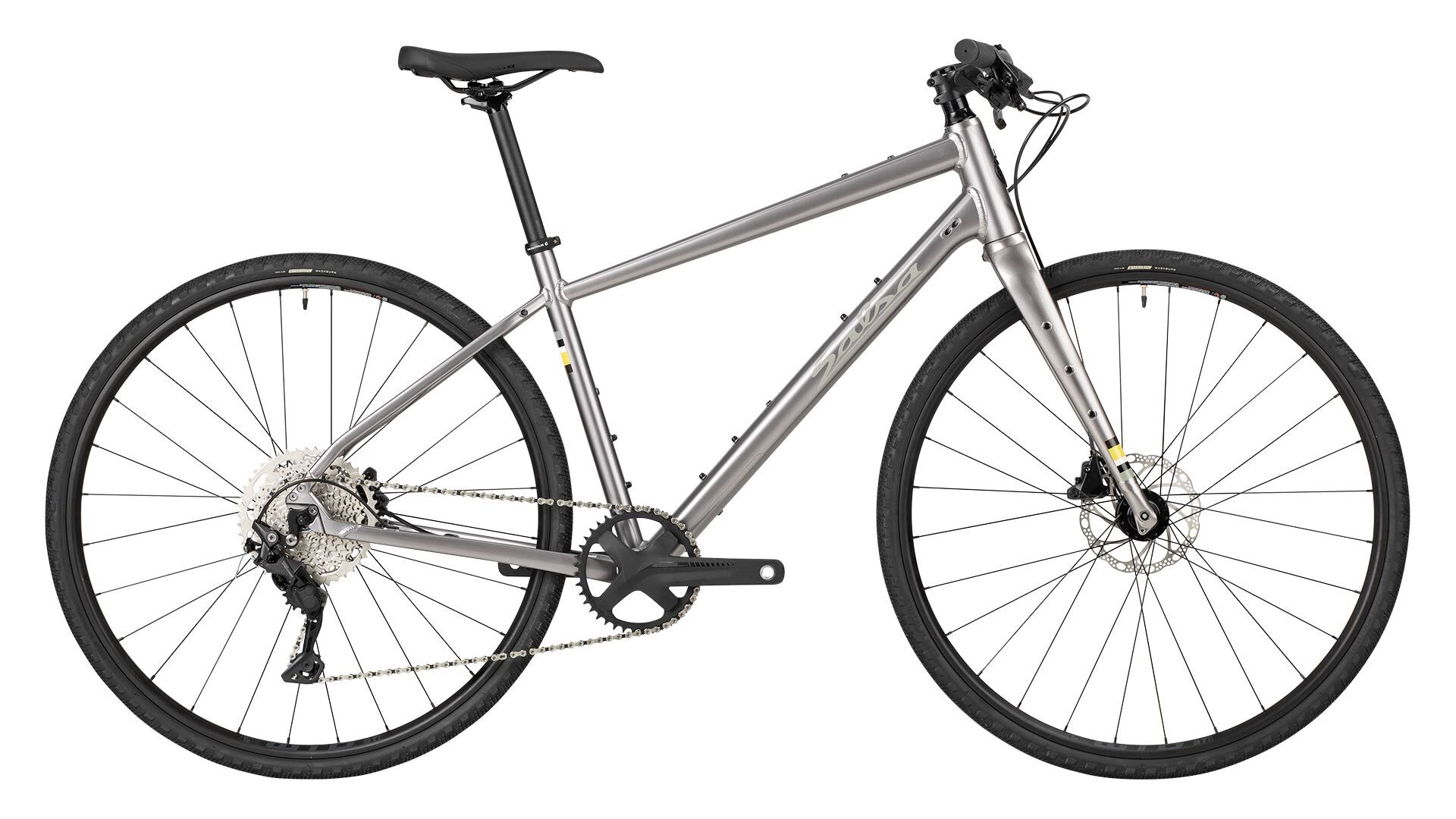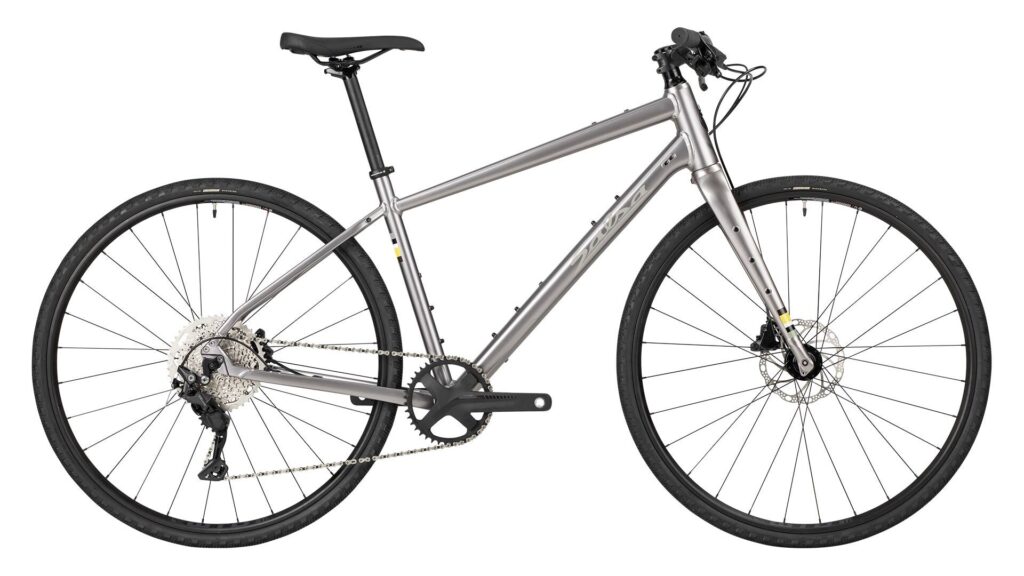 Like I said in the previous post, most gravel road bikes go with mechanical discs. But what surprised me was that the Salsa Journeyer Flat Bar Deore, like the Marin DSX 2, opted for the more expensive liquid discs in a $1000 frame. This is a strong selling point for other competing models. Both are also very close in geometry and both have chosen materials that face outdoor friction more aggressively in alloys.
Still, comparing the two models, the 700x45c wheelset used on the Marin DSX 2 has surprised many gravel bike enthusiasts. Whether it's gripping strongly on slippery surfaces or ignoring obstacles on bumpy sections, it's an advantage. But it also loses slightly to Salsa's 700x38c tires in terms of smoothness of acceleration.
Compared to other important components, the Salsa Journeyer Flat Bar Deore has a narrower selection of 1×10 speeds, which will lack some advantages over the Marin DSX 2, 1×12 speeds.
Salsa Journeyman Sora 700 Review – Novice Riders' First Gravel Bike?
Liv Devote 2 Be Good™ Edition vs 2023 Marin DSX 2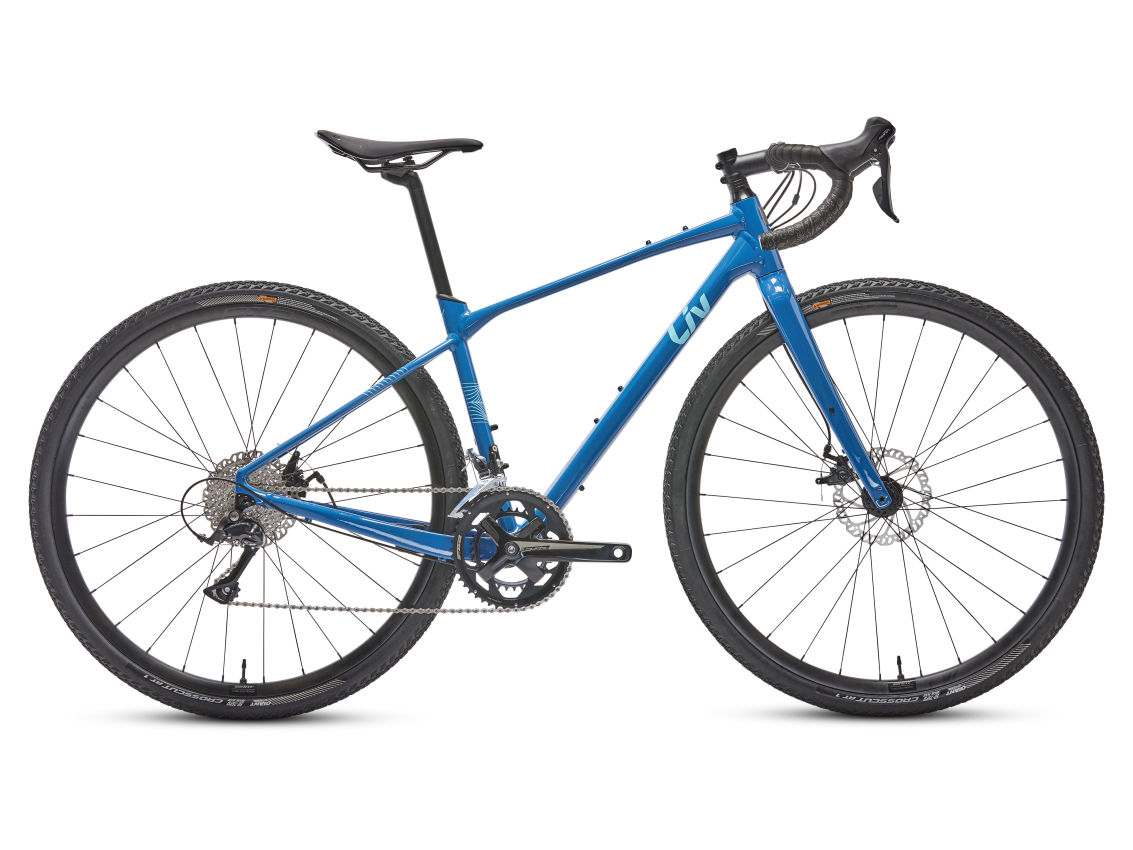 Compared to the Liv Devote 2 Be Good™ Edition, the Marin DSX 2's 700x45c wheelset actively ignores obstacles while riding. And if you're riding frequently, you can increase grip and prevent drifting in the face of slippery road conditions.
Of course, I think if you need to shuttle fast or accelerate rapidly, Liv Devote's 700x38c tires will be more advantageous.
In addition, Liv Devote is more conservative when it comes to the performance of key components, such as the choice of brakes. It still uses the more common mechanical discs, while the DSX 2 opts for the more expensive and snappier liquid discs.
I think this is also a very big selling point. In addition, in terms of drivetrain, although both are 1×12 speed drivetrains, in terms of brand, DSX 2 choose the Shimano drivetrain which I am more familiar with. If I were to analyze it from my own perspective, I would prefer the more modern Marin DSX 2.
In case, the above comments are helpful to you, please remember to share the subscription. Have a great day!
Learn more:Top 10 Best Road Bikes Under $1000 [2023] – Great Value For Money