We use affiliate links and may receive a small commission on purchases.
2023 Marin Fairfax ST 1
Price: $599
Category: Fitness bikes
Frame: Aluminum
Gear: 3×7
Tire: 700x35mm
What we like about it: Marin 1 Series aluminum step-through frame A sturdy chromatic fork makes for the best hybrid bike.
What we don't like about it: Too sparse a selection of colors.
Rating (4.6/5)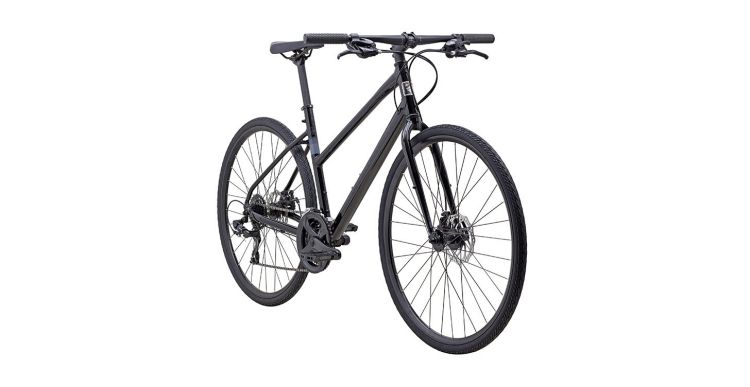 If you want to start cycling regularly to work or school and your rides will last half an hour or more, then you probably need what is commonly referred to as a fitness hybrid bike. Then today's protagonist, the 2023 Marin Fairfax ST 1, may be able to meet that expectation.
There is no doubt that the Marin Fairfax ST 1 is worthy of the name "Best Hybrid". The lightweight and sturdy Series 1 aluminum step-through frame makes for a responsive ride, and the 700C×35mm tires can handle heavy rain and snow on the road. Of course, as the ranks of fitness bikes, it is also able to help you in coping with slippery roads. Even when facing a steep hill, it will give you great confidence.
To make the results more informative for you, here we elaborate on the performance, key features, components, and specifications of the Marin Fairfax ST 1 while riding, as well as other versions of the series.
If you want to know more about other versions of Marin Fairfax ST 1, please refer to our review.
Marin Fairfax ST 1 General Riding Review
Named the "Best Hybrid" by Wirecutter, the cross version of the bike is built around a lightweight 1 aluminum cross frame, a sturdy chrome fork, and a reliable Shimano drivetrain making it one of the best in the fierce competition for hybrid bikes.
The road chosen for the two-month test is still the same as the company's road trip. Come test out what the Marin Fairfax ST 1 will shine like as the main battleground. The lightweight aluminum straddle frame makes it easy to ride on boardwalks, bike paths, and everywhere in between.
Experience
During the ride review, we did it on a hill with a 30° incline angle in front of the company, which can be relatively strenuous to ride. For this reason, the Shimano Tourney 7-speed is perhaps the one point I complain about. Because I had a hard time finding the right gear. It was so hard that I think it might have been different if I had switched to Shimano 1×.
Since it was nighttime and there wasn't that much traffic, I was sure of the idea of speeding up. Surprisingly, the commute platform that came with it didn't give me much backlash. Its drag fork is flat (this design is intended to increase stiffness; it's more pedal force that reaches the rear tire until the speed is maxed out). I can accelerate to the finish.
Of course, you can't underestimate the Fitness 700C×35mm tires, which play an important role in this. The aramid beads on the tire cling to the smooth road like octopus tentacles. If you're looking for the ultimate in stability then Fitness may be the answer to your need for stability. Even when I am at a stop, I can stand upright like a rock in the store.
Marin Fairfax ST 1 Riding Performance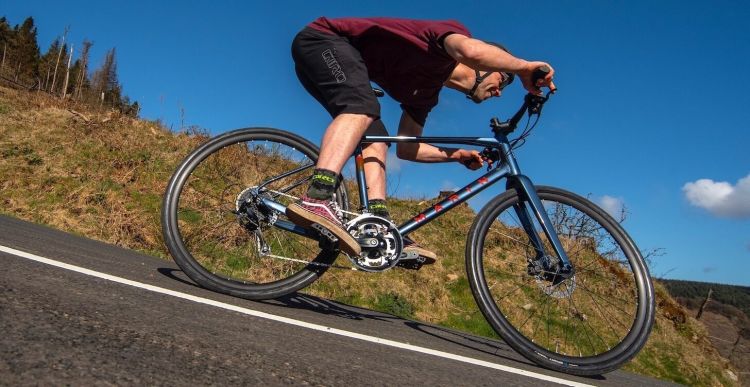 Of course, since it is named the best hybrid, the Marin Fairfax ST 1 is not just gravel-filled dirt roads that it excels in. Our bigger challenge was to go over such an undulating slope, even though it can't be considered an off-road surface.
Behind the gravel section leading up to the backcountry, the 432mm fork length may have played a very favorable role in this regard. I was the first to cross that section of gravel trail, and Shimano's drivetrain seemed to me to be designed for Marin Fairfax ST 1. The Shimano drivetrain looks to me like it was designed to be tailor-made. It's small but powerful and can be a big deterrent to gravel bumps. I was able to find the right speed very quickly, a process that took less than 10 seconds.
Experience
If you're asking me if it's bumpy, honestly, the raised pavement and tiny sharp stones do give me some trouble in my travels. Of course, this is within a certain acceptable range. The sturdy fork played a role in this. Of course, this bike also comes with a fender assembly. I removed it because I found it troublesome.
If you are in a rainy season, it is best to mount it on top of your tires. This has a critical impact on the protection of your clothing. I was passed by Tom on the uphill section, perhaps because I had used too much force earlier. I did not hesitate to apply emergency braking on the broken monolith in front of me, which was covered with thorns.
The mechanical disc brakes as configured are still overkill. I think it might be better if it could be replaced with a hydraulic disc kit, and I don't mind spending a little more money on it. This could also perhaps be the Marin Fairfax 1 in the next direction.
In addition, the Marin Fairfax ST 1 21-speed design was still relatively complicated for me. Perhaps I got caught up in the excessive shifting and forgot about Tom behind me until I finally took the lowest gear and barely passed above the very fast speed. In this regard, Marin Fairfax ST 1 tries the 1× system.
Main Features
Frame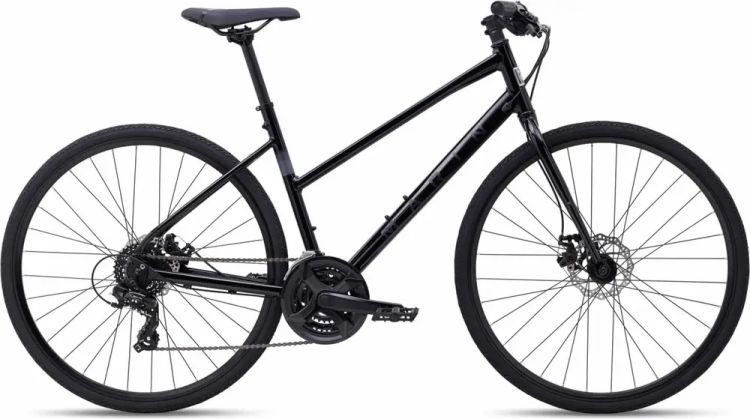 I have to admit that the choice of colors is not Marin Fairfax ST 1. The color choices are not user-friendly. The glossy black, as well as the glossy blue configuration, is too monotonous and I prefer that vintage copper color. This may be a suggestion for the next upgrade to attract more purchase desire.
And the choice of frame material is also selected from the popular aluminum material on the market. Of course, it is not able to compare with the carbon material. After all, the price is not very high, which is also acceptable.
In addition, the lightweight ST 2 and ST 1 are designed with a step frame to make them lighter, so you can lift them to get over some roadblocks if you can.
However, compared to its predecessor, the Marin Fairfax ST 1 finally puts the cable inside. This is in line with modern trends. Running the drivetrain or brake cable inside the frame tube protects the cable from damage in much the same way as the cable housing.
Geometry
I feel that the choice for geometry Marin Fairfax ST 1 is very reasonable. Of course, this is still from a hybrid bike perspective.
The shorter the fork, the faster the bike accelerates and the easier it is to climb. I was able to ride it over a 45° single-track gravel trail in the backcountry.
This is not without the help of the 73.5° head tube angle, the steeper the angle the better for climbing roads.
Components and Specifications
Marin Fairfax ST 1 Drivetrain
Although we just rode the Marin Fairfax ST 1, according to the official website, we learned that in other versions of the Marin Fairfax 2 drivetrain, there are many different options for gear configuration. There are also older versions ranging from 11 to 32 gears. And the newer freewheels have seven gears ranging from 11 to 34 teeth. More gears may not be a good thing; after all, more options mean more, more complex operations.
Some people may prefer this configuration, but, I prefer the 1× system. Because the simpler system gives you an easier mode of operation and your choice of speed can be instantaneous.
Mechanical Disc Brake
With a professional father, I grew up with a lot of components and tried a lot of models, and Shimano is a brand I've always trusted because its parts give me the confidence to face the rough roads.
Of course, you can't ask for this bike hydraulic discs at such a low price. Although hydraulic discs are designed to be lighter in weight, this often means more maintenance costs. Imagine the price of a broken brake during a bumpy ride.
Mechanical disc brakes may seem less advanced to many people. But lower maintenance costs and relatively strong braking performance are also highly sought after on relatively modest budgets.
Fitness 700Cx35c Tires
If you have looked closely at the Marin Fairfax ST 1, you may be attracted by the pattern engraved on the tire. The raised aramid beads are set like a diamond on the surface of the Fitness. It is also because of them that Marin Fairfax ST 1 the rugged trails.
The 700Cx35mm tires are also designed with most people in mind. The medium to large tires is set to maintain a certain level of stability for the body on the one hand. On the other hand, it will also look too bulky that it will take too much effort to steer.
Commute Platform Pedal
Comfort, is Marin Fairfax ST 1 which one of the concepts to be pursued, and is also a user necessity that many hybrid bikes are striving for.
The Commute Platform is a clipless pedal specifically designed for commuters and is perfect for multi-purpose use. The aluminum body, with a barrel surface and cleat retention adjuster, can actively adjust its toughness according to the speed of travel.
Perhaps you can choose the right pedal strength, do not worry about the pedal in the high-speed rotation of your ankle to produce a violent recoil effect. Of course, you should also be reminded that you have to choose the right gear at different speeds or you may produce a pedal failure.
Other versions of Marin Fairfax
Our research on the Marin Fairfax series has been focused and consistent. For comparison, we have tested other versions of the Marin Fairfax series, including the 2023 Marin Fairfax ST 2.
Aluminum bodywork is perhaps the standard feature of the Marin Fairfax series. Not surprisingly, the Marin Fairfax ST 2 also has such components, and the lightweight body makes your body maintenance in a more favorable direction. But under the choice of Marin Fairfax ST 2 fork, aluminum is still chosen.
After our long commute, the aluminum fork will have more room for damping, enough to handle gravel single-track trails. Of course, in terms of drivetrain, the Marin Fairfax ST 2 is equipped with Shimano Acera, an 8-speed that might be better suited to the demands of complex terrain.
What we like about it?
Aluminum frame under strong performance.
Shimano brand brakes and brakes.
Lighter body weight.
Responsive and fast disc brakes.
Pedal accessories specifically for commuting.
What we don't like about it?
Rare color options.
Short front fork travel.
FAQs
What is the body material of the Marin Fairfax ST 1?
The Marin Fairfax ST1 The body of the Marin Fairfax ST1 is made of aluminum.
How much does the Marin Fairfax ST 1 cost?
The Marin Fairfax ST1 sells for $599.
What is the tire size of the Marin Fairfax ST 1?
The Marin Fairfax ST1's Tire size is 700x35c.
Size chart for Marin Fairfax ST 1.
| | | | | |
| --- | --- | --- | --- | --- |
| | XS | SM | MD | LG |
| Sizing | 4'11" – 5'2″ | 5'0″ – 5'6″ | 5'4″ – 5'10" | 5'8″ – 6'1″ |
Marin Fairfax ST 1 Specs
| | |
| --- | --- |
| BIKE | 2023 Marin Fairfax ST 1 |
| Frame | Series 1 Fitness, Step-Thru Design, 6061 Aluminum, 700C tires, Disc Brake, Internal Cable Routing, Fender, Rack, and Kickstand Mounts Colors: Gloss Black / Black; Gloss Blue-Green / Tan |
| Fork | Cr-Mo Steel, Straight Blade, Disc Mount, Fender, and Rack Eyelets |
| Bottom Bracket | Sealed Cartridge Bearings, Square Taper |
| Headset | FSA, Threadless |
| Stem | Marin Alloy Threadless |
| Handlebar | Marin Alloy, 30mm Rise |
| Saddle | Marin Fitness Plush |
| Seatpost | Marin Alloy, 27.2mm |
| Pedals | Commute Platform |
| Grips | Marin Commute |
| Rear Derailleur | Shimano Tourney, 7-Speed |
| Front Derailleur | Shimano TY510 |
| Crank | Alloy Crank, Steel Chainrings, 48/38/28T, Ring Guard |
| Shifters | Shimano Shifter/Brake Lever Combo, 3×7-Speed |
| Cassette | SunRace 7-Speed, 11-34T |
| Chain | KMC Z8 |
| Brakes | Mechanical Disc |
| Brake Levers | Shimano w/ Integrated Shifters |
| Rims | Marin Aluminum Double Wall, Disc Specific |
| Front Hub | Forged Aluminum Alloy, Disc, 32H |
| Rear Hub | Forged Aluminum Alloy, Disc, 32H |
| Tires | Fitness 700Cx35mm |
Video
Comparison Table
2023 Marin Fairfax ST 1 vs 2023 Marin Kentfield 1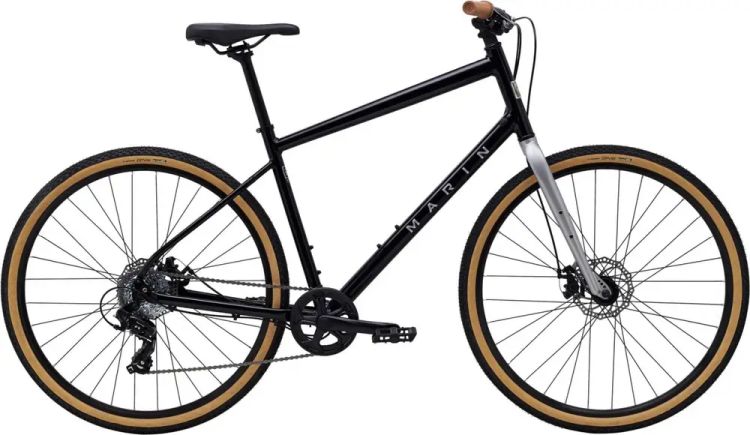 You may not be able to tell the difference between the Marin Fairfax ST 1 and the 2023 Marin Kentfield 1 in terms of appearance. It's the same aluminum frame with a sturdy body while still maintaining excellent performance. In this respect, the two bikes are on par with each other.
It's worth noting that they don't leave you worried about your wallet when it comes to body maintenance. Simply put, both bikes use the same mechanical disc design that is perhaps standard on city commuter cruisers. While I like the braking feel of the hydraulic discs, this efficient, responsive, and quick emergency braking also makes them a reliable presence.
Not only that, but the abundance of gearing on the Marin Fairfax ST 1 was one of the things that attracted me to it. So, if you like more speed options, the Marin Fairfax ST 1 with its 3×7 gear ratios may be of more interest to you.
Learn More: 2023 Marin Kentfield 1 Review–Will It Be Your Idea Of A Value-For-Money Exercise Bike?
2023 Marin Fairfax ST 1 vs 2022 Schwinn Vantage F3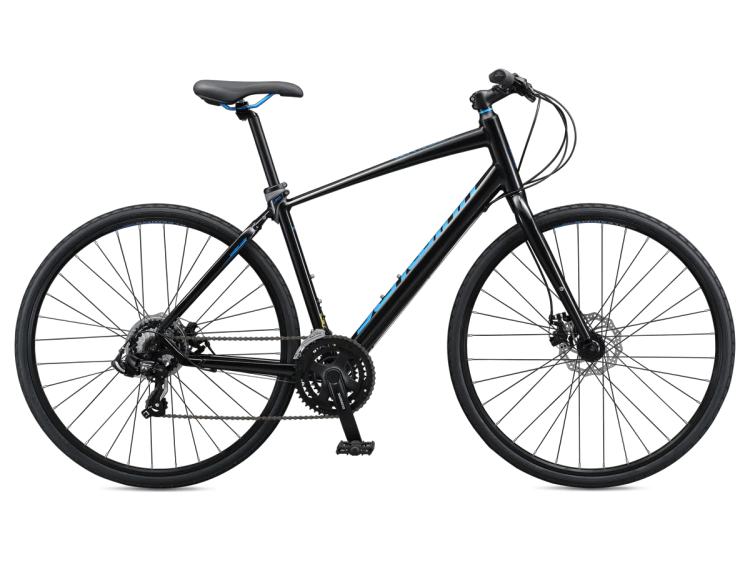 I have to admit that I like the 28-inch tires on the Schwinn Vantage F3. As we all know, the larger the tire configuration, the greater the driving speed and the more composed the body. If you are keen on drifting small distances at street intersections, you might want to try this tire size.
But it must be admitted that the Marin Fairfax ST 1 Professional Fitness 700c wheels are no worse than the Schwinn Vantage F3.
In actual riding, it allows me to not only have more speed while releasing more pressure, but it also has a rolling resistance that I don't notice. So I'd be more willing to ride it further afield. And the Marin Fitness Plush saddle on the Marin Fairfax ST 1 also makes me more willing to ride the Marin Fairfax ST 1 to achieve my fitness journey.
If you're focused on comfortable fitness riding, I think the Marin Fairfax ST 1 would be one of the bikes you'd want to try.
2023 Marin Fairfax ST 1 vs 2022 Felt Verza Speed 50 Mid-Step
The Felt Verza Speed 50 Mid-Step is not a hybrid bike in the usual sense. It's an electric bike, and its 500W hub drive allows it to provide you with faster speeds on your commute. But let's also recognize that its heavy weight – 21.5kg – is perhaps its downside. If you encounter an impassable road, it's hard to lift it as much as the Marin Fairfax ST 1. This is not friendly to road maintenance commuters.
If your current choice is a bike for commuting and fitness, then the Marin Fairfax ST 1 is still your first choice. Although it doesn't have the speed of the Felt Verza Speed 50 Mid-Step, its relatively light weight will be an advantage.
2023 Marin Fairfax ST 1 vs 2022 Cannondale Adventure 1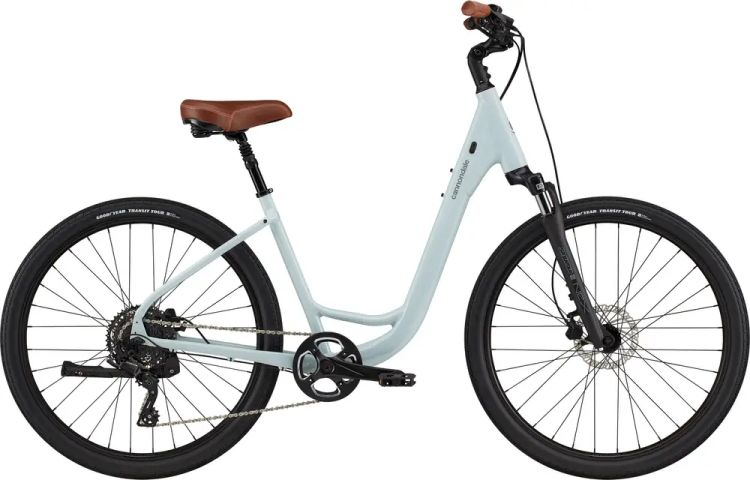 If you are an avid fan of smaller tires, then I believe the Cannondale Adventure 1 might be one of your goals for your commuter bike of choice.
The hydraulic disc design is one of the highlights of Cannondale Adventure 1. The microSHIFT Acolyte, 1×8 drivetrain also follows the market trend, as it allows for faster and more responsive emergency braking, even when you're facing gravel and twiggy single-track trails. Because of the significant weight reduction, the faster and more responsive transition speed will add to the pleasure of your commute.
At this point, I think this may also be the direction of the Marin Fairfax ST 1 the next upgrade. However, that's not to say that the Marin Fairfax ST 1 is useless. Because the 3×7 drive range has more speed options, you can experiment with more riding styles. The lower maintenance mechanical disc brakes will also keep you from having to worry about spending more effort maintaining them.
If you want a speedy bike on a budget, I think the Marin Fairfax ST 1 is the one to try.
In case, the above comments are helpful to you, please remember to share the subscription. Have a great day!
learn more:Cannondale Adventure Neo 3 EQ Review [2022] – A Comfortable City Ride