We use affiliate links and may receive a small commission on purchases.
2022 Giant Talon 2 Review
Price: $750
Stroke: Front 80mm/100mm
Frame: Aluminum alloy
Tires: 27.5″ / 29″
Gear: 1×9
What we like about it: High-durability low-maintenance framework.
What we don't like about it: It's a little heavy for professional riders.
Rating (4.6/5)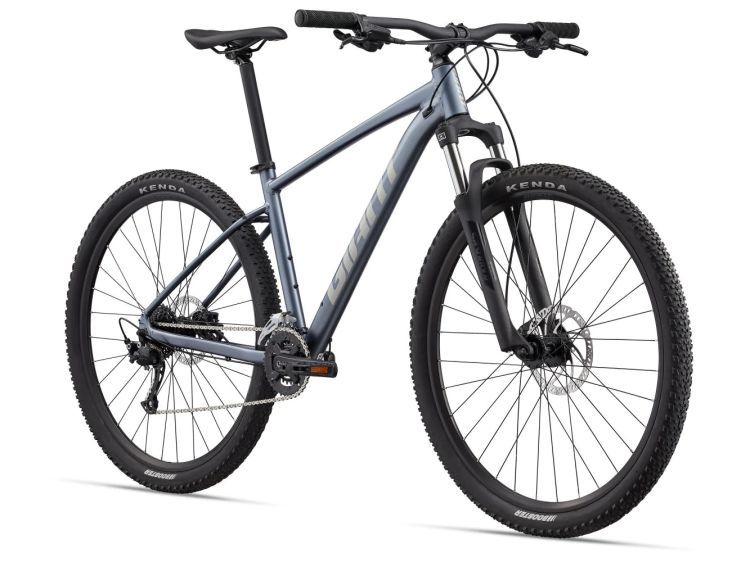 Giant has improved its Talon hardtail mountain bike for 2022. And this bike is Giant's main flagship model, which has received praise from cycling enthusiasts for its excellent quality and friendly price.
The comfortable saddle and the upright riding position allow me to ride for long periods without feeling strained.
What I found surprising was that the easier availability of parts also greatly reduced the maintenance cost of the Giant Talon 2, because you can get your Giant Talon 2 repaired at any shop around. The Giant Talon 2's tires are sized for different heights to provide the best fit, propulsion, and fun for all riders.
Below we break down the Giant Talon 2's climbing performance, descent performance, key features, components and specifications, and other versions.
If you want to know more about bike reviews, you can follow us.
Giant Talon 2 Climbing Performance
This Giant Talon 2 is arguably the perfect combination of performance, price, and practicality. It's easy to see in the numbers that this is a tough, aggressive XC bike. We decided to set up this time at Afriski Mountain Resort, a resort where I thought I could relax at the bottom of the mountain at the end of this hike.
We decided to enter through Goldilocks, a less popular 12 km long single-track trail that usually takes about an hour to complete.
During the actual ride, I noticed that the thin and flat singletrack was perfect for the Giant Talon 2, and the wide tires rolled quickly across the trail. From Ivan's Ace 001, I chose to turn off my front shock system to get a better shot at the top of the mountain. Then the derailleur was cranked up to its maximum cassette and the 9-speed gear ratio gave me a very wide range of adjustment to get up the hill with the right frequency.
However, the inherent impression that I was worried about the suitability of a single cassette for mountain biking proved to be too much for me. Advanced designs always move in the right direction, and the single disc allowed me to shift more quickly and quickly without the fumbling of adjusting both gears as I had done before. I was pleasantly surprised by the results, and I was on top in just 13 minutes.
Giant Talon 2 Downhill Performance
Before this test, I often thought it was a fairly unremarkable bike, but now I think it's one of the best bikes at this price point. Another thing that needs to be prepared in advance is booking accommodation. This time, I still booked accommodation on IHG Hotels & Resorts, hoping for a good rest.
Even without the rear shock, it still has a good descending experience. But only if you don't try those rocky gardens and mud flats, which are the domain of DH bikes.
Most of this descent is smooth trails and flat trails, even if the angles are a bit steep, but the Giant Talon 2 is well up to the task. And the tires are very light and well-suited to dry trails and cinder tracks, while not having a lot of friction on paved surfaces. The sharp steering and lively response to the pedals put a smile on my face when making hill descents.
The ride was a little tough as I went full speed through the wigwams and big roots. But the bike never faltered, and the light, lively feel made me forget its 29-pound weight. The extra weight doesn't stand out on a mountain bike, and only those road riders care about weight. This is a bike that's only $750, so if that price is in your budget and you long for dirt riding, then this Giant Talon 2 is your ticket to off-road adventure.
Main Features
Frame Group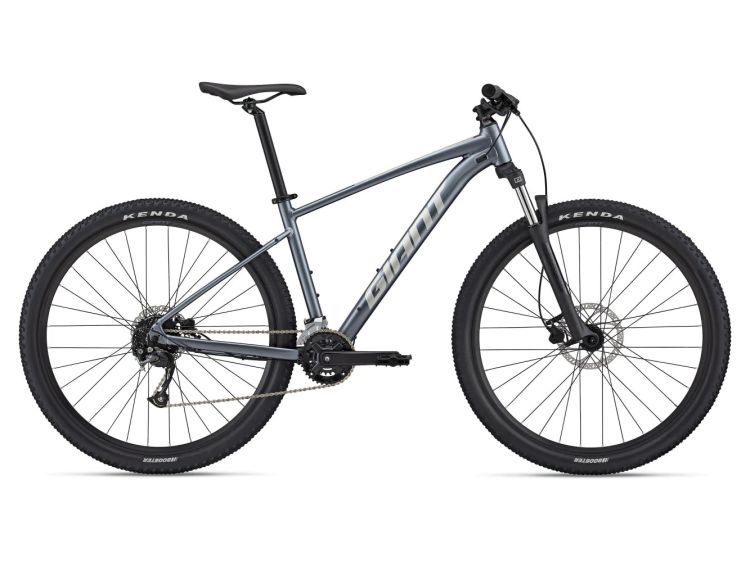 The Giant Talon 2 is equipped with Giant's exclusive ALUXX grade aluminum frame. That's right, the compressed mountain bike frame has a very sloping top tube and the whole frame looks very compact, which is a big help when powering up climbs. In addition, it also provides the highest level of control over the path. And both the top and bottom tubes are flat, which makes the whole bike much lighter.
And the frame uses all built-in cable arrangements, it looks very simple and easy to maintain. Even if the frame gets muddy, I can clean it up quickly. One more thing, the two water bottle holder mounting holes allow me to carry more water while riding.
Geometry
The Giant Talon 2 comes with a relatively steep seat tube angle (73.5°), which allows me to maintain plenty of power when pedaling and good traction even on steep climbs. Meanwhile, the head tube angle (67°) isn't too slack for a modern mountain bike, but it's a little looser than the Marlin 7 (69.5°).
This small difference is felt while riding. In addition, the shorter Reach (425mm) and taller Stack (598mm) allow me to maintain a more comfortable upright position while riding and a good fighting position during climbs. The comparison with the Trek Marlin 7 has a more comfortable riding experience, while the Trek Marlin 7 will be more aggressive with its low-slung position.
Components and Specifications
MicroSHIFT SL-M9295, 1×9 Drivetrain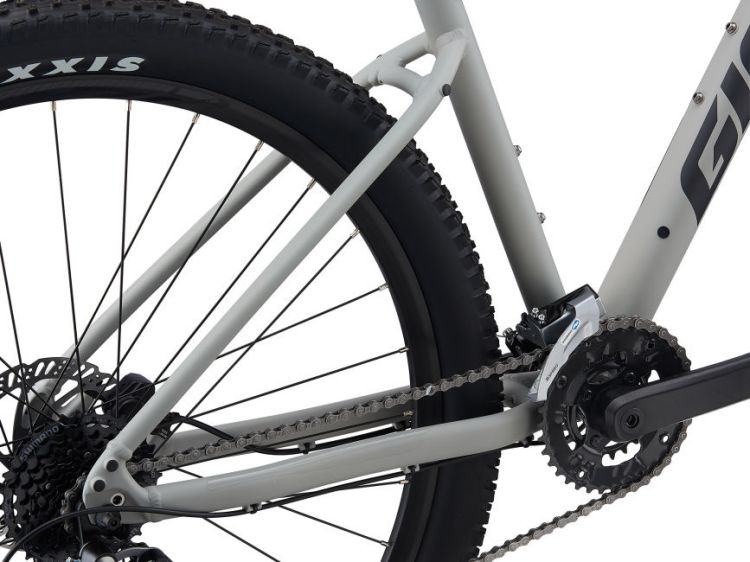 Many people may not have heard of this brand, but there is no denying that it is a very good drivetrain production brand. microSHIFT drivetrain systems are the perfect balance between value and performance.
The main thing is that the 1×9 drivetrain gives me a wider range of gears and doesn't need to adjust the front and rear shifting as much as the previous generation. It was so frustrating, the previous shifting often left me feeling frazzled and would cause embarrassing chain drops as a result. But the 1×9 shifting system not only gives me the same experience, but the design of the rear shifter only makes the shifting feel smoother and less noticeable when riding.
Also, the eliminated front shifter reduces overall weight as well as lower maintenance costs.
Tektro M275 Hydraulic Disc Brake
On all roads, I had a hard time feeling the difference between it and the Shimano brakes. Whether I was riding over rainy pavement or slippery foliage, I was able to brake quickly and steadily by simply using two fingers to lightly squeeze the lever. And the move doesn't cause me to hold the tires up quickly, it's very safe.
Not using Shimano brakes compresses the price of the Giant Talon 2 better, but the experience is the same. I think this design is one of the reasons for keeping the price of the Giant Talon 2 so low.
Kenda Booster 27.5 or 29×2.2″ Tires
The Giant Talon 2 offers the rider 27.5″ or 29″ tires. Undoubtedly, Kenda's tires have a very strong grip, which I sometimes find excessive, so it's not too much to ask that it be used on a DH bike.
Moreover, the wide tires allow it to ignore small bumps during the descent, and good friction allows it to better face the next challenge.
It's worth noting that most sizes allow you to choose whether you want a more flexible 27.5-inch tire or a faster-rolling 29-inch tire. As we all know, smaller frame sizes fit smaller tires. But the extra speed of a 29-inch tire is hard to resist.
SR Suntour XCM30 Front Fork
The SR Suntour XCM30 fork has a coil spring structure, so it doesn't have the same delicate cushioning feel as those air spring forks. In addition, it is also significantly heavier.
But I don't care about that, because the coil spring design makes it stronger and more durable, and also easier to maintain. Even on rocky and rough trails, it has better performance.
In addition, the preload adjustment feature allows me to adjust the response rate to suit my weight. I can also manipulate the locking switch on the other end of the fork to make it a hard fork if I need to stay efficient on flat terrain.
Other versions of Giant Talon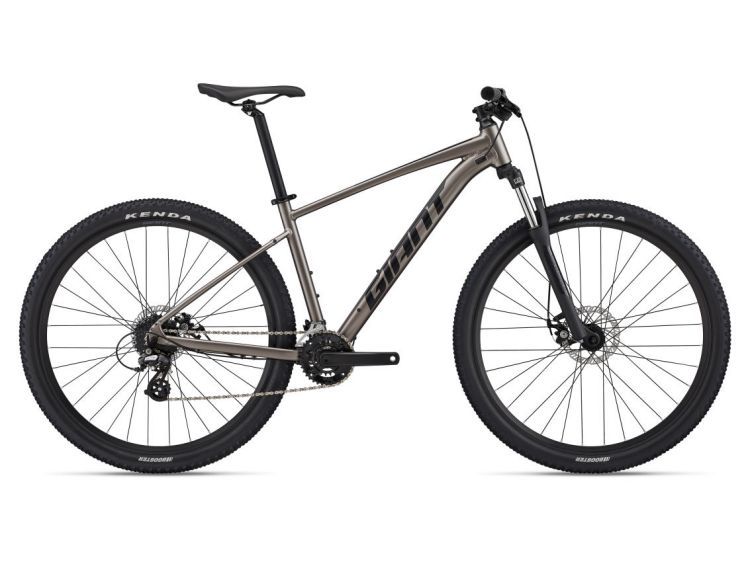 In this review, we have reviewed the Giant Talon 2. If you are considering a hardtail trail bike and want to spend as little money as possible on a bike that offers good value for money, then the Giant Talon 2 is a great choice. It comes with a top-notch frame, powerful brakes, and a shock fork with lockout.
For this, we also looked up the Giant Talon 4. It's cheaper, uses more affordable parts for both the fork and drivetrain, and has one less gear. But the frame is identical, only the color is different. Truth be told, it still satisfies more consumers for the riding experience, but the value for money may be far less than the Giant Talon 2 experience.
If you want to know more versions of it, welcome to follow us.
Learn more: 2022 Giant Talon 4 Review – Taking You To The Door Of The Off-Road World
What we like about it
Superb cost performance.
Excellent 1× components.
Simple internal cable layout.
Almost no upgrades are required to any part.
Tire size available.
Reliable braking performance.
What we don't like about it
1、Somewhat heavy for professional riders.
FAQs
1. How much travel does the Giant Talon 2 have on the cushioned fork?
An 80mm cushioned fork is used on the smaller two sizes, while the other three sizes have a 100mm fork. Again all from SR Suntour XCM30.
2、What brand of tires are they for Giant Talon 2? What are the sizes?
With Kenda Booster 27.5 or 29×2.4″ tires, all but the two smallest frame sizes can use either 27.5″ or 29″ tires.
3、 What heights do the Giant Talon 2 fit?
The size chart of the Giant Talon 2 is as follows.
(These sizes are only a general guide, the true fit may vary from person to person and the easiest way to find your size is best to go for a test ride.)
| | |
| --- | --- |
| Rider height (cm) | Frame size |
| 155cm – 166cm | XS |
| 163cm – 172cm | SM |
| 169cm – 179cm | MD |
| 176cm – 186cm | LG |
| 183cm – 193cm | XL |
2022 Giant Talon 2 Specs
Build
| | |
| --- | --- |
| Frame | ALUXX-Grade Aluminum, disc Colors: Knight Shield; Phantom Green |
| Fork | SR Suntour XCM30, QR, steel steerer XS: 80mm travel (27.5) S: 80mm travel (27.5) / 100mm travel (29) |
| Rear Shock | N/A |
| Bottom Bracket | cartridge |
| Stem | Giant Sport, 7-degree XS: 40mm (27.5) S: 50mm (27.5) / 50mm (29) M: 60mm (27.5) / 60mm (29) L: 70mm (27.5) / 70mm (29) XL: 80mm (29) XXL: 90mm (29) |
| Handlebar | Giant Connect Trail, 31.8mm XS: 730mm (27.5) S: 780mm (27.5) / 780mm (29) M: 780mm (27.5) / 780mm (29) L: 780mm (27.5) / 780mm (29) XL: 780mm (29) XXL: 780mm (29) |
| Saddle | Giant custom |
| Seatpost | Giant Sport, 30.9 XS: 300mm (27.5) S: 300mm (27.5) / 375mm (29) M: 375mm (27.5) / 375mm (29) L: 375mm (27.5) / 375mm (29) XL: 375mm (29) XXL: 375mm (29) |
| Pedals | Platform Pedals |
| Grips | Giant Sole-O |
Groupset
| | |
| --- | --- |
| Rear Derailleur | microSHIFT Advent M6195M |
| Front Derailleur | N/A |
| Crank | ProWheel Charm, 30t (27.5) or 32t (29) XS: 165mm (27.5) S: 170mm (27.5) / 170mm (29) M: 170mm (27.5) / 175mm (29) L: 175mm (27.5) / 175mm (29) XL: 175mm (29) XXL: 175mm (29) |
| Shifters | microSHIFT SL-M9295, 1×9 |
| Cassette | microSHIFT CS-H093, 11×46 |
| Chain | KMC X9 |
| Brakes | Tektro HDC M275, hydraulic, Tektro rotors [F]180mm, [R]160mm |
| Brake Levers | Tektro HDC M275 |
Wheels
| | |
| --- | --- |
| Rims | Giant GX03V 29 or 27.5, alloy, double wall, 21mm inner width |
| Spokes | stainless, 14g |
| Front Hub | alloy, ball bearing |
| Rear Hub | alloy, ball bearing |
| Tires | Kenda Booster 27.5 or 29×2.2″, wire bead |
Video
Comparison Table
2022 Giant Talon 2 vs 2022 Giant Talon 1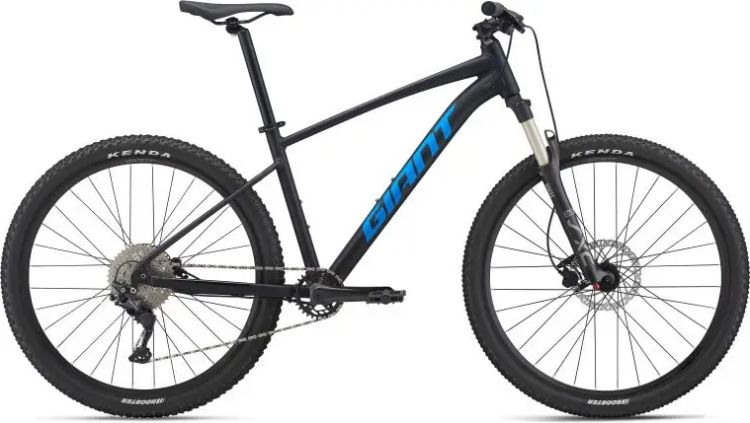 The Giant Talon 1 is an upgraded version of the Giant Talon 2, with the main upgrade being Giant's higher-level fork. You should know that in-house production will save a lot of costs. The second is better components, from a 1×9 to a 1×10, which honestly didn't make a significant difference in my experience. And, with the same frame and almost identical sub-assemblies.
What is not easy to notice is that the Giant Talon 1 has wider tires, which may make it more stable. However, there is no doubt that it will lose some of its maneuverability. So it's up to you whether you choose a more stable tire or a more agile one. But their brand and excellent grip performance are the same.
Learn More: 2022 Giant Talon 1 Review- A Guide For Novice Riders To The Wilderness
2022 Giant Talon 2 vs 2023 Trek Marlin 5 Gen 2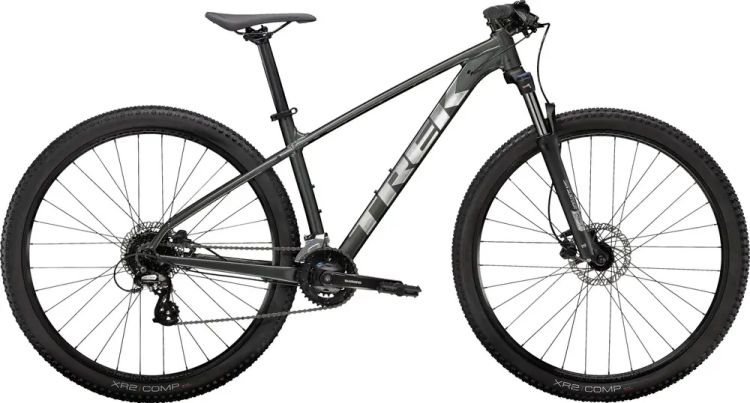 In terms of configuration, both bikes use the same fork. However, the Giant Talon 2 uses the microSHIFT shifting system, which is more high-end but not as expensive, which is a wise decision.
As mentioned earlier, the Trek Marlin 5 Gen 2 has a steeper seat tube angle compared to the Giant Talon 2. This makes it more aggressive and therefore ideal for fast travel through the mountains and forests. But this also means that it will lose its long-distance comfort. For beginners, this is unfriendly and likely to discourage them from riding.
It is worth mentioning that the Trek Marlin 5 Gen 2 is set up for different height sizes with three sizes of 26/27.5/29 tires to take care of riders of different heights. This allows for the same geometry experience no matter how big the frame is.
Learn More: Is Trek Marlin 5 Worth Buying? [Trek Marlin 5 Review]-2023
2022 Giant Talon 2 vs 2023 Bianchi Duel – 29s – Alivio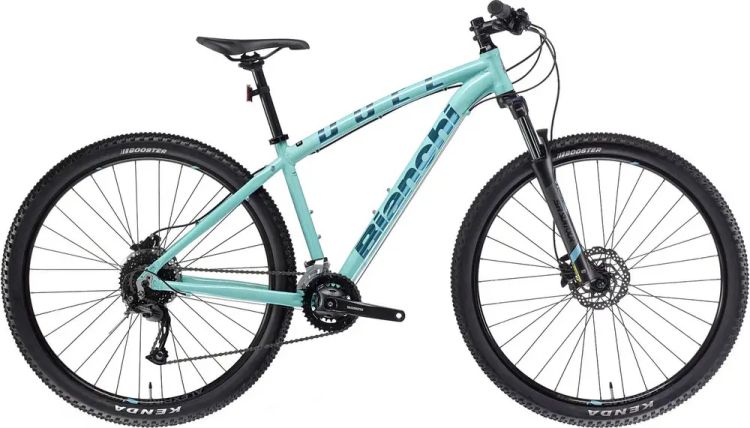 Bianchi Duel – 29s – Alivio has a more advanced fork system in this comparison. The components, although using Shimano M2020, have an almost indistinguishable performance from the microSHIFT components used in Giant Talon 2.
However, the microSHIFT uses a much better hydraulic brake. I think braking performance is very important for a mountain bike. And the Bianchi Duel – 29s – Alivio uses a more complex 2×9 speed shifting system and a frame with all external cables. This gave me a lot of headaches, it didn't seem to be suitable for novice riders, and it bothered even me, a veteran with some riding experience. This design greatly increases its maintenance costs.
If you prefer a clean and crisp outer alignment design, then the Giant Talon 2 would be a good choice.
2022 Giant Talon 2 vs 2022 Specialized Rockhopper Comp 27.5
I have to say that both bikes are good choices for newbies, they have the same fork and drivetrain. These are both extremely cost-effective configurations for newbies, and I highly recommend them.
In terms of geometry, the Specialized Rockhopper Comp 27.5 has an extremely compressed geometry. This gives the bike a very rearward center of gravity, which allows it to handle downhill sections very well.
In my riding experience, I was often worried about whether the front tire would buckle when facing uphill. So I had to keep my weight on the handlebars at all times to climb up, and I wasn't comfortable with that.
Last, but not least, for the money I spent on the Specialized Rockhopper Comp 27.5 I could have bought the Giant Talon 1, which is a step up from the Giant Talon 2. It has a much better performance.
In case, the above comments are helpful to you, please remember to share the subscription. Have a great day!
Learn more : Top 8 Best Hardtail Mountain Bikes Under $1000