We use affiliate links and may receive a small commission on purchases.
2022 Diamondback Atroz 2 Review
Price: $1375
Frame: Aluminum Alloy
Stroke: 140mm front, 100mm rear
Tires: 27.5″ x 2.35
Gear: 1×9
What we like about it: Excellent frame design with chain guide makes the passability much better.
What we don't like about it: The stability may be a little worse.
Rating (4.7/5)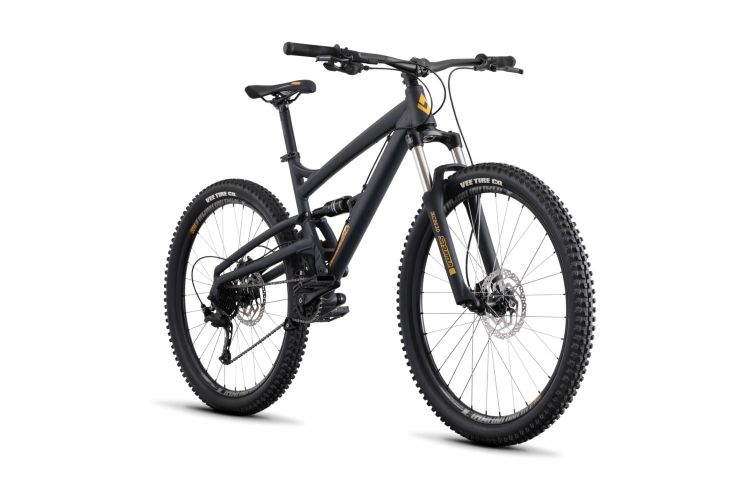 When you've had free time to explore the mountains, you can surely tell the difference in the comfort of a full-suspension mountain bike compared to a hardtail. But looking at the price of a quality mountain bike may make you hesitate. However, most cyclists will opt for an entry-level mountain bike, and the 2022 Diamondback Atroz 2 is a good choice.
It is one of the best entry mountain bikes out there. Mainly because this full-suspension model offers a ton of useful features for all categories of riders, and at a reasonable price, it's hard to beat.
So if you need a great mountain bike to enjoy the thrill of the sport, this Atroz bike has all the durability and performance.
Below we analyze the climbing performance, descent performance, key features, components, specifications, and other versions of the Diamondback Atroz 2.
If you want to know more about bike reviews, you can follow us!
Diamondback Atroz 2 Climbing Performance
I enjoy climbing the nearby trails on the weekends, and today I decided to test my bike at Killington Bike Park. Another thing that needs to be prepared in advance is booking accommodation. This time, I still booked accommodation on IHG Hotels & Resorts, hoping for a good rest. The Steel Panther Finish section has a very slow climb that is certainly a test for a full-suspension mountain bike. So I quickly shut down my rear suspension to allow me to climb uphill efficiently, and the SRAM SX 12-speed kit provided efficient climbing performance. In addition, the trail was filled with ledges, hard and steep technical climbs, and rough rock-strewn descents. These rocks lead to fast, loose trails.
Another unique challenge of the trails, however, was their impact. When I would do a fast downhill section and then hit a steep uphill grade, I would have to shift quickly to meet the challenge that followed.
After that, the final challenge presented by the smaller trails was their rugged surface, which I usually found to be covered in roots and loose rocks. And I have a soft full suspension, so I don't worry about the rough terrain. However, if you need to keep climbing smoothly and efficiently on resilient terrain, my advice is to pedal your bike standing up as much as possible. Otherwise, I always seem to be "bouncing around" in the saddle.
Diamondback Atroz 2 Downward Performance
Mind you, the Diamondback Atroz 2's powerful functional suspension is one of its highlights, thanks largely to its single-pivot design. Although it only has 120mm of front cushion travel, I'm still happy to have it mounted on the frame. For trail riding, the most important thing is to maintain an athletic stance, not to treat your seat like a comfortable recliner and cruise down. Therefore, I often put my hips back to keep my entire torso at motion level. And then, I put all my weight on my feet to keep my hands able to steer efficiently. In addition, the SR Suntour Raidon-R rear cushioning is very effective, keeping all the force on the rear tire from being transferred to me.
During the overall ride, I felt that the Diamondback Atroz 2 geometry was relatively loose in comparison. Combined with the slack angle and elongated wheelbase, it's perfect for first-time mountain enthusiasts. What's more, it's paired with the right tire size and excellent rear suspension, which allows it to cut through cornering routes more quickly. And the high-lift rear lower fork and the crankset rear guide tire greatly improve the vehicle's passability, allowing it to challenge even steeper and thicker rock formations.
Main Features
Frame Group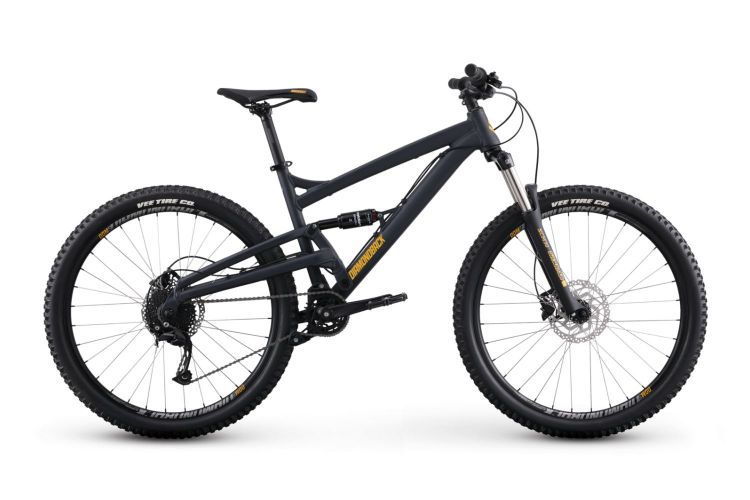 The frame is made of aluminum and the proven single-pivot design is extremely durable (fewer pivots equals fewer fragile parts), producing 100mm of shock travel at the rear tire.
The frame provides a patch in the seat tube area to compensate for the stiffness holes caused by the descending rear upper fork. At the same time, the compact rear upper fork and the rear lower fork provide excellent passing performance for the whole frame. Also, the Chain Keeper under the crankset can lift the chain while holding it in place to avoid the effects of debris.
Geometry
The Diamondback Atroz 2 contains three sizes, the Diamondback is claimed to be size L for riders no taller than 6'1″. It's a relatively compact frame design for a mountain bike. But it's worth mentioning that it comes with a very short stem, and if you don't feel like riding it with enough stretch, you can quickly change the stem for a change.
If you feel that the frame doesn't seem big enough when you test-ride it, go for a larger frame as they are only a little different on the Stack. Also, the taller Stack will accommodate a more upright riding position without you having to put a lot of spacers under your bars. And, the centralized rear upper and lower forks make the whole bike very stable.
Components and Specifications
Shimano Kits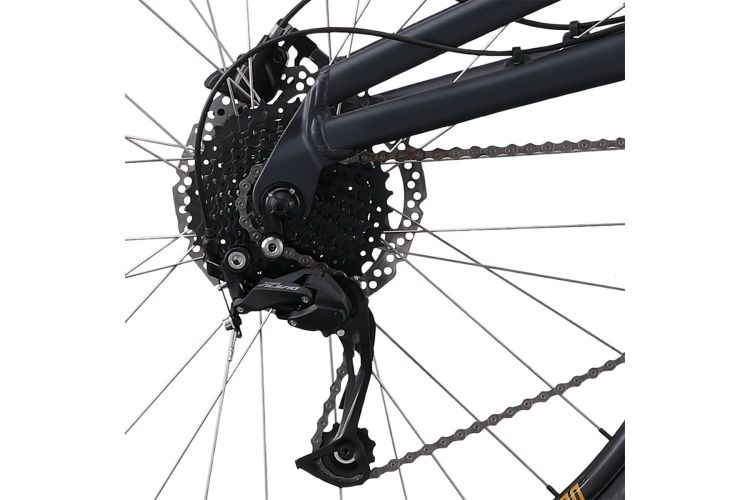 The Diamondback Atroz 2 uses a Shimano Acera 1×9 speed drivetrain and also a front 30T crankset with an 11-36T cassette. this provided me with most of the gearing needed to go from flat terrain to bumpy and undulating terrain. Although on very steep and lengthy climbs, I may wish to add more gearing to help.
On top of that, I was able to get Shimano's disc brakes and 180mm rotors that provide very precise control. Good braking is obtained even on wet and slippery rocks, and there was no danger of slippage or tire lock-up during my tests.
VEE Rubber Flow Snap 27.5×2.3″ Tires
The car rolls on 27.5″ x 2.35″ tires and the tires are excellent and make it very reliable for me to go anywhere and do anything.
It can accompany you very happily for a few laps in the park and take you to the enduro podium. And it also uses a non-stop central access design with angled aramid bumps to provide fast rolling and unparalleled flow rates.
I tilt the tires while riding and the alternating side bumps provide grip like all tires do.
Top 40 material is also available if you need a more advanced grip, while the dual rubber design of Tackee composite provides efficient rolling efficiency.
SR Suntour XCM Front Fork
This is a cost-effective fork. Although this may be a little heavy when riding, it provides solid cushioning as well as responsive flex support. I've never bottomed out on it.
In addition, the fork comes with coil springs, alloy lower forks, 30mm nickel-plated struts, and a shock with pre-adjustable tension. As you can see, it is perfect for casual trail riding. I do have confidence in it, and the excellent stiffness allows me to descend with great peace of mind and without any shudder.
Other versions of Diamondback Atroz
In this review, we have reviewed the 2022 Diamondback Atroz 2. This is a full-shock trail bike with excellent geometry and almost top-notch passability. Its performance is further enhanced by the crankset paddles. In addition, the strong frame makes it easy to climb and descend, and the excellent package gives the bike even more resilience.
For these features, we found the 2022 Diamondback Atroz 1, an upgraded version of the Diamondback Atroz 2. The $1400 price difference also makes it more high-end. Although both use the same frame, it has been upgraded with the SRAM NX Eagle 1×11-speed drivetrain. This provides a more dense shifting experience and also allows for a better climbing feel when climbing.
In addition, the RockShox fork offers enhanced cushioning up front. And there is also Diamondback Atroz 3, which is the affordable version of the series. If you want to know more, welcome to follow us.
Learn More: Diamondback Syncr Review [2022]- Balances Comfort And Speed
What we like about it
Simple 1 x drive system.
Excellent frame design makes it passability enhanced.
Shifting part with gear display.
The tires have a very good grip.
Rear shock absorber provides rebound damping adjustment stroke.
Comfortable riding position.
What we don't like about it
The center of gravity seems to be a bit high.
FAQs
What components are used in the 2022 Diamondback Atroz 2?
The bike uses a Shimano Acera M3000 drivetrain with MT200 brake discs to provide very efficient shifting braking.
What brand of tires are they for the 2022 Diamondback Atroz 2? What are the sizes?
The 2022 Diamondback Atroz 2 has VEE Rubber, Flow Snap, 27.5×2.35 tires with open ends, and you can also equip it with vacuum tires, which are ideal for use in a variety of situations
What heights does the Diamondback Atroz 2 fit?
The size chart for the Diamondback Atroz 2 is as follows.
(These sizes are only a general guide, the true fit may vary from person to person and the easiest way to find your size is best to go for a test ride.)
| | |
| --- | --- |
| Rider height (cm) | Frame size |
| 158cm – 170cm | SM |
| 168cm – 179cm | MD |
| 176cm – 187cm | LG |
Diamondback Atroz 2 Specs
Build
| | |
| --- | --- |
| Frame | Atroz 6061 T-6 Aluminum 27.5 Trail w/ 4″ travel, Optimized Single Pivot, Tapered Steerer, Machine Formed Top Tube, Butted / Formed Down Tube, Sealed Cartridge Bearing Pivot, Seat Tube Routed for Internal Dropper Post, Aggressive Geometry, Replaceable Hanger |
| Fork | SR Suntour XCM 120mm Travel, 30mm Stanchions, w/ Preload Adjust |
| Rear Shock | SR Suntour Raidon-R, Air Shock w/ Rebound Adjust, 184x44mm |
| Bottom Bracket | Sealed Cartridge |
| Headset | FSA NO.57, Sealed Cartridge for Tapered Headtube |
| Stem | Diamondback "Shortie", 45mm Reach, 31.8 Bar Bore |
| Handlebar | Diamondback, 750mm Wide, 15mm Rise, 31.8 Bar Bore |
| Saddle | DB Sync'r Saddle |
| Seatpost | Aluminum Micro Adjust, 30.9mm |
| Pedals | DB4L Aluminum Platform |
| Grips | New DB "Flanged" 135mm Silcone |
Groupset
| | |
| --- | --- |
| Rear Derailleur | Shimano Acera M3000 Shadow, 9 Speed |
| Front Derailleur | Full ISCG-05 Chain Guide w/ Roller |
| Crank | Aluminum Arm w/ 30T Steel "Narrow Wide" Single Ring |
| Shifters | Shimano Acera M3000, 9 Speed |
| Cassette | Shimano HG200, 9 Speed, 11-36T |
| Chain | KMC Z9, 9 Speed |
| Brakes | Shimano MT200 Hydraulic Disc, w/ 180mm Front and Rear Rotors |
| Brake Levers | Shimano MT200 Hydraulic |
Wheels
| | |
| --- | --- |
| Rims | 32H, DDM-5, 27.5 Double Wall, Not Taped |
| Spokes | 14g Stainless Steel |
| Front Hub | Formula Hubs, 32h Aluminum w/ CNC Disc Mount |
| Rear Hub | Formula Hubs, 32h Aluminum Cassette w/ CNC Disc mount |
| Tires | VEE Rubber, Flow Snap, 27.5×2.35, Non Tubless Tire |
Video
Comparison Table
| | | | | | |
| --- | --- | --- | --- | --- | --- |
| Bicycles | Price | Drivetrain | Brakes | Tires | Click view |
| 2022 Liv Pique 29 2 | $2600 | 1×12 | Shimano Deore Hydraulic Disc | WTB Trailboss Comp, 27.5/29×2.25″ | Click View |
| 2021 Giant Anthem 29 2 | $2485 | 1×12 | Shimano MT200 hydraulic disc | Maxxis Recon Race 29×2.35″ | Click View |
| 2021 Jamis FAULTLINE A2 | $1999 | 1×11 | SRAM Guide T The Guide hydraulic disc | Schwalbe Hans Dampf 29 x 2.35″ | Click View |
| 2022 REID Horizon 1.0 FS MTB | $1099 | 3×9 | Tektro HDM 275 hydraulic disc | Maxxis Ardent Race 27.5×2.6″ | Click View |
2022 Diamondback Atroz 2 vs 2022 Liv Pique 29 2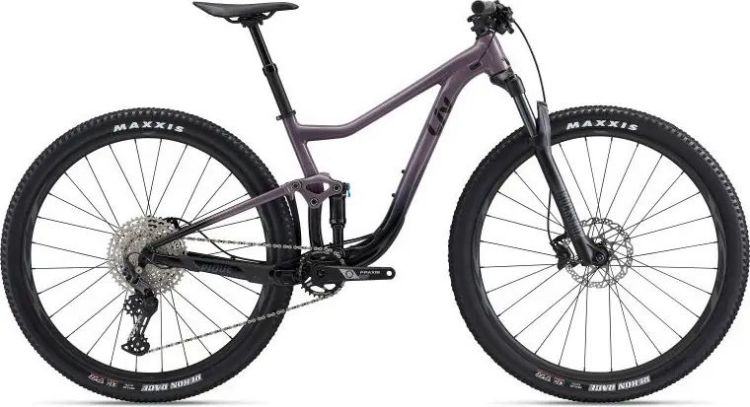 The Liv Pique 29 2 features a RockShox fork and a better Shimano Deore kit, offering a 1×12 speed shifting system.
The Diamondback Atroz 2 has a Suntour XCM fork and offers longer cushioning travel, which I like. To be honest, the 1× kit is very advanced, but with only 9 speeds it may not be enough for real-world riding.
Geometrically, the two bikes have very similar geometry, both using a loose head tube angle to maintain stability in the ride. There is little difference in other areas.
It's worth mentioning that the Liv is a women-only version of the bike. If you are a girl, then I would recommend it. If you are a guy or very tall, then the Diamondback Atroz 2 would be another good choice.
2022 Diamondback Atroz 2 vs 2021 Giant Anthem 29 2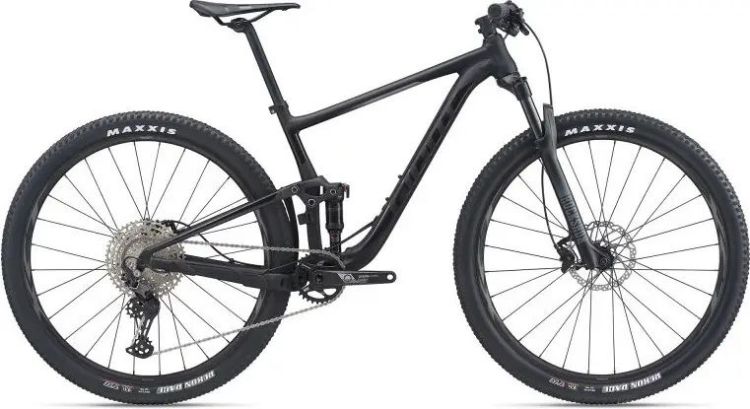 What does the Giant upgrade for a difference of about $1000? I'll tell you, the Giant Anthem 29 2 features a premium RockShox fork and comes with larger 29″ tires. And the components are Shimano's higher-end Deore kit, which offers higher 12-speed shifting. It is denser than the Diamondback Atroz 2's 9-speed kit, and also has increased gear ratios for climbing.
The Diamondback Atroz 2, on the other hand, uses an advanced and cost-effective 1× package. Secondly, the wheelset uses more flexible and responsive small-size 27.5 tires. In addition, the cushioning fork is a more affordable Suntour XCM fork, but it offers more cushioning travel. Also, the 120mm of travel is not easy to fault in mountain cross country. But both bikes are not equipped with droppers, which I don't like much.
Geometrically, the Giant Anthem 29 2 has a higher standover height, but otherwise, there doesn't seem to be much difference. The higher standover height allows for more stability, but may not be particularly friendly to lower riders. So the Diamondback Atroz 2 comes with a lower height, which allows for better power and a wider range of riders.
Learn more : Is Giant Stance 29 2 Worth Buying? [ Review]
2022 Diamondback Atroz 2 vs 2021 Jamis FAULTLINE A2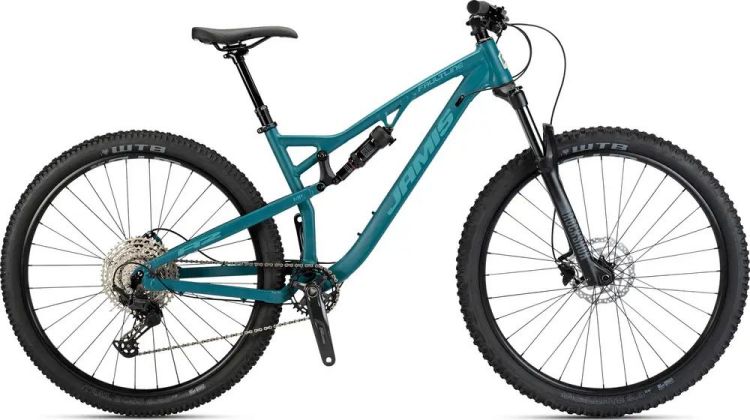 By comparing the data I found that the Jamis FAULTLINE A2 is equipped with a much better RockShox Recon fork. The components are also the same as the previous two bikes, with the higher-level Shimano Deore components. The 11-speed shifting system provides a more dense drivetrain feel.
For accessories, the Diamondback Atroz 2 uses the more cost-effective Suntour XCM fork. Although the Jamis FAULTLINE A2 has a longer front and rear cushioning travel, it is only a little bit. During the actual ride, I didn't feel any difference in cushioning between these two bikes.
Elsewhere, the Jamis FAULTLINE A2's very high head tube height makes it more of a comfort-seeking bike, as well as a long-distance riding competition. But it loses most of its speed, and the enlarged windward side made me feel like I was about to be blown over by the wind when I was going downhill fast.
Learn more : Is Jamis DAKAR Worth Buying?-[Jamis DAKAR Review]
2022 Diamondback Atroz 2 VS 2022 REID Horizon 1.0 FS MTB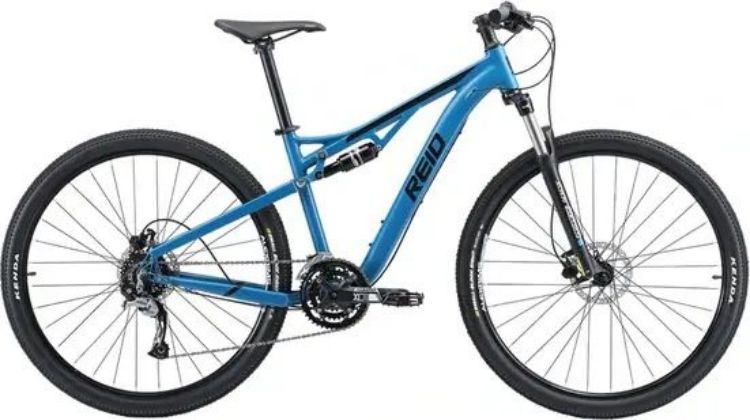 Component-wise, the REID Horizon 1.0 FS MTB uses very outdated components, even a 3×9 speed. This is a combination rarely seen on modern mountain bikes, as it makes shifting very complicated and troublesome to tune. I don't think anyone will use all 27 of these speeds.
Next, we see the Diamondback Atroz 2, which uses the same fork. But with the very advanced and cost-effective Shimano 1× components, which make shifting easy and efficient. To be honest, nowadays I don't choose a crankset without a 1× when I'm shopping for a mountain bike.
Geometrically, the BB drop is very low, which is bad news for the rocky roads. And the frame as a whole looks very wide and slack in the real world, not easy to power up. Perhaps, this might be suitable for new riders. But compared to the Diamondback Atroz 2 which is only $200 higher, my recommendation would be the Diamondback Atroz 2.