We use affiliate links and may receive a small commission on purchases.
2022 Cervelo S5 Ultegra Di2 Review
Price: $9000
Frame: Carbon
Tires: 700c×25 carbon
Gear: 2×12 Electronic
What we like about it: The ultimate aerodynamic design, the pursuit of speed.
What we don't like about it: The price is a bit steep.
Rating (4.9/5)
The Cervelo S5 Ultegra Di2 is the Cervelo family S-series road bike, and it stands for speed, so it's a good and trustworthy companion no matter if you have long, flat roads in front of you. Plus, its exaggerated styling is impressive, and the new V-stem solves the problem of an integrated front end that doesn't offer adjustability, even though it looks just as clean as the other one-piece stems.
The Cervelo S5 Ultegra Di2 is its third generation and its flagship aero road bike, and it's the best choice when you focus your bike on pure speed as well as clever integration.
Below we break down the Cervelo S5 Ultegra Di2 regarding road cruising, road downhill, key features, components and specifications, and other versions.
If you want to know more about bike reviews, you can follow us.
Cervelo S5 Ultegra Di2 Road-Cruising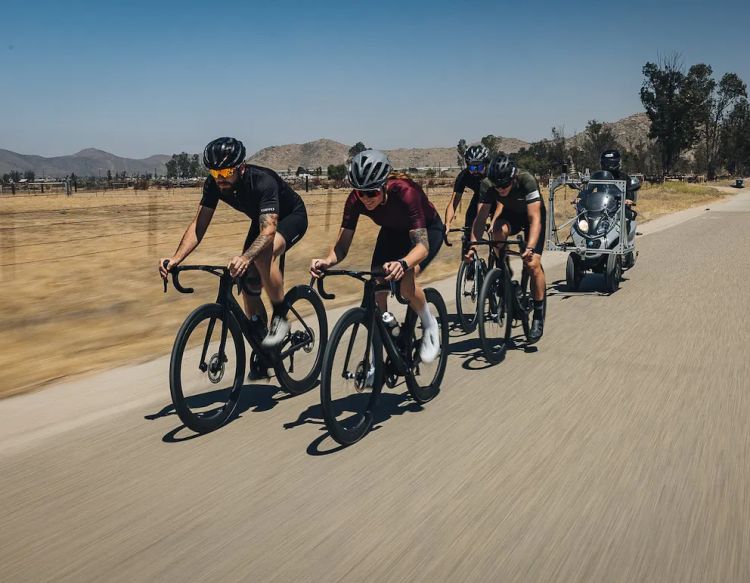 "Easy speed" is what most people say about the Cervelo S5 Ultegra Di2, and it is a bike that makes it easy to maintain high speeds. When I first got on it to maintain high speed, I was able to easily maintain 41km/h for a long time, which I had never done before.
When pedaling, I felt that the five-way height was very low and my pedals were very close to the ground. Like most superbikes with an almost ground-hugging chassis, the Cervelo S5 Ultegra Di2's chassis is also very ground-hugging to maintain a stable and low-slung position. This is great for sprinters and for cruising on flat roads, but not for riders who like rough roads where the pedals can hit the ground with rocks on very bumpy roads.
For the start, I seemed to find it a bit heavy, which may be a result of the less accommodating handlebars and the chunkier frame. But this shortcoming was overshadowed by its amazing speed-holding ability, and once it got up to my cruising speed it became flawless. The long, short frame allowed me to lie very comfortably on my back, and I maintained a minimal aerodynamic position to reduce the windward area of my body. I felt my speed increase dramatically and maintain it after maintaining a high speed, which is the ultimate aerodynamic product.
Cervelo S5 Ultegra Di2 Road-Downhill
It is important to mention that the aero frame allows it to handle all high-speed scenarios. This includes a long downhill section where I had great fun riding on winding descents such as Cheddar Canyon. It felt very comfortable on the downhills, and the slim frame allowed me to comfortably plop down on the top tube and dive down.
However, the frame itself is not a foam mattress, and when speed drops off on a downhill, I can stand up and crank the bike to continue to maintain speed. Yes, I still get the typical snappy response of a WorldTour class racer, and it doesn't cost me in comfort.
You know, downhill is not always a straight line, rushing down from the mountain road, you need to face a lot of winding roads. That's why cornering performance is so important at this point, and the nimble front-end steering allows me to enter each corner with precision. And once out of the corner, the low frame allowed me to accelerate immediately for the next challenge.
Main Features
Frame Group
Although the lightweight isn't the lightest version, the latest frame still weighs 100g less than before. In Cervelo's wind tunnel tests, it was found that a lighter frame doesn't mean faster, so Cervelo doesn't seem to be too concerned with the weight of the design frame. In addition, Cervelo has named specific tube shapes "TrueAero" for improved aerodynamic flow, such as a thicker BB, a wide flat seat tube downtube, and an asymmetrical left and right rear fork.
Also, the frame features an integrated handlebar stem assembly, an extended top tube, and a shaped center tube all make it look very special. Also, the full internal alignment makes it impossible for me to see any of the cables.
Geometry
Being an aerodynamic bike, it has a very low frame and the low-lying angle makes it look like a Lamborghini superbike. As you can see, the exterior has barely changed over the years, proving that this is indeed a good design.
I have a very short head tube (134mm) and a short wheelbase of 975mm on my size 54 bike. It's a short, long bike, and compared to its "cousin", the S3, it has the same seat tube head tube angle for the same 54-size frame, but with a shorter reach (378mm) and a higher head tube (148mm) which is relatively comfortable. So you can see that the S5 is designed to let you lie lower.
Components and Specifications
Ultegra Di2 2×12 Drivetrain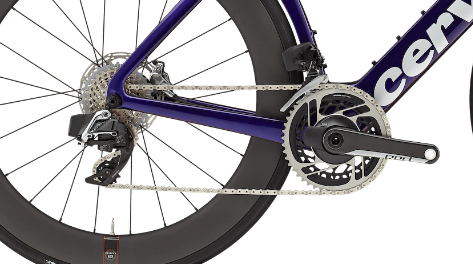 There isn't much to say about the performance of the Shimano Ultegra Di2. And I couldn't find any difference between it and the top-of-the-line Dura-Ace during use, they are both the top-of-the-line.
In addition, the 52/36 chainwheel with the 11/30 cassette give me an excellent experience. I was able to find the right gear ratio to ensure my maximum output no matter what angle I was at. Also, the electronic shifting upgrade gives me a snappy shift response that is not even worth mentioning on a $9,000 bike.
Cervelo HB14 Carbon Handlebar-Set
The new integrated handlebar fork with "nose cone" steerer tube is now one piece. And Cervelo has also dropped the stack height-specific stem bolts previously used on the S5, now only one set of bolts is needed for full 30mm stack adjustment as the S5 comes complete with spacers.
As with most integrated road bikes, it is not easy to adjust the stem length and handlebar width. However, it is worth mentioning that the handlebar design reduces air resistance and the "Y" shaped stem allows the alignment to not be at a 90° angle like a traditional one-piece handlebar, which greatly improves the feel of the brake shift. This design also increases steering stiffness to improve handling.
New Reserve 52/63mm Wheelset
For the wheelset design, Cervelo is working on some innovative designs. The wheelset was developed with the Reserve wheelset manufacturer who designed the wheelset for Cervelo, so the pair was not produced separately and then assembled, but was developed together with the bike.
In addition, the wheelset itself has many small details, such as the wider rim cross-section. Fat rims are very rare on road bikes, with 25.4mm front and 24.4mm rear. so both use bulky 28c outer tires for optimization.
And while 28c tires are not common on aero road bikes, Cervelo's can greatly improve the bike's stability for high-speed cruising, and the wider section doesn't waste a few extra watts of power for riding.
Other versions of Cervelo S5 Ultegra Di2
In this review, we examined the 2022 Cervelo S5 Ultegra Di2, and after our series of tests, it was clear that this is a bike that focuses on speed retention at high speeds and overcoming air resistance riding at any high speed.
I like its exaggerated shape and terrific cruising performance. For this reason, I also found its previous generation version and I found that the bike has kept this shape for 5 iterations since 2019 without much change. It shows that this is excellent geometry and compresses the price even further to improve the price/performance ratio, it is getting better and better.
If you want to know more versions of it, welcome to follow us.
Learn More: 2022 Cervelo R5 Ultegra Di2 Review- It Has A Mission "To Reach The Top"
What we like about it
Extreme aerodynamics, exaggerated geometric design.
Wide tires and rims provide a more stable grip.
Top line drivetrain.
Simplified and integrated group system.
Comfortable Selle Italia Novus Boost Evo SuperFlow Ti Seat Cushion.
What we don't like about it
1、The high price is not very suitable for the public rider
FAQs
1、Is the bike comfortable to ride? Can you tell us how you feel about the quality of the ride?
This is a very aggressive bike with a short head tube and a long forward reach. So on one particularly long test ride, I did need to stretch my back a little. Despite the stiffness, anything up to two hours long I found it very comfortable.
2. How do you feel about the bike overall? Did it do a good or bad job on specific things?
It's a very good handling bike that doesn't over-twitch. Even though it's very aggressive, it feels predictable. All in all, it's a very well-balanced ride. I'm especially confident turning on the S5.
3、What heights does the 2022 Cervelo S5 Ultegra Di2 fit?
The sizing chart for the 2022 Cervelo S5 Ultegra Di2 is as follows.
(These sizes are only a general guide, the true fit may vary from person to person and the easiest way to find your size is best to go for a test ride.)
| | |
| --- | --- |
| Rider height | SIZE |
| 153cm – 167cm | 48 |
| 165cm – 174cm | 51 |
| 172cm – 180cm | 54 |
| 178cm – 186cm | 56 |
| 184cm – 192cm | 58 |
2022 Cervelo S5 Ultegra Di2 Specs
Build
| | |
| --- | --- |
| Frame | carbon BB Standard: BBRight, 79mm, Press Fit Colors: Sapphire / Ice; Five Black |
| Fork | Cervélo All-Carbon, Tapered S5 Fork |
| Bottom Bracket | Ceramic Speed, BBright for 24mm spindle |
| Headset | FSA IS2 1-1/8 x 1-3/8 |
| Stem | Cervélo ST35 Carbon |
| Handlebar | Cervélo HB14 Carbon |
| Saddle | Selle Italia NOVUS BOOST EVO SuperFlow Ti |
| Seatpost | Cervélo SP20 Carbon |
Groupset
| | |
| --- | --- |
| Rear Derailleur | Shimano Ultegra, R8150, 12 speed |
| Front Derailleur | Shimano Ultegra, R8150, 12 speed |
| Crank | Shimano Ultegra R8100, 52/36T, 12 Speed |
| Shifters | Shimano Ultegra, R8170, 12 speed |
| Cassette | Shimano Ultegra, 11-30, 12 Speed |
| Chain | Shimano M8100, 12 speed |
| Brakes | Shimano Ultegra |
Wheels
| | |
| --- | --- |
| Rims | Rear: Reserve 63, 24.4mm IW, Zipp ZR1 ST,12x142mm, HG freehub, 24h, center lock, tubeless compatible Front: Reserve 52, 25.4 IW, Zipp ZR1 ST, 24H, center lock, tubeless compatible |
| Tires | Vittoria Corsa TLR G 700x28c |
Video
Comparison Table
| | | | | | |
| --- | --- | --- | --- | --- | --- |
| Bicycles | Price | Drivetrain | Brakes | Tires | Click view |
| 2023 Trek Madone SLR 7 Gen 7 | $9049 | Ultegra Di2 2×12 | Shimano Ultegra/XT M8100 Hydro Disc | Bontrager R3 Hard-Case Lite 700x25c | Click View |
| Scott Foil RC Pro | $9499 | Dura-Ace Di2 2×12 | Shimano BR-R9270 Hydro Disc | Schwalbe PRO ONE Microskin 700x28C | Click View |
| Canyon Aeroad CFR Disc MvdP | $9500 | Dura-Ace Di2 2×12 | Shimano Dura Ace Di2 R9170 Hydro Disc | Continental Grand Prix 5000 700×25C | Click View |
| Orbea ORCA AERO M11eLTD | $9999 | Sram Red eTap 2×12 | Sram Red eTap 2×12 Hydro Disc | Vittoria Corsa G2.0 TLR 700x25c | Click View |
2022 Cervelo S5 Ultegra Di2 vs 2023 Trek Madone SLR 7 Gen 7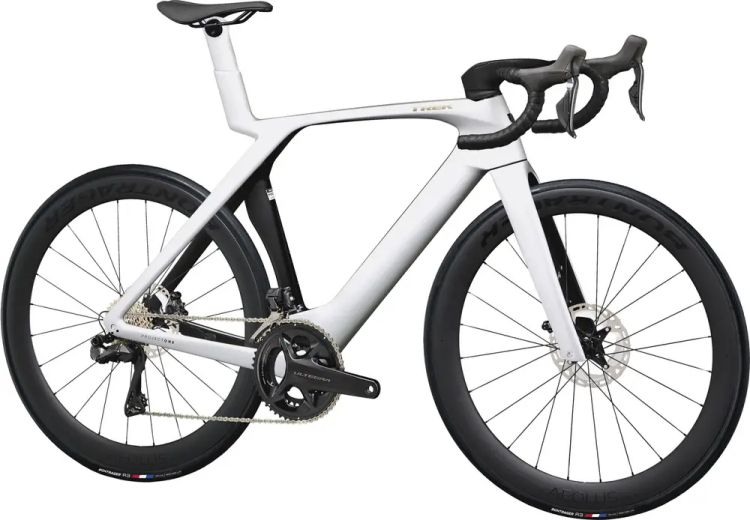 Both bikes use the same components, and there can be little difference in the drivetrain and brake feel.
In terms of geometry, the Trek Madone SLR 7 Gen 7 has a higher head tube length (150mm), which makes the whole bike more comfortable to ride. The Cervelo S5 Ultegra Di2 has a shorter head tube length (109mm) but a raised handlebar design, which makes it more aerodynamic and lowers the overall frame without losing ride comfort.
Although it may look a little alien in the frame, I do not care. Because speed is the first criterion for the pursuit of aero bikes.
In addition, for the tires, the Cervelo S5 Ultegra Di2 uses a thicker and more stable 28c outer tire, which they claim will make the bike more stable when cruising. The Trek Madone SLR 7 Gen 7, on the other hand, uses a 25c tire that is more speed-oriented, which may lose some stability.
Learn More: Trek Madone SLR 9 eTap Gen 7 Review [2023]- The Championship Choice That Will Take You To The Top
2022 Cervelo S5 Ultegra Di2 vs 2022 Scott Foil RC Pro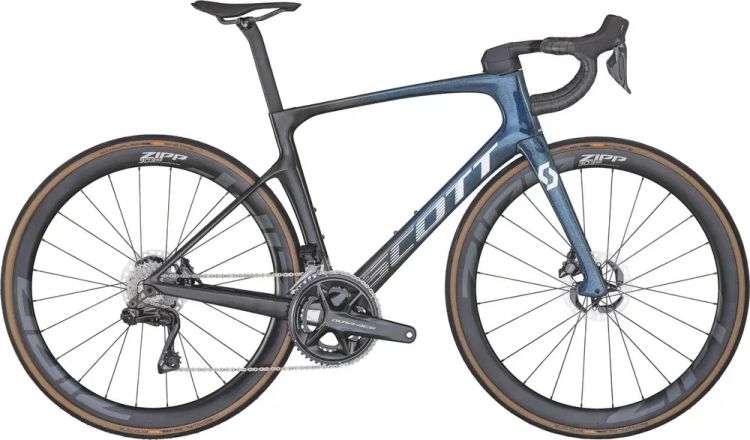 The Scott Foil RC Pro has a more hefty price tag, and it's upgraded with the Shimano family's top-of-the-line Dura-Ace components, which is the only source of the price difference in my opinion.
In terms of geometry, the Scott Foil RC Pro has a lower and more forward stance, which is very aggressive and allows the rider to have good speed retention. However, if this stage is too long, over 150km, I feel very hard on my neck and need a long rest to recover. However, the Cervelo S5 Ultegra Di2 has aggressive geometry, but the raised handlebars alleviate this nicely. I rode up to 200km in this test without feeling any discomfort. If you prefer to take on longer challenges, perhaps you could try the Cervelo S5 Ultegra Di2.
2022 Cervelo S5 Ultegra Di2 VS 2022 Canyon Aeroad CFR Disc MvdP
Almost the same as the last bike, I think the difference comes from upgrading the top-of-the-line Dura-Ace components. It was a good step up, otherwise, I might still want to upgrade my Ultegra components on subsequent upgrades.
It is worth mentioning that the Canyon Aeroad CFR Disc MvdP uses a full carbon high-frame wheelset. This will undoubtedly greatly enhance its high-speed cruising ability as well as reduce the weight of the whole bike.
Geometrically, there is little difference between the geometry of the two bikes, both are well suited for flat road cruising. And the low profile head tube and near horizontal top tube attest to this. I did find this to be true in my experience, and both have good cruising ability.
Learn More: Canyon Aeroad CF SL 7 WMN Disc Review [2022]- Turning Air Resistance Against You Into Power
2022 Cervelo S5 Ultegra Di2 vs 2022 Orbea ORCA AERO M11eLTD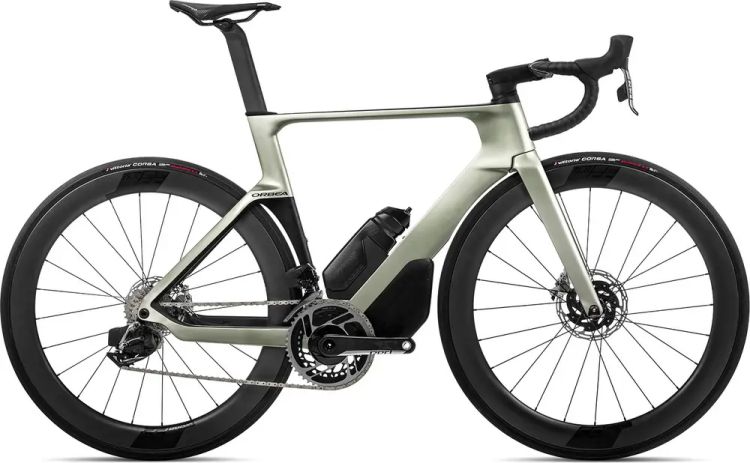 This is the most expensive bike on the table, and it features the SRAM Red eTap, the top-of-the-line SRAM family drivetrain kit, which is the best component I think a road bike can use today. But it seems the design of the frame is not worthy of such expensive components.
Also, geometry-wise, the Orbea ORCA AERO M11eLTD has a much longer head tube length (134.9mm), while the vehicle under review is only 109mm, which makes the Orbea ORCA AERO M11eLTD look not very aggressive. Radical is what aero road bikes need, no one wants to walk with an aero road bike, and speed is what they are after.
But that's probably because Orbea's design doesn't point to an aero bike. It wants to design a more aerodynamic and integrated time trial bike that takes into account Ironman events, as evidenced by the large water bottle and the bottom shelf. So the frame will be designed to be more comfortable to meet more people's needs in many ways.
In case, the above comments are helpful to you, please remember to share the subscription. Have a great day!