We use affiliate links and may receive a small commission on purchases.
2023 Canyon Spectral 29 CF 7 Review
Price: $4299
Frame: Carbon
Stroke: front 160mm, rear 150mm
Tires: 29×2.50″
Gear: 1×12
What we like about it: The three-phase suspension Horst-Link design of the rear suspension, and the reverse chip.
What we don't like about it: The seat tube height is too high.
Rating (4.8/5)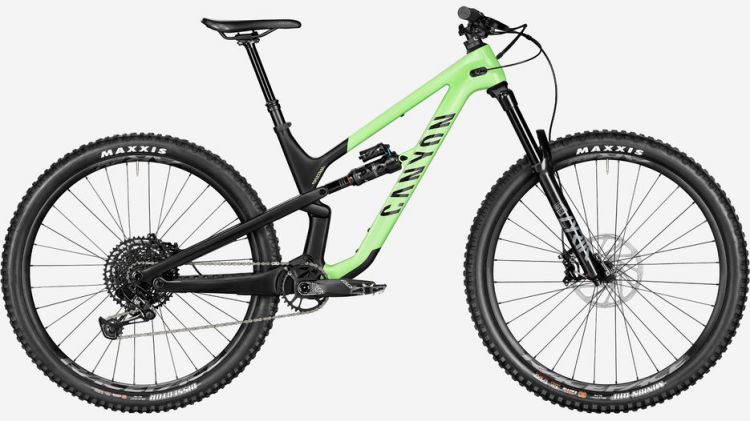 Introduction
The addition of the Spectral nicely fills a gap in the Canyon family's off-road lineup, and the Canyon Spectral 29 CF 7 is a well-balanced off-road bike for all scenarios. It's great that Canyon has added big tires to a much-loved lineup, and it inspires confidence with a great geometry that people can't help but love and a great suspension that is widely acclaimed. It may not be as cost-effective as its previous line, but people still love it.
Canyon also has a wide range of options for this series, including the fast-rolling 29er Spectral, the more fun and flexible smaller-wheeled 27.5-inch Spectral, and the Spectral:ON. The last is an electric-assist model with a Shimano EP8 motor.
In this test, we test the Canyon Spectral 29 CF7. About climbing performance, descending performance, main features, components, specifications, and other versions.
If you want to know more about bike reviews, you can follow us.
Canyon Spectral 29 CF 7 Climbing Performance Review
I often go riding in the hills around town and a good mountain bike should be used for climbing and descending. I just got it and couldn't wait to dash into the woods for the start of the climb and start my day of climbing fun.
Indeed, I found that its larger tires did have a nice effect, not only allowing it to filter out smaller rocks, but also providing some traction for climbing.
I felt it was a friendly companion as I made my way up the hill. It has a steep seat tube (76.5°), a long overall wheelbase (1251mm), and a very calm suspension platform that ensures that the front tires don't drag off the ground easily and allows it to roll fast. the RockShox Super Deluxe Select+ shocks also set it up with a firm compression setting that we used only on long climbs.
In just a few minutes, I made it to the top of this section, and the massive 52T geared cassette would allow me to handle any steep incline letting me spin the pedals at a breakneck pace. And, the power delivery felt direct and efficient to me. But when faced with uphill switchbacks and some technically complex rock gardens, the long bodywork made it not so good at it, requiring me to have skill and route selection.
But when I was faced with a high bump, I wasn't worried about it knocking my chassis. All I had to do was turn on the reverse chip and it raised the height by 8mm and angled the head tube and seat tube by 0.5 degrees, making it adaptable to steep surfaces. This makes a lot of sense for this kind of heavy trail riding.
Canyon Spectral 29 CF 7 Descending Performance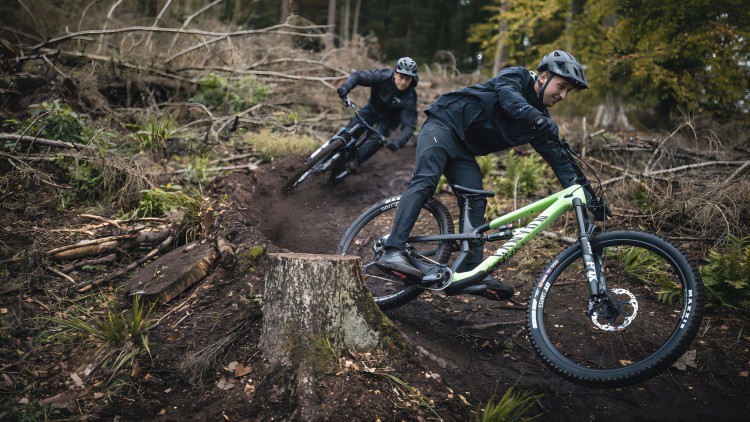 Once I finished the day's climbs, I got to the main battlefield of the Canyon Spectral 29 CF 7, and I would sprint down the hill to finish the day's full ride. The excellent front and rear suspension (150mm rear, 160mm front) felt very stable, and it swallowed high-frequency bumps and pounding, inspiring even more confidence going into steep, thick, and aggressive terrain.
When there were difficult obstacles in front of me, I had to change my route for that reason. It responds well to my handling, thanks in large part to its shorter handlebar (50mm).
As I entered some very bumpy roads, I lamented the fact that it had a long front reach (485mm), which gave me plenty of room to move around in my seating position. While it is very stable, it never feels like the bike is sinking and sticking to the ground. And it is very easy to do some fly-ups and perform creative maneuvers on some small hills.
Although the long wheelbase body sometimes makes it look slightly bulky, this has the benefit of a stable frame and easy handling, making it perfect for heavy off-roading. Even so, it still handles well, and it can maintain forward motion in places like high-speed corners and thick rock gardens.
In addition, Canyon's three-phase suspension design is the best Horst-Link system I've ever ridden. This is because small bumps can be almost ignored and larger bumps can provide good continuity. Even very large impacts can be handled well, and there was no bottoming out of travel during my entire ride.
Main Features
Frame Group
The frame is a full carbon design and the Triple Phase suspension design is a Horst-Link system. This system places the main pivot of the cushioning directly above the bottom bracket, the pivot of the rear lower fork in front of the rear axle, and the linkage of the rocker in the middle of the center tube. And, Canyon describes this suspension platform as being in three stages, sensitive from the top, stable in the midrange, and more progressive at the end of the stroke.
In addition, the frame has a full inward cable layout and a thoughtfully placed water bottle cage mounting hole in a very narrow front triangle. However, the seat tube length is the only thing I'm not too happy about. It stretches upward, leaving me with no way to minimize the dropper, and I can probably improve it at a later stage.
Geometry
While I was using it, I found it very stable and could control my bike steadily while riding, which should depend on the very slack head tube angle (64.5°). The seat tube angle (76.5°), however, is more aggressive in comparison and I can feel a higher drivetrain efficiency when pedaling.
Second, the taller Stack (636mm) and shorter Reach (485mm) allow me to ride more upright and much more comfortably. And, the long wheelbase (1251mm) also allows me to ride more stable, but the steering seems a bit sluggish.
In addition, the frame is equipped with a reverse chip in the lower shock configuration, which adjusts the head tube and seat tube angle by 0.5° and raises the five-way height by 8mm.
Components and Specifications
SRAM NX Eagle 1×12 Drivetrain
The frame is equipped with SRAM NX series components to reduce the complexity when shifting through the front single-tooth disc. And the elimination of the front derailleur is accomplished by simply changing the rear derailleur, thus adjusting the overall riding experience.
As I was descending, I didn't have time to think about the shifting I was doing. But for different descents, I had to change gear ratios to cope with the different gradients. Now I can use only two fingers of my right hand to do all the shifting and I don't need to think about how to match the front with the back. The free left hand can take care of the dropper. There is no doubt that the single-disc design of mountain bikes is a real milestone.
SRAM G2 R Hydraulic Disc Brake
First of all, the 4-piston G2 R disc brake gave me plenty of confidence. On a bike that focuses on descending, braking is a very critical component.
I had to carefully control my brakes during the entire descent to keep the bike at the right speed. The excellent braking performance of the SRAM G2 R hydraulic disc brakes allowed me to descend with confidence. This did not reduce the SRAM G2 R's braking performance in any way, whether it was raining or through muddy roads.
Front Maxxis Minion DHF, 2.5″ rear MAXXIS Dissector 2.4″ Tires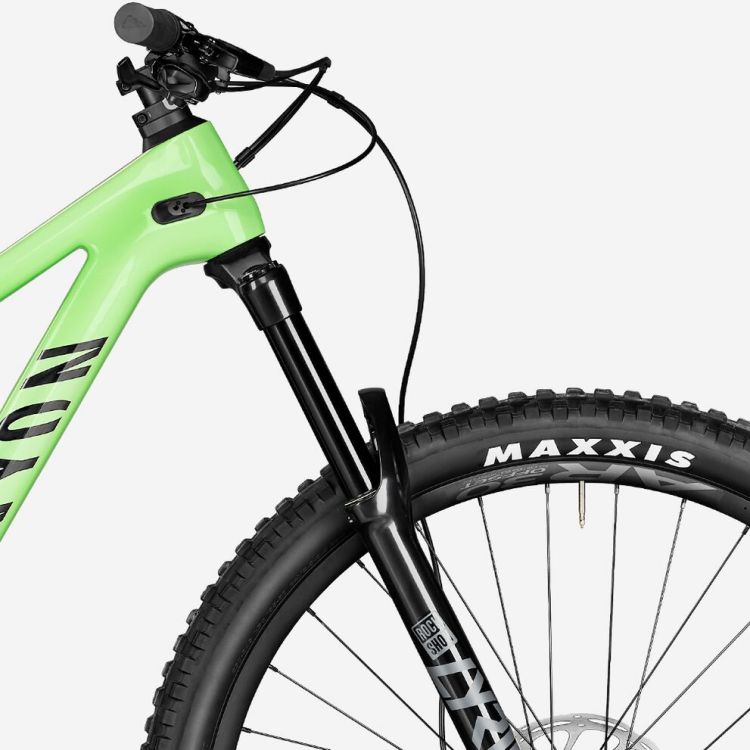 The Maxxis outer tire is well known in the mountain bike world, and the thick front and thin rear tire widths give the bike a good descending experience.
When descending, the wide front tire can be the first to touch the landing point and provide stable support. And the narrower rear tire is more likely to follow the trail of the front tire to keep up with it. It's a proven design on a descent-focused mountain bike, and I'm partial to this proven design.
The vacuum tire design also allows me to stay better focused on descending rides and not worry about too many flat tire accidents happening.
Rockshox Lyrik Select RC Fork
It's a great fork, and the loosehead tube angle makes it even more capable of showing off its strength. You know that a stable frame often needs strong fork cushioning, and the RockShox Lyrik Select RC is no exception.
When I passed a big rock wall, I held the handlebars tightly with both hands and pounded downwards. The right amount of fork cushioning travel gave me good landing performance, and with the three-phase support of the rear suspension, I was always able to land firmly. I can say that this bike is known for its stability not only because of its geometry but also because of the fork cushioning that gives it a good landing. First impressions are very important when landing.
Other versions of Canyon Spectral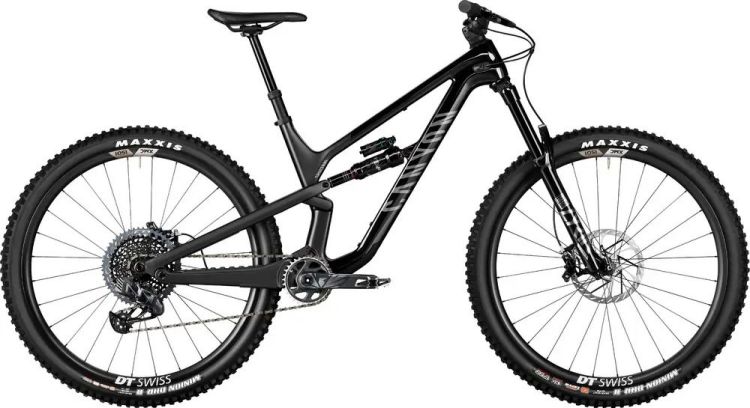 In this review, we have reviewed the Canyon Spectral 29 CF 7. The three-phase suspension Horst-Link design on the rear suspension and the reverse chip is really good designs for descending models, while the steep seat tube angle makes it unafraid when climbing. So you could say the Canyon Spectral 29 CF 7 is an all-rounder for both climbing and descending.
For this, we also looked up the 2022 Canyon Spectral 29 CF 9. It's the latest addition to the Canyon Spectral line, featuring the highest quality RockShox Lyrik Ultimate fork and top-of-the-line GX Eagle AXS, X01 Eagle electronic shifting components. And there's no difference in frame geometry from the seventh generation, for which you'll pay an extra $1,700 for the upgrade. If you are looking for a higher configuration, it is equally good.
Follow us for more products in this series.
What we like about it
Excellent front and rear suspension systems
Stable body and comfortable seating position
Adjustable flip-chip for changing geometry
Three-phase suspension Horst-Link design for rear suspension
Excellent pedaling efficiency
What we don't like about it
1, The height of the seat tube is designed to be a little high, affecting the trip of the drip tube.
FAQ
Can I ride the Canyon Spectral 29 CF 7 on the road during the week?
The Canyon Spectral 29 CF 7 is certainly up to the task, whether it's gravel forest roads or city roads. You can lock in the front and rear cushioning and ride lightly on the road, although they're a little different than road bikes.
What brand of tires are they for the Canyon Spectral 29 CF 7? What are the sizes?
Maxxis Minion DHF, 2.5″ for the front tire and MAXXIS Dissector 2.4″ for the rear tire. The wide front and narrow rear tire widths are designed to provide good stability for the body and have a good performance downhill.
What heights does the Canyon Spectral 29 CF 7 fit?
The sizing chart for the Canyon Spectral 29 CF 7 is as follows.
(These sizes are only a general guide, the true fit may vary from person to person and the easiest way to find your size is best to go for a test ride.)
| | |
| --- | --- |
| Rider height (cm) | Frame size |
| <176cm | SM |
| 174cm-184cm | MD |
| 182cm-193cm | LG |
| 191cm+ | XL |
2023 Canyon Spectral 29 CF 7 Specs
Build
| | |
| --- | --- |
| Frame | Canyon Spectral CF 29 BB Standard: BSA, 73mm, Threaded Color: X-Ray |
| Fork | Rockshox Lyrik Select RC |
| Rear Shock | RockShox Super Deluxe Select+ |
| Bottom Bracket | SRAM BSA DUB |
| Stem | Canyon G5 Stem |
| Handlebar | Canyon G5 Riser Bar |
| Saddle | Ergon SM10 Enduro Comp, Developed on the Enduro World Series, the SM10 gives you max freedom of movement in technical terrain. On certain models, this saddle may be substituted for an alternate, equivalent Selle San Marco model., Potentially affected models include: Spectral 6 27 (Model #3184), Spectral 6 29 (Model #3185) |
| Seatpost | Iridium Dropper Post |
| Pedals | None included |
Groupset
| | |
| --- | --- |
| Rear Derailleur | SRAM NX Eagle, The NX Eagle rear derailleur delivers consistent shifts thanks, in part, to its robust steel/aluminum chassis. |
| Crank | Descendant 6K |
| Shifters | SRAM NX Eagle Trigger 12s, SRAM's NX Eagle shifter helps deliver the simplicity and precision of a wide-range, single-ring drivetrain. |
| Chain | SRAM SX Eagle 12s |
| Chain Guide | Canyon Chainguide, Canyon's integrated chain guide keeps your chain right where it belongs during high-speed descents. |
| Brakes | SRAM G2 R, SRAM's 4-piston G2 R disc brakes boast a consistent combination of stopping power and control. | SRAM G2 R |
Wheels
| | |
| --- | --- |
| Rims | RaceFace AR30 | Shimano MT400, Shimano MT400 front hub with Boost 110 spacing, RaceFace AR30 aluminum rim, 30mm inner rim width | RaceFace AR30 | Shimano MT400 SH11 |
| Tires | Maxxis Minion DHF, 2.5″, EXO casing, Tubeless Ready design | MAXXIS Dissector 2.4″, The Dissector tire offers outstanding traction and control. |
| Disk Rotors | SRAM Centerline, 200mm, SRAM's 200mm Centerline front rotor ensures you always have to stop power to spare. | SRAM Centerline, 180mm, Diameter: 180 mm. |
Video
Comparison Table
2023 Canyon Spectral 29 CF 7 VS Specialized Stumpjumper EVO Comp Alloy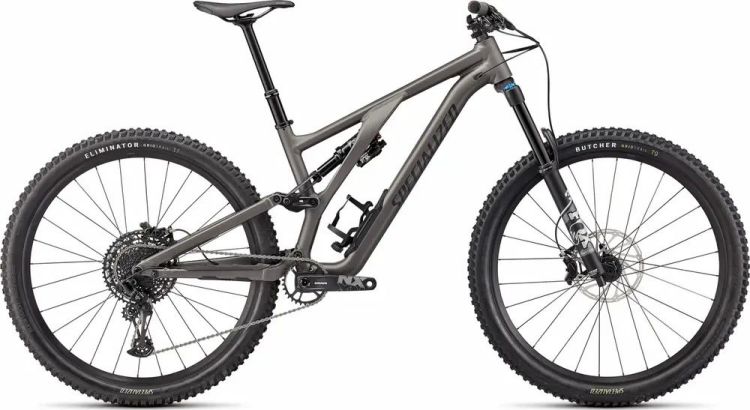 The two bikes don't look very different on the configuration sheet. The same front and rear travel, and the same components, while the Canyon Spectral 29 CF 7 has better RockShox Lyrik Select fork cushioning.
The Canyon Spectral 29 CF 7 has a higher standover height and a longer seat tube, which makes the frame very stable and more comfortable to ride. However, it may be a little unfriendly to riders who are not very tall.
On the contrary, the Specialized Stumpjumper EVO Comp Alloy has a smaller frame triangle, which makes it easier to ride with more power. And it can have a smaller stand-up height and a more aggressive riding position.
In terms of tires, the Canyon Spectral 29 CF 7 uses wider and more stable 2.5″ tires, while the Specialized Stumpjumper EVO Comp Alloy happens to use a 2.3″ tire width. When I descend with these two bikes, I can feel that one of them is more focused on stable crushing and the other is more focused on fast drifting.
Of course, the ultimate choice is yours on how to choose.
2023 Canyon Spectral 29 CF 7 VS 2023 Trek Slash 8
Trek used an all-aluminum frame on this bike, which will have a relatively higher weight, but both have the same price. Comparing the data, I found that the 2023 Trek Slash 8 has a better package, but there is not much difference between the two in my real-world experience.
It's worth noting that the Trek Slash 8 is longer in both front and rear travel, allowing it to handle steeper surfaces when riding, but the heavier aluminum frame makes this less of an advantage. It's a frame with a very low stack height, meaning it can better accommodate riders of low height while being more suited to fast, fun, efficient rides that require responsiveness. The Canyon Spectral 29 CF 7, on the other hand, will be more composed, seeking a steady grind over obstacles. If I had to make a choice, I think the Canyon Spectral 29 CF 7 would be the better choice.
Learn More: What Are Your Reasons For Choosing It? –Full Shock Endurance Mountain Bike 2023 Trek Slash 8 Review
2023 Canyon Spectral 29 CF 7 vs 2023 Marin Alpine Trail Carbon 2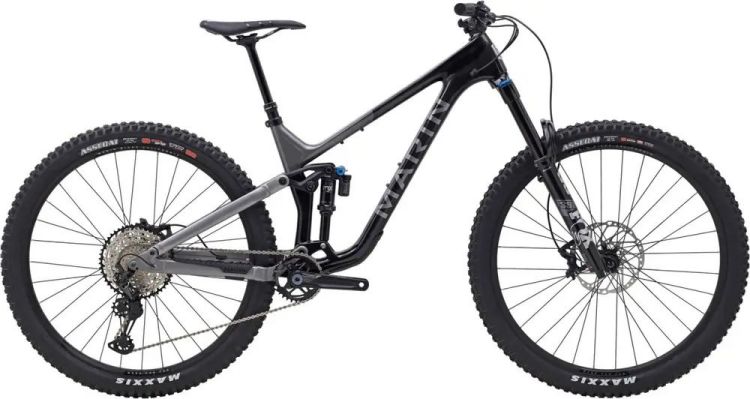 The Marin Alpine Trail Carbon 2 is a great bike for descending, with a top fork and 160mm cushioning, which allowed me to respond with precision even after a very fast descent, and it also has a lower standover height than the Canyon Spectral 29 CF 7, which makes it very aggressive and aggressive. You can descend quickly without making mistakes.
But for stability the Canyon Spectral 29 CF 7 is outstanding, it allows you to get through every rock garden without worrying about the front or rear tires popping up and causing accidents, and the wide 25″ tires allow it to filter out the smaller bumps.
Learn more : Is Marin Rift Zone 27.5 1 Worth Buying? [Marin Rift Zone 1 Review]
2023 Canyon Spectral 29 CF 7 vs Canyon Spectral 29 CF 8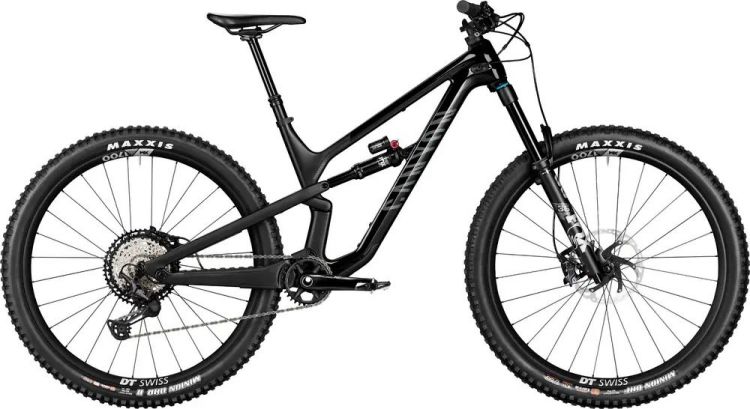 These are the two iterations with upgraded more advanced fork cushioning and replaced Shimano shifting system.
Other than that, nothing has changed in the geometry of the frame, but for that, I need to pay almost $1000. I think this is inappropriate and should be too much of a premium for a new release. If you are willing to wait, you can also buy the 2022 Canyon Spectral 29 CF 8. For now, I would choose to buy the cheaper 2023 Canyon Spectral 29 CF 7.
In case, the above comments are helpful to you, please remember to share the subscription. Have a great day!
learn more:Canyon Spectral 29 CF 7 Review [2022]- A Tank-Like, Composed All-Rounder