We use affiliate links and may receive a small commission on purchases.
2022 Cannondale Habit 5
Price: $2525
Category: Full-suspension mountain bikes
Frame: Aluminum
Gear: 1×11
Tires: 29 x 2.4″
What we like about it: SmartForm C1 alloy frame, proportional responsive design, and excellent design allow you to explore the fun of the forest road.
What we don't like about it: The comfort of the handlebars doesn't satisfy everyone.
Rating (4.7/5.0)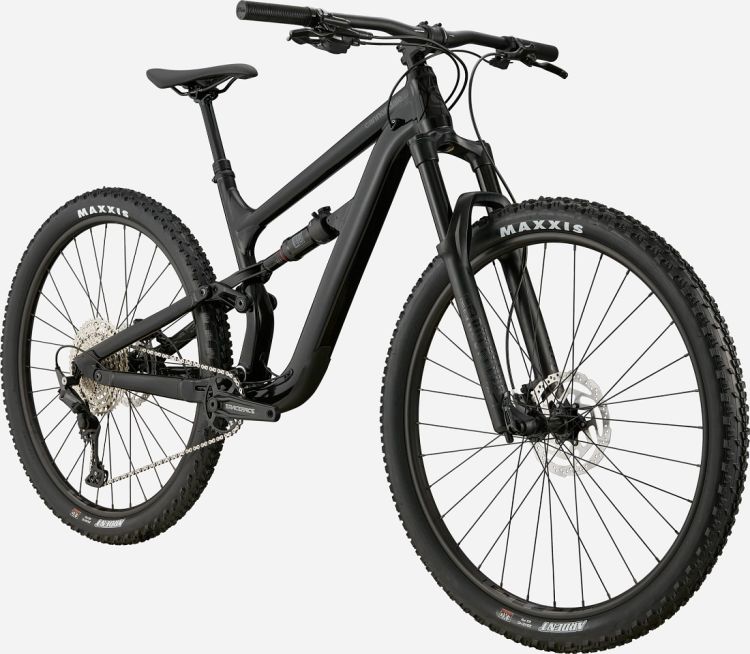 Introduction
Lightweight, sturdy, agile, and newly designed for forest road exploration. Could there be such a great mid-range bike?
I used to think you couldn't have a trustworthy full-suspension bike without $3,000. When my team received the Cannondale Habit 5 and saw its $2525 price tag, we wanted to position it as a regular full-suspension bike.
But after the review, it completely exceeded my expectations. Whether it's traction, braking, or smoothness, it's amazing.
If you're picking a forest road bike, I think you can prioritize the Cannondale Habit 5.
Below we have broken down the climbing and descending measurements, key features, and component specifications of this bike. If you're interested, remember to follow us!
Cannondale Habit 5 Climbing Review
Through, several months of evaluation, it has created a very comfortable riding experience for us. It has fully demonstrated to us with its excellent performance that it is good value for money.
First of all, the relatively compact size and frame design made us feel friendly and comfortable from the moment we rode it. The alloy frame is strong and sturdy, and the add-on AI offset Drivetrain offers adjustable features for each rider so that we can adjust it to suit our situation.
Moreover, the application of Cannondale's ace proportional responsive design allows us to ride with a more flattering curve and proportion to the bike. It ensures both stable riding and speed, making us feel assured and bold when climbing upwards.
Secondly, the reversible chip technology allows us to adjust the angle of the head angle upwards, making it easier and less stressful to climb and improving traction.
Not only that but the Shimano Deore M5100 drivetrain's 11-51-tooth cassette is quite tight. With their cooperation, I didn't spend too much time and effort on the high-angle climbs, and quickly leaped over them and got back on the ground firmly.
In addition, its front and rear shocks coupled with the dropper make it possible for me to climb without feeling uncomfortable bumps.
As far as climbing is concerned, it is no problem for daily game cross-country.
Cannondale Habit 5 Descending Review
Speaking of drops, then I have to mention the Cannondale Habit 5 tires.
The wide tires grab every piece of ground with precision. Sturdy enough to finely sense every obstacle, it quickly rolls over gravel or tree branches so we can achieve a high-speed sprint.
And, the proportional response design works tacitly with the shock absorbers to give us the flexibility to recover after punching over raised boulders. Yes, it maintains balance instead of meandering and struggling.
Not only that, but the slack head tube angle paired with the steep seat tube angle gave us a smooth ride through the trails. They easily translated our power to drive the Cannondale Habit 5 forward.
However, with front and rear shocks and droppers, the Cannondale Habit 5 will inevitably be a bit heavier.
Nevertheless, it didn't affect our confidence and excitement while riding on most of the downhill sections.
Main Features
Frame Group
The weight of the frame, the material, and its design have always been part of the constant innovation of every bike brand. Cannondale must have a say in this matter.
This Cannondale Habit 5 is made with its own SmartForm C 1 alloy construction, which has always been popular among riders for its lightness and sturdiness.
Moreover, it is custom designed for each frame size so that riders of different heights can experience optimized suspension performance.
Not only that, Ai Offset Drivetrain can open up the rear triangle area of the frame to adjust the tire clearance and be compatible with different sizes of tires.
Plus, its LockR pivot creates a rock-solid connection on both sides of the swingarm for instant response. Better shock absorption for our bikes and increased riding smoothness.
Geometry
Regarding geometry, a good forest bike can handle a variety of complex terrain and will require a more rigorous geometry design. the Cannondale Habit 5 is designed to do just that.
First, the relatively slack head tube angle of 66° and slower steering increases the rider's control over rough terrain. And, helps the rider stay stable at all times.
Importantly, Habit 5 also features reversible chip technology that lets you change the geometry. You can tilt the head tube angle by half a degree and raise the bottom bracket by a few millimeters. This allows you to switch the right tire.
Secondly, the 74.5° seat tube angle allows the saddle to extend forward, which is friendly to riders who venture out on forest roads frequently. It allows the rider to ride in an aerodynamic vantage point for more efficient climbing.
Moreover, the short 130mm rear dropout fork ensures the rider's agility when accelerating, which helps the rider to reduce the energy consumed when pedaling.
Components and Specifications
RockShox Deluxe Select Rear Shock Absorber
We riders usually choose a full-suspension bike with a rear shock when faced with a large drop or a very rough road.
So, we needed a reliable rear shock, and the RockShox Deluxe Select rear shock would be a good choice for us. It has proven off-road performance and is easy to adjust in a simple package.
In addition, the DebonAir air spring maximizes the fine-tuning potential to adjust the amount of positive and negative air with the bike. And the adjustable rebound is designed to accommodate a wider range of riders to obtain adjustments.
Shimano Deore M5100 Drivetrain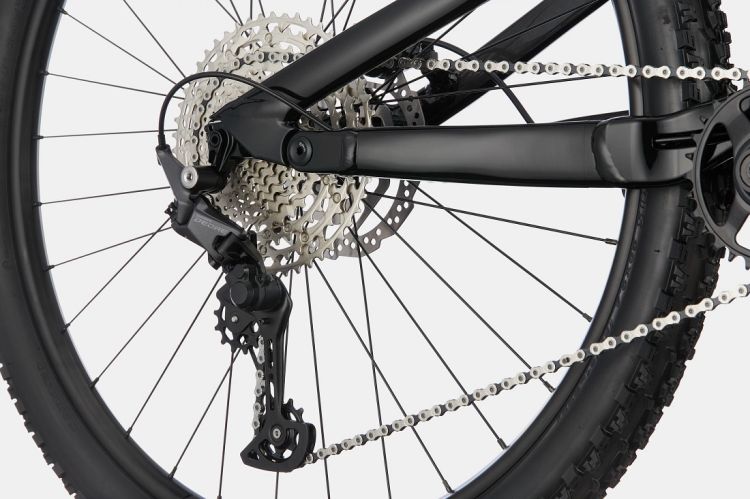 The Cannondale Habit 5 is paired with a Shimano Deore M5100 drivetrain with smooth and precise HG shifting for optimal rider control in all terrain.
Meanwhile, the refined design prevents the rear derailleur from wearing out. And it is equipped with a chain stabilizer that reduces chain drop and flapping so that the rider can accelerate with confidence.
On top of that, the tight and rich gear ratios were a favorable factor for us to accomplish efficient climbs. It gives us a wide range of gears at 1×11 speeds, so we have plenty of gears to break through the trails.
There is no doubt that these sturdy parts will make any intermediate rider a happy riding experience.
Maxxis Ardent Tires
This tire is a light off-road tire that can effectively help us improve braking and increase rolling speed.
Its unique EXO sidewall protection material, densely woven, lightweight, and highly flexible, ensures that our tires do not suffer under strong pressure. This is the durable tire that trail riders need.
Not only that, the 29″ tires are strong enough to grip the ground in steep mountainous terrain. Especially on some dry trails, its performance is even more outstanding.
Other versions of Cannondale Habit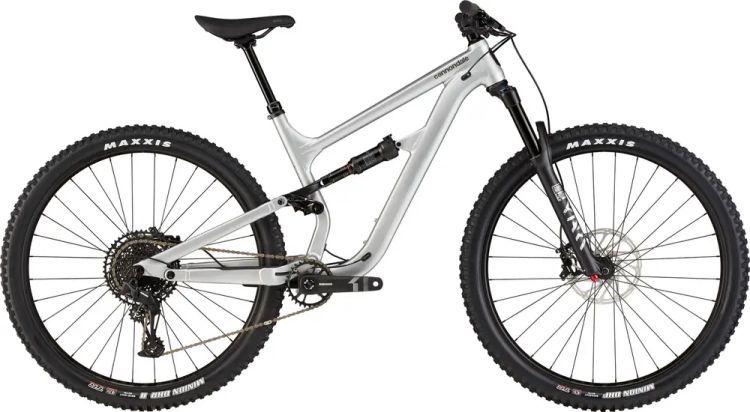 After our detailed analysis of 2022 Cannondale Habit 5, you should have a comprehensive understanding of it.
However, there are other versions of this car. If you want to continue, we have chosen a few cars of the same series to compare with the 2022 Cannondale Habit 5, namely the 2022 Cannondale Habit Waves, and the 2022 Cannondale Habit Carbon 1.
2022 Cannondale Habit Waves
This 2022 Cannondale Habit Wave has the same frame design and tires as the 2022 Cannondale Habit 5. But the 2022 Cannondale Habit Waves is more expensive than the 2022 Cannondale Habit 5, which retails for $3325.
That's because it features a RockShox Yari RC fork with the addition of proven Motion Control™ dampers. And, the 2022 Cannondale Habit Waves also features the SRAM SX Eagle 1×12 drivetrain and SRAM G2 R hydraulic braking system. It is more suitable for professional race riders.
2022 Cannondale Habit Carbon 1
In my opinion, the Cannondale Habit Carbon 1 is a complete upgrade from the Cannondale Habit 5.
It has a lighter carbon frame option and features a RockShox Pike Select+ fork with the new Charger 3 RC2 shock and a 10-52 tooth SRAM GX Eagle drivetrain. Also, it also comes with an SRAM G2 RSC hydraulic disc with a CenterLine rotor.
It is undoubtedly the best choice for your sprint to the championship. If you don't plan to compete in advanced races, then Cannondale Habit 5 will be more suitable for you.
Learn more: Cannondale Habit 4 review
What we like about it
SmartForm C1 Alloy Frame
RockShox 35 Silver R 140mm front fork
Deluxe Select shock absorbers
Flip Chip
LockR Pivot
Shimano Deore M5100 drivetrain
What we don't like about it
Handlebars that don't fit some people
No richer colors
FAQ
What is the frame material of the Cannondale Habit 5?
Cannondale Habit 5's frame material is a SmartForm C1 alloy frame.
What is the drivetrain of the Cannondale Habit 5?
The drivetrain of the Cannondale Habit 5 is the Shimano Deore M5100.
What are the rear shocks on the Cannondale Habit 5?
The rear shock on the Cannondale Habit 5 is a RockShox Deluxe Select.
What are the dimensions of the Cannondale Habit 5?
| | | | | |
| --- | --- | --- | --- | --- |
| Size | SM | M | L | XL |
| Rider height | 5'2″ – 5'5″ | 5'5″ – 5'10" | 5'7″ – 6'1″ | 6'0″ – 6'6″ |
2022 Cannondale Habit 5 Specs
Build
| | |
| --- | --- |
| Frame | 130mm travel, SmartForm C1 Alloy, Proportional Response Tuned, Ai offset drivetrain, ISCG05, BSA 83, post mount brake, tapered headtube BB Standard: BSA, 73mm, Threaded Color: Black |
| Fork | RockShox 35 Silver R, 140mm, Coil, 15x110mm thru-axle, tapered steerer, 51mm offset |
| Rear Shock | RockShox Deluxe Select, DebonAir, adjustable rebound |
| Bottom Bracket | Race Face BSA |
| Headset | Integrated, 1-1/8 to 1.5″, sealed angular contact bearings |
| Stem | Cannondale 3, 6061 Alloy, 31.8, 0° |
| Handlebar | Cannondale 3 Riser, 6061 Alloy, 15mm rise, 8° sweep, 4° rise, 780mm |
| Saddle | Cannondale Ergo XC |
| Seatpost | TranzX Dropper, 31.6, Internal Routing, 100mm (S), 120mm (M-XL) |
| Pedals | Not included |
| Grips | Fabric FunGuy |
Groupset
| | |
| --- | --- |
| Rear Derailleur | Shimano Deore M5100 |
| Crank | RaceFace Ride Cinch, 30T |
| Shifters | Shimano Deore M5100, 11-speed |
| Cassette | Shimano Deore M5100, 11-51, 11-speed |
| Chain | KMC X11, 11-speed |
| Brakes | Tektro M275 hydraulic disc, 180/180mm rotors |
| Brake Levers | Tektro hydraulic disc |
Wheels
| | |
| --- | --- |
| Rims | WTB STX i23 TCS, 32h, tubeless ready |
| Spokes | Stainless Steel, 14g |
| Front Hub | Shimano MT400, 15x110mm thru-axle |
| Rear Hub | Shimano MT400 12×148 |
| Tires | Maxxis Ardent, 29 x 2.4″, EXO casing |
Video
Comparison Table
2022 Cannondale Habit 5 vs 2022 Kona Process 134 27.5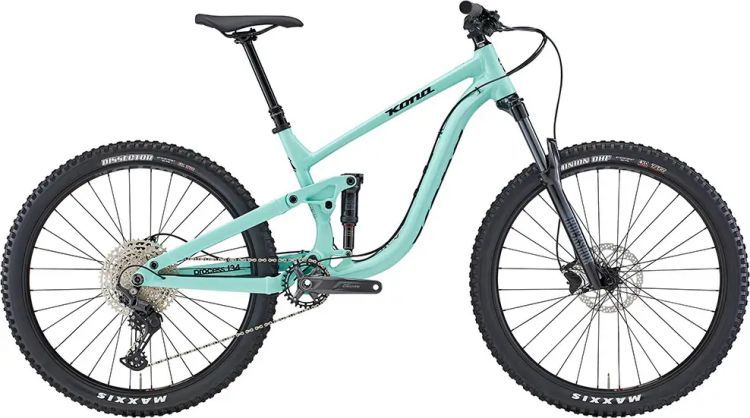 The Kona Process 134 27.5 with a 6061 aluminum frame also uses the same progressive design to ensure the bike recovers quickly after a crash.
The difference is that the 2022 Cannondale Habit 5 has an Ai Offset drivetrain, which makes it easier to adjust tire clearance. And the reverse chip allows the rider to adjust the geometry.
Other than that, the Kona Process 134 27.5 uses 27.5-inch tires. I think the Cannondale Habit 5 with 29-inch tires would be more appropriate for off-road on forest roads.
Learn more : Is Kona Process 134 29 Worth Buying? – [2023 Kona Process 134 29 Review]
2022 Cannondale Habit 5 vs 2022 Diamondback Release 29 2
After our evaluation, the Diamondback Release 29 2 forks with grip dampers give the rider better damping. And it comes with a 12-speed Shimano SLX M7100 Shadow Plus drivetrain that has a wider range of shifts. So it does have the performance to match the $3,400.
Even so, the Cannondale Habit 5 is a very worthwhile off-road vehicle for under $3,000.
Learn more : Is Diamondback Atroz 2 Worth Buying? [2022 Diamondback Atroz 2]
2022 Cannondale Habit 5 vs 2023 Trek Fuel EX 7 Gen 5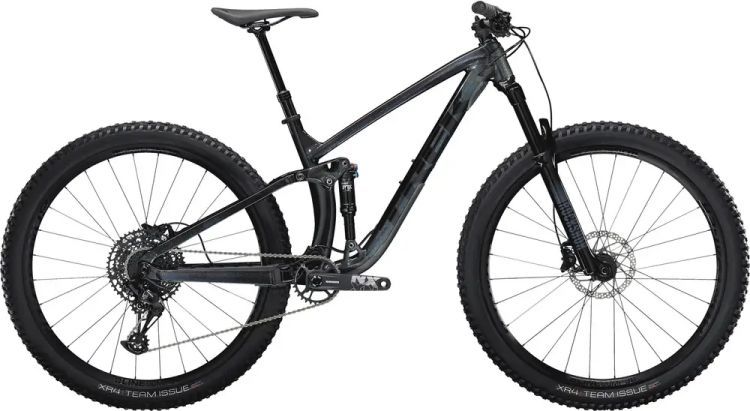 Sometimes, we would also prefer a more stable riding experience. The advantage of this 2023 Trek Fuel EX 7 Gen 5 is that it is equipped with dampers on the front and rear shocks. This is because it helps us to minimize the impact.
Not only that, but it also has an SRAM NX Eagle drivetrain, which will give it more speed on the downhill.
But we can't ignore the fact that the Cannondale Habit 5 has an excellent component configuration at such a great price. All things considered, the Trek Fuel EX 7 Gen 5 is nearly $1,000 more expensive than the Cannondale Habit 5.
Learn More: Trek Fuel EX 7 Gen 5 Review – A Unique Look
2022 Cannondale Habit 5 vs 2023 Ibis Ripley AF Deore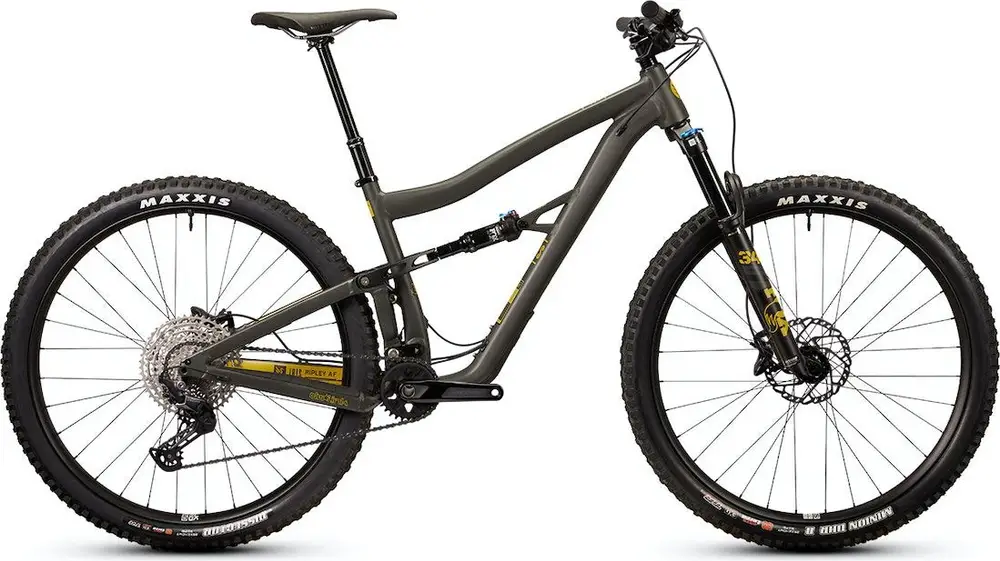 Compared to the Cannondale Habit 5, the Ibis Ripley AF Deore has a shorter fork, which means it will be more agile. However, it will also be a little less stable and probably more suitable for advanced players.
However, its long dropper column with DW LINK SUSPENSION also has advantages that other bikes of its type cannot match.
If you're not that interested in higher-level off-roading, then the Cannondale Habit 5 is perfectly adequate to handle everything.
In case, the above comments are helpful to you, please remember to share the subscription. Have a great day!
Ibis Ripley AF Deore Review [2022]- Do You Need Carbon Fiber?