We use affiliate links and may receive a small commission on purchases.
Mountain bikes are not just a means of transportation for daily travel. It is also a piece of fitness equipment. It is no different from both transportation and fitness equipment. Therefore, it is imperative to choose a mountain bike that is suitable and cost-effective for you. Genesis 26″ V2100 Men's Dual-Suspension mountain bike.
For cycling enthusiasts, choosing a mountain bike is especially tough. When I first started choosing a bike, I would read many reviews from my predecessors on which bike to choose, and I would also spend time learning about mountain bikes. Looking at the GenesisV2100, I chose it as my first introductory mountain bike, regardless of price, quality, and associated benefits.
Before buying, all we have to do is to evaluate, these things include, what are the features, pros and cons, routine maintenance, and the accessories that come with it when you buy it. For information on the GenesisV2100 mountain bike review, see this article.
Learn more: Kent Kzr Women's Mountain Bike Review-The Best Women Mountain Bike
Genesis 26″ V2100 Mountain Bike Forest Road Off-Road
Cross-Country Climbing
When I saw this Genesis 26″ V2100 Mountain Bike at Walmart, I became curious about it. For that reason, we found the opportunity to review it for a ride.
Despite the bike's modest price tag, we were quite excited to see how it would perform on the road. So we drove out to the countryside.
Needless to say, because of the fall and winter exchange, both the air and the ground were wet and somewhat icy, and there were puddles of water and fallen leaves on the ground. This caused some hindrances to our review.
I did about 10 minutes of grinding with the bike on relatively flat grass, having my partner Eve on hand to keep track of me.
After I felt comfortable with it, I aimed for a short uphill at about 50° or so. But I stood on the pedals and pedaled hard, not expecting the forward pedaling to be that strenuous. It was a stalemate for about 30 seconds, and without any incident, I fell off the bike.
Adjustment
I summed up the reasons for my failure. First, looking closely at the ground, this small uphill section of the trail was covered with mottled and decaying maple leaves. And the humid air caused the dirt here to be a little softer and therefore more slippery.
Secondly, I needed more torque for this bike and I should have swapped the front cassette for a bigger one on the climb. Summing up this failure, I pushed the bike up again, straddled it, and challenged this uphill with eve's cheering.
The result did not disappoint me, I managed to climb up. But on my second climbing ride, I kept a point that I needed more torque, and I hoped that the Genesis 26″ V2100 Mountain Bike could make a difference at this point.
We've seen it perform adequately on the uphill side. Whether it's the 3×7 drivetrain that gives me more speed options or the Velo black padded saddle that supports me more amicably for powering up, it makes me sigh that this is an affordable trail bike. It's a great choice for newbies.
Monorail Descending
But for its relatively narrow 26″ x 2.1″ tires, riding in the mud was a bigger challenge. So we came to the relatively dry, stone-paved forest road single track.
I think smaller wheel-diameter tires would perform a little better here. This top-down forest road singletrack trail is lined with intermingling trees and has many turns. At first, I was a little concerned about whether it would cause a sightline obstruction, but as soon as the tires started rolling, I knew it wouldn't be a problem.
This bike MTB 26″ x 2.1″ Tires can handle turns more nimbly. And the Suspension fork with 80mm travel absorbs certain bumps, allowing me to enjoy the speed without having to deal too much with the soreness and numbness from the bumps.
Contents
Genesis mountain bike features
Specifications
Why do you like the Genesis V2100 mountain bike 26″?
Genesis V2100 mountain bike is it worth buying?
Features of Genesis V2100 mountain bike 26″
Genesis V2100 mountain bike Parameter
Aluminum MTB frame with 4 bar linkage
Full suspension bike
Steel riser MTB handlebars
Suspension fork with 80mm travel
Coil rear shocks with 80mm travel
Shimano EF40 21-speed
Shimano front derailleur
Tourney TZ40 SIS rear derailleur
Velo black padded saddle
Alloy micro adjust 27.2 X 300mm seat post with quick-release
Rear Disk brake 160mm linear pull
Shimano EF40 integrated aluminum brake levers
Alloy black 26″ x 1.5″ rims
Tires: MTB 26″ x 2.1″
KMC Chain
A-head TDS63K-8 EXT:100mm 15D Stem
Designed for height 5'2″ & Up
Genesis V2100 Mountain Bike Specifications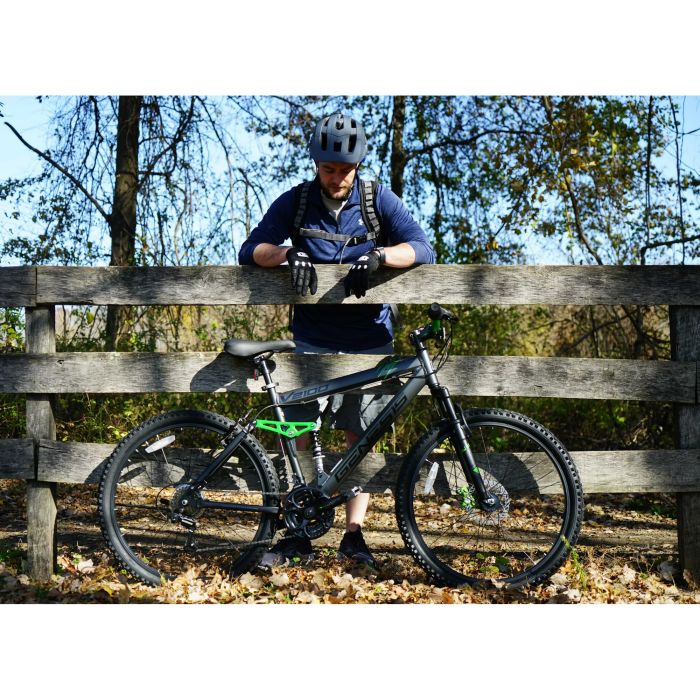 | | |
| --- | --- |
| Brand | Genesis |
| Color | Slate Gray |
| Gender | Male |
| Manufacturer Part Number | 92668 |
| Manufacturer | Kent International Inc |
Why do you like it?
Four-bar suspension aluminum frame
With an all-aluminum body, the bike weighs only 45 lbs / 20 kg, which is just the right weight for an entry-level mountain bike, with suspension at the front and rear wheels, and an independent suspension at the body. Some people think there is more suspension, and there is some redundancy, but when riding with more suspension can be better damping. Riding exercise, not to hurt the body, but to better health and fitness.
Front Fork
The fork travel is 80mm, also made of aluminum, solid and reliable. In the actual use of mountain bikes, the stability of the fork determines the life of the bike.
Shifter
Has two manual shifters. Smoothly adjusting the gears during the ride can have a good riding experience, especially on mountain roads with up and down hills.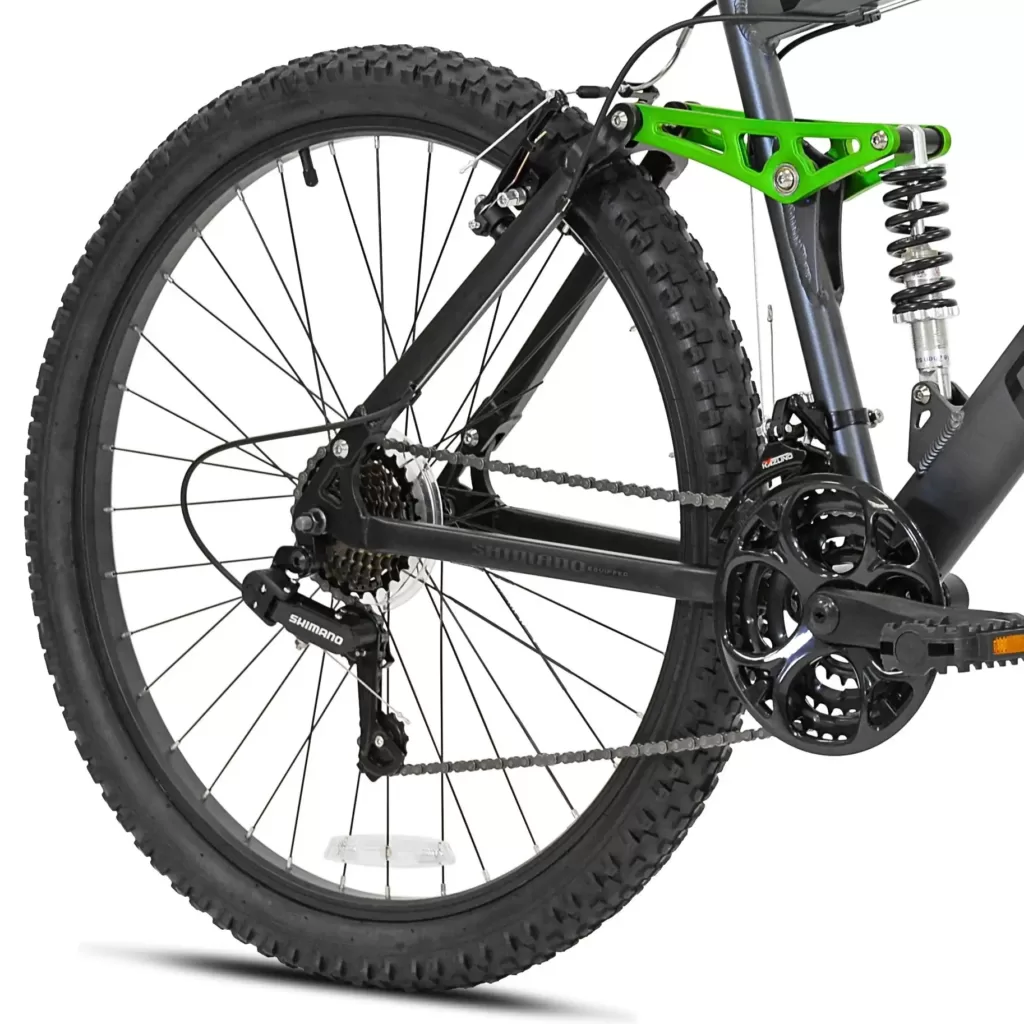 Genesis Bike V2100 Speed: 21-speed drivetrain
3 gears at the pedals and 7 gears at the rear wheel make up a 21-speed drivetrain, a relatively rare multi-drive system in mountain bikes of the same price range. Gear shifts are very smooth during riding gear changes.
Brakes
Front disc brake and rear V-brake, although the braking performance of a disc brake is better than V-brake, the Genesis V2100 mountain bike is still designed with V-brake on the rear wheel. So when using the ride, emergency braking can be used to break the front and rear wheels simultaneously.
Wheels
26 inches, suitable for a height between 5'0″ and 5'5″. People taller than this may want a 27.5″ or 29″ mountain bike. Tires
Handlebars
Steel riser mountain bike handlebars for sturdiness and durability.
Price
It can be rated as one of the cheapest mountain bikes with good value for money.
Weight capacity
Over 300 pounds of load capacity to support a slightly chubby adult on the bike.
Disadvantages.
Climbing function
Gears will skip teeth when riding steeper hills.
Pedaling
If you pedal very hard, the pedals may crack.
Maintenance
The warranty is clearly marked on the maintenance card does not cover the frame.
Shipping
Small parts made of aluminum may be bent during transportation.
Genesis V2100 26″ mountain bike Size Chart
Is the Genesis V2100 26″ mountain bike worth buying?
After the above advantages and disadvantages, is the genesis V2100 mountain bike still worth buying?
Yes, the price advantage is obvious.
It is very rare to find such workmanship at such a low price. The aluminum structure of the whole body is lighter in weight, which makes it suitable for the first mountain bike. A total of 21 gears, whether climbing or road driving, is enough to use. In low gears, you can ride leisurely and watch the scenery along the way. And in high speed gears, you can have a riding exercise.
Comfort is guaranteed
Smooth gear shifting, good damping, and easy riding. The smoothness of gear shifting and also in the double shock mount, the damping is guaranteed. Knob tires also provide enough grip. The seat height can be adjusted to accommodate people of different heights to ride.
High reliability: According to the evaluation of related users, they bought the genesis V2100 mountain bike with such a low price, but the reliability is still beyond expectation.
Assembling
It needs to be assembled against the manual, according to the relative requirements. It's very easy for someone who hardly knows how to assemble a bike.
Exercise
Fan bikes of the same principle as fitness equipment are expensive and have relatively high maintenance costs (high price of spare parts), but the genesis V2100 mountain bike, which can achieve the goal of exercise at such a low price, is still worth getting.
Gifts for teenagers
Many parents will buy it as a gift for their children, and of course, the children are very fond of it, and the 26-inch tires are suitable for this age height. The exertion of exuberant physical strength also promotes the growth of teenagers.
Tips for Finding Your Perfect Mountain Bike
Finding the perfect mountain bike can be a daunting task. Here are some tips to make the process easier:
Research different brands, including the Genesis V2100
Decide on the type of terrain you'll be riding
Look for mountain bikes for sale online or at local shops
Consider a men's mountain bike if it suits you
Test ride before you buy
Check for warranty and return policies
Search for bikes for sale near you
By following these tips, you can find the perfect mountain bike for your needs and start exploring the great outdoors with confidence.
Video
Comparison Table
| | | | | | |
| --- | --- | --- | --- | --- | --- |
| Bicycles | Price | Brakes | Tires | Pre-trip | Click view |
| 2022 Carrera Detonate Full Suspension Mens Mountain Bike | $380.85 | Tektro MD-M280 Mechanical Disc | 27.5 x 2.35″ | 100mm | Click View |
| 2022 Huffy Marker Women's Mountain Bike | $269 | Front disc brake plus rear alloy linear pull brake | 26 x 2.13″ | / | Click View |
| 2021 Liv Tempt 4 | $480 | Tektro TKD 172 Mechanical Disc | 27.5 or 29×2.2″ | 80mm/100mm | Click View |
2022 Carrera Detonate Full Suspension Mens Mountain Bike vS Genesis 26″ V2100 Mountain Bike
The Carrera Detonate Full Suspension Mens Mountain Bike is a little more expensive than the Genesis 26″ V2100 Mountain Bike, but it also has longer fork travel.
In actual riding experience, the Carrera Detonate Full Suspension Mens Mountain Bike, which has a 20mm longer travel distance than the Genesis 26″ V2100 Mountain Bike, did not strike me as more prominent in terms of shock absorption.
On the contrary, the larger 27.5″ tire diameter is not as nimble as the Genesis 26″ V2100 Mountain Bike on tight trails. So for riders who like to ride on tight trails, the Genesis 26″ V2100 Mountain Bike would be more suitable.
2022 Huffy Marker Women's Mountain Bike vS Genesis 26″ V2100 Mountain Bike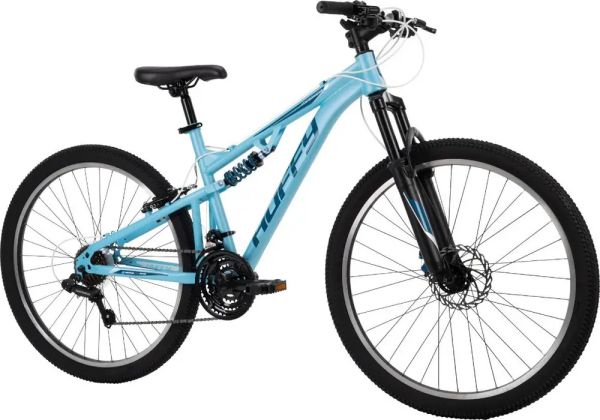 In comparison, this Huffy Marker Women's Mountain Bike is, as its name suggests, more suitable for petite women. Because the relatively low standing height will be easier to straddle.
But the external cable routing makes it hard for me to get interested, it looks more cluttered. However, the Genesis 26″ V2100 Mountain Bike has an internal cable routing design, which makes the overall frame look neater and prevents damage to the control cables.
In addition, the relatively narrow tires of the Huffy Marker Women's Mountain Bike 26×2.13″ performed better on flat trails, but were more difficult to control on wet, muddy terrain.
If, however, you prefer an internal alignment, this Genesis 26″ V2100 Mountain Bike is a great value for money.
2021 Liv Tempt 4 vS Genesis 26″ V2100 Mountain Bike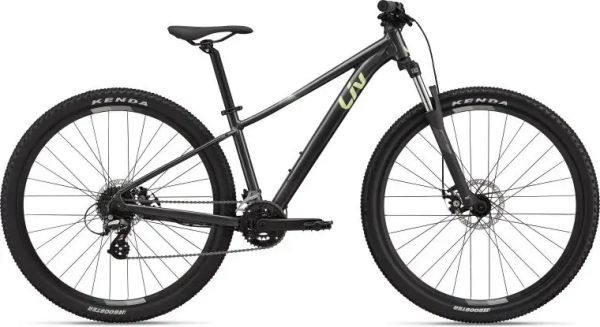 The Liv Tempt 4 is relatively more expensive and uses a lightweight ALUXX-grade aluminum frame. So it is a little lighter than the Genesis 26″ V2100 Mountain Bike, and a little more flexible when dealing with off-road climbs. And as the brand has always insisted, a lower stand-up height would be more suitable for women.
That's not to say the Genesis 26″ V2100 Mountain Bike doesn't have its work cut out for it. It is one of the few low-cost full-suspension trail bicycles with a 3×7 drivetrain that has a wider range of speed options. Some may find the 3× drivetrain more complicated to shift, but it's a better learning curve for newbies. It's a much better learning curve for the novice, because afterward, whether the bike is replaced with a 2× or a 1×, you'll be able to master it more quickly.
In terms of drivetrain, the Liv Tempt 4 is a 2×7 drivetrain with relatively fewer speed options.
If you're a petite woman, the Liv Tempt 4 would be an affordable option. If you prefer a wider range of speed options the Genesis 26″ V2100 Mountain Bike might be an entry-level bike worth trying.