We use affiliate links and may receive a small commission on purchases.
If you need to buy other mountain bikes, you can see the 5 2021 best mountain bikes for women.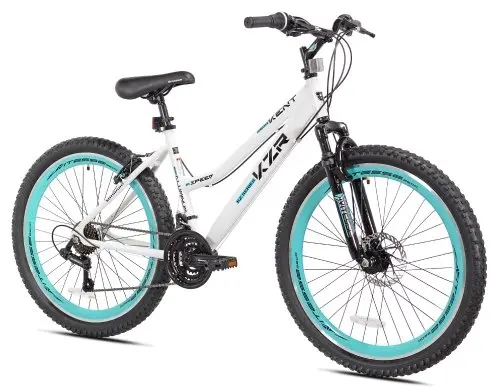 Mountain bikes are one of the finest gifts. When we're so intent on searching the Internet for answers. Of course, Kent Kzr Women's Mountain Bike can also be a gift to you. Now let's introduce Kent Kzr Women's Mountain Bike Review and learn about its features and main advantages and disadvantages to make the best decision when you choose enough gifts.
26″ Kent KZR Women's Mountain Bike Parameters
Aluminum hardtail frame
Front Suspension
21-speed drivetrain
Shimano rear chainstay
Torsional action transfer
Front disc and rear linear pull hand brake
High-profile aluminum wheels
26-inch Kent KZR Women's Mountain Bike Specifications
| | |
| --- | --- |
| Brand | Kent Bicycle |
| Color | white |
| Gender | Female |
| Manufacturer Part Number | 52663 |
| Manufacturer | Kent International Inc. |
| Assembled Product Dimensions (LxWxH) | 67.00 x 27.00 x 40.00 inches |
Features of 26-inch Kent KZR mountain bike
Hardtail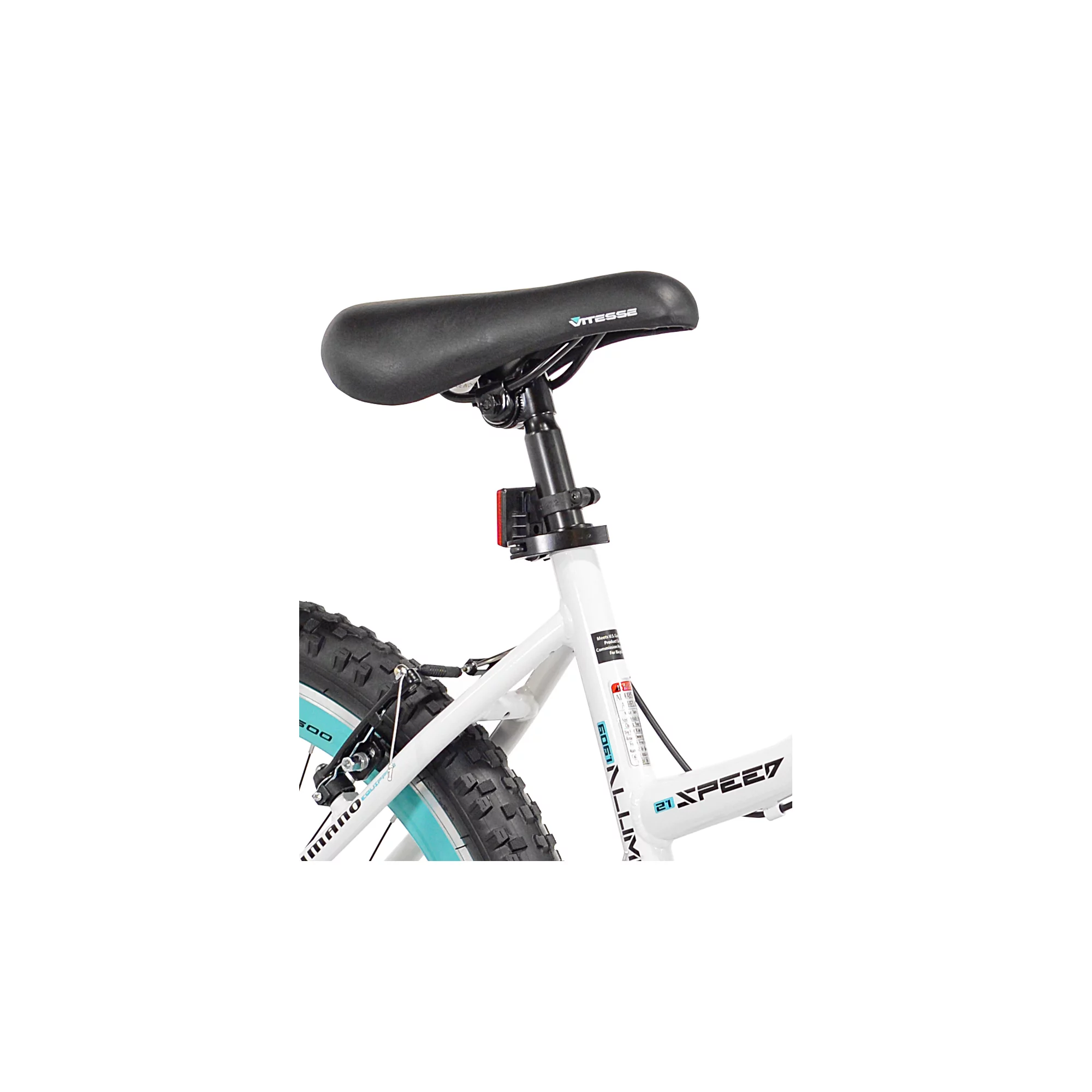 The KZR is a compact, rear suspension-less Kent Bicycles hardtail mountain bike. Simple in construction, it's a relatively common mountain bike for novice riders. Unable to adapt to complex mountain landscapes, but as a home, an occasional trip to the mountains is perfectly suited to off-road needs.
All-aluminum frame and aluminum wheels
Women's strength is usually less than men's, so this Kent Kzr Women's Mountain Bike almost the entire body is aluminum material, lightweight and easier for women to ride. The 26″ wheels are suitable for women above 5′ in height.
Front Fork Shock Absorber
The kzr's Vitesse shock fork provides excellent damping and allows for smooth riding on generally bumpy roads.
Drivetrain
The 21-speed drivetrain, powered by the Shimano rear derailleur, offers different driving pleasure at different speeds. High-speed gears are used for fast anaerobic exercise travel. You can enjoy racing fun with your loved ones, too. Low-speed gear, you can ride and chat with her/him while riding together. You can teach her riding skills and share interesting things with you.
Braking System
There's all the braking power you need in the KZR, which is the front cable, the disk brake, and the rear linear hand brake. This is the same type of braking used in most of the best mountain bikes on the market today. When it comes to downhill or high-speed driving, it is often important to avoid the hazards ahead, and quick or effective braking is key.
Tires
Unlike normal mountain tires, kzr mountain bike tires will be a little wider and distinguishable from wide tires for mountain bikes. They can provide stronger grip and are less likely to slip when riding. This performance will be even better on gravel roads.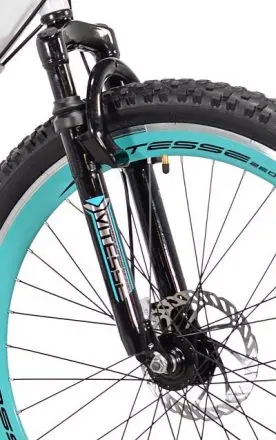 Advantages and disadvantages of KENT KZR women's mountain bike
| | |
| --- | --- |
| Advantages | Disadvantages |
| Easy to assemble | Seats are hard |
| Good color | Few places to buy tires |
| Excellent appearance | |
| Affordable price | |
Is the kent kzr women's mountain bike worth buying?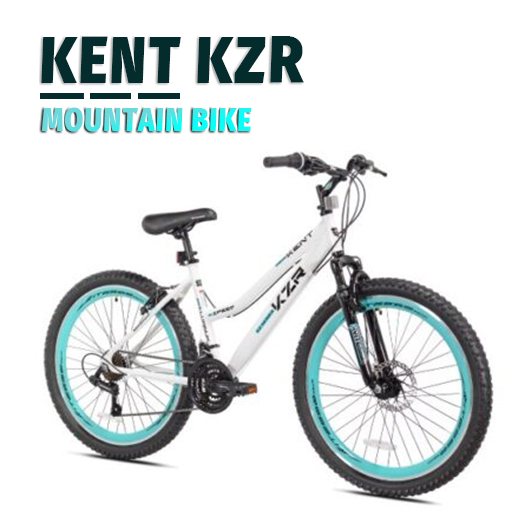 If you buy it as a gift, it is a very good gift for your heart. In our survey, most people reported that it was a gift for their girlfriend or daughter or granddaughter. The people who received the gift loved it.
Outstanding appearance
A mountain cross-country bike, designed specifically for women, is attentive in its shape or color scheme. The front curved beam makes it easier to get on and off the bike, and if the person you're giving a gift likes wearing skirts, this design is also designed to protect them from exposure. A light blue wheel with a white body. White has always been the color of fashion, and the blue wheels can be striking when riding. Of course, the practicality is what's inside this car, and the good looks determine the level of surprise for the person who receives the gift.
Sturdy and durable
All aluminum alloy, light and tough. Mountain bikes are undergoing rigorous quality tests before they are released, and Kent Kzr Women's Mountain Bike is no exception. If it's a normal ride (can't be taken as a mountain bike racing, always riding in the mountains), it's expected to last more than 5 years. Careful maintenance is recommended here.
Suitable for newbies
Compared with soft tail mountain bikes, hard tail bikes are more suitable for newbies to ride. Maybe she you send or want to buy you, is a novice rider. Faster to adapt to riding, like the car. It's all a pleasure to ride.
Easy to assemble
For buyers who are not very hands-on, you can buy walmart assembly services. You can save a lot of money by doing it yourself, of course. In fact, most people find it very easy to assemble this bike, and it is recommended to do simple tuning after assembly, such as adjusting the seat height, lubricating the chain, and checking the brake function.
A good price
If you buy a gift that's too expensive to empty your budget, Kent Kzr Women's Mountain Bike, priced at less than $200, is a good value for money. Compared to mountain bikes that can cost thousands of dollars, this bike is simply the soul of consumerism. Let not every penny of your money be spent in vain. And when it comes to buying gifts, mountain bikes are considered affordable. Cheap and far-reaching. It has been worth remembering and accompanying for many years. This investment is also very cost-effective.
Worth considering
Many people will go for a softer seat after buying and riding for a while. The original bike comes with a seat a part of the user said that it is relatively hard.
It is more difficult to replace the tires, and the tires that fit are not always found in offline stores
Conclusion
Buying a mountain bike online is kind of a risky decision, but a lot of people have succeeded. When we bought the Kent Kzr Women's Mountain Bike, there were also a lot of reviews that said we could stay away from it, but we still succeeded. Its sharp looks, wide tires, excellent traction, great V-brake rear setup, and great city riding are sure to get the approval of most people.
Video