We use affiliate links and may receive a small commission on purchases.
How To Size A Mountain Bike?
Choosing a size for a mountain bike is as important as the size of the clothing we are shopping for. We often see small, medium, and large sizes in size charts. Wouldn't you also wonder what exactly these sizes change about the bodywork?
In most cases, changes are made to the frame. Factors such as tires or suspension or geometry remain the same. But today some changes are creeping in. And you can no longer choose a bike size based solely on the old stand-up height or seat tube length. While these measurements are still worth considering. But when comparing bike sizes, it's more important to look at front tube length and effective top tube measurements.
Of course, if you can't go to a physical store to test a person's ride, you can find these measurements with the geometry charts on each bike's details page. Or with the help of some online tools.
Here's a site I recommend that is still relatively clear on the subject of sizing: https://www.competitivecyclist.com/Store/catalog/fitCalculatorBike.jsp
As I said, we can't find the mountain bike of our choice based on just a few numbers. In the next articles, I will elaborate further on the significance of size, riding preferences, gender, and demographics.
The Significance Of The Right Bike Size
It's hard to get the stability of a bike if it doesn't fit. Only when we ride the right bike will we be able to control the direction of the bike and get more comfortable.
What Is The Impact Of Improper Sizing On The Ride?
The most obvious effect is the pain in various parts of the body after riding a long-awaited trip.
If the position of the shoulder, neck, or arm feels sore: The wrong sitting position leads to injury in these areas. Experienced riders will do this by adjusting the distance from the seat to the handlebars or by choosing a bike with the right shape of handlebars.
If the knee suffers pain: It may be because your saddle is not at the right height, resulting in no more effective pedal loss while riding.
If back pain increases: It has more to do with choosing the wrong size, resulting in an inability to get better core muscle support during the ride. There is no quick solution, but some experienced riders will adjust the position of the handlebars up and down.
Sore hips: The angular position of the seat tube under the saddle does not suit you or the saddle is not have the right level of softness or stiffness. More experienced riders are needed to help you.
What Does The Right Size Give You In Terms Of Riding Experience?
A more relaxed riding position with naturally bent arms
Higher response for both starting and acceleration
The output of pedaling is more powerful and more efficient
The body control is obvious and will not easily cause a rollover
Size varies from person to person, but experienced riders can further adjust the position of the handlebar, handlebars, seat post, and saddle.
How To Know What Size Mountain Bike You Need?
Long Before We Measure The Size We Need To Know Your Riding Preferences, Which Is The First Step.
Within the broad category of mountain biking, I made two preferences.
One type of bike is a hardtail with no rear guts and only front suspension. The more rigid rear end tends to perform well on slower, narrower trails and where dirt provides more traction. And it provides excellent power transfer to the rear tire on climbs and sprints.
Like full-suspension bikes, hardtails are suitable for off-road use and are usually cheaper than full-suspension bikes. The lighter weight is highly valued by those who compete at the highest level in XC. The extra response and feedback allow the rider to negotiate undulating terrain and generate speed with maximum efficiency.
Another type of full-suspension mountain bike performs much better on rough terrain. Due to the traction provided by the rear suspension, there is a better reduction in bouncing off of bumps and losing grip.
A full-shock bike will also significantly dampen the force through the pedals and handlebars as you hit roots and rocks at breakneck speeds. As a result, there will be few rivals in the difficult rock gardens that many hardtails have to deal with. And effectively avoid fatigue on longer endurance rides and races.
In addition, many novices can gain more confidence from the full shock due to its stabilizing properties.
However, while the advantages are obvious, the higher price and the extra weight means higher riding costs and more maintenance.
Next, I will recommend several models that have surprised me in my years of riding experience.
More Recommended Hardtail Bikes
2022 Specialized Epic Hardtail ($2500)
Scott Scale 940 ($2,299.99)
2023 TREK Procaliber 9.5 ($2,449.99)
2022 Specialized Epic Hardtail
The 2022 Specialized Epic Hardtail is a real eye-opener for us. The compact and lightweight frame, the powerful SRAM Level T hydraulic disc brake, the simple and refined SRAM NX Eagle, the 12-speed, and the RockShox fork make us surprised by their performance on the technical road.
After three months of riding, this bike has ridden with me through uncharted forest roads and enjoyed sunsets over rocky mountain tops and crushed gravel trails. So I felt the bike's outstanding climbing ability and the hardtail's excellent performance on gravel roads. Because it made climbing seem like a less difficult task.
Learn More: 2022 Specialized Epic Hardtail Bike Review
Scott Scale 940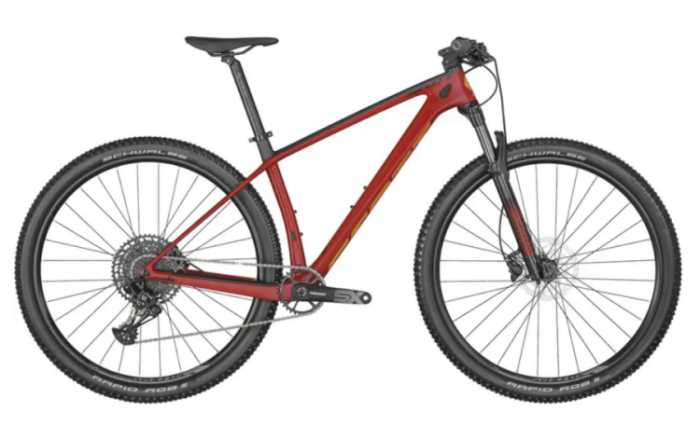 The SCOTT Scale 940 features an ultra-light carbon frame. Besides, RockShox suspension, SRAM Eagle drivetrain, and Syncros components create a durable and affordable hardtail designed for world-class speed.
The special Schwalbe Rapid Rob 29×2.25″ tires based on the Scott Scale 940 and the steep seat tube angle (73.6°) allow for a stable and comfortable ride even in rough terrain.
In addition, the SRAM NX Eagle 1×12 speed of the Scott Scale 940 does not have to worry about disengagement in the face of such long and rough, and winding terrain. Instead, you can adjust the speed to your state by shifting the speed to save energy.
Learn More: Scott Scale 940 Be A Good Cost Performance Hardtail Bicycle? [Review]
2023 TREK Procaliber 9.5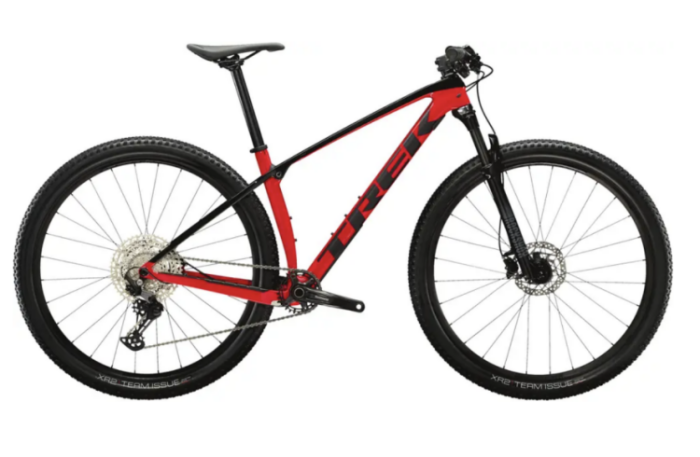 The 2023 Procaliber 9.5 has a lightweight and sturdy carbon frame, smooth IsoSpeed, and a premium RockShox Judy SL fork. Additionally, equipped with Solo Air springs and TurnKey lockout, a wide-range Shimano Deore 1×12 drivetrain, and stable Shimano hydraulic disc brakes, we were pleasantly surprised by the 2023 Procaliber 9.5's climbing performance on trails like the infamous Banana Peel Slopestyle. very pleasantly surprised.
Learn More: 2023 Trek Procaliber 9.5 Review – Great Value Carbon Hardtail Bike
More Recommended Full-Suspension Bikes
Santa Cruz 5010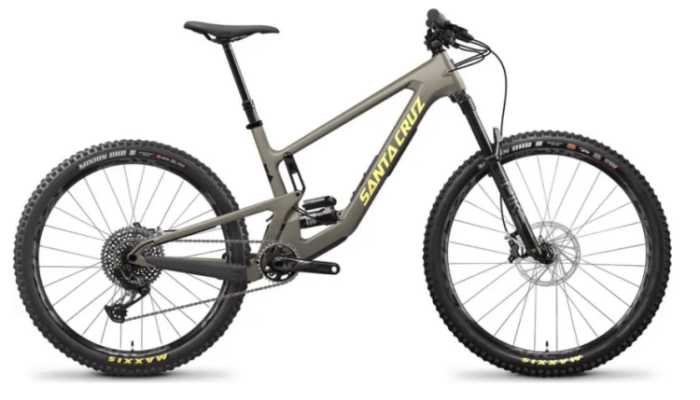 If you first look at the Santa Cruz 5010, you'll be surprised at how small and nimble it is thanks to its Maxxis Minion DHR II 27.5 "x2.4" rear tire.
But that doesn't mean compromising on performance. Because the full carbon body is equipped with 130mm rear, and 140mm front travel. And the SRAM grade, 1×12 spd electronic drivetrain is easy to ride even in the face of steep extended uphill.
Moreover, adjustable dimensional rigidity means that every Santa Cruz 5010 driver gets the same ride quality.
So within the $10,649 price tag, a lifetime warranty is promised on the frame, bearings, and optional spare tires.
Learn More: 2022 Santa Cruz 5010 X01 Review – Napoleon's Heroism
Salsa Rustler SX Eagle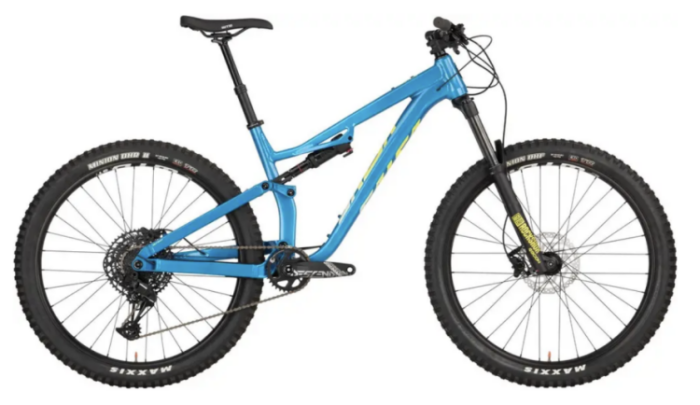 The Salsa Rustler SX Eagle got us interested with its full suspension setup, wide SRAM SX Eagle 1×12 drivetrain, Shimano MT401 hydraulic disc brakes, and soft 60tpi Maxxis Minion tires.
After two months of testing, the bike accompanied us through the wet morning trails and experienced a "glide" descent through the forest. It also took us on a gravelly, bumpy wilderness climb to see how rugged the fall wilderness can be.
Lwaen More: Salsa Rustler SX Eagle Review — Will This Be An Excellent Bike?
2023 Trek Slash 8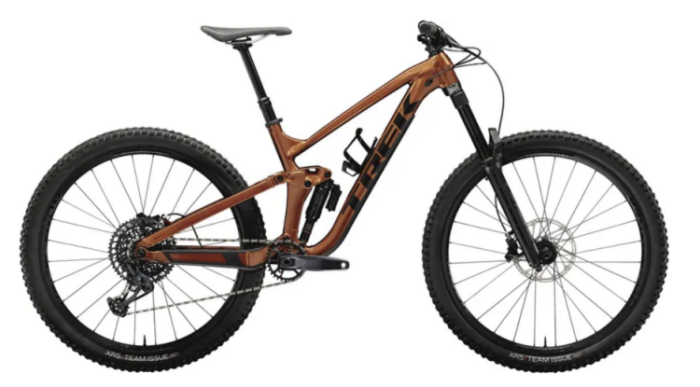 The 2023 Trek Slash 8 full-suspension endurance mountain bike has a sturdy Alpha Platinum Aluminum frame, a wide SRAM GX Eagle 1×12 drivetrain, lightweight and durable Bontrager XR5 Team Issue tires, and the all-important RockShox Super Deluxe Select+ shock absorber. Certainly, it makes me so surprised about its descending performance in the Coronado National Forest.
During the 2-month review period, the bike took us through rolling forest trails and the beautiful mountain scenery of the Coronado National Forest. And it accompanied us as we conquered the forested climbs of the Coronado National Forest, making relatively easy climbs on the rugged trails.
Learn More: Full Shock Endurance Mountain Bike 2023 Trek Slash 8 Review– What Are Your Reasons For Choosing It?
After a person has decided on the type of bike that best suits his or her riding style, it's time to determine the size.
– How To Find The Right Size Of Mountain Bike?
– Is Height The Only Criterion?
The answer is no, height is not the only selection criterion. Although it is also important.
Choosing the right size also takes into account your riding habits, as well as the geometry of the bike, and factors of gender and age need to be taken into account.
Of course, as general data, the following tables are still worthy of reference
Women's Mountain Bike Sizes
Women's mountain bikes tend to be shorter in length, with narrower handlebars and smaller frame sizes. They also have specific saddles and often have their color schemes as well.
– The Important Data You Need To Know
Inside seam: The standard measurement in the cycling industry is the inside leg seam or the vertical distance from the ground to the crotch.
The inside leg seam is a useful addition to the rider's height as it relates to the distance between the saddle and the pedals. If the bike is too large, your legs will not be able to comfortably reach the pedals. If the bike is too small, you will feel constrained and awkwardly lift your knees every time you pedal.
SO to accurately measure your inside seam, you can stand with your back to the wall and a book between your legs. And the spine of the book should be facing up – mark where the top of the spine touches the wall and measure the distance to the floor.
Here you will be given some reference data on matching the inner seam length to the bike size, but please remember that this is not the only criterion.
| | | | |
| --- | --- | --- | --- |
| Leg inseam (inches) | Leg inseam (cm) | Suggested Frame Size (in) | Suggested tire Size |
| 25 – 28″ | 62-70 cm | 13 – 14″ | 26″ |
| 25 – 30″ | 63 – 76 cm | 15 – 16″ | 26″ |
| 26 – 31″ | 66 – 78 cm | 16 – 17″ | 27.5″ |
| 27 – 32″ | 68 – 81 cm | 17 – 18″ | 27.5″ |
| 28 – 33″ | 71 – 83 cm | 18 – 19″ | 29″ |
| 29 – 34″ | 73 – 86 cm | 19″ + | 29″ |
Effective top tube: the horizontal distance from the center of the head tube to the center of the seat post.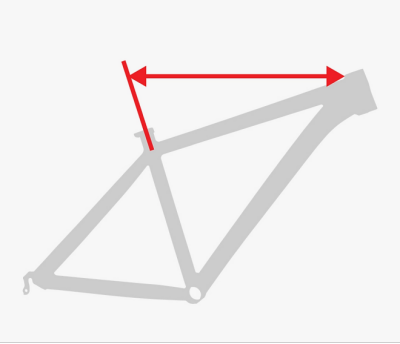 This measurement represents the fit of your mountain bike when you are sitting in the saddle. It's important for trail riders who prioritize pedaling power.
Reach: The horizontal distance from the five-way to the center of the header pipe.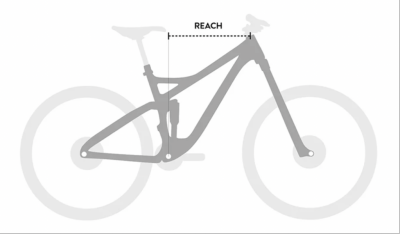 This number is very important, so you need to compare it very carefully. It will affect your posture while riding and your ability to handle the bike you are driving.
If the reach distance is too long, you will need to constantly adjust your riding position such as leaning over to touch the handlebars. If it is too short, it puts you in an overly upright position and thus out of balance.
Stack: The vertical distance between the five-way and the center of the head tube.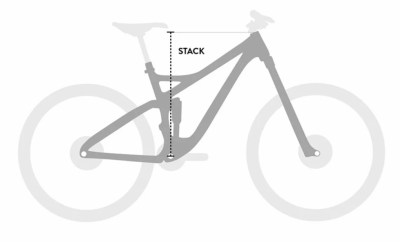 A measure of seated pedal position and relative handlebar height. This can be adjusted to some extent.
A higher-value bike will allow you to sit more upright, while a lower-value bike will keep you in a forward-leaning position.
For example, endurance road bikes typically have a larger stack (allowing you to ride longer in a more comfortable upright position) than more race-specific road bikes (which allow you to lean forward in a more aerodynamic position).
Chainstay length: effectively determines the distance between the rider's center of gravity and the rear axle, but varies from person to person.
If you prefer a nimble handling bike, then you can't go wrong with a short rear dropout fork. If you prefer stability, go for a bike with a longer rear dropout fork.
BB height: The distance between the ground and the center of the crank.
A bike with a lower BB height can be steered effortlessly and can even be tricked out more easily with tricks like rear tire bounce. Conversely, with this higher height, you can maximize shock absorption in the face of rougher roads and be more friendly to the acceleration of the ride.
Wheelbase: distance between the front and rear axles.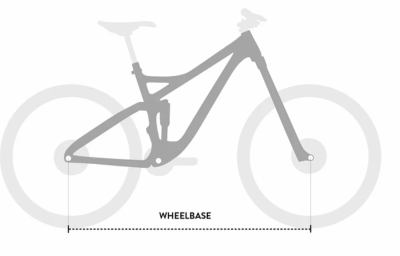 A longer wheelbase means increased stability in riding, while a shorter wheelbase will make the bike more maneuverable.
– What Size Mountain Bike For Women?
Does Gender Affect The Choice Of Bike Size?
The answer is not unique. Many women find that women-only bikes are perfect for them, while others could use a unisex frame.
Many brands are now adjusting their bike lineups to take into account women's physiology, adding a female-specific lineup. While the overall general shape remains the same, there are differences similar to the crank length, saddle, handlebar length, and angle in body-to-body contact.
What Do Women Care More About?
For female cyclists, finding the correct bike size can be tricky. You can start by understanding the following data.
Tire size
If you're partial to riding a mountain bike, you'll be involved in tire sizes that come in 26-inch, 27.5-inch, and 29-inch sizes.
For petite women, a bike with a 26-inch tire size is recommended. However, if you have a standard, you can choose 27.5 inches or 29 inches. These are the most common types and are widely used in today's market.
Road bike tires are available in sizes 650C or 700C, with women preferring 650C road bike tires.
Adding to the mix of urban bikes are the hybrid and cruiser bike types. They both have similar tire sizes to mountain bikes. Sometimes the tire size is also the same as road bike tires.
Bicycle frame size
Bicycle frames are usually measured in inches or centimeters. Some bicycles may also have universal sizes, such as small, medium, or large in the women's bicycle frame size chart.
However, if you are looking for women's road bike sizes, you will find these types in centimeters. This corresponds to the length of the bike's seat tube. If you have a shorter seat tube length, your bike will be smaller.
Physiological data
You need to consider hand size
When looking for a women's bike, it is important that you feel comfortable with your riding position. The first factor to consider is the size of your hands. You should be able to reach the bike brakes easily when riding. If you feel uncomfortable and uneasy, you must switch to a smaller or larger bike frame.
You need to consider the length of the back
Ease is very important when choosing a new bike. If you are sitting in the saddle of your bike, you must be comfortable reaching the handlebars. If your back is not the right length or out of proportion to the bike, you will find it difficult to reach the handlebars and keep your balance.
The good news is that some women's bikes come with a specific back length to fit a woman's physique. You can talk to a sales representative to get the correct bike size for you.
You need to consider the saddle
Another factor to consider is saddle shape. Today, some manufacturers are designing bikes with women's physiques in mind. Women's bikes offer riders comfort and convenience.
These bikes have a saddle with grooving. So when women sit on the bike, they feel comfortable and lean easily on the handlebars. Some bikes offer saddles with double-thickness seats to maximize comfort.
You need to consider shoulder width
Compared to men, women have smaller shoulders. Even if they are of similar height, men tend to have wider shoulders. Shoulder width is critical when looking for a women's bike. When you reach the handlebars of your bike, you must comfortably open your arms.
If you choose the wrong shoulder width, you will be easily fatigued even on short rides.
With more unisex bikes on the market, there aren't a lot of bikes designed entirely for women. Meaning there are no frame geometries, parts, or assembly kits that fit female riders perfectly.
– More Recommended Bikes For Women
Now there are not many brands in this camp, but from the female cycling enthusiasts around me, I would recommend the following models.
2022 Liv Tempt 0 ($1380)
2022 Cannondale CAAD13 Women's 105 ($1800)
2022 Liv Tempt 0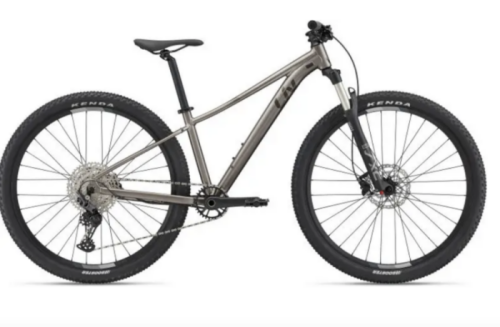 With a lightweight ALUXX-grade aluminum frame designed specifically for women, Tempt can guide you through muddy terrain with speed, efficiency, and control.
Front suspension forks and powerful disc brakes provide added confidence and control. This hardtail has a low standover height, allowing you to take on dirt trails with confidence. And it's available with 27.5 or 29-inch tires for optimal fit and efficiency. Perfect for a functional ride around town. Use him as your first trail bike, or venture out on the trails for the first time and let the Tempt take you on a new adventure.
2022 Cannondale CAAD13 Women's 105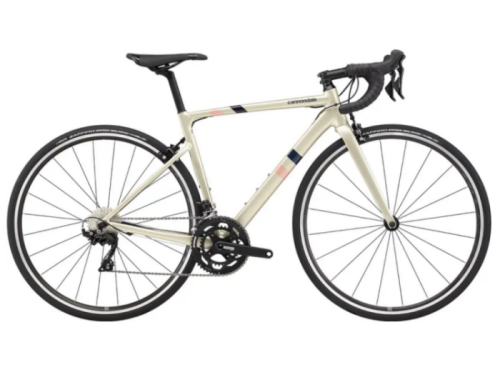 CAAD bikes have always been known for their surprisingly smooth ride. Thanks to the newly designed SAVE rear triangle, integrated seat binder and KNQT 27 seat post makes the CAAD13 even smoother.
The dropped rear brace configuration and ample room for larger tires provide alloy road racers with the best blend of hard efficiency and unmatched comfort.
– What Size Of Mountain Bike For 10 Year Old?
For children, age 10 seems to be the best age to ride a mountain bike. This is because they no longer need more adults to accompany them and ride mountain bikes that foster a more adventurous spirit.
From our years of shopping data, most 10-year-olds are best suited for mountain bikes with 24-inch tire-size kids' bikes or XS adult mountain bikes.
An exceptionally tall 10-year-old can even fit an S-size adult mountain bike frame.
Of course, from an objective point of view, height is not the only factor to consider when buying a mountain bike, as it is for adults. I'll elaborate on this next.
Still need to consider the basis – the height factor
With children's hair a cycle is different, so using their height rather than their age will provide a more accurate way to determine the proper bike size.
Tires
We recommend that you look for a bike with the largest tires that fit your child's standing height (standing height is the height of the top tube of the bike frame when your child stands on one leg on either side of the bike).
First, a larger wheelset of, say, 24 inches is easier to get over obstacles on the trail.
Second, bikes with larger diameter 24-inch tires will be more stable and efficient than smaller, say, 20-inch tires. This is because they require less effort to maintain power.
In addition, taller children may fit on a 26-inch wheeled bike.
Inner Seam
For maximum comfort and stability, I recommend that your child's inner seam is at least as long as the minimum seat height.
Although the design of the bike suggests that the inner seam figure may be slightly shorter than the minimum seat height, which would be good for an accelerated ride.
Weight
After making sure the bike is the right size, the next most important thing to consider is weight. Lighter-weight bikes are easier to handle, safer, and require less energy to propel. While there are no hard and fast rules, the general recommendation is to choose a bike that weighs less than 50% of your child's body weight (preferably closer to 40% or less). This can make a big difference in a child's level of enjoyment and how long they can ride.
Branding – means more security
From my personal shopping experience, the brand is always something to consider. Both in terms of after-sales maintenance and more riding safety to consider. Some kid-specific brands can even adjust the crank length to maximize balance and control. So choosing the brand of bike you are most familiar with is a necessity, within the limits allowed.
As a reference, a generic table will be attached here.
Age
Inseam
Wheel Size
5-8 years old
22-25″
(55-63cm)
20″(51cm)
years old
24-28″
(60-72cm)
24″(61cm)
years old
26″+
(70+cm)
26″(66cm)
– More Recommended About Mountain Bikes
TREK Precaliber 24 8-Speed ($439)
2023 Specialized Riprock 24 ($700)
Norco Fluid FS 2 24 ($1,574.25)
TREK Precaliber 24 8-speed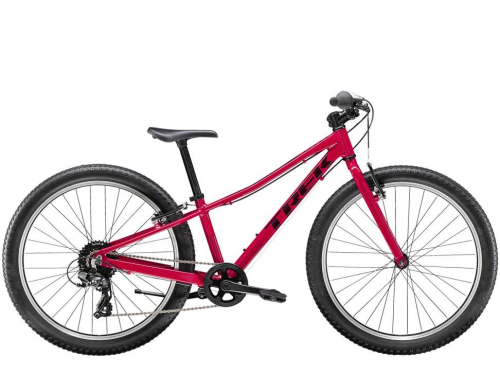 Age range: 8 to 12 years old
Tire size: 24 inches
The TREK Precaliber 24 8-Speed is a classic kids' bike with great style, performance, and durability. Equipped with an 8-speed drivetrain and intuitive gear shifting, it makes it easy for kids to ride different terrains. Plus, the sturdy and lightweight aluminum frame can stand up to even the roughest of riders.
In addition, it has a stand and a saddle with integrated grips that can be swapped out for an integrated taillight mount. Whether your kids are riding to school, racing with friends in the neighborhood, or following along on family rides, the Precaliber 24 8-speed has the quality components they need to ride confidently and stay in control.
| | |
| --- | --- |
| tire Size | 24 inches |
| Frame Material | Alpha Silver aluminum |
| Drivetrain | 1×8 |
| Brakes | Alloy linear-pull |
| Fork | Steel, 24", threadless 1-1/8" steerer |
| MSRP | $439.99 |
2023 Specialized Riprock 24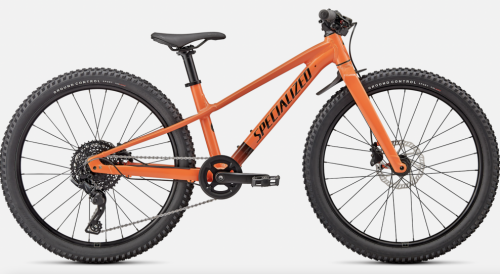 Age range: 7 to 12 years old
Tire size: 24 inches
A more versatile design that can easily handle the road and challenge the trail. For the many small adventurers who want a mountain bike, the 24-inch tire size is the best choice.
The 2023 Specialized Riprock 24's modern geometry, ground control tires, hydraulic disc brakes and internally routed cables, and wider range drivetrain makes the Riprock the perfect bike to inspire riders to climb higher and descend more freely. In addition, inspired by Specialized's mountain bike building heritage, the Riprock offers modern mountain bike features such as slack head tube angles, internal routing cables, hydraulic disc brakes, and ground control tires.
You can make stopping easy with hydraulic disc brakes, and the KMC X9EPT, the 9-speed drivetrain has a good range when exploring rolling hills. Of course, even on the unexpected sidewalks of houses or brick-lined roads, it still maintains a relatively comfortable ride.
| | |
| --- | --- |
| tire Size | 24 inches |
| Frame Material | Alpha Silver aluminum |
| Drivetrain | 1×8 |
| Brakes | C-STAR Hydraulic Disc Brake |
| Fork | A1 Premium Butted Alloy, Alloy steerer, 15×110 mm, W/Mini Fender |
| MSRP | $700 |
Norco Fluid FS 2 24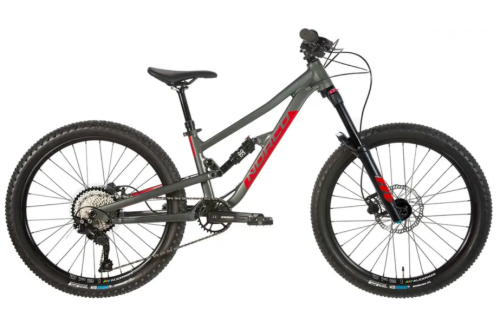 Age range: 9 to 12 years old
Tire size: 24 inches
It has to be said that some kids are born riders and so show a talent for riding at a very young age. Designed specifically for technical singletrack as a powerful miniature mountain bike that rivals even adult bikes, Norco's Fluid FS 2 24 is the absolute best tool to help them reach the top of the championship in the future.
The slacker geometry carries a full suspension (145mm front and 120mm rear) that can help them go the distance. In addition, the included dropper post, powerful hydraulic disc brakes, and a wide range of 10-speed drivetrains can help challenge steeper ascending terrain. Altogether, this is the natural race rider.
| | |
| --- | --- |
| tire Size | 24 inches |
| Frame Material | 6061 Aluminum |
| Drivetrain | 1×10 |
| Brakes | Tektro HD-M276 Hydraulic, 180mm |
| Fork | Manitou J-Unit 24″ TS Air, Alloy Steerer, 145mm Travel |
| MSRP | $2099 |
– Get Expert Advice From A Bike Fitter Or Reputable Bike Store
I know that being confronted with such a wealth of information can provide you with a good reference. But you can't synthesize it to answer your own, and there is no need to panic.
Any reputable bike brand store can help you find the right size mountain bike for your needs.
Some stores even offer a professional bike fitting service to help you determine the size of bike you need.
In case, the above comments are helpful to you, please remember to share the subscription. Have a great day!