We use affiliate links and may receive a small commission on purchases.
Trek Crossrip Elite
Price: $1200
Frame: Aluminum alloy
Tires: 700x32c
Gear: 2×9
What we love about it: A super affordable carbon-brazed fork paired with a lightweight aluminum alloy body, and an on-board dual drivetrain that lets you go faster and have more options.
What we don't like about it: It can't do the racing rides of a professional off-road bike, although there are more all-around possibilities.
Rating: (4.8/5)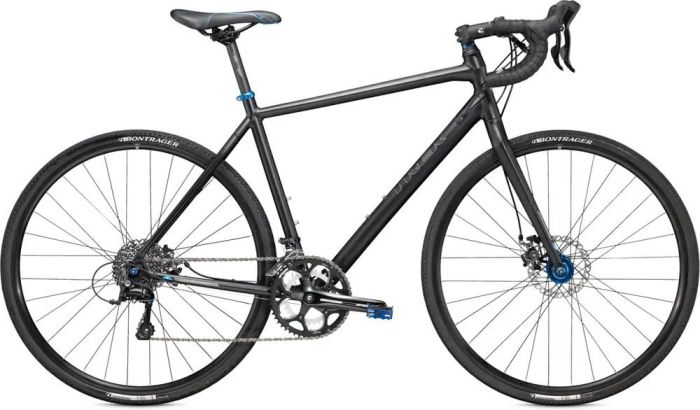 When it comes to Trek's CrossRip line, we can't forget a classic, a small peak, the 2016 Trek CrossRip Elite. While it may be a bit old for today, it's still a must-have all-around road bike on the recommended bike list for beginners, including me.
In design, it will do its best with heart. For example, a full carbon brazed fork is available at an optional price, which is a very effective combination in absorbing shock. The dual-layer drivetrain can adapt to a variety of riding scenarios, whether it is urban roads or outdoor trails.
Due to the rise of gravel road bikes in the past two years, the 700x32c tires of the 2016 Trek CrossRip Elite can also fully adapt to this gravel trail, rolling smoothly and powerfully across the road, allowing you to stay in the trendy riding trend.
Learn more: Trek CrossRip 1 Review-Is The Trek CrossRip 1 A Good Commuter Bike?
Road Performance
Part Ⅰ
If you're looking for a novice ride and don't want too many options, then I totally recommend starting with the 2016 Trek CrossRip Elite.
From a comprehensive analysis of all aspects, the Trek CrossRip Elite can definitely be called an all-rounder. The slack geometric frame indicates that it is a hybrid road and commuter mode, and the off-road performance is appropriately added.
The modest 27.2mm seat tube length isn't as demanding on a novice's stance as an absolute dirt bike. The tall 700x32c tires have more traction on the ground and can take you far away with less effort. You must know that cycling is also a sport that tests your muscles. If you damage your muscles at the beginning, it will definitely make you lose the fun of riding.
Part Ⅱ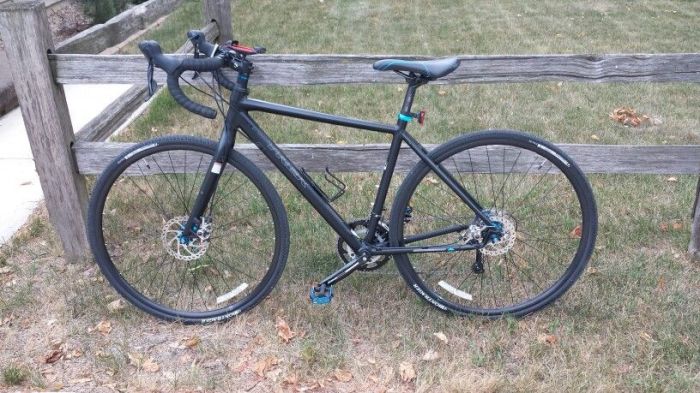 70% of the people who bought this car got used to it from commuting roads, so at the beginning of the evaluation, we came to the streets with a lot of traffic. There are sidewalks and narrow guardrails that need to be passed quickly and a lot of racing cars. I believe that if you are not good enough, you will not be able to complete this ordeal.
However, with my familiarity with road bikes, I didn't feel overly concerned about the 2016 Trek CrossRip Elite. The Shimano Sora-branded drivetrain allowed me to pass more pedestrians from the start.
Here's a general introduction to people who don't know much about bicycle parts, Shimano is a great company, which means you won't spend too much time on post-maintenance later on your rides.
Plus, the 2×9 drivetrain means you have 18 speeds to adjust. For the average cyclist, I think it's enough. But the fashion in recent years, about 24 kinds of speed is also a trend.
I can't ask too much of the 2016 Trek CrossRip Elite at this point, as it does satisfy my basic quest for speed. At this point, I can give it excellent.
Part Ⅲ
It's obvious that when we ride outdoors, there's always bad weather, such as rainy seasons. On slippery roads, it is no small challenge for a bike to stay smooth.
Fortunately, the Bontrager H5 Hard-Case Ultimate tires for Trek CrossRip Elite are very strong, and they are not ordinary smooth tires. The patterns on them can increase the friction of the ground.
I've watched the Bontrager H5 Hard-Case Ultimate perform after riding in the rain, and I've seen the water flow out of the tires very regularly, which means it's effectively removing dirt and rain.
Also, fit Hayes CX Expert mechanical disc brakes to avoid unexpected situations. I'm sure you don't want to meet some beautiful ladies on the road around the corner and can't stop to politely say hello~, or to scramble to avoid those cute wild animals as we ride into the city's parks.
Despite the fact that hydraulic discs have been fashionable for nearly two years, mechanical discs make you feel a little retro. But in terms of performance, believe me, the performance of the mechanical disc is not inferior to the hydraulic disc brake, and it is also simpler in later maintenance. We will talk about this later.
General Riding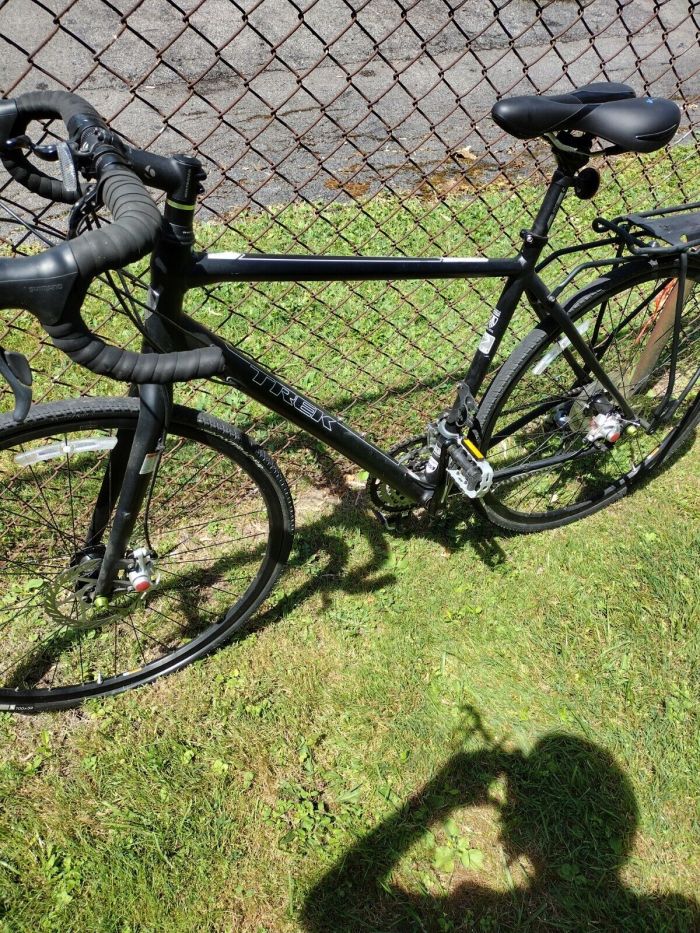 Part Ⅰ
When I embarked on a wild adventure with this elegant bike, I was a little underconfident at first. After all, for bicycles in the past two years, the all-carbon brazed body is the trend, and so are the 24 or so transmission systems. At this point, I have to admit it's a bit behind for the 2016 Trek CrossRip Elite.
The sections I rode were familiar to me as they consisted of various rough structures such as gravel, lush grass, and a short forest trail.
The body of the 2016 Trek CrossRip Elite is constructed of 100 Series Alpha Aluminum aluminum. Although it is not as light as carbon brazing, it is superior in its resistance to rough friction. While body bruises are a testament to your riding experience, for most of us, we like a decent-looking frame. So from this point, an aluminum frame is acceptable.
Part Ⅱ
Of course, if it's fair to say, the weight puts a lot of pressure on the steeper ascents, hindering the traction of the tires. In a downhill road environment, the downhill speed will be accelerated.
Of course, don't worry too much, the Hayes CX Expert mechanical disc brakes are very sensitive under my rigorous multiple downhill dive tests, which is an uncompromising principle.
When I started to face the gravel-filled path, I was very resistant inside. If the tires are not strong, then this test means unsuccessful. Luckily, the Bontrager H5 Hard-Case Ultimate tires were sturdy and powerful enough to roll over these pesky sharp stones without causing the car behind me to be scratched by the flying stones.
Because it is a product in 2016, the internal routing technology is used in the problem of routing. While this made braking harder, it was great for me traversing overgrown conditions with no risk of entanglement.
I don't want to spend my time unraveling the weeds tangled in the body, which would be unwise. This also applies to forest trails, those sharp branches are no less damaging than gravel, and the smooth passage of gravel roads gave me the confidence to travel through the forest.
Main Feature
Frame
The 2016 Trek CrossRip Elite has a very stretchy frame. I'm riding a size M (for reference: I'm 5'10") and it didn't put a strain on my ride. At the same time, a female friend of mine wears a skirt suit while riding, and the pannier can also be expanded.
Even though I think the 2016 Trek CrossRip Elite would be a very superior choice for most urban commuters, there's no denying that color-loving won't please everyone. If you like calm, and dependability, then the 2016 Trek CrossRip Elite in black is for you. If you want a little jump in your boring life, your options are lacking.
Of course, its functionality is very open, allowing brackets and lights to be installed. You only need to find the adaptation on the trek official website, which is also very convenient. This is an essential link for anyone who needs to carry a package. When you are riding outdoors, if the time is relatively late, the lights will also help you solve the problem of sight.
Since I've been testing for over a week, I think I can still say a little about the comfort of the saddle. The Bontrager Evoke 1 is the all-purpose saddle in the Trek CrossRip line, and comfort is moderate. It may be a little uncomfortable for those who are thinner and need to fit a very soft saddle.
Geometry
We found that, despite being a 2016 model, riding the Trek CrossRip Elite didn't differ much from the latest model in terms of comfort. I think it might have something to do with its decent seat and head angle.
The seatpost length of the 2016 Trek CrossRip Elite is 27.2mm, which is also quite satisfactory. Therefore, for novice riding, it can also make you do not need to spend too much effort, and the degree of freedom of posture is higher. Urban commuters certainly don't want to be on the road every day with sore muscles.
The geometrically beautiful model didn't bother with aerodynamic drag. This is necessary for the fast commuting of the city and the traffic lights that must be faced every day. Some heavy and wide models will drag the rider's speed when riding.
Components and Specifications
Bontrager Satellite Plus Full Carbon Fork
Although the Trek CrossRip Elite has an aluminum body, the fork is a full-carbon brazed material. If you can understand a little bit about the material properties of carbon brazing, you should know that it is very effective in absorbing shock.
If you are not satisfied with the smooth roads of the city, and are very interested in yearning for the outdoors, but at the same time worry about the soreness of your arms due to long-term bumps, then I recommend that you try to take the 2016 Trek CrossRip Elite to test it. From my tests, I don't think there are any concerns in this regard.
A carbon-braced fork can also help a little when it comes to saving weight in a very large frame. This means that if you're riding a slow ascent, a carbon-braced fork will help you spend less effort.
Shimano 2×9 Drivetrain
At the same price, there are many brands of models that use a single-group transmission system, but I prefer a dual-group power transmission system, which will give you more freedom in speed selection. At the same time, if you encounter a little emergency and struggle with your riding speed to keep up with the passage of time, you will regret not choosing a dual-group drivetrain.
Plus I'm a fast-paced person and if my bike starts slowing like a very old man it would be a bit of a social shame, after all, no one wants to be the last one.
When I tested a bike with a single group 1×10 drivetrain a few months ago. It was an unfair race, and I was traveling with a dual drive, and I was kind of funny when I was behind, but I don't want to go through a moment like this again.
At the same time, in terms of uphill performance, the 2×10 will easily let you pass the difficulty of uphill. No cyclist wants to waste time going uphill, and neither do I. Of course, so does the Trek CrossRip Elite.
Hayes CX Expert Mechanical Disc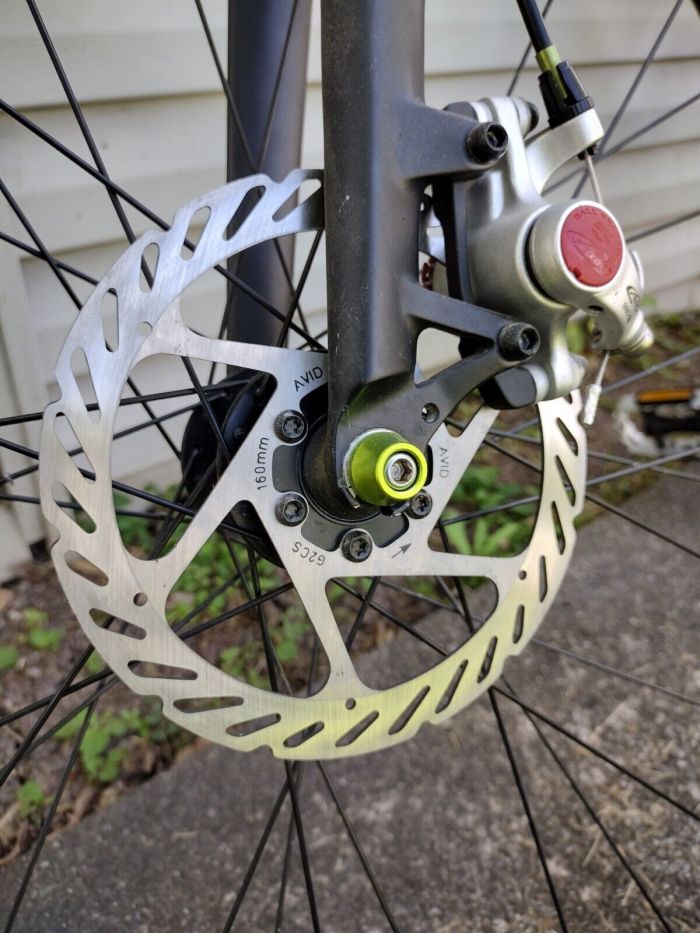 The debate about hydraulic discs and mechanical discs has been very hot in recent years. For me, hydraulic discs outperform mechanical discs both in terms of weight and aesthetics. But don't forget, the value of a thing is still reflected in its ability. As for the brakes, I think I can tell you with absolute certainty that there is almost no difference between the two.
The most important point, the advantage of the mechanical disk, is the maintenance cost. A considerable number of cyclists want to maintain the bicycle as easily as possible.
For users who have hydraulic discs, the replacement of hydraulic discs is a lot of money, so the maintenance of mechanical discs is simpler.
Another point also makes me have a certain respect for the mechanical disc: we often ride on muddy or rainy roads, and the mechanical disc is more adaptable to this environment than the hydraulic disc.
Of course, it is undeniable that the mechanical disc is indeed heavier than the hydraulic disc, and the weight of the body is also a relatively large factor affecting the riding experience. In this day and age of lightweight bikes, it's true that mechanical discs aren't going to please everyone.
Due to the different operating principles, the wear of the mechanical disc on the wheel is also smaller than that of the hydraulic disc. Heating is less, although this is minimal, but as a responsible reviewer, I still need to give some hints.
Previous Versions of the Trek CrossRip Elite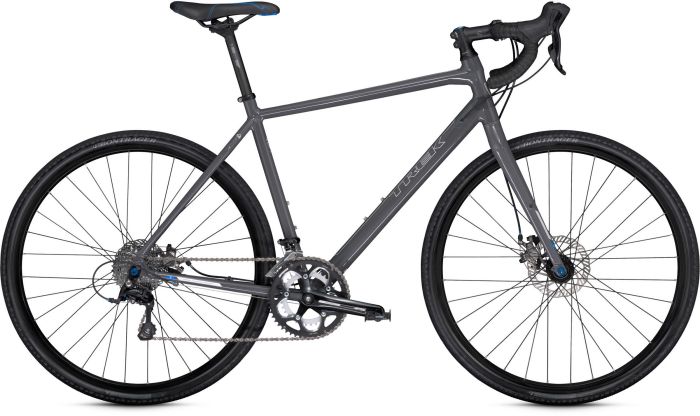 We compared the 2015 Trek CrossRip Elite to the 2014 Trek CrossRip Elite. In terms of some basics, the CrossRip Elite remains consistent. The same carbon brazed front fork makes the shock absorption more efficient, and the weight of the body is reduced, making it easier to climb uphill.
The high-quality 100 Series Alpha Aluminum's aluminum body makes outdoor riding more worry-free and more resistant to rough wear. Likewise, the alloy body is no match for the lightness of an all-carbon brazed body. The same level is also shown on the drivetrain, Shimano 2×9 drivetrain, 18 shifting channels. That's more than enough for a crowd with no racing requirements.
The performance of the tires is also consistent, using Bontrager H5 700x32c tires. Tall and well-patterned tires are of great help in terms of speed and a relaxed and stable feel.
At the same time, there is a certain improvement in the braking of the mechanical disc. The 2015 Trek CrossRip Elite uses a Hayes CX Expert disc, and the 2014 Trek CrossRip Elite uses a Hayes CX 5 disc. Of course, this improvement in braking will definitely have some impact on riding, which is relatively more sensitive and fast.
In terms of color, the Trek CrossRip Elite series does not have many choices. As I mentioned earlier, this is a pity for urban fashionistas who like bright colors. The 2015 Trek CrossRip Elite is the same black as the 2016, and the 2014 Trek CrossRip Elite is gray. The same low-key, the same strong.
What do we like about it?
The carbon brazing front fork, which can effectively absorb vibration, also surpasses the cost performance.
This dual 2×9 power transmission system gives you more speed choices and more room for improvement.
Despite its lower maintenance cost, the mechanical disc is not inferior to the hydraulic disc in terms of braking power.
The 700x32c tall and sturdy tires can easily adapt to the complex environment in the wild, and the rolling force is more powerful.
The built-in wiring is more concise, avoiding all kinds of winding and cleaning troubles.
A free geometric frame can be fitted with brackets and lights to reduce commuter burden.
Stable downhill power allows you to avoid body drift.
What do we not like about it?
Single colors may not be appealing to people who want to attract attention.
The alloy frame has a bit of a weight hold for steeper climbs.
Without the more expensive all-carbon brazed body, more can't be done in terms of body shock absorption.
Specs
Frameset
| | |
| --- | --- |
| Frame | 100 Series Alpha Aluminum w/rack & fender mounts, internal cable routing, inboard disc brake mounts |
| Fork | Bontrager Satellite Plus, carbon disc w/lowrider mounts |
Wheels
| | |
| --- | --- |
| Wheels | Formula alloy hubs, Bontrager Tubeless Ready rims |
| Front hub | Formula DC20 alloy |
| | |
| Rear hub | Formula DC22 alloy |
| Rims | Bontrager Tubeless Ready |
| Tires | Bontrager H5 Hard-Case Ultimate, 700x32c |
Drivetrain
| | |
| --- | --- |
| Shifters | Shimano Sora, 9 speed |
| Front derailleur | Shimano Sora |
| Rear derailleur | Shimano Sora |
| Crank | FSA Vero 50/34 (compact) |
| Bottom bracket | Sealed Cartridge |
| Cassette | SRAM PG 950, 11-32, 9 speed |
| Chain | KMC X9 |
| Pedals | Nylon body w/alloy cage |
Components
| | |
| --- | --- |
| Saddle | Bontrager Evoke 1 |
| Seatpost | Bontrager SSR, 2-bolt head, 27.2mm, 12mm offset |
| Handlebar | Bontrager Race Lite IsoZone, VR-CF, 31.8mm |
| Grips | Bontrager gel cork tape |
| Stem | Bontrager Elite, 31.8mm, 7 degree, comes w/computer & light mounts |
| Headset | Cartridge bearings, sealed |
| Brakeset | Hayes CX Expert mechanical disc brakes, Tektro alloy levers |
Weight
| | |
| --- | --- |
| Weight | 56cm – 11.00 kg / 24.25 lbs |
| Weight limit | This bike has a maximum total weight limit (combined weight of bicycle, rider, and cargo) of 300 pounds (136 kg). |
Compare
2023 Trek FX Sport 5 vs 2016 Trek CrossRip Elite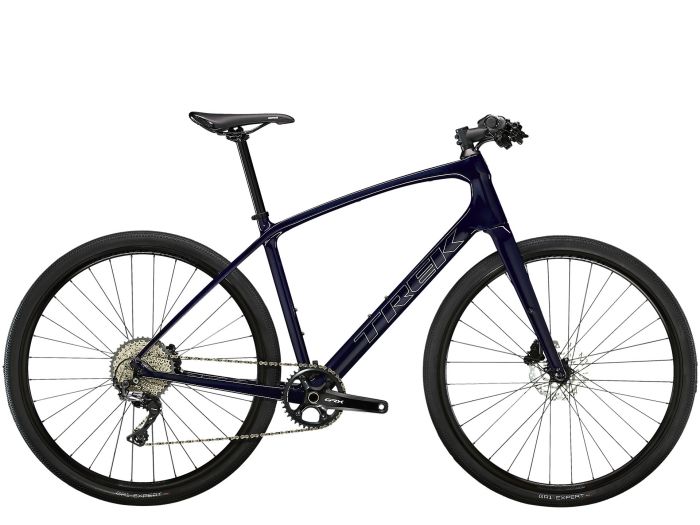 Comparing the 2023 Trek FX Sport 5, it's clear that the 2016 Trek CrossRip Elite's superior value for money. On top of being nearly $1,000 cheaper, the 2016 Trek CrossRip Elite's drivetrain is a dual-group build. Although there are four fewer speed options than the 2023 Trek FX Sport 5, in the process of most daily riding, there is almost no difference.
Meanwhile, the 2023 Trek FX Sport 5 has wider tires, so it will be a little stronger on the ground. But at the same time, it will also increase the resistance on commuting and off-road climbing. However, if you're a fan of sand and snow, wider tires do benefit.
Learn More: Trek FX Sport 5 Review-Is It A Good Hybrid Bike?
2020 Canyon Commuter Sport 8.0 vs 2016 Trek CrossRip Elite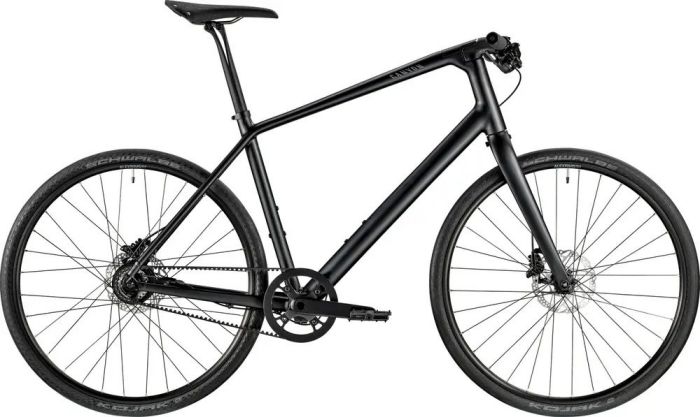 As a 2020 product, the 2020 Canyon Commuter Sport 8.0 didn't stand out as much when compared to the 2016 Trek CrossRip Elite. Although the single-group transmission system has improved a few levels in speed selection, in my experience, the difference is not too big.
But I have to mention that the 2020 Canyon Commuter Sport 8.0 is a little quieter because of the belt drive. But for most of our outdoor riding, this kind of improvement doesn't seem to be an important feature. Also, the tires are sized to be a little harder on some slopes than the 700×32 tires on the 2016 Trek CrossRip Elite.
Although they share the same aluminum body and carbon-braced fork, the 2020 Canyon Commuter Sport 8.0 is more than $700 more expensive than the 2016 Trek CrossRip Elite. Also, age is different, and I don't think the 2020 Canyon Commuter Sport 8.0 is that advanced enough.
2020 Marin Presidio 4 DLX vs 2016 Trek CrossRip Elite
Likewise, the 2020 Marin Presidio 4 DLX and Trek CrossRip Elite's aluminum body and full carbon brazed fork mean they'll handle roughly the same amount of drag while riding. Coupled with the same tall 700x32c tires, the riding experience is basically the same.
For the 2020 Marin Presidio 4, it has to be mentioned that it has achieved an upgrade in the braking system. The hydraulic disc is used, which is lighter and more modern, but in terms of braking effect, the difference will not be obvious. Because almost every bicycle brand attaches great importance to brakes, whether it is mechanical or hydraulic, the ability is the same.
Of course, the hydraulic disc will make the body lighter, which is undeniable. Overall, the $2,349 price of the 2020 Marin Presidio 4 DLX does have some economic pressure.
2022 Priority 600 vs 2016 Trek CrossRip Elite
One big feature of the 2022 Priority 600's design is its smaller wheels relative to the 2016 Trek CrossRip Elite. The small wheels do feel a little sluggish at speed, but at the same time, they outperform the larger ones in terms of grip, cushioning and stability on gravel and outdoor trails. But maybe a little pity for the city roads we use more often.
Compared to the drivetrain of the 2016 Trek CrossRip Elite, the 2022 Priority 600 improves the range of speed options a bit, but not by much. The 2022 Priority 600 uses a more expensive belt drive system, which handles noise better than conventional models. But if you're riding outdoors, the difference isn't very noticeable.
At the same time, the price of 2499 does not produce a greater advantage and is not the best economical and practical choice.