We use affiliate links and may receive a small commission on purchases.
We've selected the 8 best road bike groupsets for your reference.
Road bikes are the favorite category of bikes for riders who pursue ultimate speed. The quality of the equipment you use can make a noticeable difference. Compared to mountain bike groupsets, road bike groupsets will be more focused on lightweight and transmission efficiency, as well as gear ratios. The road bike groupsets also include a crankset, chainrings, cassette freewheel, derailleur, and shifters. There are three main types of groupsets: Shimano, SRAM, and Campagnolo. Each groupset has its own advantages and disadvantages, so you need to choose the right one based on your riding style.
A good groupset combination provides a smooth shifting experience and can save energy during sprints or climbs. In this article, we will introduce you to different types of road bike groupsets at different price levels and explain the function of each piece of equipment. It is also important to consider compatibility issues and provide tips for setting up the equipment that suits your needs. Understanding these things will help you know how to match the most suitable road bike groupsets for you.
We also provide detailed information on all products needed to enhance your cycling training, such as the best bike trainers. If you enjoy our articles, feel free to subscribe to stay up-to-date with the latest reviews and information!
2023 Best Road Bike Groupsets List
Shimano Dura-Ace Di2
Campagnolo Super Record EPS
SRAM Red eTap AXS
FSA K-Force WE
SRAM Red eTap
Shimano Ultegra Di2
SRAM Force Etap AXS
Rotor Uno
1. Shimano Dura-Ace Di2
Speeds: 2×12
Chainrings: 50/34T, 52/36T, 53/39T, 54/40T
Cassette: 11-30T, 11-34T
Brakes: Disc/Rim
What we like about it: Excellent shifting performance, and improved ergonomics.
What we don't like about it: The rim brakes are not really up to date.
"Improvement, rather than a total revolution", is Shimano's declaration when upgrading the previous generation Dura-Ace. Although the Dura-Ace 9100 is brand new and outstanding, Shimano has still improved some of the most subtle little shortcomings. This includes braking as well as ergonomics, and the 12-speed semi-wireless system has become a top-of-the-line design. the Shimano Dura-Ace is the pinnacle of the Shimano line and is featured on many pro-level world touring bikes.
As with Ultegra and Sram's products, it does not have a cable displacement option. It is a purely electronic setup. If you want better-shifting performance then it must be without the cable setup. Electronic shifting is going to be the trend of the future, so this will not be a big omission.
2. Campagnolo Super Record EPS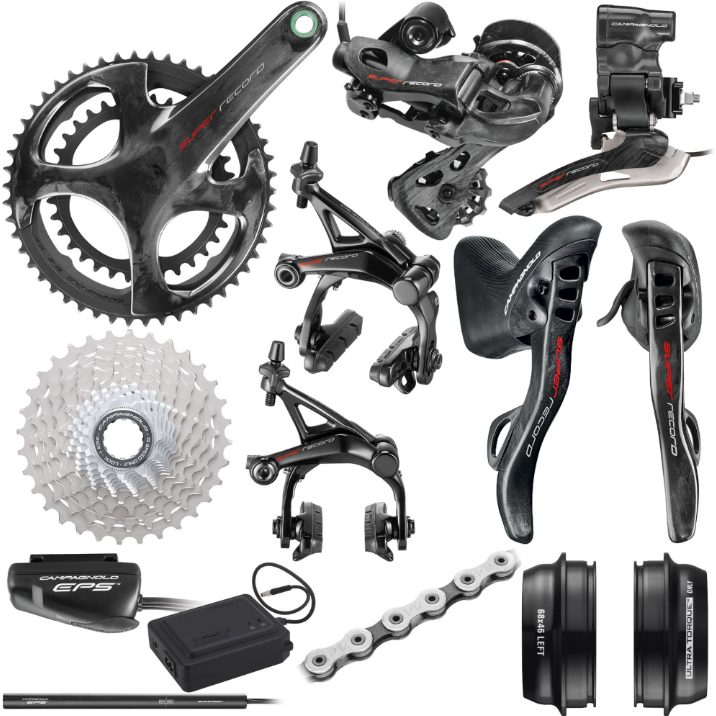 Speeds: 2×12
Chainrings: 53/39T, 52/36T, 50/34T
Cassette: 11-29T, 11-32T, 11-34T
Brakes: Disc/Rim
What we like about it: Beautiful carbon fiber construction and long-lasting battery life.
What we don't like about it: The chain strength worries me.
It was "late" to the party on disc brakes. But this "lateness" also allows it to avoid the performance and aesthetic trade-offs that Sram and Shimano have experienced. The front has direct-mount calipers with 160mm and 140mm fittings, and a large amount of carbon fiber emphasizes its prestige, but also raises the price. A more compact, longer-lasting battery and an upgraded front chainstay with more power for shifting. The famous thumb shifter with extension adjustment and carbon fiber brake lever.
Campagnolo puts each cog close together, so the cassette freewheel takes up just as much space as the 11-speed. This also meant a narrower chain, so I had a little concern about strength. In reality, it doesn't seem to be what I thought it would be, and there aren't any problems with the chain or anywhere else. What we should look forward to is the introduction of its high-end products, as evidenced by the latest 13-speed Gravel Kit Ekar.
3. SRAM Red eTap AXS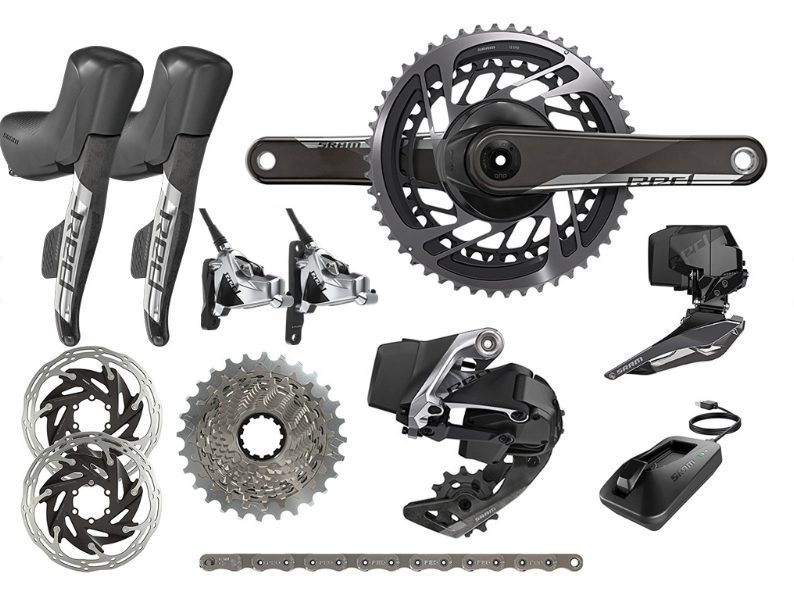 Speeds: 1×12, 2×12
Chainrings: 46/33T, 48/35T, 50/37T, 36T, 38T, 40T, 42T, 44T, 46T, 48T, 50T
Cassette: 10-26T, 10-28T, 10-33T
Brakes: Disc/Rim
What we like about it: True wireless design.
What we don't like about it: Electronic signal interference.
The Red eTap AXS offers a range of advanced features, including customizable shifting modes, a wider gear range, more precise shifting, improved ergonomics, and connectivity. Its history can be traced back to 2015 when SRAM launched its first electronic shifting component, eTap, which achieved great success in improving bicycle shifting.
However, the Red eTap AXS also has some drawbacks, such as its battery's potential to generate wireless signal interference, which can impact its performance and reliability. To address this issue, SRAM introduced a new type of signal modulator that effectively reduces wireless signal interference. Overall, the SRAM Red eTap AXS is a powerful electronic shifting component that boasts the latest features to significantly improve the bicycle shifting experience. Despite some of its drawbacks, SRAM has introduced solutions to make the component more reliable.
4. FSA K-Force WE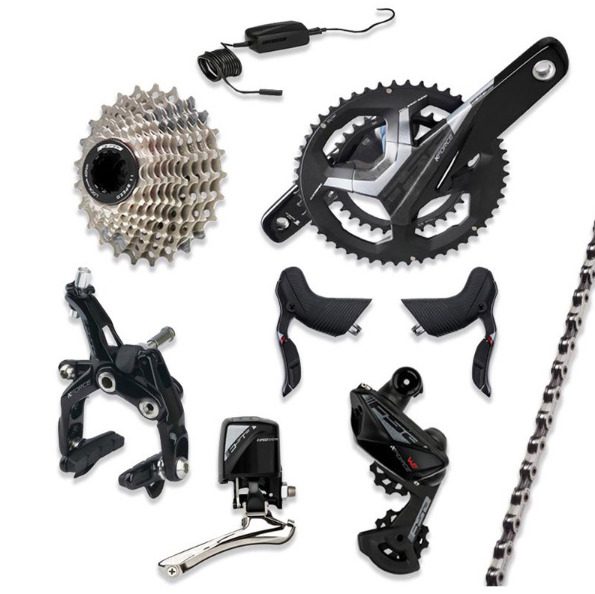 Speeds: 2×11
Chainrings: 53/39T, 52/36T, 50/34T
Cassette: 11-25T, 11-28T, 11-32T
Brakes: Disc/Rim
What we like about it: Comfortable 12-speed electronic shift pattern, efficient and reliable.
What we don't like about it: Installation and commissioning are more complicated and not suitable for your modification.
The FSA K-Force WE is a high-end electronic shifting component introduced by FSA. It utilizes the latest FSA technology to provide fast, secure, and reliable shifting performance. It offers 12 built-in shifting modes and programmable 50-speed selections, allowing users to have greater control over their bike's shifting performance. Additionally, it supports various optional controllers and Bluetooth technology for wireless automatic shifting, providing users with a more effortless riding experience.
Despite having many advantages, the installation process of FSA K-Force WE is still somewhat complex. Moreover, it requires some maintenance and repairs to ensure its proper operation. To address this issue, it is recommended that users carefully read the instruction manual before installation and call in professional assistance if needed. Additionally, users should regularly check the status of the shifter and frequently replace the lubricant to ensure optimal performance of their bike's shifting system.
In summary, FSA K-Force WE is a highly impressive SRAM electronic shifting component. It provides efficient, reliable shifting performance and can meet the varied shifting needs of users.
5. SRAM Red eTap
Speeds: 2×11
Chainrings:46/36T, 50/34T, 52/36T, 53/39T, 55/42T
Cassette: 11-25T, 11-26T, 11-28T, 11-30T, 11-32T
Brakes: Disc/Rim
What we like about it: High-quality shifting feel, better value for money than the Red AXS series.
What we don't like about it: No 1x kit options.
The SRAM Red eTap is SRAM's flagship electronic shifting component. Its introduction marks the birth of electronic shifting components in the modern high-end bicycle market. It boasts an exceptionally sleek design and an incredibly intuitive control scheme, significantly reducing the complexity of shifting. It utilizes wireless transmission technology, enabling shifting to be completed in just a matter of seconds and automatically detecting the status of the shifting components to achieve optimal shifting performance.
However, SRAM Red eTap does have some drawbacks, namely its high price tag, which may be too expensive for many regular bicycle users to afford. Additionally, its battery life is not particularly long-lasting, and purchasing replacement batteries can also be quite expensive. To address these issues, measures such as purchasing higher-quality batteries can be taken. All in all, SRAM Red eTap is a powerful electronic shifting component that has brought tremendous convenience to the development of bicycle technology.
6. Shimano Ultegra Di2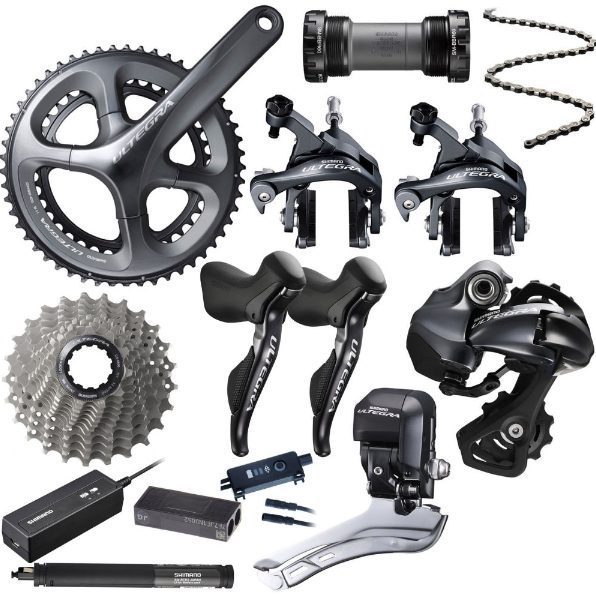 Speeds: 2×12
Chainrings: 50/34T, 52/36T
Cassette: 11-30T, 11-34T
Brakes: Disc/Rim
What we like about it: The braking technology is very high quality.
What we don't like about it: The relatively expensive entry price is not accepted by the public.
The Shimano Ultegra Di2 is an electronic shifting component developed by Shimano. It is a high-performance electronic shifting system that was introduced in 2009. It enables you to quickly and smoothly adjust gears providing more control options and less adjustment and pause time. Its advanced drip technology greatly improves its braking performance, and its more affordable price compared to Dura-Ace makes it an excellent performer in mountain biking, off-roading, and everyday riding.
Despite its many advantages, one of the drawbacks of Shimano Ultegra Di2 is its price. It is much more expensive than regular shifting systems and also more expensive than other electronic shifting systems. One way to address this issue is to consider your budget when purchasing Shimano Ultegra Di2 and to compare prices online and in physical stores to get the best deal. Overall, Shimano Ultegra Di2 is an outstanding electronic shifting system. Its fast and smooth shifting capabilities enhance your riding experience in mountain biking, off-roading, and everyday riding. It has one drawback, which is its price, but as long as you find the right price, it is still worth considering.
7. SRAM Force Etap AXS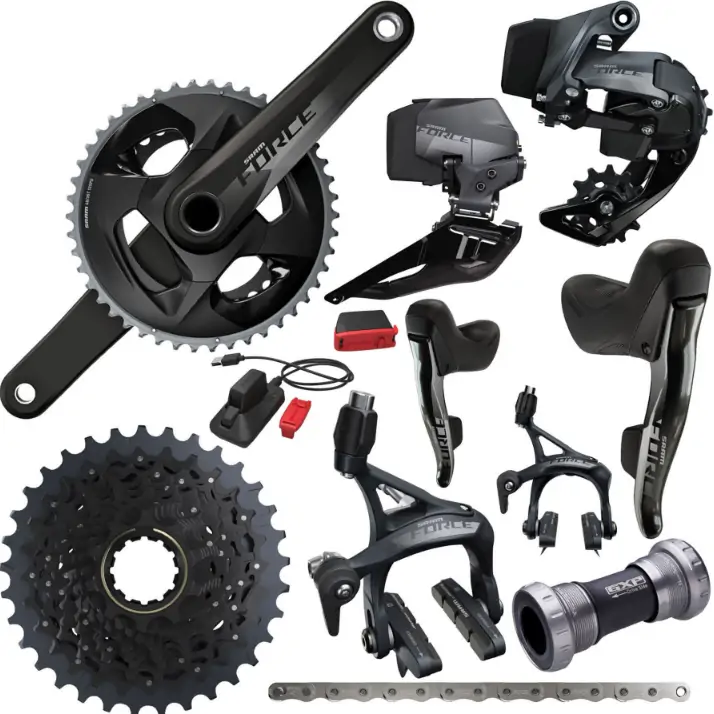 Speeds: 1×12, 2×12
Chainrings:48/35T, 46/33T, 36T, 38T, 40T, 42T, 44T, 46T, 48T
Cassette: 10-26T, 10-28T, 10-33T
Brakes: Disc/Rim
What we like about it: Rich variable speed range with better compatibility.
What we don't like about it: The greater weight.
The SRAM Force Etap AXS is the latest electronic shifting component from SRAM. It inherits SRAM's consistent design philosophy and aims to provide cyclists with a more precise shifting experience. It combines the new AXS (Access Experience Sync) technology with cutting-edge communication technology to give users the freedom to change and control the shifting system. The SRAM Force Etap AXS is extremely stable. It has a full crystal modem, allowing for a more stable data drivetrain. And it also has highly accurate buttons that allow users to quickly and precisely change the shifting system to improve the bike's performance.
Moreover, it has a downside in that it is heavier. Although the Force AXS chainset is a few grams heavier than the delicate one-piece Red version. But for consumers, we think it's a better choice. SRAM has also come out with some more economical shifting components to meet the needs of the average cyclist. All in all, the SRAM Force Etap AXS is a revolutionary shifting component. It has both superb stability and extreme precision, allowing the user to control the shifting system more precisely and improve the bike's performance.
8. Rotor Uno
Speeds: 1×12, 1×13
Chainrings:38T, 40T, 42T, 44T, 46T, 48T, 50T, 52T, 54T
Cassette: 10-36T, 10-39T, 10-46T, 10-52T
Brakes: Disc type
What we like about it: The novel system and oil-pressure shifting is a good choice.
What we don't like about it: Poor compatibility with other brands.
This is a brand that likes to think outside the box, and the 13-speed hydraulic UNO groupset is a perfect example. While other brands are using electronic shifting, ROTOR went with a different approach to hydraulic shifting, which is consistent with high-quality hydraulic braking principles. Once you get a set of properly installed components, it will accompany you perfectly for many years with almost no need for maintenance. It has 1×12 and 1×13 speed options or 2×11 speed options. The shifters and derailleurs are compatible with 12-speed and 13-speed cassette freewheels, which can be changed without tools.
I didn't find any particular drawbacks, but if I had to point out one, it would be its poor compatibility. You cannot mix and match with Shimano or SRAM groupsets, and you must purchase the entire groupset. However, if you do purchase the entire set, it will give you a very good experience.
How to choose the most suitable road bike groupsets?
Components of the road bike groupsets
Road Bike Crankset
Road bicycles can be divided into three categories according to cranksets: single chainring, double chainring, and triple chainring.
The crankset is the largest component of any bike, including the chainrings and cranks, as well as the spindle that connects the two cranks. Cranksets are classified into three categories based on the number of chainrings used: double chainring (the most common chainring on the road, typically referred to as 2x); single chainring (popular in mountain biking and off-road/gravel, usually referred to as 1x or "one-by"); and triple chainring (an old standard that is rarely seen on new bikes).
Double Cranksets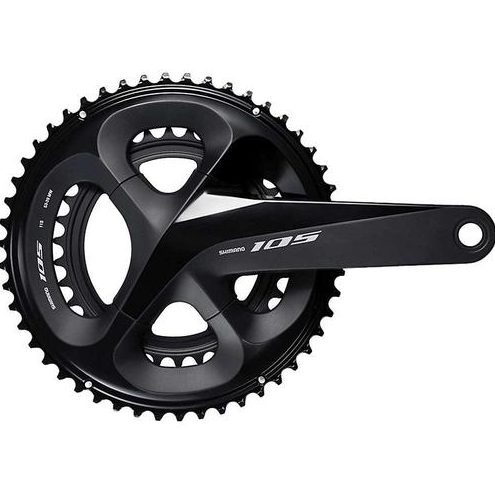 Standard double cranksets are often a must-have for professional cyclists. Most of the time they consist of a 53T large chainring and a 39T small chainring, or a 53/39 semi-compact crankset or a professional compact 52/36. These different setups are usually designed to provide a better climbing experience for cyclists while still retaining a large top gear. This is something that only professional riders would consider.
Compact cranksets have a 50/34 setup. It has become very popular due to its ease of shifting and lightweight combination. Super-compact or sub-compact cranksets offer lower gear ranges on double chainrings (such as 48t/32, 48/31, or 46/30). These are becoming more popular among gravel riders and bikepackers who want a 2x setup that can provide low, closely spaced gearing.
Triple Cranksets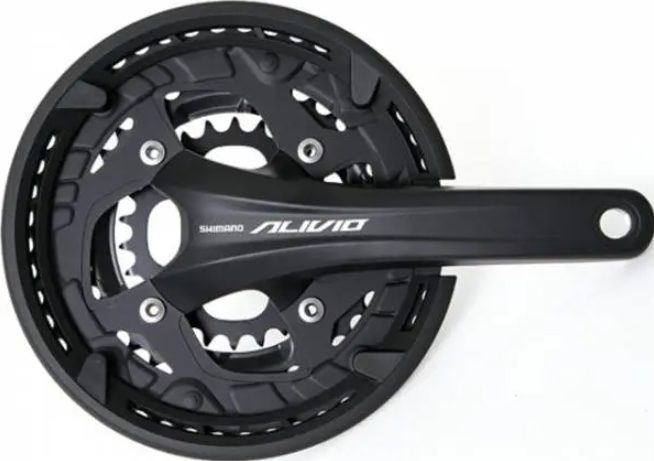 Triple chainrings are a very old setup that is common on vintage road bikes and touring bikes. It offers a wide range of gears but adds weight by adding a third chainring. Additionally, it usually combines a 50T outer ring, a 39T middle ring, and an inner ring with only 30 teeth. It is popular among touring cyclists who value ultra-low "granny" gear for providing an extremely comfortable pedaling cadence, especially when loaded with panniers.
Single Cranksets
Single chainring cranksets only have one chainring. To compensate for the loss of a smaller inner ring, 1x cranksets are usually paired with a wider-range cassette. Single chainring cranksets use alternating wide and narrow teeth with a higher profile to help keep the chain on.
Road Bike Shifter
In the vast majority of cases, modern road bikes use a dual-action shifter that integrates the shifter into the brake lever. Each brand has its take on this concept. Therefore, the method of operation is different when using Shimano gears or Sram and Campagnolo gears.
Electronic shifting still relies on the built-in paddles in the chainstay but uses a small battery inside the chainstay instead of a traditional cable pull. Unlike mechanical shifting, which provides consistently precise shifting, electronic shifting can be maintained at a much lower price than mechanical shifting.
Road Bike Brake Principle
The complications are not limited to the various shifting actions and whether they are mechanically or electronically driven. The types of brakes used on road bikes have also become more complex over the past few years. In the past, lasso caliper rim brakes were the only type used. But in recent years, road bike braking options have expanded to include direct mount rim calipers as well as hydraulic rim calipers (rare), cable-operated disc brakes, and hydraulic disc brakes.
Hydraulic, caliper brakes are often considered the best all-around choice. Which brake you choose depends entirely on your use. All three major kit brands offer hydraulic disc brake options for most kits as well as rim brakes, and they dominate the bikes that they have in existence.
Road Bikes Derailleurs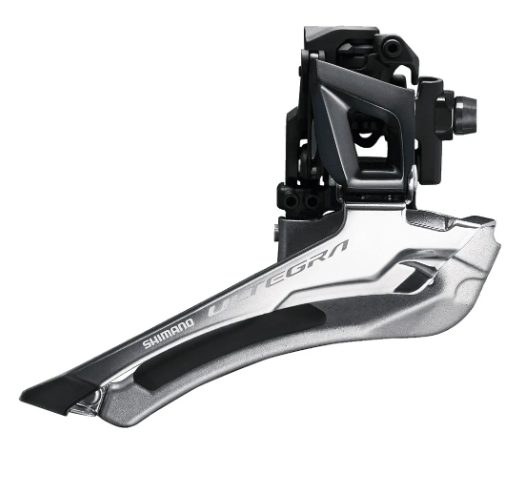 The chain paddle is the mechanism that displaces the chain from one gear to another. The front paddle is responsible for the front sprocket blade of the bike. The rear chainstay, on the other hand, complicates the rear cassette freewheel shifting, and both are controlled using a form of the displacer.
Road Bike Cassettes
A cassette freewheel is a multi-speed freewheel mounted on the rear wheel of a bicycle, and the more layers mean the more speed options it has. So if a cassette contains 10 sprockets, you have a choice of 10 speeds, an 11 speed has a choice of 11 speeds, and so on.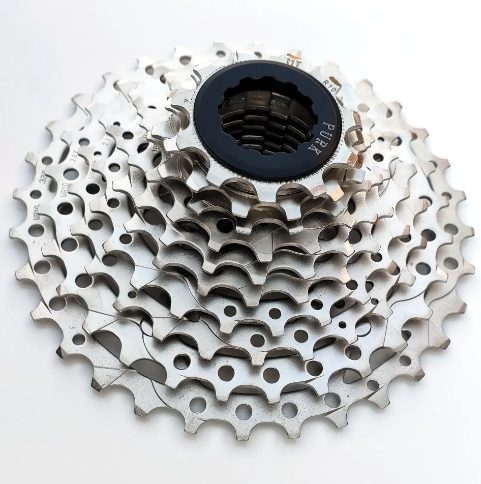 Having more sprockets not only gives you a wider range of gears but also means that the jumps between them tend to be smaller. Also, less clearance allows you to maintain optimal pedaling cadence more easily when jumping from one gear to another. That's why it's the preferred choice for most racers. For road bikes with dual cranksets, the 11-28t is probably the most common series of cassette freewheels, but Shimano, SRAM, and Campagnolo all offer a variety of options to suit your riding needs.
The standard range of cassette freewheel is also becoming increasingly popular. Some bikes are available with 11-32T or even 11-34T freewheel, while Sram offers 10-36 ton 12-speed cassette freewheel in its eTap AXS Force and Rival series.
Road Bike Chains
The number of chains and cogs in your kit determines the type of chain you need for your bike, with higher cogs usually requiring longer chains. More expensive chains are also usually smoother, more durable, and have greater corrosion resistance than cheaper chains.
In addition, more expensive chains are made of special materials, hollowed out, etc. to reduce the overall weight. However, it is worth noting that the chain is a wearable item and needs to be replaced regularly. If not, both the cassette freewheel and the sprocket will wear out, and you can also extend its life by cleaning it regularly.
Bicycle Bottom Bracket
The chassis contains bearings for crank rotation and fit your frame. Chassis come in many shapes and sizes we have a complete guide to chassis standards-but for road groupsets, they all fall into two categories: press-fit or threaded.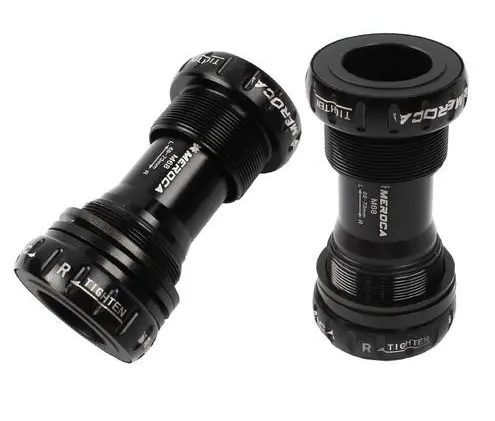 The threaded bottom bracket is screwed into the frame by threads. As the name implies, the press-in bottom bracket is pressed into the frame and held in place by friction.
In general, press-in bottom brackets are not as convenient as threaded bottom brackets in terms of maintenance and compatibility, but many manufacturers prefer them. This is because they are claimed to offer weight and stiffness advantages and are easy to manufacture.
Durability of Components
If you're willing to spend more money on a mountain bike, you'd expect it to be more durable than a cheaper bike. Durability does increase with price, but it doesn't necessarily get more expensive. Shimano's second-tier product, the 105 series, already has the best quality, with subsequent improvements being mostly regional stability.
More expensive technical components have higher precision, and high precision helps extend the life of the material. This is especially evident in the chain and derailleur, where better and cheaper options will develop gaps and tilts over time, while better components typically stay fresh for several years.
However, for easily worn components like cassette freewheels and chainring plates, the situation is usually the opposite. Cheaper options are typically made of heavier but more durable steel, while more expensive versions are made of lighter but softer aluminum or titanium.
Conclusion
In this list, you can find different types of road bike groupsets at different price points. A reasonably priced and durable component is suitable for the average road bike rider, while top-of-the-line road bike groupsets are often used in most professional races. Therefore, we have found the eight best road bike groupsets for 2023, which can meet the choices of riders with different budgets and allow them to choose the most suitable groupset based on their preferences and riding habits. By the way, if you want to go riding in well-known terrain or special terrain, you can book your accommodation on IHG Hotels & Resorts. It is not only rich in variety but also easy to operate.
If you want to get more reviews on bike products, such as the 2023 best cycling pants that provide a comfortable riding experience for long rides while reducing wind resistance during cycling.
Finally, if you like our content, please share it with your friends! If our content is helpful to you, you can click the email subscription button below!