We use affiliate links and may receive a small commission on purchases.
We've selected Top 8 Best Children Bikes from over 200 bikes.
Studies show that every child remembers who gave them their first bicycle, what color it was, and what it looked like. Because bicycles bring unparalleled joy to their childhood. And, this fun and physical activity are far healthier than looking at electronics.
If you also expect your child to have a colorful childhood, consider giving him a bike that will lead him to healthy exercise. Here we have a wide range of interesting bikes that are definitely within your budget and suitable for children of all ages.
For specific information about Best kids bikes, you can refer to our recommendation table below and purchase advice.
Recommended Lists
The Perfect First Children Bike: 2022 Trek Precaliber 12 ($279)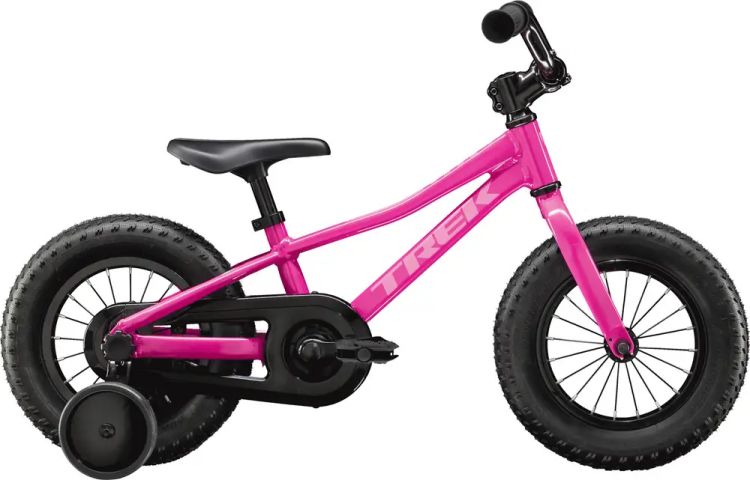 Wheels: 12×2.25"
Type: Mountain youth bike
Brakes: Coaster
What we like about it: Safe and fun to ride, durable quality.
What we don't like about it: It's only for smaller children.
Learn More: Is Trek Precaliber 12 A Great Bike? [Trek Precaliber 12 Review]
The Trek Precaliber 12 is absolutely the perfect first bike for every child's life. The easy-to-install and remove tool-free training wheels have successfully helped children between 3-4 years old and between 36-40˝ tall learn to balance and have fun on the bike. At the same time, the built-in handle on the saddle gives parents a full sense of security. They can protect their children from falls through the handles while effectively guiding them to start this fun sport.
What also makes the Trek Precaliber 12 the best first kids' bike to buy is its durable quality guarantee. It is not a disposable toy but can be used in a new look for your child's siblings to share the joy.
However, there are limits to the amount of joy the Trek Precaliber 12 can bring to a child – the 12 x 2.25" Bontrager XR1 tires are more friendly to smaller, such as 2'10" – 3'4″ toddlers. But the fact is that children under 4 years old grow very quickly, and when they grow up, a 12″ bike will make it difficult for them to stretch their arms and legs generously. At this point, parents also need to replace their child with a larger bike in time – the Cannondale Kids Trail 16.
Best Bike For 4-years-old: 2022 Cannondale Kids Trail 16 ($350)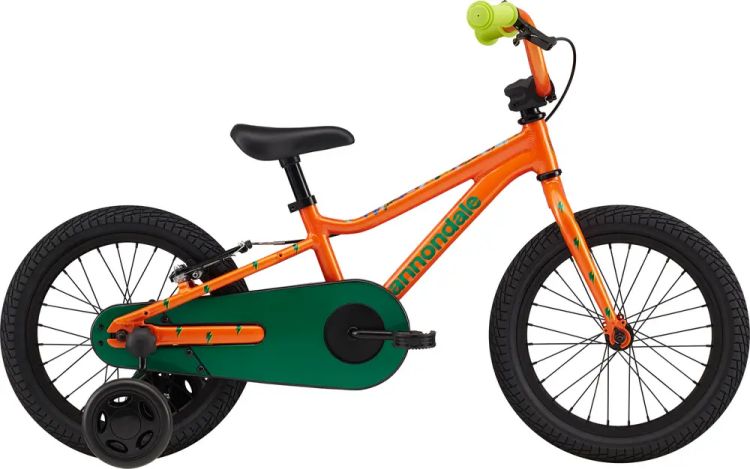 Wheels: 16 x 2.25″
Type: General youth bike
Brakes: Rear V-brake and rear coaster brake
What we like about it: Helps children build confidence and begin to develop riding skills.
What we don't like about it: It's not exactly cheap.
If your 4 to 6 years old hasn't started learning to bike the Cannondale Kids Trail 16 would be a great place to start. For children 3'8″-4'0″ (112cm-122cm), building confidence is as important as developing skills. The durable lightweight alloy frame makes the bike very light and easy to handle, giving children enough confidence to drive well. The tool-free installation or removal of training assistance wheels is also enough to ensure that the bike can always be balanced. Together with the 16-inch alloy rims and tires, the bike can maintain a strong grip and give the child enough comfort, whether on concrete or dirt. In addition, the rear V-brake and rear coaster brake are very safe and reliable, so children can effectively control the bike forward or pause, to help children slowly comprehend the riding skills.
If there's one thing that will leave parents unhappy about the Cannondale Kids Trail 16, it's probably the price. After all, at $350 for a kids' bike, it can be stressful for parents on a budget. But then again, this bike can be with a child for 1 to 2 years and fill their childhood, so $350 is not a bad deal. But if you're still looking for a cheaper bike, maybe you should consider the 2022 GT Grunge 16″
Cost-effective Children Bike: 2022 GT Grunge 16″ ($275)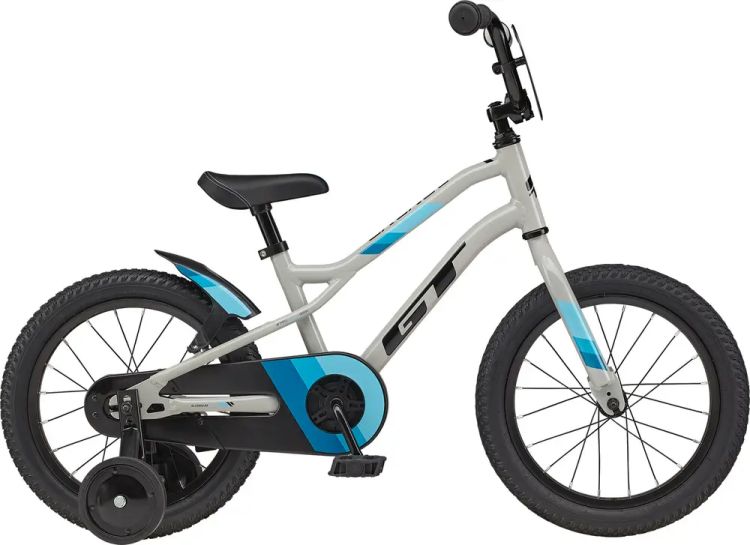 Wheels: 16 x 1.95″
Type: General youth bike
Brakes: Coaster
What we like about it: Lightweight frame, comfortable and stable geometry.
What we don't like about it: The tires are a little narrow.
We've been reviewing some kids' bikes, and it's hard to find a 16″ bike that offers more value for the money than the GT Grunge 16″, a bike with a lightweight aluminum frame and auxiliary tires that's durable, easy to handle and gives kids from 3'3″ – 3'10" more fun. With the smooth rolling effect of the 16″ GT tires, children can play in the community all day long.
There are nothing parents and children like more than the improved geometry with the LegitFit system, which is tailored to increase stability and comfort for most children. The pedal system also becomes easier to pedal with the help of the LegitFit system. Because of the narrower crank and pedal position, which matches the width of the child's hips, the pedaling motion becomes stronger and more natural.
Unfortunately, the 1.95″ tires blur the mountain attributes of the GT Grunge 16″. This width is acceptable for adults, but the lack of passability for children is not accompanied by sufficient shock absorption. If they are unfortunate enough to encounter an unpaved surface, the child's arms may feel the sting. This makes them lack the courage to cope the next time they face a broken road. Of course, if that's a problem for you, the Cannondale Kids Trail 16 above won't disappoint you.
Best Bike For 5-years-old: 2022 Marin Donky Jr. 18″ ($299)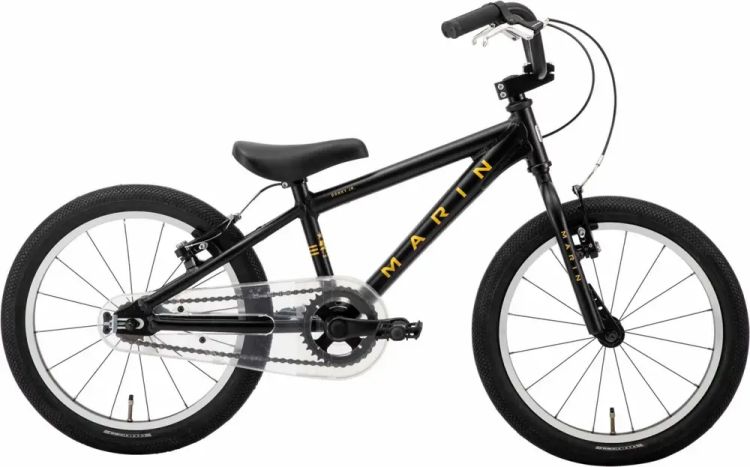 Wheels: 18″ x 2.0″
Type: General youth bike
Brakes: Rim
What we like about it: Thoughtful children's design, allowing children to feel the riding skills.
What we don't like about it: The lack of auxiliary wheels makes children with no riding experience lack courage.
If your child thinks a 16″ bike is a little small and a 20″ is a little big, consider the Marin Donky Jr. 18″. It will make 5 to 6 years old with previous riding experience happy.
This is also the first time that children are officially off the auxiliary wheel, so the special one-piece saddle design makes perfect sense. Because the Marin Kids saddle gives children a greater sense of security, even short children can ride easily. In addition, Marin has thoughtfully designed the safe and reliable Tektro Kids Specific Short Reach Alloy brakes according to the size of the child's hands, allowing them to freely control the pace of the bike at all times. The BMX-style stem and handlebar are also praiseworthy, slowly allowing children to feel more riding skills and fun.
However, the lack of an assist wheel confuses too many inexperienced kids. If their parents also don't have much energy to hold the saddle for their kids, then the Marin Donky Jr. 18″ is sadly lost to the novice market. In fact, the diminutive Marin Donky Jr. 18″ is not unmanageable for even bold children of 100cm-120cm in height with no riding experience, as the aluminum frame is only 8.8kg and very light. Of course, parents who are worried about their children's skills can consider our Cannondale Kids Trail 16 or GT Grunge 16″ above.
Children Bikes That combine safety and fun: 2022 Specialized Riprock Coaster 20 ($325)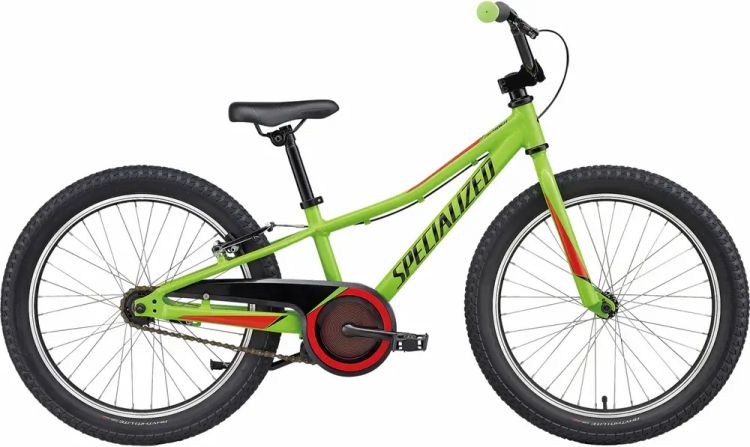 Wheels: 20×2.3″
Type: General youth bike
Brakes: V-brake
What we like about it: Great riding fun, great tires.
What we don't like about it: Rigid suspension shock absorption effect is not obvious.
For children 3'9″ – 4'4″ tall, safety and fun are not mutually exclusive existences. With the 2.3″ Rhythm Lite tires, the Specialized Riprock Coaster 20 is the perfect playmate for children on rough and tumble trails. Because they effectively eliminate the threat of bumpy vibrations. And the sturdy tires provide excellent traction, control, and fun for your child in the comfort of a stable ride on city streets as well. The tried-and-true A1 premium aluminum frame is extremely lightweight, and with its premium geometry, gives children an ultra-low stand-off distance so they can easily get on the bike and grow with it.
In addition, the steel roller coaster brake is very reliable. It is very simple to operate and always stops or glides excellently when the child needs it.
While the Specialized Riprock Coaster 20 can take on rough terrain, with its Hi-Ten steel fork and Rhythm Lite tires alone, it's still not very effective at dampening vibrations, which can make timid children resist venturing out onto bumpy trails. If you want your child to unlock more terrain with a smile, consider the GiantXTC Jr 20 C/B with fork travel.
The Best Kids Mountain Bike: 2022 Giant XTC Jr 20 C/B ($280.5)
Wheels: 20×2.1″
Fork: 50mm
Type: Mountain youth bike
Brakes: Coaster & Alloy linear-pull brakes (rear only)
What we like about it: Lightweight aluminum frame, professional hardtail design.
What we don't like about it: The tires don't pass well.
The Giant XTC Jr 20 C/B is the best first hardtail for every 3'11"-4'7″ child.
The high tensile steel fork with only 50mm of travel is not perfect, but it has enough bounce to make children smile and feel the mountain cross country. Meanwhile, the ALUXX grade aluminum frame provides aspiring young trail riders with a lightweight, dedicated chassis to toss around. To their credit, the comfortable near-erect geometry will make riding a pleasure for the kids. In addition, the Giant Jr MTB handlebar with Giant Junior grips and the soft and comfortable Giant Jr. Sports saddle are all designed for off-road use, and they all make the sport look more professional and fun.
The Giant XTC Jr 20 C/B would have been more competitive if it had gone with wider tires. Because while the Giant Junior Sport tires are very professional, the 2.1″ width doesn't make it very strong in passing performance. After all, children aren't very strong and can lose confidence if they can't get through rocks or obstacles fast enough. The Specialized Riprock Coaster 20 above says no pressure.
Best Selling Children's Bike: 2022 Diamondback EVA 24 ($329)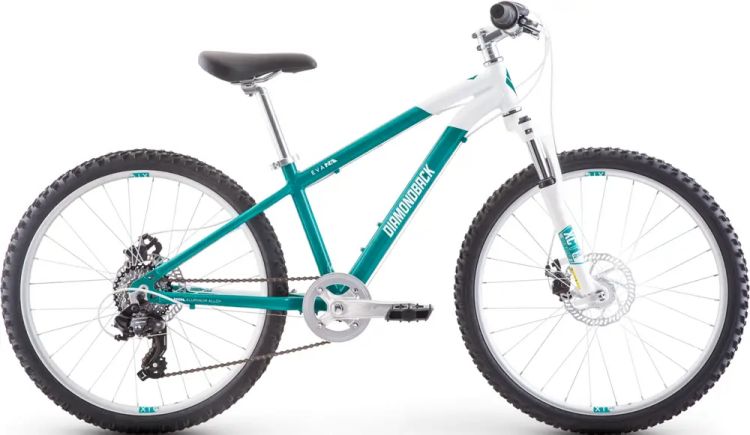 Fork: 50mm of travel
Type: Mountain youth bike
Wheels: 24 x 1.95″
Drivetrain: 1×7
What we like about it: Shimano 7-speed shifting system, disc brakes.
What we didn't like about it: Its price didn't convince many parents.
When it comes to kids' hardtail mountain bikes, the Diamondback EVA 24 is the best-selling presence. The aluminum frame with a low stand allows children from 8 to 12 years old or 53- to 61-inch tall to get on and off the bike without the hassle. Every kid is happy to go to the flat rocks, roots, and rough roads with the help of the SR Sun tour XCT fork with 50mm of travel. The Shimano Tourney's 7-gear shifting system is the most pleasing to the children, as it makes the ride more fun and less difficult. After all, the Shimano Revo lever is so easy to use that there's no pressure to be the kids' shifting instructor. In addition, the Mechanical Disc brakes make braking the Diamondback EVA 24 faster and easier.
However, the $390 price tag makes many parents hesitant – it's not exactly a friendly price, after all. Fortunately, we can seek out a variety of buying channels so that we can save a lot of money. If you choose to buy on eBay's website, you can have such a beautiful bike for only $329. If you think this price is still unacceptable, you can also consider the most affordable product – Huffy Trail Runner Women's Mountain Bike.
Best Affordable Children Bike: 2022 Huffy Trail Runner Women's Mountain Bike ($174)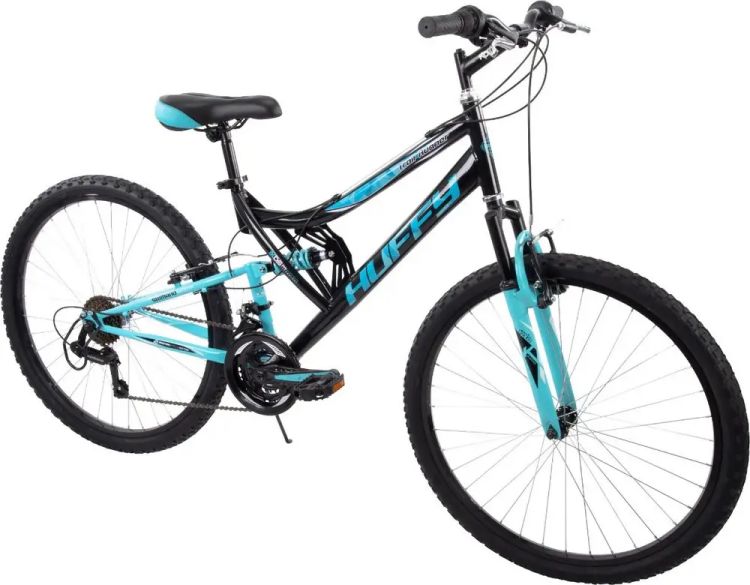 Suspension: Full
Type: Mountain youth bike
Wheels: 26 x 1.95″
Drivetrain: 18-speed
What we like about it: Super affordable and functional bike for all parents.
What we don't like about it: The rim brakes are not very flexible.
The Huffy Trail Runner Women's Mountain Bike is priced so that no parent or child can fault it, as there is no reason to put a family "out of business" at $174. The Huffy Trail Runner's reliable, fully shock-absorbing design is designed to allow every child to smoothly tackle any terrain they choose to explore. Whether it's a fun ride on the trails or a relaxing ride through the mountains, the Trail Runner's dual suspension provides a very responsive means of bouncing off bumps and discomfort.
Although the 18-speed indexed transmission is integrated with the Shimano rear derailleur, it has a very smooth shifting performance. Even beginners can quickly find the right gears to ride on terrain with different gradients. The easy pedaling feeling also allows young riders to improve their riding skills in the middle of the ride. In addition, the premium Krayton grips not only have a great look but are also extremely comfortable. It complements the comfortable ATB saddle.
Unfortunately, the Huffy Trail Runner's Rim braking system is not flexible enough to brake, requiring the child to expend more energy and strength in stopping the pace. But such a price brings such a configuration, is every consumer can give understanding. Because if you expect a better riding experience, the Diamondback EVA 24 above will certainly be more professional.
Children bikes buying advice
Size selection
Protective measures
Drivetrain
Braking System
The more expensive the stroller the better?
Type selection
Size selection
Before every responsible parent intends to choose a reliable children's bike for their child, we need to give parents some information about children's bicycle size, the comments about choosing the size can be referred to in the table below.
| | | |
| --- | --- | --- |
| Rider Height (cm) | Rider Height (in) | Wheel size |
| 86cm – 102cm | 2'10" – 3'4″ | 12″ |
| 99cm – 117cm | 3'3″ – 3'10" | 16″ |
| 110cm – 120cm | 3'8″ -4'0″ | 18″ |
| 114cm – 132cm | 3'9″ – 4'4″ | 20″ |
| 130cm – 150cm | 4'3″ – 4'11" | 24″ |
| 146cm – 160cm | 4'9″ – 5'3″ | 26″ |
The reason why the size issue is put in front is that we know very well that children grow very fast, and the right size can give children enough security and at the same time can also let them fully enjoy the fun of riding a bike.
While it may seem tempting to buy a "big bike" to "extend" its life, the truth is that a bike that is too big for a child will not only hinder their learning process but also affect their motivation.
A bike that is too big will make it more difficult for the child to handle the bike, which will affect the stability of the bike and the fun of learning. If you want your child's first memories of the bike to be happy and positive, it is important to consider the child's height as the first factor.
Fortunately, when we choose the recommended bikes, we sort the bikes exactly according to the child's growth curve, so you can easily find a bike that fits your child.
Height between the two sizes
For children between the two sizes in height, we recommend that parents choose the smaller size. This is because a larger bike is usually more difficult for children to steer, stop and start, especially for children who are not confident enough. When they are faced with the need to stand on their toes to reach the ground, a taller frame can make them feel uneasy and uncomfortable.
After all, a sense of control, safety, and confidence is key to an enjoyable riding experience for kids. So when you're not sure of the size, a smaller bike usually ensures a better riding experience for your child.
Protective measures
I believe that the safety and health of their children is the greatest expectation of every parent in their life. We need to remind parents here that no matter what kind of bicycle they buy, please make sure to equip their child with a good safety helmet to ensure head safety.
Parents should also make sure that their children's riding routes are away from bikes, both in the park and in the countryside, and that they are within the parents' view.
In addition, choosing a brightly colored bike not only increases the appeal of the bike to the children but also ensures that passing bikes and pedestrians can spot the children in time. Therefore, the bright and beautiful Trek Precaliber 12 and Cannondale Kids Trail 16, and Specialized Riprock Coaster 20 are options that kids or parents will love.
Drivetrain
I believe that attentive parents have also found that only the larger Diamondback EVA 24 and Huffy Trail Runner Women's Mountain Bike come in multiple sizes among our recommended children's bikes, while the smaller wheel-size bikes are usually single-speed gear designs.
It's worth stating that single-speed doesn't mean the bike isn't good enough, just that it's more important for riders too young to keep their attention focused on keeping the bike moving steadily. The complex gearing system can distract children and thus cause safety problems. In addition, the lightweight single-speed gear ratio, which can effectively keep the total mass of the bike within a controlled range, will make them feel more relaxed and fun to ride.
And as children get older, their weight-bearing ability as well as their ability to process information is enhanced, and the addition of the shifting system allows them to learn more skills while enjoying the ride.
Braking System
The ability to stop the bike quickly and steadily as the bike moves forward is vital to the safety of children. There are three common braking devices in our recommended bikes, and we explain why we chose them below.
Coaster Brake
For young children, coaster brakes are more attractive than the rim brakes we adults are familiar with, as well as disc brakes.
On one hand, it is because children have smaller hands, and mastering the manual brake is difficult for them. Together with their limited attention span, they allocate more power to their legs during the real ride, so the rear pedal brake will feel closer to them.
On the other hand, fast has not been the theme of children's bikes, considering the safety of children. And the operation of stopping a slow-moving bike with less dexterity and strength gives confidence to both parents and children.
So even though the Trek Precaliber 12 and GT Grunge 16″ both retain coaster brakes, they are still popular.
Rim Brake
As children get older, rim brakes or V-brakes start to break into their lives. Compared to the Coaster, rim brakes require more hand strength, but of course, faster, more stable, and safer braking results come with it.
Considering that some children haven't been able to adjust to the sudden change from Coaster to V-brakes, the Cannondale Kids Trail 16 and Giant XTC Jr 20 C/B and Specialized Riprock Coaster 20 all give kids the option of double braking with the combination of Coaster and Alloy linear-pull brakes.
And for kids who are quick learners and adaptable, the Marin Donky Jr. 18″ and Huffy Trail Runner Women's Mountain Bike's rim brakes allow children to unleash their pedaling talents. The bike will stop smoothly with just a two-handed grip.
Mechanical Disc Brake
It has to be admitted that disc brakes, which cost more to build, are hard to find on inexpensive children's bikes. Compared to rim brakes, which tend to squeal under emergency braking, Mechanical Disc brakes are quieter, less forceful, and faster. In addition, they operate smoothly even in wet conditions.
If you want your children to enjoy every ride safely, the Diamondback EVA 24's Mechanical Disc will never let you down.
Are the more expensive children's bikes better?
We understand that many parents are still immersed in the joy of being new parents and therefore always want the best for their children. There is also a subconscious belief that expensive must equal good. The truth is that for most bikes, there is a direct correlation between price and performance. The more expensive bikes are designed with components and details that are more conducive to the rider's riding and experience.
Take the Cannondale Kids Trail 16, which costs $350. It's not cheap compared to other 16-inch kids' bikes, but the combination of a V-brake with a coaster brake is perfect for building skills and having fun. Plus, the full-coverage chain guard keeps your child's fingers in a safe zone while keeping their clothes cleaner.
But the cheap price does not mean that the bike is not excellent, take the cost-effective Huffy Trail Runner Women's Mountain Bike, only $174 can enjoy a fully functional kids' mountain bike. Both the shifting system and the full shock system will make the child feel surprised.
Fortunately, the kids' bikes we recommend are all safe enough and functional enough while staying within a reasonable budget (no more than $400) to keep parents from stressing about their budgets.
Type selection
When choosing a bike many parents also consider the type of bike, they will be torn between mountain youth bikes or general youth bikes. But the fact is that for children, there is not much essential difference between these two types of bikes. Because the width of the tires on kids' bikes is kept around 2.0″, they can usually handle either light dirt or flat roads. Only the Giant XTC Jr 20 C/B and Diamondback EVA 24 with shock absorbers and the Huffy Trail Runner Women's Mountain Bike will make children feel more comfortable on the mountain.
For younger children, it's all about riding steadily on the road and learning to enjoy the ride. Therefore, either the Specialized Riprock Coaster 20 with its wide tires or the 2022 GT Grunge 16″ with its narrower tires is suitable.
Conclusion
Buying a suitable bike for your child can be confusing for most parents, so we've also put together a straightforward answer to all of your biggest concerns.
In our years of experience reviewing these carefully selected bikes, it seems that they are a gift worth having for children of all ages. From size matching, and handling ability, to type selection, they cover the entire growth process of children. Therefore, parents only need to combine their child's height and handling skills to immediately find the best bike for their child.
In addition, the quality of these bikes is very high, with aluminum frames that are not only lightweight but also very durable and resistant to drops. Such as Trek Precaliber 12, Cannondale Kids Trail 16, and GT Grunge 16″, they can still let their younger siblings have a wonderful childhood after accompanying their older children. By the way, if you want to go riding in well-known terrain or special terrain, you can book your accommodation on IHG Hotels & Resorts. It is not only rich in variety but also easy to operate.
If you like our content, feel free to share it with your friends. If our content is helpful to you, you can click the email subscribe button below, thanks for your support!