We use affiliate links and may receive a small commission on purchases.
We've selected the 7 best mountain bike groupsets for your reference.
Mountain bikes can be said to be the most popular category of bikes in the entire cycling industry, and the quality of the equipment you use can make a noticeable difference. Mountain bike groupsets are a collection of parts that make up the drivetrain of a mountain bike, including the crankset, chainrings, cassette freewheel, derailleur, and shifters. There are three main types of groupsets: Shimano, Sram, and Campagnolo. Each groupset has its own advantages and disadvantages, so you need to choose the right one based on your riding style.
A good groupset combination provides a smooth shifting experience, helps you save energy when climbing, and keeps you safer when descending. In this article, we will introduce you to different types of mountain bike groupsets at different price levels, and explain the function of each piece of equipment. It is also important to consider compatibility issues and provide tips for setting up the equipment that suits your needs. Understanding these things will help you know how to match the most suitable mountain bike groupsets for you.
We also provide detailed information on all products needed to enhance your cycling training, such as the best bike trainers. If you enjoy our articles, feel free to subscribe to stay up-to-date with the latest reviews and information!
2023 Best Mountain Bike Groupsets List
1. Shimano XTR
Shifter: 117g
Rear mech: 244g
Cassette: 370g
Chain: 245g
Overall Weight: 976g
What we like about it: Quick transition even at high pedaling speeds, 150g lighter than XT.
What we don't like about it: No electronic shifting option.
The first Shimano XTR components have always been stalled because of crank as well as wheel fitment issues, but they don't seem to be considering it and upgrading it to the Di2 option for electronic shifting. There is no doubt that the XTR has always been the best shifting component for the same price. Although the previous generation was too light for some riders (I mean the feel), so a clear shifting "click" was included in this upgrade. However, the amount of work involved in shifting has been greatly reduced compared to the previous generation.
Electronic shifting is a big trend, but I'm sad to still not see it on the XTR series. But the gears on the redesigned Hyperlide+ cassette freewheel allow for excellent power shifting. Higher quality materials, as well as details, make it 150g lighter than the XT and 1g lighter than the wired version of the Sram XX20.
2. Shimano XT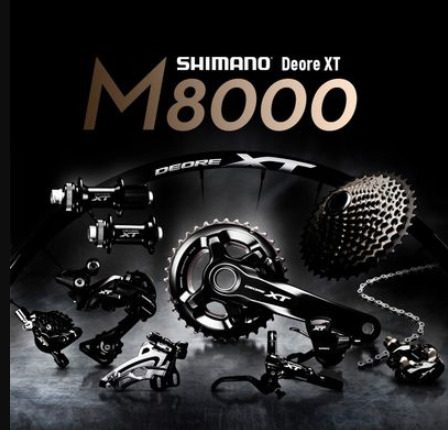 Shifter: 120g
Rear mech: 284g
Cassette: 470g
Chain: 252g
Overall Weight: 1126g
What we like about it: Same two-way paddles as the XTR, machine gun shifting.
What we don't like about it: It's much more expensive than the SLX and slightly less cost-effective.
I can confidently say that the XT series has taken a lot of the essence from Shimano's initial components, with details that rival those of the XTR level. This makes it the investment choice for many Shimano fans, much like Ultegra in road bikes. Sensitive riders may notice its slightly stiffer feel, but overall, it has a fantastic and responsive feel when shifting with Hyperglide+ under power.
It's much more expensive compared to SLX and not suitable for players on a tight budget. The rubber trigger pad, rapid-fire shifting levers, and harder chain coating give it better tactile feel and longer lifespan. It's 7g lighter than Sram GX, and unlike Sram, it has options for both 2x and 1x. However, you'll need a Microdrive freehub to upgrade from current Shimano.
3. Shimano SLX
Shifter: 121g
Rear mech: 316g
Cassette: 534g
Chain: 254g
Overall Weight: 1225g
What we like about it: Torque-proof 12-speed gears and a killer price.
What we don't like about it: It's not equipped with a machine gun shift.
This is a popular component that has reached the pinnacle of performance and price. The obvious mid-range gain is the inclusion of a 12th freewheel, offering the option of 10-51 or 10-45. the SLX also gets the latest Hyperglide+ tooth and chain shape devolved from the previous level, which won't lead to accidents like chain release, no matter how uncontrollable your pedaling cadence is. Add to that the jump from maximum to minimum gear jump, and Shimano has a distinct advantage over wired Sram when you're tackling the steepest climbs.
The SLX doesn't have the machine gun style multiple downshifts, for those who want to touch feel the need to pay more money. Thinner I-spec Evo brakes and shift linkage architecture are what you get. The steel 45T freewheel will add 66g over higher-grade aluminum cogs, but the SLX's chain isn't as durable, so you can mix and match to your liking.
4. SRAM XX1 Eagle AXS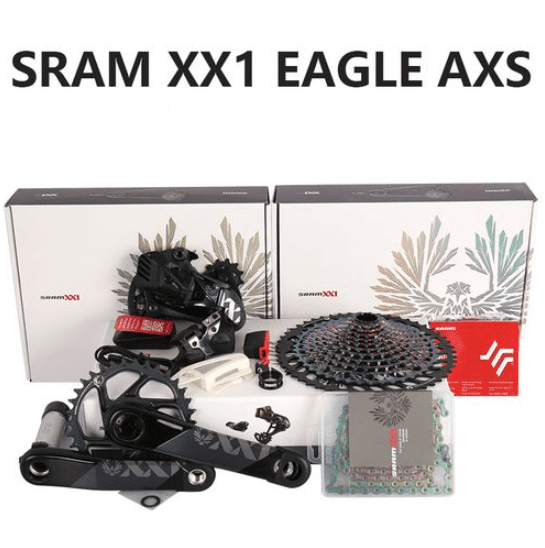 Shifter: 83g
Rear mech: 388g
Cassette: 356g
Chain: 263g
Overall Weight: 1090g
What we like about it: The instantaneous shifting of electronic gears.
What we don't like about it: The price is not accessible to all riders.
The game rules have been broken! Sram has hit the delete key at the highest level with its latest AXS technology. The AXS series is built on the proven Eagle 12-speed structure, allowing for smooth shifting, and the added benefit of fully wireless shifting makes it even more precise. Unlike Shimano Di2, the AXS doesn't use a trigger-like feel, but instead features a very clean rocker arm switch and an extra finger button. Shifting operations are fully programmable.
The price is indeed difficult for most riders to accept, and many mountain bikers claim that they can't adapt to electronic shifting in intense mountain riding. This would be fatal if the battery runs out. However, I didn't have this concern in my actual riding. In any case, I think the reliability of all its components is excellent, and it won two XC World Championships and an overall EWS championship in its first year of competition.
5. SRAM X01 Eagle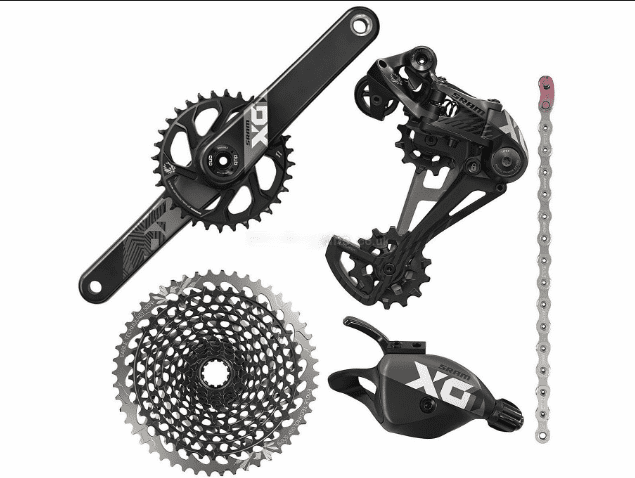 Shifter: 126g
Rear mech: 276g
Cassette: 360g
Chain: 250g
Overall Weight: 1012g
What we like about it: Ultra-aggressive, ultra-lightweight, and time-tested shifting.
What we don't like about it: The shifting maximum gear shifts up more abruptly.
The X01 series offers premium XX50 shifting performance in a 10-speed mountain bike range. The metal reduction gives it an overall lighter weight and becomes slightly cheaper. There are two mounting points set on the clamp, an alloy trigger for strength and a bearing for the lever that is not a bushing means it can be lighter and more accurate. You can make multiple gear changes in one simple shift, or make a simple one-click change. As with all the Eagle series, accurate setup is critical, so no doubt it will take some break-in before using it.
Compared to Shimano's 10-speed system, its maximum freewheel will be more abrupt. The max teeth and penultimate teeth are 50-42 respectively, and there are no other ratio options yet. But the ultra-aggressive, ultra-lightweight, and time-tested wide range of gearing make this class widely praised by cyclists.
6. SRAM GX Eagle
Shifter: 122g
Rear mech: 290g
Cassette: 448g
Chain: 270g
Overall Weight: 1130g
What we like about it: Affordable price and the same performance as the X01.
What we don't like about it: The simpler material gives it none of the lightweight benefits that high performance has.
The GX has slightly simpler construction techniques and cheaper materials than the X01, and the shift levers don't feature adjustable trigger angles. The XD drive gives it a full 10-50 gearing range, and the solid chain gives it more overall weight. This also allows it to achieve quieter and longer-lasting operations.
This all adds up to a 1g increase in weight over the X118 and a 4g increase over the Shimano XT. But it's 207g lighter than the NX series and very affordable if you care enough about the details to notice them. But I think if you're not a weight watcher, I think the Sram is a cost-effective performance component.
7. SRAM NX Eagle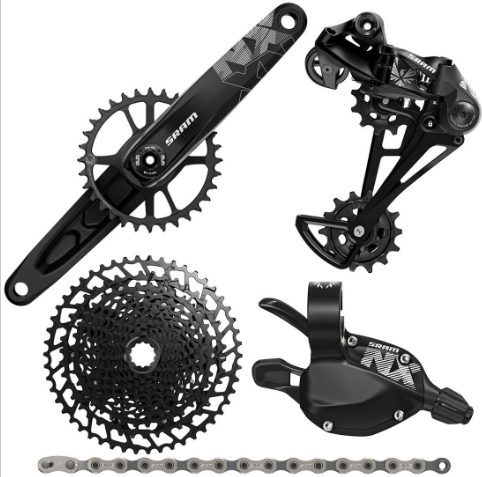 Shifter: 112g
Rear mech: 341g
Cassette: 614g
Chain: 270g
Overall Weight:1337g
What we like about it: Tried-and-true, affordable.
What we don't like about it: The feel and finesse may not be as good as the Shimano kit in its class.
The entire NX kit (including the crank section) costs less than the XX1 drive section. If you are not a huge weight concern, it can be presented in a very durable form. And you can get most of the benefits of the Eagle, which has won a legion of fans. the biggest difference between the NX and the more expensive Sram kit is the PG 1230-style gearing. It uses a traditional spline-style freewheel with individual locking clips, so you can easily fit this kit on those cheaper wheels. Unlike the traditional freewheel configuration, the minimum gear has 11T teeth, which I rarely find to be a problem on the road. The all-steel construction of the cassette freewheel is also very strong and the weight is simultaneously controlled at a balanced point.
The Shimano SLX is significantly heavier than its Shimano counterpart and has a rougher look and feel. If you prefer a more refined feel and look, look at the Shimano, but for durability, I'd say no one can match the Sram, and sturdiness and simplicity are its most intuitive features.
How to choose the most suitable mountain bike groupsets?
Components of mountain bike groupsets
Mountain Bike Crankset
Mountain bikes can be divided into three categories according to cranksets.
3X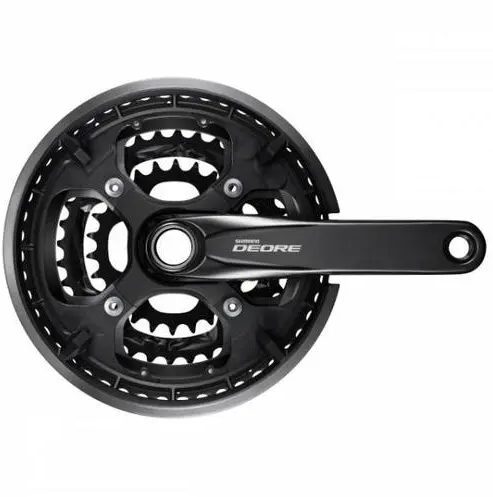 The first one is the 3X, old and classic, just like its name. It consists of three sprocket blades. The outermost ring is usually a 42T or 44T gear, the middle ring is usually a 32T or 34T gear, and the smallest ring is usually a 22T or 24T gear.
This setup provides the greatest range of gears, but there is significant redundancy in gear ratios. If you choose to use the lowest or highest sprocket and the lowest or highest sprocket on the rear cassette freewheel, then cross-chain usage will be a major problem with the 3X crank.
Cranks with three sprocket blades are almost impossible to find on modern high-end mountain bikes. They are disappearing from the entry-level market and 2X and the latest 1X drivetrains are quickly becoming the most desired setups and the new norm for mountain bikes.
2X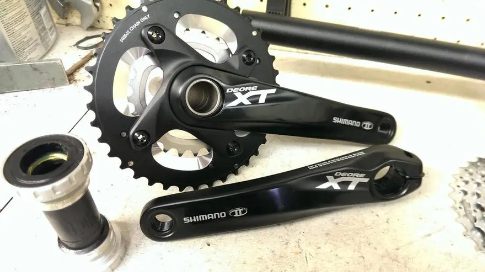 When Sram and Shimano introduced the 10-speed drivetrain, cranksets with two sprocket blades immediately replaced triple cranksets as the most popular mountain bike crankset. The double crankset offers a narrower gear range and less overlap than the triple crankset. This is a good option for lightweight.
Duals use a smaller inner ring (22-28 teeth), while the larger outer teeth provide gearing that is often ideal for faster rides (34-36 teeth). Dual cranksets are found everywhere, from entry-level bikes to high-end models. Their popularity, however, has waned in the mountain bike segment as the years have progressed.
1X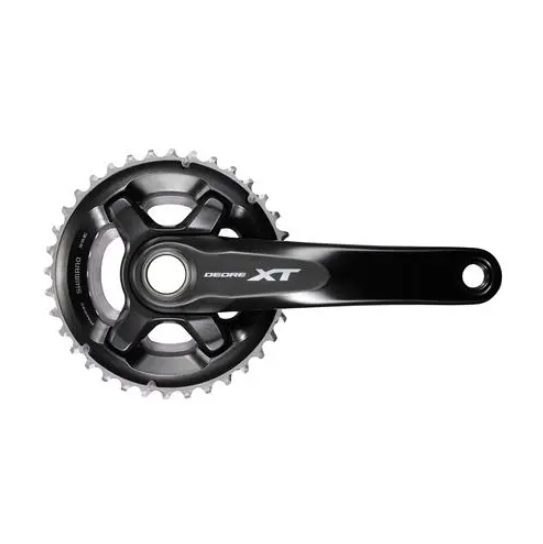 The most important trend in mountain bike drivetrains over the past five years has been the development of the freewheel range of 1X drivetrains with just a single sprocket blade. This is often referred to as "1X" (one-by) and has been very popular on downhill mountain bikes for many years. It does not require a large range of gears and chain safety (i.e. no risk of chain drops) is very important.
With the introduction of Sram's XX1 components and the subsequent introduction of the 1×11 and 1×12 kits, single-disc drivetrains have become the new standard for the latest mid- to high-end mountain bikes. And thanks to the introduction of the SX Eagle and NX Eagle 12-speed drivetrains, they are also increasingly found on entry-level mountain bikes.
The range of sprocket sizes varies greatly, depending on your intended use. Most bikes with 1X drivetrains use either 32T or 30T sprockets.
Removing the front chainstay and shifter allows for a simpler, lighter single-disc brake. Many novices find the 1X drivetrain setup easier to work with as well.
Mountain Bike Bottom Bracket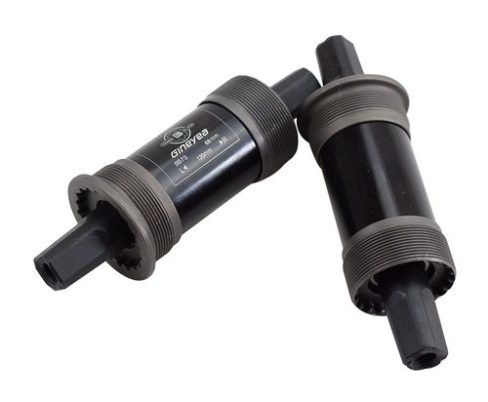 You won't be able to go very far without the bearings spinning. These bearings are pressed or rotated into the bottom bracket of the mountain bike. The bottom bracket is available in a variety of sizes.
Mountain Bike Cassettes
Cassette cassettes come in a variety of sizes and speeds. As with cranksets, the choice of cassette freewheel usually depends on your intended riding style and whether your hub supports speed levels.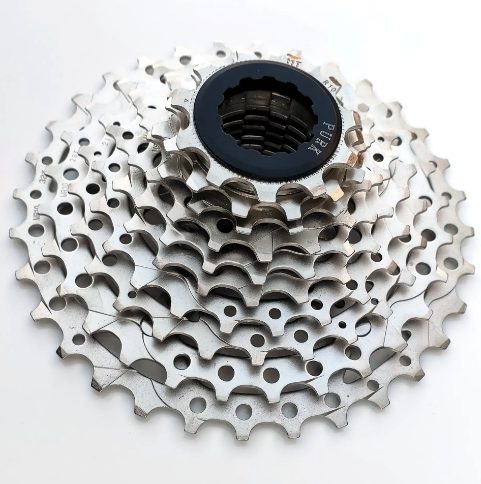 The mountain bike cassette freewheel is available in a wide range of options from 7-12 speeds, often indicated using the number of teeth of the largest and smallest gear. to indicate a total range, such as 11-32T or 10-50T. Single-ring drivetrains have a wider range, with SRAM's 12-speed Eagle brand drivetrains offering a spread of up to 10-52T (11-50T for SX and NX Eagle). And Shimano offers a 46-11T range on its 11-speed SLX and XT groups, and 51-12T on its newest 10-speed XTR, XT, and SLX groups.
Mountain Bike Chains
The more expensive ones are usually smoother, more durable, and more corrosion resistant, reducing weight through hollow chains. With this in mind, since the chain is part of the drivetrain that is more prone to wear and tear, it is usually the best investment to purchase a mid-range grade chain.
The number of sprockets and freewheels usually determines the type of chain you have. Usually, as the number of gears increases, the spacing between the gears becomes smaller and the chain becomes narrower. Therefore, do not use a 10-speed chain on a 9-speed drivetrain or a 12-speed chain on an 11-speed drivetrain. Some chains are even directional and need to be installed in a specific direction, so check at the time of installation.
Mountain Bike Derailleurs
The chain toggle is the component that moves the chain by the gear on the cassette freewheel and the sprocket piece on the crankset. Each brand has its different design, but the general principle is roughly the same.
The shifter pulls or releases the cable by pressing the toggle on the hand. The cable moves the shifter, derailing the chain and repositioning it to the gear you need. Today the cable is not the only way to control the shifter, Sram's first electronic shifter uses an electrical signal to shift the shifter and change the position of the chain for shifting purposes.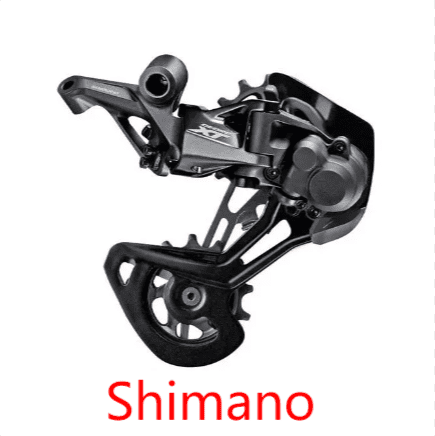 Mountain Bike Shifters
The shift lever is a hand lever used to operate the derailleur. It typically features a lever-based ergonomic design, with two levers moved by the thumb, allowing for easy changes in gear size without any additional operations. This shifting design allows the rider's index finger to remain in control of the brake lever.
Durability of Groupsets
If you're willing to spend more money on a mountain bike, you'll want it to last longer than a cheaper one. Durability does increase with price, but the most expensive isn't always the best. Shimano's second-top-tier XT series has already achieved the best quality, with subsequent models only providing regional stability.
More expensive technical components have higher precision, which can help extend the lifespan of the materials. This is particularly evident in derailleurs and shifters. Cheaper and inferior options may develop gaps and tilt over time, while better parts often remain in like-new condition even after several years.
However, wear-and-tear components are typically the opposite, such as cassette freewheels and chainrings. Cheaper options are usually made of heavier but more durable steel, while more expensive versions are made of lighter but softer aluminum or titanium alloys.
Shimano Mountain Bike Groupsets
Shimano's mountain bike groupsets had a wide range of side structures, from entry-level models to the most technologically advanced models, as follows.
Shimano Tourney
Shimano Altus M2000
Shimano Acera M3000
Shimano Alivio M3100
Shimano Deore M6100, M5100, M4100
Shimano SLX M7100
Shimano Deore XT M8050
Shimano Deore XT M8100
Shimano XTR M9050
Shimano XTR M9100
Shimano also offers two downhill-specific groupsets:
Shimano Zee M640
Shimano Saint M820
SRAM Mountain Bike Groupsets
Sram's groupsets are usually divided into two series, single-sprocket kits (usually with a 1 in the name), and multi-sprocket kits. Like Shimano, Sram offers specific speed kits in the form of the X01 DH. SRAM's latest Eagle technology marks the birth of the 1x 12-speed drivetrain.
From entry-level models to the most technologically advanced, Sram's kits are listed in the following order.
SRAM X3
SRAM X4
SRAM X5
SRAM X7
SRAM X9 (discontinued)
SRAM SX Eagle
SRAM NX
SRAM NX Eagle
SRAM GX
SRAM GX Eagle
SRAM X0 (limited parts remaining in the lineup)
SRAM X1
SRAM X01
SRAM X01 Eagle
SRAM X01 Eagle AXS
SRAM XX (discontinued)
SRAM XX1 (limited parts remaining in the lineup)
SRAM XX1 Eagle
SRAM XX1 Eagle AXS
There are three specialist SRAM groupsets, two for downhill and one for electric mountain bikes:
SRAM GX DH
SRAM X01 DH
SRAM EX1
Summary
In this list, you can find different kinds of mountain bike kits at different price levels. A kit that is affordable and durable is great for those popular mountain riders, while the top mountain bike kits are often used in the most professional races. For this reason, we have found seven of the best mountain bike kits for 2023 that can meet the choices of riders with different budgets, and you can choose the kit that suits you better according to your preferences and riding habits.
If you still want to get more reviews on cycling products, you can check out the 2023 Best Cycling Pants. It provides you with a comfortable riding experience on long rides, while also being able to reduce wind resistance while riding.
Finally, if you like our content, feel free to share it with your friends! If our content is helpful to you, you can click the email subscribe button below!