We use affiliate links and may receive a small commission on purchases.
2023 The Best Gravel Bike
Mid to high-end bikes are for most people who are focused on riding. Whether you're a first-time rider or you're a veteran of upgrading your bike, the following gravel bikes will give you a good experience. With major changes in the gravel bike industry, most gravel bikes use the same recipe: 700c wheels, wide tires, and 1× shifting systems. The good news is that at $3,000-$5,000 various well-known brands are showing off their flagship models. Here are our favorites for 2022 but not all, if you want to know more. Feel free to search for more gravel bike models on this site.
Gravel Bike Comparison Table
1. Best Touring Gravel Bike:
2023 Marin Headlands 2 ($3099)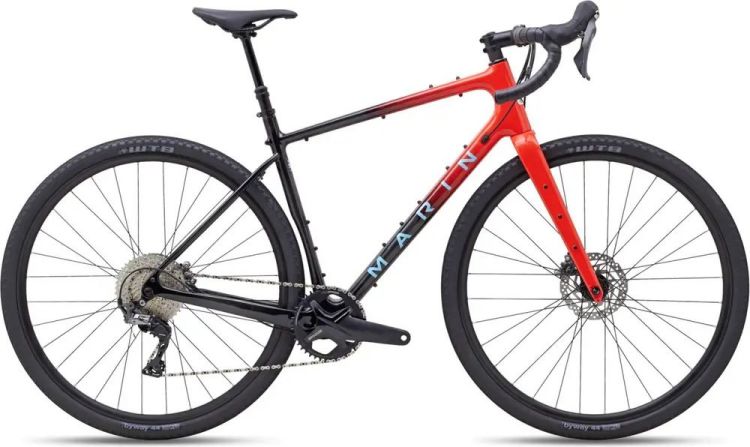 Groupset: GRX 800, FSA
Tires: Vee Tire Co G-Sport, 700x44C
Gear: 1×11
Frame: Carbon
What we like about it: The abundance of rack mounting holes, and the lightweight carbon fiber frame.
What we don't like about it: The 1×-only frame design is difficult to get modified.
Marin bikes is a mountain bike-based company that specializes in mountain bikes. And Marin makes gravel road bikes that don't disappoint. The Headlands is a 2020 product that has matured over three years of iterations. The new 2023 version of Headlands 2 modernizes the frame somewhat. That is, it has a longer and looser geometry to give the rider a comfortable long distance riding experience, which we are very happy about. And, Shimano's GRX RX810 drivetrain designed for gravel allows for a more efficient shifting experience. Of the design of the dropper post and the abundant rack mounting holes, it can accompany you to ride longer distances.
From a professional rider's point of view, the 2023 Marin Headlands 2 isn't perfect. Because the unmodifiable 2× drivetrain may seem to limit too many. But the increasingly popular 1× drivetrain will make up for this problem nicely. And the 1× drivetrain has easier handling, which is why beginners or riders who like casual riding are more likely to choose them.
The Marin Headlands 2 on our list is the perfect gravel bike for long trips. It has plenty of mounting holes to afford more touring packages. Even if you are a non-aggressive gravel rider, then it will be your best choice.
2. Best Steel Gravel Bike:
2022 Cinelli Nemo Tig Gravel Rival AXS XPLR (€3557)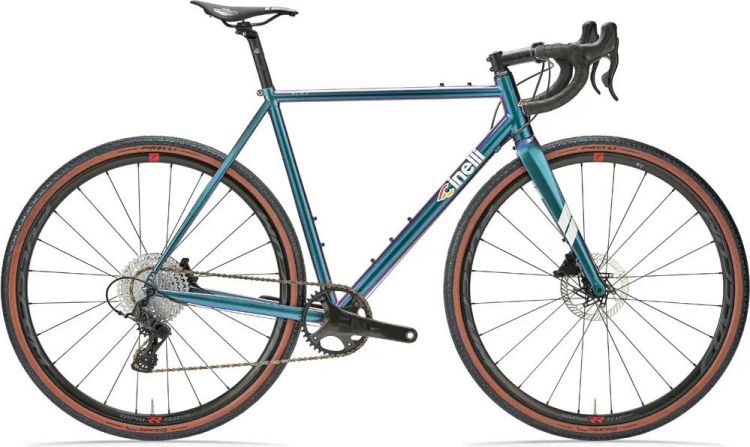 Groupset: Rival XPLR eTap, Rival eTap
Tires: 700x35c
Gear: 1×11 Electronic
Frame: Steel
What we like about it: The sophisticated frame design and the electronic shifting system.
What we don't like about it: The weight doesn't seem to be accepted by many people.
Steel gravel bikes have always been recognized by riders for their sturdiness. Cinelli, a traditional bike manufacturer, has always been fond of 100% handmade in Italy. They break our impression of Steel frames with the new 2022 Cinelli Nemo Tig Gravel. The traditional Columbus Spirit HSS triple-tap steel tubing has greatly reduced frame weight without reducing rigidity, which has the bike connoisseurs excited. Like an advanced assault rifle mounted on medieval armor, the SRAM Rival 1×11 electronic shifting is very responsive, allowing the whole bike to reach a higher level of riding feel. The cable-free design makes the whole bike look neater and it seems like a work of art.
However, the excessive weight of the steel frame has not been accepted by the public. But accordingly, in exchange for higher rigidity and a very high service life. This is one of the reasons why Steel frames can become collector's items. Like most of the gravel road bikes in the table, Cinelli has designed the endurance geometry. But the 563mm of stack and 387mm of reach seem to pull it to the side of speed, with a fast pass design that allows it to burst out very fast. Not only that, but from the double wing logo on the tail fork to the dove logo on the lower part of the center tube. It all shows off the prestige of this bike, which can make countless steel frame enthusiasts go crazy for it.
If you do have your own opinion on the weight of the bike, you can refer to the Scott Addict Gravel 20 below, which may ignite your interest.
3. The Most Comfortable Gravel Bike:
2023 Trek Checkpoint SL 6 eTap ($4499)
Groupset: Rival XPLR eTap, Rival eTap
Tire: Bontrager GR1 Team Issue 700×40c
Gear: 1×12 Electronic
Frame: Carbon
What we like about it: A comfortable ride.
What we don't like about it: The relatively heavy weight.
While gravel bikes have long been dominated by other small factories over the years, growing sales are starting to attract big companies like Trek. If you want a fast-passing gravel bike, Trek uses the Checkpoint SL6 to get into the Gravel's lap. Technology has always been their strong suit, with a frame that uses IsoSpeed technology and a split seat tube, fork, and frame design that allows a little flex without compromising stiffness. If you've ever been on washboard roads at high speeds, then you'll understand why this is so important.
Needless to say, the aerodynamic frame will add significantly to the overall weight. But the speed benefits that come with it can offset these weight-related shortcomings. If you're an avid lightweight enthusiast, the Scott Addict Gravel 20 below will be perfect for you. IsoSpeed's unique technology and impressive performance come at a price, cf. The Giant Revolt Advanced's high-end version below, which still costs $500 less than the Trek, yet uses almost the same components. Simply put, the Trek's level of comfort is a plus for long, hard miles, and there are probably plenty of low-cost options for riders on a tight budget.
learn more:Is Trek Checkpoint ALR 5 A Good Bike? [2023 Trek Checkpoint ALR 5 Review]
4. Best Adventure Gravel Bike:
2022 Cannondale Topstone Carbon 3 ($3025)
Groupset: GRX 800, GRX 600
Tires: 700 x 38c
Gear: 2×11
Frame: Carbon
What we like about it: The Kingpin suspension design and 2× gear design accompany you as you explore more terrain.
What we don't like about it: Kingpin pivots need to be cleaned promptly after riding on sandy sections of the road.
The Cannondale Topstone Carbon 3 won us over with its versatility, smart construction, and competitive price tag.
In terms of design, this version of Topstone's upgraded carbon frame is equipped with a Kingpin barrel axle pivot to absorb road bumps and give the rider a more comfortable ride. Perfect for gravel-strewn terrain.
The gravel-specific Shimano GRX drivetrain also provides an efficient and smooth drivetrain experience on bumpy roads, turning tough gravel roads into fast-passing "flat roads". The slightly lower-than-usual width 38c tires are the basis for exploring more terrain. And in addition to absorbing ground vibrations, they will also cover smaller gravel gaps, which takes the worry out of fine tires.
We're also concerned that the Cannondale Topstone Carbon 3 has a balanced geometry that reaches the apex of road bike geometry that excels at climbing, making long climbs less of a struggle. It will help improve your race results if your race terrain has a high percentage of hilly terrain.
The Topstone Carbon 3 also has a definite price advantage on this list, earning a recommendation for being the most affordable race-oriented gravel bike. While we have some complaints about cleaning its pivots, it doesn't take away from its value.
It will also be one of the best choices if you like adventure riding or long trips.
learn more:Is Cannondale Topstone 3 A Good Bike? [2022 Cannondale Topstone 3 Review]
5. The Most Technological Sense Gravel Bike:
2022 Scott Addict Gravel 20 ($4499)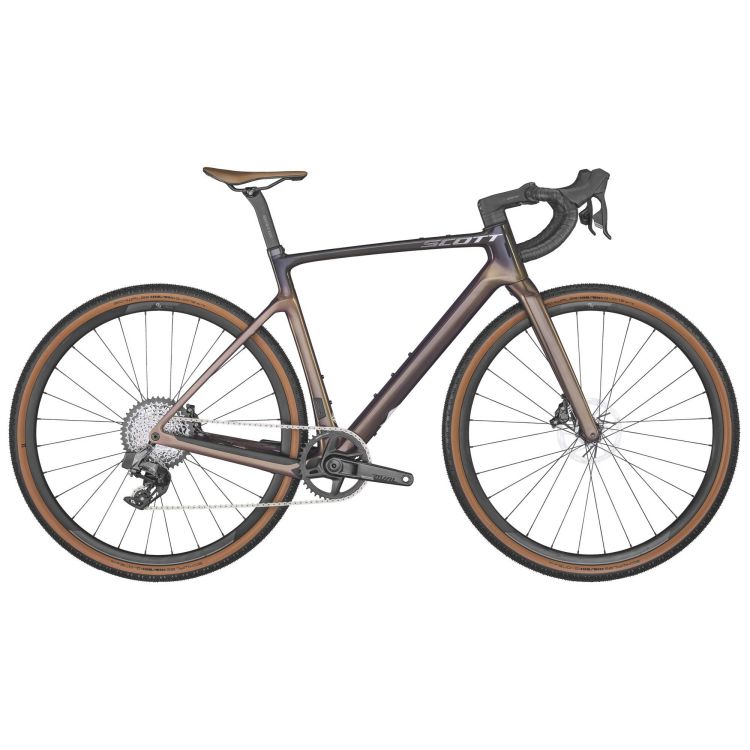 Groupset: Rival XPLR eTap, Rival eTap
Tire: Schwalbe G-ONE Bite Performance 700x45C
Gear: 1×12 Electronic
Frame: Carbon
What we like about it: The ultimate in lightweight as well as aerodynamics.
What we didn't like about it: The front end seemed a little slack when it was extremely bumpy.
Scott always likes to break the mold, but for lightweight enthusiasts, the new 2022 Scott Addict Gravel 20 is great news. At just 19.6 pounds, it's arguably one of the lightest gravel bikes around. The Rival XPLR eTap electronic shifting and single disc design further reduce cables throughout the bike, and the clean look gives it a techy look. In addition, the longer and lower geometry with an aerodynamic frame allows you to get a more aggressive riding position while enabling the rider to ride faster.
On very uneven roads, the front end of the bike seems a bit too slack and can only handle minor bumps. If you need a road bike that can handle more demanding surfaces, the 2023 Canyon Grail CF SLX 8 1by below would be a better choice. Compared to the other gravel bikes in the table, the 2022 Scott Addict Gravel 20 is very high-tech. And you can barely find a single cable on the bike, which makes it look very clean. Not only that, but the bike is also very light overall, capturing the hearts of a whole lot of speed-seeking gravel enthusiasts. If you're one of them, the Scott Addict Gravel 20 is the bike for you.
6. All-round Gravel Bike:
2022 Giant Revolt Advanced 2 ($3000)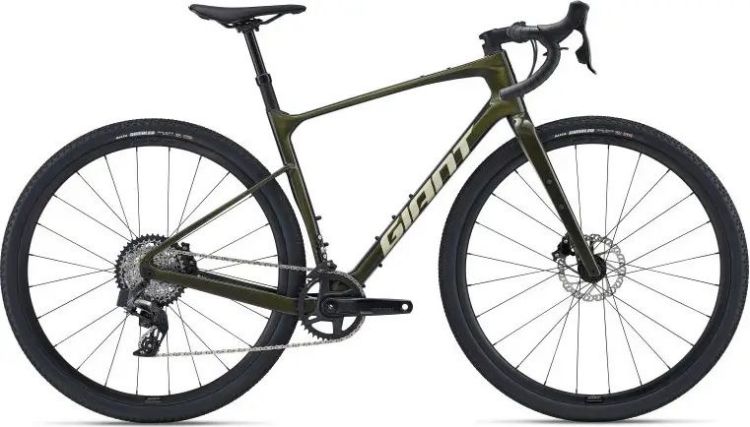 Groupset: GRX 800, GRX 600
Tires: Giant CrossCut AT 1, 700x38c
Gear: 2×11
Frame: Carbon
What we like about it: All-around frame geometry that can handle any length of the route.
What we don't like about it: The inability to replace third-party seat posts.
Giant is known for producing high-quality bikes at affordable prices. If what you need is a fast all-terrain road bike that can handle short trips, their Revolt Advanced 2 is a shining example. For just $3,000, you get a lightweight and highly compliant carbon frame that allows me to do the entirety of the trip in comfort at all times. The convenient and responsive GRX 800 22-speed shifting system delivers a rich and dense pedaling frequency. The up to 38c wide tires are thick enough to crush over most small bumps. All in all, you'll be hard-pressed to find a similarly equipped and well-made carbon fiber design at this price point.
Although the special shape of the D-Fuse seat post used in the frame prevents you from changing the seat post you want, which won't be a hindrance for riders who don't need to ride fast. But if you are looking for more speed than a comfortable ride, the Scott Addict Gravel 20 above would be a good choice for fast riders.
To be honest, it's relatively balanced in terms of performance, this Giant Revolt Advanced 2 may be a bit mediocre for riders who like more excitement and speed. Fortunately, its high-end version, the Giant Revolt Advanced Pro 1, has been upgraded with snappier 2×12 electronic shifting and a better groupset. But it comes with a higher price tag. So if you're on a budget, this all-around Giant Revolt Advanced 2 is a good choice.
learn more :Is Giant Revolt Advanced 3 Worth Buying? [2022 Giant Revolt Advanced 3 Review]
7. Women's Gravel Bikes:
2022 Liv Devote Advanced 1 ($4000)
Groupset: Rival XPLR eTap, Rival eTap
Tires: 700x45c
Gear: 1×12 Electronic
Frame: Carbon
What we like about it: A frame geometry designed for women.
What we don't like about it: It's not very friendly for tall people.
If you think the Liv is just a brightly colored bike for women, I can only tell you that you're wrong. It's a completely new design for women riders. The progressive frame and 1×12 electronic shifting make the whole bike easy to handle. And without too much learning, women riders can easily ride it to battle the gravel roads.
Not only that, but comfort is the most striking aspect of it. With a geometry designed for endurance riding that puts the rider's body in a more upright position. Other thoughtful features include the design of the dropper, rubber downtube protector, and a rear lower fork guard. They resist high-speed rock impacts and keeps the chain quiet on bumpy rides.
However, if you are male or your height is greater than 175cm, then you may not be able to find a size that fits you. But you can choose the Giant Revote series above, which is the version designed for men. In contrast to the other male bikes on the table, it's nice to see that there are no skimpy components on the female version. The geometry designed specifically for women takes good care of their physiological characteristics. There is also a step-in design that allows female riders to quickly stand, stop, and get a comfortable standing height. If you are a female cyclist, then the Liv bike is a great value for you. Because a bike designed for women is much better than a brand that sells women's bikes at a reduced size.
8、The Most Daring Design Gravel Bike:
2023 Canyon Grail CF SLX 8 1by (€5099)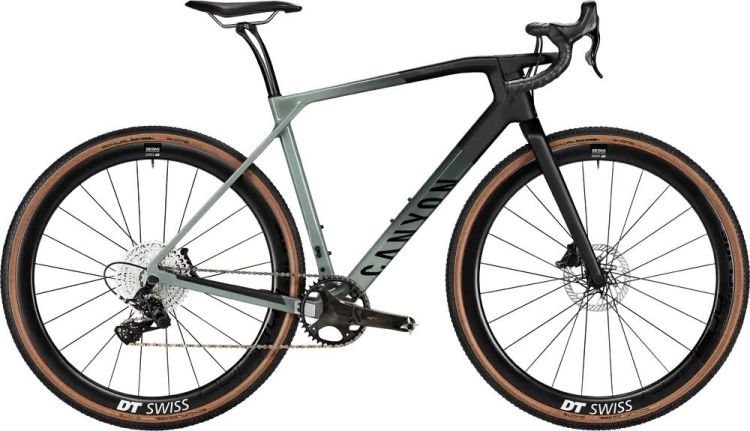 Groupset: Ekar
Tires: Schwalbe G-One R
Gear: 1×13
Frame: Carbon
What we like about it: The comfortable grip experience, and aerodynamic handlebar design.
What we don't like about it: It may not be easy to get used to the double-layered handlebar design at first, and it's not adjustable.
The Canyon may not be as well known as other brands on the gravel list, but those seeking novel design will love it. Because Canyon Grail CF SLX 8 is the boldest designer product, the overall construction of the frame can be called the top model. The low profile head tube filters out most of the wind resistance, and the double layer handlebars bring the stack back to a comfortable height. And the upright position keeps my back in an upright position, which makes it more comfortable to ride without sacrificing wind resistance.
The upright position allows my lower back to always be in an upright position, resulting in a more comfortable ride without sacrificing wind resistance. The bike is beautifully built around the Camoagnolo Ekar, with a 13T cassette for dense shifting, and the Schwalbe G-One R 40mm wheelset is wide enough to maintain a strong grip even in wet and muddy conditions, and to handle sand quickly and efficiently, so I never had to worry about slipping on this bike.
The special design of the frame and handlebars limit the modification possibilities of the Grail CF SLX 8. People who like the regular handlebar design may not be interested in it. But the main reason most riders buy it is the design. That said, if you need a regular handlebar you can buy another model.
As far as the other gravel bikes on the list are concerned, the Canyon's design is certainly bold and innovative. And it is very capable of attracting buyers. If you are on a budget and can accept the budget-friendly Shimano GRX 800 components, then you can pay €2,999 for the Grail CF SL 8.
Gravel Road Bike Purchase Recommendation.
Gravel road bike frame material
Driveline & Gearing
How should I choose a seat post for my gravel bike?
Tire selection for gravel trucks
Are all gravel trucks very heavy?
What is a gravel road bike and what does it do?
Can I use my gravel bike as a road bike?
Is the gravel bike suitable for climbing?
Why is the gravel bike not equipped with a suspension?
Is a used gravel bike worth being purchased?
Gravel Road Bike Frame Material
To be honest, there are not many frame materials for bicycles, including retro frames made of chromium-molybdenum steel, the common aluminum frames, and lightweight carbon fiber frames. Of course, there is no shortage of niche riders who use titanium frames, but the high cost keeps it from being widely used.
We can see from the list that most of the frames are from aluminum and carbon fiber. This is because aluminum is strong and durable enough to be lightweight and corrosion resistant. Not only does it prevent major damage in a general crash, it is also the most widely used bicycle frame material.
And carbon fiber has the ultimate lightweight characteristics, but at the same time very rigid. Therefore, it can be said that it is the best choice outside the aluminum frame. But many people still have difficulty accepting the high price. The good news is that mature technology has made carbon fiber frames more and more affordable. In the table, we see that the high-end gravel bikes of all well-known brands use carbon fiber frames. This is enough to prove the premium quality of carbon frame.
On the other hand, steel is a reasonably priced frame material known for its high durability and strength. For both frames, it has a longer life span and can withstand rough use. Unfortunately, the weight of steel frames is unacceptable. Cinelli in the article has reduced the weight of steel frames through tube extraction technology. But for this reason, such technology will undoubtedly require consumers to pay a higher cost.
Drivetrain and Gearing
Most people are still under the misconception that the more gears the better the shifting system. But realistically, 3×7 drivetrain with a total of 21 gears are rarely used in actual riding. My neighbor's 21-speed mountain bike is like that. After up to six years of use on this bike, it also has several brand new oversized cassettes.
On bumpy trails and mountain passes, quick and agile shifting can be a good way to deal with unexpected situations. But shifts like the 3×7 need to deal with both front and rear shifts. And moving the left and right hands to lift the gears will always be a handful. That's why the vast majority of mountain bikes now use a 1× shifting system, while making the back gears bigger. Such a design does allow for longer rides in the face of more fairly steep climbs and descents, such as the Canyon Grail CF SLX 8 1by in the article, which uses Campagnolo's latest 13-speed shifting system. This is unprecedented and is the direction the future trend is pointing.
If you need a gravel bike, then a 1× drivetrain is undoubtedly the best choice. As we can see through the Scott Addict Gravel 20 in the article, the ultimate lightweight and techy bike uses a 1× system as well. This not only reduces the overall weight and makes the bike look cleaner, but more importantly allows for very comfortable shifting use and a very wide gear ratio.
I have to say that the gravel bike's shifting system is too much like a mountain bike sometimes.
How should I choose a seat post for my gravel bike?
Most gravel bikes are equipped with a straight seat tube. But as gravel road technology evolves, the need for gravel becomes more abundant. It's important to enjoy long, happy rides with happy hips.
I'm a big fan of the IsoSpeed seat post solution for the Trek Checkpoint SL 6 eTap on the list. In this solution, the seat tube bends from the pivot part of the top tube connection to give the rider the right amount of cushioning without being too soft.
The Liv Advanced 1 above uses a mountain bike-like dropper design to provide slight cushioning while also minimizing the seat tube to maintain a wide range of body movement on extremely bumpy descents.
The Canyon Grail CF SLX 8 1by uses a separate two-piece seat post to provide cushioning and more. In short, providing the rider with comfortable cushioning without adding weight or stiffness is the goal of most gravel bike seatposts. However, you can subsequently achieve this by replacing the seatpost.
Tire Selection For Gravel Bikes
Wide tires are the hallmark of gravel road bikes. Gravel riding encompasses a wide range of riding experiences, with hard dirt roads as smooth as sidewalk, and rock-strewn roads, all becoming gravel riding venues. Some so-called gravel riders also take their gravel bikes to flat road trails.
For this reason, major manufacturers have designed different tire widths for their gravel bikes, and the Giant Revolt Advanced 2, which pursues multi-terrain versatility, has a narrower 38C tire width, which allows it to get through not only bumpy gravel but also good speed on flat paved roads. And like the Liv Advanced 1 of the same brand brings an extra wide 45C outer tire, which allows it to focus on very bumpy and bumpy surfaces. If you plan to run a tubeless setup, make sure the tires are tubeless compatible.
Are all gravel bikes very heavy?
Initially, gravel road bikes didn't seem to care about weight design. Because they were mostly used for long trips and fitness rides on bumpy roads, where sturdiness and durability were the labels.
With the UCI-issued gravel race debuting in October 2022, more and more brands are making lightweight gravel bikes for racing. The Scott Addict Gravel 20 on the list is the pioneer of the series with 19.6 lbs. But there are still touring models that stick with rugged frames rich in mounting holes, like the 2023 Marin Headlands 2 in the article rich in mounting holes, and they don't care much about weight.
It is believed that soon, gravel bikes will distinguish between the more robust touring bikes and the lighter competition bikes dedicated to competition. This design will also provide the public with a wider choice of gravel bikes to be used more widely.
What is a gravel road bike and what does it do?
Modern Gravel was born in the American Midwest, where gravel road racing flourished a decade ago and has steadily gained popularity.
Today, gravel road bikes are back in vogue to meet riders' needs for speed and passability in a variety of ways. Cyclists interested in gravel road bikes can choose from specialty models designed for gravel by leading brands. Choices can range from all-terrain road bikes that rival the best road bikes (like the 2022 Giant Revolt Advanced 2 in the article) to step-up road bikes that resemble curved handlebar mountain bikes (like the 2022 Liv Advanced 1 in the article).
First off, if we want to distinguish the difference between road bikes and gravel bikes, we can visually identify them by their tires. In general, road bikes have slimmer and smoother tires, while gravel road bikes often use wider tires. This is because they need to cope with more complex surfaces to provide better passing performance. If you ride on bumpy and rough unpaved roads for a long time, a gravel road bike will be a good choice for you. And when you need a long touring ride with unknown road conditions ahead, a gravel bike is also a good choice. The 2023 Marin Headlands 2 in this article is perfect for starting your first long-distance ride.
Further, you can start with a 1× drivetrain, and a more comfortable ride geometry, settings that will allow you to ride more comfortably for longer. And it requires stable handling similar to mountain bikes, with a more relaxed frame geometry setting, and a bike category between mountain and road.
Can I use my gravel bike as a road bike?
You can use it as a road bike, but each different model has its most suitable terrain and riding environment, and it may have some small limitations for a regular road bike. For example, the chunky tires bring more rolling resistance, which may not allow you to ride faster, and the 1× drivetrain must not be able to take into account the sprinting on flat roads as well as the climbing on the hills.
They perform amazingly well on gravel roads, as well as on rough, rocky, and sandy trails. Gravel bikes excel over a wide variety of terrain. Choose an all-terrain gravel bike like the 2022 Giant Revolt Advanced 2 in the article, which offers comfort and adaptability as well as versatility and ruggedness.
Depending on how you like to ride, these limitations may or may not be important. It is entirely up to you. If you are a road bike racer, then a gravel bike may not be your primary bike.
Is the gravel bike suitable for climbing?
As we said above, most gravel road bikes use 1× drive components similar to mountain bikes, and in most cases, their drivetrains have nothing to do with road bikes.
Most of the drivetrain on the Gravel road bike is more like an expanded version of a mountain shifting system that can take advantage of lower and easier gearing to make the climbing process a little easier. The 2022 Scott Addict Gravel 20 mentioned above has very lightweight, which is good news for climbing, a skill they seem to be born with.
On the other hand, regular road bikes have higher gears, which can provide faster speeds and better acceleration.
Overall, if you ask me if a gravel road bike is good for climbing, the answer is yes. But it will sacrifice a lot of speed advantage, so the gravel road bike is a good climber but has a big loss in speed, in riding it more like a mountain bike.
Why is the gravel bike not equipped with a suspension?
Most gravel bikes do not come with suspension because it adds weight to the bike and reduces overall road bike performance.
Keeping in mind that gravel bikes are a breed of bike that pursues speed on lightly bumpy roads, almost no gravel bikes used a suspension configuration in our observational review. If equipped with mountain bikes like front and rear suspension, it would greatly reduce the power generation effect. Because the power of pedaling is reduced by the cushioned travel resulting in a significant power reduction, it is difficult to see suspension on gravel road bikes.
And for suspension mounting, the positioning of the gravel road bike itself does not support it to ride on very steep and rocky sections.
Is a used gravel bike worth being purchased?
During your research, you may want to consider buying a used gravel bike. Because it has a fairly obvious benefit: they lose some of their value almost immediately after being bought by a buyer, just like any other form of transportation. Therefore, you can save a lot of money by buying a used bike. In addition, such a purchase can go a long way toward reducing waste.
If you're searching Craigslist Pinkbike and pro's closet bikes, I must warn you of the following: First of all, there is no warranty on a used bike, and you may even have to pay a hefty fee to have it refurbished in some way. Secondly, we don't recommend buying a used bike if you are a first-time buyer. Whether you are a novice or a veteran, many people can't tell the damage on a used bike, especially a carbon fiber bike. This is because even if damage occurs, it cannot be detected without an X-ray.
These checks are important because a broken frame can make the bike unrideable Buying used involves many additional considerations, but if you are willing to put in the effort and can take the risk, it is a way to save.
Conclusion
In this review, we have selected the eight most prominent gravel road bikes of 2022, which have many common features, but each well-known brand gives its adaptation scenarios as well as exclusive technologies.
They also use wide tires for more bumpy gravel and other unpaved surfaces. The geometry that provides comfort for the frame can accompany us for longer rides. Plenty of rack mounting holes to mount more packs can start a journey immediately.
That's what we'd like to see. Some brands go for speed, like the 2022 Scott Addict Gravel 20 and the 2023 Trek Checkpoint SL 6 eTap whose aerodynamics allow them to go fast through a distance. Some brands go for comfort. The 2022 Giant Revolt Advanced 2 and 2022 Liv Advanced 1 have comfortable geometry that allows us to ride further and more comfortably. Some have their unique ideas, like the century-old Cinelli, which still focuses on its traditional steel frames, and the 2022 Cinelli Nemo Tig Gravel Rival AXS XPLR with advanced electronic shifting gives riders a new feel. The 2023 Canyon Grail CF SLX 8 1by, a first foray into the gravel scene, was a special design that caught the eyes of the audience.
We are happy to see that gravel bikes are being embraced by more and more people and this is even evolving into a way to get around. The wide selection also allows consumers to purchase gravel bikes tailored to their needs. If you think the bikes introduced in this article are more expensive, you can refer to this one: Top 8 Best Gravel Bikes Under $2000 [2023]. By the way, if you want to go riding in well-known terrain or special terrain, you can book your accommodation on IHG Hotels & Resorts. It is not only rich in variety but also easy to operate.
If you like our content or if it is helpful to you, you can subscribe, collection, and share.