We use affiliate links and may receive a small commission on purchases.
Scott Genius 950 Review
Price: $2,999
Frame: Aluminum
Tires: 29″Aluminum
Gear: 1 x 12
What we like about it: It delivers reliable performance and comes at a price point that meets the expectations of all riders.
What we don't like about it: There is only one color option, and it lacks variety.
Rating: (4.8/5)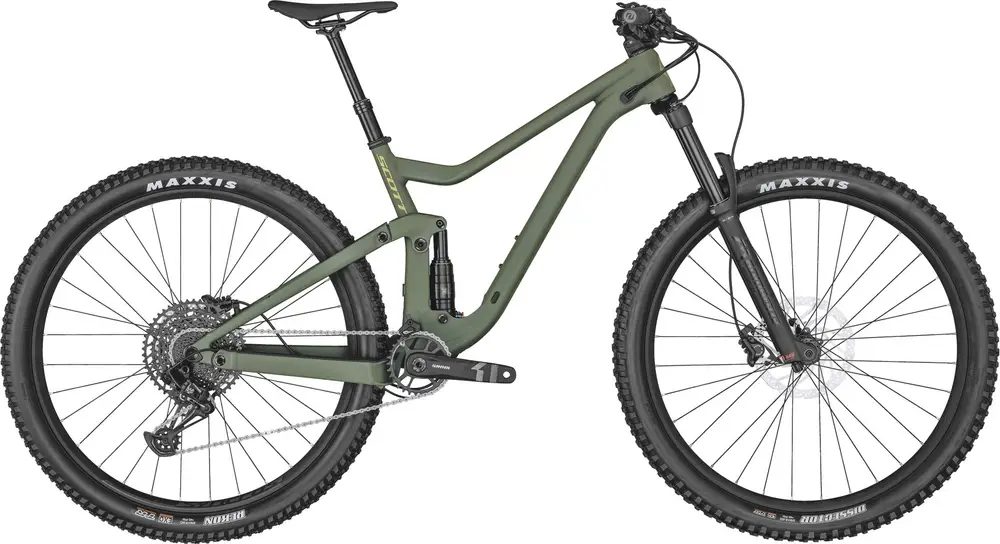 The Scott Genius 950 boasts a sturdy and durable frame with excellent geometry, paired with reliable components, making it a capable full-suspension endurance race bike that can handle rough and bumpy terrain.
Next, we'll analyze the riding experience, key features, components, and specifications of the Scott Genius 950, and compare it to other bike models in the latter part of this article. If you're interested in more bicycle reviews, feel free to follow us.
Riding Experience
As soon as I got my hands on the Scott Genius 950, I couldn't wait to take it for a spin. The most striking aspect was the suspension's support, which was just right without feeling overly soft. This filled me with anticipation for its climbing performance.
With the Scott Genius 950, I headed to the mountain bike park near my home after booking a nearby hotel on IHG. The ride included ascending from the base of the mountain to the starting point at the summit, followed by descending on a route with significant drop-offs, winding trails, and rocky terrain that provided an intense downhill experience.
Climbing
The Scott Genius 950 performed admirably during climbs, as I had expected. While the aluminum alloy frame adds some weight, the suspension is indeed impressive, providing ample pedaling support and minimizing energy loss.
The excellent geometry also contributed to a more forward-leaning position during climbs, making power transfer more direct and propelling me forward.
When faced with steeper uphill sections, I locked the front and rear suspension and shifted the rear derailleur to the largest gears. This made uphill pedaling effortless and eliminated any feeling of energy loss. At that moment, the bike felt like a rigid one without suspension, saving a lot of energy.
In conclusion, the Scott Genius 950, as a full-suspension endurance race bike, excelled in climbing without any sense of sluggishness, and it allowed for faster uphill riding.
Descending
The Scott Genius 950 also proved to be dependable during descents. The Marzocchi Z2 front suspension fork and X-Fusion rear shock provided 150mm of front and rear travel, absorbing all impacts when landing from significant drops, ensuring a stable landing posture and enhanced safety.
On rapid and intense downhill sections, the combination of 29-inch wheels and 2.6-inch wide tires was impressive and incredibly stable. It effortlessly rolled over surface bumps and exposed tree roots, feeling like a fierce tank.
Approaching the narrower trails, I applied the brakes, and the Shimano MT501 hydraulic disc brake system delivered reliable braking performance. It efficiently and rapidly reduced the bike's speed, enabling me to smoothly and safely navigate the trail. The Maxxis 2.6-inch wide, high-tread tires provided excellent traction, preventing any slipping on the trails and ensuring a fast and controlled passage.
Specifications
The Scott Genius 950 features an internally routed aluminum alloy frame that is sturdy and durable. The internal cable routing not only gives it a cleaner and neater appearance but also makes daily cleaning more convenient.
The presence of a dropper seatpost allows riders to maintain the appropriate position for both climbing and descending, enhancing riding continuity.
The SRAM mountain bike drivetrain components offer efficient transmission and crisp gear shifting. The Shimano hydraulic braking system provides reliable braking performance, even in adverse conditions.
Finally, the design with a chain stabilizer reduces the likelihood of chain drops during intense riding.
Video
Other Versions
The Scott Genius 950 is an outstanding full-suspension endurance race bike that performs impressively both in climbs and descents, making it a versatile choice for riders of all levels. However, there are higher-tier versions of this bike suitable for riders with a more generous budget and advanced technical skills.
To cater to these riders, we offer another version within the same series of full-suspension endurance race bikes. This version features a carbon fiber frame and higher-end components.
Scott Genius 900 Tuned AXS
The Scott Genius 900 Tuned AXS maintains the same excellent geometry but upgrades the frame to carbon fiber, resulting in a lighter and more resilient overall weight.
The Fox Factory Float 36 front suspension fork and FOX NUDE TR EVOL rear shock offer even stronger support and a smoother suspension experience.
The SRAM X01 Eagle AXS electronic drivetrain is lighter, offers improved transmission efficiency, and further optimizes gear shifting. Additionally, electronic shifting is more convenient to adjust.
Lastly, the brake components have been upgraded to the Shimano XT M8120 four-piston brakes, providing lighter brake operation, faster response, and increased braking power.
Below, we'll provide specific details about the Scott Genius 950's parameters and list some full-suspension endurance race bikes from other brands with similar price ranges for your reference.
What do we like about it?
The Shimano hydraulic disc brakes deliver reliable performance in any condition.
The clean and convenient internal cable routing design.
Excellent geometry paired with 29-inch wheels and wide tires for improved stability and better terrain handling.
SRAM drivetrain offers efficient power transmission and precise, quick gear changes.
The dropper post design ensures rider positioning remains ideal during transitions between climbing and descending.
With TwinLoc technology, riders can effectively control the entire frame, front fork, and shock as a system.
What don't we like about it?
There is only one color option, lacking variety.
FAQ
Can this bike use 27.5-inch wheels?
Yes, the Scott Genius 950 can be switched from 29 inches to 27.5 inches.
What wheelset does this bike use?
The front wheelset is Formula CL-811 / 15x110mm, and the rear wheelset is Formula CL-148S / 12x148mm.
Is this bike suitable for beginners?
Yes, it has a sturdy aluminum frame and reliable components at the right price for a novice rider.
Yes, it features a sturdy aluminum alloy frame, reliable components, and an affordable price, making it suitable for beginner riders.
Specs
Build
| | |
| --- | --- |
| Frame | aluminumBB Standard: BSA, 73mm, ThreadedColor: Radiant Purple – Black |
| Fork | FOX 34 RHYTHM 150mm (27.5″) / 140mm (29″) TRAVEL |
| Rear Shock | FOX FLOAT DPS SPECIAL TUNING E2E:210X55MM, HARDWARE:8MMX25MM |
| Bottom Bracket | shimano 2-piece crankset bsa threaded |
| Headset | ZERO STACK (ZS) SEALED BEARING FOR TAPER HEAD TUBE, ZS 44/28.6 | ZS 56/40 |
| Stem | ENTITY XPERT, ALLOY E:35MM R:7DEG BB:35MM |
| Handlebar | ENTITY XPERT, ALLOY W:780MM R:20MM BB:35MM |
| Saddle | ENTITY XTENT |
| Seatpost | TRANZ-X 150MM (S-M) 170 (L-XL) TRAVEL, ZERO OFFSET, 30.9MM |
| Pedals | Alloy Flat with Pins |
Groupset
| | |
| --- | --- |
| Rear Derailleur | shimano slx rd-m7100-sgs direct atach |
| Crank | SHIMANO MT-510-1 BOOST 32T |
| Shifters | SHIMANO SLX SL-M7100-R, 1×12-SPEED TRIGGER |
| Cassette | 12 SPEED 11-51T |
| Chain | KMC X12 12SPEED |
| Brakes | tektro hd-m745 4-pistons hydraulic disc brakes |
Wheels
| | |
| --- | --- |
| Rims | 584 / 622-35 32h for tyre 584 / 622-54/76 tubeless ready |
| Front Hub | Shimano HB-MT410, Thru Axle 15x110mm 32h, Center-Lock |
| Rear Hub | Shimano FB-MT410, Thru Axle 12x148mm 32h, Center-Lock, Microspline Hub |
| Tires | PERFORMANCE TIRE, 27.5 "X2.40" / 29 "X2.40" |
| Disk Rotors | SHIMANO SM-RT54 180mm CENTER-LOCK |
Comparison Table
| | | | | | |
| --- | --- | --- | --- | --- | --- |
| Bikes | Click view | Travel | Frame Material | Brake Type | Drivetrain |
| Trek Slash 7 | Click View | 160mm rear, 170mm front | Aluminum | Shimano MT420 | 1 × 12 |
| YT Industries Capra CORE 1 29 | Click View | 170mm rear, 170mm front | Aluminum | SRAM DB8 | 1 × 12 |
| Kona Process 153 DL 29 | Click View | 153mm rear, 160mm front | Aluminum | SRAM G2 RS | 1 × 12 |
| Polygon SISKIU T8 | Click View | 150mm rear, 150mm front | Aluminum | TEKTRO HD-M745 | 1 × 12 |
Scott Genius 950 vs. Trek Slash 7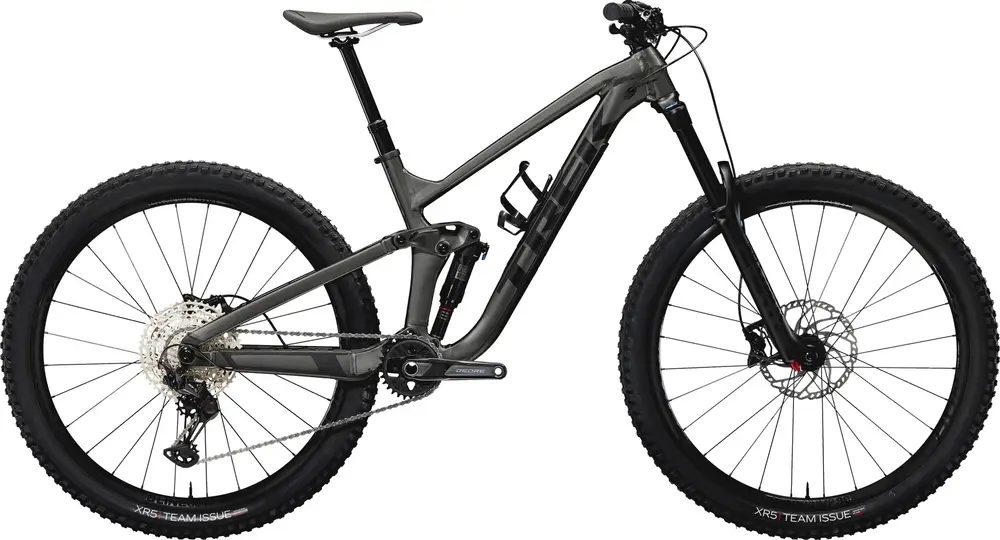 When comparing these two bikes, both are classic full-suspension endurance race bicycles. However, the latter has a longer suspension travel, making it better suited for tackling intense and complex downhill terrain.
In terms of drivetrain components, the former is equipped with SRAM components, offering crisp and robust gear shifting. Meanwhile, the latter features Shimano drivetrain components, which provide smoother and lighter gear shifting. Both components, however, offer excellent transmission efficiency.
Regarding the brake components, the former uses the Shimano MT501 brake set, which is of a higher grade compared to the Shimano MT420 found on the latter. This results in slightly more powerful braking performance, but both are reliable brake components.
In conclusion, both of these full-suspension endurance race bikes are excellent choices and can be relied upon, and the choice between them depends on individual preferences and riding styles.
Learn More: Is Trek Slash 7 A Good Bike? [2022 Trek Slash 7 Review]
Scott Genius 950 vs. YT Industries Capra CORE 1 29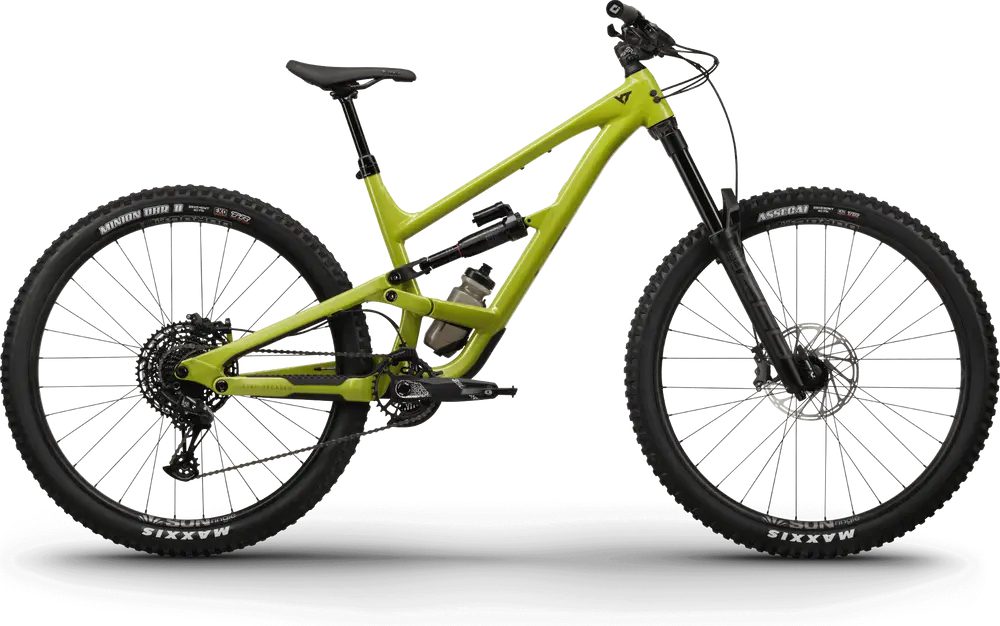 In terms of suspension, the latter offers a longer travel, providing better support upon landing and allowing it to handle larger drops more effectively. However, the former's suspension design enhances its climbing capabilities.
In the drivetrain department, both bikes use SRAM NX drivetrain components. When it comes to the brake components, the former's Shimano brake set offers linear and gentler operation, while the latter's SRAM brake components provide a more aggressive and direct feel.
So, it's clear that the Scott Genius 950 makes climbing easier, while the YT Industries Capra CORE 1 29 excels in downhill riding.
Scott Genius 950 vs. Kona Process 153 DL 29
Let's take another look at these two bikes. The former's internal cable routing design gives it a clean and sleek appearance, while the latter's external cable routing design makes maintenance more convenient.
In terms of suspension performance, both of these bikes are reliable choices. However, the former provides better suspension support, whereas the latter has a more responsive initial suspension stroke.
As for the brake components, the latter's SRAM G2 RS brakes offer higher-level performance compared to the former's Shimano brakes, delivering better braking capability.
Overall, the latter offers slightly better performance, but it comes at a higher price. Therefore, I would recommend the more budget-friendly Scott Genius 950.
Learn More: Is Kona Process 153 29 Worth Buying? – [2023 Kona Process 153 29 Review]
Scott Genius 950 vs. Polygon SISKIU T8
They are both excellent full-suspension bikes. The most important thing is that these two bikes have the same suspension travel.
In terms of drivetrain components, the former equipped with SRAM drivetrain offers crisp and precise shifting, while the latter with Shimano drivetrain provides smoother and gentler shifting.
As for the brake components, both the former with Shimano MT501 and the latter with TEKTRO HD-M745 have reliable braking performance, making them trustworthy and powerful.
In conclusion, both of these bikes are excellent full-suspension options. However, the latter is more budget-friendly, which I would recommend.
Learn More: Is 2023 Polygon SISKIU T7 A Good Choice? – [2023 Polygon SISKIU T7 Review]
Summary
Above is my riding review of the Scott Genius 950. In our opinion, it's an excellent full-suspension endurance bike that's reliable and priced more affordably, making it a great choice for everyone. That's why we gave it a rating of 4.9.
Of course, if you want to learn about other full-suspension endurance bikes, we also review bikes of various price ranges and styles, which can be equally interesting. Feel free to check out our other reviews.
Finally, if you enjoy our content, please share it with your friends. If our content has been helpful to you, you can click the email subscription button below. Thanks for your support!