We use affiliate links and may receive a small commission on purchases.
Trek X-Caliber 6
Trek X Caliber 6 price: $770
Suspension: 100mm
Wheels: 27.5″ / 29″
Frame: Aluminium
Drivetrain: 3 × 9
Groupset: X4, Shimano
What we like about it: The Trek X-Caliber 6 is more accessible to ride uphill than similar bikes. Similar bikes can't keep up with the X-Caliber 6 on downhills or sprints.
What we don't like about it: The grip is not ergonomic and my hands feel tingly on long trips.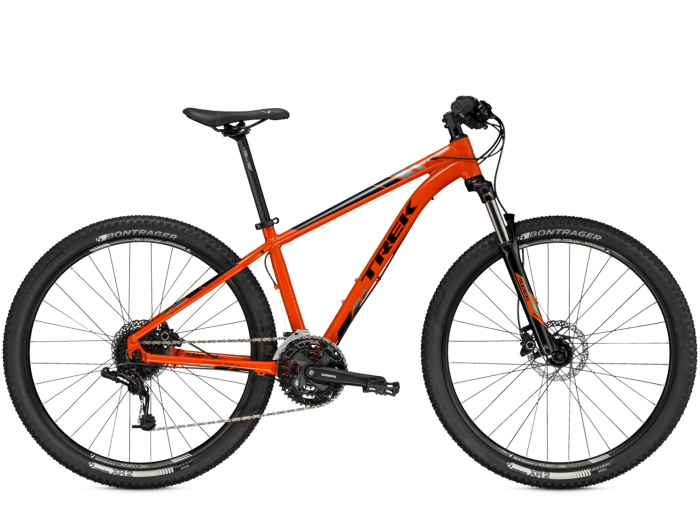 Today, the editor will introduce to you a time-honored mountain bike, which is also a veteran of Trek X-Caliber.
Trek X-Caliber 6 has always won everyone's attention with its high efficiency, simplicity, and candor, and is known as the best choice for an off-road lap or leadership races.
It is hard to imagine that after such a long period of precipitation, X-Caliber 6 was taken out by us for a re-introduction.
Related Reading:
Is The Trek X-Caliber 7 Worth Buying? [Trek X-Caliber 7 Review]
Is The Trek X-Caliber 8 Worth Buying? [Trek X-Caliber 8 Review]
Main Features
Frame
Trek has always been a leader in aluminum mountain bike frames and has developed three different aluminum constructions: Alpha Platinum Aluminum, Alpha Gold Aluminum, and Alpha Silver Aluminum. The X-Caliber 6 uses Alpha Gold Aluminum.
Alpha Gold Aluminum is a complex manufacturing process, the alloy consists of 6000 series aluminum, the pipes of which are reshaped and hydroformed before welding.
During this process, the thickness of the aluminum alloy tube body will change. Doing so reduces wall thickness where there is no load and strengthens the frame where the pipe is most loaded.
The result is an aluminum frame with lower weight, greater strength, and reliability. When it is used to form a mountain bike frame it means that the X-Caliber 6 is lightweight and durable.
G2 Geometry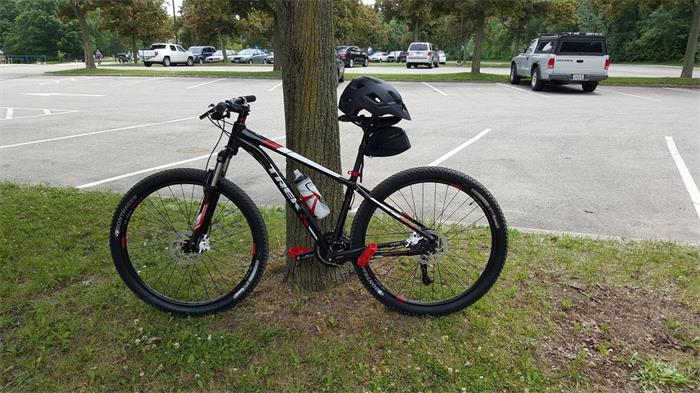 G2 Geometry is Trek's frame geometry for the poor handling of the 29er.
The X-Caliber 6 uses G2 geometry, and no corresponding data can be found for the front fork used.
But I think that the front fork is specially used with the frame of G2 geometry, which means that no matter if you have any dissatisfaction with the front fork, you can't change it at will, otherwise the handling feeling will also be replaced.
The X-Caliber 6's advanced frame geometry and custom offset fork ensure precise handling of the 29ers at low speeds without compromising stability at high speeds.
Components and Specifications
Drivetrain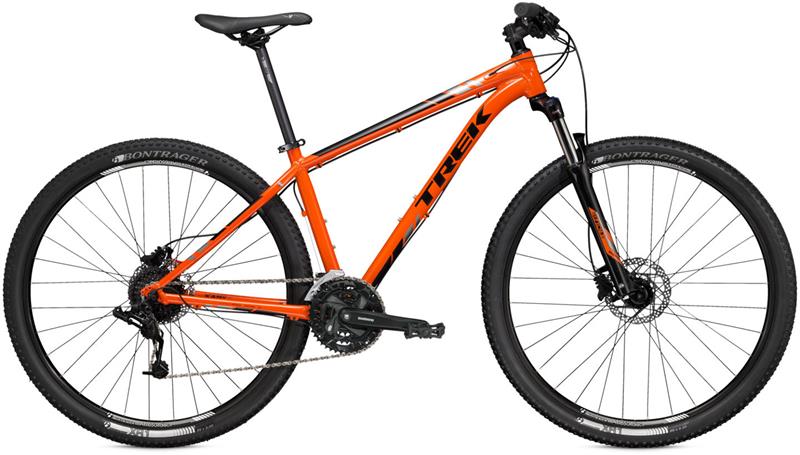 Shifter & Front and Rear Derailleurs
The X-Caliber 6 shifter uses SRAM X4, 9 speed, and the front and rear derailleurs use SRAM X4.
The precision and shift feel of the X-Caliber 6 SRAM X4 shifter is not only reflected in the name X4.
The highlight lies in the matching SRAM X4 front and rear derailleurs, which operate smoothly in the case of the urgent need for shifting, and the shifting is smooth.
The SRAM X4 9-speed Trigger Shifter is a reliable and budget-friendly component that keeps working quickly even in the toughest riding conditions.
Trek X Caliber 6 is ideal for models fitted with SRAM X4 parts.
The SRAM X4, 9-speed shift dial window is designed on the top of the handlebar, which has no visual impact. The position of the window has avoided the oil tank on the hydraulic brake lever. In theory, it can support any brand of hydraulic brakes.
Because the SRAM X4 shifting system is entry-level, its shift paddle stroke is relatively large, and the speed of continuous up and down shifts is not very fast, but it is enough to meet our daily riding needs.
My self-perception is that the X-Caliber 6 is paired with an SRAM X4, a 9-speed shifter, and an SRAM X4 front and rear derailleur. The gears are clear and tough and the hand feel is clear during riding.
Crank
The X-Caliber 6 cranks are Shimano M371, 44/32/22. Shimano M371, 44/32/22 cranks are compatible with 3×9 speed drivetrains.
Shimano M371 cranks feel good in terms of stiffness, durability, and lubricity. How should we rate the Shimano M371 crank?
It's stiff enough to improve performance with each product update.
Although it is not the current mainstream single-disc drive, there is absolutely no problem in function, but it does not feel as smooth as SRAM.
The price of the Shimano M371 is acceptable.
Pedals
The X-Caliber 6 pedals feature Wellgo nylon pedals.
The Wellgo nylon platform uses a nylon body, and the treading area is very large.
Integrated cleats on the outer frame provide enough "foot grip" without scratching the customer.
There are also several colors to choose from.
Although its material is not very good, I believe that it is not easy to break it.
Head Parts
The X-Caliber 6 uses a 1-1/8″ threadless, semi-integrated head tube.
The semi-integrated headset has the bearing part built into the head tube, and only a thin ring of the gasket-like body is exposed after installation.
The head parts may be an overlooked component on many bikes, but it plays a vital role. It's the part that lets you steer the bike and hold the fork in place.
The X-Caliber 6 uses a 1-1/8″ threadless, semi-integrated head tube, the downside is that it uses a larger diameter tube to increase the stiffness of the frame in this area.
Cable Routing
The X-Caliber 6 frame cable uses an internal routing method.
The front and rear shifting cables and rear brake hoses of the whole vehicle are introduced into the frame from the handlebar.
Therefore, the overall appearance of the X-Caliber 6 is simple and beautiful, with both appearance and performance.
Strong practicability, not easy to get dust. Low wind resistance. But the disadvantage is that maintenance is not easy.
Handlebar
X – Caliber 6 handlebar with specifications for Bontrager Low Riser, 31.8 mm, 5 mm rise.
Bontrager Low handlebar Riser is a superalloy, no matter where X – Caliber to 6, it can withstand the test of all kinds of off-road terrain.
Bontrager Low alloy Riser handlebar shot peening treatment increased the fatigue life, durable, and adopts the single slot design to lose weight.
Laser etching of the brake lever position line, makes the control Settings correct and 40 mm per side cutting mark, convenient for custom width.
Brakes
X-Caliber 6 brakes use Shimano M355 hydraulic disc brakes.
In terms of technology, it has been upgraded. Compared with the old model, the new brake looks more powerful, and the improved brake lever and oil circuit sets are convenient for daily maintenance.
Compared with ordinary mechanical wire-pulled disc brakes, hydraulic disc brakes do not have the problem of frictional resistance between the inner brake wire and the wire tube, the feel is clearer and more direct, and the braking performance is more stable.
Plus, it's easy to set up and adjust and reduces assembly time after the customer receives the X-Caliber 6.
The suitable brake lever shape of Shimano M355 during X-Caliber 6 riding is especially suitable for users to operate with two or three fingers, and it is easy to control.
Generally speaking, the brakes are black. This Shimano M355 also has a white version, which is suitable for customers who like to modify.
Wheels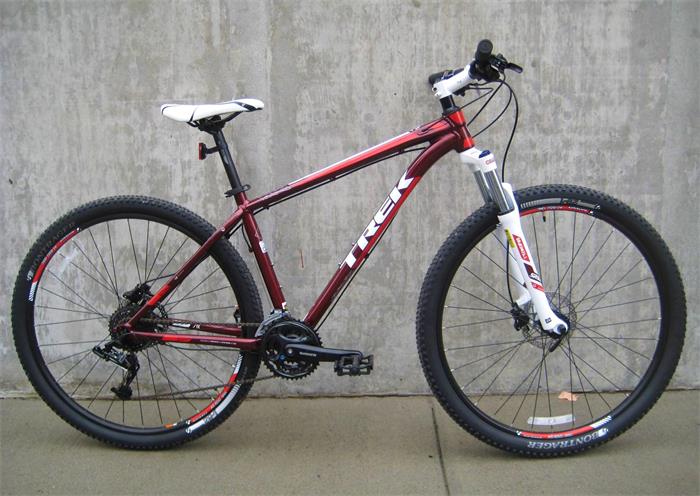 X-Caliber 6 rims in Size: S, M, M/L, L, XL, Bontrager Kovee, double-wall, Tubeless Ready, 28-hole, 23mm width, Presta valve.
The Bontrager Kovee 29er for the X-Caliber 6 has always been one of my all-time favorite wheels, I've had it for 3 years, it's a pair that does the heavy lifting, no breakage, almost no flats (tubeless set up).
It has an inner width of 23 mm and a weight of around 1600 grams.
The Bontrager Kovee rims used on the X-Caliber 6 allow for a quick upgrade to tubeless and is paired with 14 G stainless steel spokes.
Thanks to the wider and deeper X-Caliber 6 rims, along with the flat spokes, this wheelset feels even lighter.
They really have to make each spoke sing the same melody because of the same tension.
The X-Caliber 6 uses Formula DC hubs, with silky smooth bearings, a mid-lock structure, and planetary gears for quick engagement, which are lightweight and durable.
The front hub is Formula DC-20, alloy, 6-bolt, 100mm ThruSkew.
The rear hub is Formula DC-2241, alloy, 6-bolt, Shimano 8/9/10 freehub, Boost141, 5mm QR.
The X-Caliber 6 uses Bontrager XR1 tires. With a 29-inch wheel diameter coupled with a 2.20 tire width, there is no reason not to grip the ground.
The tire surface particles are more dispersed and it is better suited for riding on dirt roads.
In the familiar test route, the wheelset provided good feedback, cornered well, and could easily handle some small bounces.
X-Caliber 6 Spece
| | |
| --- | --- |
| Frame | Alpha Gold Aluminum w/semi-integrated head tube, mechanically formed & butted tubing, race geometry, internal front derailleur routing, G2 Geometry on 29ers |
| Sizes | 13.5, 15.5″ (27.5″ wheels); 17.5, 18.5, 19.5, 21.5, 23″ (29″ wheels) |
Wheels
| | |
| --- | --- |
| Tires | Bontrager XR1, 29×2.20″ front, 29×2.00″ rear (Bontrager XR2, 27.5×2.20″) |
Drivetrain
| | |
| --- | --- |
| Shifters | SRAM X4, 9 speed |
| Front derailleur | SRAM X4 |
| Rear derailleur | SRAM X4 |
| Crank | Shimano M371, 44/32/22 |
| Cassette | SRAM PG 920 11-34, 9 speed |
| Pedals | Wellgo nylon platform |
Components
| | |
| --- | --- |
| Fork type | SR Suntour XCM, coil spring, preload, hydraulic lockout, custom G2 Geometry w/51mm offset on 29ers, 100mm travel (13.5″ : 80mm travel) |
| Frame type | Alpha Gold Aluminum w/semi-integrated head tube, mechanically formed & butted tubing, race geometry, internal front derailleur routing, G2 Geometry on 29ers |
| Front derailleur | SRAM X4 |
| Headset | 1-1/8″ threadless, semi-integrated, semi-cartridge bearings |
| Hub front | Formula DC20 alloy |
| Hub rear | Formula DC22 alloy |
| Pedals | Wellgo nylon platform |
| Rear derailleur | SRAM X4 |
| Recommended for | Front-Suspension,650B/27.5-Inch Wheel,29-Inch Wheel (29ers) |
| Rims type | Bontrager AT-650 32-hole double-walled, 29″ or 27.5″ |
| Saddle | Bontrager Evoke 1.5 |
| Shifter | SRAM X4, 9 speed |
| Stem | Bontrager Race Lite, 31.8mm, 7 degree |
FAQs
1. How much does it weigh?
It weighs about 14 kg (31-32 lbs).
2. Is it possible to use a mountain bike on city streets?
Yes, Trek X-Caliber 6 can be used on city roads.
3. What does a suspension do?
As a result of the suspension, the rider experiences a smoother, more controlled ride, a result of dampening the terrain's roughness. When riding on rocky singletracks or potholed roads, a bike suspension improves control, traction, and comfort.
Compare Tables
Compare
Diamondback Hatch 2 vs Trek X Caliber 6
The Diamondback Hatch 2 is in the mid-price range of the Hatch series.
Compared to the X-Caliber 6, the Diamondback Hatch 2 has the advantage of climbing steeper hills more easily.
However, in the descending and sprinting stages, the X-Caliber 6 has a more pronounced advantage.
All this is the result of our testers' tests and calculations based on the respective drivetrains.
Unlike X-Caliber 6, which uses Alpha Gold Aluminum, Diamondback Hatch 2 frame uses AL-6061, an Al-Mg-Si alloy with medium strength, good plasticity, and excellent corrosion resistance.
In addition, Diamondback adopts aluminum alloy heat treatment technology, after quenching, AL-6061 plasticity does not decrease, but increases.
In terms of the groupset, the Diamondback Hatch 2 features RD-TY300 rear derailleur and TY500 front derailleur and is compatible with Shimano MFTZ500 14-28 Tooth Freewheel high-speed gears.
Our testers were impressed with the Diamondback Hatch 2's excellent shifting performance during the ride, ensuring a safe and stable ride.
During our testing, we found that the X-Caliber 6 SRAM X4 shifter shifts very smoothly and quickly, and stops most chain slap on rough terrain because it maintains more "tension" on the chain.
One thing to note is that as Sram says in their description of the transmission – you need to pair it with an SRAM shifter – the transmission has a 1-to-1 ratio, most Shimano rear derailleurs have a 2 to 1 ratio and the shifter is not compatible.
Trek X-Caliber 8 vs Trek X-Caliber 6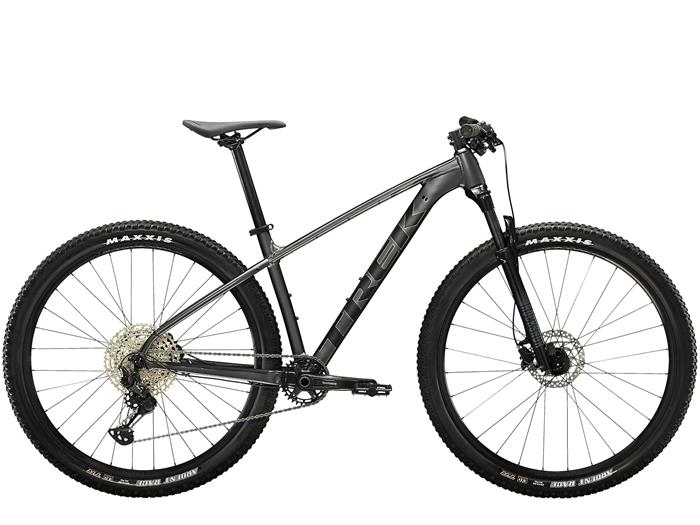 With energy and environmental issues becoming the focus of human attention, mountain bike lightweight has become the "new fashion" of energy saving and emission reduction in the bicycle industry.
As for the technical research of "lightweight" mountain bike parts and materials, it has become an important direction for Trek manufacturers.
Both X-Caliber 8 and X-Caliber 6 are made of aluminum frames, which is comparable even when compared with the top carbon frame.
However, in terms of comfort, the aluminum frame does not have the natural advantage of carbon fiber in filtering vibration.
The X-Caliber 8 uses the XT, Deore Groupset, while the X-Caliber 6 uses the X4, Shimano. In the eyes of our testers, the XT, Deore Groupset outperformed the X4, Shimano Groupset.
X-Caliber 8 uses Shimano Deore M6100, 12 speed for the finger paddle, cassette, and chain.
The Deore 12 speed chain and flywheel use Shimano Hyperglide+ technology for better upshifting and downshifting performance, which is significantly improved when shifting to larger gear ratios, and the shifting is almost seamless.
This is the most interesting aspect of the Shimano 12 speed, which is very smooth even when shifting violently.
The X-Caliber 8 is then paired with a Shimano XT M8100 rear derailleur that is simply unbeatable.
While the new XT rear derailleur uses the XTR design, Shimano claims that the new design can support a massive 51T flywheel, and they both offer an adjustable clutch locking structure for added chain safety in rough terrain.
Also, the size of the guide wheel has been increased to 13T to provide a smoother and quieter operation.
Learn more: Is The Trek X-Caliber 8 Worth Buying? [Trek X-Caliber 8 Review]
Trek X-Caliber 9 vs Trek X Caliber 6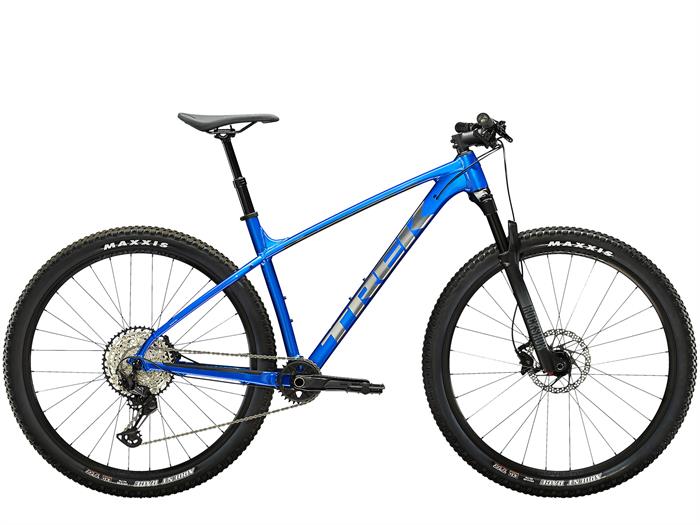 The X-Caliber 9 uses the 1x 12, while the X-Caliber 6 still uses the previous 3 X 9, which is a common Groupset on entry-level bikes.
With the continuous development and maturity of the Dropper, the elevated seat tube has also gained great popularity.
The X-Caliber 9 uses a lift seat tube, so our testers do not have to get off the bike and break the quick release or unscrew the seat post clamp to tediously adjust the seat height.
The seat height can be adjusted by simply manipulating the controller to achieve the effect of high pedaling efficiency uphill and large moving space downhill. But in X-Caliber 6 did not see the presence of a dropper, or Rigid Seatpost is used.
As mentioned earlier, the X-Caliber 6 has a G2 geometry aluminum frame, which is an attractive feature of the X-Caliber 6, although the X-Caliber 9 also has an aluminum frame.
The X-Caliber 9 saddle has been upgraded with Bontrager Arvada, steel rails, and 138mm width. We can see it on both the Marlin 5 and 520 Grando.
The X-Caliber 6 saddle also uses this saddle, but it has a slightly narrower width than the X-Caliber 9.
Our testers still felt that the X-Caliber 9 saddle was more comfortable to sit on during the ride.
1×12 Shimano XT/SLX is the drivetrain adopted by X-Caliber 9. Shimano released the SLX M7100 kit to counter SRAM's increasingly powerful 12-speed Eagle components.
Each SLX M7100 mountain bike kit is almost identical to the XT. The most obvious thing is that the materials and finishes allow for a lower price. However, the SLX doesn't have much of an increase in weight as a result.
During the evaluation
The testers found that the X-Caliber 9 Shimano SLX fingerpads do not have a multi-release or instant release function, so only one gear can be released at a time and the rear paddle will only start moving when it is released.
Learn more: Is Trek X-Caliber 9 Worth Buying? [Trek X-Caliber 9]
Giant Talon 1 vs Trek X-Caliber 6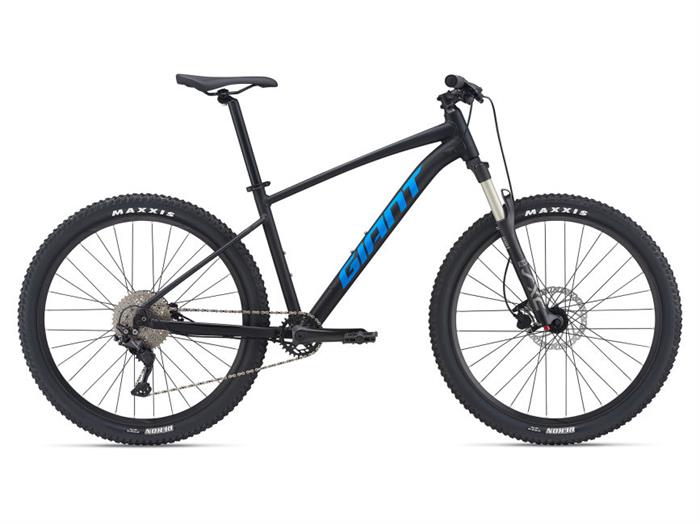 State-of-the-art materials, forming methods, and welding techniques are used to create best-in-class aluminum frame technology. ALUXX-Grade Aluminum offers the best strength-to-weight ratio in the Giant Talon 1 aluminum bike.
Giant presses the tubes through hydroforming (injection of high-pressure liquid) and direct mechanical pressure to obtain very tight tolerances, followed by smooth double-pass welding and hand polishing, so the Giant Talon 1 has a strong and very light frame.
With its 30.9mm seat tube diameter and clean internal cable routing, the Giant Talon 1 makes it easy to upgrade the Dropper. it appears that the X-Caliber 6 can't do it yet.
The shifter and rear brake cables run from inside the integrated port near the head tube to an exit under the bottom bracket. From the outside, the Giant Talon 1 looks excellent and is weatherproof. The X-Caliber 6 has relatively more exposed alignment than the Giant Talon 1.
This Giant Talon 1 uses the Shimano Deore M4100 series finger paddles and cassette flywheel. The overall impression to our testers was the compact design and lightweight. With its ergonomic design and lightweight construction, the Shimano DEORE SL-M4100 10-speed Rapidfire Plus shift lever is built for performance. In addition to shifting behavior, performance has improved by 20%. With 35 % less force and a 20% shorter lever access time.
Final Evaluation
As a veteran of the Trek X-Caliber series, the X-Caliber 6 has done a lot to prepare the ground for subsequent models. The performance advantage is enough for us to handle daily trail riding. There's no denying our love for it.
If you are interested in its Trek x caliber 6 2014 and Trek x caliber 6 2015, you can leave us a message and we will review the bike you want to know based on the message.
Video