We use affiliate links and may receive a small commission on purchases.
Giant XTC Jr 20 Lite Review
Price: $340
Frame: Aluminum
Wheels: 20 x 2.1″
Gear: 1×7
What we like about it: Cost-effective kids' bikes, professional riding configuration.
What we don't like about it: The fork damping is not effective.
Rating (4.8/5)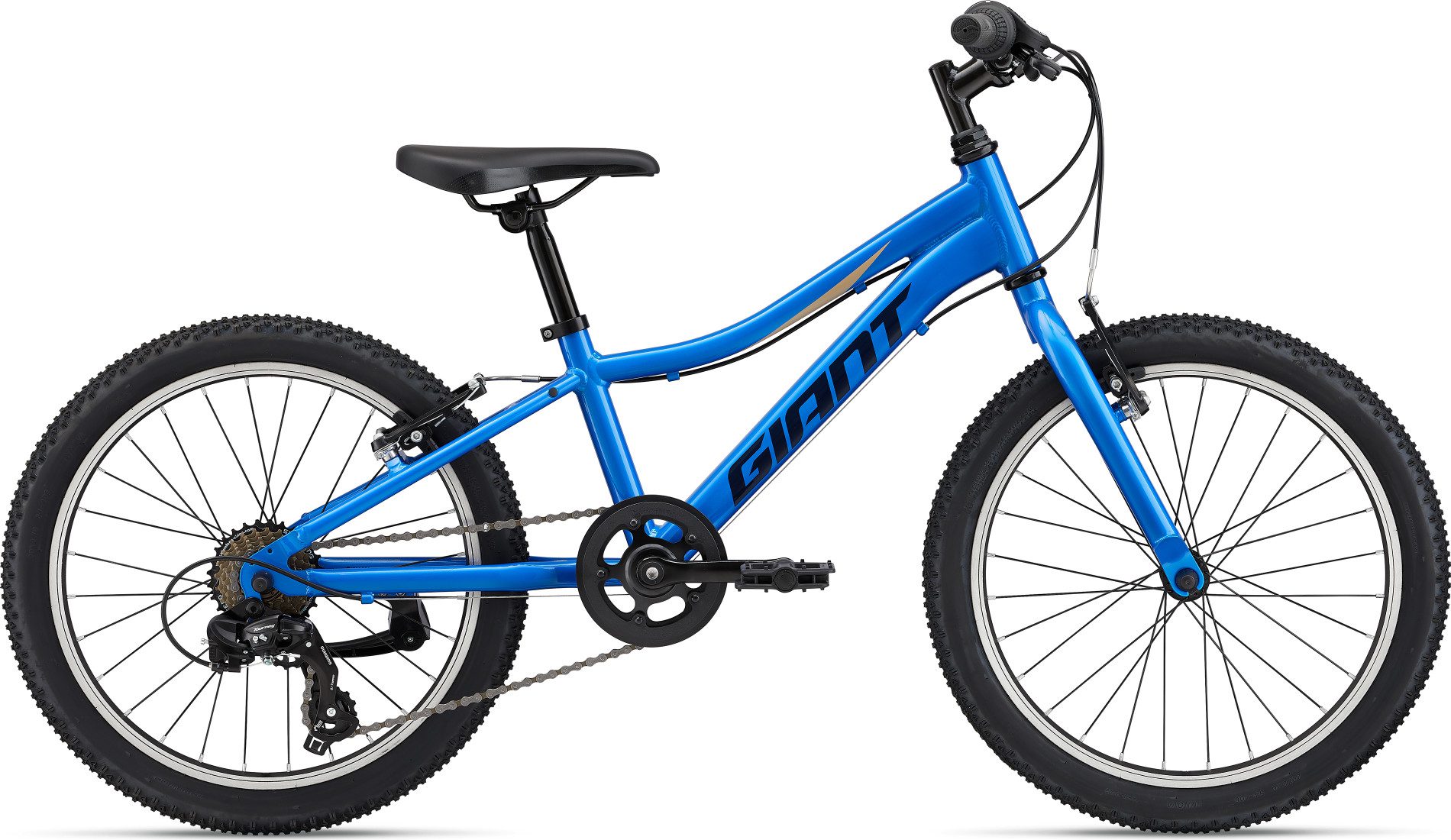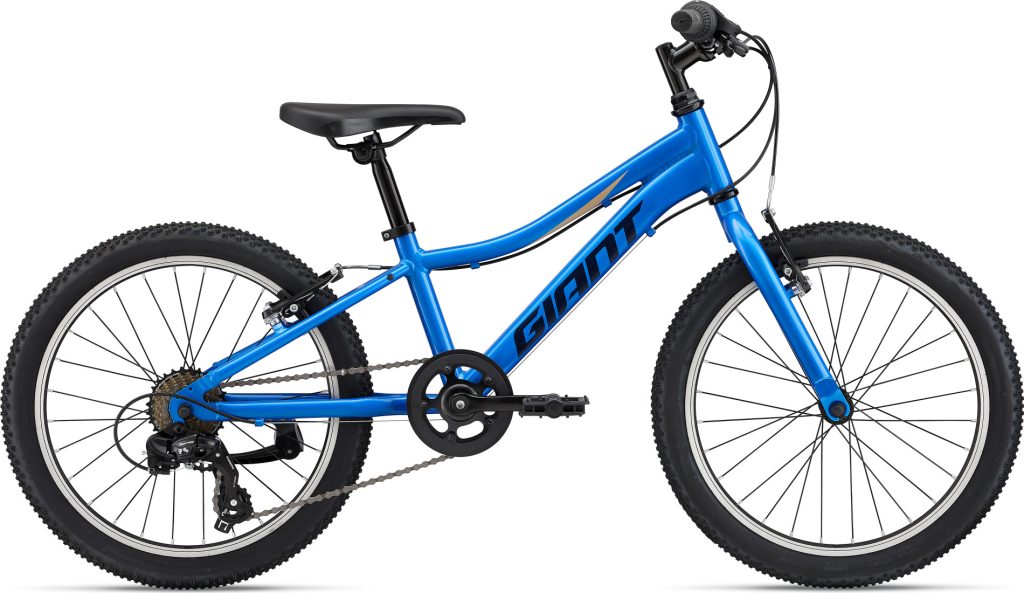 If you're looking for a children's gift for a child around 3'11" to 4'7″, consider the 2022 Giant XTC Jr 20 Lite, which offers excellent value for money.
With its tried-and-tested ALUXX-grade aluminum frame, children will have a lighter chassis for easy off-road riding. Giant's carefully designed geometry and specific tire size make it easy for children to pedal and provide plenty of performance for off-road riding.
To help young riders improve their off-road skills and build confidence, Giant has developed specialized youth performance components. And with reliable and durable Shimano Tourney-grade components, the bike is easy to handle and control.
While these features may not be high-end for enthusiastic adult riders, they're cool and sturdy for young riders who are just starting or looking to tackle off-road terrain.
In this review, we'll analyze the riding experience, specifications, and other versions of the 2022 Giant XTC Jr 20 Lite. For more bike reviews, be sure to follow us.
Off-road Riding at the Park
As someone who loves biking, I also chose this bike for my nephew Harding's 9th birthday. I remember the day he received this gift – he was so excited and said it was the coolest gift he had ever received. After the lunch party, I took him to a nearby bike park for a test ride. The park is relatively safe, and the route is more diverse, so children can experience both flat riding and simple off-road riding.
Although I didn't sit on the bike to feel it, Harding's smile and tireless riding told me that he was very satisfied with this bike. I heard that now he asks his parents to take him to the bike park every weekend. The child who was once addicted to computer games has become lively and outgoing.
Riding Experience
Harding told me that the bike was very comfortable and easy to handle.
First of all, the alloy seat post of the Giant XTC Jr is adjustable, which means that children can customize the height to keep their legs in a safe position and comfortable pedaling. The Giant Jr. Sports saddle is also very soft and comfortable, which allows children to enjoy the sport even more.
Secondly, the Giant Jr MTB handlebars are wrapped in Giant Junior grips and have a very comfortable feel. The surface texture is not only beautiful but also has a good anti-slip effect. Harding said that he sweats easily, but his hands are hard to slip due to sweat, which makes him feel very safe.
Finally, Harding's upright sitting posture also impressed me. This is also worth paying attention to for a child's growth because no parents want their children to hunch over. I also asked Harding, and he told me that this posture is very comfortable. He can observe the road fully, breathe more smoothly, and he is very satisfied.
Park Riding Performance
Although my nephew Harding likes to stay at home, his route selection shows that he enjoys off-road riding. Therefore, most of the routes he chooses are dirt and mountain trails.
With its sturdy 32T, 127mm crank, the Giant XTC Jr 20 has a decent transmission efficiency. I could see that Harding's pedaling was effortless, and the bike ran fast and far.
Based on the 20×2.1″ Giant Junior Sport tires, the bike has good passability. He can easily handle general flat mountain paths without any sway.
Uphill or downhill
Perhaps the love of climbing or sprinting is innate in boys. Although young, Harding loves to climb the slopes in the park, and he will keep trying no matter how steep the slope is. Occasionally, he needs to stand and ride to increase pedaling power. But he doesn't care about this, and happiness always radiates from his smiling face.
Harding told me that although the Shimano power transmission system of this Giant XTC Jr only has 7 speeds, it is very helpful for climbing. With a simple finger press and pedaling, the bike can easily climb uphill, and his legs become more efficient. Although he didn't understand the principle, he quickly understood through trial and error. When climbing, he needs to shift the chain to a larger freewheel.
When the bike reaches a downhill section, Harding becomes even more excited. From his smiling face and constant "wow~ wow~ cool~" screams, I can feel his true joy. I'm not worried about safety either because the experienced Harding knows how to control speed by controlling the pressure. He also told me that these rim brakes are easier and safer than the coaster brakes he used when he was younger.
As for improvement suggestions for the bike, Harding said he would like it more if it had better shock resistance. Occasionally, when the wheels are subjected to large drops, his palms feel a bit uncomfortable.
Specification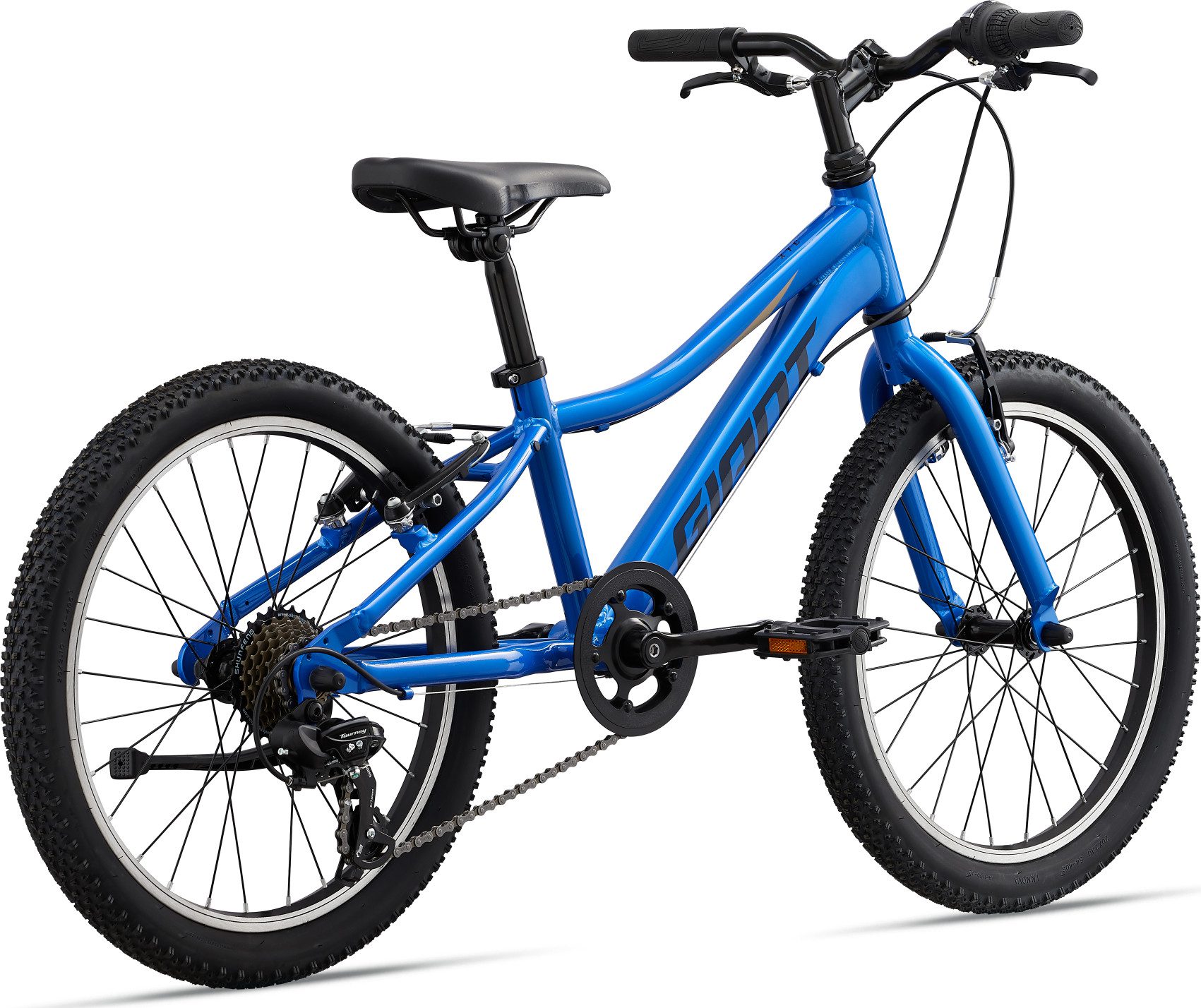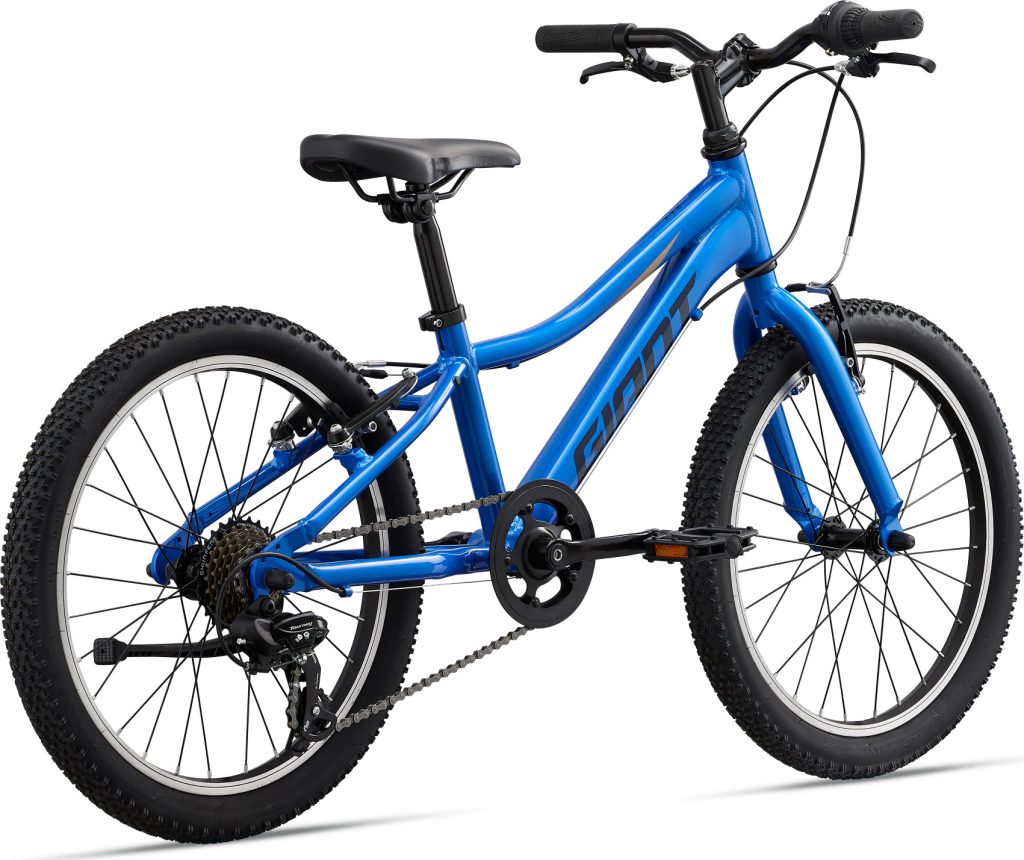 With the proud aluminum frame that Giant is known for, the XTC Jr 20 Lite is very lightweight and durable, and the high-tensile steel front fork has excellent shock absorption ability to ensure the front end is comfortable enough for children.
The more upright and comfortable geometry not only allows children to pedal more safely and efficiently but also helps with their growth.
For children, we believe that the Shimano REVOSHIFT 1×7 shifters are an easy and reliable partner. For beginners, the gear indicator will help children quickly and easily learn the gears. With a simple flick, the chain can smoothly shift between freewheels of different sizes, reducing the pressure on their pedaling.
Of course, the 20×2.1″ Giant Junior Sport tires are also not to be overlooked. With the appropriate width, on the one hand, they provide strong passability and shock absorption ability, giving children the courage to experience off-road riding. On the other hand, compared to narrower tires, larger tires have less friction resistance, which won't make children feel like pedaling is too difficult and give up on the sport. In addition, this tire size is also suitable for road and pavement riding, expanding the bike's versatility on various surfaces.
Other Versions of the 2022 Giant XTC Jr 20
For budget-conscious users, Giant has also prepared the highly cost-effective 2022 Giant XTC Jr 20 C/B. Compared to the Giant XTC Jr 20 Lite, the XTC Jr 20 C/B is consistent with the former in terms of geometry, size, material, and most components.
However, if your child likes to climb or descend quickly, accelerating the Giant XTC Jr 20 C/B may be an oversight. This bike is not equipped with a gear system, and its brakes use a combination of coaster and alloy cables.
This means that riding the Giant XTC Jr 20 C/B uphill requires more physical effort from children. For downhill and acceleration, also requires a higher level of attention and more skill.
Therefore, if the budget allows, we recommend the Giant XTC Jr 20 Lite, which will give both children and parents more peace of mind.
What do we like about it?
Cost-effective youth mountain bike.
The tried and tested ALUXX grade aluminum frame is lightweight and durable, making it easy for children to navigate.
The near-erect geometry gives children a broader view while allowing them to breathe more easily.
Professional Giant Junior accessories give your child more comfort and greater control.
The powerful 20 x 2.1″ Giant Junior Sport tires are not only passable but also suitable for more surfaces.
The reliable Shimano 7-speed gearing system makes climbing more effortless.
What don't we like about it?
Rigid front fork damping effect is average.
FAQs
How can I buy the 2022 Giant XTC Jr 20 Lite?
We can order directly through Giant's official website or go to a local dealer to purchase.
How much does the latest Giant XTC Jr 20 Lite cost?
The bike originally cost $400. Fortunately, Giant is now offering a sale on their website, so you can own this superb mountain bike for only $340.
Giant XTC Jr 20 Lite suitable for the crowd?
As a youth mountain bike, this bike has 20″ inch tires and only one size. However, thanks to the adjustable seat post, the rider can adjust the height, and even with only one size, the bike can support children from 3'11" – 4'7″.
If you want to take your kids to go riding in well-known terrain or special terrain, where is the most convenient place to stay?
You can book your accommodation on Skyscanner, which is not only rich in variety but also easy to operate.
2022 Giant XTC Jr 20 Lite Specs
Build
| | |
| --- | --- |
| Frame | ALUXX-Grade AluminumColor: Azure Blue |
| Fork | High-tensile steel, rigid |
| Rear Shock | N/A |
| Bottom Bracket | semi-cartridge |
| Stem | steel, quill |
| Handlebar | Giant Jr MTB, 25.4mm |
| Saddle | Giant Jr. Sports |
| Seatpost | alloy, 27.2x250mm |
| Pedals | platform |
| Grips | Giant Junior |
Groupset
| | |
| --- | --- |
| Rear Derailleur | Shimano Tourney |
| Front Derailleur | N/A |
| Crank | 32t, 127mm |
| Shifters | Shimano REVOSHIFT, 1×7 |
| Cassette | 14×28 |
| Chain | KMC HV500 |
| Brakes | alloy, linear pull |
| Brake Levers | alloy, junior MTB |
Wheels
| | |
| --- | --- |
| Rims | Giant Kids 20″, alloy |
| Spokes | stainless, 14g |
| Front Hub | nutted, 28h |
| Rear Hub | nutted, 28h |
| Tires | Giant Junior Sport, 20×2.1″ |
Video
Comparison Table
2022 Giant XTC Jr 20 Lite vs. 2022 Trek Precaliber 24 8-speed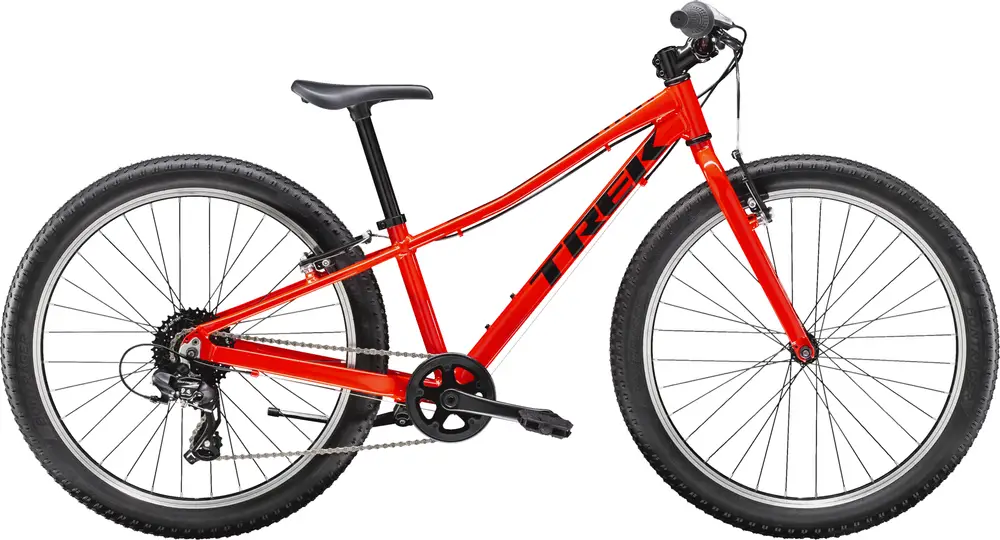 If you've been looking at youth mountain bikes lately, I'm sure this 2022 Trek Precaliber 24 8-speed has been on your radar as well. There are many similarities between these two bikes. They both use a combination of an aluminum frame with a steel fork to ensure that the bike is sturdy and light enough at the same time. And both also use Shimano components in their choice of components to ensure quality and a kid-friendly riding experience.
But in some ways, the 2022 Trek Precaliber 24 8-speed's 8-speed shifting system and wider 24×2.25" wheelset make this bike suitable for taller kids and kids with more ambition for off-road sports. This is also worthy of learning and improving the Giant XTC Jr series.
But if you consider the price, Giant XTC Jr 20 Lite is much more friendly. $340 will not make parents stressed, yet bring joy to children.
Learn More: Is Trek Precaliber 24 A Good Bike? [Trek Precaliber 24 8-speed Review]
2022 Giant XTC Jr 20 Lite vs. 2023 Marin San Quentin 20″
For those who want more comfort and experience more complex terrain off-road, the 2023 Marin San Quentin 20″ is undoubtedly a more professional option. With 20×2.6″ Vee Tire Co. Crown Gem tires and a more pronounced shock absorption effect from the 80mm Travel SR/Suntour XCM 24 Boost front fork, tree roots, and rocky terrain become smoother. Of course, the 8-speed Shimano Altus SL-M315 shifting system is also one of its noteworthy features. The smoother shifting and larger freewheel make uphill climbing easier.
However, the 2023 Marin San Quentin 20″ is not an option for all children. As mentioned earlier, its 80mm travel front fork and 20×2.6″ wide tires do have better traction and comfort compared to the stiffer front fork and 20×2.1″ tires of the Giant XTC Jr 20 Lite. But this is not necessarily a good thing for road riding or flat mountain terrain. The front fork travel means more leakage and the wider tires mean more resistance. Children need to exert more effort to make the bike move forward. In addition, the bold and aggressive riding style may not be suitable for conservative children.
Therefore, if you want your child to have more riding possibilities, choosing the Giant XTC Jr 20 Lite is not only more cost-effective but also more suitable.
Learn More: Is MARIN SAN QUENTIN 2 Worth Buying? [MARIN SAN QUENTIN 2 Review]
2022 Giant XTC Jr 20 Lite vs. 2023 Norco Storm 24 Disc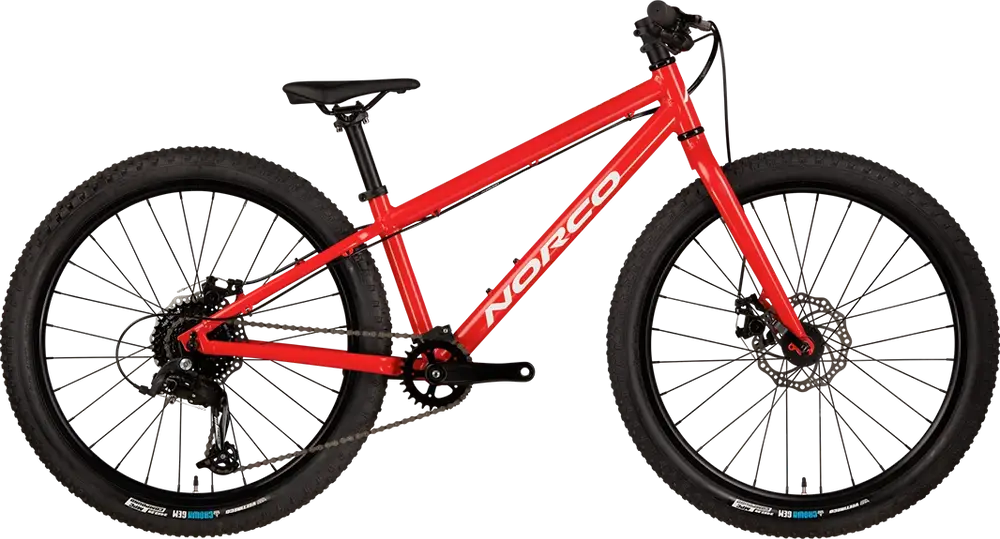 Admittedly, the 2023 Norco Storm 24 Disc has a very pretty and eye-catching design, which is likely to be attractive to kids. However, when it comes to choosing a practical bike, we should not be limited to just appearance. Overall, this bike gives me the impression that it's flashy but not practical, with its 7-speed SunRace gearing and mechanical disc brakes that don't quite justify its $569 price tag. It's worth noting that for this price, people could also buy a decent aluminum adult bike.
On the other hand, the $340 price tag of the Giant XTC Jr 20 Lite feels much more friendly, and it comes with a higher-end Shimano 7-speed gearing system and more youth-specific features, proving that it offers better value for money.
Learn more : Is Norco Storm 1 Worth Buying? – [2023 Norco Storm 1 Review]
2022 Giant XTC Jr 20 Lite vs. 2023 Specialized Jett 20 Single Speed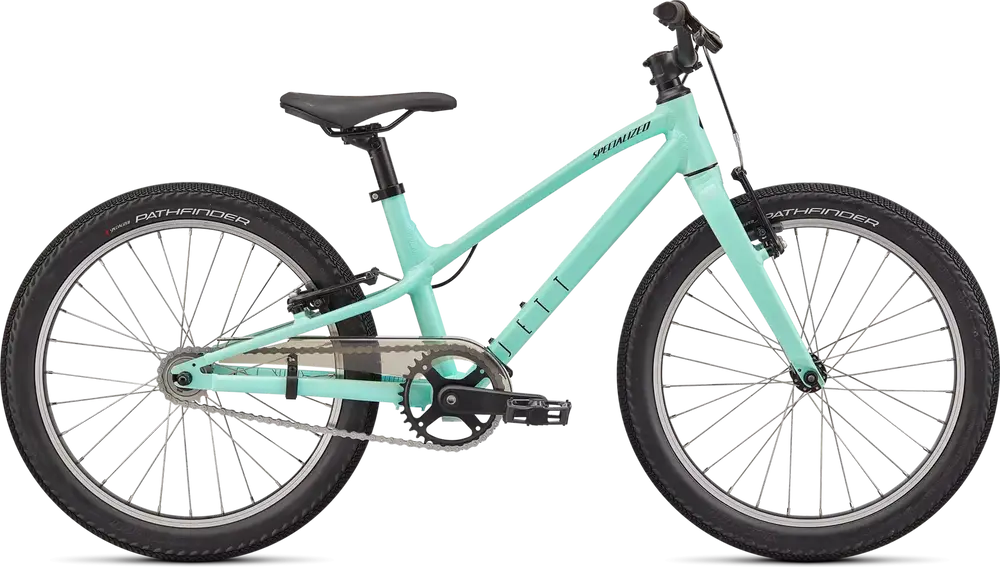 Compared to the Giant XTC Jr 20 Lite with a variable speed system, the 2023 Specialized Jett 20 Single Speed appears to be simpler and more lightweight. As a result, its advantages and disadvantages are evident. The lighter frame makes it easier for smaller children to handle, as they don't need to think about shifting gears and can simply pedal with ease. This makes it perfect for riding on flat city terrain.
However, for mountain biking, the Specialized Jett 20 Single Speed is not as specialized. On the one hand, the narrower tires compromise its off-road traction and shock absorption. On the other hand, the lack of a variable speed system means that children will need to exert more power when climbing, and they will miss out on the opportunity to learn about shifting gears.
Therefore, we believe that the Specialized Jett 20 Single Speed is not as specialized as a mountain bike, since we cannot predict the terrain and children should learn more skills during their rides.
Summary
Overall, the 2022 Giant XTC Jr 20 Lite is the perfect gift for kids to feel happy and enjoy sports. Whether for road riding or simple trail riding, it can do it all with ease. If you're looking forward to your kids enjoying the outdoors in healthier, natural air, start by riding together.
Finally, if you like our content, feel free to share it with your friends! If our content is helpful to you, you can click the email subscribe button below! Thanks for the support!
Learn more : Top 8 Best Children Bikes – Suitable For Children Of All Ages