We use affiliate links and may receive a small commission on purchases.
We've selected the Giant Escape Full Series for your reference.
Giant is a world-renowned Chinese brand with a rich history of innovative technology. The company was founded by King Liu in Taiwan, China in 1972, initially as an OEM for other well-known brands. Over the years, it has grown into a global brand known for its high-quality bicycles and accessories. One of Giant's most popular commuter bike series is the Escape series, designed for urban and leisure riding.

The development focus of the Giant Escape series is to provide riders with a comfortable and efficient riding experience. These bikes are designed for those who want a reliable and versatile bike that can handle various terrain types. Whether you're commuting daily, running errands in the city, or exploring new bike trails, the Giant Escape is a great choice. With its flat handlebars, this bike offers a more upright riding position that is more comfortable for many riders. The lightweight aluminum frame and carbon fibre fork make the bike easy to handle and maneuver. Additionally, the wide tires provide more stability and traction on rough roads.
Overall, the Giant Escape series is a great choice for those looking for a comfortable and versatile flat-handle road bike. With its lightweight frame, stable handling, and range of features, the Giant Escape is well-suited for a variety of riding scenarios. Whether you're an experienced rider or just starting, the Giant Escape is a bike you can rely on for days to come.
Road Bike Comparison Table
1. 2022 Giant Escape Disc 1 ($930)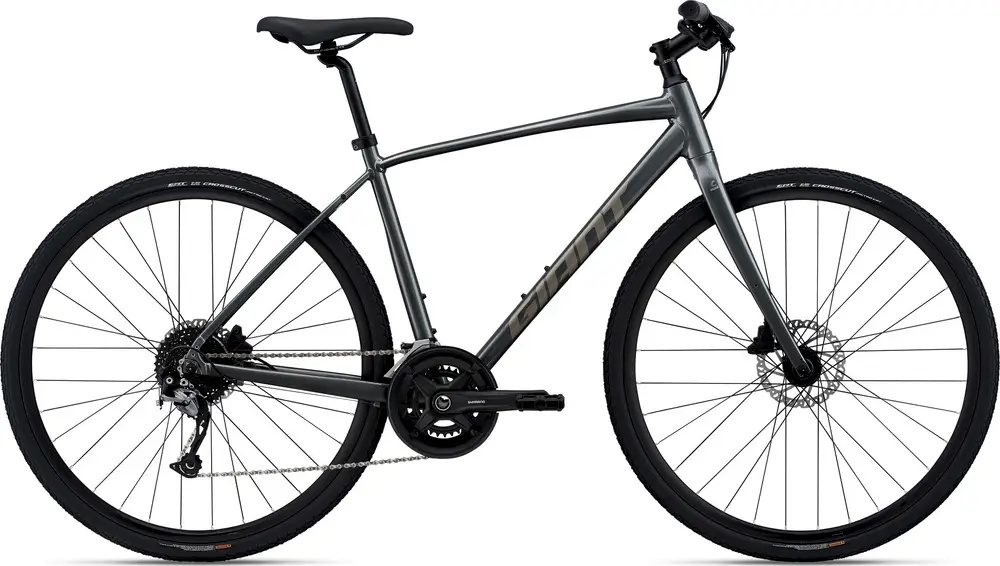 Kit: Alivio, Acera
Brakes: Hydraulic Disc
Gear: 2 × 9
Frame material: Aluminum/Carbon
What we like about it: Lightweight design, carbon fibre fork.
What we don't like about it: It's more expensive.
This bike is the top of the Giant Escape series and has almost the same component configuration as the fast road bikes. Ideal for those who use the bike for commuting during the week, and for the sporting crowd who need a quick workout ride on the weekends. The hydraulic disc brakes provide a fast and lightweight aluminum frame, paired with the only carbon fork in the series, making this bike very lightweight.
The price is a compromise for many people. At $930, you could easily buy a drop-bar road bike for a professional racing experience. But those who truly buy this bike may be looking for a comfortable upright riding position and good clearance provided by the wide tires. As a result, riders don't have to worry about punctures on bumpy roads with these thicker tires.
2. 2022 Giant Escape Disc 2 ($750)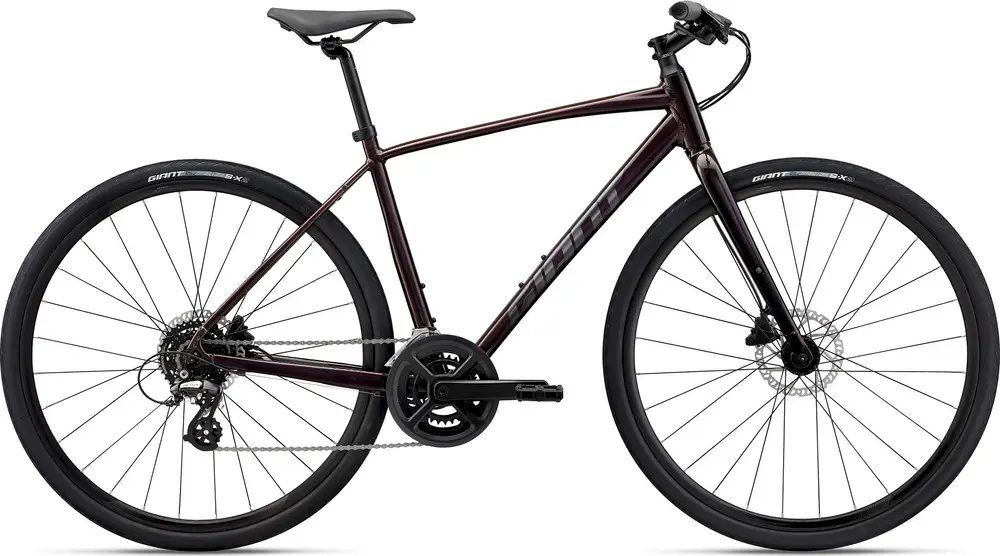 Kit: Altus, Tourney
Brakes: Hydraulic Disc
Gear: 2 × 8
Frame material: Aluminum/Aluminum
What we like about it: Good for commuting and racing.
What we don't like about it: The abbreviated speed options.
Is Giant Escape Disc 2 Worth Buying? [2023 Giant Escape Disc 2 Review]
You can pay a difference of two hundred dollars less than the last bike for those riders with relatively low budgets. If you are also a sportsman and need a competitive ride on the weekend while commuting. Then it's certainly not a bad choice. Compared to the Disc 1 version, it has cut down the fork from carbon to aluminum. The chainring has also been downgraded from the hollow one-piece chainring of the previous model to a more basic square-hole chainring, but for those non-competitors, you may not be able to tell much of a difference.
I don't like to see standard speed configurations because they don't differ much in price. On this bike, you can only get a 2×8-speed kit instead of the previous 2×9-speed kit. This has a significant impact on speed. On the other hand, you only need to upgrade for a little extra money to get a product with almost the same performance as the previous one.
3. 2022 Giant Escape Disc 3 ($650)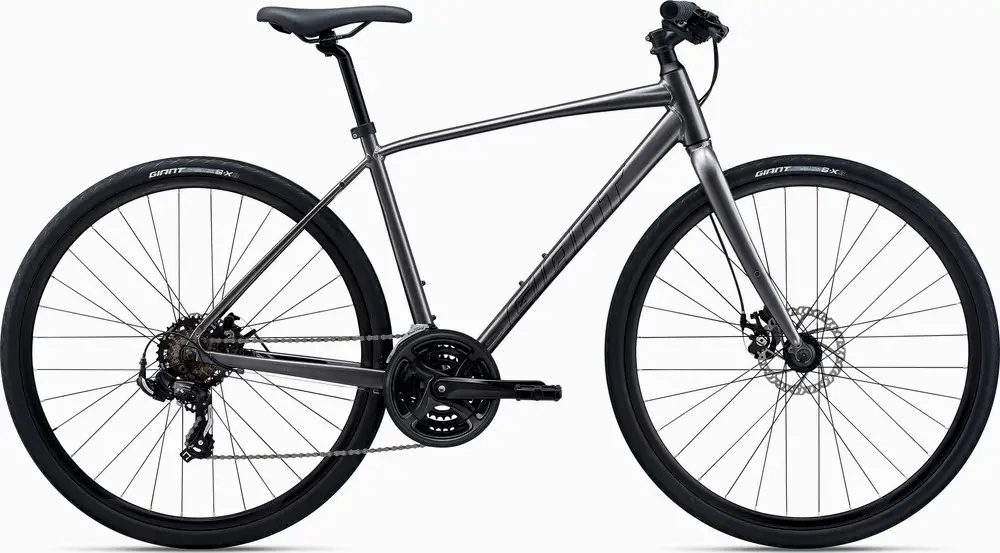 Kit: Tourney
Brakes: Mechanical Disc
Gear: 3×7
Frame material: Aluminum/Steel
What we like about it: Affordable price, striking a balance between price and performance.
What we don't like about it: The backward 3×chainring.
Is Giant Escape Disc 3 Worth Buying? [2022 Giant Escape Disc 3 Review]
From here, it's the most popular price range for the Escape series, at just over $600. And you get a comfortable commuter bike. A further change has been made to the fork, which is made of chromoly steel. Although it will add weight, in my opinion, steel has better cushioning than aluminum and is more durable. Meanwhile, the mechanical disc design is not as efficient and stable as the hydraulic disc, but it is simpler and more reliable than the rim brake. Even on rainy days, there is no slippage.
One bad news, it uses a very outdated 3×chainring group. This is a rather old design even for a mountain bike. The complex shifting is not easily used on fast rides, and I've mentioned this old friend of mine more than once. One of his Giant mountain bikes still has a few gears in mint condition after ten years of riding because he never used it.
4. Giant Escape 3 ($550)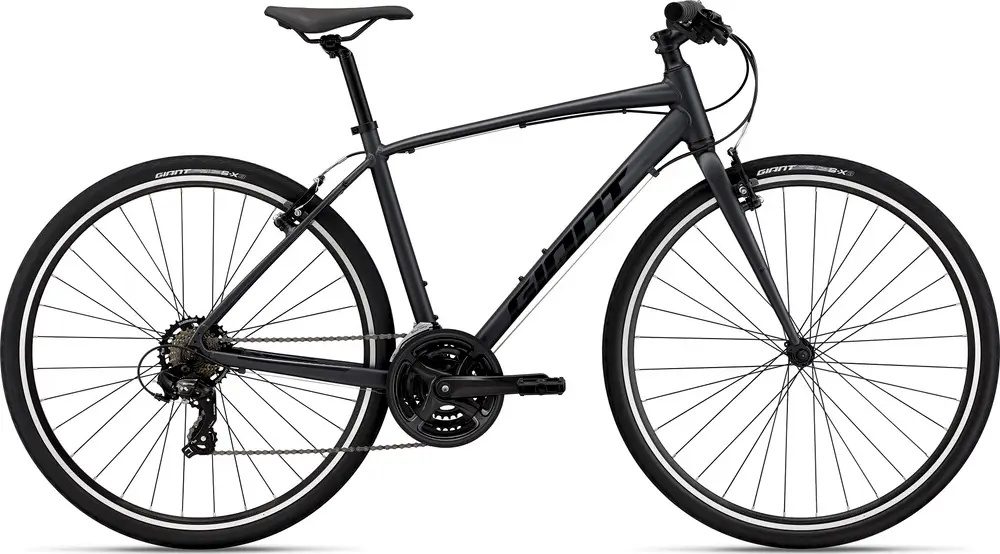 Kit: Tourney
Brakes: Rim
Gear: 3×7
Frame material: Aluminum/Steel
What we like about it: Rim brakes.
What we don't like about it: Rim brakes.
This bike is in the same series and level as the previous one, and all the configurations are almost the same. So I don't want to go into too much detail. The only difference is that it uses a rim brake design, and there are no other differences. Rim brakes have many advantages, such as high quality, easy maintenance, lightweight, and easy disassembly and assembly, making them a popular choice for many riders. Despite the growing popularity of disc brakes today, rim brakes are still favored by some niche riders.
At the same time, rim brakes also have a disadvantage. They are not as efficient as disc brakes, and braking power can easily decrease or even slip on downhill roads in rainy weather. But this does not affect the love of many rim brake enthusiasts for this type of brake, as it still has many advantages.
5. 2021 Giant Escape 3 Comfort ($590)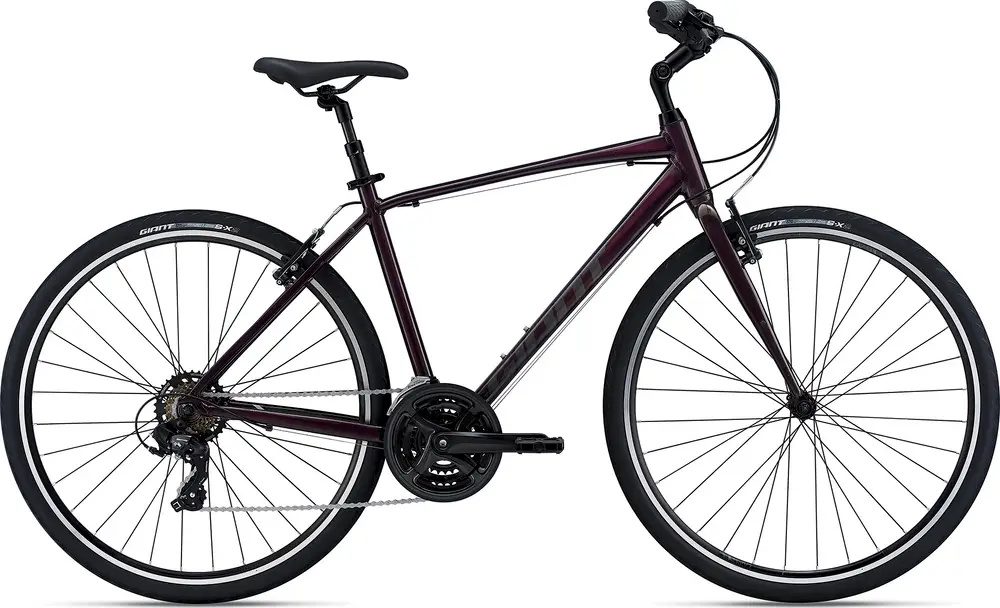 Kit: Tourney
Brakes: Rim
Gear: 3×7
Frame material: Aluminum/Steel
What we like about it: The comfortable riding position and adjustable handlebar angle.
What we don't like about it: It may not get very fast.
This bike is designed by Giant specifically for comfortable commuting and has the same configuration as the Escape 3 above. However, there are different changes in the handlebar configuration and saddle cushioning comfort. First of all, the handlebar and stem are configured differently, with an adjustable stem that you can adjust to be higher and more comfortable or lower and more aggressive before riding. The comfortable saddle can also provide shock absorption, and the design below, similar to that of a mountain bike dropper post, can filter out a lot of road bumps.
It may not be able to achieve high speeds and may not be suitable for those who love sports. However, if you just need a lightweight bike for commuting, it will be perfect for you. The high and long comfortable touring handlebar and adjustable stem, coupled with a comfortable and soft spring saddle cushion, make me eager to enjoy my riding journey.
6. 2021 Giant Escape 3 City Disc ($850)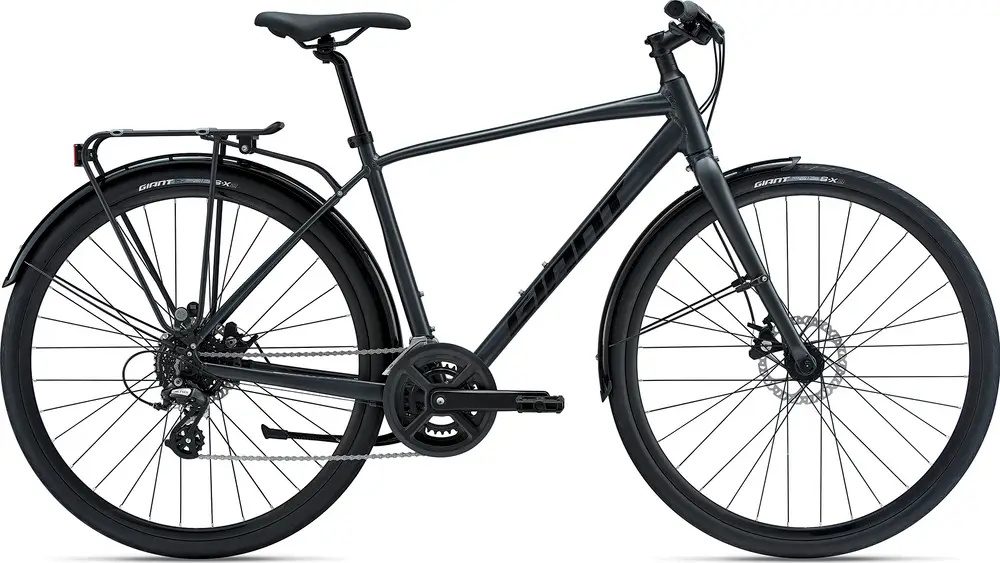 Kit: Altus, Tourney
Brakes: Mechanical Disc
Gear: 2×8
Frame material: Aluminum/Aluminum
What we like about it: Fenders, rear rack, side braces.
What we don't like about it: The greater weight.
This is the Escape series' comfortable touring bike, with a very user-friendly design that includes front and rear fenders, chainring guard, and rear rack design, including side stands. As a result, you can ride it for a long time without feeling tired. Surprisingly, its disc brake design provides more efficient braking performance and excellent performance that will not slip even in rainy weather.
These rich accessories and disc brake design make the bike quite heavy, and you may have difficulty carrying it up stairs or into your home. However, for travelers, this will be a very good bike. The comfortable riding angle and wide tires allow you to ride further.
Product link: https://www.giant-bicycles.com/us/escape-3-city-disc-2021
7. 2022 Giant Escape Jr 24 ($520)
Kit: Tourney
Brakes: Rim
Gear: 1×7
Frame material: Aluminum/Steel
What we like about it: A sturdy frame that is safe for teenage riders and comfortable geometry.
What we don't like about it: Limited height range for adjustment.
The Giant Escape Jr 24 is a youth commuter bike designed for children aged 8 to 12. It's a great choice for kids who want to ride to school, parks, or around the neighborhood. Its geometry ensures a comfortable, upright riding position that is safe for the back and neck.
One potential drawback of the Giant Escape Jr 24 is that it may not be suitable for very tall or very short children. The bike is designed for kids between 4 feet 5 inches and 5 feet 1 inch in height, so it may not be the best fit for those outside this range. However, this can be easily remedied by ensuring that the bike is properly adjusted before purchase. Professional bike shops can help adjust the bike's components to ensure a comfortable and safe ride. For parents looking to encourage their children to ride as a form of transportation or exercise, the Giant Escape Jr 24 is a great choice. With its lightweight frame, comfortable riding position, and reliable components, this bike is perfect for commuting to school or exploring the community.
Gravel Road Bike Purchase Recommendation:
History of Giant Escape
Frame Material: Carbon fibre and aluminum
Driveline & Gearing
Weight of road bikes
Tire selection for road bikes
Who is best for road bikes, rims, or disc brakes?
History of Giant Escape
The Giant Escape is a line of hybrid bikes from Taiwanese bike manufacturer Giant Manufacturing Co., Ltd. Originally introduced in the late 1990s, the Escape series is a versatile and affordable bike for riders looking to commute or get into recreational riding.
Over the years, the Escape series has undergone several design and technological changes to improve its performance and attract more riders. In 2008, Giant introduced the Escape RX Composite, which featured a carbon fibre frame and fork to increase rigidity and reduce weight. In 2013, with the release of the Escape City, Escape 2, and Escape 3 models, the Escape product line underwent a major overhaul. It incorporated advanced features such as disc brakes, lightweight frames, and comfortable saddle designs.
For 2017, Giant released the Escape Disc. it features disc brakes for improved stopping power and handling in all weather conditions. the Escape Disc also features a lightweight ALUXX aluminum frame and ergonomic handlebars for added comfort and control.
Today, the Giant Escape series remains a popular choice for riders looking for a versatile, affordable bike. It can handle a wide range of riding conditions, from city streets to gravel roads and light off-road trails. With its range of models and features, the Giant Escape continues to provide a comfortable and reliable ride for riders of all skill levels.
Frame Material: Carbon fibre and Aluminum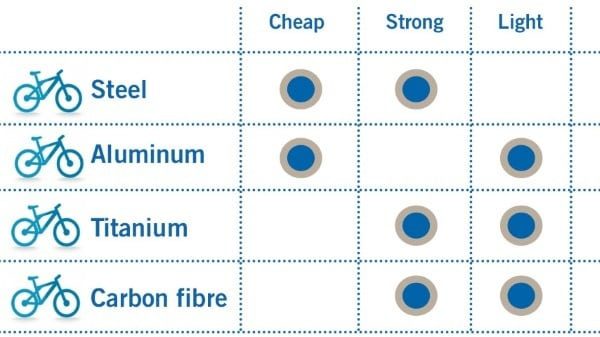 Road bikes can be made from a variety of materials, including carbon fibre, aluminum, steel, and titanium. Each material has its unique characteristics. Aluminum frames still dominate the road bike category, but with the maturity of carbon fibre technology, more affordable road bikes are also using carbon fibre.
In recent years, carbon fibre technology has made great progress, enabling the production of high-quality carbon fibre frames at more affordable prices. As a result, carbon fibre has become increasingly popular in the road bike industry. This is mainly due to its special strength-to-weight ratio, stiffness, and shock absorption performance. Because it can be shaped into complex shapes, carbon fibre frames can be designed to be incredibly lightweight, making them an ideal choice for road racing and climbing.
In addition, they have greater stiffness compared to aluminum frames, improving power transfer and handling. Carbon fibre frame designs can also absorb more road vibrations, providing a more comfortable riding experience. They are also corrosion and fatigue-resistant, ensuring their durability and lifespan.
All in all, the combination of lightweight, stiffness, shock absorption, aerodynamics, and durability makes carbon fibre frames an attractive option for road bike enthusiasts. However, it is worth noting that carbon fibre frames may be more expensive than frames made from other materials and may require more care to prevent damage from impact.
Below is a brief introduction to each material:
Carbon fibre
Carbon fibre is a popular choice for high-end road bikes because of its excellent strength-to-weight ratio, stiffness, and shock absorption. Carbon fibre frames can be designed to be very light, which is ideal for climbing, and provide a very comfortable riding experience. However, carbon fibre may be expensive compared to other materials.
Aluminum
Aluminum is a lightweight and durable material with good stiffness and strength, making it an affordable choice for many road bikes. However, aluminum frames can transmit more road vibration, which can make for a less comfortable ride.
Steel
Steel is a classic material that provides a smooth and comfortable ride due to its excellent shock absorption. It is also durable and relatively affordable compared to carbon fibre. However, steel frames tend to be heavier than carbon fibre or aluminum frames.
Titanium alloy
Titanium is a high-end material that has excellent strength, durability, and corrosion resistance. Titanium alloy frames are relatively rare and often expensive. But they offer a comfortable riding experience and can last a long time with proper care.
In conclusion, each material has its unique advantages, and the choice depends on factors such as budget, riding style, and personal preferences.
Driveline & Gearing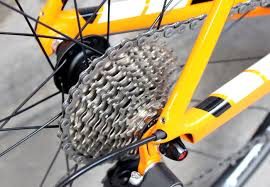 1x, 2x, and 3x gears refer to the number of chainrings on a road bike crankset. Each configuration has its advantages and disadvantages, as outlined below:
1x Gears
Advantages:
Simple and lightweight, with fewer components and lighter weight.
Easier to use, with one shifter controlling both the front and rear derailleurs.
Provides a wide range of gears suitable for many riding conditions.
Disadvantages:
A wide enough gear range may not be available in extreme conditions, such as steep hills or fast descents.
Smaller gears between gears may require more frequent gear changes to maintain optimal cadence.
Less efficient than 2x or 3x gears, especially at higher speeds.
2x Gears
Advantages:
Offers a wider range of gears than the 1x, making it suitable for more terrain.
Provides smaller gear intervals allowing for a more efficient pedaling cadence.
More effective than 1x gear at higher speeds.
Disadvantages:
More complex than 1x gears, with more components and weight.
Requires more skill and coordination to shift both front and rear derailleurs.
May not be suitable for extremely steep climbs or extreme conditions.
3x Gears
Advantages:
Provides the widest range of gears, making it suitable for the most diverse terrain.
Smaller gear increments allow for a more efficient pedaling cadence.
Easiest to use, with a separate shifter controlling both the front and rear derailleurs.
Disadvantages:
Most complex and heaviest option, with more components and weight.
Requires the most skill and coordination to shift all three front chainrings.
Less efficient than 2x or 1x gears at higher speeds.
In summary, each type of gearing has its advantages and disadvantages, and the choice depends on the rider's preference, fitness level, and the type of terrain they will encounter. 1x gearing is simple and lightweight, but may not have enough gears for extreme conditions. 2x gearing provides a good balance between simplicity and versatility. 3x gearing offers the widest range of gear options but is the heaviest and most complex choice.
Weight of road bikes
The weight of a road bike is an essential factor for cyclists, especially those who want to maximize speed and performance. The weight of a road bike depends on a variety of factors, including the material of the frame and components, the amount of gearing, and the size of the bike. In general, lighter bikes will be more expensive due to the higher cost of lightweight materials.
A typical road bike can weigh anywhere from about 18 lbs (8.2 kg) to 25 lbs (11.3 kg) or more. However, there is no clear "ideal" weight for a road bike. This is because it depends largely on the rider's goals and preferences. Professional racers usually prefer the lightest bike possible because it can make a big difference in their performance over long distances. However, for casual riders or commuters, a slightly heavier bike may be more comfortable and practical. Especially when they encounter hills or rough terrain.
It is important to note that while a lighter bike can provide advantages in speed and handling, it is not the only factor that determines performance. Fit, comfort, and the quality of components also play a crucial role in a road bike's performance. Ultimately, the choice of bike weight depends on the rider's priorities and budget.
Tire selection for road bikes
Tire selection for road bikes is not as size-specific as it is for mountain bikes, and most fast-rolling road tires use 700C wheel sizes. Choosing the right tires can be a miraculous experience. Even though it doesn't come in contact with your body, you can feel the difference when riding them.
In most cases, road tires fall within a diameter range of 23-28mm. However, gravel and off-road tires can sometimes exceed 35mm. But thinner tires aren't always faster. A recent study found that using wider 28mm tires reduced rolling resistance by nearly 25% compared to super-thin 21c tires. This is because larger tires have a smaller contact area, and wider dimensions minimize rolling resistance and sidewall deformation, making the tires faster. The Focus IZALCO MAX 8.7, which is focused on extreme aerodynamics, also proves this point by using 28c outer tires.
Who is best for road bikes, rims, or disc brakes?
It is clear that disc brakes are replacing modern road bikes, and almost all modern road bikes use disc brakes. While other bikes offer a choice of disc or rim brakes, there are not many higher-priced models that only offer rim brakes.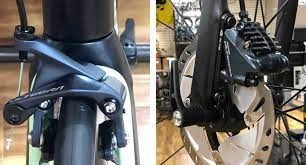 This is because the bilateral braking principle of disc brakes provides more consistent braking, better regulation, and greater overall braking capacity, regardless of the weather. But on the other hand, they are heavier than rim brakes. That's why we rarely see disc brakes on the ultimate lightweight road models.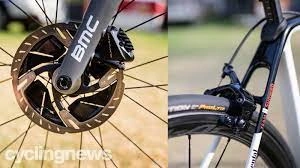 Most high-end disc brakes fit hydraulic calipers. You may still see mechanical calipers on cheaper bikes, but the price range for disc brakes is gradually dropping. We are starting to see hydraulic calipers on more and more affordable bikes.
Summary
The Giant Escape series offers a range of models to meet the preferences and needs of different riders. the Escape 1 is designed for the more serious rider and features a 2×9 drivetrain and hydraulic disc brakes. the Escape 2 and 3 are more entry-level models, perfect for those who want a reliable bike for commuting and recreational riding. All models in the series feature Giant's signature quality and attention to detail with components such as Shimano drivetrains and t Ektro brakes. By the way, if you want to go riding in well-known terrain or special terrain, you can book your accommodation on Skyscanner. It is not only rich in variety but also easy to operate.
In this list, we have listed a variety of road bikes from the Giant Escape full series. This includes the most expensive racing commuter series, the most affordable casual comfort series. There are also bikes for long rides and lightweight bikes for climbing. There are even race bikes for junior competition, off-road road bikes that can conquer the wilderness, and commuter road bikes for beginners.
If you like our content, feel free to share it with your friends! If our content is helpful to you, you can click the email subscribe button below! Thanks for your support!