We use affiliate links and may receive a small commission on purchases.
Liv Rove 4 Disc
Price: $650
Category: Hybrid Bicycle
Frame: Aluminum
Gear: 2×7
Tires: 700x42c
What we like about it: Excellent components and hydraulic disc brakes perform well over city streets.
What we don't like about it: Too sparse a selection of colors.
Rating (4.6/5)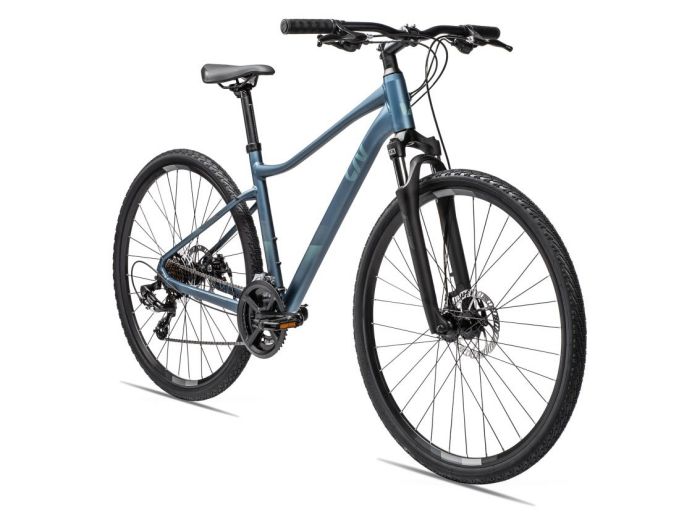 For women, it may not be so easy to pick a bike product that they like. Many bicycles on the market are sized more in line with men's figures, but Liv Rove has taken note of this. Liv Rove is aware of this and has introduced many women-oriented bicycles to ensure comfortable and stable travel for women. Of course, this includes the 2022 Liv Rove 4 Disc, which is the subject of today's introduction.
The Liv Rove 4 Disc is a branded hybrid bike for women, with a strong riding performance that is suitable for many surfaces. Whether it's city streets, winding alleys, or forest trails, this bike delivers a satisfying ride, providing comfort and reliable control. The responsive, fast disc brakes maintain strong braking power even in rainy weather.
To make the results more informative for you, here we elaborate on the performance, key features, components, and specifications of the Liv Rove 4 Disc while riding and other versions of the series.
If you want to know more, you can follow us.
City Riding
If you are looking for a faster ride, the Liv Rove 4 Disc seems to help more. It has a 2X7 drivetrain, which allows me to ride at speeds of 30+ mph. Of course, this is also thanks to its large 700c tires, and the 42c width will give me a much smoother ride.
The first road we chose was the 5km road out, it wasn't too crowded, and the road surface was, well, flat and smooth, except for the last two kilometers of construction.
The ALUX aluminum frame set not only brings lightweight but also prepares us to be able to steer more deftly. The slightly wider 42c tires do make steering a little more difficult, but most female riders are not looking for faster riding speeds. A smooth ride makes for a better riding experience.
The large 700C tires rolled smoothly providing great traction on my path forward. The large, wide tires give me a great sense of security. It is worth mentioning that it doesn't have tire slippage due to overtaking in corners. The strong grip clings to the ground thus giving me great stability.
In addition, the 63mm travel shock fork absorbs shock and enhances control. So this bike was able to help me get through those difficult two kilometers. Unlike men's bikes with drivetrain enhancements, women's hybrid bikes will focus more on comfort. We found the Liv Rove 4 Disc's grip to be the soft Liv Ergo during our not-so-long commute to the road, and the slightly elevated handlebars maintain a sit-to-stand riding position. And of course, there is the LIV exclusive Liv Sport Comfort saddle, which allows me to ride further. I love the Liv Rove 4 Disc, it lives up to its name as a commuting tool and is a novel experience every time.
Leisure Riding

Not only in our daily ride on commuting roads, but even in casual trail riding, the Liv Rove 4 Disc showed a riding performance on gravel roads that our team admired.
I met up with photographer tom at the Corner 41 Cafe. To test this bike's riding performance on different trails, we took a long detour and chose a gravel and dead branch spreading to the single-track trail. I was looking forward to how the Liv Rove 4 Disc would perform on it.
What was surprising about the ride was that I expected to be bumped around like before, but the truth is that I didn't feel a huge jittering sensation. On the contrary, I enjoyed the light mass of vibration compared to Tom's speed. I believe the 63mm travel suspension plays a big role in this, and Rove has made good use of it and put it to good use. Not only that but the D-fuse seat post that comes under the seat. The proprietary seat post has a D-shaped cross-section to dampen road vibrations, providing the most stable driving speed with double insurance. This is also the secret weapon of Liv Rove 4 Disc.
Also, the 700c tires are still the perfect size for me. The stable ride gives me a good view of the surrounding scenery and I don't have to worry about blowouts from the excessive pressure on the tires (I hate that sight). The puncture-resistant tires that come with the 2022 Liv Rove 4 Disc prevent blowouts. You know that tires can be expensive to repair.
If you're looking for a bike for your everyday riding, then I think this bike might be the perfect choice for you.
Main Features
Frame
Unlike rigid materials, 6061 aluminum alloy has strong as well as light performance. To be honest, it's not too heavy, at least for me. Maybe Liv Rove 4 can create more options in terms of colors, and I always look forward to that day.
The clean internal alignment is very soothing to me. It doesn't leave the cables exposed like the upper bikes but instead has a tight internal tuck. So I don't have to worry about it detaching from the bodywork, which serves me well on the ride.
Of course, thoughtful design is also essential. If you expect to go to Yellowstone Park with two or three friends, then you do not have to worry about the water problem. You can arrange a bracket at the seat tube and a down tube to place your water cup. The large capacity of the water source will solve your tiredness of traveling.
Geometry
Geometry setup is critical for every rider. A veteran rider is extremely sensitive to geometry and small adjustments can make a huge difference to his line.
The 23.7°stack is friendly to many women and allows them to maintain a perfectly comfortable position without having to hunch over. At the same time, the 70.5° head tube angle is also moderate, whether climbing or descending, I can be in the most suitable posture for the distance traveled.
Believe me, the Liv Rove 4 Disc has always been able to have a unique design for female structures in terms of geometry settings.
Components and Specifications
Shimano 2×7 Drivetrain
The choice of drivetrain, Liv Rove 4 Disc his choice is still in the direction followed by the market. Shimano is a guarantee of quality specifications, in my opinion.
The 2×7 drive system allows for a wider choice of speeds. If you have more demanding requirements for the feeling of speed, then this bike is sure to meet your expectations.
Personally, when I encounter a gravel path, I shift to the lowest gear. This setup allows for faster driving speed. With the suspension installed on the Liv Rove 4 Disc, I can easily conquer bumpy roads.
If I had to make a suggestion, I would prefer that Liv Rove 4 Disc be replaced with a 1x system before the next revision. After all, 2x is still too complicated for many people.
SR Suntour NEX 700C 63mm Suspension Fork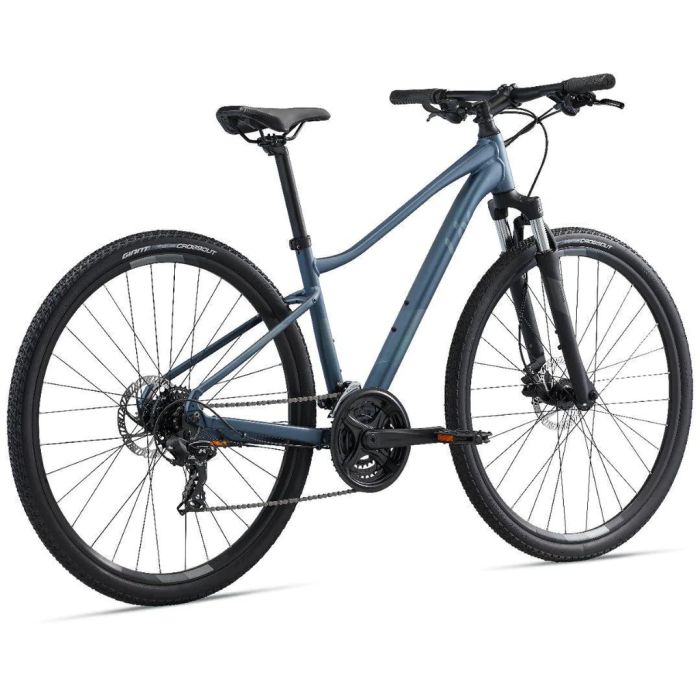 While a rigid fork is great for reducing the cost of the bike, it doesn't feel like it's enough for commuting around town or on country roads. This bike uses the SR Suntour fork. Although the amount of travel is only 63mm, this effectively reduces the impact of simple gravel roads.
We tried more off-road riding, which is not the terrain the Liv Rove 4 Disc is best at. We did test the Schwinn Sierra on our comparison ride. it increased the fork travel to 80mm, which would be better for me to get through the woods on the street.
On the one hand, the SR Suntour fork is low to mid-range fork in our opinion, and putting it on a mountain bike would not be enough to use it. On the other hand, it would be great for low-level commuting or gravel roads, and I don't mind it on my hybrid bike.
Tektro CL-330R Disc Brake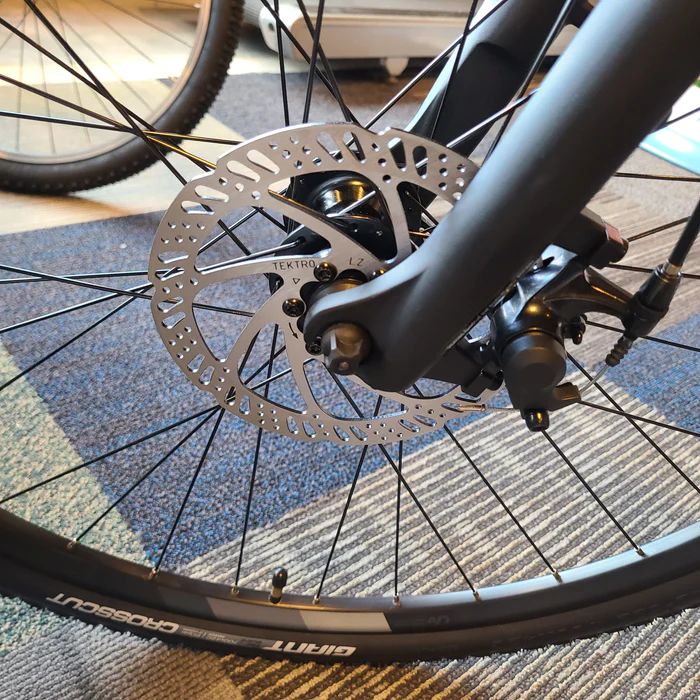 The disc brake will be more striking than the cable pulls brake. Of course, I'm not talking about its appearance, but the performance it exhibits. You know I have suffered a lot from cable pull brakes.
Even in rainy weather, the disc brakes on the Liv Rove 4 Disc showed great superiority. When something unexpected happened on the road, I held the brakes tightly and braked quickly without too much inertia forward due to the slippery road. This is also an impressive experience for me during the ride.
I am very satisfied with the fast braking ability shown by the disc brake. I believe it will also be one of the important factors in my future bike choice.
700x42c Tires
As we all know, the size of the tire is a very prominent presence in the riding experience. The larger the tire, the faster the speed and the more stable the center of gravity. The 700c large tires of this bike give me a sense of security that speaks for itself.
When I rode on top of the Liv Rove 4 Disc, the tires were able to grip the ground. I could feel the rustle and it wasn't as loud as I thought it would be.
Of course the most noteworthy is the Liv Rove 4 Disc Giant Puncture Protection Tire, tire maintenance is a must for every rider.
I have always faced flat tires as well as slick tire accidents before. But with this bike, the 700c tires keep spinning fast while you don't have to worry about a flat tire.
Other Versions Of Liv Rove 4 Disc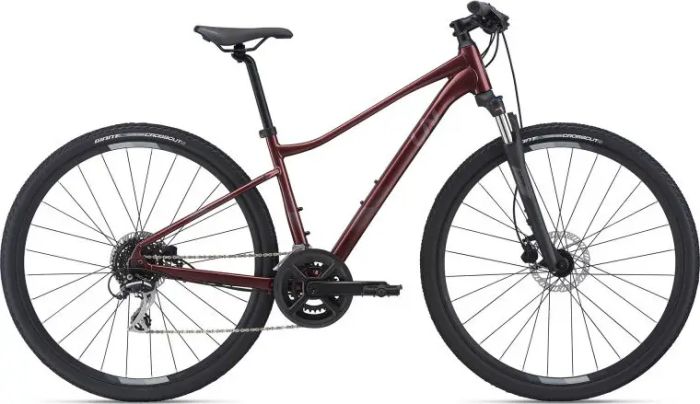 Of course, our review is not limited to Liv Rove 4 Disc, we also measured other versions of Liv Rove. As a comparison experiment, we compared some of their component specifications to give you a better choice.
The 2022 Liv Rove 4 Disc features a 3F design concept and Liv Right Sizing and a lightweight ALUXX aluminum frame that has been maintained to a certain level. The Giant CrossCut is still standard, and the 700x42c puncture-resistant tires still allow me to travel freely in the sand.
The Liv Rove 3 Disc does not have the blue color I like. This point perhaps ROVE can improve a little, and may be able to attract more female consumers.
The Liv Rove 4 Disc is perhaps more of a price party, but of course, you can't ignore the price factor. If you choose the Liv Rove 3 Disc, you may have to pay more.
What do we like about it?
1. The perfect road geometry can maintain a comfortable sitting position.
2.700C tires ensure fast rolling performance and are not easily damaged.
3. Excellent front fork configuration can adapt to rough roads.
4.2×7 drive train for wider speed selection.
5. Comfortable seat, will make you want to stop riding.
What don't we like about it?
1. Too scarce color selection.
2. Stricter maintenance prices.
3. The original pedal is not strong enough.
FAQs
What is the price of the Liv Rove 4 Disc?
The Liv Rove 4 Disc price is $650.
What are the size models of the Liv Rove 4 Disc?
The Liv Rove 4 Disc is available in XS, S, M, and L.
What is the gear configuration of the Liv Rove 4 Disc?
The gear configuration of the Liv Rove 4 Disc is 2×7.
What is the tire size of the Liv Rove 4 Disc?
The Liv Rove 4 Disc tire size is 700x40c.
Size chart for Liv Rove 4 Disc.
| | | | | |
| --- | --- | --- | --- | --- |
| | XS | SM | MD | LG |
| Sizing | 4'10" – 5'5″ | 5'2″ – 5'7″ | 5'4″ – 5'9″ | 5'6″ – 6'1″ |
Liv Rove 4 Disc Specs
| | |
| --- | --- |
| BIKE | Liv Rove 4 Disc |
| Frame | ALUXX-Grade Aluminum, discColors: Terra Roza; Blue Ashes |
| Fork | SR Suntour NEX 700C, 63mm, disc |
| Rear Shock | N/A |
| Bottom Bracket | sealed cartridge |
| Stem | Giant Sport XS:75mm, S:75mm, M:75mm, L:90mm |
| Handlebar | Giant Sport XC, 25.4mm XS:64cm, S:64cm, M:68cm, L:68cm |
| Saddle | Liv Sport Comfort |
| Seatpost | Giant D-Fuse, alloy |
| Pedals | platform |
| Grips | Liv Ergo, dual density |
| Rear Derailleur | Shimano Tourney RD-TY300 |
| Front Derailleur | Shimano Tourney |
| Crank | forged alloy, 30/46 XS:165mm, S:170mm, M:170mm, L:175mm |
| Shifters | Shimano Altus SL-M315, 2×7 |
| Cassette | MF-TZ500, 14×34 |
| Chain | KMC Z7 |
| Brakes | Tektro HD-TKB 172 [F]160mm, [R]160mm |
| Brake Levers | Tektro CL-330R |
| Rims | Giant GX Disc |
| Spokes | stainless, 14g |
Video
Comparison Table
| | | | | | |
| --- | --- | --- | --- | --- | --- |
| Bicycles | Price | Frame | Tire Size | Front Fork Travel | Click view |
| Schwinn Sierra | $648 | Aluminum | 700c | 80mm | Click view |
| Ghost SQUARE CROSS Base W | $699 | Aluminum | 700c | 63mm | Click view |
| Raleigh Route 2 | $651 | Aluminum | 700c | 75mm | Click view |
| Liv Rove 2 Disc | $951 | Aluminum | 700c | 63mm | Click view |
2022 Liv Rove 4 Disc vs 2022 Schwinn Sierra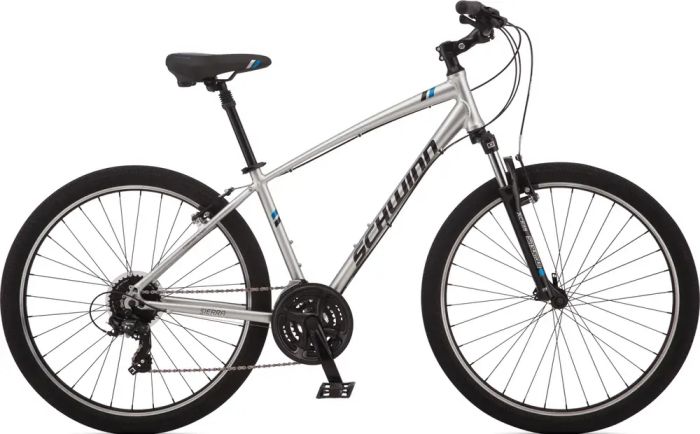 I'm sure the Schwinn Sierra is a strong competitor for the Liv Rove 4 Disc. As hardtails go, there is no big difference between the two. The aluminum body is also equipped with 700c tires, so if you're a fan of this, it's a bit of a toss-up for you.
Of course, the impact of geometry is not to be ignored. After all, a bike's invisible configuration in the ride has a vital role to play.
The 69° angle of the Schwinn Sierra is less than that of the Liv Rove 4 Disc. This may be a bit of a hindrance on your downhill sections. Also, it does not have a puncture prevention system on the tires like the Liv Rove 4 Disc. So you may have trouble with flat tires.
In my opinion, for the same price, the Liv Rove 4 Disc is probably better for your daily commute. After all, maintaining your tires can be expensive.
Learn More: 2022 Schwinn Sierra Review – A Hybrid Bike Loved by Youth
2022 Liv Rove 4 Disc vs 2021 Ghost SQUARE CROSS Base W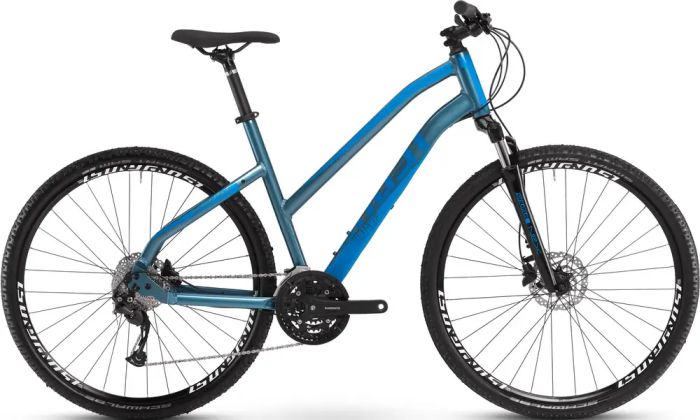 Ghost SQUARE CROSS Base W is perhaps also in line with the popular choice on the market, in terms of brakes chosen by Shimano. this is also my favorite brand because it does give me a very deep impact deep.
But maybe the drivetrain will be something we pay attention to, the 3×9 drivetrain is still too complicated for me. It will take me a long time to get used to it, knowing that I am not as curious as my son is about speed control.
If you're serious about speed, you can probably go with the Ghost SQUARE CROSS Base W. But you'll also have to accept the relatively heavy weight.
2022 Liv Rove 4 Disc vs 2021 Raleigh Route 2
The Raleigh Route 2 may be more suited to the challenge of rough single-track trails. Because the fork travel has been increased, the 75mm length may be sufficient for your entry-level challenge race.
While the Liv Rove 4 Disc's performance may be a little weak, don't forget those city roads are the Liv Rove 4 Disc's main battleground. While the 3×8 speed adjustment may not be as friendly, there are certainly many who prefer it.
Not only that, but in our tests, the Raleigh Route 2 is the fastest – 61km/h. If you need more speed and like the feeling of flying, then I think the Raleigh Route 2 is probably the best choice for you. However, I must admit that if the brakes were replaced with hydraulic discs, there would be more demand for them.
If you're more focused on city riding, I think the Liv Rove 4 Disc would be a good choice.
2022 Liv Rove 4 Disc vs 2022 Liv Rove 2 Disc
The Liv Rove 2 Disc is a big step up from the Liv Rove 4 Disc, both in terms of price and component specifications. They share the same frame geometry.
The Liv Rove 2 Disc may not be as fast as the Raleigh Route 2, but if it's just for your daily ride, then I think it's something to try. After all, the 63mm fork travel still provides good damping on light gravel.
The tires are the same specification as the Liv Rove 4 Disc, and the puncture resistance saves you a lot of money on repairs. You know that good tires have a major impact on the riding experience.
I have to admit that the Liv Rove 2 Disc's drive is my favorite speed control system for the 1x. Of course, it's also the most trendy configuration on the market. As you know, I hate overly broad speed regulations. Because the 1x configuration allows me to find the right speed for the road very quickly.
In case, the above comments are helpful to you, please remember to share the subscription. Have a great day!