We use affiliate links and may receive a small commission on purchases.
Canyon Roadlite 6 Review
MSRP: $1099.00
Weight: 9.9 kg
Frame: Aluminum
Fork: Carbon
Tires: 700c x 30c, except XS size, special 650b x 30c wheel diameter
Drivetrain: 2×11
What we like about it: An ultra-fast hybrid bike built at a superb price point.
What we don't like about it: The Shimano 105 groupset leads to the Proposition 65 Warning, which makes many uninitiated people hesitant about it.
Rating (4.75/5)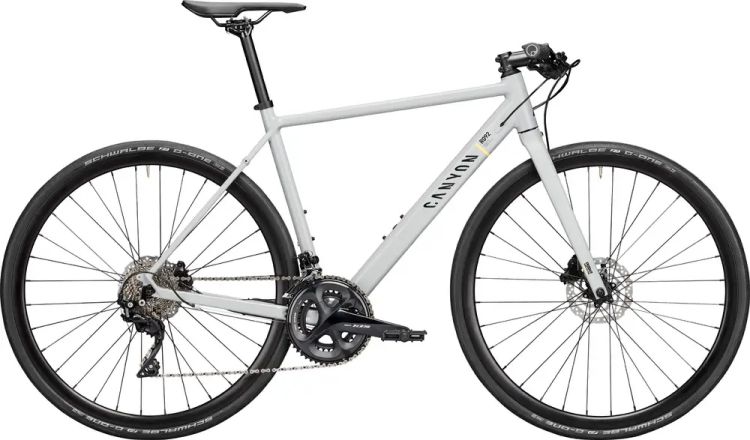 If you are considering looking for a lightweight and fast hybrid bike for fitness or travel, take a few minutes to read through this article.
As we all know, aluminum frames with carbon forks are not uncommon on road bikes. But for around a thousand dollars you can additionally have the configuration of high-quality Shimano components, which I believe is enough to make your heart flutter.
And Canyon Roadlite 6 its light stance and excellent speed performance conquered American fitness enthusiasts.
Here's a breakdown of the 2022 Canyon Roadlite 6's ride, key features, components, and specifications, as well as other versions.
If you are interested in fitness bikes, please remember to follow us. We will keep updating more real bike reviews.
Canyon Roadlite 6 Fitness Cycling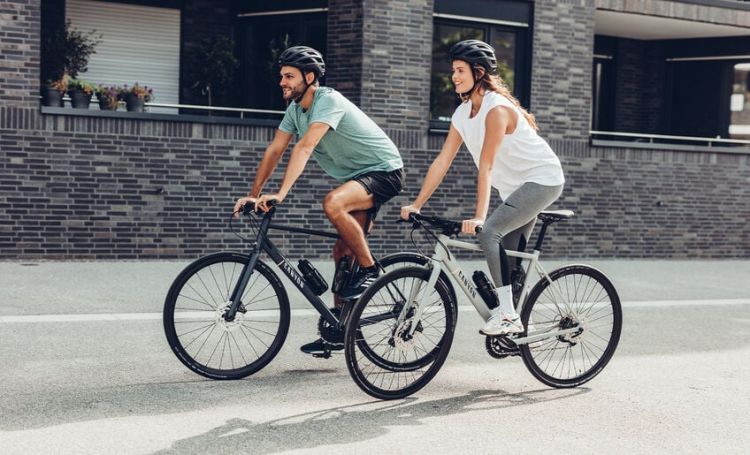 The biggest thing that impressed me about the Canyon Roadlite 6 was that it was fast enough. Every vacation, I always used to spend a half day to let it accompany me out to the gym.
Although my fitness route is a road, occasionally encounter uneven roads or gravel paths, and its performance is enough to make me satisfied.
First of all, the wide flat handlebar allowed me to open my chest more fully and I felt better breathing. This allowed me to replenish my physical strength.
To its credit, it has a very unique Ergon GA3 grips design. Because it makes me always feel the position of the palm of my hand, there is a support force leading me to continue to move forward.
Combined with the fact that the Canyon Sport Saddle is very comfortable, my sit bones are greatly relieved. Even on long rides, I don't feel pain or discomfort.
Secondly, the Shimano 105 2×11 drivetrain understands my quest for speed too well. I can feel the trees on both sides of the road as soon as I pedal normally, and they are all running fast behind me.
If you accelerate the pedaling frequency, the wind in your ears will also start to become harsh.
Fortunately, the Shimano MT201 Hydraulic Disc is sensitive enough. Whether I'm pedaling at high speed, or downhill when gravity acceleration has something to feed fast, it can call the bike to a stop in time with quick and unbalanced braking means.
In the end, the Schwalbe G-One's tires were not wide enough, but they did not shy away from the broken tarmac. I slowed down and passed with ease, and my arms didn't feel the pain from the bumps. That's because the carbon forks cleverly wiped them out.
Canyon Roadlite 6 Commuter Riding
I was a little shocked when I first came across the Canyon Roadlite 6. The reason is that its handlebar is different from the flat handlebar of a normal road bike.
Although I was a little uncomfortable at first, I completely fell in love with the design after my first wonderful commute with it.
Because it allows me to be in a relatively upright position on my own, as well as having more open space to maneuver. And when dealing with complex road conditions with heavy traffic, it is quicker and more convenient to control and facilitate my avoidance of vehicles and pedestrians.
Therefore, it is better to use it for commuting.
Main Features
Frame Group
The Canyon Roadlite 6, the alloy version of the Roadlite CF series, uses the lightweight Canyon Roadlite AL as the frame. Considering the damping effect, it is also paired with a carbon front fork. And with the style of internal alignment and Light Grey paint job, the whole body looks simple and high-end.
In addition, to enhance flexibility, the Iridium and flat handlebar design are used, making the Roadlite 6 a solid, fast, lightweight fitness bike.
Commendably, the full-coverage fenders and the mounting holes for the rear rack allow the rider to have more room to use.
Geometry
I believe that when most people see the Canyon Roadlite 6 1.39 Stack/Reach Ratio (LG), they think that its geometry is too aggressive and must be waist-hungry to ride.
But the truth is, it's not as bad as you might think. Because of the flat handlebar design, the rider can have a more upright riding position.
The Canyon Roadlite 6 is not designed for comfort either. Apparently, in pursuit of speed, it uses an ultra-low trail (64mm) in pursuit of agility.
Secondly, the steep 72.2° Head Tube Angle also indicates that it expects more flexible steering and faster running speed.
Finally, the 415mm chainstay length and the 1045mm wheelbase (LG) make Roadlite 6 users the most agile riders on the road.
Components and Specifications
Shimano 105 2×11 Drivetrain
Talking about the speed performance of Canyon Roadlite 6, we have to mention the colorful Shimano 105 groupset.
First, the technology improved 105 R7000 rear derailleur features Shadow technology for smoother shifting performance.
At the same time, the shifting performance is further optimized with premium technologies such as Dura-Ace and Ultegra series for smoother and smoother shifting.
Secondly, the 2×11 has a very wide range of gearing. Whether the rider is cruising or climbing or descending, he can find the most suitable gear ratio for him.
Finally, the Shimano R7000 105 crank has been optimized to strike the perfect balance between weight, efficiency, and comfort without sacrificing stiffness. As a result, the rider's pedaling will receive maximum power transfer.
The only regret is that the Shimano 105 contains compounds in the State of California that can cause cancer and birth defects or other reproductive harm, which makes the Canyon Roadlite 6 disappointing for many users who are concerned about this.
Here, I also hope that Canyon can consider changing to a higher quality, healthier drivetrain component so that more users can feel the charm of Roadlite 6 with confidence.
Shimano MT201 / UR300 Hydraulic Disc Braking System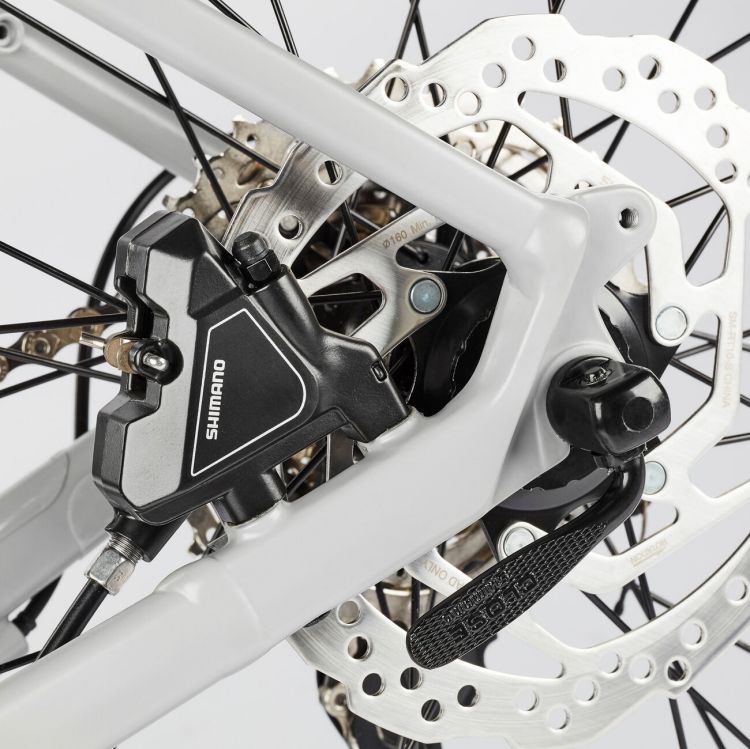 It has to be admitted that hydraulic disc brakes have long been what many riders have been looking for. Fortunately, Canyon Roadlite 6 users can realize this expectation.
The Shimano BL-MT201/BR-UR300 is not quite high-end, but the combination of hydraulic disc brakes and levers provides very smooth braking power.
Whether it's a flat bottom at high speed or a flying downhill, it will always keep you firmly in place whenever you need it.
In addition, the one-way exhaust and oil discharge design makes it a very neat appearance, which even a novice can easily take care of or maintain.
Schwalbe G-One Wheelset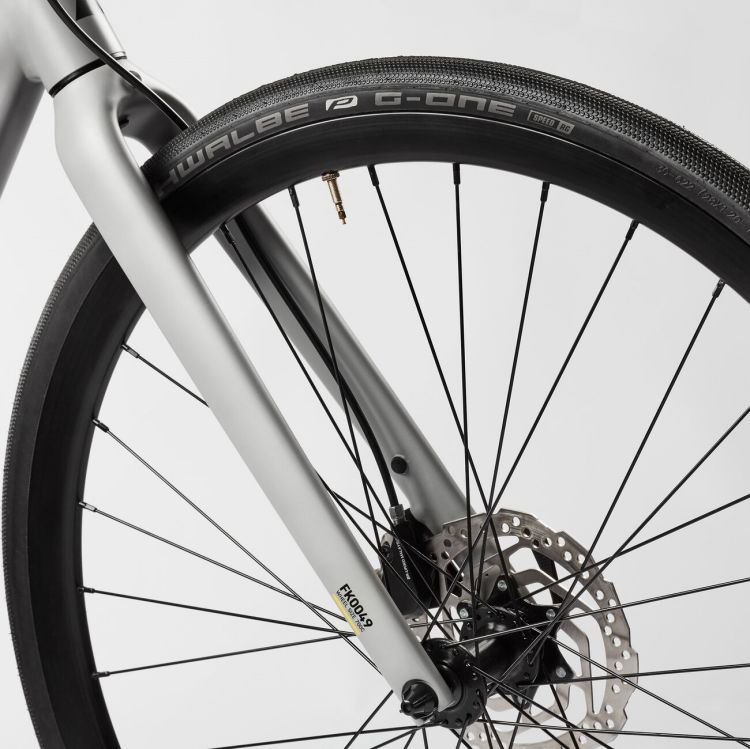 As the Schwalbe G-One Speed name suggests, the G-One is made for speed.
Thanks to the V-Guard protection, this 30 mm road tire is fearless on unpaved and gravel roads.
The ambitious SCHWALBE G-ONE SPEED 30mm tire's polka dot tread design gives it extremely low rolling resistance as well as excellent grip and durability. It provides a grip similar to that of larger-volume tires even in adverse conditions.
In addition, the strong combination of the reliable Shimano TX505 hubs and Alex Rims CRD30 rims makes the tires more confident to face wet roads.
Other versions of Canyon Roadlite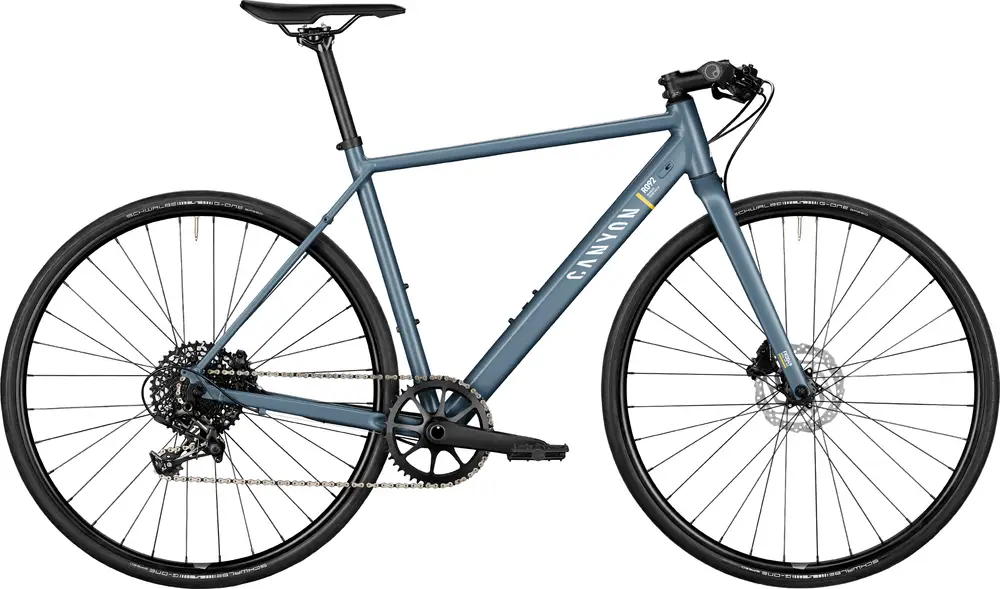 Canyon Roadlite 6 is probably better known as the presence between Roadlite 5 and Roadlite 7.
But the truth is that the Roadlite 5, as well as the Roadlite 7, are both equally good fitness bikes.
To accommodate riders on a budget, the 2022 Canyon Roadlite 5 uses the cheaper SRAM Apex1 on the groupset, making it $200 less expensive than its "brother", but this change doesn't make it any less fast than its "brother". But this change does not make it lose to its "brother" in speed.
In addition, the 2022 Canyon Roadlite 7 is set up for users who are looking for a higher level of handling. And the Shimano Ultegra R8000's Derailleur and Crank make the shifting and pedaling process more silky and smooth. But the upgrade of accessories also means you need to pay more money. But I think it's worth the $1399 admission fee.
Therefore, riders can choose the bike they are more interested in according to their budget and needs.
If you are interested in the other models mentioned above, you can follow us and we will keep updating more interesting bicycle real-life tests.
What we like about it
Unbelievable speed at a great value price.
The lightweight aluminum frame with a carbon fork is visible in both its sturdiness and shock absorption.
The hidden internal alignment makes it look not only beautiful but also extremely minimalist.
The Shimano 105's drivetrain with hydraulic discs makes drivetrain and braking easier and faster.
Iridium Flatbar, stem, and seat post make riding more flexible and comfortable.
The water bottle holder shelf and fender mounting holes are reserved for as many functions as you want the bike to have.
What we don't like about it
The Shimano 105 caused Proposition 65 Warning that worried many users.
FAQs
What is Proposition 65 Warning all about?
Because Shimano 105 components contain chemicals that are carcinogenic or reproductive hazards, it makes many riders panic. But in fact, we all know that there are an exceptional number of people using Shimano 105 components, which will not harm your health if used carefully.
Is the bike comfortable to ride?
Yes. Although the riding position is not quite upright, the Canyon Sport Saddle and the Ergon GA3, Premium grips are very soft and comfortable. Plus the flat handlebar design makes it very easy for the rider to navigate the bike.
You can buy it on Canyon's official website.
If you want to go riding in well-known terrain or special terrain, where is the most convenient place to stay?
You can book your accommodation on IHG Hotels & Resorts, which is not only rich in variety but also easy to operate.
What is the sizing chart for the 2022 Canyon Roadlite 6?
It should be noted that many sizes are already sold out due to their popularity.
| | |
| --- | --- |
| Rider Height (cm) | Frame Size |
| < 167cm | XS |
| 165cm – 175cm | SM |
| 173cm – 183cm | MD |
| 181cm – 191cm | LG |
| 189cm – 198cm | XL |
| 196cm+ | XXL |
2022 Canyon Roadlite 6 Specs
Build
| | |
| --- | --- |
| Frame | Canyon Roadlite AL Color: Light Grey |
| Fork | Canyon FK0049 CF Disc |
| Bottom Bracket | SAMOX Pressfit BB8601 |
| Stem | Iridium |
| Handlebar | Iridium Flatbar, Material: Aluminium, Handlebar diameter: 31.8 mm |
| Saddle | Canyon Sport Saddle EP1249 |
| Seatpost | Iridium, Diameter: 27.2 mm |
| Grips | Ergon GA3, Premium grips design for extra hand support. |
Wheels
| | |
| --- | --- |
| Rims | Alex Rims CRD30 / Shimano TX505 | Alex Rims CRD30 / Shimano TX505 SH11 |
| Tires | Schwalbe G-One Speed 30 mm |
| Disk Rotors | Shimano RT10, Rotor diameter: 160 mm. |
Groupset
| | |
| --- | --- |
| Rear Derailleur | Shimano 105 R7000 GS, Rear derailleur for 11-speed shifting systems., Maximum cassette size: 34T. |
| Front Derailleur | Shimano 105 R7000 |
| Crank | Shimano 105 R7000, 50/34 |
| Shifters | Shimano 105 RS700 11s | Shimano 105 RS700 2s |
| Cassette | Shimano HG700 11-34 11s |
| Chain | KMC X11-93 |
| Brakes | Shimano MT201 / UR300 | Shimano MT201 / UR300 |
Video
Comparison Table
2022 Specialized Sirrus 4.0 vs 2022 Canyon Roadlite 6
Although the 2022 Specialized Sirrus 4.0 uses the higher-end Shimano Sora as well as the microSHIFT R9 in its components, it is not far from the Canyon Roadlite 6 in terms of speed performance.
To its credit, the 2022 Specialized Sirrus 4.0 has a very comfortable geometry that is well-suited for riders with a bad back. And it's worth learning from the Roadlite 6.
But it's not cheap, because I don't think it's wise to pay $1,500 just for a loose geometry.
2023 Marin Fairfax 3 vs 2022 Canyon Roadlite 6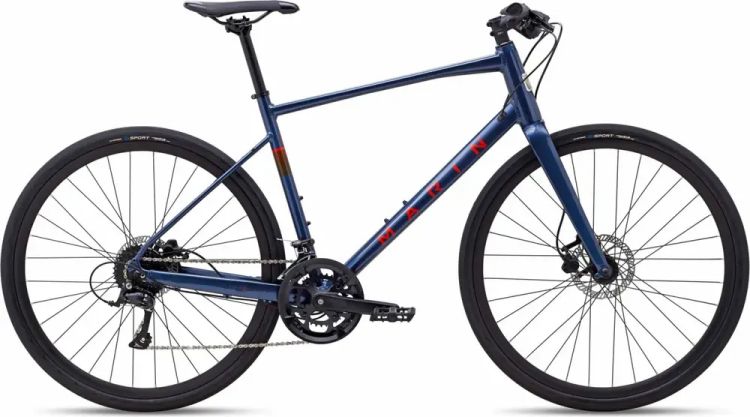 The 2023 Marin Fairfax 3 is very similar to the aforementioned 2022 Specialized Sirrus 4.0 in that it uses a similar groupset combination. But since the components are not as high-end as Sirrus 4.0, it's a little less interesting in terms of speed.
It also has a geometry close to that of the Canyon Roadlite 6, so it's not a comfort bike either.
In summary, if you are looking for comfort and speed, the 2023 Marin Fairfax 3 is a hard choice for both. But the Canyon Roadlite 6 is fast for all to see, so if speed is more important to you, the Canyon Roadlite 6 would be a good choice.
Learn More: Marin Fairfax ST 1 Review [2023]-A Good Value Fitness Bike For A Healthier Way To Get Around
2022 Cannondale Quick 2 vs 2022 Canyon Roadlite 6
I have to admit that the Cannondale Quick 2, which is mainly comfortable, is also commendable in terms of speed performance this time. However, it is not as agile as the Canyon Roadlite 6, especially on busy streets, and the steering of the Cannondale Quick 2 may let you down a bit.
Based on this, the more flexible geometry of the Canyon Roadlite 6, as well as the smoother feel of the operation in practice, would make me somewhat partial to it.
If your purpose of purchase also includes commuting, or if your riding routes are more congested, the Canyon Roadlite 6 may be a better fit.
Learn More: Cannondale Quick 3 Review [2022]- Why You Should Get Your Hands On The 2022 Cannondale Quick 3
2023 Bianchi C Sport – Alivio 4.0 vs 2022 Canyon Roadlite 6
To be honest, I think the 2023 Bianchi C Sport – Alivio is uncompetitive. This is because it doesn't impress me as much as the Canyon Roadlite 6, both in terms of speed and comfort. Moreover, together with the aluminum frame and aluminum fork, it is not more attractive than other bikes of its type, both in terms of sturdiness and shock absorption. So in my opinion, it's not a great value for money.
If you think the 2023 Bianchi C Sport – Alivio is not bad, then I'm sure you'll change your mind after a closer look at the Canyon Roadlite 6.
There is no doubt that is not only a lighter and more vibration-absorbing carbon fork but also a wider speed range of 2×11, which will be the highlight of your attraction.
Learn more : Is Bianchi Specialissima – Ultegra Di2 12V Worth Buying? [2022 Bianchi Specialissima – Ultegra Di2 12V Review]