We use affiliate links and may receive a small commission on purchases.
Planning a picnic outdoors to enjoy time with nature is the best way to de-stress and unwind. Going away for a few days, far from the hustle and bustle of your routine life in the city, certainly brings you the refreshing change that helps in keeping you energized. And I would like to share with you my wonderful experience with Maxfoot electric bike.
Camping is a great activity where you can spend time with nature, rely on your sensory navigation, and soak in the goodness of fresh air and sunlight. You can treat yourself to a wholesome dose of nature and feel the rejuvenating effects of the unpolluted atmosphere uplift you from within. And tents are essential items for camping, so if you have a need, you can learn about the best camping tents.
While hiking and walking across curvy paths and narrow lanes has an exhilarating charm, there are a few places you can only travel if you are on wheels. Traveling is always the top concern, especially when you are on a camping trip. Because of the necessary equipment, moving from one point to another may become tiresome. Since cars cannot gain access on every track, and sometimes the tree-lined trails make it difficult to take your Jeeps over the winding and narrow paths, an E-bike is rapidly becoming the best and safest option for avid campers.
With a fat tire electric tricycle, you can have an unforgettable experience. It is a fascinating experience to enjoy its enhanced stability and ultimate comfort. It provides stable transportation and a balanced ride on this electric three-wheel bike. You can easily access narrow roads and overgrown paths to explore nature's offerings and amplify your camping experience exponentially.
Wonderful Maxfoot Electric Bike
Maxfoot brings you a fantastic electric bike with six different colors. From Black, Dark Green, Candy Red, Yellow, and Neptune Blue to Pearl White, its eccentric colors let you ride around in style. The electric cargo trike has a shock-resistant SAMSUNG 28V 17.5AH lithium battery. With a strong shell battery, the MF30 e-trike gives a 50-70km ride on a 5-hour charge time. It is also waterproof and keeps the electric bike's drive smooth and manageable.
Several appealing features in MF30 make it an ideal choice for people to take on camping trips. Its fat tires give it high traction and are extremely shock resistant, enabling you to take sharp turns and tread on uneven ground. The Maxfoot MF30 electric cargo trike has a high-torque motor and dual disc brake, allowing you to ride confidently at a good speed. Its brushless Bafang geared 750W Hub Motor provides precision balance, and its fat tires and ½ Twist Throttle give it variable speed control and prevent the dangers of imbalance and overturning due to high traction.
With its 5-inch LCD and USB port connection, you can enjoy your trip while staying in contact with the rest of the world and have fun listening to your favorite music, videos, and more. It comes with a completely waterproof basket bag with a vast capacity of a 48L step-through Frame that enhances its look and makes its handling extremely easy. The MF30 fat tire electric tricycle can also help you travel with camping paraphernalia, so you won't exhaust yourself in moving from one place to another. It's designed to provide security with quality and comfort.
Good Partner
Being a battery-operated machine makes this Maxfoot electric bike a perfect partner for your time with nature. It's pollution-free, and the noiseless engine will help you get places without disturbing the peace. Camping with an electric bike is a whole new experience, and once you have taken the trip with it, you will never rely on any other vehicle. It's a low-impact exercise that helps you improve your mental and physical cognitive functions. With security harnesses and water-resistant battery shells, you can fearlessly trek through any part of your camping terrain.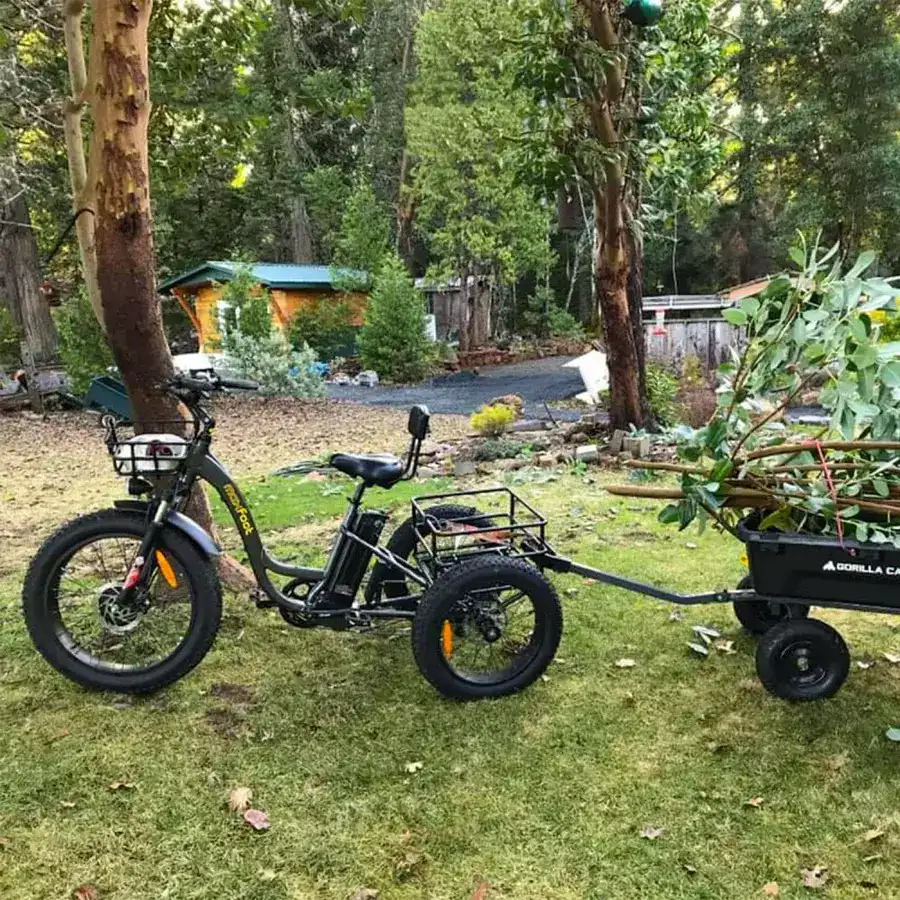 MF30 is not built for speed but for sturdy and reliable travel. You can enjoy the benefits of physical activity with fun and peace of mind because you have a dependable partner who provides you with ultimate comfort and utility. You can easily charge the battery while you take a rest and be on your way the next day with confidence. With its water and shock resistance, fat tires that allow you high traction, and a step-through frame that gives it an enhanced balance against bumps, you can have a fun-filled, exciting camping experience that is easy and memorable.