We use affiliate links and may receive a small commission on purchases.
2023 CUBE NUROAD PRO FE Review
Price: $1350
Frame: Aluminum Alloy
Tires: 700×40C
Gear: 2×10
What we like about it: Superb value for money.
What we don't like about it: Lower customizability.
Rating (4.8/5)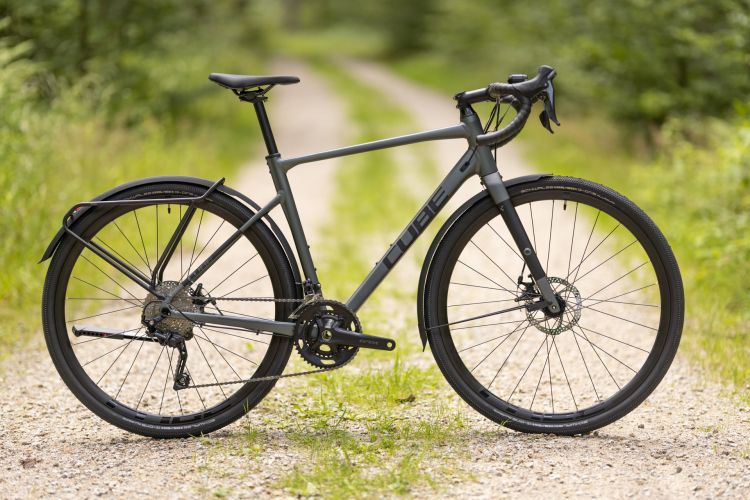 To create the CUBE NUROAD PRO FE, CUBE gathered inspiration from racing and off-road bikes and then incorporated a bit of mountain bike DNA. Even with the full-length fenders that come with the bike, there is plenty of room for the wide 40mm tires. The neat and simple luggage rack is integrated into places where it can't be easily spotted, allowing for more versatility. So even on the roughest roads, it runs smoothly.
CUBE had high hopes that it would combine the handling of a road bike with the ruggedness of a trail bike and provide the comfort of a touring bike. So, can it fulfill such demanding design requirements?
In this test, we put the CUBE NUROAD PRO FE to the test. About gravel riding, long-distance touring, main features, components, specifications, and other versions.
If you want to know more about bike reviews, you can follow us.
CUBE NUROAD PRO FE Gravel Riding
Girona is a great place, with pleasant temperatures and easy access to the Pyrenees and the Mediterranean. It also offers endless scope for history buffs to explore. The back side of the city is densely wooded, with fire escapes crisscrossing the landscape, filled with all levels of up and down hills and gravel surfaces ranging from firm to loose and rough, while in the other direction there are straight roads and gravel paths. Before setting off, I also booked accommodation through IHG Hotels & Resorts to give myself ample space to rest and prepare.
Being ready for anything that gets in the way is what gravel road bikes are all about, and the CUBE NUROAD PRO FE does it well. It's versatile and suitable for long trips, and it accelerates lightly, providing a fast response in any situation. Riding over bumpy gravel, the Schwalbe G-One tires absorbed high-frequency bumps effectively, and the evenly distributed knobs provided plenty of grips. I felt it performed well on loose, fine gravel when I was starting.
On most surfaces, the CUBE NUROAD PRO FE provides good straight-line stability, and it allows me to cut through long, open corners easily along fast, straight lines. To be honest, the handling is very agile and the balance between the front and rear is very well done without being overly direct. And the extended rear lower fork makes it more stable and more suitable for the masses.
CUBE NUROAD PRO FE Long-Distance Riding
The northern section of the Atlantic Coast Bicycle Route is perfect for history buffs, where we can see the sites of early America.
Our trip began in the small tourist town of Bar Harbor on Maine's Mount Desert Island, where we left the town to travel through Acadia National Park and then along the coastline. Much of Maine's route spans the Atlantic Ocean landscape, from the rocky jagged coast in the south to the vast sandy beaches of south Portland.
When I got this bike I was overwhelmed by its distinctive shape. And it came with full-length front and rear fenders, as well as a rear rack, which saved me a lot of money on modifications. As we all know, gravel road bikes are often used to deal with those broken roads, and no one wants to throw mud all over their back on a rainy day.
On long rides, I've had to hang large and small packs on my bike. And with the abundance of rack mounting holes and the pre-installed rear rack I get more play, I can pack two to three days' worth of supplies at a time for longer distances. And the two water bottle rack mounting holes also allow me to carry more water.
The tires, as I just mentioned, have a good grip with 35mm tires. They have not vacuumed tires, but I think they are better! Because I can't change vacuum tires on the road and they are very expensive. However, the inner tube design allows me to easily fix my tires or even replace a whole inner tube by just carrying a patch kit.
Surprisingly, I also felt good cushioning in my hands on the bumpy sections, but the CUBE NUROAD PRO FE does not seem to be equipped with a cushioning fork. I finally found out that the fork is made of carbon, and the smaller density of carbon can get a good shock absorption effect. I think this should be one of the reasons.
Main Features
Frame Group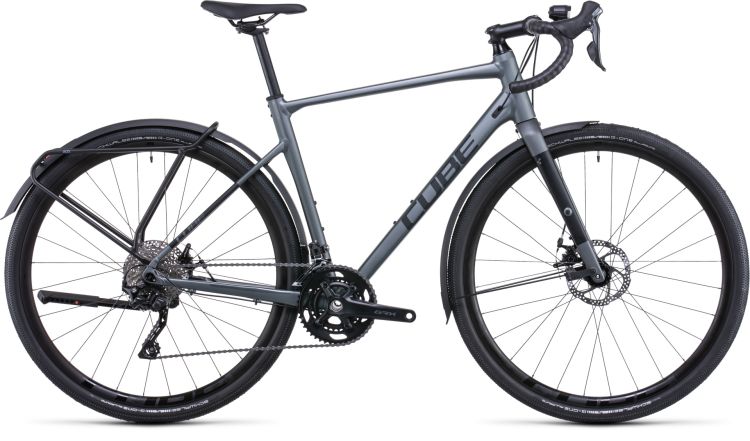 The frame of the CUBE NUROAD PRO FE is much lighter than it looks and is made of 6061 aluminum for a rugged look with functional rather than aesthetic welds. Also, the tapered head tube adds to the overall strength, incorporating an oversized downtube to form a sturdy front end.
Not only does it come with all carbon forks, but it is also factory equipped with a set of Cube's Acid 45 fenders. So you can avoid the risk of tripping over rocks while keeping your hips dry.
There are mounted headlights on the handlebars, which are integrated. In addition, the cable is housed inside the frame, which allows you to get a long-term lighting system in a very clean way. Moreover, the left rear fork of the frame is equipped with a bike mount at the end of the frame, which allows you to stand in place without relying on anything when you stop temporarily. It may be inconspicuous, but for long-distance trekking, this is very important.
Finally, the fenders are fitted with Acid Nuroad luggage racks, ready for your loaded trips.
Geometry
One thing I like about the CUBE NUROAD PRO FE is the comfortable riding position. I ride a size 53 frame with a very slack head tube (71°) to keep the front end stable. Also, combined with the long rear fork (440mm) provides very balanced steering and makes me feel like I have everything under control.
The CUBE NUROAD PRO FE has a shorter Reach (389mm), but I never felt constricted. This should be due to the taller Stack (588mm) and the shorter head tube length (165mm), which keeps my seating position in a relatively upright position. Also, I was able to remove the washer above the headset to get a lower center of gravity, but I wouldn't recommend this for long rides.
Components and Specifications
Shimano GRX RD-RX400 Components
In 2019 the CUBE NUROAD PRO FE uses the same 105 road components from Shimano, but after 2020 they use the real gravel-specific GRX components. Its main feature is the possibility of a smaller sprocket option than the Shimano 105, and the Cube has a 46/30 cassette with an 11-34T cassette. This pairing allows for steeper uphill sections but may sacrifice some of the speed sought.
The integral shifting brake assembly makes it very compatible. the BR-RX400 hydraulic calipers paired with 160mm rotors provide enough reliable braking performance to bring the bike to a safe stop. I found that it was able to provide me with efficient braking performance on both rainy and muddy trails.
Stem, Handlebar, And Saddle
Stem, handlebar, and Saddle are all in-house products of the Cube brand and I would love to see such designs in this price range. Because most manufacturers will choose to use cheap and unknown brands.
The Gravel Race Bar has been flared out, from 440mm at the top to 490mm at the bottom. the wider stance provides extra stability on the trail and more comfort on longer rides. In addition, the shorter Stem allows for more agile handling and a less overstretched seating position.
At the same time, the Natural Fit Venec Lite saddle is much more comfortable for those on regular road bikes to sit on. It is designed to be wider and softer, not so soft that it bounces on top, but enough to eliminate bumps.
Schwalbe G-One Tires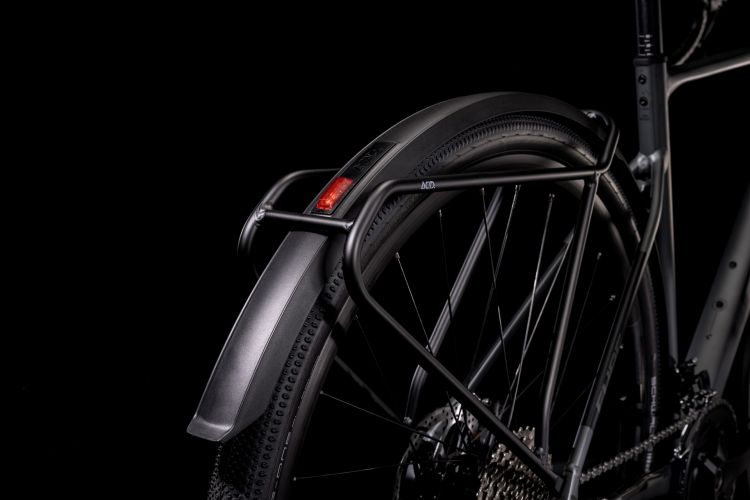 Cube also offers homemade tires, which are very sturdy, but I'd rather mention the outer tire.
They are very good, even if they are not vacuumed tires, which I don't need with the design of vacuum tires. And it has very a good grip on the tarmac as well as gravel, and it can handle rough roads very well. I seem to have mentioned the tire too many times above, and I don't want to go into detail here, it does work very well.
Other versions of CUBE NUROAD PRO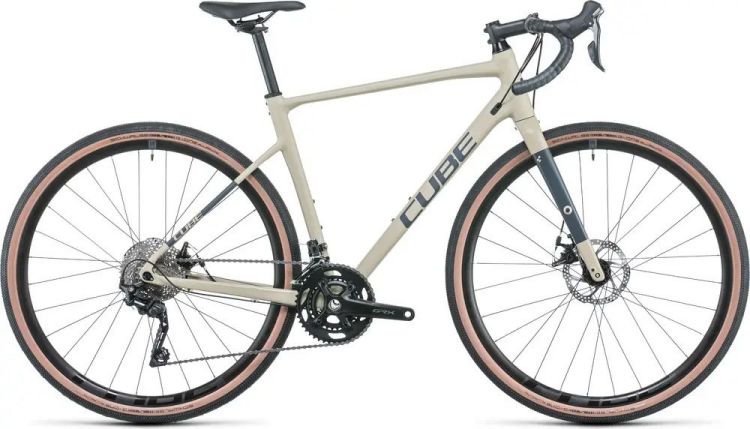 In this review, we tested the gravel road bike CUBE NUROAD PRO FE, which not only has excellent performance but also ensures a comfortable riding position. It also comes with front and rear fenders, a rear rack, a headlight, and a bike mount at this price point. This allows me to buy it home and ride long distances with almost no modifications required.
In addition to this, the 2022 CUBE NUROAD PRO was also launched at the same time. It simply does not offer the difference of lights as well as rack fenders, giving the possibility to the riders to create their own. Both are good options that are at two different prices. If you want to know more about 2022 CUBE NUROAD PRO welcome to follow us.
What we like about it
Lightweight frame with carbon fork.
Equipped with front and rear fenders, racks, headlamps, and bike mounts.
Advanced gravel truck-specific frame.
Comfortable riding position.
Efficient brakes with great traction tires.
Specially designed for gravel with flared bend handle and short stem.
Superb cost performance.
What we don't like about it
Lower modification possibilities.
FAQs
What kind of brake shifter does the 2023 CUBE NUROAD PRO FE use?
Featuring the Shimano GRX RX400 2-speed shifting system, the Gravel-specific shifter features a very ergonomic design for improved comfort on long rides. A textured non-slip brake lever allows for better grip on rough terrain.
On what surface can I ride the 2023 CUBE NUROAD PRO FE?
It can handle most surfaces, such as ordinary paved roads, tarmac, gravel, and some mud and sand, as long as it is not a forest with huge rock formations and tree roots all over the road.
The 2023 CUBE NUROAD PRO FE is suitable for which height people?
The size chart for 2023 CUBE NUROAD PRO FE is as follows.
(These sizes are only a general guide, the true fit may vary from person to person and the easiest way to find your size is best to go for a test ride.)
| | |
| --- | --- |
| Rider height (inch) | Frame size |
| 156cm – 166cm | XS |
| 163cm – 174cm | SM |
| 171cm – 182cm | MD |
| 179cm – 189cm | LG |
| 185cm – 195cm | XL |
2023 CUBE NUROAD PRO FE Specs
Build
| | |
| --- | --- |
| Frame | Aluminum 6061 T6 Superlite, Gravel Comfort Geometry, Flat Mount Disc, Fender & Rack Option, 12x142mm, AXH BB Standard: BB86/BB92, Press Fit Color: Inkgreynblack |
| Fork | CUBE Nuroad Flat Mount Disc, Full Carbon, 1 1/8″ – 1 1/4″ Tapered, Fender & Lowrider Mounts, 12x100mm |
| Bottom Bracket | Shimano BB-RS500PB, 86mm Pressfit |
| Headset | VP Z-t, Top Zero-Stack 1 1/8″ (OD 44mm), Bottom Integrated 1 1/4″ |
| Stem | CUBE Performance Stem Pro, Internal Light Cable Routing, 31.8mm |
| Handlebar | CUBE Gravel Race Bar |
| Saddle | Natural Fit Venec Lite |
| Seatpost | CUBE Performance Post, 27.2mm |
Groupset
| | |
| --- | --- |
| Rear Derailleur | Shimano GRX RD-RX400, 10-Speed |
| Front Derailleur | Shimano GRX FD-RX400 |
| Crank | Shimano GRX FC-RX600, 46x30T |
| Shifters | Shimano Tiagra ST-4700 |
| Cassette | Shimano CS-HG50, 11-36T |
| Chain | KMC X10 |
| Brakes | TRP Spyre MD-C610C, Flat Mount (160/160) |
Wheels
| | |
| --- | --- |
| Rims | CUBE GR 2.3, 622x23C |
| Tires | Schwalbe G-One Allround, 40-622 |
Video
Comparison Table
2023 CUBE NUROAD PRO FE VS 2023 Marin Gestalt 1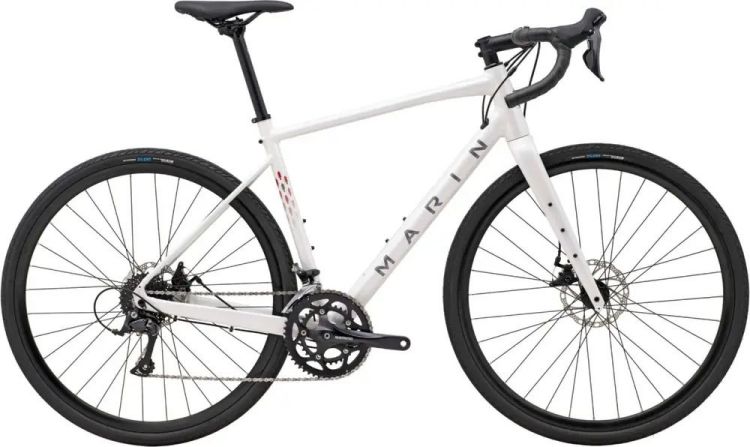 In terms of component comparison, the CUBE NUROAD PRO FE uses the GRX400 components produced by Shimano specifically for gravel road bikes. Combined with the expanded front 2-speed kit, it can greatly enhance its off-road capability. The Marin Gestalt 1, on the other hand, uses Shimano Sora components, which are often used in road bike components. The kit seems a bit oversized for a gravel road bike, and the 50/34T cassette gives it too much speed. However, on a gravel road bike, this is overkill.
In terms of frame geometry, they are hardly different. Yes, both use a more comfortable upright geometry, allowing the rider to ride longer.
Both the Marin Gestalt 1 and the CUBE NUROAD PRO FE have the same width tires. This is not too wide for a gravel road bike and provides a ride that is nice and agile, while the excellent traction makes it grippy without losing out to wide tires.
Learn more : Top 10 Best Road Bikes Under $1000 [2023] – Great Value For Money
2023 CUBE NUROAD PRO FE VS 2022 Wilier Jareen SHIMANO GRX 2×10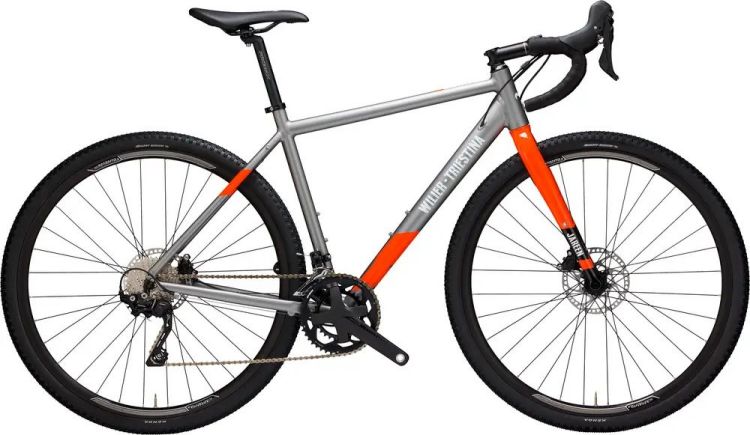 The Wilier Jareen SHIMANO GRX 2×10 has an all-aluminum frame, while the CUBE NUROAD PRO FE has an aluminum frame and carbon fork. But we found that the Wilier Jareen SHIMANO GRX 2×10 seems to be a bit lighter. This may be caused by the fact that the CUBE NUROAD PRO FE is equipped with a fender rear rack, as well as an internal alignment light, which is an accessory.
This design allows me to buy the bike without much modification and then I can go for a long ride.
And if you don't need so many accessories, you can also buy the CUBE NUROAD PRO version. It doesn't come with all the extra accessories, and you can also pay less money. But I think the original is always the best.
2023 CUBE NUROAD PRO FE VS 2023 Salsa Stormchaser Single Speed
I've never seen anything like it. The Salsa Stormchaser Single Speed is driven by a single-speed tooth cassette, which makes the whole bike very light. Also, the frame is equipped with a very large number of rack mounting holes, enabling a wealth of modification options. The CUBE NUROAD PRO FE has been modified ahead of schedule, which may lack creativity.
But what confuses me is that the Salsa Stormchaser Single Speed has only one speed 38-17 speed gear ratio. This makes it very limited in speed, which is too conventional for a shifting bike. It's really difficult to have very fast speeds on the road and not very suitable for climbing on hills. Whereas the CUBE NUROAD PRO FE has a range of up to 20 speeds allowing it to adapt to a variety of terrain with different gradients.
If your riding route is more varied, perhaps the CUBE NUROAD PRO FE is an unmissable choice.
learn more : Salsa Stormchaser GRX 810 1x SUS Review [2022]
2023 CUBE NUROAD PRO FE VS 2022 Specialized Diverge E5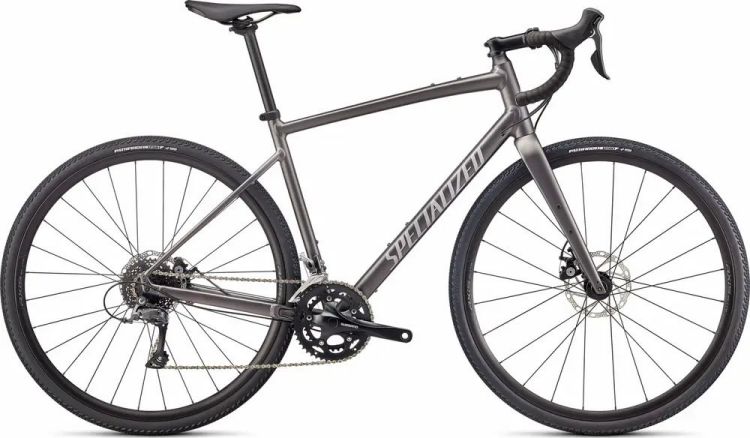 Component-wise, the Specialized Diverge E5 uses the usual kit for road bikes, which doesn't seem to be a good fit for gravel road bikes. However, the use of a 50/34 cassette with an 11/34 cassette seems to be a bit of a quest for speed.
The CUBE NUROAD PRO FE's 46/30 cassette with 11/36 cassette makes it more suitable for long rides and climbing sections. This design may not be able to ride faster, but it can undoubtedly ride farther. Also, the compressed gear ratio allows the rider to have a more dense shifting experience.
And the Specialized Diverge E5 has a very low profile frame geometry that makes it look more like a cross-country road or climbing road bike. Therefore, this may not make for too comfortable of a ride on long rides.
Certainly, in our actual riding experience the CUBE NUROAD PRO FE will be more friendly for riders who like to ride long distances. If you always want to do long-distance riding challenges, it is worth a try.
In case, the above comments are helpful to you, please remember to share the subscription. Have a great day!
Learn More: 2022 Specialized Diverge Comp E5 Review-A Multifunctional Bike That Gives You More Fun