We use affiliate links and may receive a small commission on purchases.
2022 Cannondale Quick 5
Price: $735
Frame: Aluminum
Tires: 700 x 35c
Drivetrain: 2 × 7
What We Like About It: The 2022 Cannondale Quick 5 is synonymous with speed, comfort, and beauty. Whether you're working out or commuting, it's sure to be the perfect choice for you.
What we don't like about it: The beauty of it is that if you want to run around the mountains on it, it may make a bit of a struggle.
Rating (4.75/5)
Introduction
If you are considering choosing a fitness bike, I believe the 2022 Cannondale Quick 5 would be a good choice for you.
Whether it's for fitness or commuting, it will always let you enjoy every journey. The lightweight aluminum structure makes you feel no weight of the car itself. So you can drive a long distance with a single step.
In addition, the Shimano Tourney TX 14-speed drivetrain gives you the experience of riding at an even more speed. Whether you're on a crowded tarmac road or a bustling country road, it allows you to be the fastest and coolest in the crowd.
It is worth mentioning that the presence of the damping SAVE micro-suspension makes comfort and ease a standard feature of the car. It allows you to maintain the most elegant stance whenever you want.
Here's a breakdown of the Cannondale Quick 5's ride, key features, components and specifications, and other versions.
If you want to know more, please remember to follow us.
Road Riding
Those who like sports and fitness must know that although cycling and running are both popular cardio exercises, cycling can often achieve better results. I believe that if you ride the Cannondale Quick 5 will able make you feel twice as good.
The Cannondale Fitness Ergo Double Density Saddle was awesome, and the Cannondale Fitness Pedals and Cannondale Ergo Fitness, Grips made me feel like it was tailor-made for me.
The tarmac was smooth, and the car gave me the same feeling. And my feet were pedaling fast, and although I couldn't feel my heartbeat accelerating significantly, I could feel my calories burning violently in a profound way.
As the rush of wind sounded in my ears, I couldn't help but marvel at how fast it was going. I believe this must be due to the Shimano M315 Rapidfire Plus. In addition, the 2×7 speed configuration is just right for my needs for various riding speeds.
What's more, Kenda Kwest's tires are the best choice when driving on the road. This is because it gives you strong traction on flat roads giving you a more relaxed stance.
Without a doubt, it's just too friendly for those who don't like to ride bent over. The handlebars and front are higher, so I can maintain a near-upright position and still see a wider view.
At the same time, I feel that my muscles are relaxed like never before and I don't have to worry about stressing my neck and shoulders at all. I think this is all due to the geometric design that fits the body's structure.
For longer journeys, rack mounts will be able to take full advantage of it. I will store water and food there to ensure that the journey will not feel thirsty.
If you were lucky enough to see me riding down the road on it, I'm sure what impressed you would include my smile.
Road Climbing
The Shimano M315 Rapidfire Plus, a 2×7 unit, will allow you to face steep slopes with little effort.
The first time I rode it on the way to work, I was a little worried in the face of a steep slope of more than 50 degrees. But with a flick of my finger, the bike dropped to the lowest gear and climbed the slope as if I were flipping the palm of my hand. It was so simple and easy to climb the steep slope with just a few light pedals.
Kudos to the Kenda Kwest, 700 x 35c with K-Guard tires, for being wide enough. So when facing rocks or obstacles, I can easily jump over them too.
Moreover, there is no need to worry about feeling bumps. Because of the damping SAVE micro-suspension setup, is enough to guarantee my comfort.
Highway Descending
Crossing that slope ushers in the downhill slope. To know such a treacherous and steep slope is more intimidating than the uphill.
I stopped pedaling and enjoyed the breeze on my face. The Promax mechanical disc is too friendly for downhill, what kind of speed you want, just use your fingertips to adjust the strength. In this process, I deeply appreciate the feeling that the car is like an organ of the body. In this process, I can also overlook the beautiful scenery along the way, which I think is very wonderful. And, as we all know, mechanical brake discs are easier to maintain, which also saves me an expense.
Main Features
Frame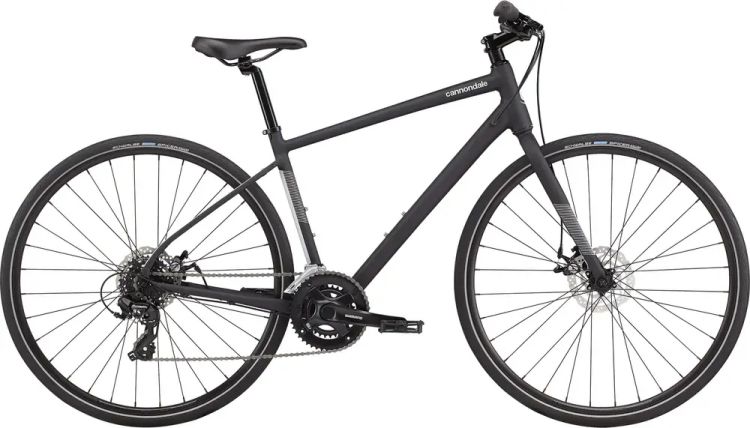 There is no denying that Cannondale's aluminum frame has always been the head of the industry, after all, is known for its aluminum material. Therefore Cannondale chooses aluminum as the frame of the exercise bike as the right thing to do.
This time, they even use the SmartForm C3 Alloy material with upgraded technology, so the whole body is very light. Combined with the support of weight-reduction buttresses and seamless double-weld technology, the body is guaranteed to be strong enough.
Not only that, it features a Straight shot hidden alignment setup and a 360° reflective strip package. And the increased visibility of the body and tires all make the Cannondale Quick 5 cool to walk on and at the same time make you feel incredibly safe.
Therefore, you no longer have to worry about driving at night on dark roads and being ignored by drag racers, and getting hurt. One more thing, the smooth and beautiful shape is the first choice for people who value appearance.
Geometry
I am sure that once you ride the Cannondale Quick 5 you will love it as much as I do.
First of all, the 28.8cm bottom bracket height allows you to ride in any lot without fear, even if you encounter obstacles, you don't have to worry about unstable control.
Secondly, the 73° seat tube angle allows you to maintain a relatively upright stance even when riding – after all, the Cannondale Quick 5 is made for fitness or commuting. When riding on the road, you need a wider field of view to stay safe.
Finally, the relatively low trail (6.2cm) allows you to maneuver through the crowds and get where you want to go quickly.
In the middle of the journey, your muscles can be fully relaxed. The soreness of neck and shoulder pains you have no chance to experience in this car.
Components and Specifications
Shimano Tourney TX 14-speed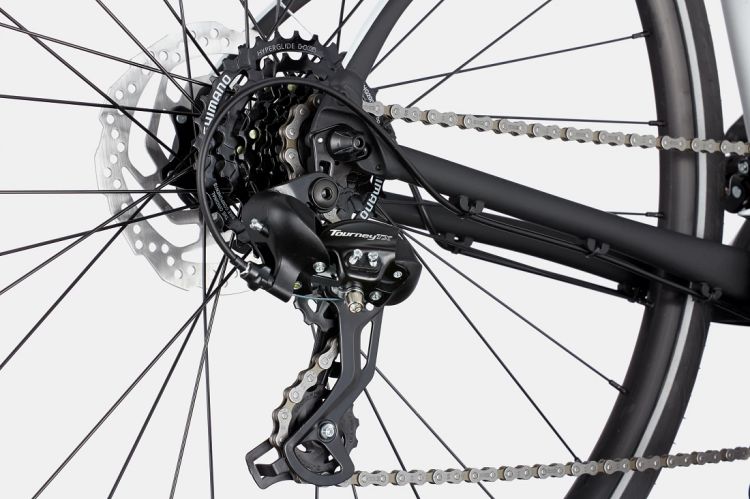 First of all, the Shimano Tourney TX 14-speed drivetrain speed configuration will make you feel great. As you speed down a wide, flat road, you can choose the gear you feel most comfortable in based on your personal preference. If you encounter a steep slope, I suggest you pull the trigger and the car will quickly shift to the lowest gear. You can use the least amount of effort to climb the steepest slope peak.
Secondly, this Shifters, Shimano M315 Rapidfire Plus, 7-speed is really good value for money because it offers smooth shifting performance. So you don't have to spend more energy on shifting gears and have more time to take on more challenging rides. Not only that, it's equally sweet, with a clear gear display located under the handlebars so you don't have to keep your eyes open to find it. For reliable mountain bike shifting, Shimano's SL-M315 RAPIDFIRE shifter is suitable for fast shifting, enabling riders to downshift three gears at a time.
Kenda Kwest Tires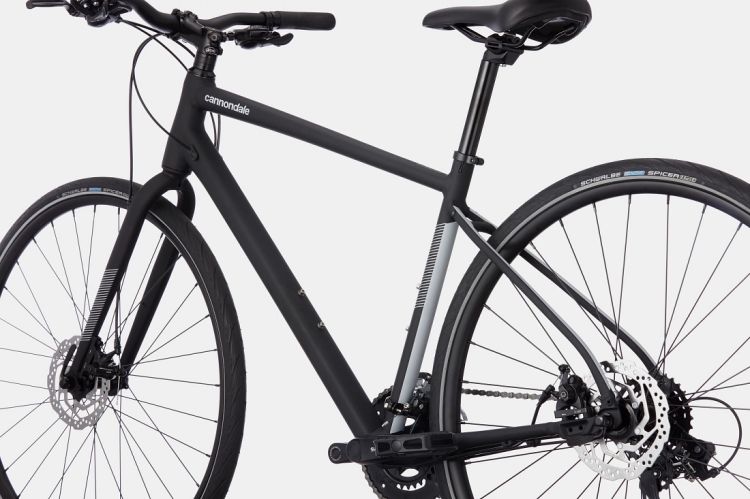 When it comes to the excellent performance of the Cannondale Quick 5, we have to mention its tires, which are made of Kenda Kwest, and the 700 x 35c is undoubtedly the best combination.
Although, you may think that the 35c tires seem a bit wide, won't it be too strenuous to ride? But the fact is that as a road bike, it takes more into account user safety while pursuing speed. The stainless steel spokes and Cannondale Disc rims are proof of this. The reflective strips on the entire wheelset make it possible to see you at a glance, whether it's day or night, as long as there's light reflecting on them, which is cool and safe.
Integrated connectivity with Cannondale App
Let's just say that Cannondale understands the feelings of fitness enthusiasts too well, and visualizing cycling data is what most cyclists want.
Here, the Cannondale tire Sensor can be connected to the Cannondale App, and with your mobile device secured, you can check your ride status at any time, even when you're on a ride, so you can make adjustments in time.
It would be nice if the app could be technically upgraded to also allow users to input their data to give the healthiest riding speed. I believe this is what most Cannondale Quick 5 riders are looking forward to.
Other versions of Cannondale Quick
After experiencing the 2022 Cannondale Quick 5, you may also want to check out the rest of the 2022 Cannondale Quick series.
I must tell you that the price of Quick 5 is undoubtedly the most beautiful among all the 2022 Cannondale Quick series.
2022 Cannondale Quick 1
This 2022 Cannondale Quick 1 has a 2×11 drivetrain and a Shimano MT201-UR300 hydraulic disc for a faster ride, though. But at nearly $1,000 more expensive than the Quick 5, it's still worth your second thought.
Learn More: 2022 Cannondale Quick 1 Review – The Warmth Of Humanity In The Details
2022 Cannondale Quick 2
The Cannondale Quick 2 does perform better than the Quick 5 in terms of speed, but the Quick 5 is no slouch in terms of riding experience. The Tektro HD-R280 hydraulic disc is also what many riders are looking for, after all, it's still cool to be able to stop when you want to at a gallop. But it takes more effort and cost to maintain.
We have reviewed other versions of 2022 Cannondale Quick if you want to learn more.
Learn more: 2022 Cannondale Quick 3 Review – Why You Should Get Your Hands On The 2022 Cannondale Quick 3
Learn more: 2022 Cannondale Quick 4 Review – A Fast And Free City Ride
What we like about it
Fitness and commuting are preferred, and the price is affordable.
Fast, light, agile and comfortable is the general evaluation of it.
The advanced SmartForm C3 is made of aluminum alloy, which is lightweight and guarantees strength and rigidity.
360° reflective decoration, beautiful and cool at the same time to protect the visibility of the rider.
Shimano M315 Rapidfire Plus, 2×7-speed speed drivetrain with disc brakes for easy operation and multiple speeds to choose from.
Internal concealed alignment saves tangles and is clean and beautiful to ride.
A variety of colors to choose from, it is simply the gospel of the face control party.
Also available is the 2022 Cannondale Quick Women's 5 Remixte version, which is more flattering for women's riding and also meets the needs of couples traveling together.
What we don't like about it
If you want to ride this bike in the mountains, it may be more strenuous.
Downhill and acceleration are really weak points.
FAQ
What is the size of the Cannondale Quick 5 tires?
The tire size of Cannondale Quick 5 is 700 x 35c.
What is the Cannondale Quick 5 drivetrain?
Cannondale Quick 5 drivetrain is Shimano M315 Rapidfire Plus, 2×7 speed.
What are Cannondale Quick 5 brakes?
Cannondale Quick 5 brakes are Promax mechanical discs.
How do I choose the Cannondale Quick 5 size?
| | |
| --- | --- |
| size | Rider height |
| SM | 5'2″ – 5'8 |
| MD | 5'5″ – 5'10" |
| LG | 5'9″ – 6'3″ |
| XL | 6'0″ – 6'6″ |
| XXL | 6'3″ – 6'9″ |
Cannondale Quick 5 specs
Build
| | |
| --- | --- |
| Frame | Low-step, SmartForm C3 Alloy, SAVE, tapered head tube, Straight shot hidden cable routing, flat mount disc, rack/fender mounts, 360° reflectivity Colors: Highlighter; Sage Gray |
| Fork | Chromoly, 1-1/8″ steerer, OutFront offset, flat mount disc, mid-blade mounts |
| Bottom Bracket | Cartridge, square taper |
| Headset | Integrated, 1-1/4″-1-1/8″ |
| Stem | 6061 Alloy, 31.8, 8° |
| Handlebar | 6061 Alloy Double-butted, 25mm rise, 8° sweep, 6° rise, 640mm |
| Saddle | Cannondale Fitness Ergo Double Density |
| Seatpost | 6061 Alloy, 27.2 x 350mm |
| Pedals | Cannondale Fitness |
| Grips | Cannondale Ergo Fitness |
Wheels
| | |
| --- | --- |
| Rims | Cannondale Disc, double wall w/eyelet, 32h |
| Spokes | Stainless Steel, 14g |
| Front Hub | Shimano, Alloy, Sealed, QR |
| Rear Hub | Shimano, Alloy, Sealed, QR |
| Tires | Kenda Kwest, 700 x 35c, K-Guard, reflective strip |
Groupset
| | |
| --- | --- |
| Rear Derailleur | Shimano Tourney |
| Front Derailleur | Shimano Tourney, 31.8 clamp |
| Crank | Shimano Tourney, 46/30 |
| Shifters | Shimano M315 Rapidfire Plus, 7-speed |
| Cassette | Shimano HG200, 12-32, 7-speed |
| Chain | KMC Z7, 7-speed |
| Brakes | Promax mechanical disc, 160/160mm rotors |
| Brake Levers | Promax BL42 |
Video
Comparison Table
2022 Schwinn Super Sport vs 2022 Cannondale Quick 5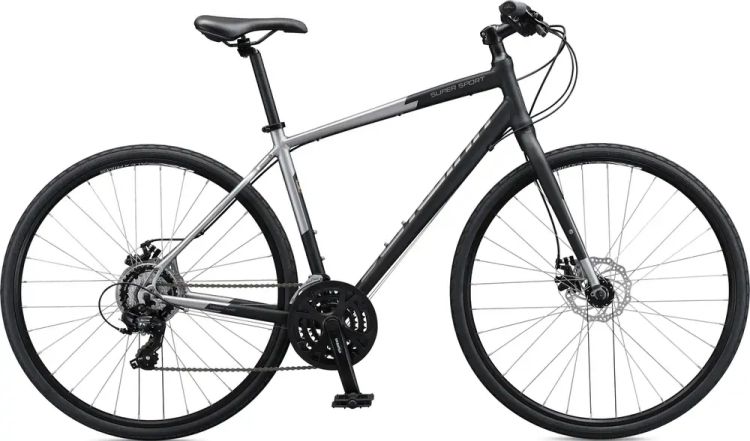 If you've been looking at fitness bikes lately, I'm sure the 2022 Schwinn Super Sport has been on your shortlist.
After all, the 21-speed and hybrid design are still somewhat appealing. But just because there are more speed options doesn't mean it will perform more quickly on the road, too.
On the contrary, there is still a lot of room for improvement in the 2022 Schwinn Super Sport, both in terms of speed and comfort feeling, to take into account the various road passages.
But if you're after a trip with more adventure, the 2022 Schwinn Super Sport is also worth considering.
Learn more : Is Schwinn Sierra Worth Buying?[2022 Schwinn Sierra Review ]
2023 Marin Fairfax ST 2 vs 2022 Cannondale Quick 5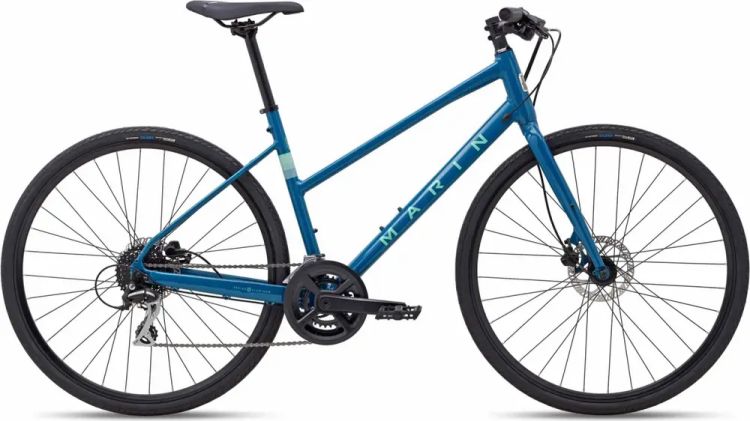 If you're looking for more speed, the 2023 Marin Fairfax ST 2 has probably been on your radar as well.
I have to admit that the 2023 Marin Fairfax ST 2 does have a deeper understanding of speed than similar bikes. Because the 2 × 8 Drivetrain makes you face uphill roads with more ease.
Although the frames are made of aluminum, the 2023 Marin Fairfax ST 2 Series 2 Fitness, 6061 Aluminum is inferior to the SmartForm C3 Alloy used by Cannondale. After all, the name "King of Aluminum" cannot be earned for no reason.
Considering that SmartForm C3 Alloy is stronger and lighter, the SAVE shock absorption feature is not to be ignored.
In addition, with the addition of Cannondale Fitness Pedals and Grips and Cannondale Fitness Ergo Double Density's Saddle, a more comfortable riding experience is something we can feel directly.
If you prefer to travel in comfort and safety, the Cannondale Quick 5 may be a better fit for you.
learn more:2023 Marin Kentfield 1 Review–Will It Be Your Idea Of A Value-For-Money Exercise Bike?
2022 Cannondale Adventure 2 vs 2022 Cannondale Quick 5
Speaking of exercise bikes, we have to mention the Cannondale family's other 2022 Cannondale Adventure 2.
Both bikes are very close in material configuration but differ in tire and Derailleur choice. If you are a speed seeker, I would recommend the Cannondale Quick 5. 5 more miles an hour is still a tempting distance. In terms of price, the Cannondale Quick 5 is also a better value. However, the 2022 Cannondale Adventure 2 is a little more comfortable for the user.
This brings us to the Suntour NEX-E25, a 50mm travel fork, but if you're more often on flat roads, even the Cannondale Quick 5 without this 50mm travel fork is more than enough for your comfort.
learn more:Cannondale Adventure Neo 3 EQ Review [2022] – A Comfortable City Ride
2022 KHS VITAMIN A vs 2022 Cannondale Quick 5
When it comes to exercise bikes in the same price range, I can't help but think of the 2022 KHS VITAMIN A. It is another player in pursuit of speed.
In terms of real riding experience, the speed of the 2022 KHS VITAMIN A is amazing to me though. But from the point of view of comfort and stability, I prefer the feeling that Cannondale Quick 5 gives me. This is no doubt due to the 35c tires of the Cannondale Quick 5. It is wide enough to allow the car to jump over various sidewalks and curbs with ease.
Plus, with the 360° reflective strip, it's cool enough to make me earn a lot of attention on the road. If you are also using it for commuting, I believe Cannondale Quick 5 must be suitable for you too.
In case, the above comments are helpful to you, please remember to share the subscription. Have a great day!