We use affiliate links and may receive a small commission on purchases.
Trek 1.1
Price: $769
Weight:10.0 kg
Fork: Carbon
Frame: Aluminium
Wheels: 700c
Drivetrain: 2 × 8
Groupset: Claris
Brakes: Rim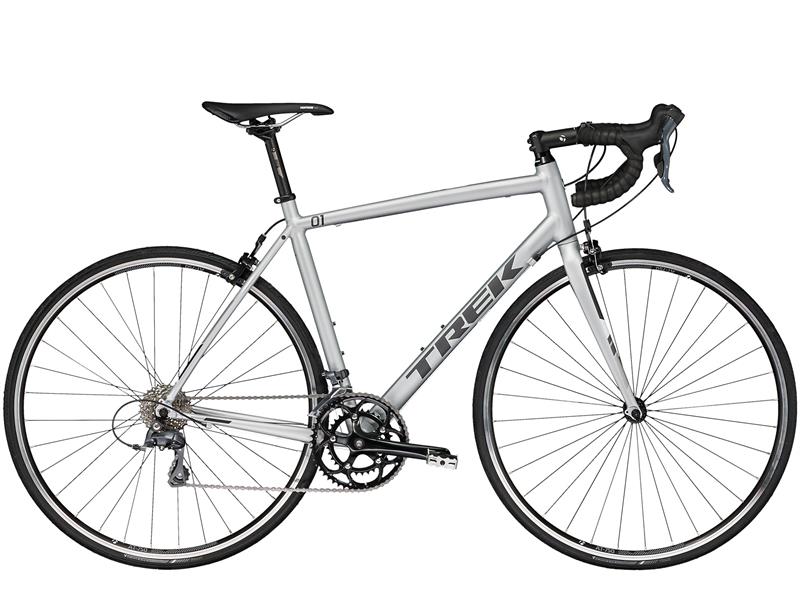 What we like about it: Fast, positive, confidence-inspiring, and fun. During the ride, I noticed less vibration transmitted through the forks into the handlebars, making it more enjoyable. The brakes worked well and required little effort to slow or stop the bike.
What we don't like about it: Uncomfortable seat. My stock saddle has been replaced with one that is a bit more comfortable.
Trek uses the geometry that has been tested on the Pro Tour on every Trek road bike.
Buying a Trek 1.1 is choosing the most cost-effective ride quality! Performance = Ride Quality! It doesn't matter what kind of kit is on the bike, the Trek 1.1 you pay for the same price is definitely more effortless and quicker to ride than any other brand of road bike in the same price range.
The Trek 1.1 aluminum road bike has the same aerodynamic shape and detailing as a high-end bike. The Trek 1.1 is sturdy, lightweight, and designed for zipping down the road.
With so many compliments, you can't wait to learn about it, let's get to know Trek 1.1 with our testers.
Main Features
Frame(4.6/5)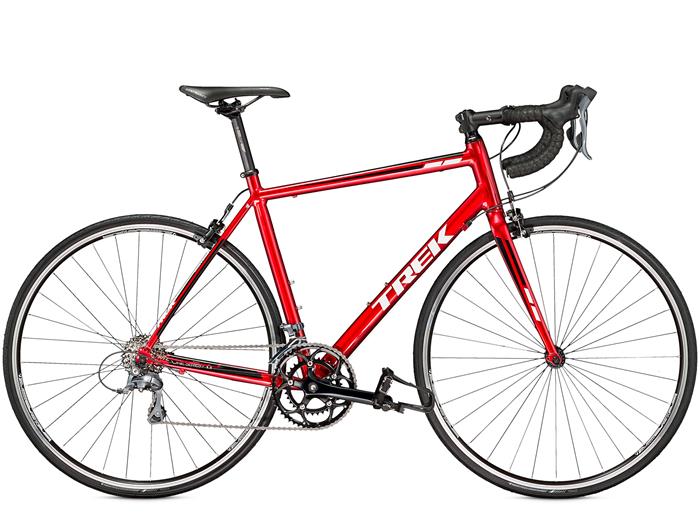 Aluminum alloy frames and components have been used throughout most of the history of the bicycle industry, but this does not mean that there is no possibility of continuous improvement and improvement.
For the Alpha Aluminum, Trek took the most complex metallurgy and pushed it to the limit—creating a strong, lightweight frame that delivers a riding experience that rivals many carbon frames.
The Trek 1.1 builds the frame with an Alpha Aluminum 100 Series for a more compliant frame, allowing the Trek 1.1 to maintain gold-hot acceleration performance at an affordable price.
With an Alpha Aluminum frame, you don't have to think twice about hitting gravel trails or doing multi-day trips.
The Trek 1.1 will be an excellent companion for your vacation, travel, training, and competition.
The Trek 1.1's Alpha Aluminum 100 Series frame features front and rear fender mounts designed for riders to ride in the rain and mud.
Geometry(4.7/5)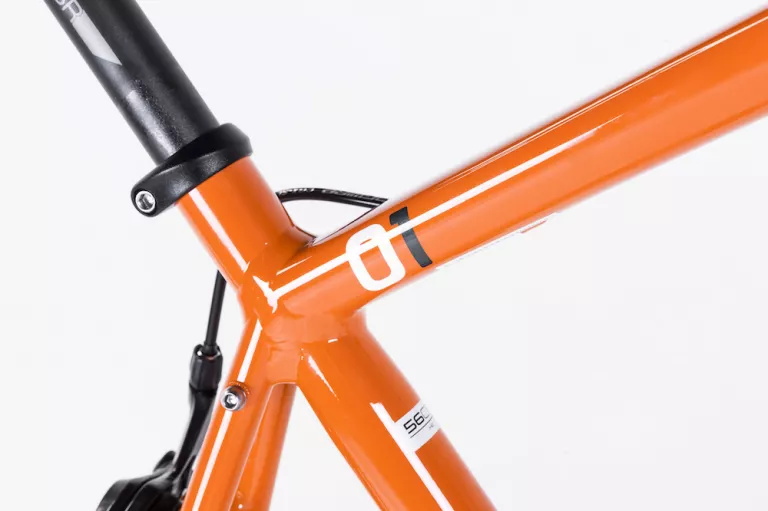 In Trek's frame geometry, it is divided into "H1" and "H2".
The H1 frame has a lower head tube and longer reach; the H2 frame has a higher head tube and a deeper depth.
Simply put, the H1 is suitable for aggressive riding positions, and the H2 is suitable for relatively comfortable, or durable riding positions.
Therefore, Trek 1.1 can also see its design logic with H2 geometry.
Components and Specifications
Drivetrain(4.5/5)
Shifters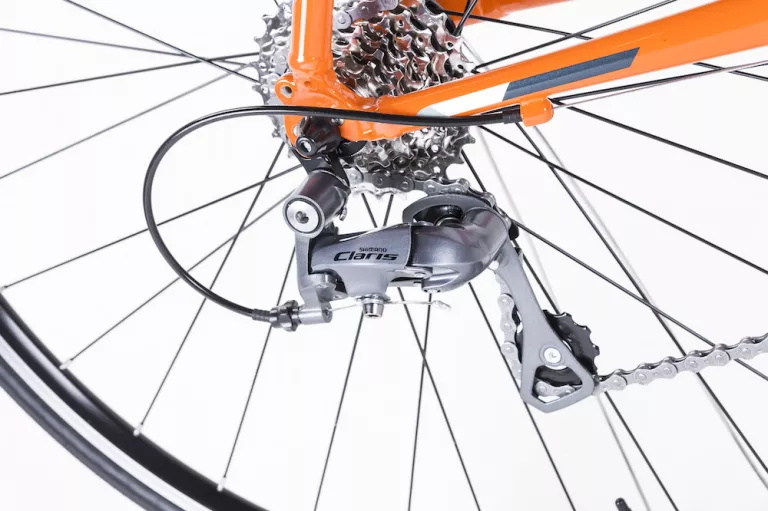 Trek 1.1 shifters use Shimano Claris, 8 speed, and both front and rear derailleurs use Shimano Claris.
Trek 1.1 Shimano Claris, 8-speed shifter Feel comfortable, ergonomically shaped, and with 2×8 speed road drivetrain compatibility, Shimano Claris dual levers provide accurate shifting and confident braking.
In our testers' eyes, the durable and low-maintenance 8-speed drivetrain gives you the best gear range on a Trek 1.1 road bike.
Simple and intuitive dual control levers provide the Trek 1.1 with a comfortable ride.
Front and rear derailleurs
Our testers found the Shimano Claris rear derailleur on the Trek 1.1 to be a highlight.
Especially when shifting along with the flywheel into a more difficult-to-adjust gear during shifting, the shifting can also be precise and relatively sensitive.
When you and your buddies are conquering a steep hill or sprinting, it works perfectly under that load.
If you take these things into consideration, you're in awe of the fact that the Trek 1.1 has a Shimano Claris rear derailleur.
One thing our testers also mentioned, however, is that we all know that the Shimano Claris is an 8-speed system, and the chain jumps between the gears a bit.
This puts pressure on the rear derailleur, and the details of smooth shifting are also something we need to pay attention to.
Dropping the chain from the large ring of the sprocket to the small ring is easy, but the reverse is not the same thing.
The Shimano Claris front derailleur pull-arm is much shorter than Shimano's other pricier series. Our testers felt that it took a lot of effort to keep pushing the front derailleur to make a sustained shift.
It's not a big problem, but in case of rain or cold winter weather, your fingers may not be able to control it very flexibly.
Crank
Trek 1.1 cranks are Vuelta Corsa, 50/34 (compact). Vuelta Corsa, 50/34 (compact) cranks are cold-forged and have a durable coating.
Chainrings with 110mm BCD compact steel. Gearing of 50T/34T, designed for indexed shifting. Shimano M371 cranks have good rigidity, durability, and lubrication after testing.
This product definitely met our testers' expectations. Vuelta Corsa, 50/34 (compact) is also cheap.
Cassette
The Trek 1.1 has a sprocket range of 11-28T, and the individual sprockets are precisely positioned relative to each other, ensuring the chain moves smoothly between the gears.
The Trek 1.1 uses a Sun Race CSR86, 8-speed cassette, and a net weight of 235 grams, which is very light.
In the eyes of our testers, the Sun Race brand cassette looked better than Shimano's.
The Sun Race CSR86, 11-28, 8-speed shifts quickly and smoothly.
When we tested it violently, it was found that there was no excessive wear, which was also due to the good nickel-plated protective layer on the surface.
Pedals(4.4/5)
The Trek 1.1 pedals feature nylon composite treads, and the pedals themselves are fairly large.
The whole tread feels very comfortable. Nylon pedals are better than alloy pedals in terms of durability, more wear-resistant, and are less prone to deformation.
Fork(4.3/5)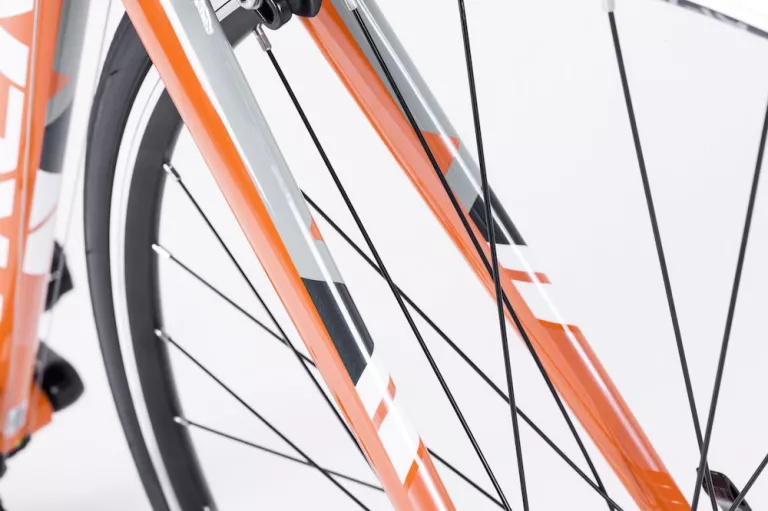 Carbon fiber not only has the inherent characteristics of carbon materials but also has the soft processing properties of textile fibers. Its specific gravity is less than 1/4 that of steel, but its strength is very high, and its corrosion resistance is excellent.
The Trek 1.1 front fork uses a Trek carbon fiber road fork, which reduces the weight of the entire vehicle and can indirectly increase the speed. Moreover, the carbon fiber front fork has good elasticity and can absorb more vibrations from the ground.
Bottom Bracket(4.5/5)
Generally, cartridge bottom brackets have two main components. The cartridge itself consists of the sealed bearings and spindle and is usually threaded into your frame's right (drive side). The lockring is threaded into the left (or non-drive) side of the frame, and it supports the opposite end of the cartridge.
Bottom brackets should be installed and left alone. A sealed unit is what's popular because it does not require maintenance.
Headset(4.6/5)
Trek 1.1 only a small section of the headset can be seen from the appearance, and the size of the frame pipe diameter will be larger to cover the entire set of internal parts.
In addition, the lower bearing of the hidden head bowl needs to be selected according to the angle of the front fork.
The Trek 1.1 uses a headset with 1-1/8″ integrated, semi-cartridge bearings.
This headset is made from a quality aluminum alloy material that is anti-rust, sturdy, and durable. Fine machining ensures a sleek surface, and the headset fits perfectly.
Dust and water can be kept away by the cap thus extending the life of the device. Using this bicycle headset, you can prevent the bearing from over-abrasion and allow it to rotate freely.
The Trek 1.2 and Trek X-Caliber 6 use the same headset as the Trek 1.1.
Wheels(4.3/5)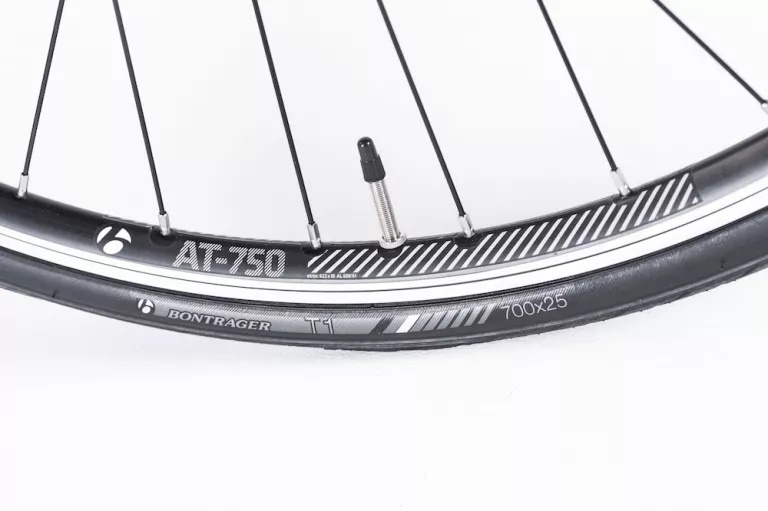 Trek 1.1 wheels feature Alloy hubs; Bontrager AT-750 double-walled alloy rims.
The Bontrager AT-750 rims used on the Trek 1.1 are dual-wall rims. Bontrager AT-750 double-walled alloy rims generally have the best strength-to-weight ratio.
You'll find it on most intermediate to pro-level bikes.
They have a huge performance advantage over single-wall rims, which our testers recommend for any level of riding.
The Trek 1.1 front and rear hubs use Alloy. The hub can be said to be the core component of the wheelset.
When you decide to build a wheelset, basically everyone will start with the hub to choose from.
Alloy's focus is on smooth rolling and minimal loss of power. Trek 1.1 front and rear hubs are made of aluminum alloy.
The surface of aluminum is anodized, by immersing aluminum in a special solution, and then through a series of chemical reactions such as the electrolysis of water, a dense and solid oxide layer is formed on the aluminum.
The Trek 1.1 uses Bontrager T1, 700x25c tires with a super-strong nylon shell, 700mm outer diameter, and 25mm width.
The tire has an engineered tread design for confidence in wet or dry conditions.
The Bontrager T1 tread uses a durable compound for longer life. Our tester had a Trek 1.2 in hand, and the Bontrager T1 has always been our tester's stock tire.
In addition to a flat tire, he ran 4,000 miles when he hit a chunk of steel, puncturing the tire and tube. Our testers patched the tubes and re-used the tires and are still using Bontrager T1 tires.
This shows how well the Bontrager T1 is used by our testers!
Trek 1.1 Spece
| | |
| --- | --- |
| Frame | 100 Series Alpha Aluminum, fender & rack compatible |
| Frame fit | H2 geometry |
| Fork | Trek carbon road |
Wheels
| | |
| --- | --- |
| Wheels | Alloy hubs; Bontrager AT-750 double-walled alloy rims |
| Front hub | Alloy |
| Rear hub | Alloy |
| Rims | Bontrager AT-750 double-walled alloy |
| Tires | Bontrager T1, 700x25c |
Drivetrain
| | |
| --- | --- |
| Shifters | Shimano Claris, 8 speed |
| Front derailleur | Shimano Claris |
| Rear derailleur | Shimano Claris |
| Crank | Vuelta Corsa, 50/34 (compact) |
| Cassette | Sun Race CSR86, 11-28, 8 speed |
| Pedals | Wellgo nylon body w/alloy cage, toe clip & strap |
| Bottom bracket | Sealed cartridge |
| Chain | SunRace CNM84 |
Components
| | |
| --- | --- |
| Saddle | Bontrager Montrose Comp |
| Seatpost | Bontrager SSR, 2-bolt head, 27.2mm, 12mm offset |
| Handlebar | Bontrager Race VR-C, 31.8mm |
| Stem | Bontrager Elite, 31.8mm, 7 degree, w/computer & light mounts |
| Headset | 1-1/8″ integrated, semi-cartridge bearings |
| Brakeset | Alloy dual-pivot |
FAQs
1. On this bike, what is the largest tyre size I can fit (in mm, e.g. 700x25C)?
Bontrager's 700 x 25c tire is the largest tire we recommend for the 1.1.
2. Is there a way to find the serial number on my bike?
Located beneath your cranks, your serial number begins with the letters "WTU" followed by a string of numbers and letters.
3. What is the number of gears on Trek 1. 1?
4. Can you tell me how much this bike weighs?
There is no need to worry about shipping since the 56 cm Domane AL 2 weighs 9.92 kg / 21.87 lbs.
Comparison table
Compare
2022 Schwinn Vantage F2 700c vs Trek 1.1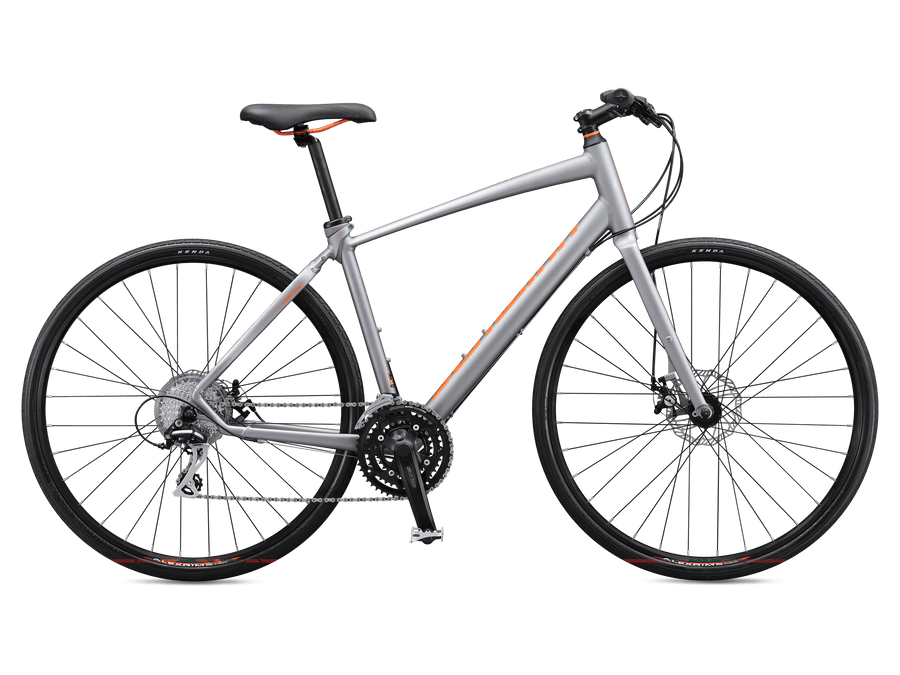 The 2022 Schwinn Vantage F2 700c is about $170 more expensive than the Trek 1.1.
The positioning of the two road cars is also different. The Schwinn Vantage F2 700c is more suitable for healthy riding, and many people will choose to ride the Schwinn Vantage F2 700c in their spare time to relieve stress. (Who Are The People Who Still Insist On Cycling In The Summer? -Interesting Cycling Facts) And Trek 1.1 is better for speed racing.
The Schwinn Vantage F2 700c fork is aluminum, and the Trek 1.1 is carbon fiber(Trek 1.2 fork also uses carbon fiber.).
As a racing car, Trek 1.1 chose a carbon fiber front fork, which is light in weight and strong in shock absorption.
Compared with carbon fiber, the aluminum alloy front fork has no advantage in weight, and the shock resistance is slightly weaker.
But for the Schwinn Vantage F2 700, which is usually used for healthy riding, it doesn't matter much.
The Schwinn Vantage F2 700c uses a mechanical disc brake, which relies on the pull of the brake cable to rub the brake pads in the caliper and clamp the disc to produce a braking effect.
The disc brakes give me a solid feel, but I prefer, or rather get used to, the feedback I get from the pads hitting the rims on the Trek 1.1 rim brakes. And this kind of feedback is not found in the disc brake type.
Moreover, the rim brakes can also bring a light feel and good feedback when combined with excellent cable tubes and routing.
Acera, Tourney shifting kits are configured on the Schwinn Vantage F2 700c, which also reflects the positioning of the road bike – leisure, entertainment.
Tips
The Claris is one of the lower-end kits in Shimano's lineup. It's designed for light exercise, long rides, town cruising in casual clothing, shopping, and daily commutes.
But why use the Trek 1.1, a road bike positioned for speed competition? Our testers never understood the designer's design logic.
Learn more: Schwinn 700c Prelude Road Bike Review
2022 Fuji Jari 2.5 vs Trek 1.1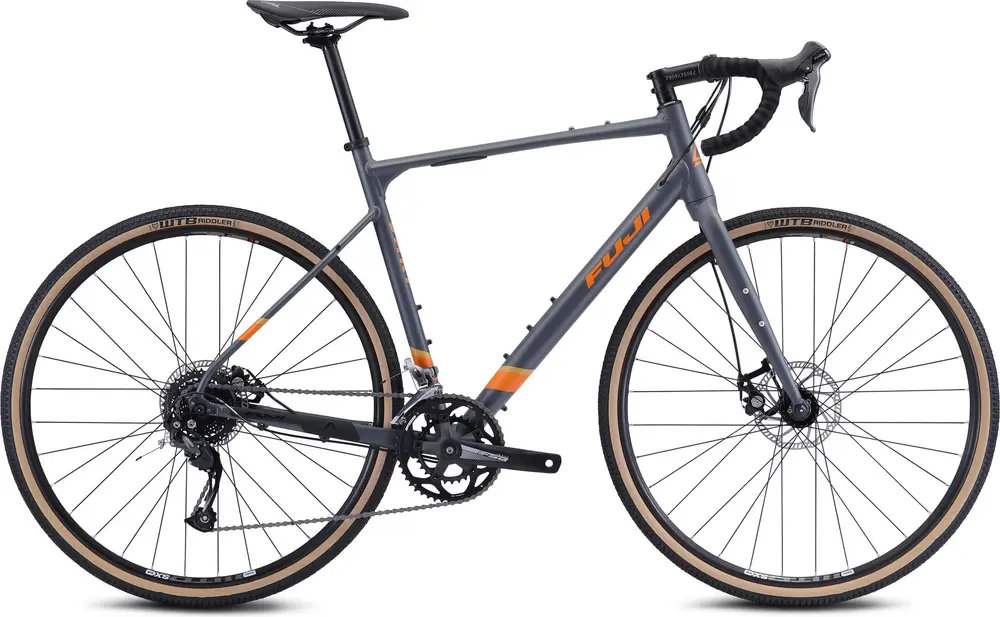 Unlike Trek 1.1, the Fuji Jari 2.5 is a bike that does a great job on gravel road bikes today.
The Fuji Jari 2.5 is equipped with a 1400-gram lightweight A6 aluminum alloy frame, but the surface of the Jari 2.5 only has a transparent coating material.
The Trek 1.1 has a carbon fiber fork, while the Fuji Jari 2.5 has a chrome-molybdenum fork.
The chrome-molybdenum steel frame is suitable for long-distance riding, especially long-distance road riding, which makes the Fuji Jari 2.5 very good for fine vibration damping on the road surface.
The chrome-molybdenum steel material itself is relatively elastic. When making the frame, because the material itself is better and more durable, the tube wall is usually thinner, resulting in greater elasticity.
The Fuji Jari 2.5 is not easy to get tired of riding, but the frame is soft, not suitable for competition, and not suitable for power.
Fuji's exclusive parts manufacturer, Oval, specially designed the handlebar for the Jari Jari 2.5. It is made of 6061 aluminum alloy and has a drop distance of 125 mm between the upper and lower handlebars.
The handlebar position is quicker under normal riding posture, and it is also quite suitable for relatively small arms. People who are short or have a phobia of gripping.
There is a 25° flare angle in the lower handle position, which reduces wrist flexion in the lower handle position and reduces fatigue accumulation.
The Jari Jari 2.5 head tube angle ranges from 70.5° on the smallest frame size to 72° on the larger frame. The slack head tube angle is a setting biased towards gravel bikes. The chainstay length is 435mm for all frame sizes, which is 1cm longer than a typical cyclocross bike.
2022 Vitus Razor vs Trek 1.1
The Vitus Razor is 1.0 kg lighter than the Trek 1.1. Other than that, the two cars are roughly like twin sisters.
Featuring an all-new modern 6061-T6 Double Butted Aluminium frame and full UD T-700 carbon fork, the Razor features a tapered frame to give you lightweight, speed, handling, and The perfect balance of comfort.
The Vitus Razor is equipped with Shimano's efficient and reliable Claris R2000 8-S drivetrain, while the Trek 1.1 is paired with a Shimano Claris drivetrain.
The Vitus Razor has Tektro R317 rim brakes and Vitus 700c road wheels with elegant-looking Vee Road Runner 700c x 28 tires for great performance and grip in all conditions.
The Trek 1.1 features Alloy dual-pivot braking, a dual-pivot design that enables a lightweight, compact, and durable braking system. Dual-pivot caliper brakes have come a long way in reducing tolerances and deflections as well as durability.
Trek 1.1 achieves firm and immediate braking response while ensuring longer life. In addition, the durability of the brake pads has been increased by 100%, helping Trek 1.1 to enjoy highly responsive braking for longer periods of time.
2022 Cervélo Caledonia 105 vs Trek 1.1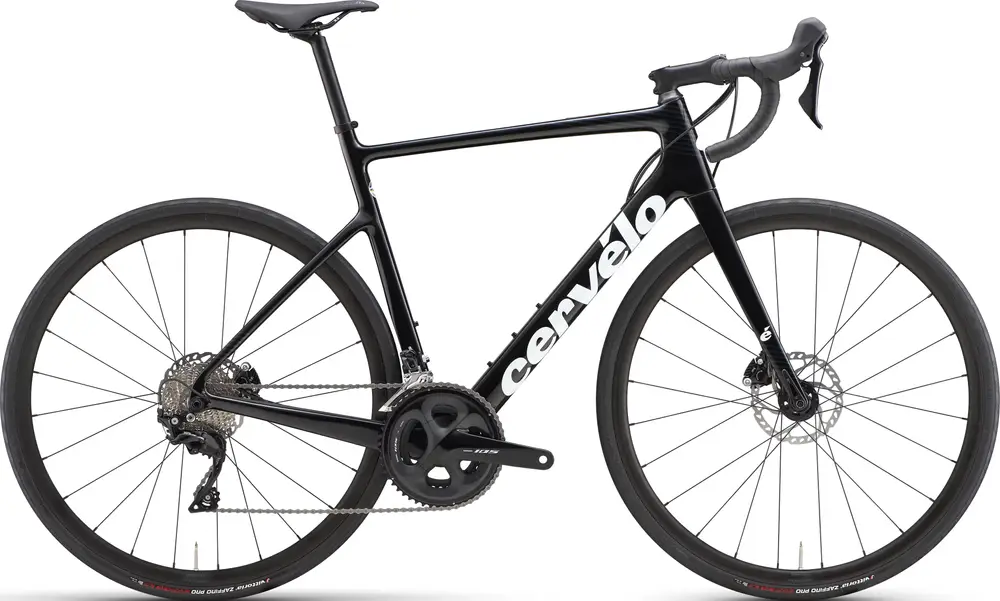 Cervélo Caledonia 105 is more than 4 times the price of Trek 1.1.
Cervélo Caledonia 105 starts from the tube shape, all the way to the design of aerodynamics, high stiffness, lightweight, etc., to meet the performance requirements of a competition-level road car.
In the eyes of our testers, the Cervélo Caledonia 105 is the nobility of road bikes.
Cervélo Caledonia 105's internal cable routing solution, split spacers, U-shaped fork steerer, and other designs have been further optimized.
Not only is the system simple and beautiful, but it is also much lighter (save 200 grams) and meets the rider's requirements for the fit range.
This simplicity is also far more than just aesthetics—it even affects how fast it rides, as nothing interferes with the airflow in the front end.
The Cervélo Caledonia 105 seat tube is cut to better wrap the rear wheel and effectively reduce wind resistance. Di2 fully internal routing handlebar design; shared with the s-series of the broken tube design, these are for the Cervélo Caledonia 105 ride aero performance considerations. Wow, really versatile.
Cervélo Caledonia 105 chainstays are designed to move down to effectively improve compliance. With a larger stack height and a shorter reach, the geometry is more relaxed.
In addition, the Cervélo Caledonia 105 uses Vittoria Zaffiro Pro V Folding G2.0 30c tires with a maximum tire size of 34 mm. These factors all add up to take into account its comfort.
Excited, our testers completely forgot about Trek 1.1's merits and turned all their attention to the Cervélo Caledonia 105.
Comprehensive evaluation(4.4/5)
The Trek 1.1 is affordable and of good quality overall frame and components, making it a very good starter bike. Trek 1.1 shifts smoothly and easily when you get the hang of shifting. And the range of gears allows you to handle all types of hills well, even on short, steep trails.
It's worth mentioning that you need to notice that the Trek 1.1's fork transmits very little vibration to the handlebars, making it a lot more enjoyable to ride.
Learn more: Top 10 Best Road Bikes Under $1000 [2023] – Great Value For Money
Video