We use affiliate links and may receive a small commission on purchases.
Trek Precaliber 12
Price: $279
Category: Leisure
Age range: 3 to 4 years
Wheel size: 16 inch
What we like about it: The lightweight aluminum frame coupled with the easy-to-operate manual brakes make it as fun as possible for kids.
What don't we like about it: The color is not overly selective and does not meet the individual choice.
Rating(4.6/5)
Introduction
We always worry about quality when buying a kids' bike. So I usually give a piece of fair advice to those who want to save time, and that is to try to buy a well-known brand of bike.
For example, Trek Precaliber 12, which I elaborate on here today. It is one of the largest bicycle companies in the world, and is based in Wisconsin.
Its reputation in the market for children's bikes has always been excellent. Trek Precaliber 12 is a very good value for money. We all know that children grow up very fast. And I think that high-cost performance is also an essential advantage to pursue. Of course, this does not mean that Trek Precaliber 12 makes compromises and concessions on quality.
The 12×2.25′ Bontrager XR1 tires grip the ground hard. The grind is strong enough for playing on gravel roads and lawns. You don't have to limit the routes your kids' ride, allowing them to explore the unknown as much as possible in their childhood.
To make the results more informative for you, here we elaborate on the performance, key features, components and specifications of the Trek Precaliber 12 while riding. If you want to know more about how other strollers compare, please refer to our review. (A big thank you to my daughter lily for her participation. Because without her feedback to me, I would not be able to elaborate truthfully).
Learn More: Best 20-Inch Bikes For 6-13 Years Old Kids Bikes (With Gears)
Riding Performance
Because I am obsessed with riding, I immediately ordered the Trek Precaliber 12 from the Trek website when my daughter showed her amazing riding talent. I was very excited when I received the package, but that didn't stop me from scrutinizing the Trek packaging. However, I have to admit that Trek has always done a very professional job when it comes to the tightness of the packaging. So I wouldn't worry about suffering some body damage during the shipping process.
I am very conscious of being comfortable on the ride because my daughter is shorter in height compared to kids her age. In the saddle, Trek Precaliber 12 uses Kids' padded, integrated seat post. The soft feeling makes the child more willing to get close to the bike and creates more attachment. I took lily for a ride on a gravel-filled outdoor trail. Although this is a very short journey for me, for the four-year-old lily is also a considerable challenge.
The Trek Precaliber 12's Bontrager XR1 tires are more powerful. And capable of powerfully crushing small gravels to make the ride easier and more fun. In addition, the steel rims are durable for children who need to spend a lot of time outdoors. We don't need to worry about them parking the bike casually and damaging the bodywork.
Because the lawn in my yard is lily's favorite playground, it was very slippery even after the rain.
But it didn't hinder her enthusiasm at all. The Trek Precaliber 12, is also easy to drive. Because the tread patterned tires has very strong grip. The 27tpi tires are strong enough to withstand some sharp branches and rocks. I would also like to mention here that the tires of Trek Precaliber 12 need to be inflated to a standard that is generally around 50psi.
Riding Experience
In terms of design, since the Trek Precaliber 12 frame is relatively low, it can easily allow the child to start his ride. Also, for their health, the stretchy and loose frame and 69.5° seat tube angle are not only better for standing and getting on and off the bike, but also can help them develop good habits.
I also noticed that the size of the seat tube is around 17.5cm and is adjustable. We can make timely adjustments according to the child's riding sitting position. When I saw lily stepping on the stirrups with all her strength, I also sweat for the quality of the stirrups. But there is no denying that they can be trusted. No matter how hard the child pushes, it still looks so solid.
There is no denying that some children are born adventurers and their quest for speed can be reflected early on in their character. This time the Trek Precaliber 12's Coaster brakes can help this future adventurer reach the faraway places he wants to go very well. And you will be very surprised at their talent.
Whenever I see lily show her amazing talent on the bike, I think I made the right decision in choosing the Trek Precaliber 12. I wouldn't worry about her age struggling through 0.6 miles of gravel trails full of uncertainty, or even outdoors on the grass. These are the peace of mind that the Trek Precaliber 12 brings to me.
Main Features
Frame
For the material of the bodywork, which accounts for the largest proportion of the bike, Trek Precaliber 12 is made of alpha silver aluminum.
For childhood, a sturdy and reliable bike is an essential playmate. Also, I think if you have several children in your family, this bike is a good one to inherit for younger siblings. You can safely store it in your garage and provide a place for it. The high-quality alloy material allows you not to worry that it will rust and damage. At the same time, I installed the auxiliary wheels immediately after receiving the package to better help my child quickly adapt to the ride. The process is tool-free, but that doesn't mean they aren't secure.
In the more than eight weeks that my daughter has used it, she has mostly ridden outside in a safe area during that time. But the auxiliary wheel is not any sign of coming off. Also, you can adapt the lights, fenders, and water bottles on the Trek website. This is a very popular trend among kids. Because of the freedom and looseness of the frame, you can install it very easily without much effort on your part.
For young kids, their riding experience is all about imitation. So you'll often see them putting most of their effort into pedaling the pedals hard. But from the looks as well as the sound of it, my Trek Precaliber 12's stirrups did not break in any way during up to eight weeks of vigorous use.
Geometry
For children, the 69.5° seat tube angle is very friendly. This can facilitate the easy operation of the child, while the steel fork can effectively dampen the vibration. At least, on some bumpy gravel trails, you don't need to worry about having any difficulty with their riding confidence.
Adjustable seat tube size of 17.5cm and near upright seat tube angle is enough to crush through for some small uphill. I believe this will exercise their confidence and courage from a young age.
Components and Specifications
Trek Precaliber 12 Bontrager XR1 Tires
Just as I am concerned, the vast majority of parents also feel a great interest in tires. Tough, hard-wearing tires are what will take kids where they want to go. I'd love to see kids meet more people through riding. And the Bontrager XR1's tires are 27tpi in density, which means kids can go farther in the distance they can reach without worrying about the risk of cutting their tires.
It is important to understand that interrupting a child's fun can cause a setback to their self-confidence and potentially create a great fear of riding.
Trek Precaliber 12 Steel Front Fork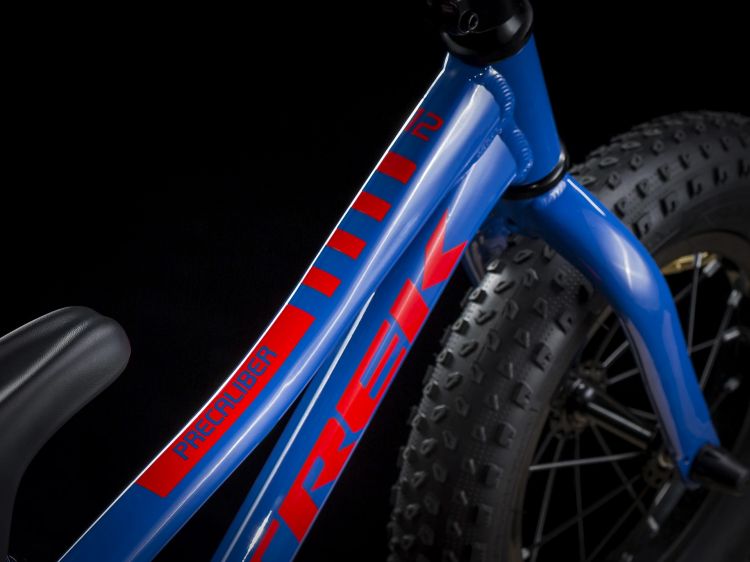 In terms of material selection for children's bikes, I think the Trek Precaliber 12 brings practicality and affordability to the level it should be for cost-effectiveness reasons.
When children are just learning to ride, they will have incorrect postures and power-ups, and the wear and tear on the bike will be more testing. So the steel material can slow down this wear and tear process. In addition, steel forks can also absorb certain vibration effects to achieve riding comfort and stable handling.
Of course, this cannot be compared to the professional carbon forks of our adult bikes. After all, we must considered the affordability and maintenance. Compared to some aluminum forks, steel forks can also stand up to wear and tear. So compared to the children's bike often used and better material is steel.
Trek Precaliber 12 Coaster Brake
We often see children deliberately choosing less smooth routes when riding and deliberately pushing some of their little limits. This is because at this stage children already have a little personal independence of mind, and all we have to do is try to give them a better choice of protection.
At the same time, it's important to keep that difficulty to a minimum so as not to blow their fragile minds. The Trek Precaliber 12's Coaster brakes help kids ride steadily and quickly. When they want to take on a little uphill challenge, the Coaster brake comes into its own.
Seeing the smiling faces displayed as the children reach each small goal is the best picture for the parents.
What we like about it
High-quality aluminum alloy material, more friendly to children.
Steel rims are more resistant to wear and tear.
Childlike geometric frame structure, more attractive to children's eyes.
An efficient and agile braking system can effectively brake for emergencies.
A stretchy geometric body is easier for children to ride.
Extremely easy to install the auxiliary wheel to save parents a lot of trouble.
Wide tires with a stronger grip can meet children's long-distance driving.
What don't we like about it
The choice of color can not meet the personality of children.
No more innovative components, the whole bike design is the middle of the road.
FAQ
What is the age at which Trek Precaliber is adapted?
Trek Precaliber is adapted to the age of 3-4 years.

What is the body material of Trek Precaliber?
Trek Precaliber body material is Alpha Silver Aluminum.

What is the tire size of Trek Precaliber?
Trek Precaliber tire size is 12×2.25".
Trek Precaliber 12 kid Bike Specs
Frameset
| | |
| --- | --- |
| Frame | Alpha Silver Aluminum, 12" kids' frame size |
| Fork | Steel, 12", threadless 1" steerer |
Wheels
| | |
| --- | --- |
| Hub front | Steel, 84mm bolt-on |
| Hub rear | Coaster brake, 16T, 120mm bolt-on |
| Rim | Alloy 12", 20-hole, schrader valve |
| Tire | Bontrager XR1, wire bead, 27 tpi., 12×2.25" |
Drivetrain
| | |
| --- | --- |
| Crank | Alloy, 26T, chainguard, 70mm length |
| Bottom bracket | Square taper, 68mm, sealed cartridge |
| Chain | HV410, 1/2×1/8 |
| Pedal | Kids' Satellite, 9/16 thread |
Components
| | |
| --- | --- |
| Saddle | Kids' padded, integrated seatpost, with handle |
| Handlebar | Kids' steel, 25.4mm clamp, 80mm rise, 500mm width |
| Grips | Kids' grip, 107mm width |
| Stem | Bontrager Approved alloy, 25.4mm clamp, 15 degree rise, 50mm |
| Headset | 1" threadless |
Accessories
| | |
| --- | --- |
| Training wheel | Training Wheel Trek Adjustable 12"-16" |
Weight
| | |
| --- | --- |
| Weight | 7.24 kg / 15.97 lbs |
| Weight limit | This bike has a maximum total weight limit (combined weight of bicycle, rider, and cargo) of 80 pounds (36 kg). |
Comparison Table
Trek Precaliber 12 vs 2022 Cannondale Kids Trail 12 Girl's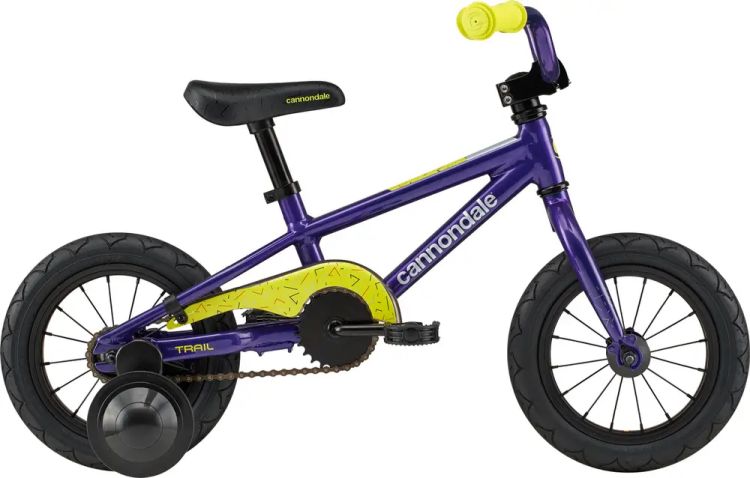 I remember it was a weekend when I took my daughter to the bike market and saw this model of the 2022 Cannondale Kids Trail 12 Girl's. I thought the Cannondale Kids Trail tires were slimmer compared to the Trek Precaliber. Compared to the Trek Precaliber tires, I found the Cannondale Kids Trail tires to be slimmer. The 12×1.75″ tires might be a little hard for kids who want to explore far away. A wider tire would be more efficient and stable in terms of lapping pressure. As a parent, I would be more comfortable with my kids riding a more manageable bike to start their little adventures.
At the same time, I think the design of the Cannondale Kids Trail is more rigid compared to the childlike frame of the Trek Precaliber. What I mean is that the Trek Precaliber uses more curves to make this model more cute and childlike. So for children, the Cannondale Kids Trail is not as appealing as the Trek Precaliber is of high interest.
Learn more : Is Cannondale Kids Trail Plus 24 A Good Bike? [2022 Cannondale Kids Trail Plus 24 Review]
Trek Precaliber 12 vs 2022 Cannondale Kids Trail
For a family with more than one child, all the expenses of toys are a significant amount of money. So for a more durable kids' bike, we as parents would like to have some affordability as much as possible. Of note, the difference between the components of the Cannondale Kids Trail and the Trek Precaliber is not that big, but the price is more expensive. For children whose destructive power is relatively large, economic principles are also to be considered.
Further, the color design, I think the Cannondale Kids Trail design is fancier and may not please all children. Trek Precaliber's design and color selection are more simple and more generous, although some are conservative. But the crowd will like it more and the acceptance level is higher.
Learn more:Is Cannondale Kids Trail Plus 24 A Good Bike? [2022 Cannondale Kids Trail Plus 24 Review]
Trek Precaliber 12 vs 2022 woom 1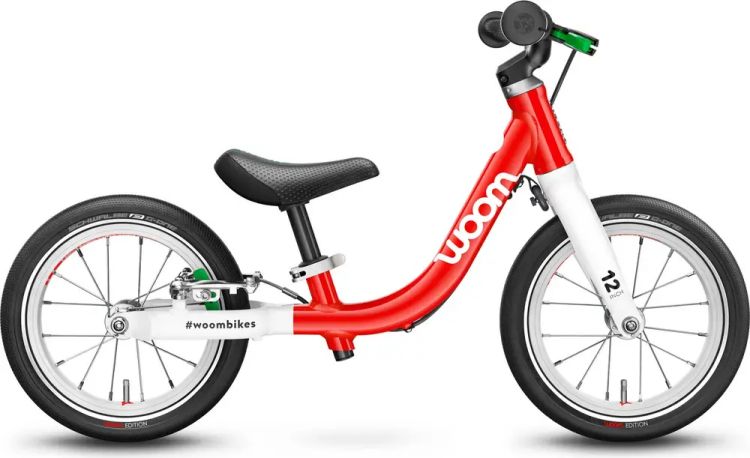 When browsing the children's bike market, we found that most of the bikes come with their auxiliary wheels. However, some bikes do not come with these two sweet little wheels and need to be fitted with 2022 woom 1 at a later stage. Perhaps, this is for many very cautious parents who can choose to equip their own auxiliary wheels later. But for me, this is more trouble. So I chose the Trek Precaliber, although its price is a few dozen dollars higher.
Of course, for my daughter's riding, I think the Trek Precaliber's 2.25″ tires are a better fit than the 2022 woom 1. The wider tires will be more stable when riding and will have enough crushing power for the small gravel roads that children love to ride on.
Trek Precaliber 12 vs 2022 GT Siren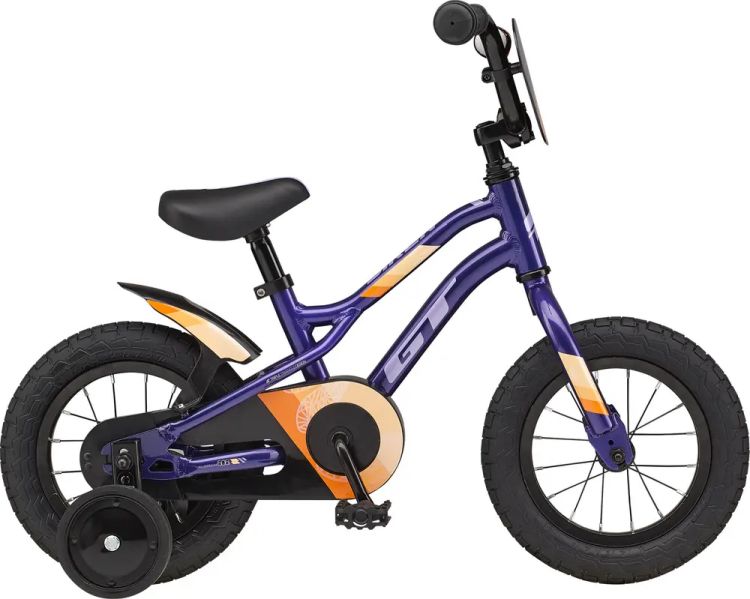 The 2022 GT Siren is an innovative and bold model that is too high on the traditional kids' bike frame because of the height of its head tube. It may be a little helpful for more active children who want to ride fast, but I'm not a big fan of this design for riding comfort.
If you want to take your kids into the park for the weekend to enjoy family time, this long ride should have a more relaxed and comfortable kids'bike. I think the Trek Precaliber frame is more traditional and more ergonomic for the child. Fostering healthy riding is very important and will not make her a little resistant to riding.
In case, the above comments are helpful to you, please remember to share the subscription. Have a great day!
Learn more:Top 8 Best Children Bikes – Suitable For Children Of All Ages