We use affiliate links and may receive a small commission on purchases.
Schwinn Traxion Mountain Bike Specs
| | |
| --- | --- |
| Brand | Schwinn |
| Size | 18″/One Size |
| Color | Blue/grey |
| Frame Material | Aluminum |
| Wheel Size | 29 inches |
| Brake Style | Disc |
| Number of Speeds | 24 |
| Suspension | Dual |
| Item Weight | 49 Pounds |
Rating: (4.5/ 5)
Schwinn mountain bikes have been the first choice of many mountain bike users, and are known for their low prices and high quality.
Now, we are going to review the Schwinn Traxion Mountain Bike in depth after gathering a lot of user reports and testing for half a month.
Cross Country Performance
For superb grip, the Schwinn Traxion Mountain Bike has multiple-section mountain tires. It is perfectly capable on rough roads, too, with dual front and rear suspensions, and front and rear disc brakes. I could not wait to take it out on the gravel-filled rough terrain when I first got on it, and it performed very well.
I have to admit that the 2.25″ wide tires are thick enough for mountain sports. Because the wide body not only makes it extremely passable, it can easily climb over rocks and tree roots. It is also strong enough to absorb shock and make the rider a more comfortable riding experience.
It is also thin enough to minimize friction with the ground, allowing it to fly at ground speed.
Of course, when it comes to its wonderful performance, its front and rear suspensions are to be credited. Especially in the process downhill in the mountains, I can feel its shock absorption effect.
The fork was very mischievous, always driving me up and down and bouncing around. Although I could feel a little bump, it was not a strong vibration and did not make my shoulders and arms feel unpleasant.
The rear suspension is very much the same, and I can feel my butt being massaged all the time, which is a little bit exciting and a little bit comfortable, which makes me feel very interested.
Experience
When conducting the mountain test, I of course had to test the Schwinn TraxionMountain Bike for smooth shifting. 24-speed Shimano EZ Fire trigger switch shifted easily, and the Shimano chainstays front and rear were smooth and free of derailment.
When I encountered an uphill, I flicked the dial and the bike shifted to a lower gear very smoothly. So the climb was very easy and I didn't even choose to stand up.
To its credit, it's really friendly enough for newbies. Because of the visual shift dial, I can easily capture the information about the gear I am in.
When the bike came to the downhill road, the acceleration of gravity made the downhill speed very fast, although the mountain road was very steep, I did not panic at all. Because the braking effect of the disc brake discs was so fast, I only needed to grasp the force of the brake grip according to my speed needs, and I was able to make the bike go down the hill steadily.
Road Performance
Although the Traxion is a full shock design, it does not mean that it is not suitable for road riding. For this reason, we also specifically test-rode it on general roads.
I have to say that Shimano's drivetrain is really powerful, and with the shift treatment, the 2.25-inch wide tires are also able to fly around on smooth roads. Although I can feel that it has a lot of grips and it is not as easy to pedal as a normal road trip, it is really comfortable and no vibration or bumps can be felt.
Overall, the Traxion may adapt to all terrain, but there is not enough explosive power and agility compared to specialized road bikes. This comparison, of course, isn't very fair. But more functionality adds to the nimble body structure and comfortable riding position.
Packaging
The Traxion box measures 58.67 x 9.06 x 31.9. After checking the integrity of the box, we opened it up and it was filled with various fillers to secure the various parts. Difficult to install the parts are well assembled in advance, is an absolute boon to our novice hands-on ability.
Easy assembly
I only needed to assemble the wheels, handlebars, seat and pedals because the bike was partially assembled. Tools used: Adjustable wrench, Phillips screwdriver and Allen wrench. It took me 45 minutes to assemble the bike in accordance with the instructions, but it will take a little longer for older people. It tightened the factory-assembled parts, adjusted the brakes, and oiled the chain. We are assembling a brand new mountain bike.
Key features of the Schwinn Traxion Mountain Bike
Sturdy frame
The entire Schwinn Traxion, including the dual suspensions, is made of aluminum. The structure is designed to be more robust, and to add soft lines, the traditional frame design has been strengthened, and the whole bike gives an intimate feeling.
The weight of the bike is 40 pounds, which is relatively light and appropriate for some challenging movements. To be simpler to install and fit very reasonably close to the frame, the brake lines are arranged.
All Terrain
We know from the test that the performance on both mountains and roads is excellent. This is due to the quality of the Schwinn Traxion Mountain Bike's individual components. As we did not encounter bad weather during the test, the transmission is also a plus, but the quality of the Schwinn Traxion Mountain Bike is very solid by all accounts. 29″ tires are appropriate for 5'10 and taller riders. The height of the stand is about 32 inches, making it a "big" bike."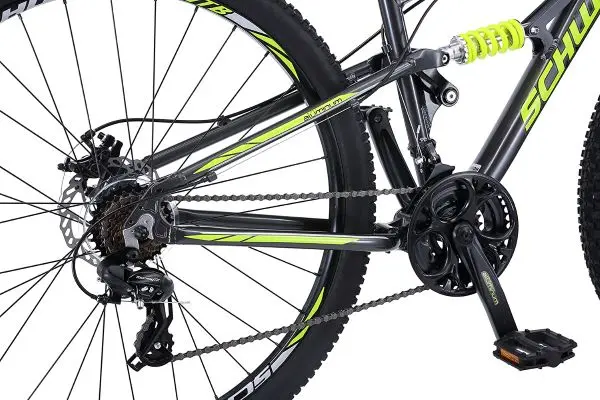 Components and Specifications
Schwinn aluminum dual suspension
The full suspension is more costly than the XC, but it can adapt to more terrain with the full suspension and the damping is better than the XC. The dual suspension of Traxion aluminum has 80 mm of travel fork suspension and 18 mm to 35 mm of rear shock absorbers, which can absorb energy very well. The material itself is longer-lasting and more durable and can remain with us for a longer period of time.
24-speed Shimano drivetrain
The Schwinn Traxion Mountain Bike's 24-speed Shimano drivetrain is also the outstanding feature of this bike. It is also used for $1,000-plus mountain bikes. With a Shimano EZ-Fire 24-speed trigger shifter and a Shimano rear derailleur,
It has a good transmission that won't allow you to miss a beat while riding. When driving up hills on mountain roads, smooth shifting provides a pleasurable riding experience. And just that, Traxion does.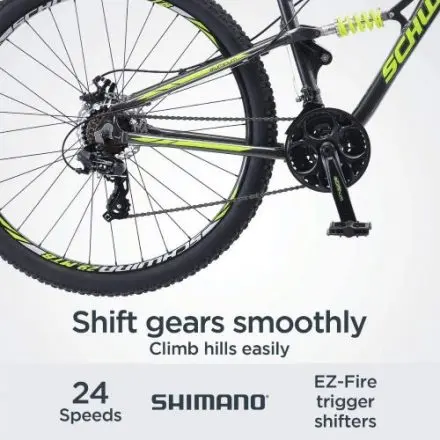 Mechanical Disc Brakes
For mountain bikes, sensitive and efficient braking is also a must, and the Traxion uses front and rear mechanical disc brakes to provide plenty of braking power, even on steep downhill trails. But hydraulic disc brakes, which would cost three times more, would be a better alternative. Eventually. In an easy-to-use position, the brake handle is relatively short and set. The maximum braking effect may be achieved in extreme conditions.
Multi-section mountain tires
Multi-section mountain tires are more suitable for rough terrain and can ride and turn like a dream on rough dirt roads and rugged mountain trails with a width of 22.5″, providing reliable traction. Bumpy roads also smooth out the soft inner tube.
Why are we enjoying it?
Less than 600 dollars, good value for money
Medium aluminum frame for a smooth ride and full suspension
The 24-speed Shimano drivetrain and mechanical disc brakes deliver excellent performance and great value.
For all-terrain driving, multi-section mountain tires.
Worth taking into consideration
No holder for water cups
Plastic pedals are susceptible to harm.
Comparison Table
Diamondback Bicycles Overdrive Hardtail Mountain Bike vs Schwinn Traxion Mountain Bike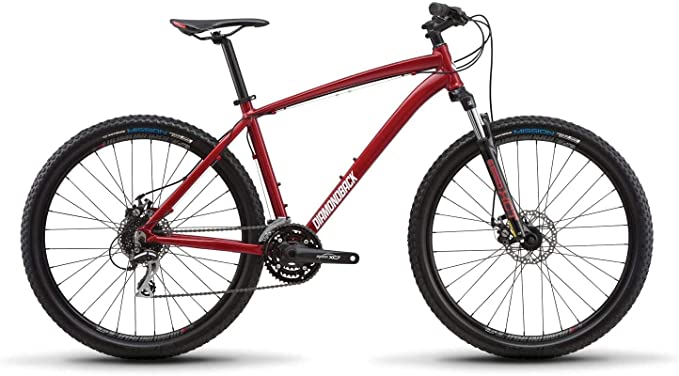 The Schwinn Traxion Mountain Bike is an all-terrain mountain bike that is stylish and rugged. It features an aluminum framework and mechanical discs, as well as a Shimano powertrain, in the same price range as the Diamondback. But while the Traxion is MTB, the Diamondback is XC. The Overdrive Hardtail Mountain Bike Diamondback Bicycles has a more rigid shape, which some users have expressed a preference for when buying. However, the price is a bit higher than Traxion, and in terms of cost performance, we prefer Schwinn Traxion Mountain Bike.
Mongoose Dolomite Men's Fat Tire Mountain Bike vs Schwinn Traxion Mountain Bike
The most noticeable thing about the Mongoose Dolomite is undoubtedly its fat tires – 4″ thick. This makes it look quite bulky, and it is.
However, it is more comfortable to ride it in the mountains, because the tires pass well and the damping effect is obvious. But it is also true that it is hard to ride and very tiring.
Fat tires are more attractive in snow and mud, and it is not wise to ride on mountain and city roads.
If you're thinking of getting a fat tire for your mountain bike, I'd urge you to think again. If you don't want to scrap your legs, it's better to go with the Schwinn Traxion.
Northwoods Aluminum Full Suspension Mountain Bike vs Schwinn Traxion Mountain Bike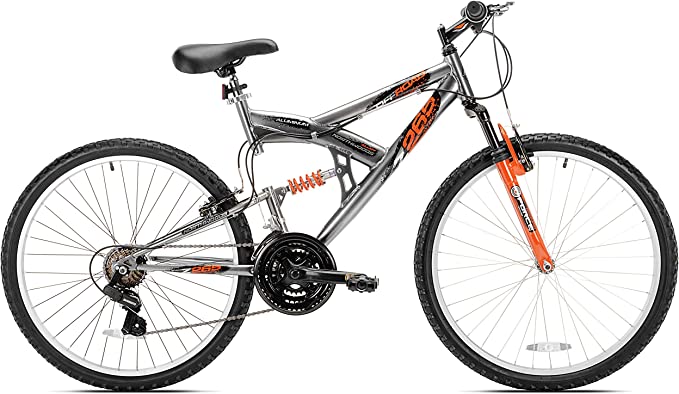 I have to admit, Northwoods Aluminum has a very cool look that teenage boys love.
But with 26-inch tires, it may not be friendly for people with big bodies. Because the moment you sit on a bike with a tall body, you can feel your legs not only on the ground but also must be bent and placed. Therefore, when you ride, you will be bending your legs the whole time, and that is very uncomfortable.
If your kids need a mountain bike, then Northwoods Aluminum is great. But if it is as an adult you need, it will certainly make you regret it.
Schwinn Moab 3 Adult Mountain Bike vs Schwinn Traxion Mountain Bike
The Schwinn Moab 3 is an XC mountain bike from Schwinn that is designed so that it is happy to help riders win races.
Secondly, the 3×8 speed drivetrain and hydraulic brake discs give the rider more courage to pedal faster.
If you also have a higher desire for speed the Moab 3 will help you achieve it, but if you're not keen on racing and prefer to feel the fun of riding off-road, the Traxion is better.
Learn More: Schwinn Moab 3 Mountain Bike Review – Buying Tips
Mountain Bike Schwinn:Schwinn Traxion Mountain Bike Review Video