We use affiliate links and may receive a small commission on purchases.
Is the Gyroor C3 Electric Bike worth buying? What are the advantages and disadvantages of the Gyroor C3, and what are the advantages of the Gyroor C3 compared to other folding electric bikes of the same type?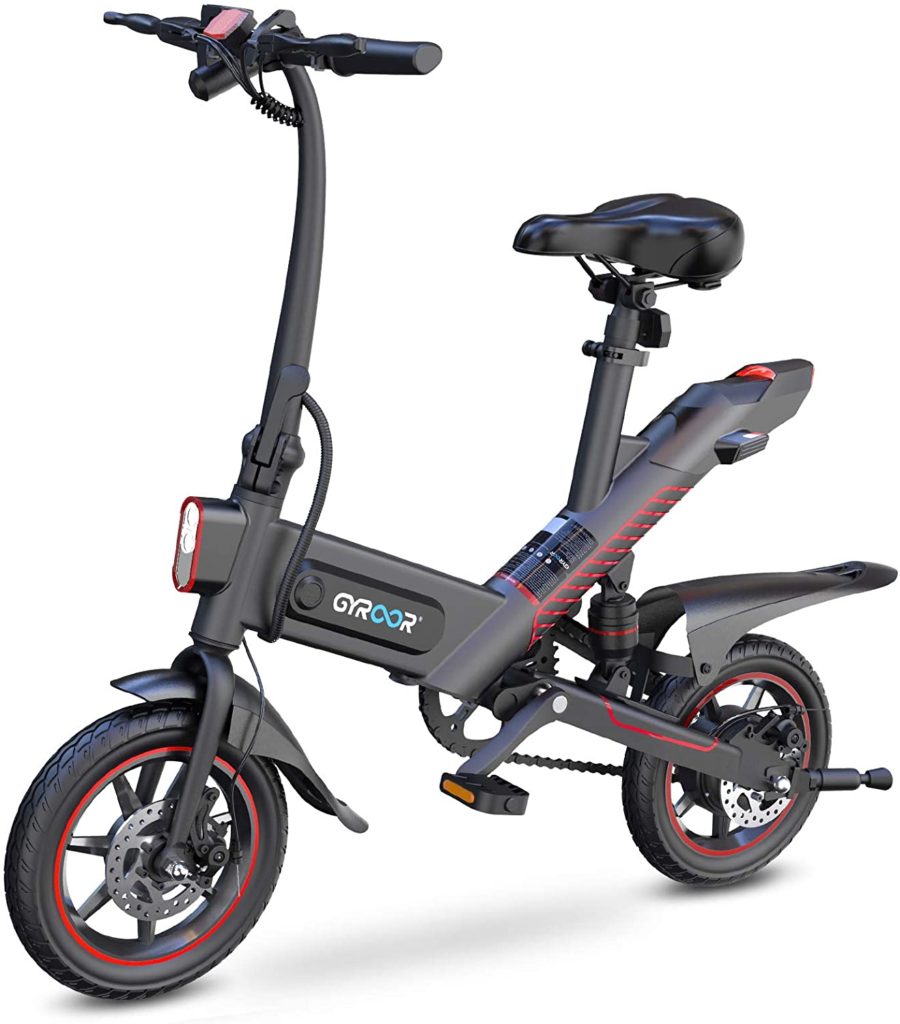 These are definitely the most important questions for users who want to buy this folding e-bike. This is a comprehensive review of the Scoot-E-Bike Folding Electric Adult Scooter.
Is the Gyroor C3 Electric Bike worth buying?
For a fashionable, fun-to-ride foldable electric bike that electric bike enthusiasts can't get enough of.
This is an excellent folding electric bike with a range of 28-38 miles for pure electric riding for those of you with pretty long commute miles.
The travel pace is excessively rapid, and the smaller wheels and light bodyweight are also intended to make travel simpler.
The entire price is not too expensive, and for frequent use of transportation, the investment in a folding electric bike is well worth it.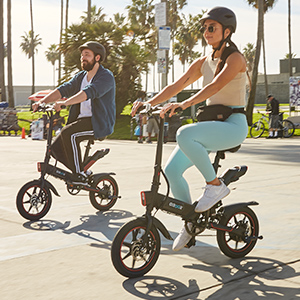 Features of the Gyroor C3 Electric Bike
Motor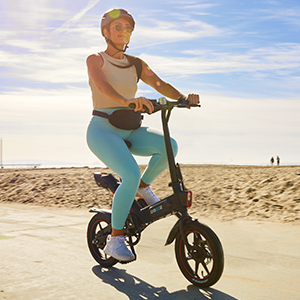 The 450W motor is second only to the 500W engine in terms of power, and the Gyroor C3 Electric Bike can climb short 15° slopes and reach 18.6 MPH on flat roads on a 100% electric ride.
Although it is somewhat less powerful than an electric bike that can reach 20 MPH, you will notice that it has more power when you ride it, such as its starting speed, and the typical commuting pace is about 17 MPH, so this strong power and top speed number is sufficient for commuting.
Battery
A 36V 10Ah power battery powers this folding electric bike. It also just takes 5-6 hours to charge from empty to full.
The range on pure power is 28 miles, and the range on assisted riding mode is 38 miles. And the riding speed will be a little faster; normally, aided riding can boost top speed by 23%; nevertheless, riding at that high pace will be more taxing and uncomfortable.
However, if you are in a rush to go somewhere, such a high riding speed can cut your commute time in half.
Shock absorber system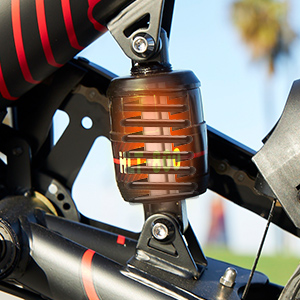 Although the Gyroor C3 is a folding e-bike, it is equipped with a unique shock absorber under the seat to reduce the impact on the rider when encountering small bumps.
Front and rear disc brakes
The Gyroor C3 disconnects the motor when the brakes are applied. And the front and rear disc brakes make riding safer. Unlike the discs of normal disc brakes, Gyroor C3 is thicker and more wear-resistant while requiring less maintenance.
3 Riding Modes
3 riding modes: e-bike, pedal-assisted bike, and bicycle. The Gyroor C3 electric bike has no gears to shift, but it has three-speed modes, Model 1: Low speed: The limited speed is 6.2 mph; Model 2: Medium speed: The limited speed is 12.4 mph; Model 3: High speed: The limited speed is 18.6 mph.
Dual Headlight and Tailight
This feature allows for safer night riding. Unlike reflectors, tail lights can rely on power to emit light, making it easier for cars to notice riders in front of them. And they are LED lights, which are energy-efficient and durable.
Gyroor C3 Advantages and Disadvantages
Advantages
Strong motor power
Longer battery range
Unique shock absorbers
Dual disc brakes
90% pre-assembly, easy to assemble
Can be ridden in rainy days
3 riding modes
Disadvantages
Gyroor C3 Specs
| | |
| --- | --- |
| Bike Type | Electric Bike |
| Age Range (Description) | Adult |
| Brand | Gyroor |
| Wheel Size | 14 Inches |
| Specific Uses For Product | Road |
| Suspension Type | Rear, Front |
| Special Feature | Portable |
| Number of Speeds | 1 |
| Size | One Size |
| Color | Black |
| Max Load | 265 lbs |
| Max Speed | 18.6 MPH |
| Max Range | 28 Miles |
| Assisted Range | 38 Miles |
| Net Weight | 47.8 lbs |
| Motor | 450W |
| Battery | 36V 10 AH |
User Reports
It's a lot of fun to ride the Gyroor C3 electric bike! With reasonably quick acceleration and power, a comfortable seat, and a sporty racer style.
Many individuals are accustomed to the pure pedaling function of a standard bike, but riding the Gyroor C3 may be a whole new sensation.
Regardless of riding pace or previous riding habits, many individuals are quite delighted with this kind of riding distance because it can exceed 38 miles on supported riding.
The acceleration is swift enough that the transition from a slow to a fast speed can be thrilling. The damping is particularly noticeable when riding on dirt roads, but there isn't enough damping upfront to allow you to ride comfortably.
If you are riding on a somewhat hilly route, the assisted ride mode will be a little faster because the Gyroor C3 will not be unable to continue forward due to its power.
Product comparison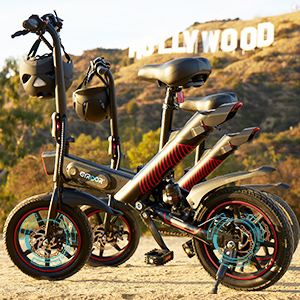 Bicycle
Frame material
Wheel size
Top speed / pure electric range
Motor & Battery
price
Scoot-E-Bike Folding Electric Bike
Aluminum
610mm
20MPH
30 miles
350W
48V 10AH
Click View
ANCHEER Folding Electric Bike
Aluminum
12-Inch
15.5MPH
15 miles
350W
36V 6AH
Click View
DYU Folding Electric Bike
High-strength Steel
12-Inch
15.5MPH
25-37 miles
240W
36V 10AH
Click View
Swagtron Swagcycle EB-7
Aluminum
16-Inch
18.6MPH
19
350W
36V 6.5AH
Click View
Comparison
The Gyroor C3 has more relevant features, so what are the similarities and differences with the same type of comparison, we also made some simple comparisons, hope it will help you when you choose.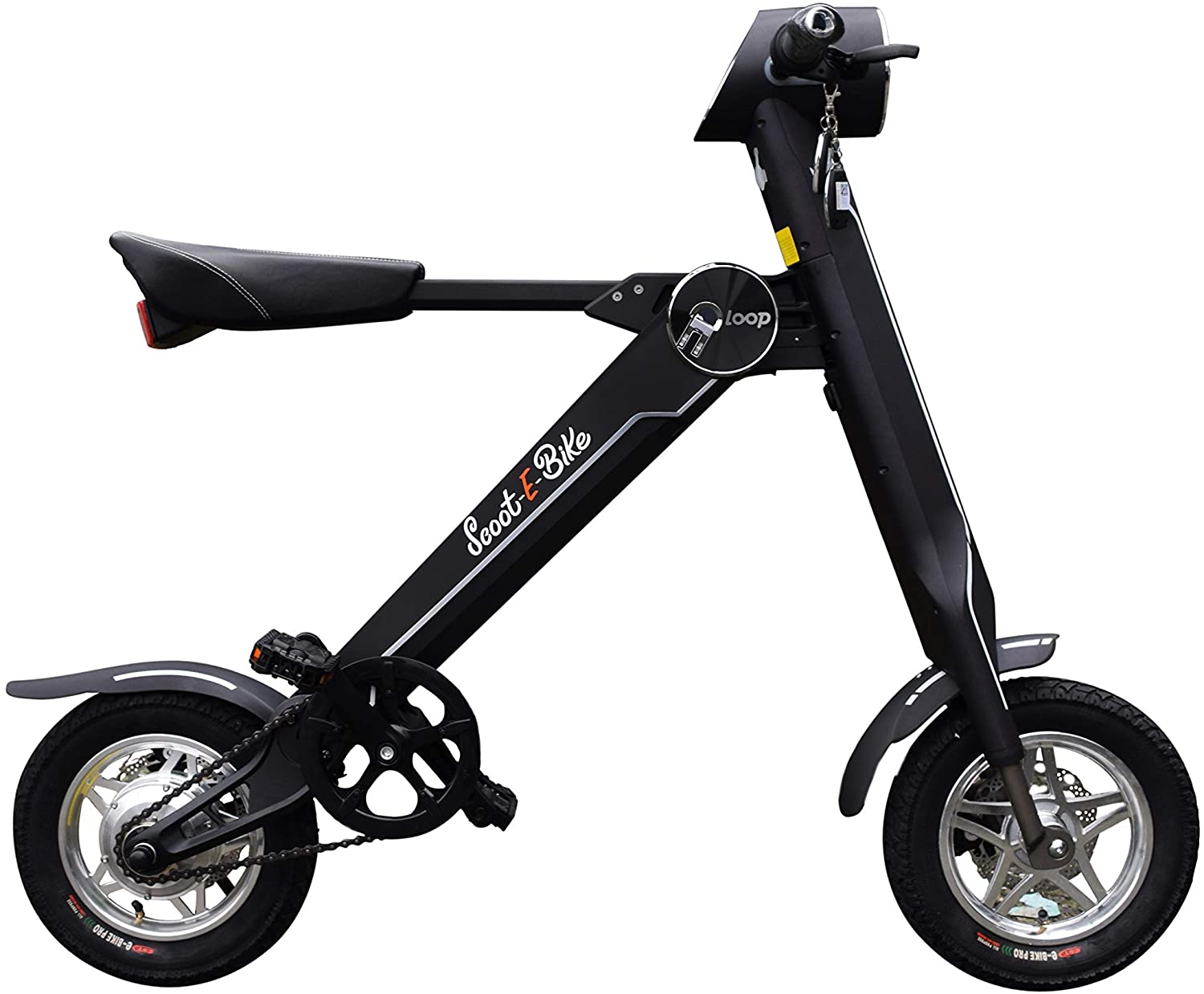 The Scoot-E-Bike Folding Electric is likewise a folding electric bike, but it lacks the ability to alter the seat height, making it less adaptable to riding height.
But that doesn't mean the Scoot-E-Bike Folding Electric Bike isn't worthwhile to purchase, and it's ideal for consumers who prefer super-compact folding proportions.
The Gyroor C3 also has better shock absorption, so if you're riding on gravel roads or want to try gravel roads, the Gyroor C3 is great.
The Gyroor C3 is a great choice if you're riding on gravel roads or want to try gravel roads.
Read more: Scoot-E-Bike Folding Electric Adult Scooter Review – 2021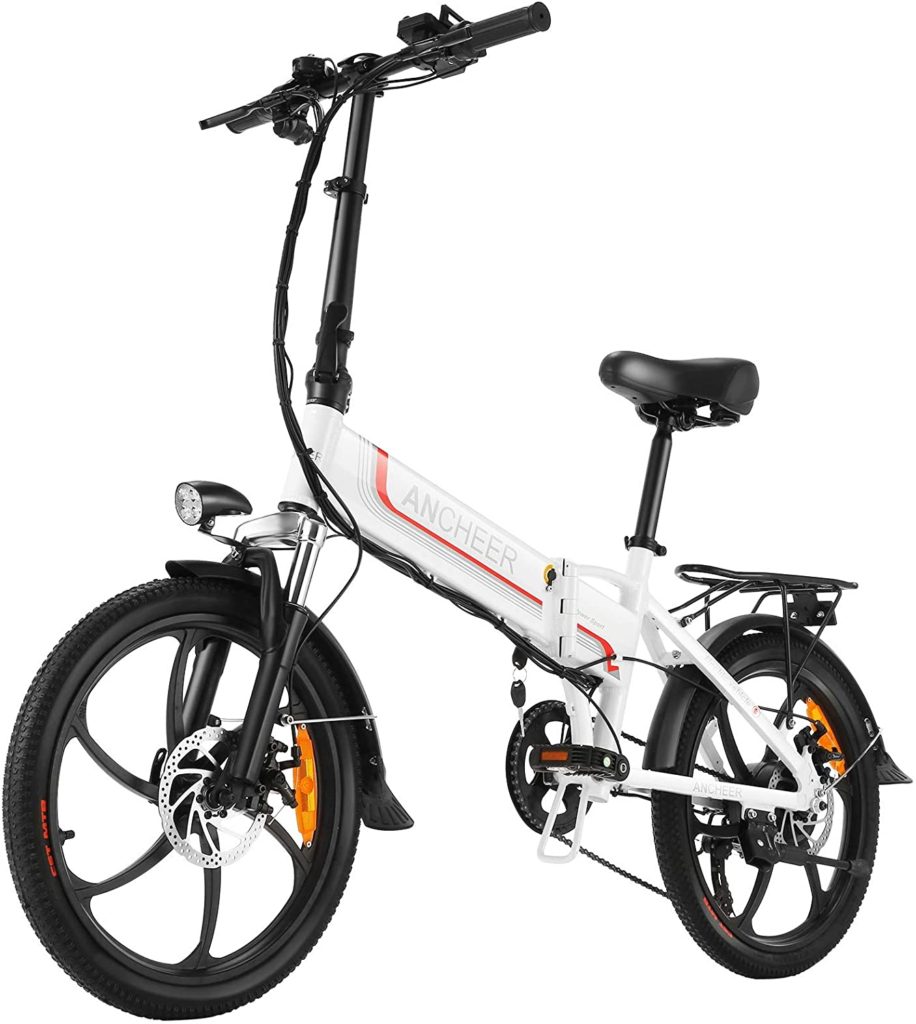 The ANCHEER Folding Electric Bike has a different structure than the Gyroor C3, it cannot be ridden, it can only be ridden on pure electric power, and its range is slightly less than that of the Gyroor C3.
The ANCHEER Folding Electric Bike, on the other hand, is less in weight and maybe suited for youngsters, women with limited strength, or the elderly.
It does, however, come with a specific app that the Gyroor C3 does not. The Gyroor C3 is best suited for more difficult commuter roads.
Learn more: ANCHEER 20 INCH Folding Electric Bike Review-2021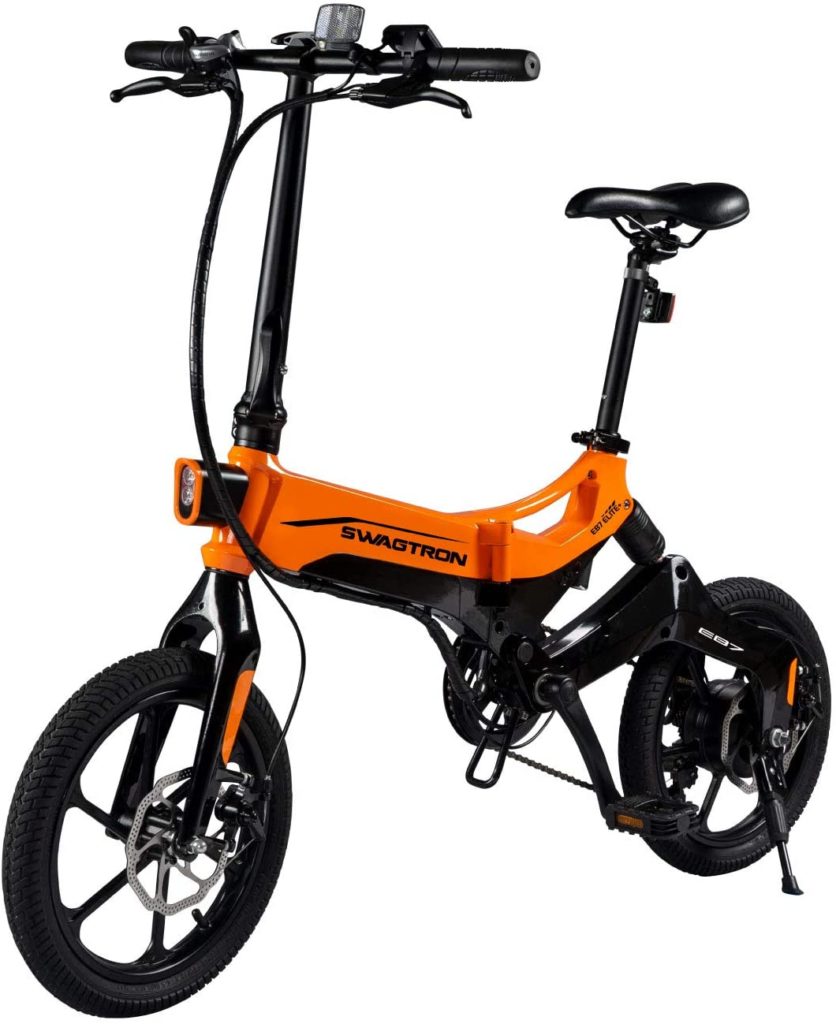 The Swagtron Swagcycle EB-7 has more speed gears, and the 7-speed gearing is more powerful than the Gyroor C3's single-speed gearing. The Swagtron Swagcycle EB-7 is ideal if you prefer a more assisted ride.
However, if you like the more controllable Gyroor C3, and the weights of the two cycles are comparable, both are the way to go if you are weight careful. Of course, the damping effect is similar in both cases.
Both the Gyroor C3 and the Swagtron Swagcycle EB-7 are fantastic buys.
Learn more: Swagtron Eb7 Plus Review – [November 2021]
User Concerns
How tall is the Gyroor C3 for people? What is the maximum load weight?
It is suitable for male and female riders from 4'11"-6'3. The maximum load is 265 lbs.
You can ride in the rain, but be especially careful not to ride when water reaches the motor. It has a waterproof rating of IP54. For expertise on this, see the following.
https://rainfordsolutions.com/products/ingress-protection-ip-rated-enclosures/ip-enclosure-ratings-standards-explained/
What parts do I need to assemble the Gyroor C3 and is it difficult to assemble?
You need to put on is the seat and seat bar. Everything else (wheels, brakes, battery) is already assembled.
Summary
The Gyroor C3 is easy to fold, has a quiet motor, and has some shock absorption for men or women who commute. It has many advantages over similar products. The aluminum frame is strong and durable. The Gyroor C3 is a quality folding e-bike that will stay with you for a long time, as it still performs well on complex roads.
Video