We use affiliate links and may receive a small commission on purchases.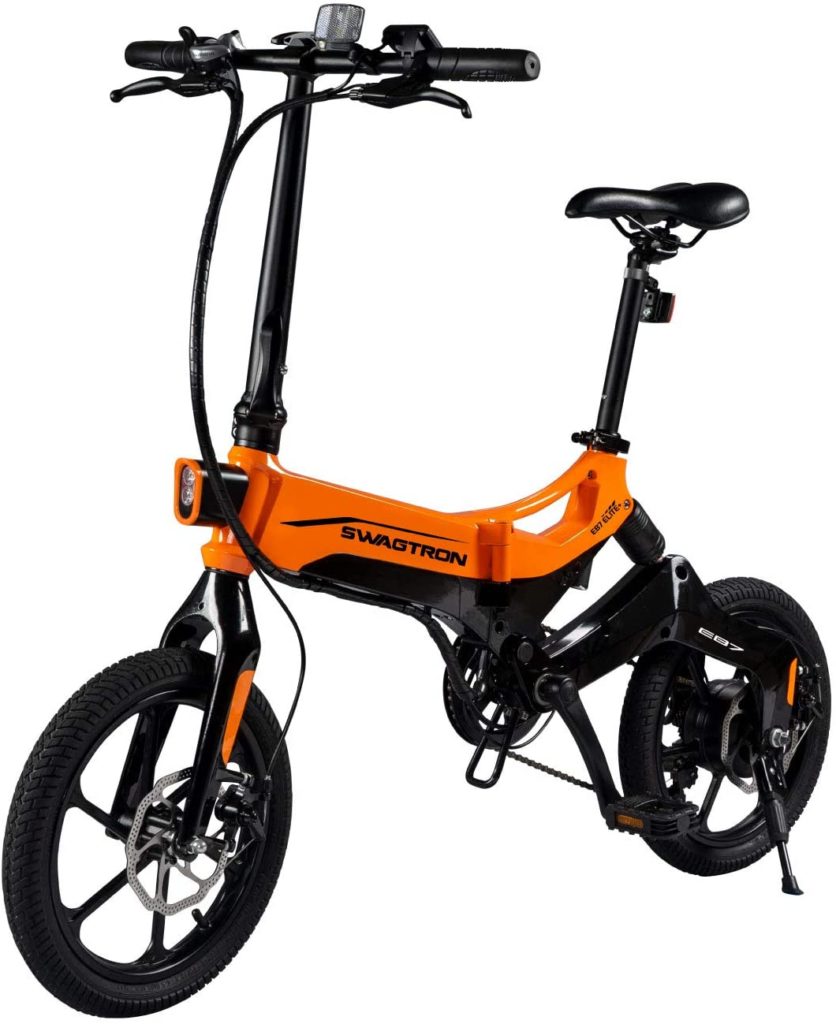 Is the swagtron eb7 plus worth buying? What are its features and what is the user riding experience?
What are the pros and cons of swagtron eb7plus? These questions are certainly the most important for users who want to buy this folding electric bike.
This is a comprehensive review of the swagtron eb7 plus.
What are the features of the swagtron eb7 plus?
Lightweight collapsible aluminum frame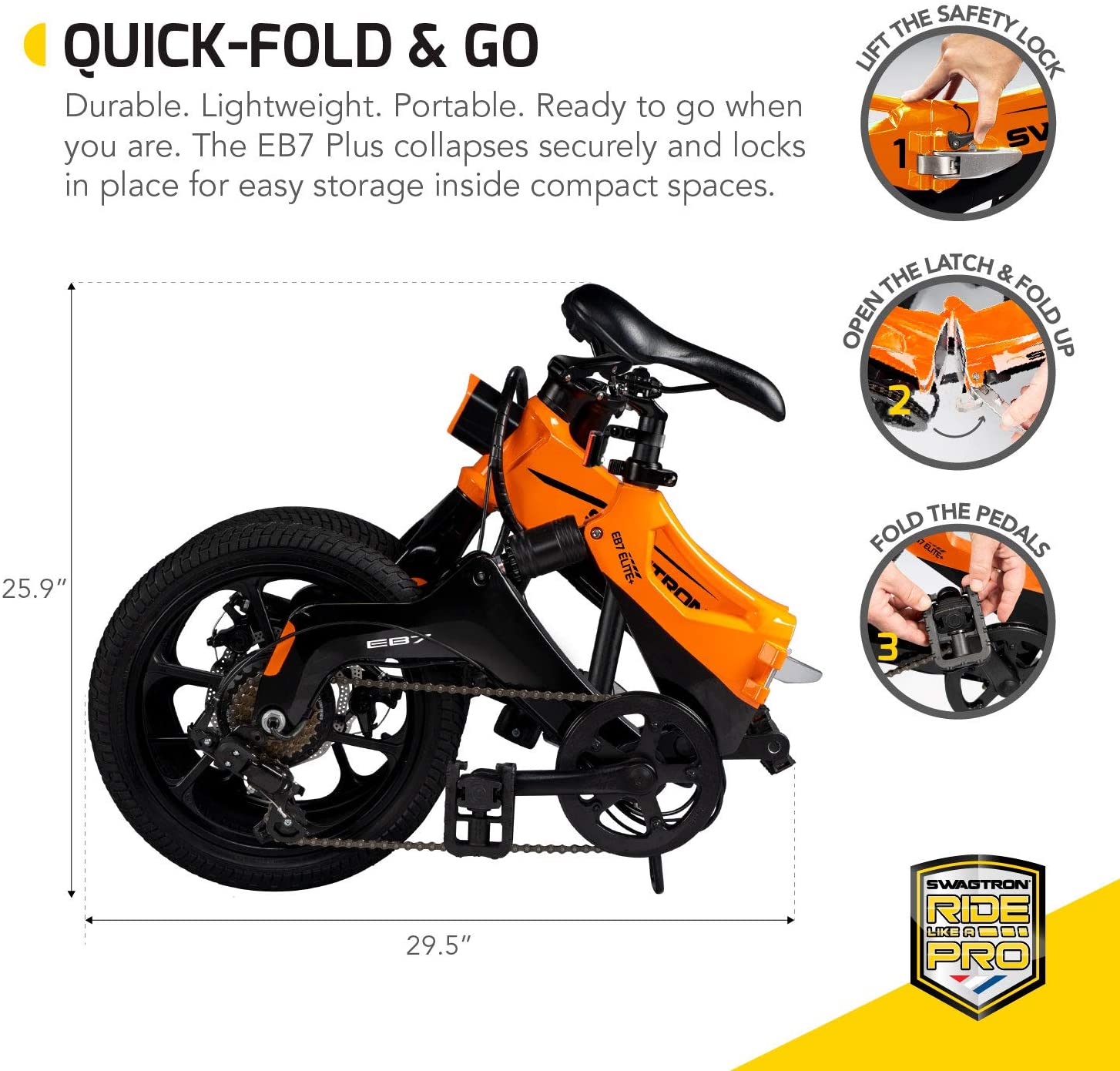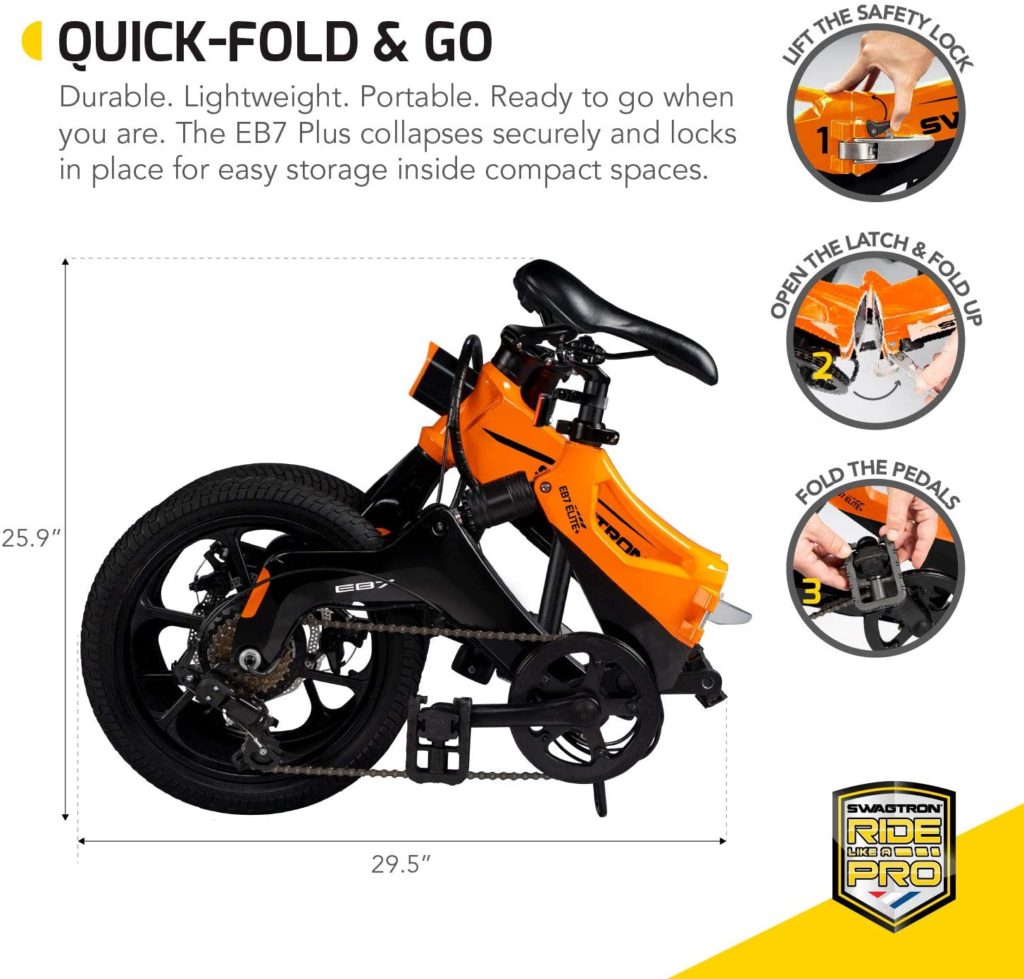 Because the Swagtron EB-7 plus has an aluminum frame, the overall weight is only 42.3 lbs. Its overall weight is quite modest when compared to foldable e-bikes in the same price range.
If you don't use it frequently, the folding size is tiny enough that you can take it on public transportation and conveniently store it beneath a table. 3 foldable designs Dimensions when folded: 29.5 x 16.5 x 25.9 in (750 x 420 x 660 mm).
This folding size is slightly smaller than that of the Swagtron eb7. The dimensions when unfolded are 52.7 x 22 x 42.1 in (1340 x 560 x 1070 mm).
Also, it is a little smaller than the earlier swagtron eb7.
Swagtron eb7 plus motor
A 350W motor that offers adequate traction. In the assisted riding mode, it can comfortably tackle 25° hills. This e-bike can reach 18.6MPH on flat terrain.
And, according to the manufacturer's data, pedal aid mode gives 23% more speed, thus the top speed may be slightly higher.
There are three riding modes: pedal assists, throttle only, and bike.
Swagtron eb7 plus battery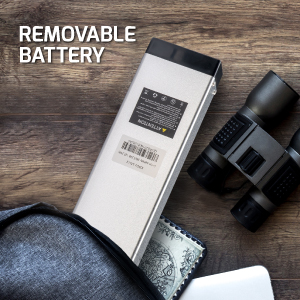 The eb7 plus battery has a battery-only electric range of 19 miles, and because this is a folding electric bike, it is simple to remove the battery and purchase additional spare batteries that cost only 3-4 pounds.
The charging time is only 3-4 hours. The producer of the swagtron eb7 plus battery has also developed a battery management system to provide maximum battery life through sophisticated protection against overvoltage, overcharging, and overheating in order to extend battery life.
Versatile 7-speed gear system
The 7 gears allow for a wider range of riding styles, with the purely electric mode not always being everyone's favorite, but with the matching assisted riding mode. With the ability to shift gears in seven positions, you can master both rapid and sluggish riding.
Enhanced Rear Suspension
Although there is no front suspension, the assembled rear suspension is light and convenient, and the competition is better, and coil shocks with adjustable preload, "Autoguard," so that driving road bumps are not a source of discomfort.
Super bright display and LED headlights
The display shows important information such as the remaining battery power, the current riding speed, and the riding mode. By using the display, you can effortlessly switch between km and mph!
To enter the P02 screen, press the power button, then use the + and – buttons to change the display to the desired value. To enter the P02 screen, press the power button, then use the + and – buttons to change the display to the chosen measurement type between imperial (miles, mph) and metric (km, km/h).
The LED headlight can be turned on in the evening or at night, but if you forget to turn it off, you will have difficulty finding it during the day, therefore it is best to verify if the LED is on when riding in the morning.
If you drive with the lights on, it will reduce its range this time and may also give you the impression that the battery is insufficient.
Swagtron eb7 Elite plus pros and cons
Pros
Foldable aluminum frame, light overall weight
7-speed gears
Easy to change battery
Front and rear disc brakes
Rear-mounted shock absorber
Quickly rechargeable
Advanced battery management system
Cons
No stock fenders
Pedals are mounted rather low
Swagtron eb7 Elite plus Specs
| | |
| --- | --- |
| Item Package Dimensions L x W x H | 48.9 x 32 x 16 inches |
| Package Weight | 25.02 Kilograms |
| Item Dimensions LxWxH | 52.7 x 22 x 42.1 inches |
| Item Weight | 42.3 Pounds |
| Brand Name | Swagtron |
| Warranty Description | 1-year manufacturer |
| Model Name | EB-7P |
| Color | ORANGE |
| Material | Aluminum |
| Suggested Users | Unisex-adult |
| Number of Items | 1 |
| Manufacturer | SWAGTRON |
| Part Number | EB-7 |
| Model Year | 2019 |
| Included Components | Charger, Manual |
| Size | One Size |
User Reports
The SWAGTRON EB7 Plus, which costs more than $1000, is more concerned with comfort. If you consider a single-speed e-bike to be a vehicle, the SWAGTRON EB7 Plus is a toy you can ride.
When you want to ride, you can switch to different modes, it can also adapt to a lower height if it is your wife or children are very easy to ride it, but this bike has limitations of use, is a tall person is difficult to stretch his long legs, let alone for riding, so when shopping, must pay attention to whether he is suitable for your height.
Comparison of similar products
Bicycle
Frame material
Wheel size
Top speed / pure electric range
Motor & Battery
price
Swagtron Swagcycle EB-5
Aluminum
14-Inch
15MPH 15.5 miles
250W 36V 10 AH
Click View
Nakto Ebike
Aluminum
20-Inch
25MPH 35 miles
250W 36V10AH
Click View
XPRIT Folding Electric Bike
Aluminum
14-Inch
15.5MPH 25-37 miles
250W
36V 10 AH
Click View
ECOTRIC 500W Electric Bike
Aluminum
20 * 4.0"
20 Mph
18-23 miles
350W
36V 6.5AH
Click View
Comparison
The Swagtron Swagcycle EB-7 PLUS has performed very well when choosing a folding e-bike, but what are the alternatives? We have also made some simple comparisons to help you with your choice.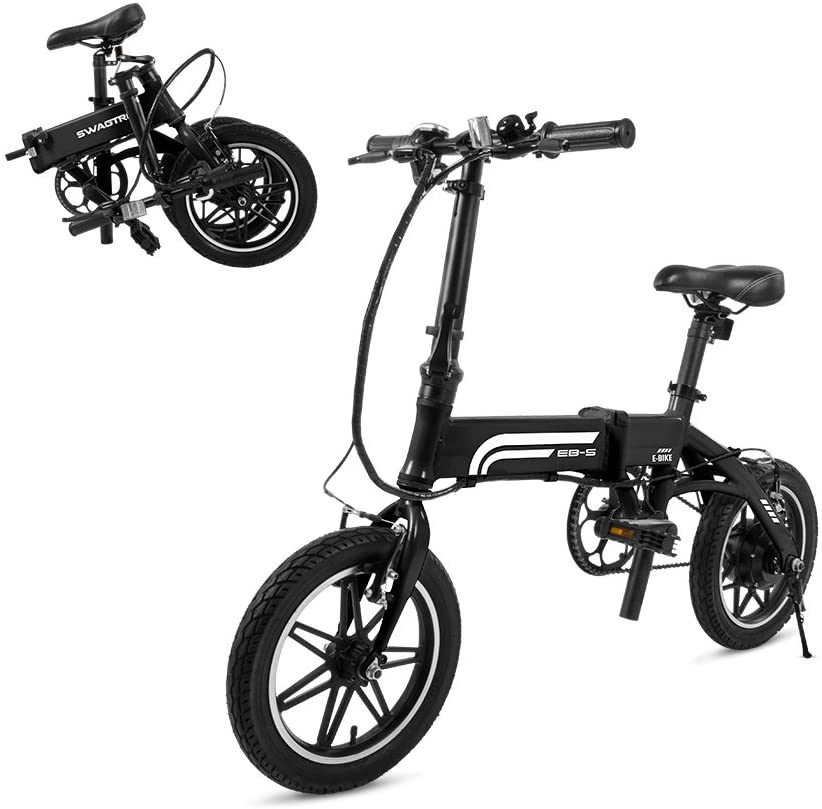 Swagtron Swagcycle EB-5 is the less expensive variant of Swagtron Swagcycle EB-7 PLUS, thus the price is likewise cheaper, but it has the same frame structure and tires.
However, due to the lack of LED lights, the motor's output is also reduced. However, its lower price will appeal to more students and adults who can afford it.
If you like the higher configuration of Swagtron Swagcycle EB-7 PLUS, you can spend some more budget to buy it.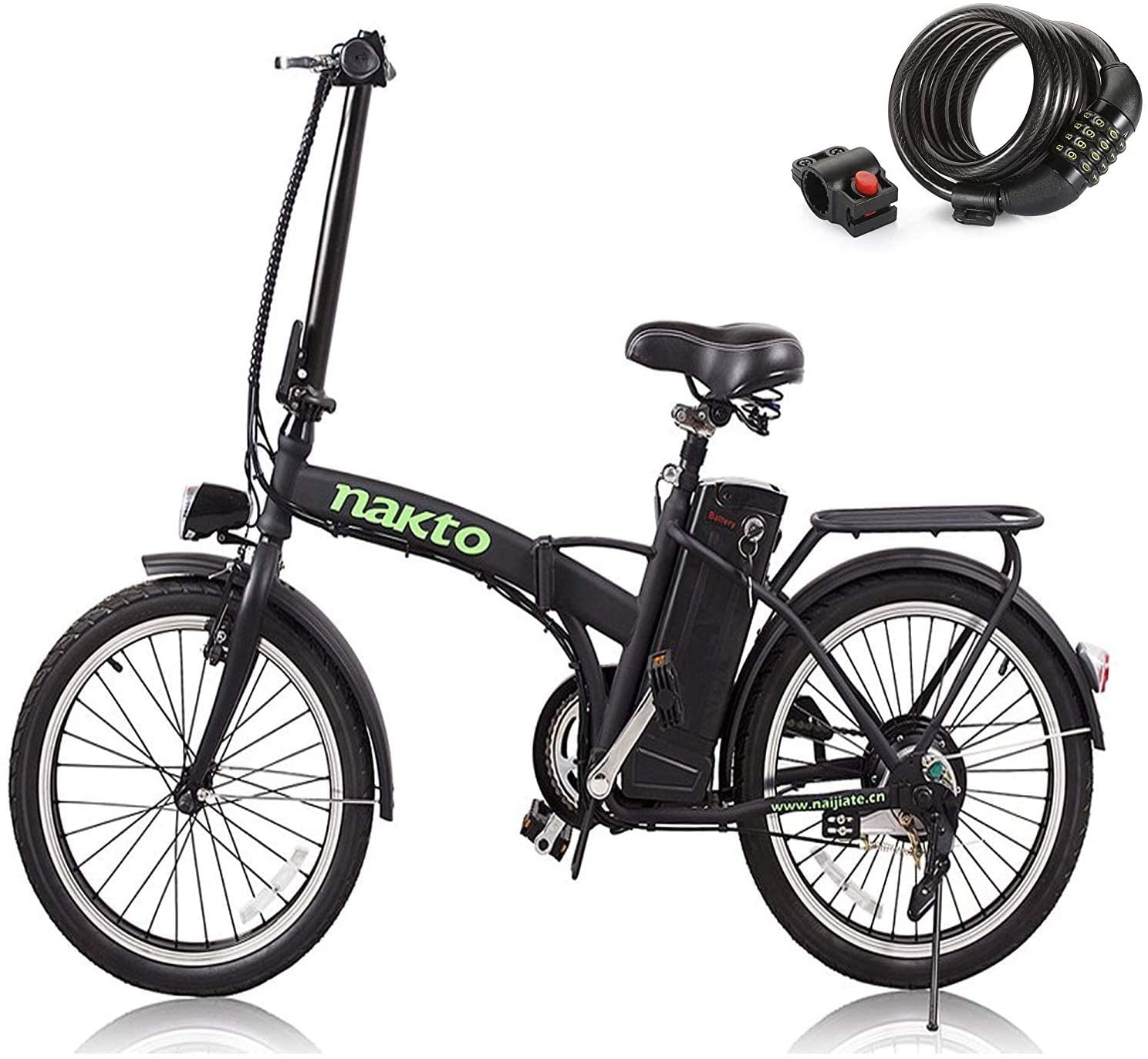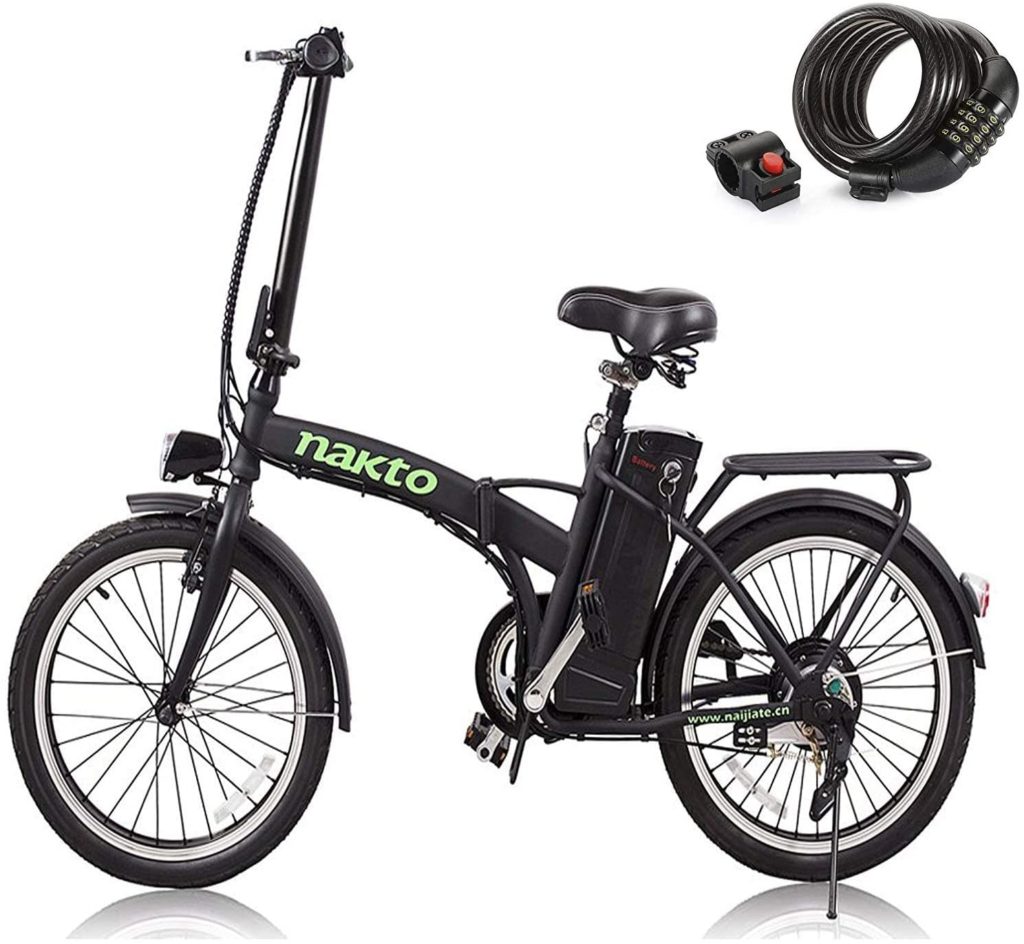 The Nakto Ebike comes in a variety of styles, the most notable of which is the Nakto Ebike fashion.
The folding Ebikes are the same, however, the Nakto Ebike is faster and has a larger range. However, exceeding 20MPH is not very ideal in some states, therefore when purchasing an e-bike, please pay attention to your local rules on the maximum speed of e-bikes.
The Nakto Ebike fashion is also heavier, so if you prefer a longer battery range, choose the Nakto Ebike fashion. If you want a lighter Ebike, the Swagtron Swagcycle EB-7 PLUS is a great option.
The ECOTRIC 500W Electric Bike has a larger tire and is slightly more powerful, but it is also heavier.
The ECOTRIC 500W Electric Bike can be ridden on more terrain than the Swagtron Swagcycle EB-7, such as sand or snow, while the Swagtron Swagcycle EB-7 PLUS cannot.
The Swagtron Swagcycle EB-7 PLUS, on the other hand, is more suited to urban riding because of its lightweight frame, reduced folding size, and ability to fit in a car trunk.
Related Reading: ECOTRIC 500W Foldaway Ebike's Comprehensive Review
Related Questions
What is the maximum load weight of Swagtron Swagcycle EB-7 PLUS?
264.5 lb. (120 kg)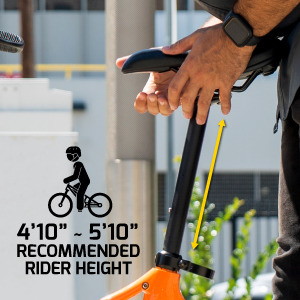 What is the right height for a person?
The appropriate height is 5-7 feet tall rider.
There is not enough room to mount them, which is not particularly good.
Summary
Swagtron Swagcycle EB-7 PLUS will let you see more of the globe. It is capable of covering greater commute distances. So you don't feel like you're having an awful commute. Because of its lower folding size and ease of use, the EB7 Plus is a good long-distance electric commuter bike for adults and teens.
Video